It's Friday 7th January and many of our New Year resolutions have already been broken but not at Romford. Their New Year resolution to keep putting on quality open racing every Friday continues this week with eleven opens from their thirteen race card. The prestigious Essex Vase over 575 metres starts next week and has attracted some interesting entries tonight.
First inaugurated in 1939 the category one competition has been won by greats such as Delores Rocket, Ballyregan Bob and El Tenor. Several greyhounds are being tried over 575 metres for the first time tonight to see their potential for a tilt at the showpiece competition. As ever yours truly has endeavoured to find out more about two of them along with two others over 400 metres.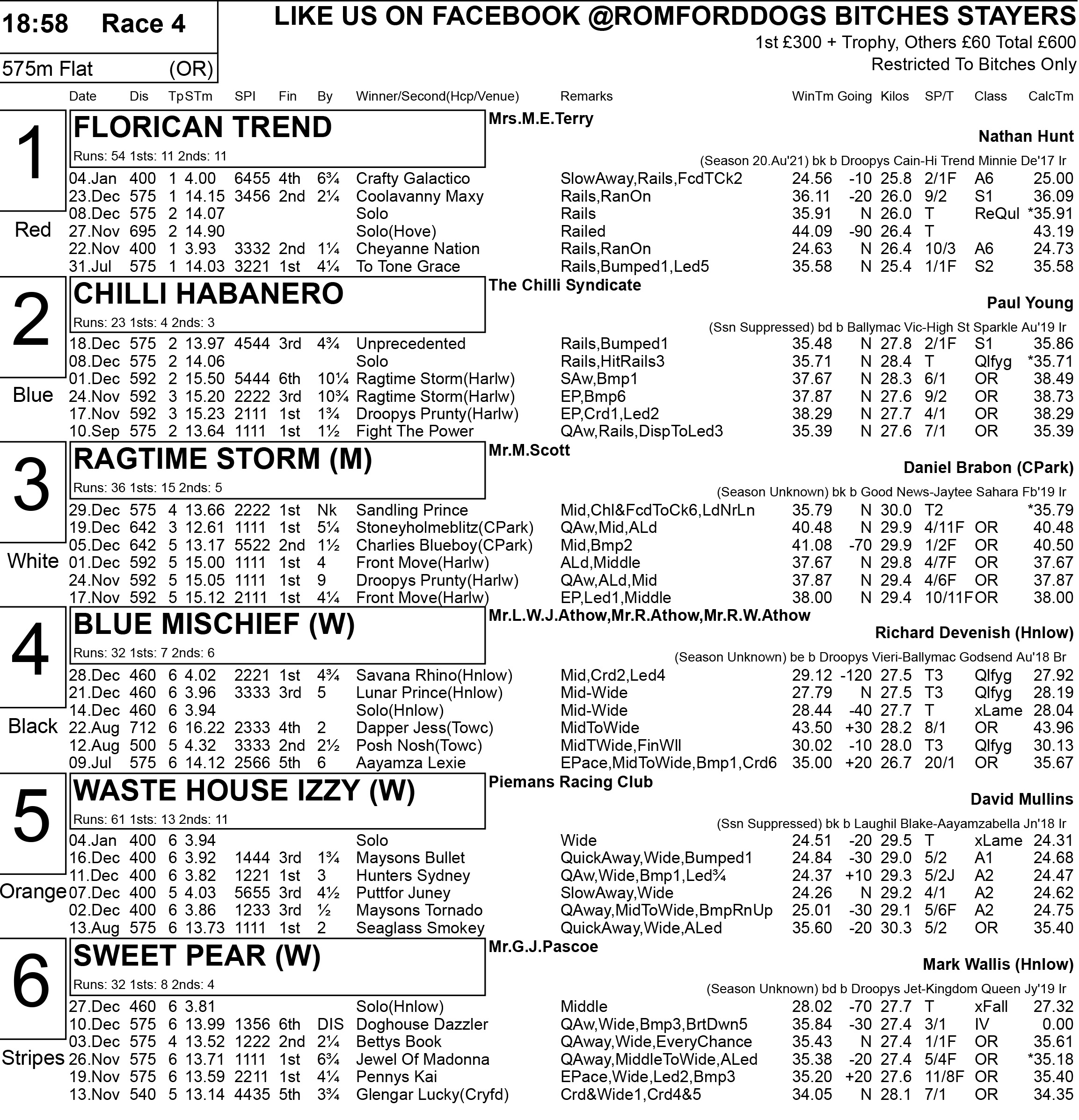 Ragtime Storm for Central Park trainer Dan Brabon although making her Romford race debut in a bitches stayers affair at 6.58pm over 575 metres is not making her six bend one. The daughter of Good News and Jaytee Sahara has proven six bends form with wins at Crayford, Harlow and Central Park over 540, 592 and 642 metres. At Crayford she has also won over the eight bend trip of 714 metres twice on the way to reaching the Golden Jacket final where she finished third. She is in fine form presently with six wins from her last eight races at Harlow and Central Park. In a recent trial over C&D, the February '19 whelp clocked a good time of 35.79 along with a nippy 3.66 sectional.
Daniel on her said: "She will get the trip all day long. She has never raced at Romford before but she should suit it. The track should suit her. She takes to tracks well.
"She came together with our other dog a bit in her trial at Romford but still did a decent time. We expect her to improve on that. The distance is ideal for her to be perfectly honest.
"She is a bitch in form and trap three is perfect for her. She is a middle seed but has been getting traps five and six a lot recently. It's nice for her to get the trap the wants. Trap six looks the danger in the race [Sweet Pear]."
The Crayford Golden Jacket finalist is generally available at 7/4 to take the spoils at the Essex venue tonight.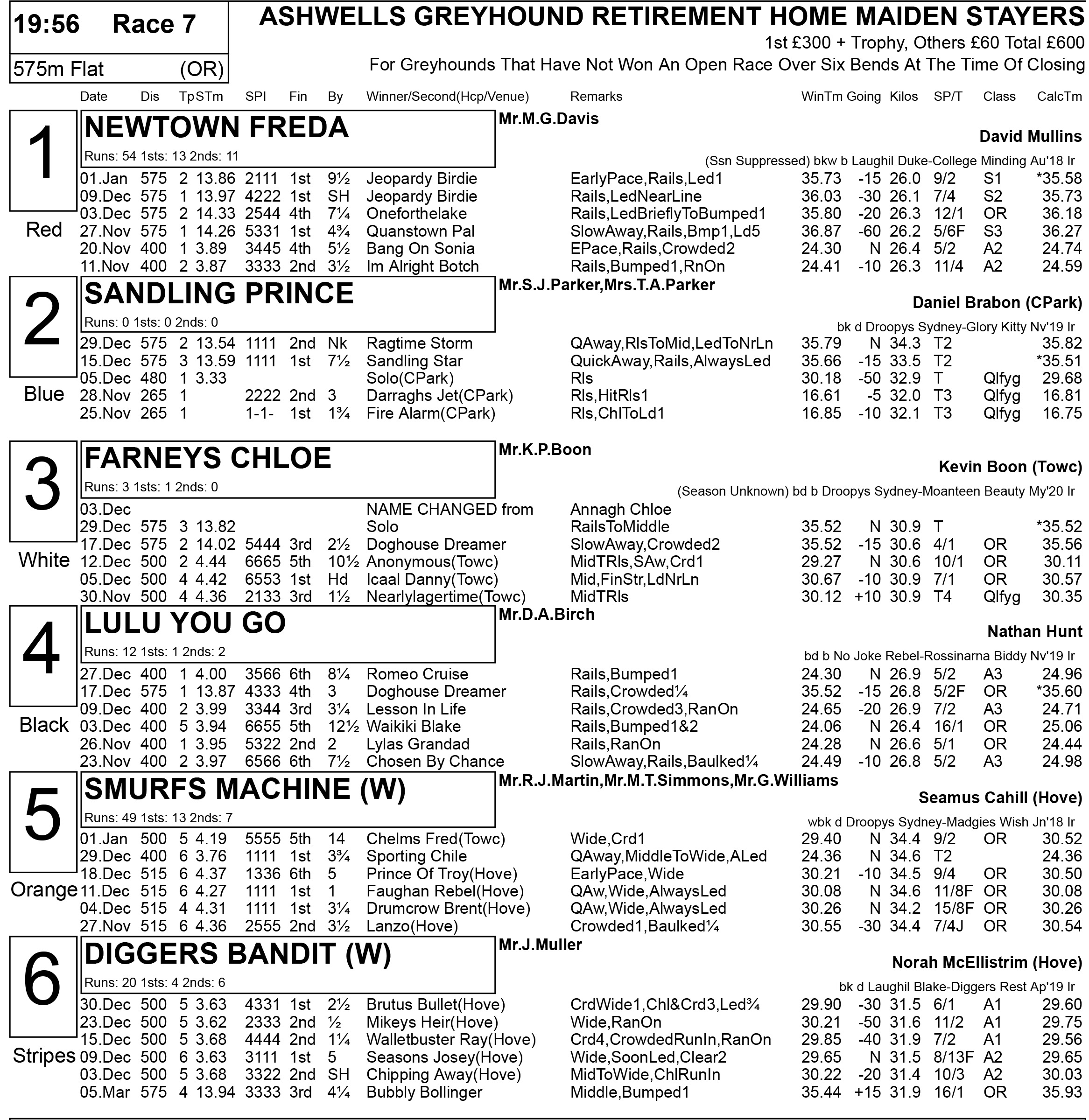 Sandling Prince is making his race debut on these shores for Brabon in a maiden stayers race at 7.56pm over 575 metres. Like his three other kennelmates running at Romford tonight, the November '19 whelp will be looking to shed his maiden tag at the first time of asking. The son of Droopys Sydney and Glory Kitty has had two trials over C&D clocking calculated times of 35.51 and 35.82 along with fast splits of 3.59 and 3.54. Those splits and times bode well going into tonight's race. Although he is making his race debut over here he does have race and winning experience in Ireland with wins at Shelbourne Park over 549 metres in graded affairs.
Dan said: "I like him a lot. Although he is in a very good race, he is good enough to win it. From my four runners at Romford he is my banker. His trials have been very good and if he continues breaking like he has been in his trials he should lead on the inside.
"He was beaten by our other dog, Ragtime Storm in their last trial after tangling at the sixth bend. He was beaten by only a neck by a good bitch in her own right.
"He has trap two and that is ideal for him. He looks like he gets the trip and has taken to the track in his trials. He is good enough for the Essex Vase and ideally needs to win his race to get in next week. No pressure then!"
Ladbrokes are 4/1 for him to win first time up on these shores.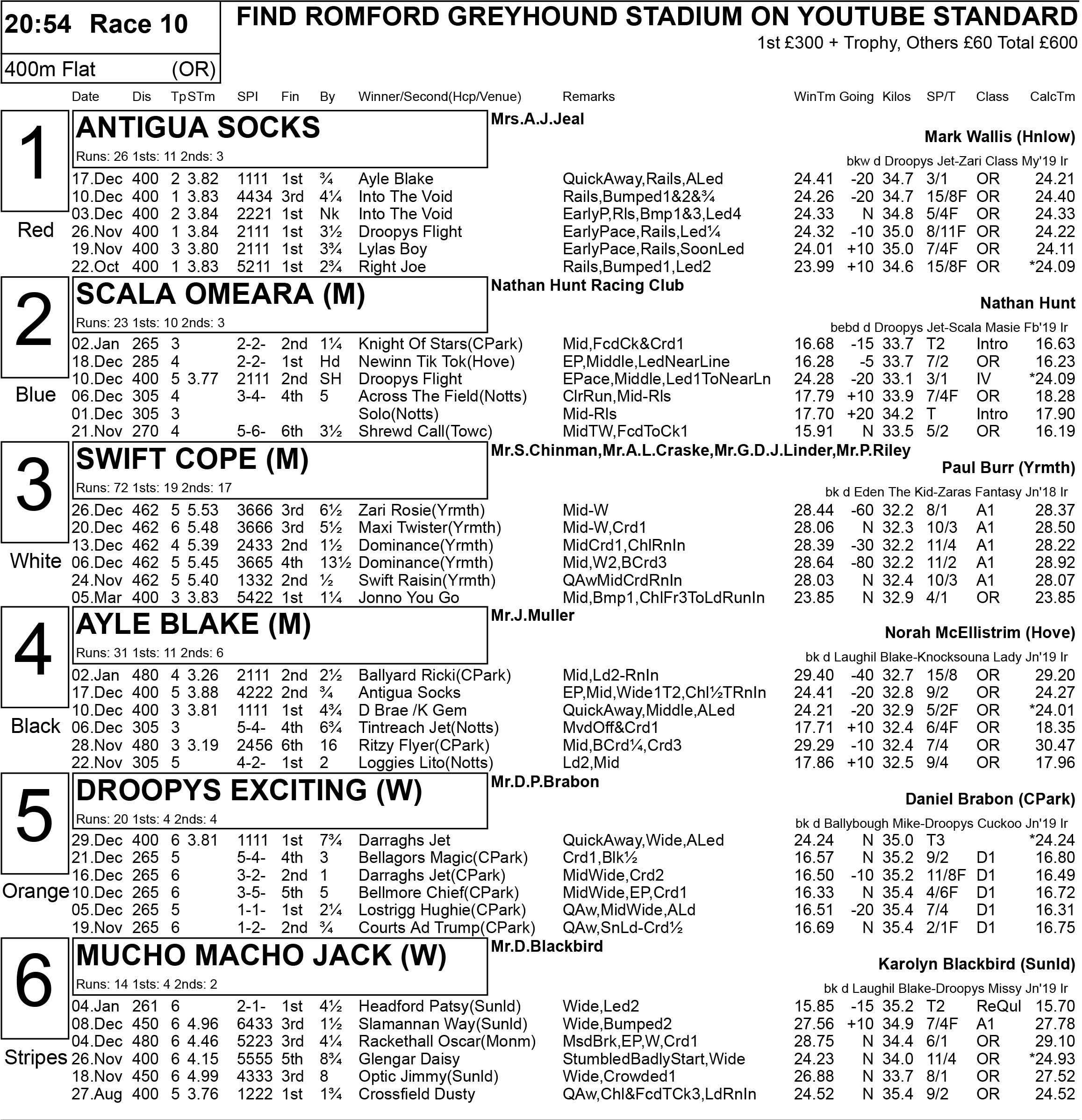 Droopys Exciting is back at Romford for the first time since last August for Daniel Brabon in a standard affair over 400 metres at 8.54pm. The early paced sort ran twice over 400 metres finishing third both times. The June '19 whelp showed all is well in a recent trial over C&D clocking a good calculated time of 24.24. The son of Ballybough Mike and Droopys Cuckoo has won four times on these shores. Those wins have all come at home track Central Park over 265 metres in D1 and open races. He needs to utilise his early pace if he is to make it third time lucky tonight.
Dan said: "He is a bit temperamental at the traps. He has to lead at the bend if he is to win. It is a tough race with the early paced Ayle Blake on his inside. He has got to have his trapping boots on but the problem is he doesn't bring them with him very often!
"He has to do everything right to win the race. If he is not leading at the first bend he won't win. He needs to come out running. He can do it and when he does, he wins.
"He has trap five and that is fine for him, traps five or six are his traps. He did 24.24 in his trial and around 24.20 would be his best sort of time I would say."
Ladbrokes are top price 8/1 for Droopys Exciting to win at Romford at the third time of asking.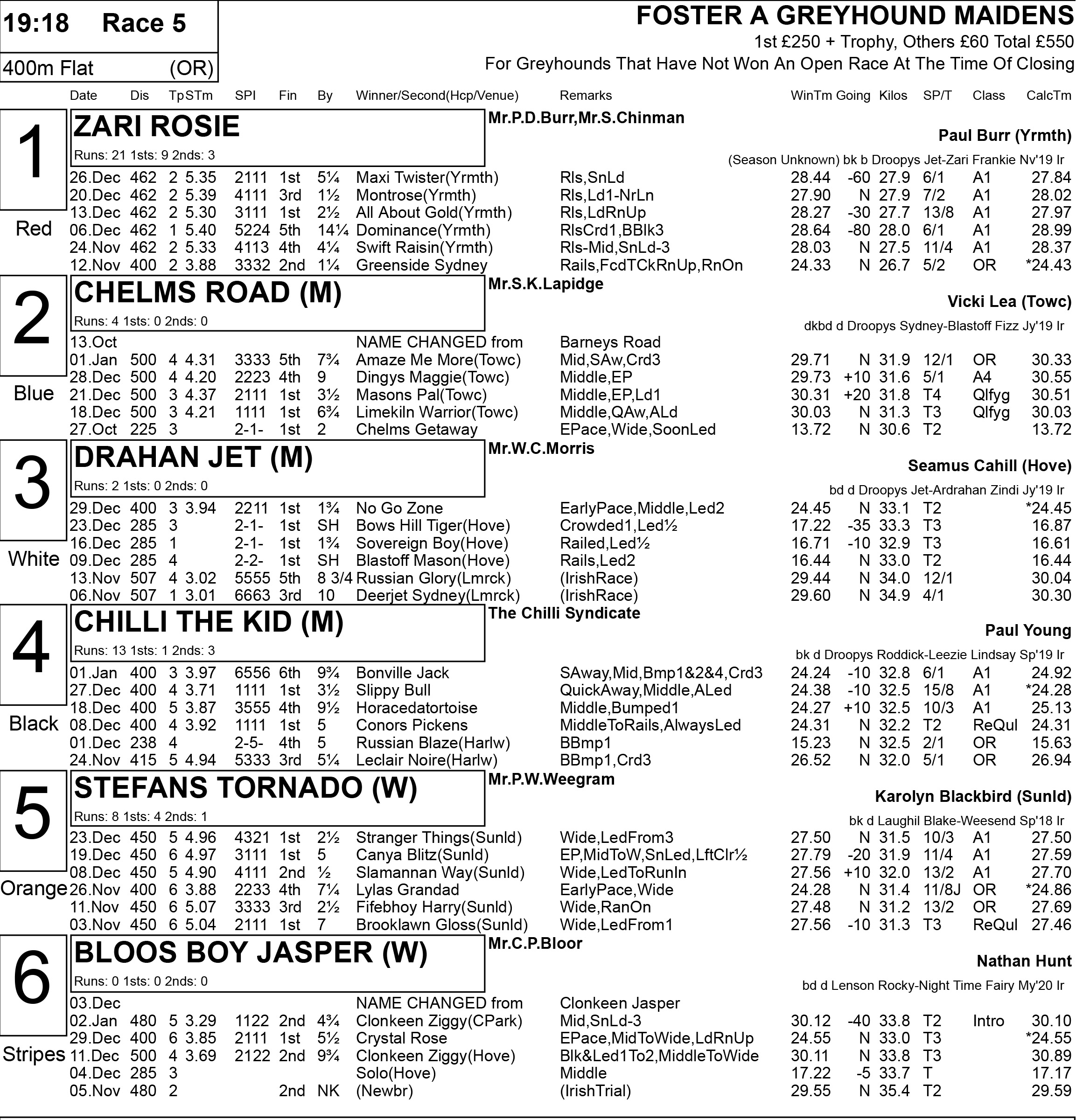 Local handler Nathan Hunt knows what it takes to win an open at Romford and tonight gives his charge, Bloos Boy Jasper his very first race in a maidens affair over 400 metres at 7.18pm. The unraced May '20 whelp has had four trials on these shores with one over C&D. In that trial the son of Lenson Rocky and Night Time Fairy clocked a decent time of 24.55. The 400 metres trip tonight looks ideal for him at this stage.
Nathan said: "We trialled him at Hove and Central Park. He doesn't stay 480 and 500 metres. His Romford trial was a good trial for a pup and first look. He surprised me. He has good early and Romford could be his track.
"We are still learning about him and in time may get 480 metres but not at this stage. 400 metres right now looks like his distance. There is a bit of improvement in him.
"His brother has not got much early but stays better while he is almost the other way round. He is definitely a wide runner and runs better out wide. Trap six is good for him."
Nathan on the Eseex Vase, starting next week said: "Dapper Rodney, Doghouse Dazzler and Broadstrand Ryan are our main hopes. 575 metres could be the making of Rodney. His first run over six bends was really good. Doghouse Dazzler is running well and has a good chance tonight even though is up against Droopys Addition. He is well drawn."
Bloos Boy Jasper is generally available with the 'bookies' at 8/1 to win his first ever race. Doghouse Dazzler in the 'lucky last' at 9.42pm is best price 8/1 with Ladbrokes to take advantage of his good draw.