Tonight sees the opening round of the Star Sports/TRC Events & Leisure Greyhound Derby. Mark Pierrepont assesses the first 10 heats.
Ante post prices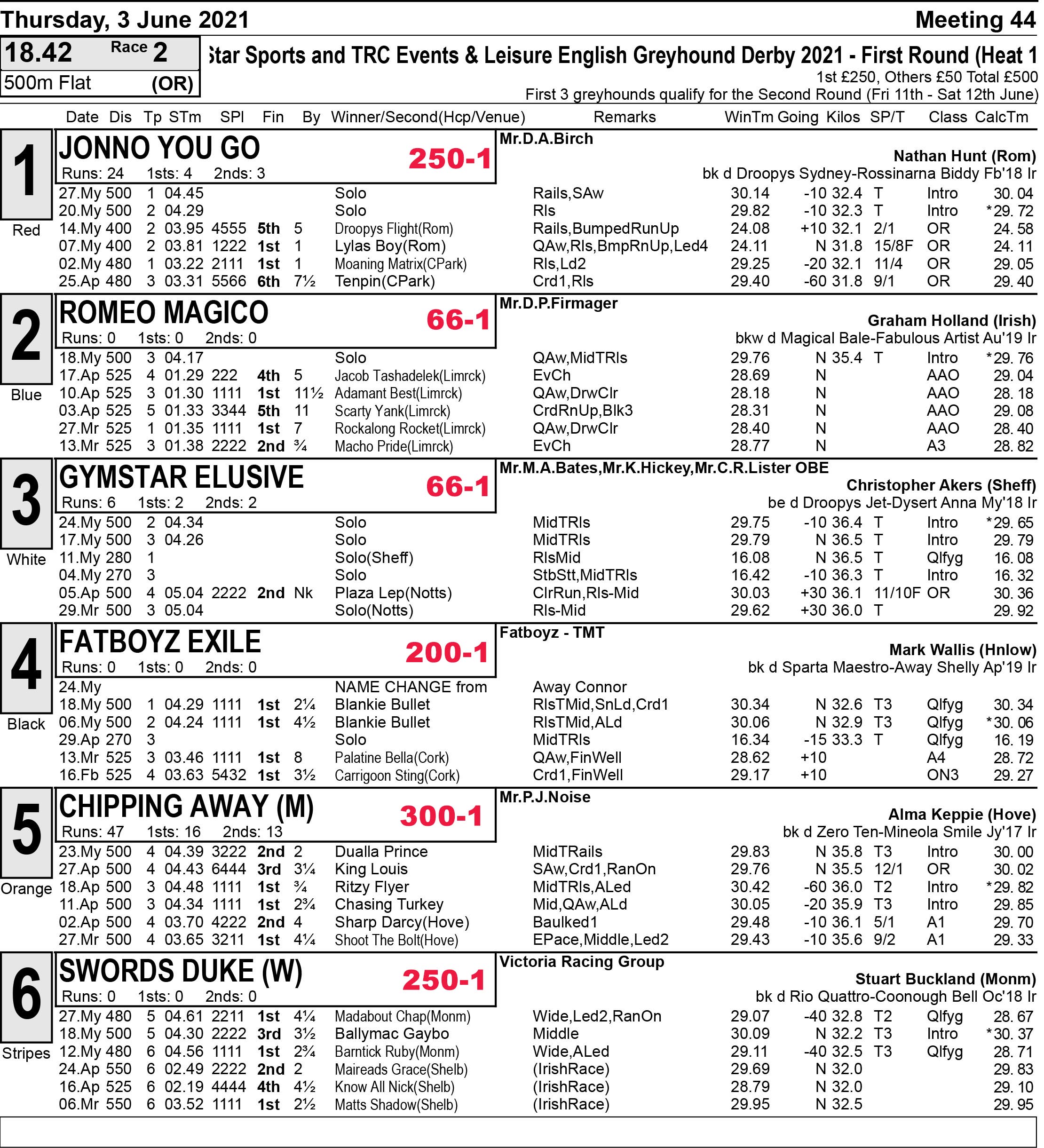 Romeo Magico (Evens) can get Graham Holland's Derby campaign off to the perfect start.  A pup with unlimited potential he'll prove extremely tough to beat if he clears Nathan Hunt's Jonno You Go (9-2) by the turn.  Chris Akers is no stranger to Derby success and his Gymstar Elusive (5-2) can take second whilst Alma Keppie's Chipping Away (16-1) is rarely out of the frame and though this is a class above his usual level he can keep on for the final qualifying spot in the second-round draw. Others: Fatboyz Exile (9-1), Swords Duke (12-1)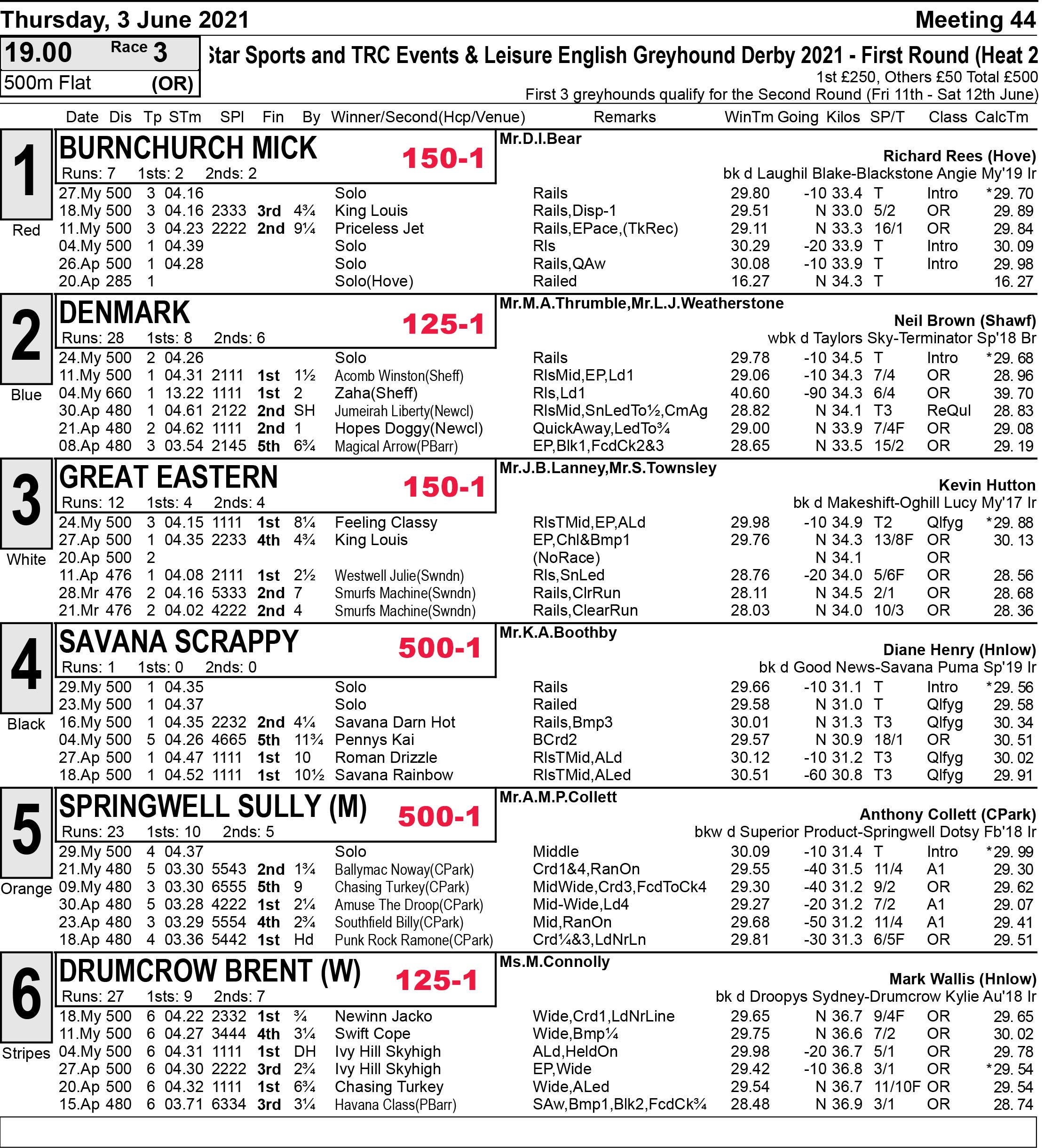 Drumcrow Brent (9-4) can land heat two for Henlow handler Mark Wallis.  He's been gaining plenty of experience of the Towcester circuit in recent times and has landed himself three Derby trial stakes.  Comfortable off the front or coming from a bit further off the pace he's a dog with a great attitude and with a good make up on the wide outside shouldn't be far away once again.  Diane Henry's Savana Scrappy (8-1) was well beaten at big odds on his sole UK start to date which came in a heat of the KAB Maiden Derby around here.  There's no doubting he's improved since as highlighted by trials over the past two weeks of 29.58 and 29.56 calculated.  He's drawn wider than ideal here but can claim second whilst Denmark (7-2) who recently ran out a hugely impressive winner of the inaugural BGBF Dual Distance competition at Sheffield for Tom Heilbron can claim third.  Denmark will be running competitively for the first time for new handler Neil Brown. Others: Great Eastern (5-2), Burnchrurch Mick (7-2) Springwell Sally (16-1),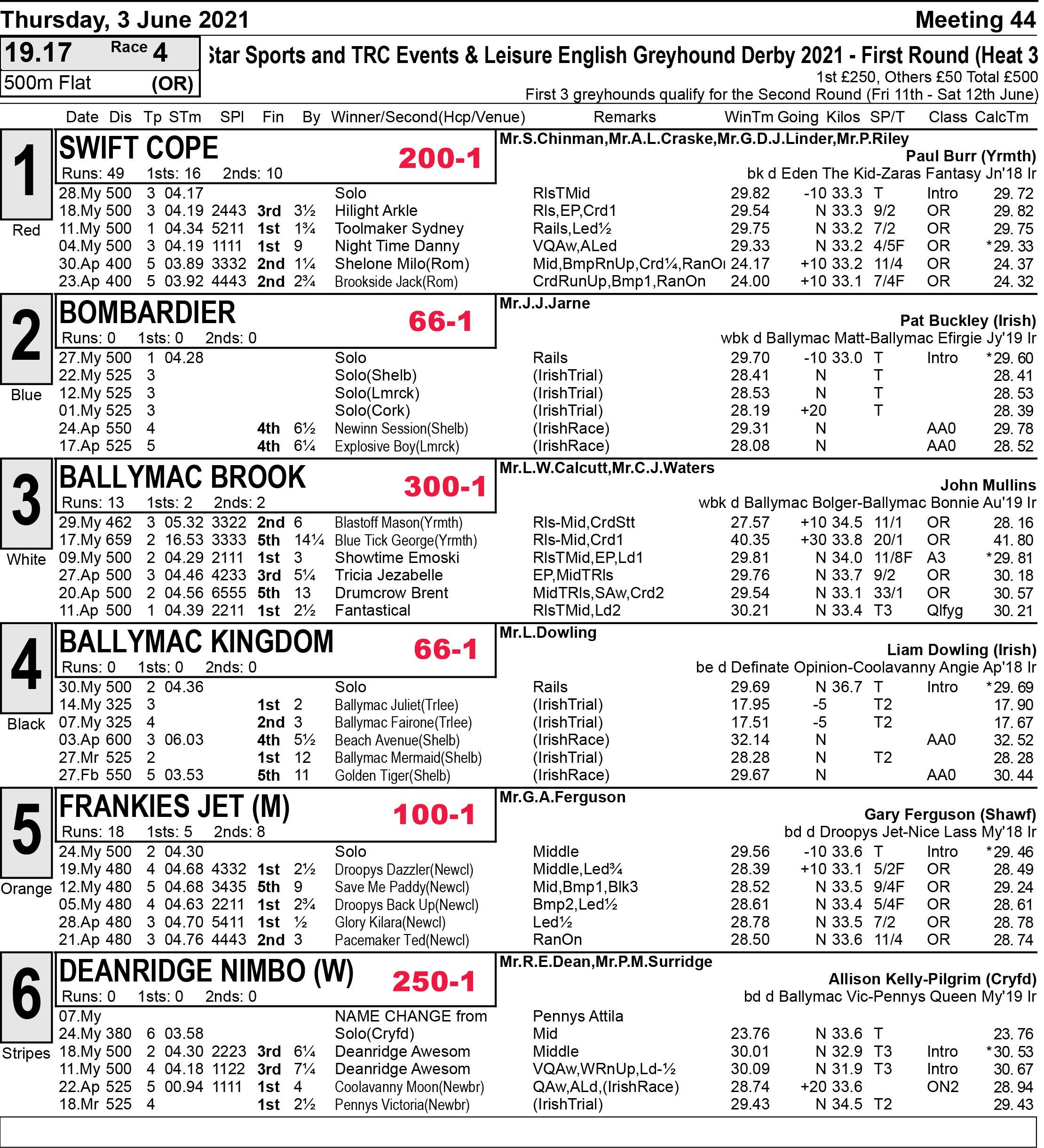 Bombardier (11-4) narrowly failed to reach the final of the Con & Annie Kirby Memorial when finishing fourth beaten just half a length for a qualifying spot in the semi-final won by Explosive Boy.  Pat Buckley's greyhound will reach two years of age in just a months' time however he's extremely lightly raced and is improving with each run.  He's not always the best away from traps however a reasonable break can see him take command by the turn.  Liam Dowling's Ballymac Kingdom (2-1) has to overcome a poor draw in trap 4 but he's a classy sort and can do so to take second whilst Gary Ferguson's Frankies Jet (11-4) can claim the third qualifying spot in the second-round draw. Others: Swift Cope (4-1), Ballymac Brook (12-1), Deanridge Nimbo (14-1)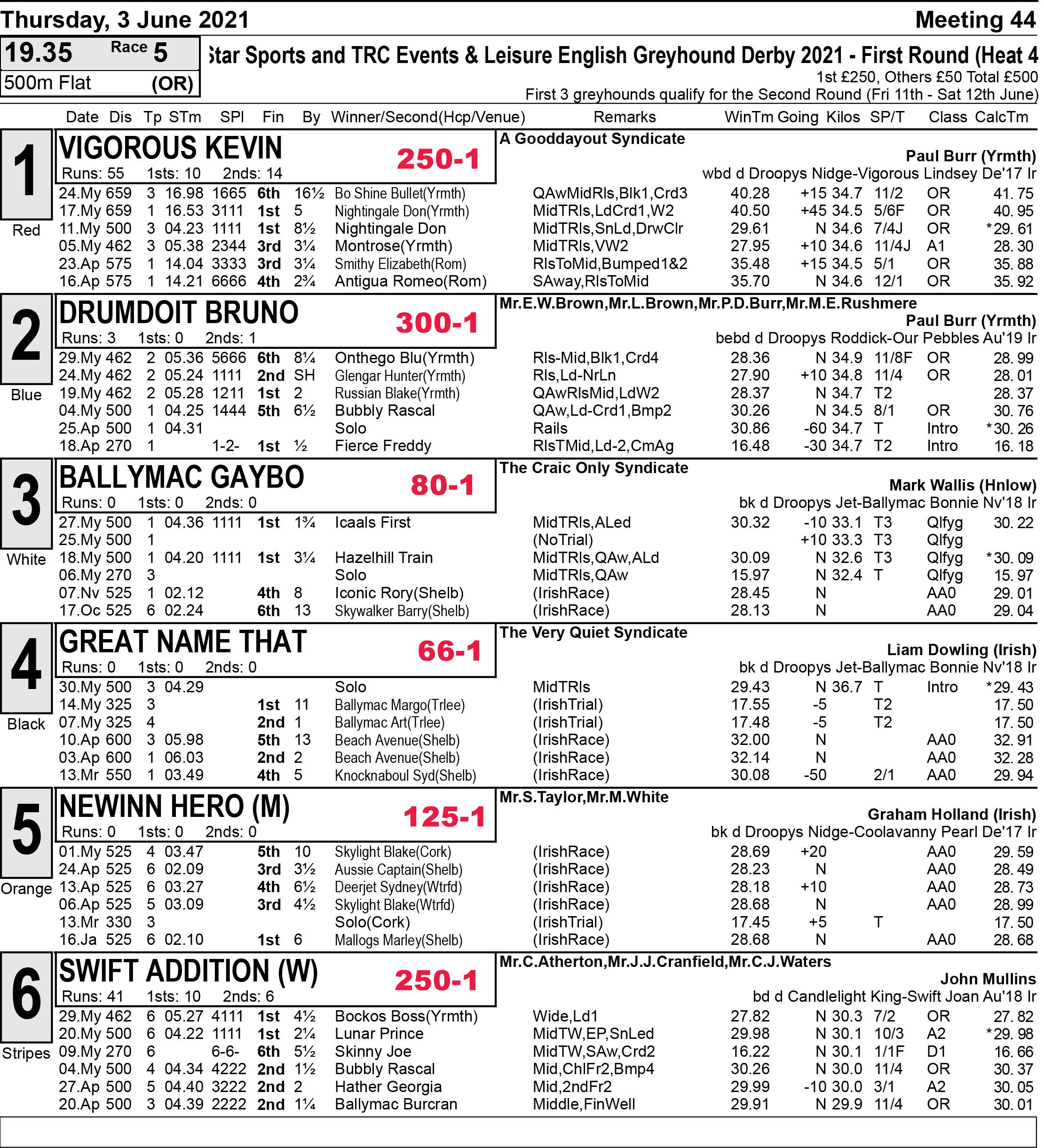 Not many greyhounds break the magical 28 second barrier over the 525-yard trip at Shelbourne but that's exactly what Liam Dowling's Great Name That (5-4) did when routing his second round Juvenile Derby opposition in September last year.  He's a greyhound with a huge engine and will take some stopping in this.  Graham Holland's Newinn Hero (13-8) inished well beaten behind Great Name That in the final of the Kingdom Derby at Tralee in December and can once again follow that rival home to on this occasion finish second.  Swift Addition (10-1) for John Mullins looks well drawn on the wide outside and can claim third. Others: Ballymac Gaybo (10-1), Drumdoit Bruno (20-1)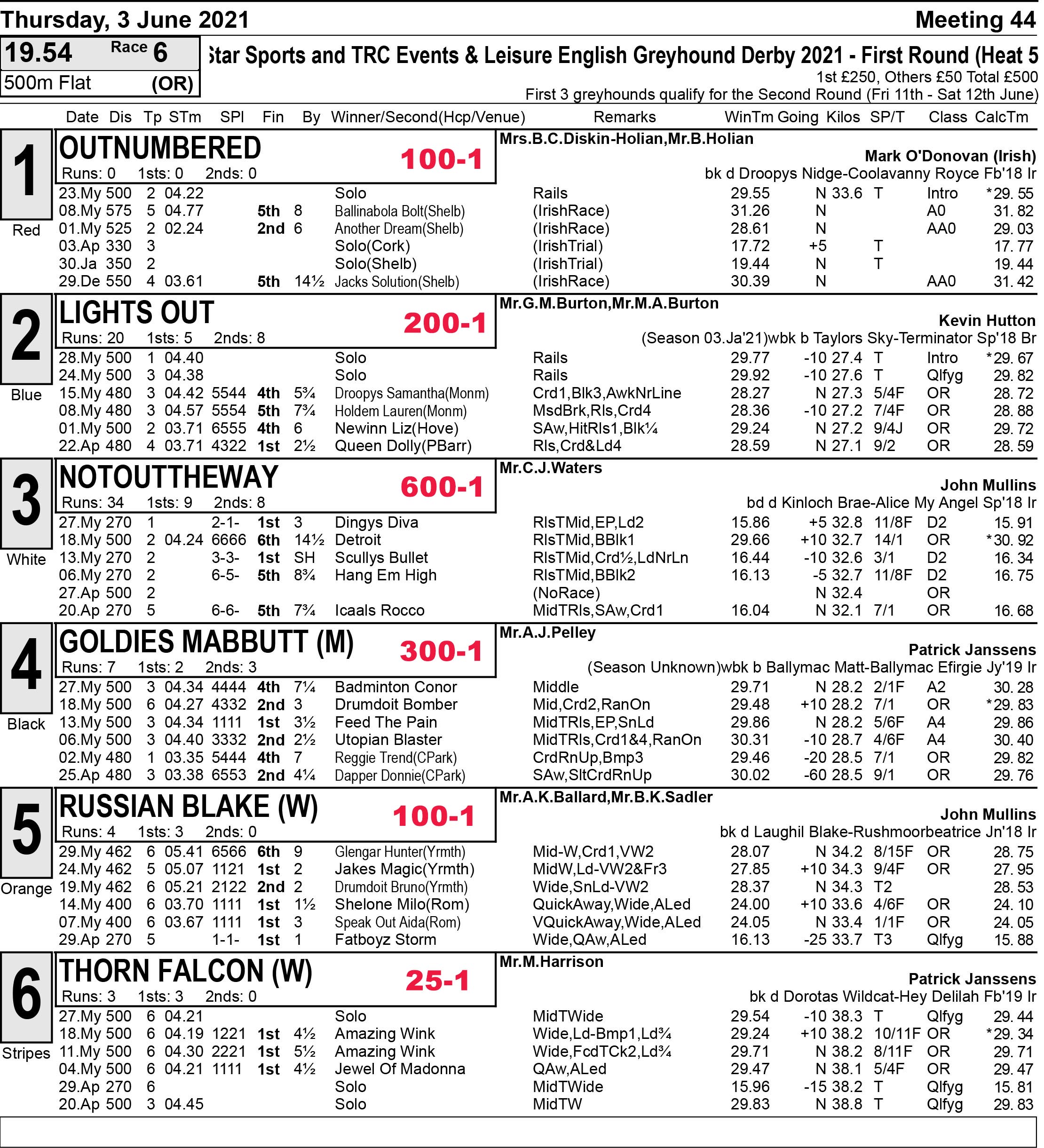 Thorn Falcon (4-5) was mightily impressive when going unbeaten through the recent KAB Maiden Derby here over course and distance.  Patrick Janssens' dog is improving all the time and is the selection even though he'll need to tread carefully in avoiding Russian Blake (9-2) drawn to his immediate inside in the early stages.  Mark O'Donovan's Irish raider Outnumbered (3-1) can take second whilst Lights Out (10-1) can take the final qualifying slot for Kevin Hutton. Others: Goldies Mabbutt (14-1), Notouttheway (20-1)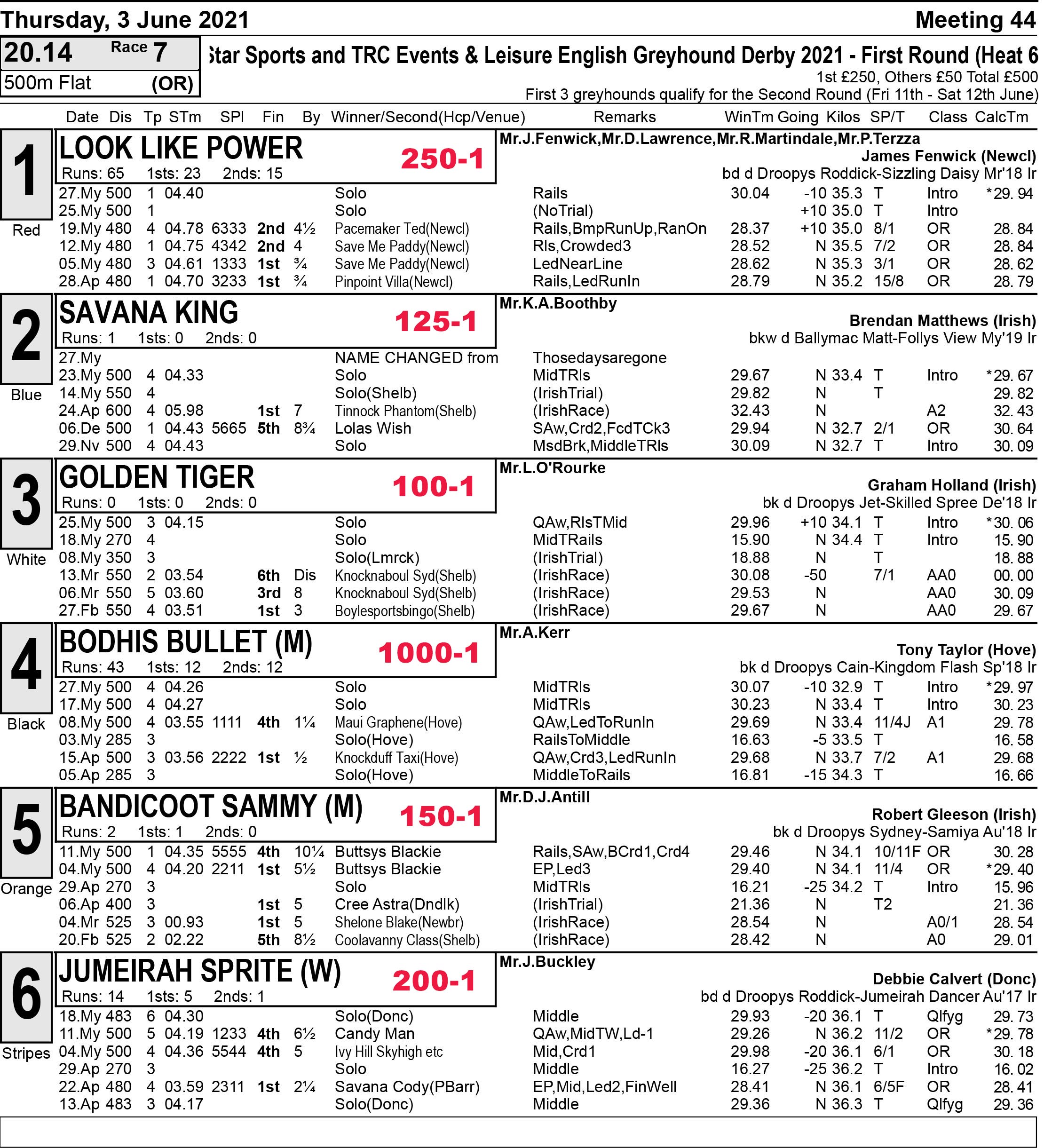 Debbie Calvert's Jumeirah Sprite (6-1) has a draw to dream of here and importantly the 2020 All England Cup Finalist has the pace to take advantage.  Look Like Power (6-1) for Jimmy Fenwick and Savana King (11-4) for Ireland's Brendan Matthews can fight it out for second and third place but both can move forward to next week. Others: Bandicoot Sammy (9-4), Golden Tiger (11-4), Bodhis Bullet (12-1)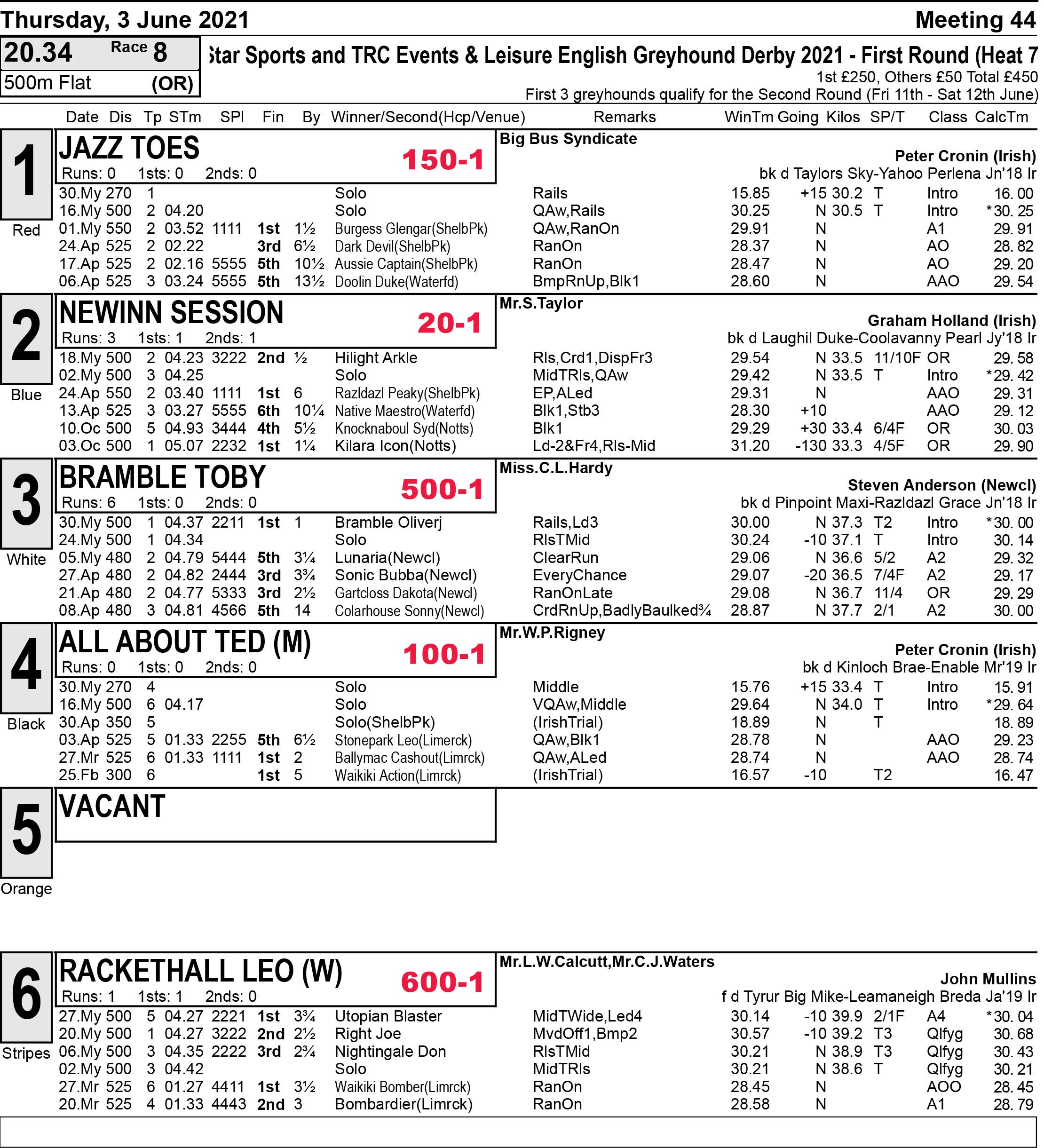 Newinn Session (1-5) held every chance when going down by half a length to Hilight Arkle in a recent trial stake but the winners time of 29.54 told a tale.  Arkle is a greyhound heading firmly in the right direction and given that Session is highly likely to improve for that blow out the run was far from shabby.  Graham Hollands superstar looks a penalty kick in a race that would be harder for him to lose than win.  All About Ted (4-1) and Jazz Toes (10-1) both running for Peter Cronin can finish second and third respectively to give the Irish a one-two-three. Others: Rackethall Leo (20-1), Bramble Toby (25-1).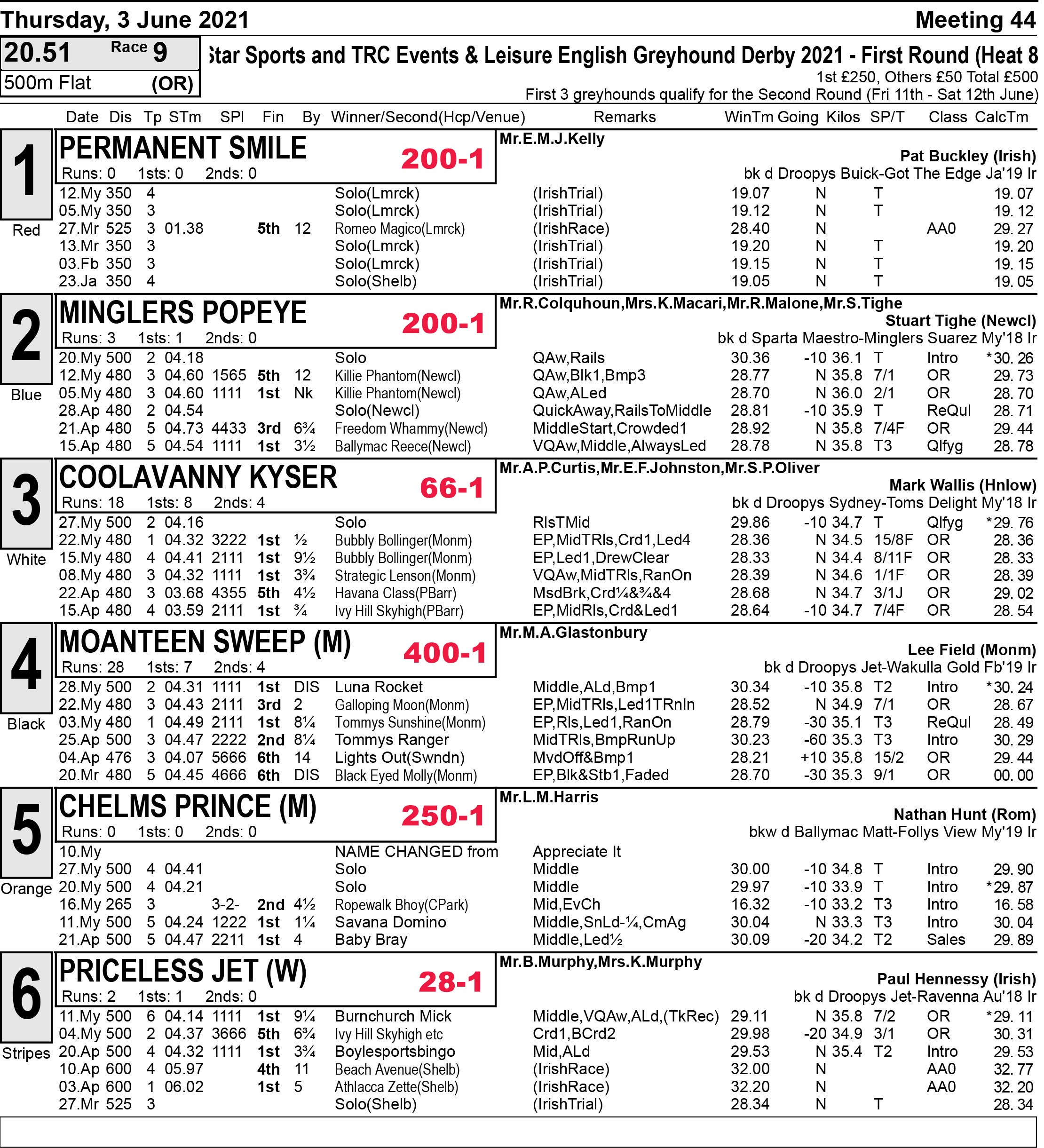 Priceless Jet (1-4) wouldn't spend too much time running a wide position on the track but the switch to a wide tag proved to be an inspired decision by Paul Hennessy when his talented but sometimes tardily away greyhound smashed out and made all in a trial stakes last time out to win by 9 1/4 lengths in a new track record time of 29.11.  It was some performance from Jet and he can dish up similar treatment here.  Coolavanny Kyser (3-1) looks booked for second spot whilst the remainder will battle it out for third. Others: Minglers Popeye (20-1), Moanteen Sweep (25-1), Chelms Prince (25-1).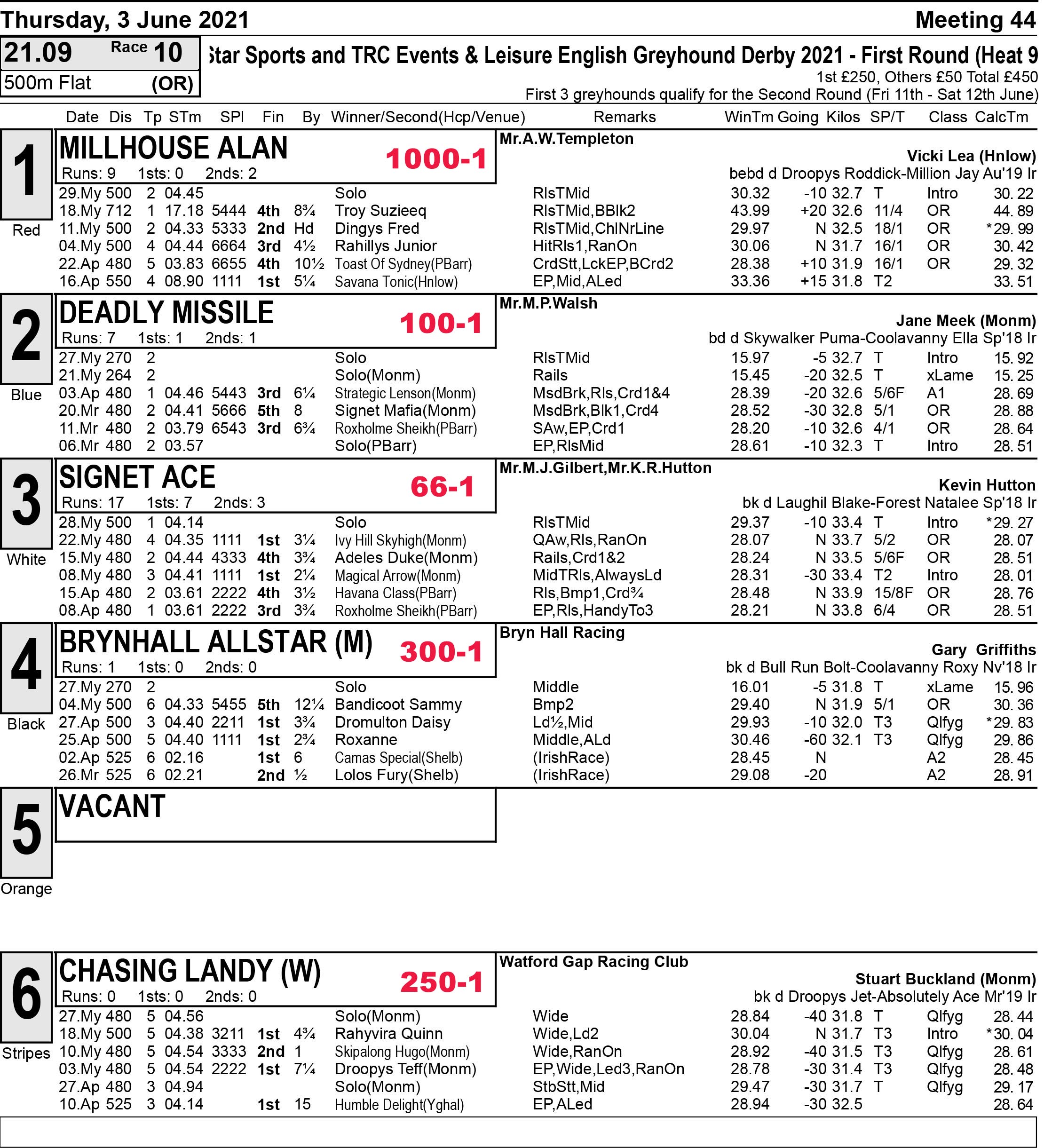 Kevin Hutton's Signet Ace (1-3) was simply awesome when landing the Winter Derby Final at Monmore in February.  His early and middle pace in that final was a sight to behold and he was far from pedestrian when stopping the clock in 29.37 (-10) in a trial here last week.  Gary Griffiths lightly raced and unexposed Brynhall Allstar (12-1) can run on for second whilst the final place in the draw for next week looks very open indeed. Others: Deadly Missile (7-2), Chasing Landy (8-1), Millhouse Alan (20-1)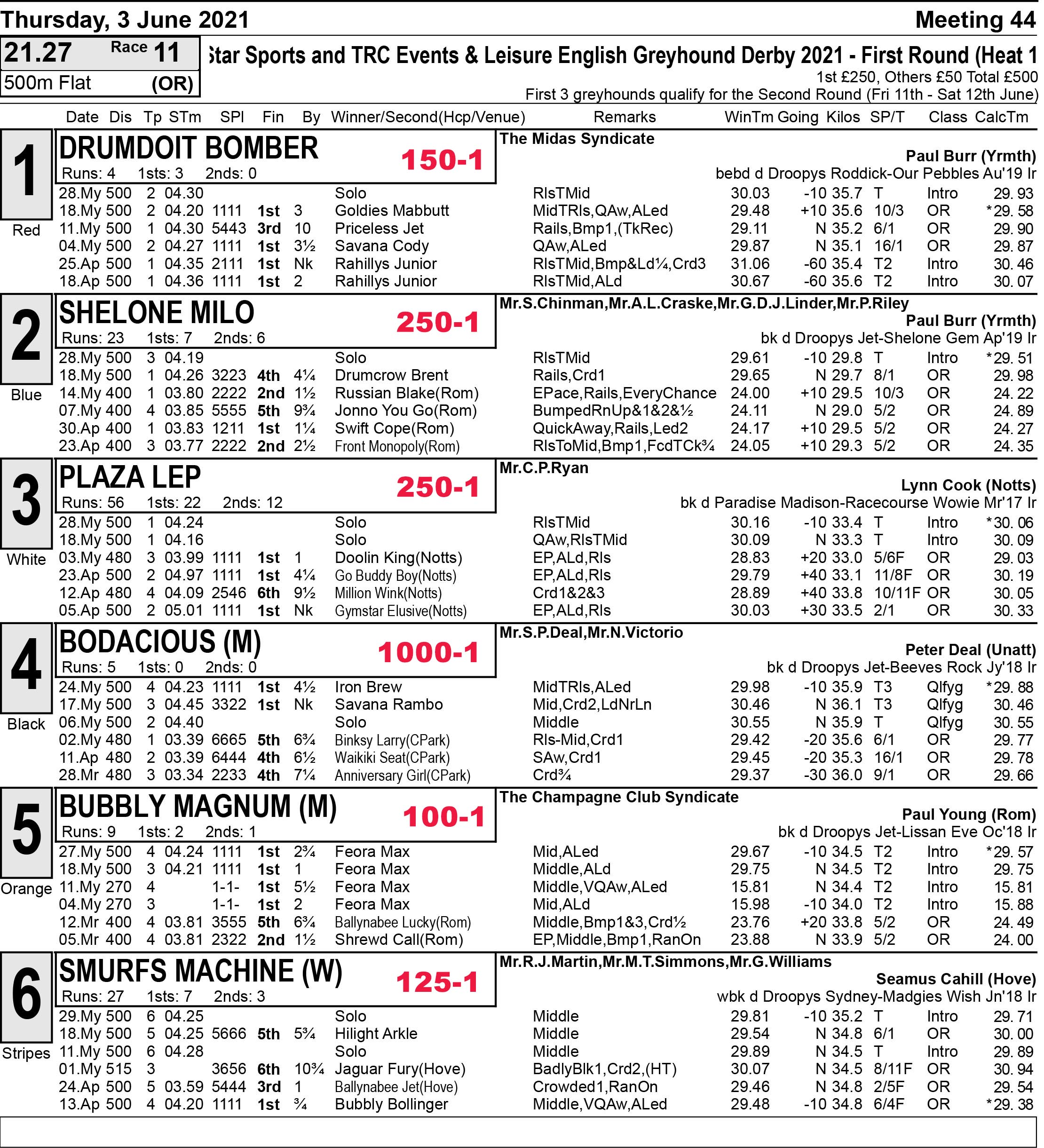 The final heat on night one is one of the trickiest to solve.  Not really a betting opportunity but take a chance that Seamus Cahill's 2020 English Derby Finalist at Nottingham Smurfs Machine (11-4) can smash out and make all from trap 6.  Paul Youngs Bubbly Magnum (5-2) can claim second with Paul Burr's Shelone Milo (9-2) going through in third. Others Drumdoit Bomber (3-1), Plaza Lep (9-2), Bodacious (20-1)