We have the delight of watching the Romford Puppy Cup and Coral Champion Stakes finals tonight as well as the next stage of the Coral Guys and Dolls.
To add to that, as that isn't enough already we have the first round heats of the Coral Cesarewitch over 925 metres starting. Worth £8,000 to the winner, the eighteen runner event held at Romford for the first ever time has attracted the expected stayers and those that are yet to attempt such a distance.
As ever yours truly has covered three greyhounds running in the Cesarewitch that are yet to race over 925 metres or more and one that is making their Romford race debut – writes Rob Abrey
Kevin Boon knows what it takes to win around Romford and a category one competition. Tonight he tries his charge Zascandil over 925 metres for the first time. The July '18 whelp is in great form by winning the Recency over 695 metres at Hove and reaching the Summer stayers classic final at Monmore over 630 metres.
Tonight in heat one at 7.18pm he attempts 925 metres for the first ever time with 695 metres the furthest he has raced over so far.
The son of Vulturi and Scissors has raced at Romford once before back in January over 575 metres where he finished fifth after finding lots of trouble. Those with sharp memories will remember him being covered in your favourite column back then with Kevin saying before his race debut on these shores "…."I'm trying him over six bends to start with as the whole litter are staying on. I'm going on the breeding and what the others in the litter have done." He wasn't wrong and may well be right tonight when entering into the unknown distance wise.
Kevin on him this time said: "Will he stay? I'll tell you tomorrow night after his race! I'm confident he'll stay but there is always a doubt. I am confident but he hasn't been over that kind of distance yet.
"He has been around Romford before and will be alright there on Friday. He runs the bends well wherever he goes but you never know. Trap five is fine for him and shouldn't be a problem for him."
Kevin was asked if he had any potential hopes for the forthcoming greyhound derby and to that he said: "Derby Ranger. He has trialled well at Nottingham and will go again on Monday. He has only recently come over from Ireland. I will enter him but whether he gets accepted is another thing."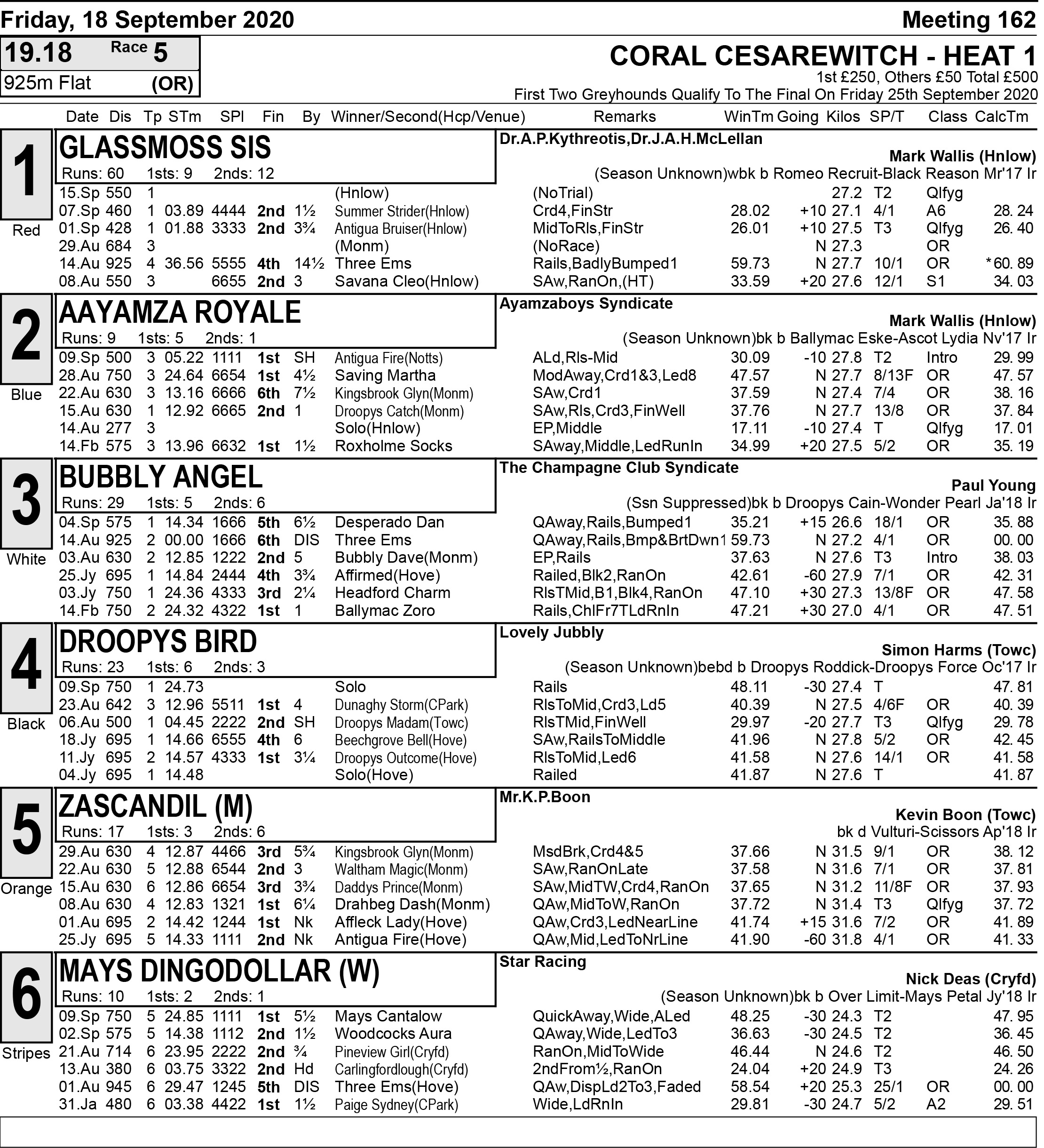 Bet365 are offering 9/2 for Zascandil to win his heat while several firms are offering 10/1 for him to take the outright spoils.
Crayford trainer Nick Deas has three entries in the cesarewitch tonight and has luck would have it all three have been drawn in different heats.
First up is Mays Dingodollar in heat one at 7.18pm. The July '18 whelp, unlike the other two trained by Deas has run further than 925 metres. That was last month at Hove where she ran over 945 metres and appeared to struggle over that distance. Since that race she has trialled four times over distances of 380, 714, 575 and 750 metres at Crayford and Romford. The last two trials were at Romford so the daughter of Over Limit and Mays Petal does have track experience and will be expected to improve for it.
Nick said: "She ran over 945 metres at Hove but didn't get it. That was my fault, she wasn't fit enough but is now. She is fitter than she was previously and will hopefully get it. I'm hopeful she will get it. She did a 750 metres trial and was only a length slower than Droopys Bird.
"She was bred to be a stayer. Her mum was a marathon bitch. The breeder always said she was an out and out stayer. Trap six is good for her but she does steer a wide course. Hopefully she will stay and nick second to qualify."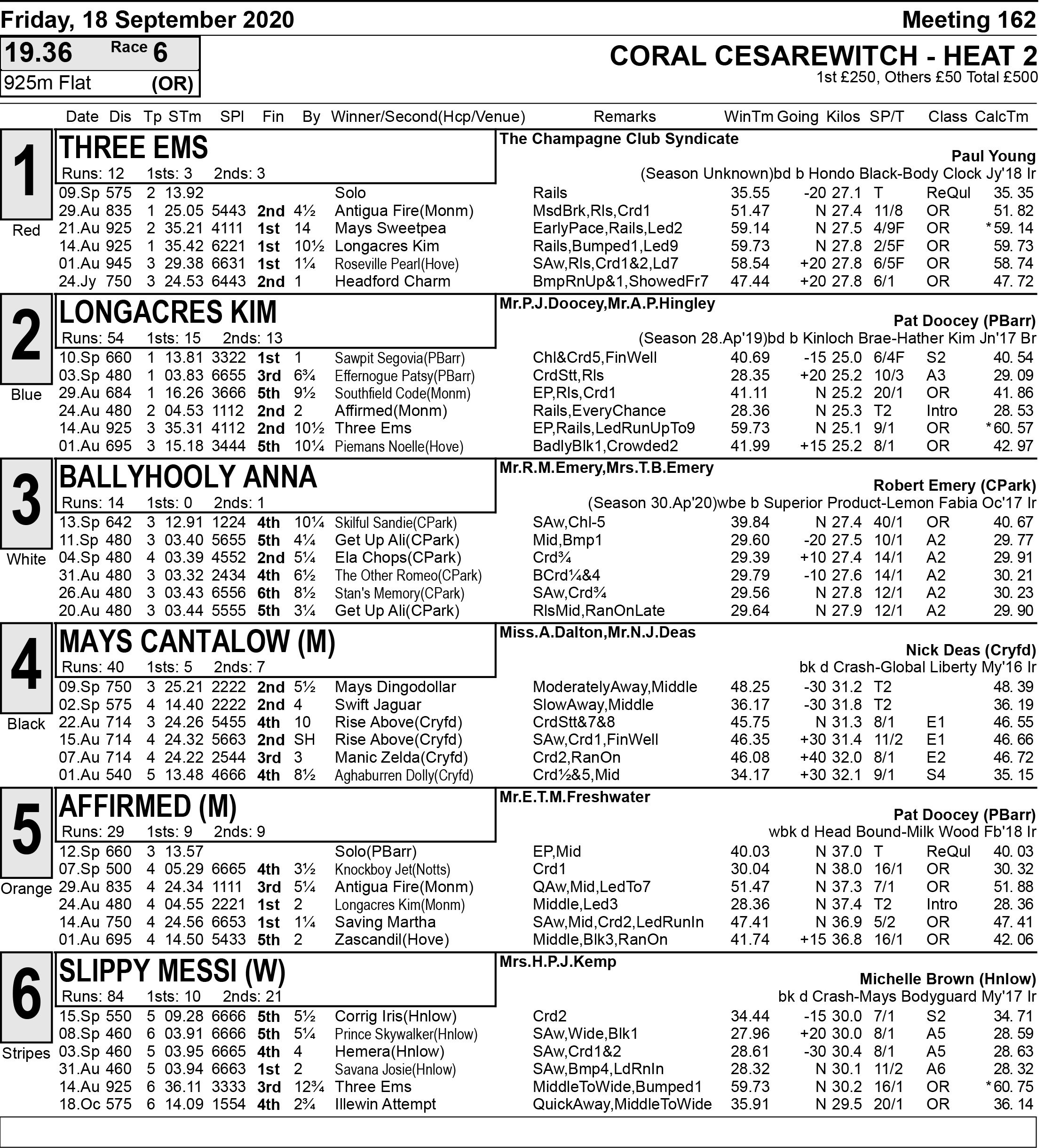 Bet 365 are 33/1 for her to prove she can stay while several firms are offering 200/1 for her to win it outright.
Next up for 'Team Deas' is Mays Cantalow in heat two at 7.36pm. Unlike Mays Dingodollar he has never run over 900 metres before but has proven form at crayford over 874 metres when winning an open race. The son of Crash and Global Liberty has also won over 642 metres at Central Park twice in open race affairs.
The May '16 whelp looks like he needs further than the 714 metres he has been running at Crayford recently and on paper 925 metres looks achievable. He has been given two recent spins at Romford over 575 and 750 metres so has track experience when tackling Romford tonight in race conditions for the very first time.
Nick said: "He's getting on a bit bless him. All he does is stay and enjoys his running. He stays well and 925 metres is as far as he wants but he should get it. He has won at Crayford over 874 metres. He has also won at Central Park over 642 metres a couple of times.
"I was a little disappointed with his trials at romford but he is a typical Crash dog and does it when he wants to. I'm happy with his draw in four, that's where he wants to be."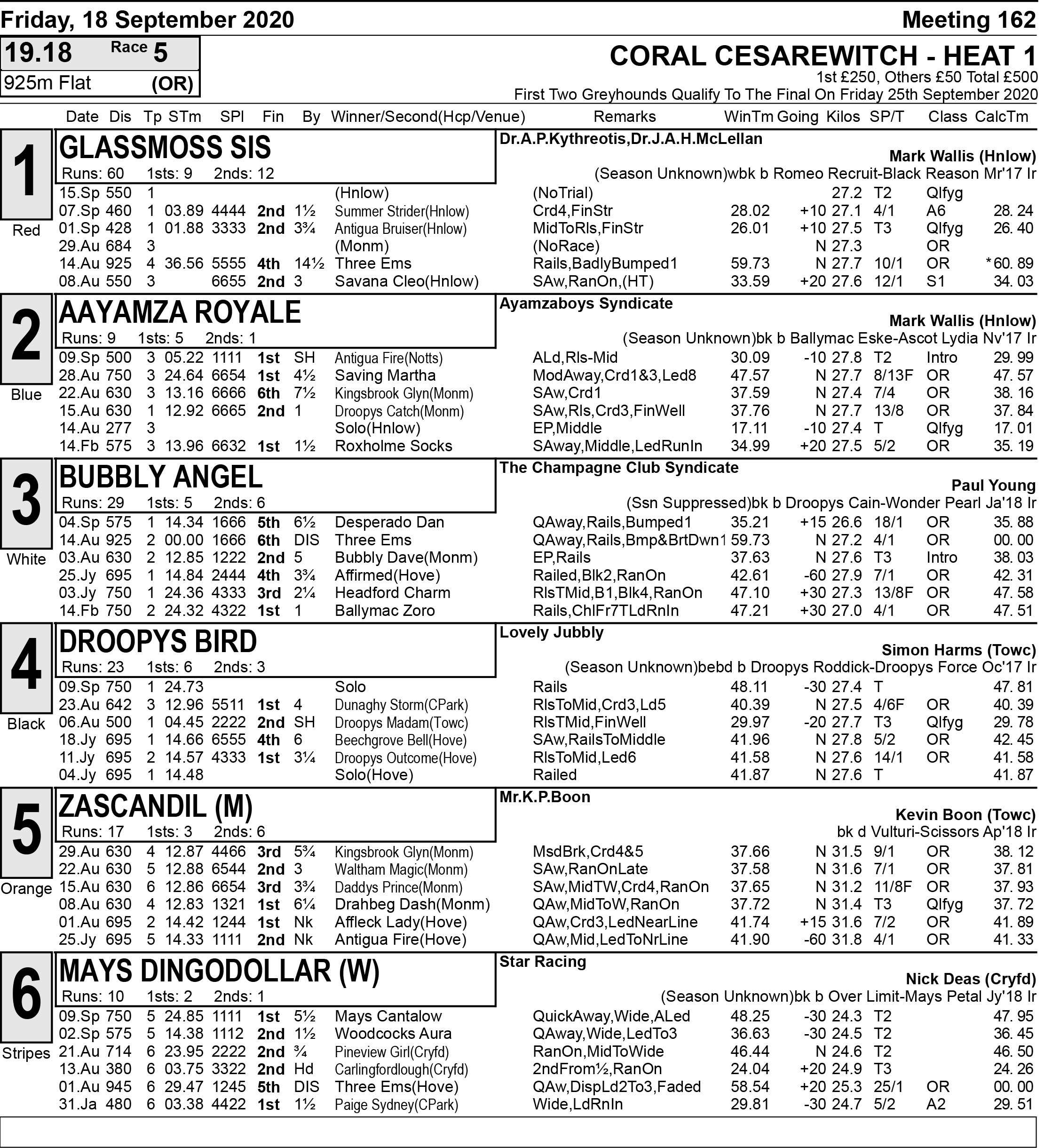 Bet365 make him a 20/1 shot to win heat two while several firms make him 80/1 to win the whole competition.
Woodcocks Aura in heat three at 7.56pm completes the trio of runners for Nick. Owned by Carl woodcock the November '17 whelp is not only making her Romford race debut but is also stepping up in trip.
The furthest the daughter of Droopys Nidge and Droopys Bridge has run over is 714 metres at Crayford. She has won at Central Park over 708 metres but not 714 at Crayford. There are indications that she could get the trip tonight and has had a recent spin at Romford in a trial. That trial was over 575 metres where she clocked 36.33.
Nick on her said: "She is a nice little bitch. She has won over 708 metres at Central Park and hoping she stays. She is going into uncharted waters but hope she will. The indications are there that she will.
"She has been staying at Crayford over 714 metres. Hopefully she gets the trip and qualifies for the final for Carl who owns her. He is a great owner and puts a lot into the sport. It would be great for him to have a finalist. It is a tough competition but if you don't try these things then you will never know.
"Trap four is good for her. I would like her a little closer to the fence but trap four is good."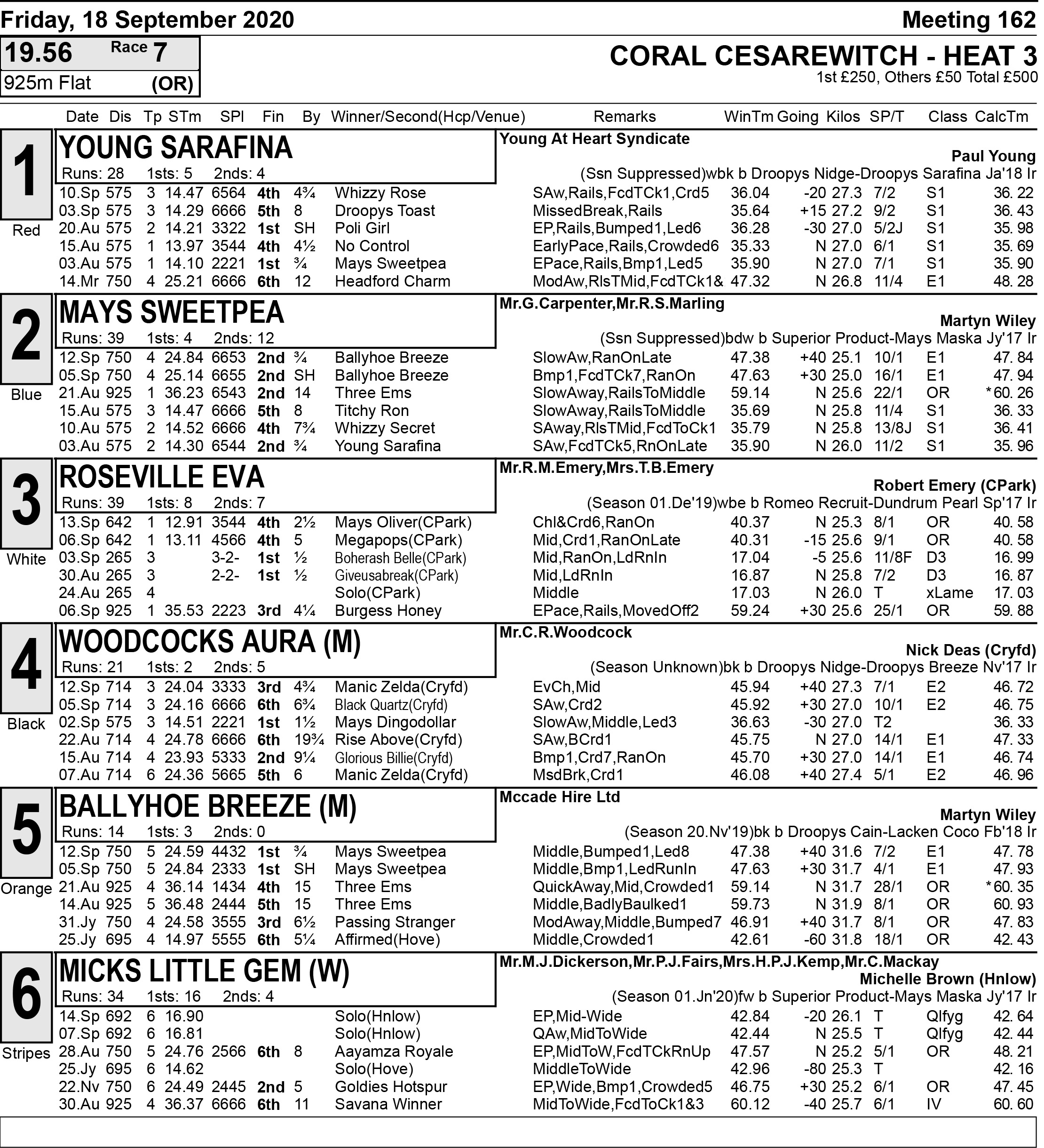 Woodcocks Aura is 20/1 to win her heat with Bet365 while several firms are offering 100/1 to take the overall prize.
Regular readers of this column may have an ante post slip for Lightfoot Ripley for around 16/1 for the Romford Puppy Cup. Trained by Jimmy Fenwick he said before the competition started "….We wouldn't travel all the way down if we didn't think he would do himself justice." He certainly has and is only one race away from claiming the crown.
Last week when covering Madabout Amigo, trainer David Mullins when asked who he thought of his could go well he put up two bitches in the Dolls. For those who followed him, would have had a SP double return of 63/1 as both Swabys Luciejane and Pantone whisper rolled in at 7/1 each.
It pays to follow this column.