We are at the height of the open race season with the action coming thick and fast starting at Yarmouth with the Bresbet 75th East Anglian Derby Final.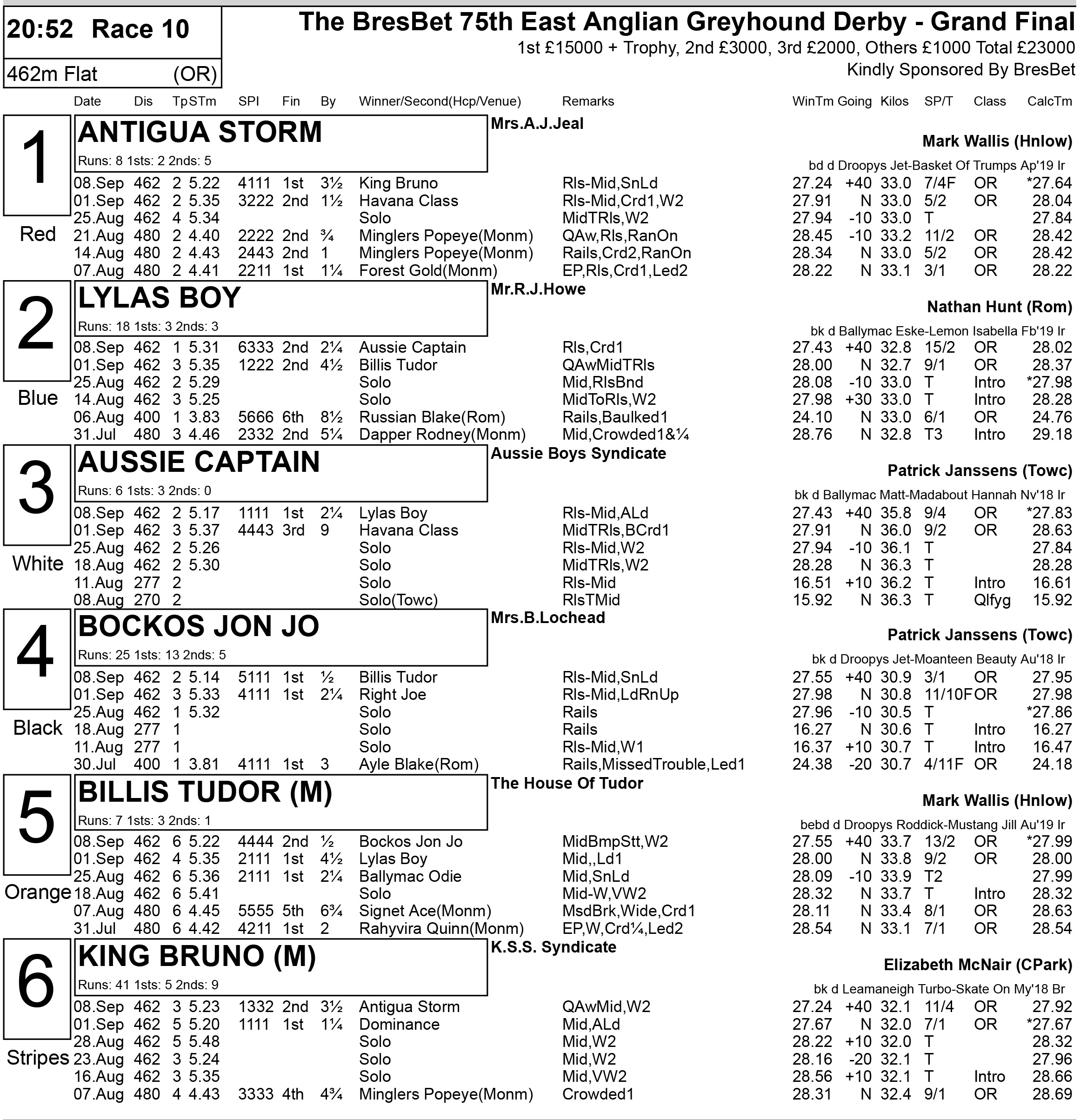 We have two in it including the 13-8 favourite Antigua Storm. It has been a while since we have had a top class specialist four bend dog. The last was probably Bruisers Bullet, and even he was a potential stayer who never had the opportunity to show what he might have been. We've had lots of other very very good hounds, though most have been dogs for four/six bends.
In my view – Antigua Storm could be the best since Blonde Snapper. I really do think that much of him.
He arrived with a slight injury which meant he wasn't ready for the Derby. If it was run now, I would have fancied him to win it. Even more so if it was still held at Wimbledon.
I thought he ran brilliantly to be just beaten by Drumcrow Brent in the Sussex Cup, though I did have reservations that it wasn't his ideal trip as was borne out. He also ran a great race to be just beaten by Minglers Popeye in the Gold Cup.
And here we are, eight races and his third Category One Final. I think he has improved race after race and he has to have an excellent chance in the final. I expect him to move slightly to middle on the run to the bend, but it is then a case of can they get around him.
It is ironic, bearing in mind how many racing dogs Nic and Amanda have bought, that they have owned Storm since he was a baby. He is a half brother to Antigua Rum, who was a bit unusual from that line, in having more stamina than most of them. We've had several Basket Of Trumps dogs in the kennel and most are early paced types.
Billis Tudor probably doesn't have the early pace of the one, three or four, and would need to get a clear run. But he is a very good tracker and would take advantage if there is trouble on the inside. He is owned by the syndicate who were involved with Black Farren with Paul Ephremson back enjoying ownership again.
Tudor was sourced by Graham Holland but found himself in some very tough company in his early races. He joined us and has had seven races including reaching the final of the Juvenile Classic, which I think will be proven to be a very high quality race in time.
He is another one open to improvement and I thought he ran very well to get within half a length of Bockos Jon Jo in the semi finals.
Latest betting: 13-8 Antigua Storm, 3-1 Aussie Captain, 10-3 Bockos Jon Jo, 5-1 King Bruno, 9-1 Billis Tudor, 12-1 Lylas Boy
On Thursday we are mob handed at Perry Barr with five in the M Lambe Construction Birmingham Cup and six in the Arena Racing Company St Leger.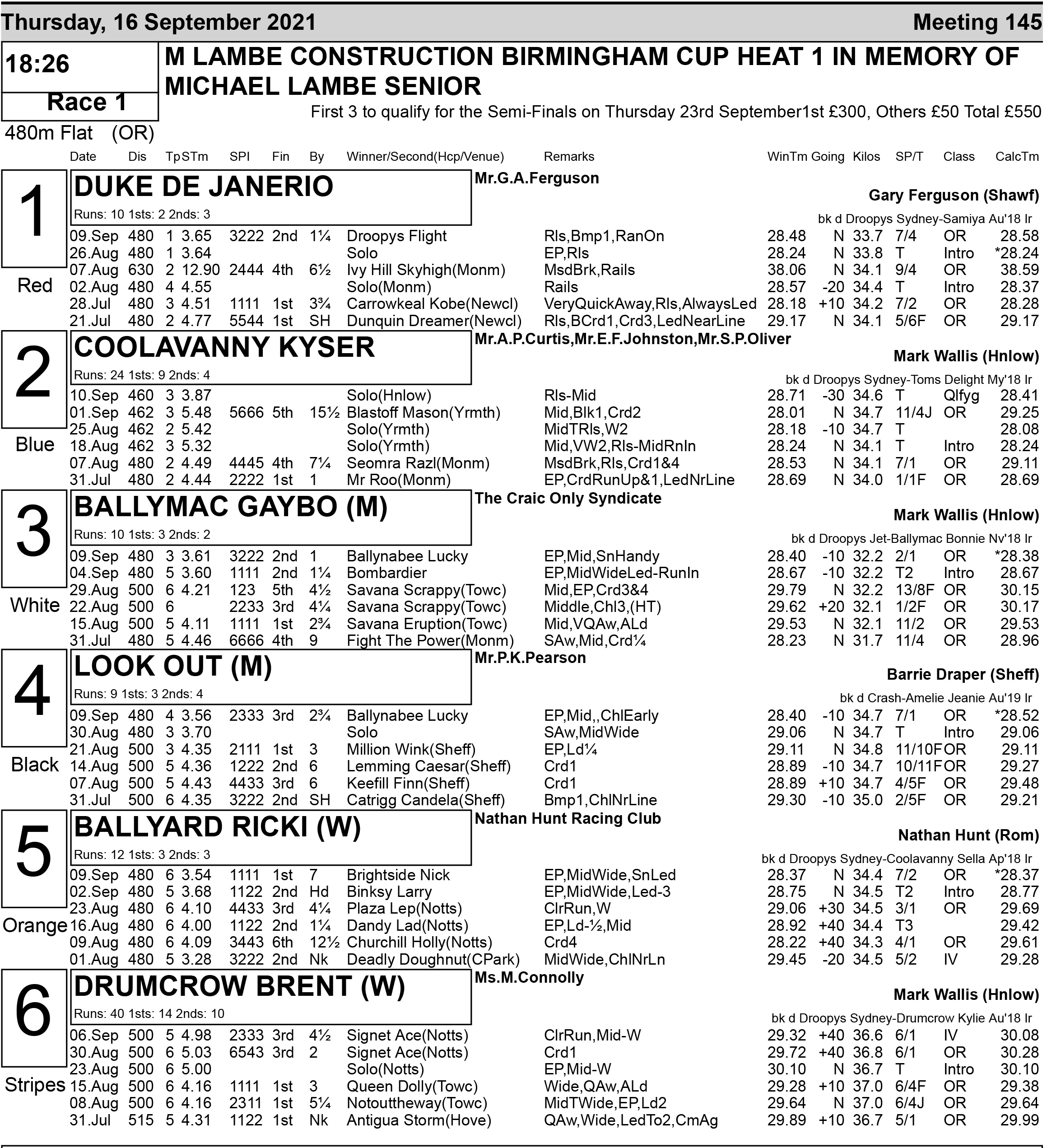 Three of the five Birmingham Cup runners are in the same heat. It is annoying but what can you do? These things happen.
Coolavanny Kyser reached the Laurels Final but his form has dipped a bit since then, we are hoping to see a little of his old form. Ballymac Gaybo is another who we are still to see the best of. He was injured and we couldn't get him ready for the Derby. Hopefully he can continue to show some progress.
Drumcrow Brent is a cracking dog. This might not be his ideal distance but he likes Perry Barr and was very unlucky not to make the Laurels final when narrowly beaten for a qualifying place in the semi finals. The draw should suit him here and I expect him to go well.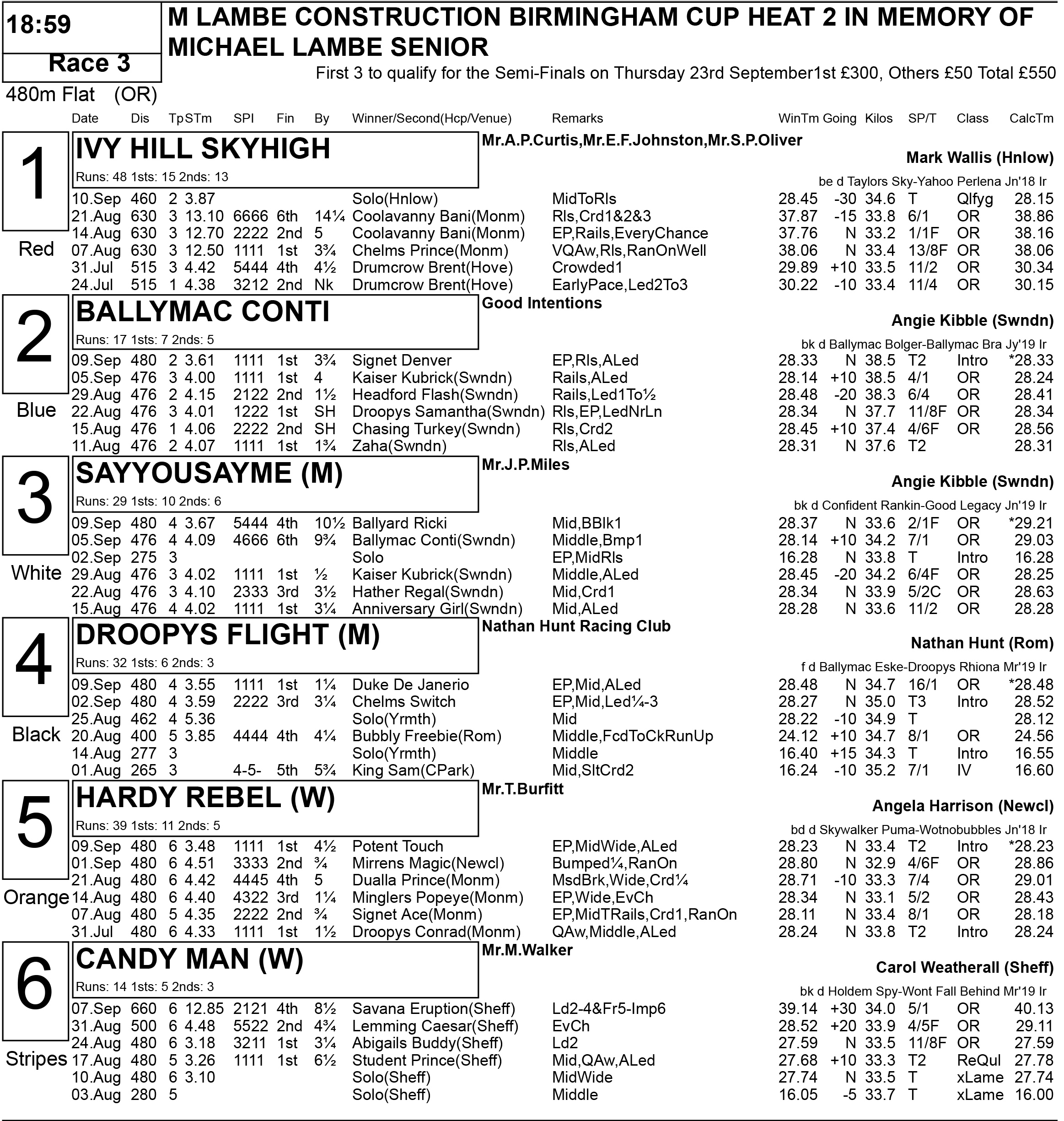 I think Ivy Hill Skyhigh probably represents our best chance in the event. He just failed by a short head behind Havana Class in the Laurels Final. He ran very well to finish fourth in the Sussex Cup Final and then again in the Stayers Classic Final at Monmore. He runs Perry Barr particularly well.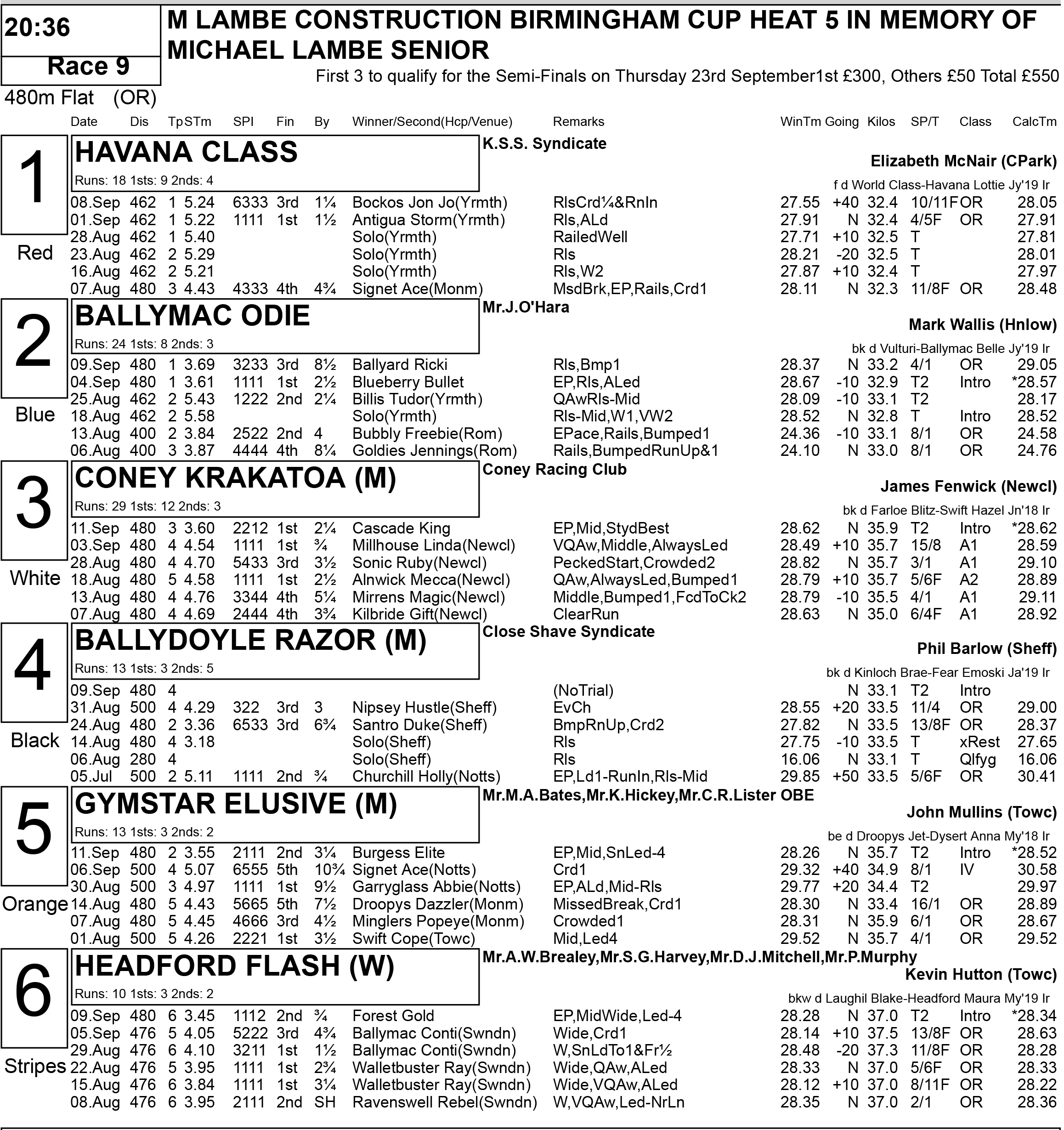 Ballymac Odie had worked his way through the grades at Henlow before he joined us. He is stepping up in class and we will see how he adapts, hopefully well.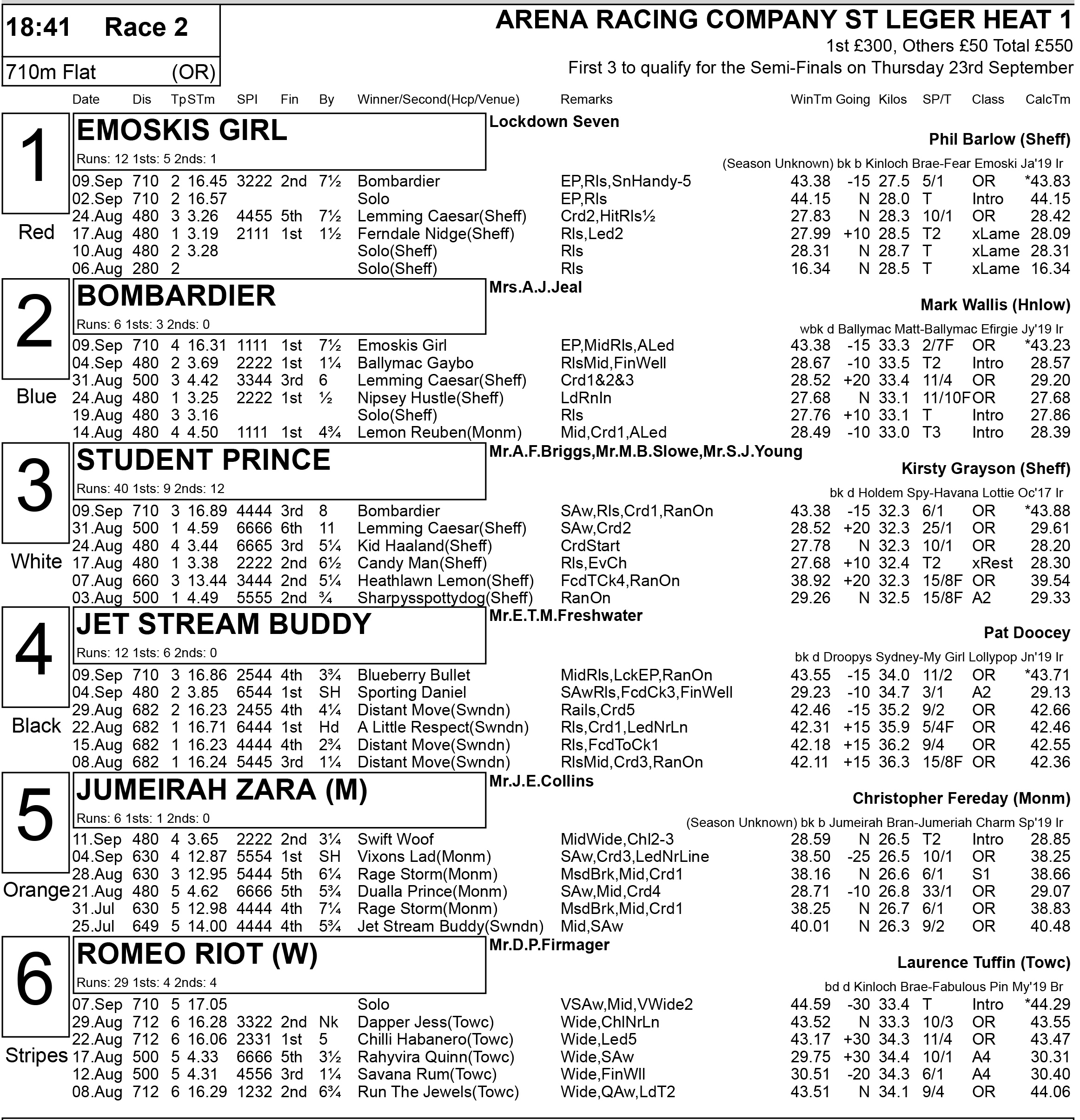 I had visions of tipping up Bombardier as a decent priced dog to have a few quid on each way ante post to win the Leger. But I certainly wasn't envisaging him being quoted as the 6-1 favourite.
Don't misunderstand, I rate him highly. I thought he would have been a big runner in the Three Steps final had he got through the semi finals. He was desperately unlucky in the draw and had two dogs cross in front of him, and would have gone even better in the final over six bends. But to base St Leger favouritism on one very winnable trialstake strikes me as a bit bizarre. We'll see, the bookies could be right. I hope they are.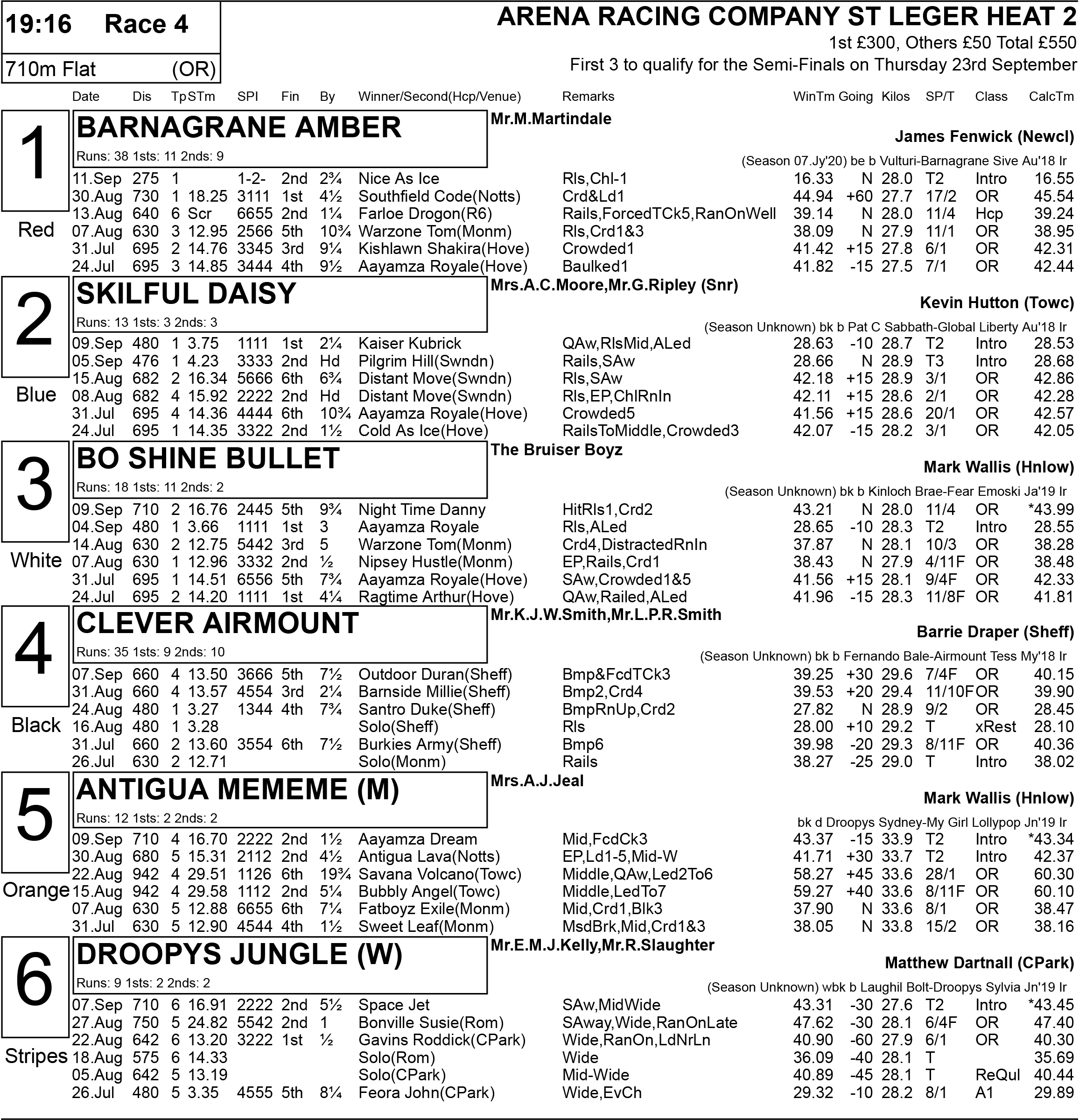 Antigua Mememe and Bo Shine Bullet are up against each other. Mememeis is a young dog with plenty of potential. We tried him over the 942 which he didn't get. I think this will suit him better and I expect him to show good improvement in the coming weeks and months.
Bo Shine Bullet is always rated whenever she runs. I was a little disappointed with the trialstake but think she needed the run. She is also the type to improve with every run around a track so I would expect to see more of the real Bullet on Thursday.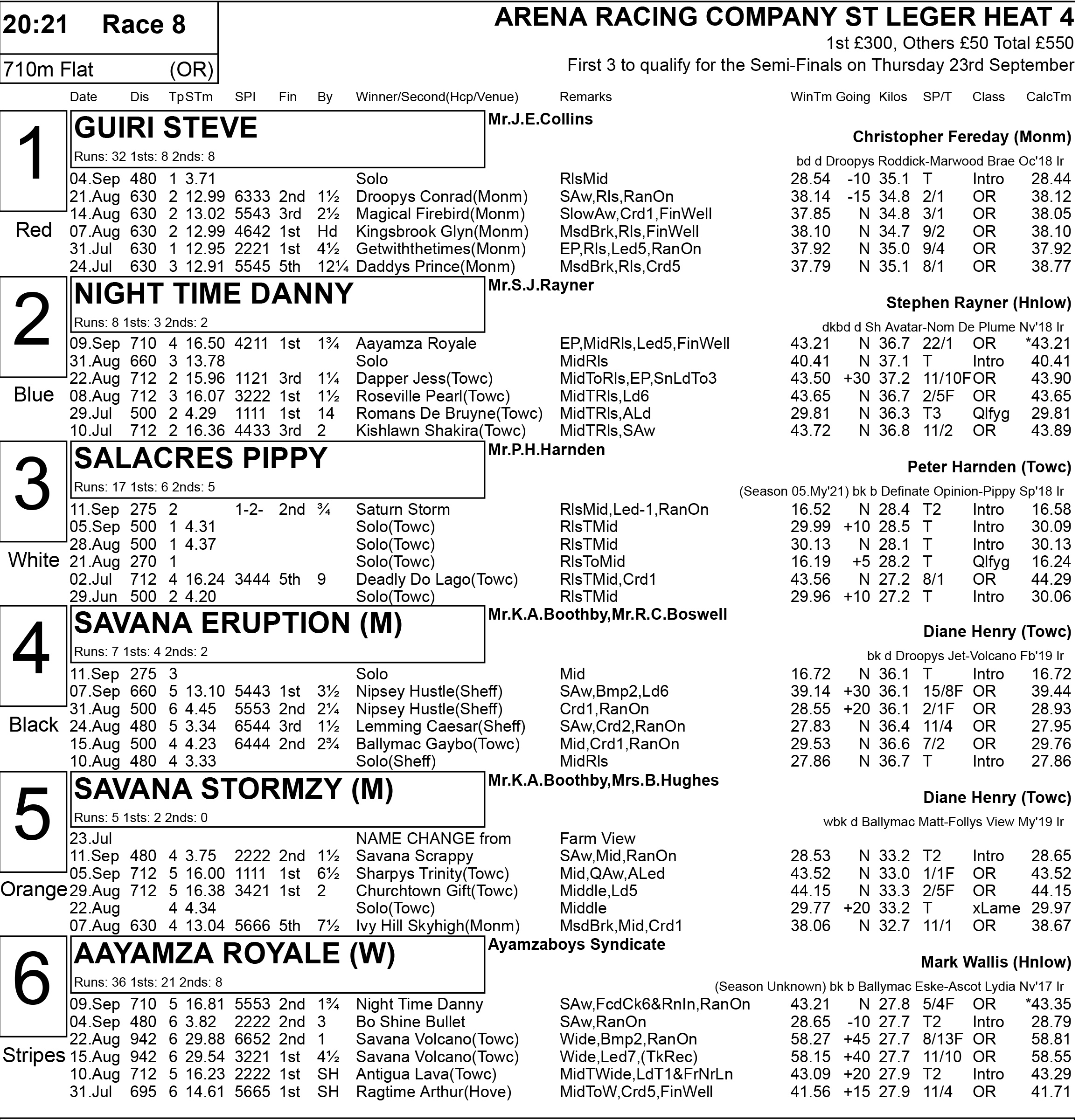 What can you say about Aayamza Royale? Four Category One races and Greyhound of the Year. I thought she was desperately unlucky in the final last year. She was bumped several times in running (LckdEP,Blk2&3&4) and was only beaten a length and three quarters.
Is she in the same condition as last year? Yes. My only reservation is that her stamina seems to have developed more at the possible expense of her speed. I certainly wouldn't want to put anyone off backing her. How could you given her ability and she loves the track. But she is nearly four and looks more of a marathon runner in my eyes than she was last year.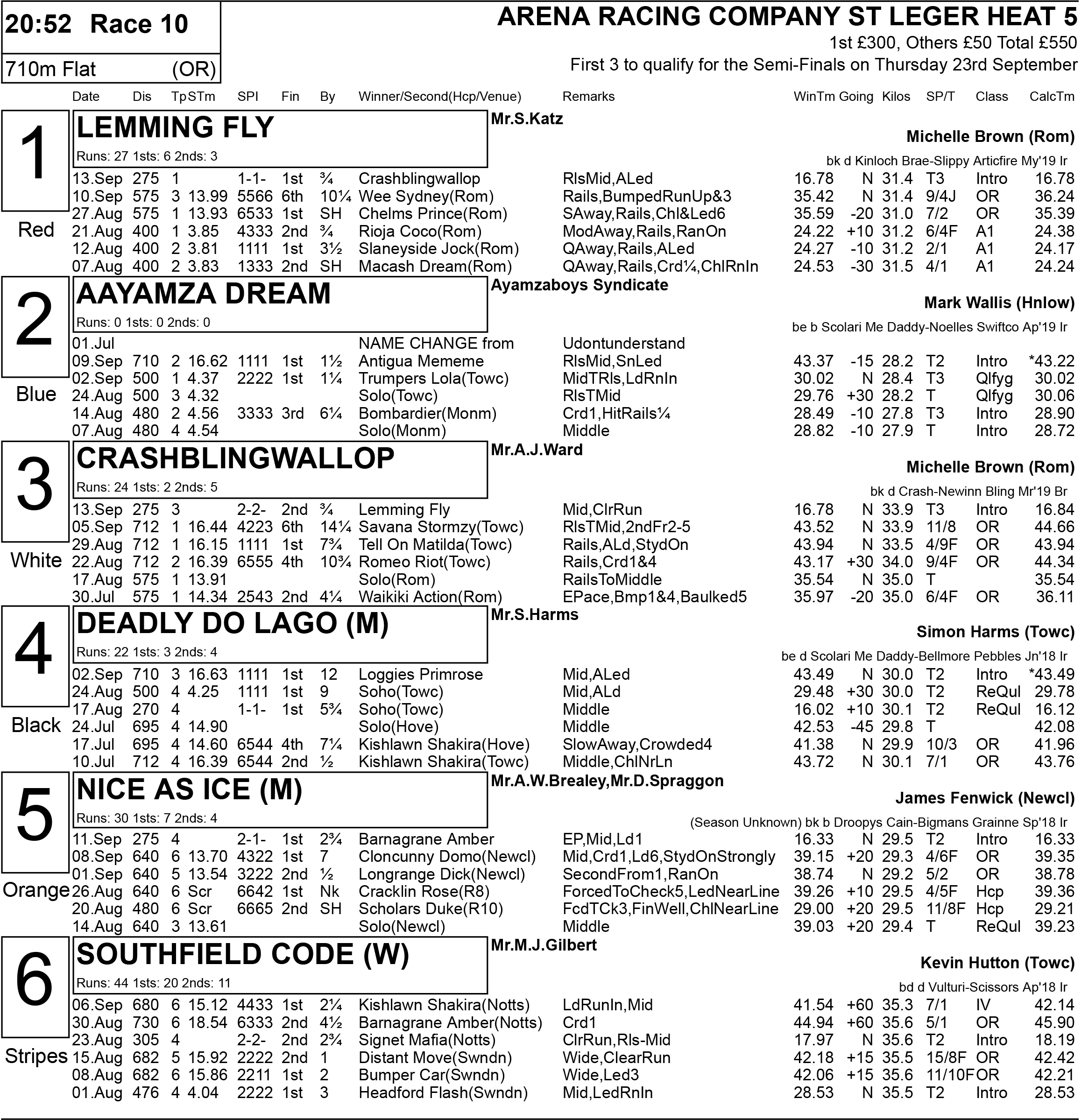 The Aayamzaboys had a superstar in Aayamza Breeze. They've had another one in Aayamza Royale and in my view, Aayamza Dream is their next superstar. I really think she will be that good.
She is only around 14/15 weeks out of season and I wasn't sure we could get her ready in time for the Leger. So we ran her in a trialstake with me hoping she could break 44.00 and she ran a sensational race to clock 43.37. She is obviously still way short of her best, but keep an eye open for her.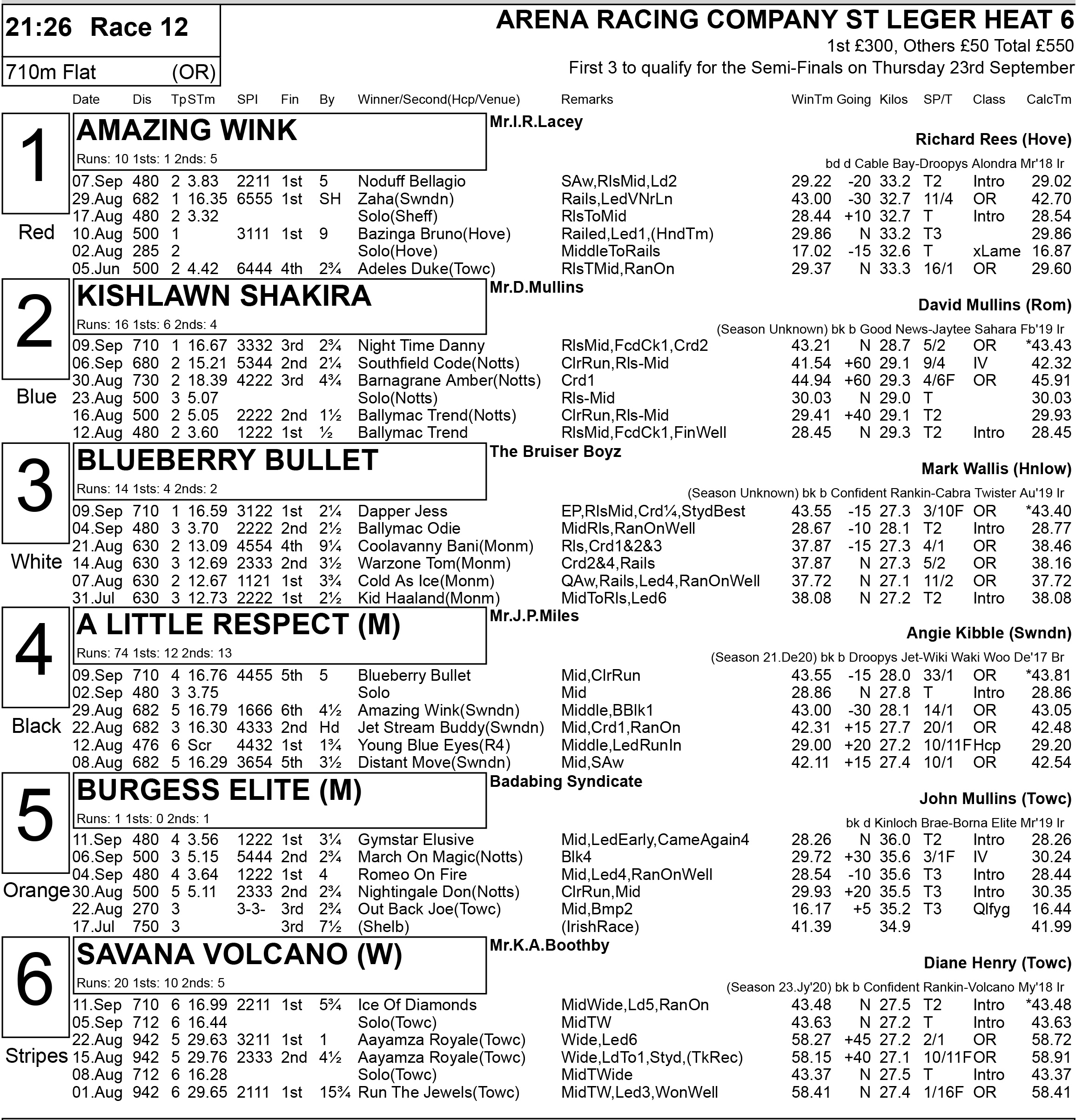 Blueberry Bullet is another sensational young bitch. She beat Cold As Ice over 630 at Monmore and showed great determination to win a trialstake.
In terms of the kennel in general, we have been struggling with numbers. There have been lots of injuries, bitches in season and young pups still to qualify. As a result, barely half the kennel are available for racing at the moment.
I would like to add that as someone who advocated the £15 trainer bonus for open racing, I am delighted to see so many tracks re-instating it. To be fair to Kevin Boothby, he never stopped paying it.
As far as I am concerned, these bonuses help offset some of the traveling costs for open racing. These are additional costs for trainers, buying and maintaining expensive vehicles.
The main reason that I always fought for them though was on the basis of fairness. If I have an open race runner at somewhere like Romford, as an example, I know that the trainers of all the local runners will be receiving a payment for their dog taking part, yet we wouldn't. It disincentivises trainers from entering in open races.