One of the most popular canine stars of recent years, Adageo Bob was put to sleep on Friday.
Bob had spent his final two years under the care of Sue Phillips and daughter Laura but had developed a brain tumour.
Homefinder Livi Noble said: "Sue met him whilst he was still kenneled.
"His owners had no intention to rehome him – but Susan kept asking and asking and we finally got it agreed!
"Best thing we ever did! 
"Sadly, Bob had been poorly for six weeks and had various tests etc before an MRI which revealed the sad news.
"Sue had gone over her insurance limit by a long way and I was also considering setting up a little go fund me for her as she is contemplating selling her car as she has borrowed the money she did so so much for that dog!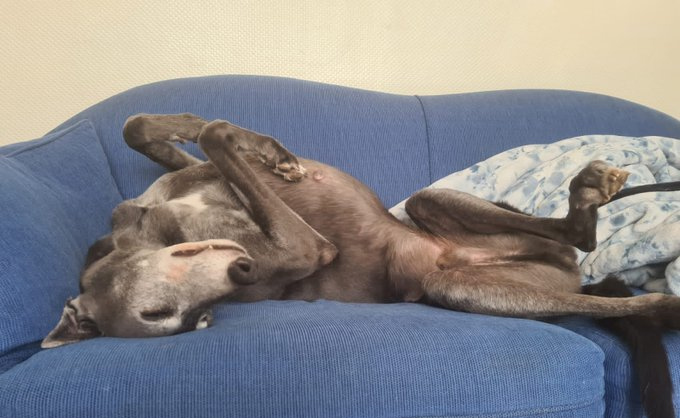 "He would have been home two years on 16th of this month – coincidentally Dave Lee has Ballymac Ley due to whelp on the same date – a litter sired by Bob.
"Sue is having a paw casting done of him I am going to ask Sid (Huett) if he wants one ordered too."
** Livi has since been in touch to say that she has since set up the Just Giving page in an attempt to help Sue cover Bob's outstanding vet bill which is now in excess of £4K.

Bred by John Marriott in Yorkshire and trained for all his successes by Mark Wallis, the July 2010 son of Hondo Black and Blonde Pearl was owned by Dick and Ann Barfoot.
His successes included the £8,000 British Breeders Stakes at Nottingham but it was at Romford that he really came into his own.
A runner-up in the 2013 Coral Essex Vase, he seemed destined to win the event the following year. The ante post favourite was at the peak of his powers and clocked 34.76 in the first round. But fog caused the A12 to be closed down on the night of the semi finals and Wallis arrived at Romford kenneling seven minutes too late. Bob duly equalled the track record in a supporting open on final night.
Bob ran over the Romford 575 metre course on 39 occasions, winning 27 times but could not nail a major final there. He was the half length beaten favourite in the 2015 Coronation Stakes and a 7-4 chance when third in the same year's Champion Stakes.
But fate would finally be kind to the hugely popular blue when, in his 40 and final Romford appearance on 1 December 2015, Bob landed the Essex Vase decider.
He was given a standing ovation by the Romford crowd at the trophy presentation. Trainer Wallis later admitted staying up until 4am the following morning was repeated replays of the night.
Whether it was star of the track, or deeply loved family pet, Adageo Bob will not be forgotten any time soon.