When it comes to talking about breeding, probably 90% of the discussion could be loosely labelled as being 'bloodlines' related – writes Floyd Amphlett.
As always, subjects overlap but rather than spending days trying to sub-divide topics, a whole variety of discussions and observations will be produced under the 'bloodlines' banner.
Which dog?
For many owners, their main interest is 'which stud dog should I choose for my mating?' and many years ago I did my best to offer some objective advice.
The good news is, life is considerably easier now for owners to make their own selections.
25 or 30 years ago, only those of us who had invested in hundreds of pounds worth of stud books were able to trace bloodlines. Now, you can you find all the information on-line.
But that's not all. Every year in the Star newspaper, we would publish the litter numbers for the top stud dogs the previous year. That info is also available with a few clicks, because make no mistake, volume matters.
At one stage, dogs like Droopys Kewell sired more than 250 litters in a year, but the trick was to spot hounds like Droopys Scolari who made his mark from a couple of dozen.
The latest example is the brilliant Droopys Sydney who is quite possibly the most exciting sire since Top Honcho.
Other influencing factors
But there are other considerations too. With the best will in the world, people like the Dunphys, Liam Dowling, Ian Greaves or Dessie Loughrey could have put their top broods to a sheepdog and produced champions.
Not only did they have the proven bloodlines, you could be certain that their pups would have been given the best possible rearing too.
Gradually breeders copped on and flying pups out of the top broods, handled by the top breeders, were viewed with a bit more caution.
Of course using a named dam could be a double-edged sword. If a younger litter out of a top brood weren't quite as good as the first and second batch, it did the sire no favours at all.
Stud fees played a part too. If a breeder was going to spend £6,000 on a mating to Brett Lee, you could be pretty sure he wasn't sending his A6 bitch. And he certainly couldn't be cutting corners in the rearing.
The changing breed
For me though, the main reason that an owner in 2021 should need less help in his stud dog selection has less to do with access to data, and more to do with changes in breeding.
To understand breeding, it is vital to understand one underlying principle: The ability to run fast, is only half of the equation. Unless is it combined with desire to chase genuinely, it will all end in mediocrity.
Make no mistake it was their failure to transmit desire to their progeny as much as any lack of pace that saw so many stud dogs fail.
I will take that a step further.
In my view, one of the reasons that so many brilliantly fast Irish based dogs failed at stud was because they were false champions.
They would typically be 'hunted' between races. Some trainers were famous for it. Entire careers would be manufactured to be short because the dogs simply weren't genuine enough to stay motivated.
There were a string of top Irish stars who came to Britain and went into such decline that ultimately, some even stopped chasing.
Sure there were dogs that didn't acclimatise to big kennels, and Ireland's less stringent checks on substances like steroids would also have played a part.
But in my view, the fact that the UK based dogs generally had longer careers with less 'free range' training, was the most significant factor.
Mixing and matching
The breed was really quite different 30-40 years ago. Irish breeding was much more dependent on coursing bloodlines, or realistically, dual purpose bloodlines.
The two most famous examples of that were the Skipping Chick and Millies May dam lines though there were a large number of similar strains. I'm Slippy was from the Mint Sauce dam line, Lady Hunter was a prolific brood of track and field. Desert Pilot was a 'Tender' And so on.
The problem was, if you just breed these 'pace' lines with more pace, you get dogs who won't take to the track, or not for long.
So that was where broods like Sheila At Last (dam of the 'Monalee' prefix) and Prairie Peg came along. Sure, all track hounds they would have had coursing ancestry, but they had also shown enough desire to chase the tin bunny and that was transmitted through their progeny.
In my view, a quarter of a century ago, the blending the two types of hound was vital in producing top class track greyhounds.
But things have move on. . .
The imports
I have no doubt that it is the import of predominantly Australian and American bloodlines that have improved the breed immeasurably.
It was originally an expensive long draw out process involving six months quarantine. That was superseded by blood tests and then the export of frozen semen.
Examine any pedigree of any modern stars, look back more than two generations and I will guarantee more Australian and Irish bloodlines than Irish/British ones.
How and why have they affected bloodlines is a huge debate in itself and not one I will tackle today.
The geneticists will talk about 'hybrid vigour' or more colloquially known as 'outcrossing' among greyhound folk. It is absolutely a thing and hugely important.
Personally though, I think the Aussie and American dogs are also bringing something fundamentally different from our traditional coursing lines.
In my view and grossly generalising, the Yanks and Aussies have a much stronger 'chase' rather than 'kill' instinct.
I believe that over time and pursuing an entirely different type of lure, the two countries have developed a chase instinct that is closer to the way pet dogs chase a ball or a rag, than the way hounds pursue a fox.
That doesn't mean that your A6 grader from Henlow wouldn't give a cat a good shaking if given the chance. The instinct is still there. But it is the movement of the mechanical lure that gets his juices flowing.
Is anybody seriously trying to tell me that 68 races in, he believes it is a real live bunny?
In America in particular, where the money is (or was!) in racing, not at stud, you want a dog to be giving his best after 140 races, without needing some 'countryside therapy' between races.
So is sire selection important?
Yes, but maybe not as much as it once was.
However there are still important decisions to be made.
To be continued. . . .
---
Not taking things at face value
If unraveling breeding wasn't difficult enough, it doesn't help that at on occasions, you might question whether the Stud Book should be registered in the library under 'reference' or 'fiction'.
In 1996 Australian stud keeper Kevin Richards was found guilty of incorrectly registering (God knows how many) litters as being by his stud dog, Chariot Supreme. Two years later, the Aussie authorities stated that as many as 20,000 pups as being directly, or indirectly, attributed to Shining Chariot were incorrectly registered.
But it was rife here too. Prior to DNA testing, it was impossible to verify bloodlines, and even when it was introduced, it remained tricky to conclusively unravel such closely connected bloodlines.
In addition to the substitution of stud dogs, over the years I have heard countless tales of top bitches losing their litters, or failing to produce, only to have a completely different litter registered to her. There was one particularly successful bitch who it happened to – or was that malicious gossip? Certainly 'her' litters were paceless.
'Backdating' of litters was also quite a common practice. Registering a litter as being several months younger than they actually were could pay big dividends when the '15 month old' won in a flying time.
Or you might find two similarly aged litters becoming one bigger litter. I have even known of occasions when two litters of very young similarly coloured pups have ended up in the same paddock and there was a bit of guesswork involved when they were earmarked.
I bring up the subject of breeding jiggery pokery purely on the basis of a random conversation that took place this week with a former top trainer. I don't like using anonymous sources but I cannot tell the story without doing so.
This particular tale took place many years ago. The trainer had one of the leading stars on the open race scene but one day got a call from the owner to say the dog was going back to Ireland to stand at stud with immediate effect.
The dog was still young and the trainer was gutted, but what could he do? Some time later, he visited the owner's stud kennel where his ex-racer was standing at stud . . . . but had never been advertised.
No explanation was asked for, or given, but the dog was in great nick. The trainer thought no more of it until he saw his dog's sire, probably at least 12 years old, ". . . blind, thin as a rake, and really struggling to get around. He was a house pet and they couldn't bring themselves to put him to sleep. Then I was told, 'but he is still working well at stud'. Suddenly it all made sense."
This same stud keeper had developed a reputation for 'putting up' the wrong dog. He had since died and many years later I asked a close friend of his whether the stud keeper was unfairly maligned.
I didn't get a straight answer, but it went something along the lines of . . .
"In most cases, a breeder would turn up and the stud dog wouldn't cover the bitch. The breeder would be desperate to get pups, quite often because they needed the money from the litter and they had waited a year for her to come into season. So they would use a younger, less popular, dog who would get the job done.
"The litter would have been worth a lot less of course and the breeder would say, 'how do we register the litter?', to which **** would reply, 'how would you like them registered?' The breeder would pay for the cheaper dog but get the dog he wanted on the mating cert. It wasn't about **** making more money."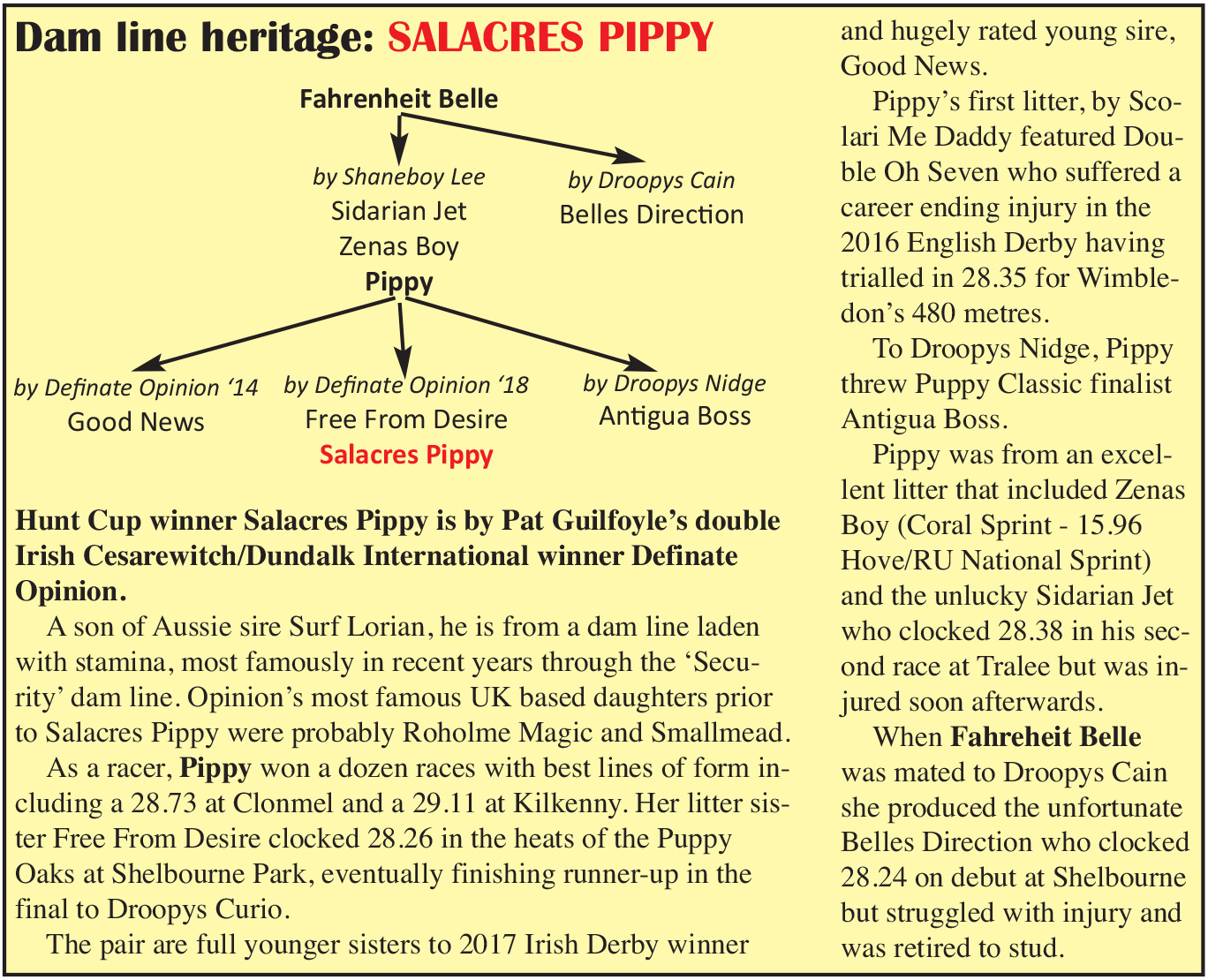 There have been some interesting track performances since the last Breeding Ground and I thought it would be interesting to unravel some of the stories behind them.
April pup Havana Bale Out caused quite a stir with a 29.21 run at Towcester. Only two bitches have gone faster over c&d Unlock Unlock (29.16) and Jaguar Macie (29.20). The run would surely have left breeding students wondering where her pace came from.
Bale Out was bred by Northern Ireland based Scotsman Drew Richard, who of course also bred the track's sprint record holder and Sovereign Stakes finalist, Havana Class.
She is by another former local star Magical Bale out of Comeout To Play (Razldazl Billy-Dear Prudence). The dam started out in A6 at Coventry but joined Kevin Gant and went on to win A1 at Yarmouth plus a 480m open at Central Park.
Comeout To Play is a sister to Irish Grand National runner-up Native Custom though Prudence also had a litter by Makeshift that included Native Hut (Farrell Mem) plus two Head Bound litters that featured Native Story (HX Gold Collar) Fleeting Image (Corn Cuchulainn), Blackrose Monarch (RU Golden Jacket), Fleeting Image (RU Prestige) and Dolores Ruth fine brood Razldazl Pruh (dam of Razldazl Peaky, Boylesports King).
Drew said: "I always like her breeding. She had five litters and threw a decent stayer in Hornblower. Unfortunately, she really struggled with her last litter and had to go on a drip, so I had to hand rear the pups. I decided the kindest thing was to retire her. She went back to owner Chris Houlding but started to have seizures so it was the kindest thing to have her put to sleep."
However, Bale Out is not the only flying machine to have landed in Kent after a short flight from Coleraine.
On Tuesday, Havana Lover ran the first four bend trial of her career at Central Park. The August 20 puppy (that is not a misprint) by Laughil Blake out of Love Honey, clocked 29.10!
Drew said: "I told Rab that I thought she was at least as fast as Bale Out but I don't think he believed me. When I gave her a first trial over here I couldn't believe the run and told Rab. She was still out in the paddocks at that stage."
Drew also has a litter he is very excited about a litter by King Turbo out of Kayjo Loch.
He said: "I have sold most of the litter but I have one bitch here who looks as though she really has something about her. She is too young to run trials yet, but on the gallop she really pleases me."