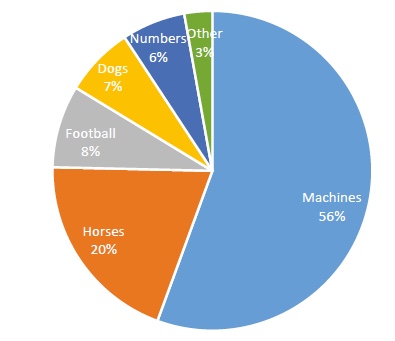 Confirmation that Government is to reduce maximum stakes on FOBTs (betting shop fruit machines) to £2 will have a major effect on the gambling industry, and greyhound racing's part within it.
As revealed in the CMA document published by Government in July 2016 (to consider the Ladbroke/Coral merger) the machines account for 56% of betting shop profits.
The Association of British Bookmakers state there are around 9,000 shops, and even prior to the announcement, claimed in late 2017 that 400 shops had shut in the previous 18 months.
It is certain that many hundreds, if not thousands, will shut as a direct result of the latest announcement. Indeed it would be astonishing if the firms hadn't already compiled lists of their least profitable outlets.
Shop closures will inevitably reduce revenue, which will put a squeeze on SIS/ARC contracts with the tracks.
The secondary effect will be to reduce the funds coming into the BGRF, which was already likely to face a fall in revenue due to reduced betting on dogs caused by the media rights battle.
But there is worse news still.
Betfair and Skybet have basically told the Department of Culture Media and Sport to 'do one' in relation to greyhound racing, and since they don't own any shops, the DCMS couldn't even threaten them with FOBT changes.
Now, the big chains who had promised to pay into the Fund from their internet business, have a double excuse to welsh on their agreement.
1) Our biggest internet rivals have refused to pay, so why should we? 2) You are taking away our biggest profit source, so we can't afford to pay.
Many in the greyhound industry are already feeling shell shocked over the recent announcement that SKY, who have committed to a new racing channel with Attheraces, don't want to broadcast greyhound racing.
As I have stated previously, personally I view that as a temporary inconvenience, rather than a tragedy, though my views are seemingly in the minority.
So why is the greyhound industry in this mess? Can we do anything about it? Is the industry doomed to fold?
I can only refer to Editors Chairs articles going back at least three years. I will continue to bore readers spitless with the same arguments but each passing event only takes us further down the predicted path.
I clearly remember writing "the majority of betting shops will be gone within five years, just as we lost Blockbuster Video".
I stick to that claim and I had no idea at the time of the planned butchery of the FOBTs.
My views were based on the profile of the betting shop customers with only 27% under the age of 35 and 30% (also the most prolific customers) being over the age on 60.
Two additional points:
That data is now three years old; is the age profiling likely to have reversed or accelerated?
How many of the under 35s were betting on horses/dogs and how many were playing the machines? My money says the latter.
The historical issue, as I see it, is that greyhound racing promoters have sold their souls to the betting shops.
They have become brainwashed into believing that greyhound racing is no more than a 7% filler, and have long accepted bland regimented racing as inevitable.
They have given up in the increasingly cutthroat leisure business and settled for the BAGS cheque every month.
Guess what! If I had been a promoter, I would have done exactly the same.
As unpalatable as it might seem, without the BAGS money, this industry would have shut down years ago.
However, sooner or later, we must let go of the failing betting shop model or we will be dragged down with it.
As the bookies re-group, it will be interesting to monitor their short, medium and long term view of greyhound racing.
It might be only 7%, but it is the best returning, absolutely nailed-on percentage product currently on offer. They have to turn over a lot more ££s for every £ earned on horse racing.
Besides, does a High Street need five betting shops (and three charity shops) within 100yds of each other?
How many punters would simply change shops if three closed? They will surely still want to bet on something?
Greyhound racing is tailor-made for the impulse gambler or the one seeking a big jackpot on a multi-leg stake.
At this stage, I don't see many betting offers offering greyhound punters the chance to win £50K for six winners or millionaires for £1 (or however the maths multiples work out).
But the bookies are already looking ahead. In the same CMA report, William Hill reported their internet business had risen 140% in four years.
That can only increase exponentially over time. It is human nature to bet, whether it is on dog racing, football, or the stock market, and technology has progressed enough to become the saviour of greyhounds.
Towcester have already shown us the model by selling their Derby rights individually. In less than two years time, they won't be tied to any media rights deal and will be able to deal directly with the individual betting companies and the public.
There is a lot to do before my five year prophesy rolls out – IF it rolls out. The first job is for greyhound racing's good and great to recognise what they have, and how they have let it rot under BAGS.
I love greyhound racing but wouldn't watch a BAGS meeting if it was held at the bottom of my garden.
Re-invent the sport with innovation and technology. Racecards need to be supplemented with phone Apps to embrace a new audience.
Live racing will be delivered to phones, laptops and smart TVs. It will be controlled by the tracks themselves, via the internet and encrypted. The days of Betfair leeching a free feed from a SKY meeting must end.
You can't stop Betfair betting on greyhound racing, but you can refuse them access to the pictures, streamed or via digital TV.
Do more 'Derby type' deals with UK bookmakers and make more use of the international market.
As one of the ARC guys pointed out recently, "there is a ton of virtual out there, and virtually nothing between any of them bar the quality of the graphics and number of runners."
Live product is harder to source and relies on reliability, simplicity and integrity. Tick! Tick! Tick!
The bookies might be shutting shops, but it makes no sense that they would shelve greyhound racing any time soon.
We finally have some leadership and vision at GBGB and my understanding is that the promoters are being asked to take a fresh look at where the industry is, and where it needs to go.
Personally, I think it requires GBGB to split into two entirely separate but linked organisations: GBGB (Regulatory) and GBGB (Commercial). At present, the single banner has the propensity to cause conflict.
For example, I remain critical of the Board's passive, reactionary response to the aggressive welfarists, but can see how they are conflicted as regulators. (Something else Donoughue cocked up!).
To sum up – a combination of SKY, the media rights battle and the FOBT decision has the propensity to destroy greyhound racing, or force it to get its act together at last.