After weeks of trial stakes the Romford Puppy Cup finally starts tonight writes Rob Abrey.
The six heats over 400 metres kicks off at 6.43pm. The £10,000 to the winner competition traditionally attracts the top entries and this year is no different. Amongst the thirty-six entrants we have Bubbly Apache, the ARC Puppy Classic winner and Brookside Richie, the Juvenile Classic winner at Towcester. Ironically they have been drawn in the same heat.
It's extremely competitive and with several puppies making their Romford race debuts tonight yours truly has found out more about five of them.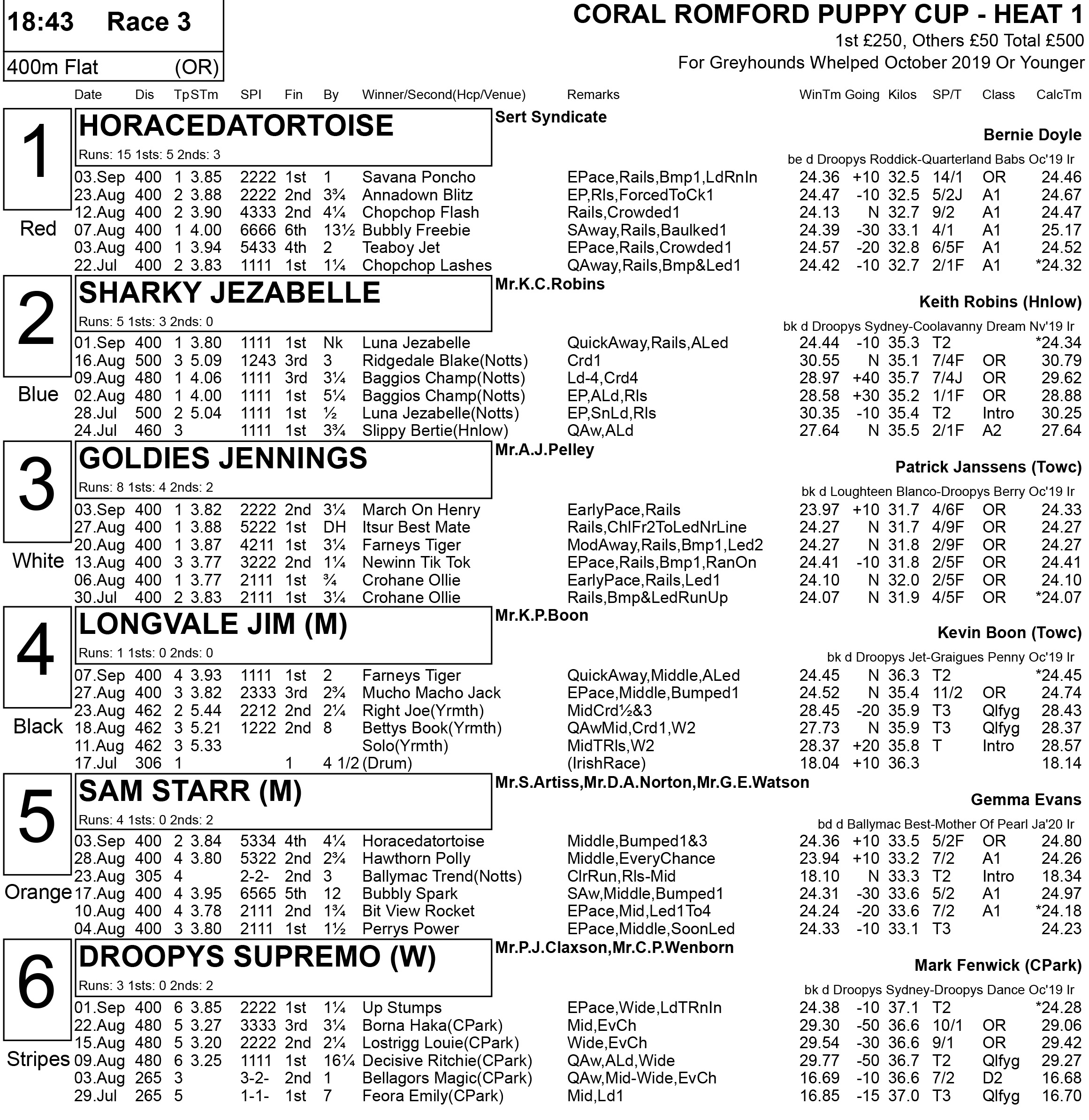 Droopys Supremo is making his Romford race debut in heat one for central Park trainer Mark Fenwick at 6.43pm. The son of Droopys Sydney and Droopys Dance has had only three races, all of which were at Central Park over 265 and 480 metres. The October '19 whelp has yet to get on the scoresheet but in a recent trial over C&D, his calculated time of 24.28 showed the potential is there. The 400 metres trip could be ideal for the sole wide seed.
Mark said: "It was a nice trial considering he didn't lead. He looked like he was feeling his way round and should find more time.
"He is really improving. His trials before he started racing were not spectacular but have seen massive improvements in his races. In his last race he ran tremendous in defeat. He was in a hard heat against all aged dogs and didn't expect him to do what he did.
"He's got a nice bit of early and will get 400 metres all day long. He's wide, wide, wide all the way and is decent from the traps. In his heat he could be competitive and he is getting more experience at Romford. If he qualifies, we expect him to come on for it."
Betfred are top price 50/1 for him to take the outright spoils while several firms are offering 6/1 for the sole wide seed to win his heat.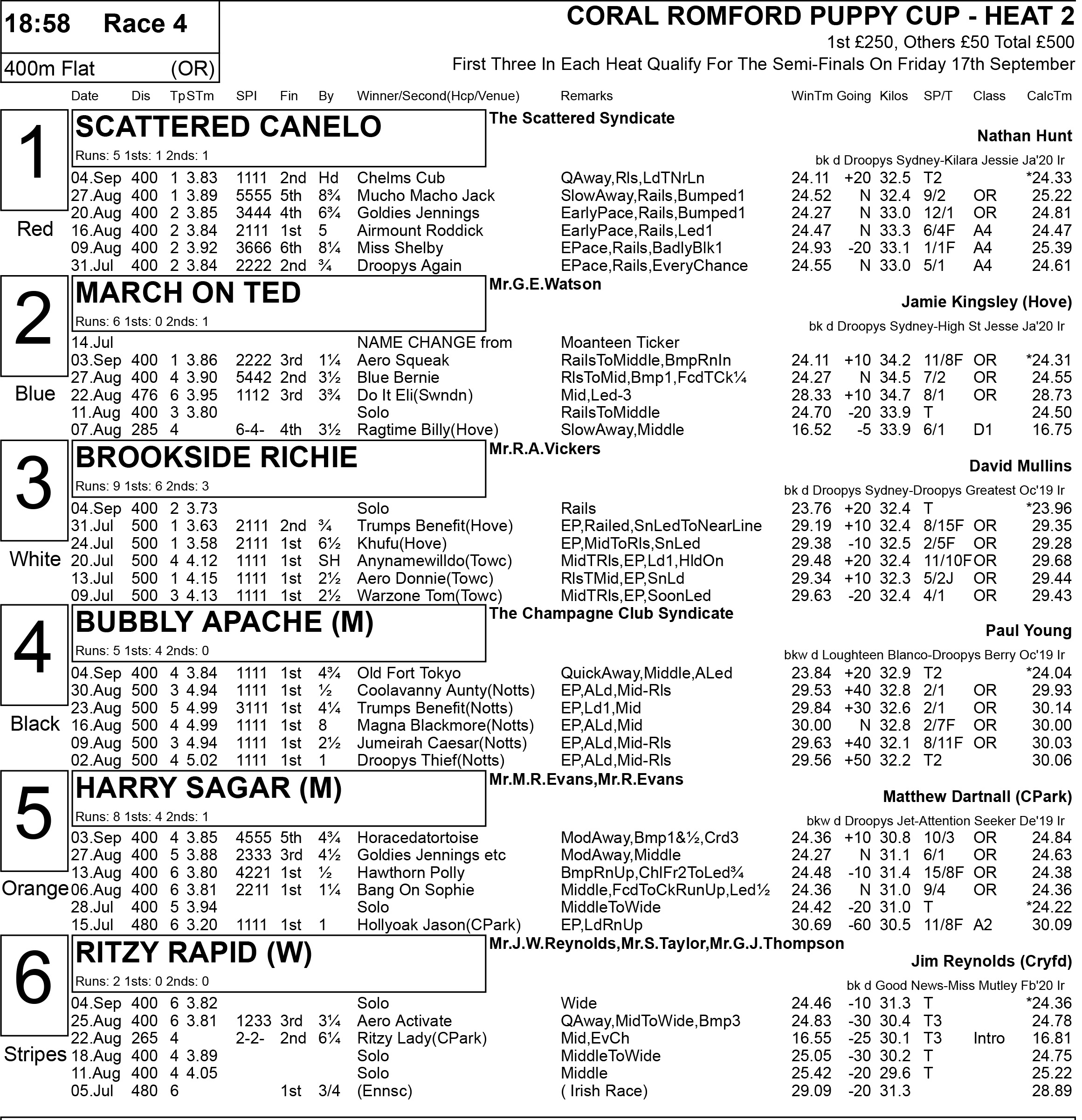 Recent ARC Puppy Classic winner Bubbly Apache makes his Romford race debut in heat two at 6.58pm for trainer Paul Young and the Champagne Club syndicate. The October '19 whelp went through the showpiece competition at Nottingham unbeaten; some feat that. The son of Loughteen Blanco and Droopys Berry has had a recent spin over C&D clocking a very good calculated time of 24.04. Bred by Sean and Michael Dunphy, Michael told Head of the Champagne Syndicate Steve Fluin "I have a nice puppy for you for the Romford Puppy Cup. He has loads of early but I don't think he will stay." He was wrong about the staying but if he was right about him being a Romford dog, the others should be afraid.
Steve said: "He is a very nice dog. He is in a very tough heat against the Juvenile Classic winner, Brookside Richie. It's a shame they are together but at the same time quite exciting.
"He showed at Nottingham he needs a long straight to the bend, he takes a little while to get going. Our fella has to do everything right from the traps. The first bend in his heat is very critical. He did a lovely trial and handled the track well.
"It is a very hard heat but we will be very disappointed if he didn't qualify. He has no problem with the track and has not been led up at Nottingham. He has great pace and great tenacity.
"We would love to win the puppy cup. We have come second a few times and hopefully will go one better!"
Skybet are top price 4/1 for the unbeaten Puppy Classic winner at Nottingham to claim the £10,000 winners cheque while Corals and Ladbrokes are 11/8 for him to overcome his hard heat.
Sheffield trainer Phil Barlow is taking on the Friday traffic from his Wakefield base to give his charge Inca Jet his Romford race debut. The November '19 whelp has only had one race so far and won it. That race was at home track Sheffield over 280 metres in an open affair.
The fact that the son of Ardnasool and Cinderella has won an open race first time up against all aged greyhounds bodes well going into heat four at 7.36pm tonight. He clearly has early pace and his recent trial over C&D of 24.32 will be expected to be improved.
Phil on him said: "We're over the moon with him. We were pleased with his trial; he took to the track really well and will hopefully come on for it.
"It was his first time over four bends and he is coming on leaps and bounds.
"Romford was always on the card for him and he got the 400 metres easy enough in his trial. He is not blessed with massive early but soon gets going.
"He was only lightly schooled and expect him to come on. We think he will get better.
"He is as good as gold traveling so the long journey won't be a problem. We quite fancy him. He has a half decent chance and has a good make up of the race. We will see."
Skybet and Betfred are top price 25/1 for him to lift the trophy while William Hills are top price 5/1 for him in heat four.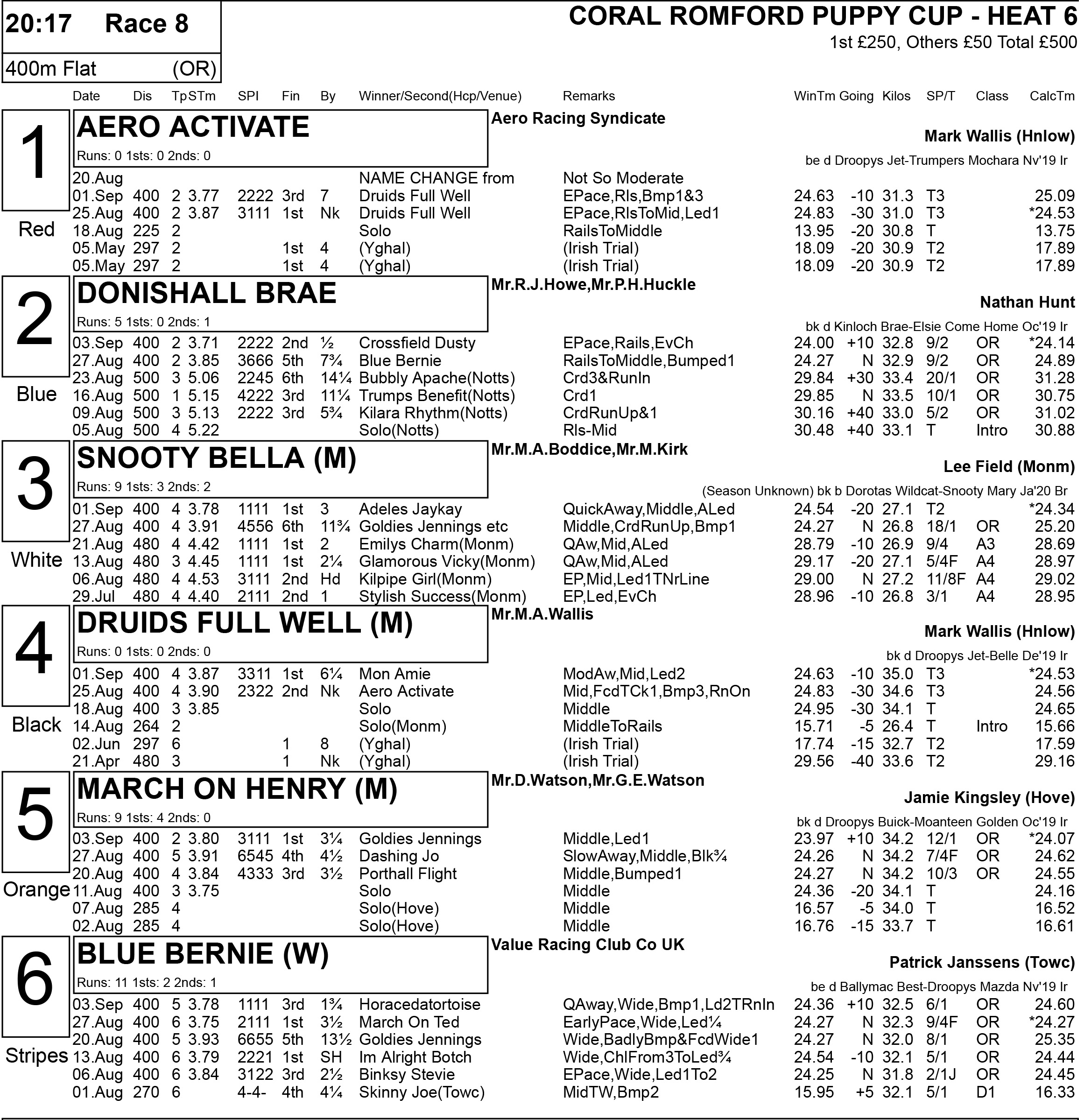 Mark Wallis knows what it takes to win the Romford Puppy Cup having won it three times previously. This year he has entered two of his charges and unluckily for him have been drawn together in heat six at 8.17pm. Aero Activate and Druids Full Well are both making their race debuts tonight with each having three trials over C&D.
The un-raced Aero Activate, a November '19 whelp has clocked a best calculated time of 24.53 from his three trials. The son of Droppys Jet and Trumpers Mochara will be expected improve.
Druids Full Well is almost a mirror image of his kennel mate. The December '19 whelp has also clocked a calculated best time of 24.53 from three trials over C&D. Like Aero Activate, the son of Droopys Jet and Belle will be expected to improve.
Mark on them said: "The puppy cup has probably come a bit early and both have it all to do. We are expecting them to find twenty to thirty spots.
"We have won it in the past with similar dogs. When we won it with Glanmire Lad we got three quick trials in him and that and stood him well.
"Aero Activate looks a nice early paced sort and was bought with Romford in mind. He needs a bit of experience and is still a bit green. He needs to find two or three lengths.
"Druids Full Well will definitely get further. He looks more a Monmore dog than a Romford one.
"They will do themselves justice. There is just a head between them in trials when they went against each other."
66/1 is being offered for Aero Activate by several firms for the unraced puppy to win it outright while Corals are top price 9/1 for him to win his first ever race.
Druids Full Well is generally available at 50/1 to take the outright spoils while 8/1 is being offered by several firms for him to win at Romford at the first time of asking.