"The phone went and the guy on the other end said 'have you got any room?'
"I said 'sorry mate, totally full up'."
"Oh!"
"Is it a dog or a bitch?"
"A bitch"
"Is she any good?"
"I think so"
"I looked up her form and thought 'F****** hell!"
After what proved his best day as a trainer to date, Patrick Janssens broke into a cold sweat when he thinks how close he came to turning away the 2020 Ladbrokes Golden Jacket winner, Skilful Sandie.
Sandie had been bought off the internet by Graham Carpenter and Richard Marling who had been impressed with some impressive form at Clonmel.
Patrick said: "I didn't really know Graham and Richard that well at the time, other than I had seen them around the tracks as owners with Peter Goodfellow. But they are great owners, totally into their dogs, they never miss a race or a trial."
"Saturday was a superb day in every way. There was a big crowd and Crayford looked after everyone brilliantly. It makes such a difference when tracks put themselves out."
Although Sandie was the star attraction, the kennel also picked off Category 2 and Category Three races with Goldies Symnsy and Affleck Bolt respectively.
Patrick said: "I remember talking to you last year about Symnsy. I first realised that he had ability when he trialled at Henlow on the same day as Bockos Doomie. He was half a second slower but six months younger. Unfortunately, just about everything went wrong with him, from sickness to the cough.
"I did consider running him in the Golden Jacket but he did 33.50 in a 540 metre trial and I phoned Andy Pelley and suggested a change of plan. Thankfully it worked out so well.
"As for Affleck Bolt, that was pleasing to see the old veteran running so well. I knew he would have to get past Mark's dog (Busters Bullet), but he stuck to his task. He and Goldie will both now be targeting the Regency."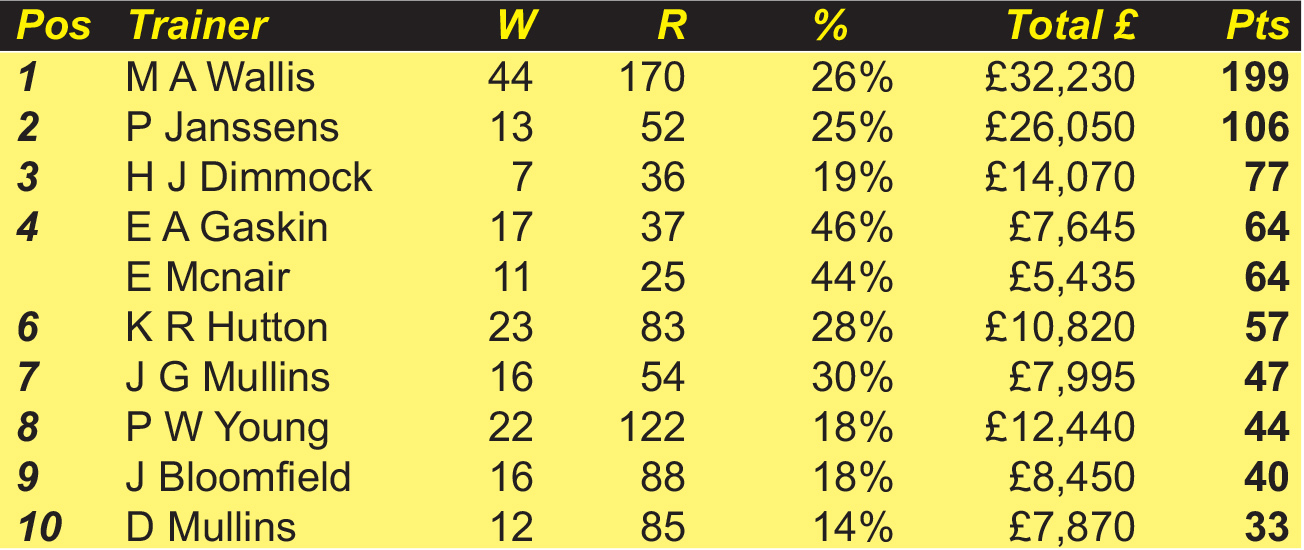 Mark Wallis might have missed out at Crayford but the kennel remains in top class form with a 60-1 four dog acca (from six runners) at Sheffield, courtesy of Coolavanny Messi (4-5f), Silva Hill (4-1), Aayamza Royale (11-10f) and Antigua Romeo (9-4).
None has been more consistent in recent weeks than the gutsy Antigua Romeo who has nine wins and three seconds in his last 15 races and he will be a major player in the Steel City Cup which gets underway in a fortnight's time.
However, the best overall performance was arguably the fastest-of-year run over the 660m course from Aayamza Royale who clocked 39.36 (-20).
John Mullins landed two of the three puppy opens at Monmore with a stand-out performance from Fantastical (Eden The Kid-Zaras Fantasy, Jun 18).
The half sister to the prolific Swift Biscuit reversed form with Fight The Power when clocking a very decent 28.41 (-20). The double was achieved by Swift Lettuce (Farloe Blitz-Annie From Cork, Apr 18) with a 28.83 (-20) run.
However there was some consolation for Fight The Power's handler Carol Weatherall with 17 month old Holdem Lauren (Droopys Cain-Quicksilverjemma, Sep 18) – contesting only her second race – won the remaining open in 28.55 (-20).