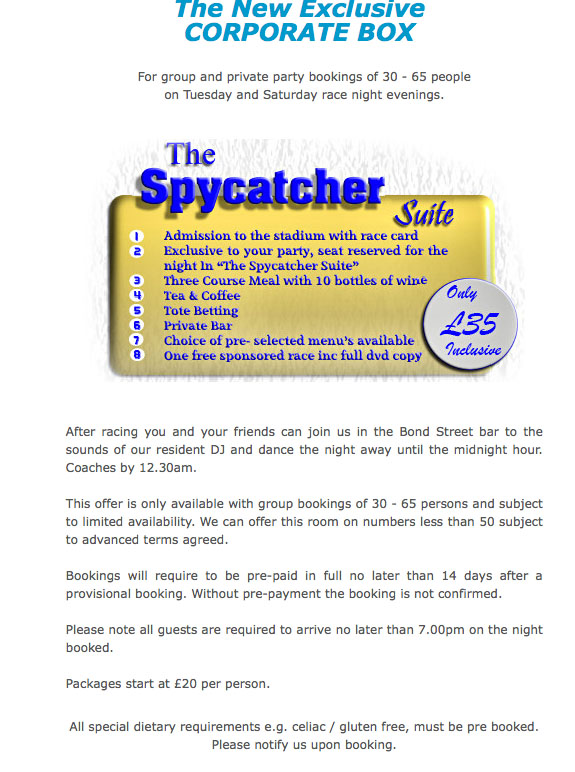 Promoter John Curran believes that the 80:20 prize money/welfare split introduced after consultation with the local owners association, is the perfect ratio for improving welfare at Kinsley.
One June 20, the Yorkshire track began handing over the first tranche of BAGS streaming cash which covered the last three months of 2015 and the first three months of 2016. The net result is that all BAGS winners receive an extra £24 with all other runners collecting an extra fiver each.
The remainder of the cash goes into the track's home-finding scheme which has evolved into a multi faceted operation which homed over 200 greyhounds last year. The track have always significantly funded the scheme which uses four independent home-finders plus the RGT.
Although helping with assets such as the purchase last year of a new vehicle for re-homing, the majority of the cash goes towards preparing greyhounds for re-homing.
Curran said: "We are committed to helping every trainer to re-home every 'homeable' greyhound. It costs, on average £350 to re-home every dog and we ask for a donation from the owner of £120.
"We arrange to have the dogs neutered and any dentistry work done at the same time. They are kept during the recovery period and when they leave, they go with a kennel coat, walkingout-coat, collar, lead and muzzle.
"We have also had other cases where the veterinary treatment has been more expensive, including one ex-racer who it turned out had a form of haemophilia and another dog who needed an amputation. But the originals owners were keen to have the dogs come back to them afterwards as pets. We also offer a return service to any owner who wishes to return the dog or even in cases when they go on holiday."
The track have also been helping local trainers improve their kennels both with cash and labour.
Curran said: "We have just been on one project where everybody got stuck in, including our track staff, to help with concreting, new drainage and paddocks. It was hard work but was a great job when it was finished."
Sleepy Feed (Droopys Maldini-Fridays Pearl, Oct 12) is Kinsley's most prolific winner in 2016. Ron Harwood's black has been to traps on 25 occasions for 10 wins and seven seconds.
KINSLEY TRACK CHAMPIONS
462–OLD FORT DUKE bk d (Kinloch Brae-Quare Moment, Jul 14) Owner Mrs D M Seville Trainer Richard Garth Began the year in A5 and has won seven of his 15 races, with four seconds, with a personal best of 27.48.
650–SWIFT SCUDAMORE bd b (Godsend-Swift Tyrur, Jul 13) Owner Mrs G E Douglas Trainer Geoff Douglas Runs off the back in handicaps and has won her last four