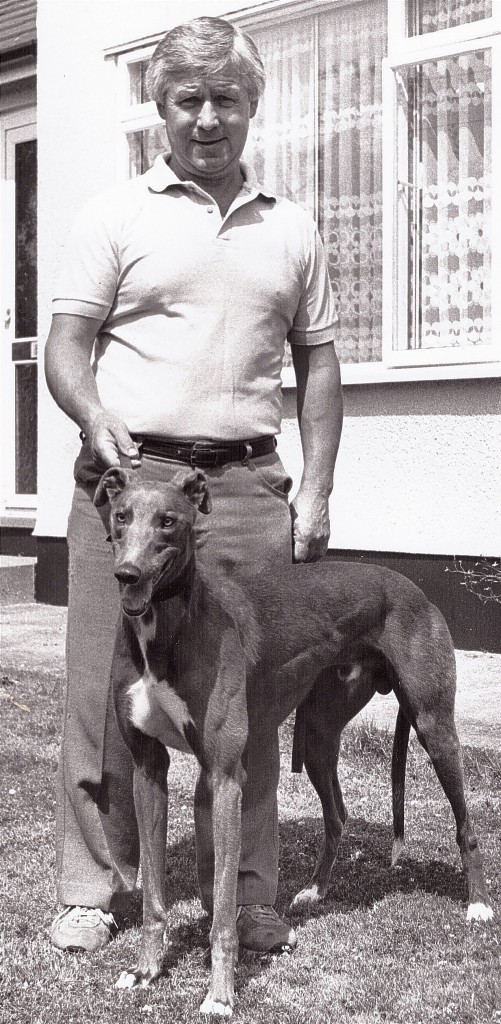 1983 July 30th Gloucester hold their Golden Jubilee meeting before a large crowd. The 12 race card features inter-track and open races over distances from 246 to 860 metres, the highlight being the final of the Golden Jubilee Vase over the 647 metre course with a winner's prize of £300. After a fast heat win, Mrs H Hinder's In The Know (Supreme Fun-Westmead Hall, Mar'80) starts 4/5 favourite and wins as he likes by 4 lengths in 40.65.
1999 Derby winning trainer Ken Linzell (62) announces his retirement from the sport. A former owner trainer at Ipswich, Linzell handled a string of top hounds including Derby winner Slippy Blue (pictured), another top British pup Glatton Grange, Scottish Derby winner Smokey Pete and the brilliant Ballintubber One. After an acrimonious departure from Walthamstow – the kennel were known to enjoy a punt – Linzell ended up with significantly the strongest range at Romford. He owned the vast majority of his 100 plus kennel strength. Among former staff taught the ropes by Linzell were Brian Clemenson and long time head lad Paul Young.
1973 Black Banjo is England's last survivor in the final of the Irish Derby. Drawn trap 2, he had won four of his five races to reach the final, but is up against a really high class field. In trap one is strong running Heavy Sleeper, trap 3 is Kals Daisy, who won three of her five races, trap 4 is Itsawitch, the 525 yard track record holder at Celtic Park, in trap 5 comes strong stayer Ritas Choice, who also won three of her five races reaching the final and recently set new figures for both the Shelbourne Park and Harolds Cross 750 yard trips, trap 6 is ante-post favourite Bashful Man, who goes to traps 4-5 favourite. Bashful Man is well away but is hampered at the first bend by Kals Daisy, who leads until the third bend. There Bashful Man, showing excellent track craft, gets on terms and draws away to tremendous cheering from the 10,000 crowd. He is followed home by fast finishing Ritas Choice four lengths away and in third place a further two lengths back comes Heavy Sleeper. Black Banjo, who drifted in the betting to 6-1, finishes a disappointing last. The time for the 525 yard final is the fastest recorded, 28.82, and only .02 slower than the track record held by Ballykilty.
2004 Belle Vue completely relays its entire circuit in the space of four days and nights. It is generally rated a massive improvement.
1995 Enniscorthy runner Knocknagross Pal won the second race on the graded card in 29.92 for the 525 yards. 75 minutes and five races later Pal contested the final of a 550 yard sweepstake and won again in 31.59.
1999 Portsmouth grader Drum Drum attracts the attention of the local press when it is revealed that he is completely deaf.
1970 The 38th Scottish Derby at Carntyne, Glasgow, is the last to be run there. Mrs B Kirsopp and Mrs R Gill's Brilane Clipper (Faithful Hope-Brilane Parachute, Apr'68) trained at Leeds by Joe Kelly, takes the £1,000 final in 29.46 for the 525 yards.
1993 GRA aim to save £100,000 per year by dispensing with the services of the paid paraders at their track. But at Wimbledon, the trainers agree to continue with the payments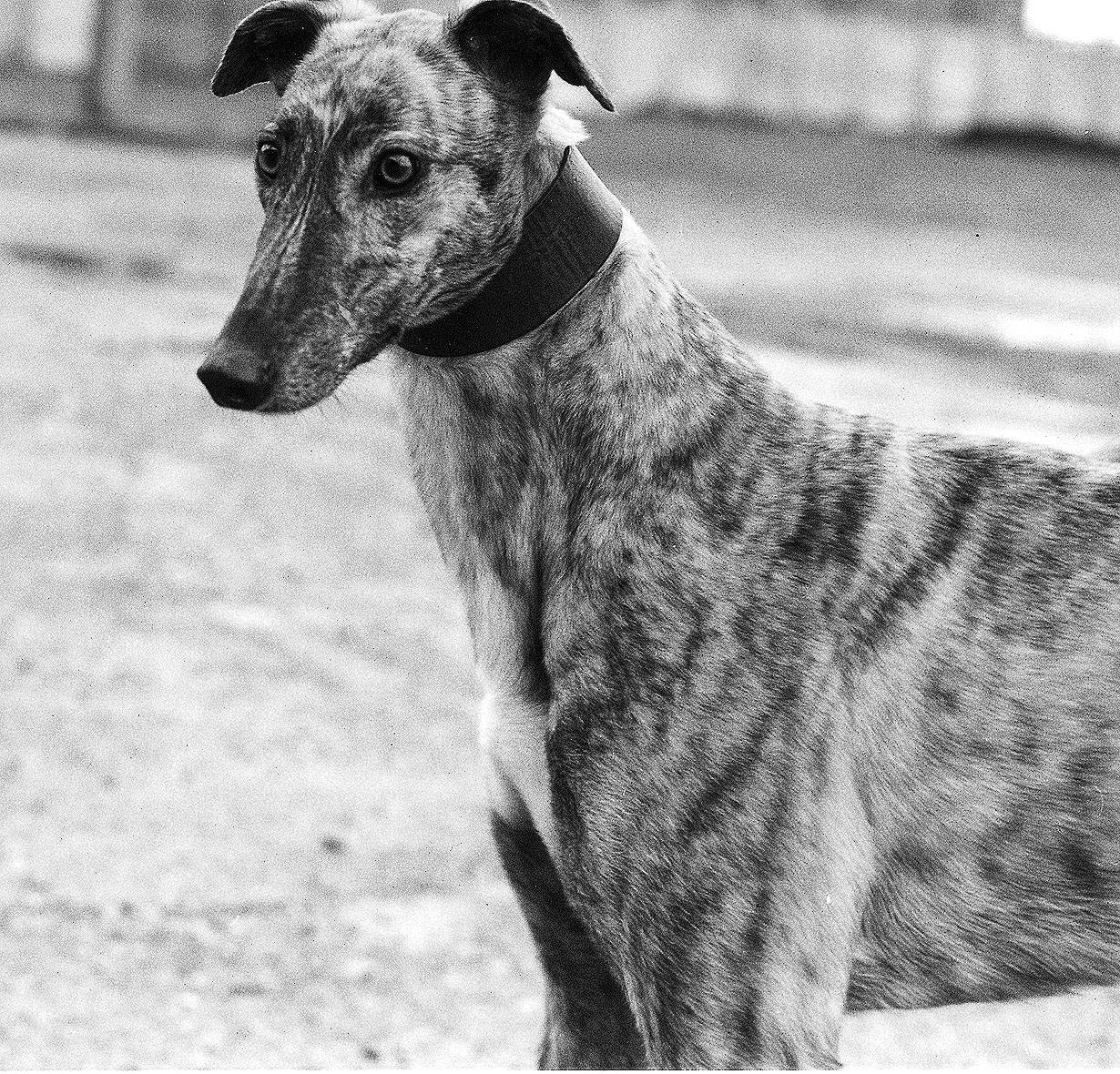 1976 July 29 Jimmy Rhodes and Reg Deller, owners of Westmead Myra (Myrtown-Westmead Silver, Jul'74) – pictured right – who finished third in the English Derby and the Select Stakes to Mutts Silver (The Grand Silver-Simple Pride, Apr'74), challenge Silver's connections to a match race. Southend agree to put on the race as part of a normal eight-race card, and forego their forecast pool for one race. The greedy London tracks will not do this. The match over 484m called The Playboy Match Of The Century, worth £2,500, including £500 added by the sponsors, brings in a large crowd. They see a brilliant race. Mutts Silver goes from Trap 4 at 1-2 favourite, with Westmead Myra backed from Trap 6 at 6-4. Myra takes the match. Coming off the last bend level, she gradually draws ahead to win by three-quarters of a length in 29.47.
2002 Pacific Mile is sold for a reputed 'six figures' to Aidan, Peter and Danny Comerford shortly after being beaten in the Red Mills Champion Unraced Final. Within a week he goes lame in the second round of the Cox Cup and never races again. He goes to stud in Ireland before being exported to the USA. This progeny will include Roxholme Girl, Barnfield On Air, Boherna Best, Aexandrova and Yorkshire.
1987 The Scurry Gold Cup, run at Clapton from 1928 to 1973, then transferred to Slough from 1974 to 1986, has now been transferred to Catford. It is run over 385 metres with the final sponsored by David Richardson on July 18. That final is won by F W Smith's Rapid Mover (w bk d Sandman-Rapid Lady, Apr'85. The even money favourite, trained by Fred Wiseman at Milton Keynes, is fast off and leads all the way, winning by 2 1/4 lengths in 23.52.
1999 Ireland announces that it will scrap on-course betting duty. Off course duty is reduced from 10% to 5%.
1968 Belle Vue celebrate their 32nd anniversary with open races over all distances, and include the final of the Northern Flat Championship, run over 500 yards. The £1,500 & trophy goes to Mr B Parker's Limit Crackers (Odd Venture-Pats Beret). Unbeaten throughout the Colin McNally, Perry Barr, trained runner soon put the race beyond doubt. He led from the traps to win by five and a quarter in 28.09. Second was Witchen, Greenane Token was third and in fourth was last year's English Derby winner, Tric Trac.
1987 July at Cork the final of the Irish Laurels, sponsored by Kantoher Co-op for a top prize of £7,500 to the winner goes to the well drawn trap one runner, Yellow Bud (Yellow Ese-Budweiser) owned by Michael Barrett from Listowel and trained for him by Donie O'Regan. The 10-1 chance took the lead rounding the last bend to win by a head in 29.28 for the 525 yards.
1974 In the final of the Irish Television Trophy over 750 yards at Shelbourne Park, Matt Bruton's Waverley Supreme (Supreme Fun-Octum, Feb'72) trained by Ger McKenna, knocks 21 spots off the track record when beating Top Notcher in 42.39. Top Notcher, two lengths behind was also inside Ritas Choice's 42.60 set the previous July.
1999 The NGRC grants permission for the trial use of Australian style lycra racing jackets. The trial takes place at Monmore though trainers ultimately give the jackets the 'thumbs down'.
1999 Yorkshire independent Kinsley make application to join the NGRC.
1977 July 30 Cardiff Arms Park hold their last meeting, featuring the final of the Welsh Oaks over 484 metres. It is won by Mrs B R Perrys' Shiloh Jenny (w bd b Sole Aim-Shiloh Hope, Aug'75). Trained at Hal Green by Ray Wilkes, the 8-1 chance wins by a neck in 30.60. The honour of winning the last race, a £25 484 metre graded event goes to M Davies's Lilliput Queen (w bk b Sole Aim-Quanns Queen, Apr'75), the 5/2 second favourite winning by a 3 1/2 lengths in 30.75 for trainer F Goodman.
1999 Champion sire Slaneyside Hare (pictured) is put to sleep after losing a battle with bone cancer. Trained by George Lightfoot during his racing career, he won the Bobby Jack Puppy Cup by 10 lengths and the Sporting Life Juvenile. He broke his hock in his next race – the Byrne International. After throwing a couple of exceptional litters in Britain – one earned dam Easy Bimbo the brood bitch of the year title – Hare was largely ignored by British breeders. The dog was then purchased for £4,000 by John Guilford as a 'back up' for busy sire Greenpark Fox, who ironically soon succumbed to cancer. Hare, handled by the respected Tipperary stud keeper Micky Sullivan, never looked back. Despite a very belated and fragmented career, he was champion sire in 1997 and 1998. The highlight of his stud career was the 1-2 of Some Picture and He Knows in the '97 English Derby Final.Other Hare progeny included: Vintage Prince, Lenson Billy, Lenson Lad, Pepes Dilemma, Deep Decision, and Santa Paolo. He also became the no.1 sire of open race dams.