1991 Canterbury trainer Jim Fletcher pulls off one of the greatest ante post gambles for years when Glengar Ranger lands the Laurels at Wimbledon. Backed from 200-1 down, Ranger (bought for £1,250 from Limerick breeder Harry Bradshaw) landed the final by nine lengths in 27.45, the second fastest Laurels final on sand at Wimbledon. Bookies estimate that the gamble netted between £150,000-£200,000.
1995 A new regulation from Customs & Excise making trainers liable for VAT on prize money won by their own dogs is reversed following talks with the BGRB.
2001 Greyhound racing is left reeling after the broadcasting of BBC TV's Kenyon Confronts It began with footage from independent Westhoughton showing a character called 'Big Al' claiming to supply drugs for crooked trainers. The programme then switched to trainer Steve Davis' kennel where it unearthed what appear-ed to be a mass grave of dead greyhounds. A pathologist examined one greyhound and said it appeared to have been shot. The programme then switched to trainer Len Knell's kennel where it filmed undercover conversations with Knell and kennel hand Colin West. They claimed that dogs could be stopped in trials by feeding them. Even prior to the programme being aired, Davis had resigned from his contract at Oxford. He was found guilty by the NGRC of disposing of grey-hounds without recourse to a vet. He was fined £1,000 and severely reprimanded. Knell was sacked by Catford and was later banned along with kennelhand West, Knell claimed that he had never stopped dogs but had only told Kenyon 'what he wanted to hear.'
1995 Lord Kimball is ousted as chairman of the BGRF when the BGRB oppose his re-appointment.
1973 The Cambridgeshire Final over 550 yards and worth £350 to the winner, draws a well known line in, T1 Ashgrove Road, T2 Benson Cash, T3 Moordyke Ringo, T4 Westpark Mustard, T5 Decimal Queen, T6 Coin Case. Clapton trainer, Charlie Smoothy, sends out Coin Case (Finolas Yarn-Lovely Silk, Oct'71) to perfection to beat the high class field. The second favourite leads rounding the second bend to win by 1 length in 30.42.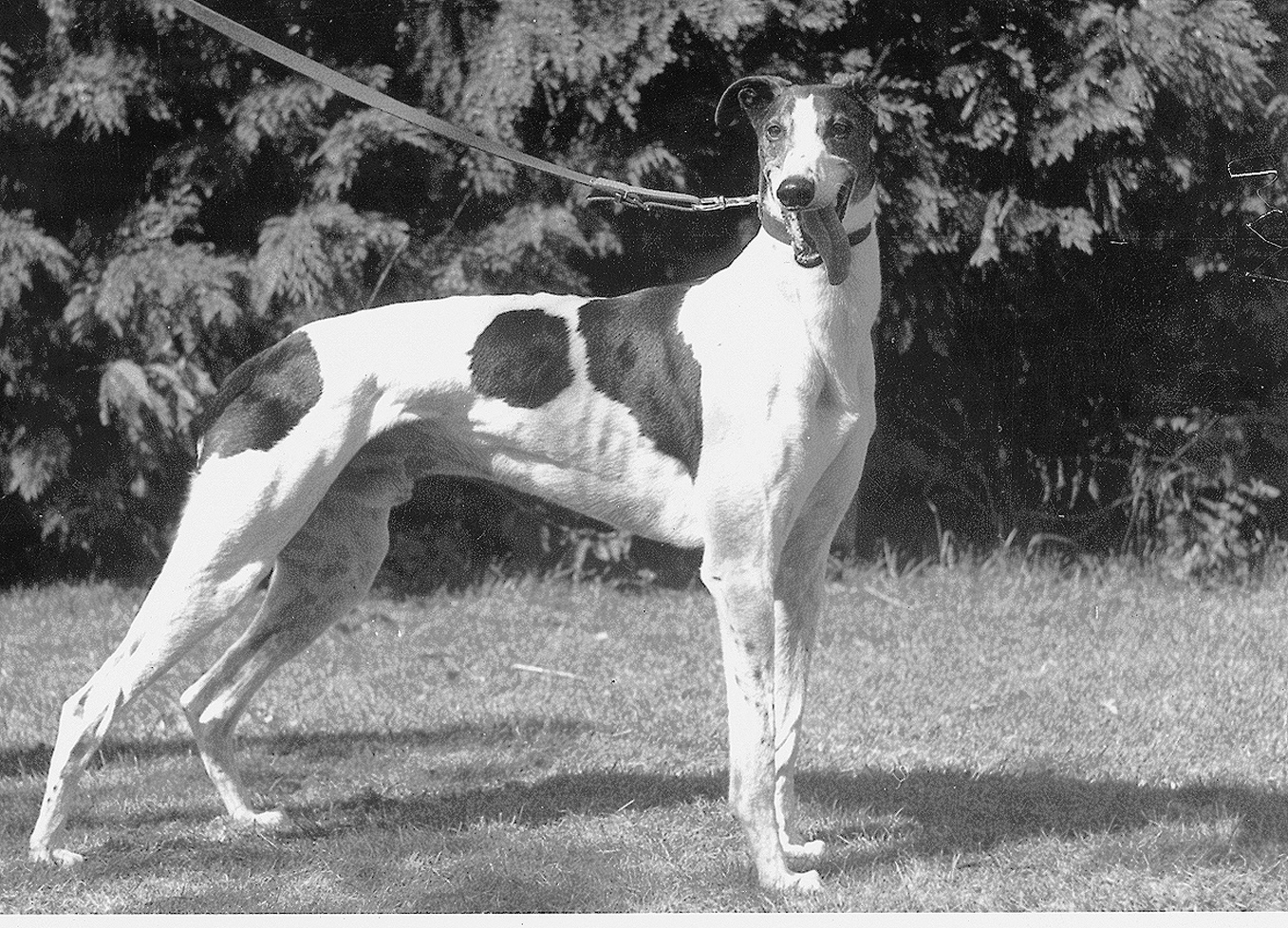 1976 Instant Gambler (Itsachampion-Sabrina) – pictured above – wins the Sporting Life Juvenile from a star studded field. David Drinkwater's dog leads home Gan On Danny, Balliniska Ban, Carhumore Speech, Hunsdon Pride and Paddock Boy in 28.98 for the 460m.
1968 The traditional Cobb Marathon final over 810 yards at Catford, is a doddle for the 1-4fav Sunrise Rover. C O'Sullivan's brindle bitch (Booked Out-Outcast Rover, Sep'66) trained by Phil Rees at Wimbledon, strolls to an easy 71⁄4 length win in 50.90.
1988 Ramsgate trainer Peter Rich took four greyhounds over to Youghal for a kind of Anglo-Irish inter-track with a difference. The four runners were each placed against five locals in open races worth £300 to the winner. The English dogs finished with two seconds and two fourths.
2000 SKY announce that they will double their greyhound coverage in 2001. It is currently 18 meetings per year.
1978 Jack Coker's Schofield Fish (Minnesota Miller-Funny Fish) finishes the year as top pup. He wins the Romford Puppy Cup at 5-1 followed by the Sporting Life Juvenile at 10-1.
1970 Bord na gCon buy Harolds Cross making it the third track they have bought in the past three years, Cork and Shelbourne Park being the others. The first meeting is scheduled for January 1.
1975 D McLaren's Pier Hero (bk d Tender Hero-Helenas Girl, Aug'71) trained at Harringay by Frank Melville makes it eight straight wins in the final of the Christmas Vase over 460 metres at Wimbledon easily by 63⁄4 lengths in 28.88.
2002 Perry Barr based Alec Stone had a mad moment when entering Flowing Stream for a puppy open at Walthamstow. The error was revealed when the track received the ID book. Stream would have been seven years old had he not already gone to the great dog track in the sky. Stone had meant to enter Flowing River.
1993 Rathcannon Lodge turns the Dunmore Puppy Cup final into a procession with a 23.49 seven length win. Among those in his wake was future Derby winner Moaning Lad.
1971 Belle Vue trainer Herbert 'Bammy' Bamford narrowly failed a clean sweep of a graded card. He won seven of the eight races. He had a second in the other.
1992 A crowd of between five and six thousand turned out for Shelbourne Park's first Sunday meeting on December 6. The big race of the day, the £5,000 Tom D'Arcy Memorial was won by Amidus Slippy.
2002 Linda Jones finishes champion trainer for the second consecutive year, almost 150 points ahead of John Mullins.
1964 Bord na gCon are forced to hold an enquiry after refusing permission for a new track at Ballybunion in Kerry. Directors at Tralee predict the closure of their track if Ballybunion were to open.
1997 Mirror Group announce they are to publish the Racing Post in a ten year deal – they already publish The Sporting Life. The Post is to assume the monopoly role as a racing paper – The Sporting Life "will become a general sports paper. .
2002 Dransfield Invitation winner McCarthys Duke disgraces himself when fighting in the Essex Vase semi finals.
1981 Joe Cobbold's Decoy Boom ended a brilliant year with victory in the East Midland Marathon at Nottingham. The Cambridge bitch had already won the TV Trophy, Ike Morris Stakes, the Scottish Marathon and the Stow Marathon. She ran-up in the Coronation Cup and Bookmaker Winters Stayers Stakes. Among the track records falling to the daughter of Westmead County and Ka Boom were: Parry Barr 830, Ipswich 628, White City 730, Wimbledon 868 and Powderhall 824. Decoy Boom was later awarded the 1981 Greyhound Of The Year title.