Ladbrokes respond to Brian Kempton letter
I'd like to respond to Brian Kempton's letter regarding Ladbrokes/Coral not taking bets in shops for RPGTV races to provide clarification on the matter.
At this time, Ladbrokes and Coral contractually only have the SiS service in our shops which includes the rights to display pictures, receive data and ultimately take bets. We do not have the rights for the TRP schedule in Retail and for legal reasons we are therefore unable to take bets on any meeting that is included on the TRP schedule.
As the majority of RPGTV content is on the TRP schedule – this results in us not being able to provide prices in Retail, however they will always be available Online where we do have the rights for the content.
For meetings that are covered on both the SiS schedule and RPGTV (Romford on Friday nights and Central Park on Sunday nights) we do have prices available in Retail that are Online too.
Away from RPGTV, we offer a wide range of prices for Open races on the SiS service available to shop customers (e.g. Hove opens on a Thursday night).
I hope that helps Mr Kempton understand the situation – we are not discriminating against the shop customer – it's just that for legal we can't offer the service in Retail, but are able to Online.
James Pryce
LadbrokesCoral Greyhound Product Lead
---
Sporting  Ranger   Omission
Connections of Sporting Ranger were eagerly awaiting Greyhound of the Year nominations to be made public. We wondered whether one of the less trumpeted kennels around would be honoured with a nomination, Sadly we weren't.
For the record, Ranger made four finals winning two, and seemingly had another won at Central Park when making fatal mistake down back. We felt we were representing the UK across the pond in the Irish Grand National. He made the final for the second year running and drew his beloved trap one but sadly had to be withdrawn lame after injuring himself in winning his semi final.
Ranger has won prize money totalling £7,000; a very tidy sum indeed especially for a hurdler.
Ranger has basically plied his trade month in month out, whereas one of the nominees has been missing from action most of the year .
As the owner, yes I was disappointed. But not for myself. Ranger is not a particularly easy dog to train. Jason Heath and his staff have to work hard keeping him sound, not only in body but also head too .
Jason was rightly applauded by RPGTV staff and guests on winning his last final at Crayford, switching Ranger on by alternating hurdle and flat mid-competition. Not everyone would chance or risk this but Jason did and rightly got the result it deserved.
If Ranger has half the season In 2019 that he had in 2018, I personally, would be thrilled.
But sadly, we still won't be expecting a nomination.
Reg Bird (Proud owner)
---
Ritch Retirement
I have taken an interest in reading your magazine which is eloquent and lively;  even though I do not really follow racing I enjoy the contents.
I re-homed a greyhound from Peter Harnden's Kennels through the East Midlands Greyhound Trust. I have enjoyed reading the articles about re-homing retired greyhounds and applaud the huge efforts made by trainers, the Trust and volunteers to find suitable homes for the retired lads and lasses.
I must admit is cannot be an easy task with varied views on the character and capabilities of greyhounds – this is my opinion after listening to comments I have received.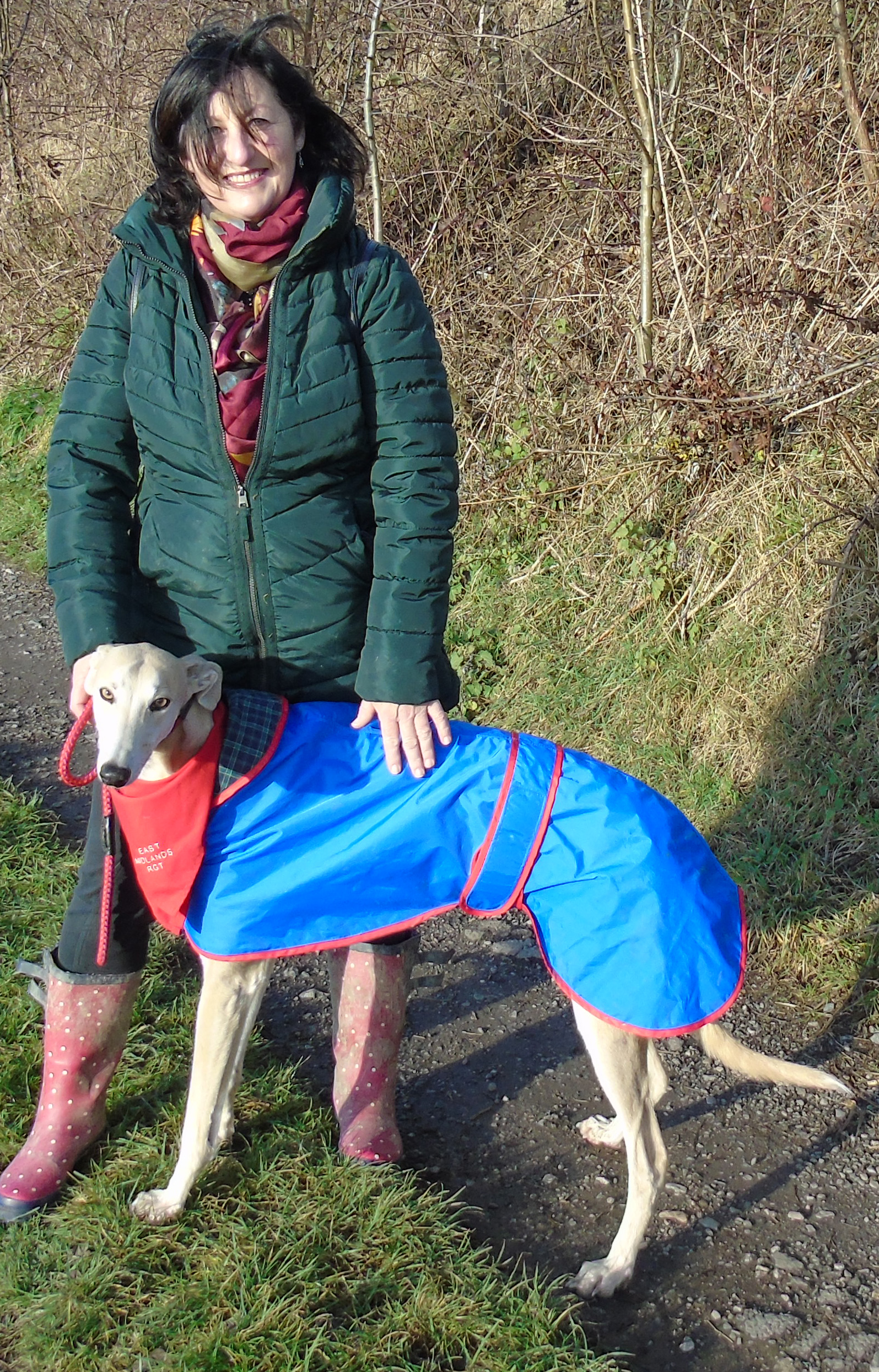 My fawn dog is an absolute joy and has provided me with so much happiness it spills out of me. He is handsome – I can guarantee wherever I go I will be stopped and people ask about him. He is 3 years old now but 17 months when I re-homed him. My son-in-law helped me get used to him but now Ritch goes off the lead (muzzled of course), returns when I ask and I can actually forget he is walking with me he is so well behaved on the lead. He goes to my office, into cafes, meetings, social events and is good with children although I always supervise as with any responsible dog owner.
I noted Peter had written about Ritch with such care and expressed his pleasure on meeting up with two of his re-homed dogs (article December 2017 Salacres Ray and Ritchie). What struck me  when I attended the Nottingham Stadium with Ritchie to lead out the race parade, Peter came over to meet us. Even though Ritchie had never even won a penny as he did not race, Peter recalled how he performed, his character and details about him. I thought this was quite outstanding considering how many dogs must be handled by the kennels. I was also delighted to be praised by Peter for Ritchie's outstanding condition which elevated my confidence  – I was doing the right thing for this beautiful dog.
We had a mock race today with my daughter's small lurcher – about 150 metres on the straight and the lurcher won Ritch by a length haha. In fact, the lurcher can run as fast even when throwing in a glance back. I am amazed at how speedy, flexible and adept these little dogs are.  What fun.
Thank you for providing your lively and thought provoking articles and I do hope you have enjoyed an update from a novice greyhound owner.
With kindest regards
Sheena Trower