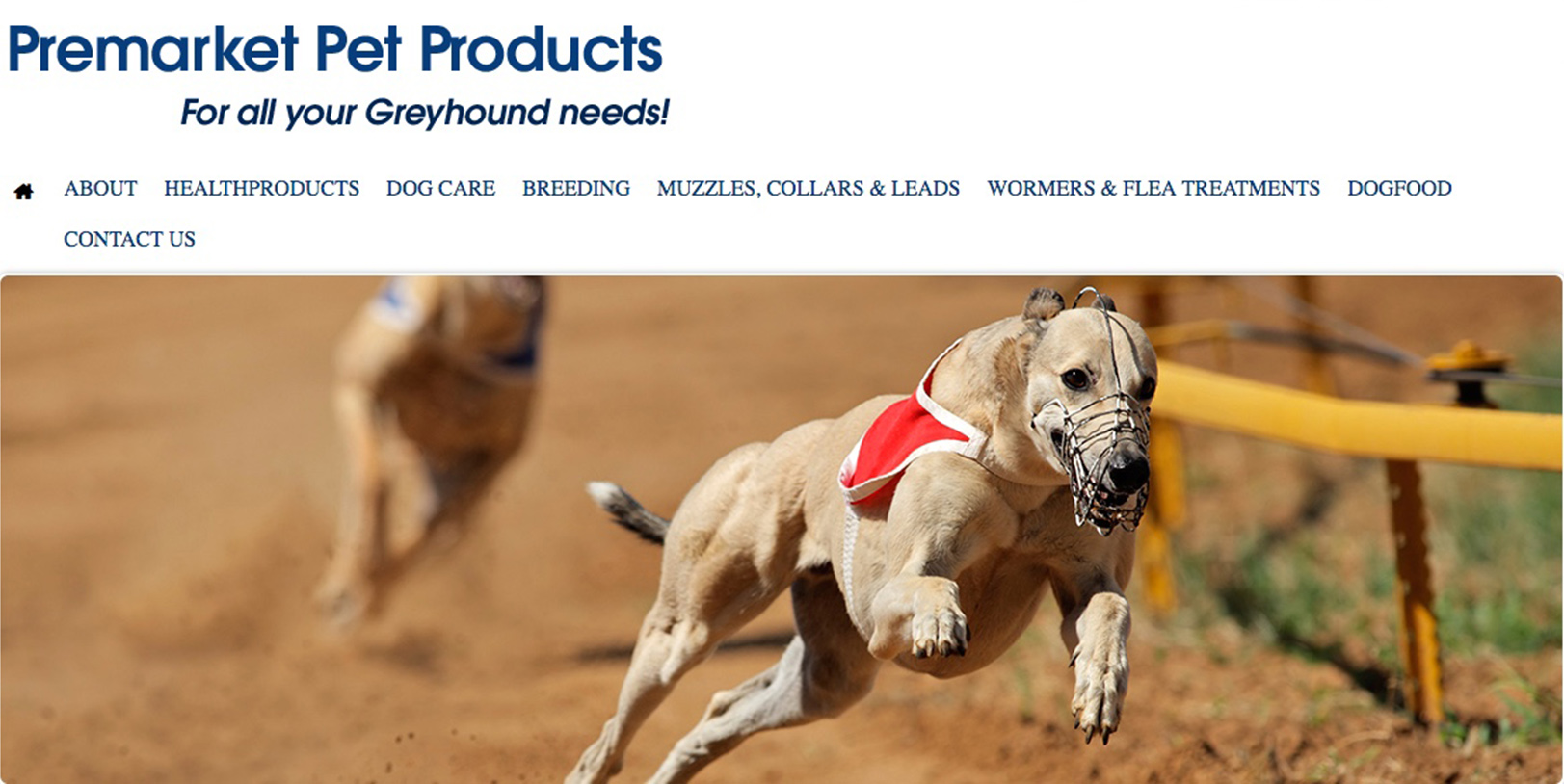 We have had a good few days with Kilmore Lemon qualifying for the Golden Sprint semi finals on Friday, Seaglass Tiger reaching the Ladbrokes Puppy Derby Final on Saturday and Goldies Hotspur winning the Greyhound Star Marathon on Sunday.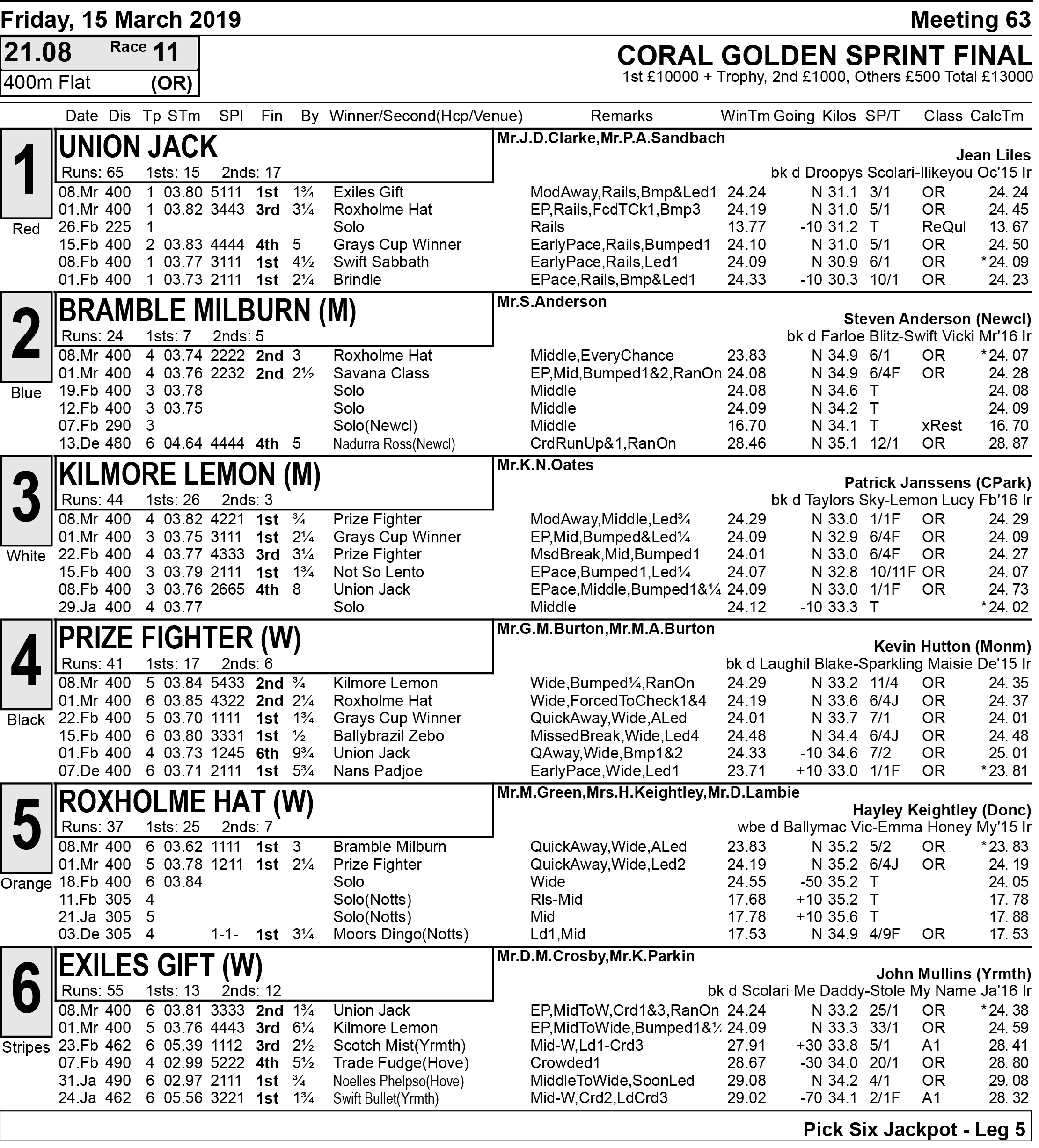 This will be Kilmore Lemon's 45th open race in England and he has won 26 of them including  his semi final of the Golden Sprint in 23.95 last year but had to be withdrawn from the final.
Everything depends on the break. Lemon didn't come away on Friday. But if he breaks with them in the final, he can win it. But so can any of them in it.
We all know that he isn't the best breaker and I have had lots of people try to give me advice about how to make him trap quicker. We have tried all kinds of things but they have simply made it worse.
The bottom line is – he is what he is. Just accept it. He might have broken the sprint record at Yarmouth, but he isn't a 'sprinter', he is 'short runner'.
Because of that, we are very limited in terms of races we can run him in. Thankfully they have upgraded the Guys And Dolls and we have the Golden Sprint, but there aren't too many more. But at least we have those options, in Ireland he would really struggle.
I bought Seaglass Tiger for Evan Herbert off the greyhound-data website for £7,000. He had good winning form at Shelbourne Park but what I really liked was that he was running consistently every week.
I had £100 on him on his debut in the Henlow Puppy Derby when he started at 20-1 and was caught on the run-in to finish second. He has eight wins from 13 races, continues to improve, and has a decent chance at Monmore on Saturday.
So far he hasn't trapped, but it will be 'race on' if he does. We call him Big John. He is over 37 kilos and will bulldoze them out of the way if he gets the chance. The three is the obvious danger and we are just hope that the five doesn't turn sharp left when he comes out of the traps.
Big John's owner in Ireland, William Berry, has kept in touch and is planning to see him run on Saturday. I also understand that his mum Abrakadabra Bee is due to have her last ever race at Shelbourne Park tomorrow (Tuesday).
I wasn't at all surprised to see Goldies Hotspur (T4) run so well in the Greyhound Star Marathon Final at Henlow on Sunday.
She had never seen the track until the heats which we treated like a trial. But she has never run a bad race in her career.
Hotspur started out at Towcester with four graded races and was beaten in all of them. The last of them was an S2 and she was fought off the track so we switched her to Romford and she won her first 750 by nearly 20 lengths. She hasn't looked back since.
Since then she has won on half a dozen other tracks and reached nine finals. She isn't really suited to Crayford, the bigger track the better because she has more room to pass dogs.
---
I have nearly finalised the team for the Gain Trainers Championship meeting at Sheffield next month.
(Despite not being a sprinter) Kilmore Lemon will represent us in the sprint. We will probably put Seaglass Tiger in the '480'.
My original plan would have been to run Bockos Alfie though we have had to make the decision to retire him after he picked up a hind muscle injury last week. Although it is not serious, he would have been off at least six weeks. He is now coming up to five and it is hard to bring them back at that age. They lose muscle tone and then pick up other niggles as you try to get them fit again.
He isn't the fastest dog we have had in the kennel, and his reputation for not knowing where he wanted to run followed him throughout his career. Was he a railer or a middle?
Despite it all, I think he won 43 out of 96 races including a Kent Derby and a Blue Riband. He was just a very very good greyhound with an incredible will to win.
For the two 500s, I am planning to use (Kent Derby runner-up) Headford Johnny and Seaglass Phantom.
I suppose Barricane Tiger must rate as the fastest middle distance dog I have trained, until Seaglass Phantom came along, and I have to say, Phantom is faster.
We originally hoped to run him in the Puppy Derby at Towcester last year but that obviously didn't happen and I took him to Yarmouth instead. He was running against much older dogs, and lots of high class runners too, and ran second.
You don't get many pups do 27.50s around Yarmouth and then he trialled at Central Park (480) in 28.66. I knew how good he was and wanted to run him in the Racing Post Juvenile.
Without Jonathan Kay trusting my judgement that he was good enough, he wouldn't have been accepted because he hadn't won a big competition. Thankfully Jonathan took my word for it and Phantom didn't let either of us down.
For the puppy race, I have a young dog who won at Central Park on Sunday, Bockos Rory. For the bitch's race there is Droopys Tops. I recently changed her seeding to wide, which was a mistake, but she is good enough at her best.
For the stayers, Affleck Bolt and Goldies Hotspur. It might not be her ideal distance, but I would still expect her to pick up points.
---
Apart from the racing side, we enjoy having a few pups around.
Although we didn't breed them, we reared Goldies Hoddle and Goldies Ginola here and enjoy watching them progress. I can see Hoddle being a 23.80 Romford dog when he is a bit older.
We have been waiting for Affleck Lady to come into season because I wanted to mate her to Kilmore Lemon. Unfortunately, she came into season last week and I didn't want to disturb his preparation, so she has gone to Ireland to be mated with Lemon's sire, Taylors Sky.
---
We didn't set out to lead the trainers championship, but given the progress we've made, up to fourth place last year, I would have been disappointed if we weren't somewhere close. Basically, if it happens, it happens.
| | | | | | | |
| --- | --- | --- | --- | --- | --- | --- |
| Pos | Trainer | W | R | % | TPM | Points |
| 1 | P Janssens | 41 | 116 | 35% | £27,665 | 166 |
| 2 | M A Wallis | 30 | 144 | 21% | £16,188 | 130 |
| 3 | S A Cahill | 24 | 81 | 30% | £12,275 | 118 |
| 4 | H J Dimmock | 18 | 52 | 35% | £24,170 | 97 |
| 5 | E Mcnair | 12 | 40 | 30% | £15,055 | 96 |
| 6 | R J Holloway | 8 | 24 | 33% | £8,115 | 75 |
| 7 | D D Knight | 21 | 58 | 36% | £9,185 | 68 |
| 8 | P W Young | 17 | 123 | 14% | £10,330 | 54 |
| 9 | D Childs | 12 | 38 | 32% | £6,890 | 53 |
| 10 | K R Hutton | 22 | 98 | 22% | £12,395 | 46 |
| 11 | E A Gaskin | 9 | 21 | 43% | £3,220 | 43 |
| 12 | D Mullins | 16 | 105 | 15% | £9,525 | 40 |
| 13 | D Henry | 5 | 16 | 31% | £2,745 | 37 |
| 14 | J J Luckhurst | 7 | 43 | 16% | £4,990 | 36 |
| 15 | S R Parker | 13 | 45 | 29% | £5,700 | 35 |
|   | K P Boon | 12 | 68 | 18% | £6,950 | 35 |
| 17 | J G Mullins | 16 | 86 | 19% | £8,310 | 34 |
| 18 | B Draper | 11 | 46 | 24% | £5,250 | 31 |
|   | H Keightley | 7 | 12 | 58% | £2,050 | 31 |
| 20 | B Matthews | 1 | 3 | 33% | £1,675 | 30 |
We have 18 racing dog, which doesn't compare to some of the bigger kennels, but we do have plenty of quality and a lot of our dogs are young with potential. For example, I would hope to have a number of entries in the Puppy Classic.
While we also know that the likes of Goldies Hotspur can't go on forever, there are dogs like Desperado Dan who should continue to progress.  You need Category One dogs and I think we have some. Beyond that, there is a lot of luck involved.
I am not the sort of trainer who will enter dogs for races simply because the owner likes a particular track restaurant.
I place the dogs to win, and I don't tell owners that their dogs are better than they are.
I know I can be a bit blunt, but  I am surrounded by owners who would rather be told straight.
On the subject of the kennel, I would just like to mention Pete Vernon who has enjoyed some great times in the kennel.
As many people know, Pete is in a pretty bad way with three inoperable brain tumours.
He said recently that the last 20 years in dogs have been the most enjoyable of his life and I know that following the likes of Goldies Hotspur, who he has known she began her career, has been a great tonic for him during a different time.