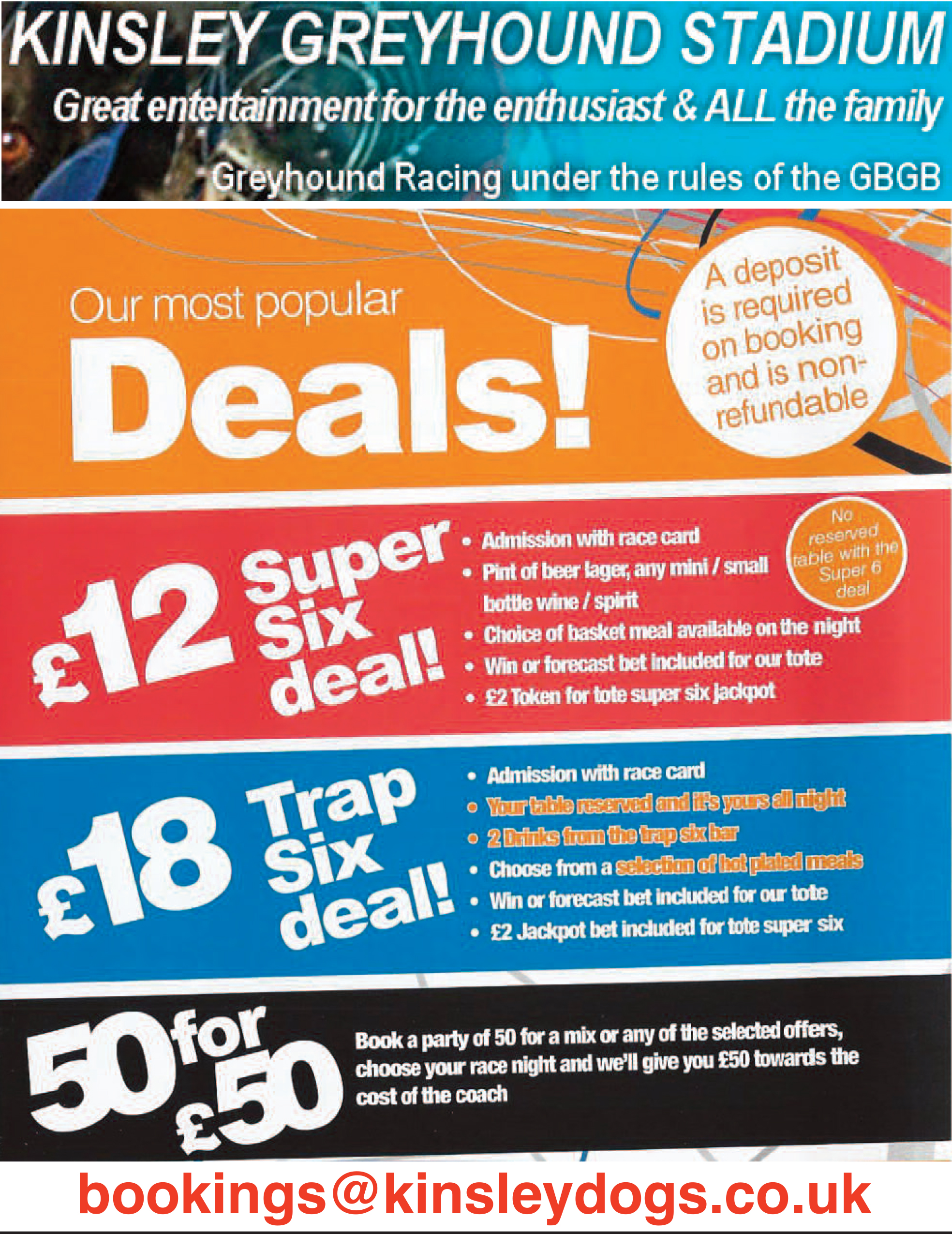 With five days still to go before the event closes, Kinsley's Andy Mascarenhas is confident that the 36-runner Betfred Gymcrack event will be fully subscribed.
He said: "We have had a small set-back with a number of the potential runners being withdrawn off-colour from their trials but some of those have since re-booked.
"At the moment we probably have 30 likely runners, without counting any of our own, with more trials on Saturday, Sunday and Tuesday."
Although restricted to May pups and younger, a decent percentage of the trialists are indeed considerably younger.
They include Dower Majestic (Aero Majestic-Effin Got Talent, Aug 16) trained by Dougie Butler from Wrexham. The black won his only race at Youghal in a calculated 29.22 and has a 27.64 (-10) trial at Kinsley.
Raise The Stakes (Toolatetosell-Em Millie, Nov 16) is an unraced British bred trained by Heather Dimmock. He already 27.63 Kinsley and a 28.55 (calc) 480m trial Towcester.
Jim Hayton's locally trained Lowgate Rudy (Droopys Scolari-Bansha Mo, Aug 16) has one race on his card, when beaten in a Nottingham open but has 27.56 (+10) in trial.
Paul Young's Young Rocket was the fastest of Friday's trial sessions with a 27.74 run, though the racing office reckon Itsurmate (27.99) will find time on his first trial after running very wide.
Phil Simmonds was due to give his 'possibles' a spin on Friday afternoon with the Mullins (J), Cahill, Bateson, Gibinson, Dimmock, Tuffin, Kovac, Ballentine, Jenkins and Dartnall kennels all having planned to trial on Sunday (several have since postponed due to sickness). The track hoping to have the trial footage broadcast live.
So anything particularly to impress the racing office so far?
"Geelo Blissful (Laughil Blake-Ballyrobin Venus, Aug 16)" said Andy. "She showed great pace and did 27.66(c) despite making a couple of mistakes. I would expert her to find several lengths in her new trial."
The Betfred Gymcrack – worth £8,000 to the winner – takes place on successive Sundays: April 8th, 15th & 22nd.