Irish Derby winning trainer Graham Holland has 12 runners on Saturday's Michael Fortune Night Of Stars card at Shelbourne Park. These are his views on the 13 races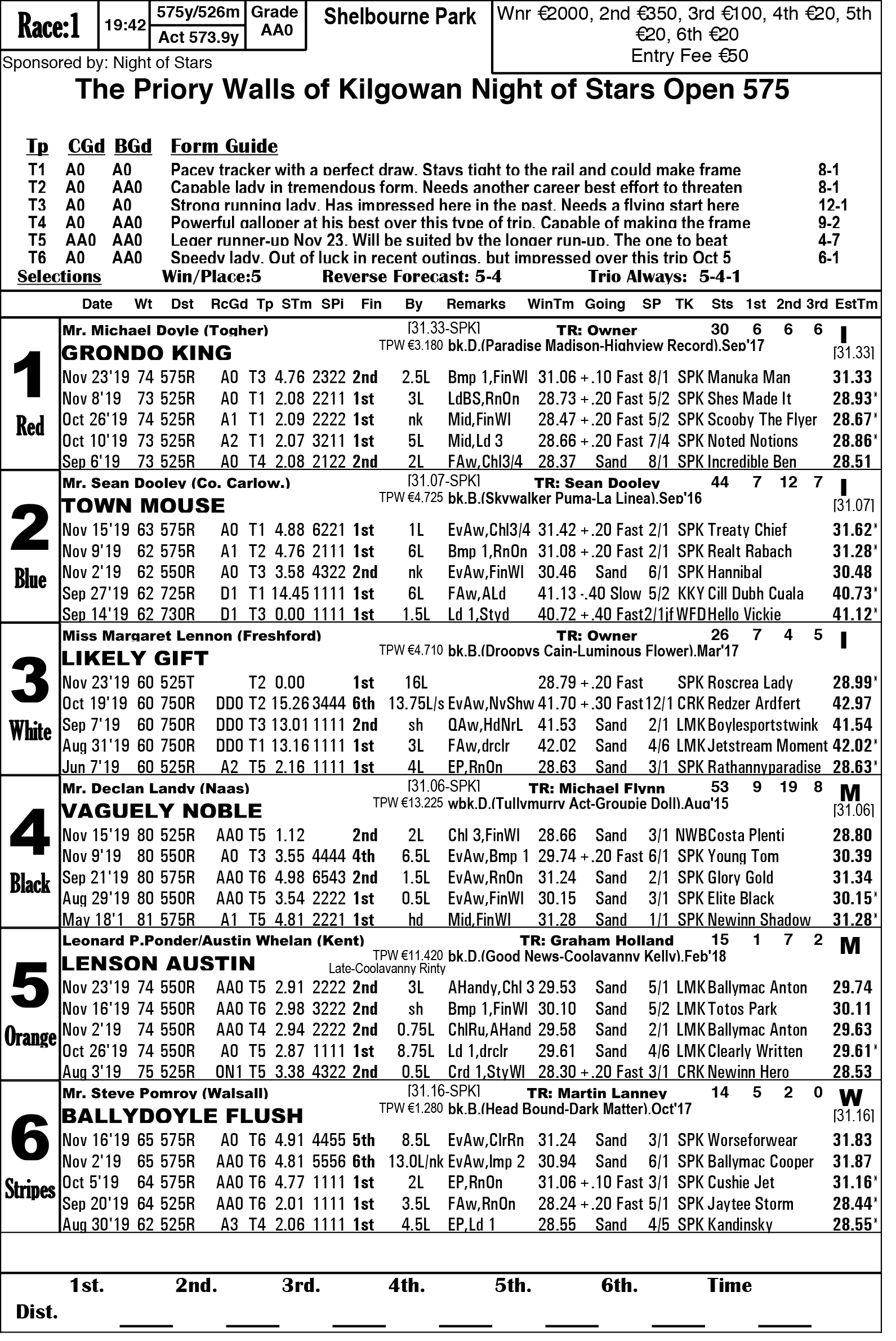 I think Lenson Austin looks a good thing. He isn't the best of breakers so the long run up will work in his favour. Town Mouse is a cracking genuine little bitch and either her or Grondo King would appear to be the dangers.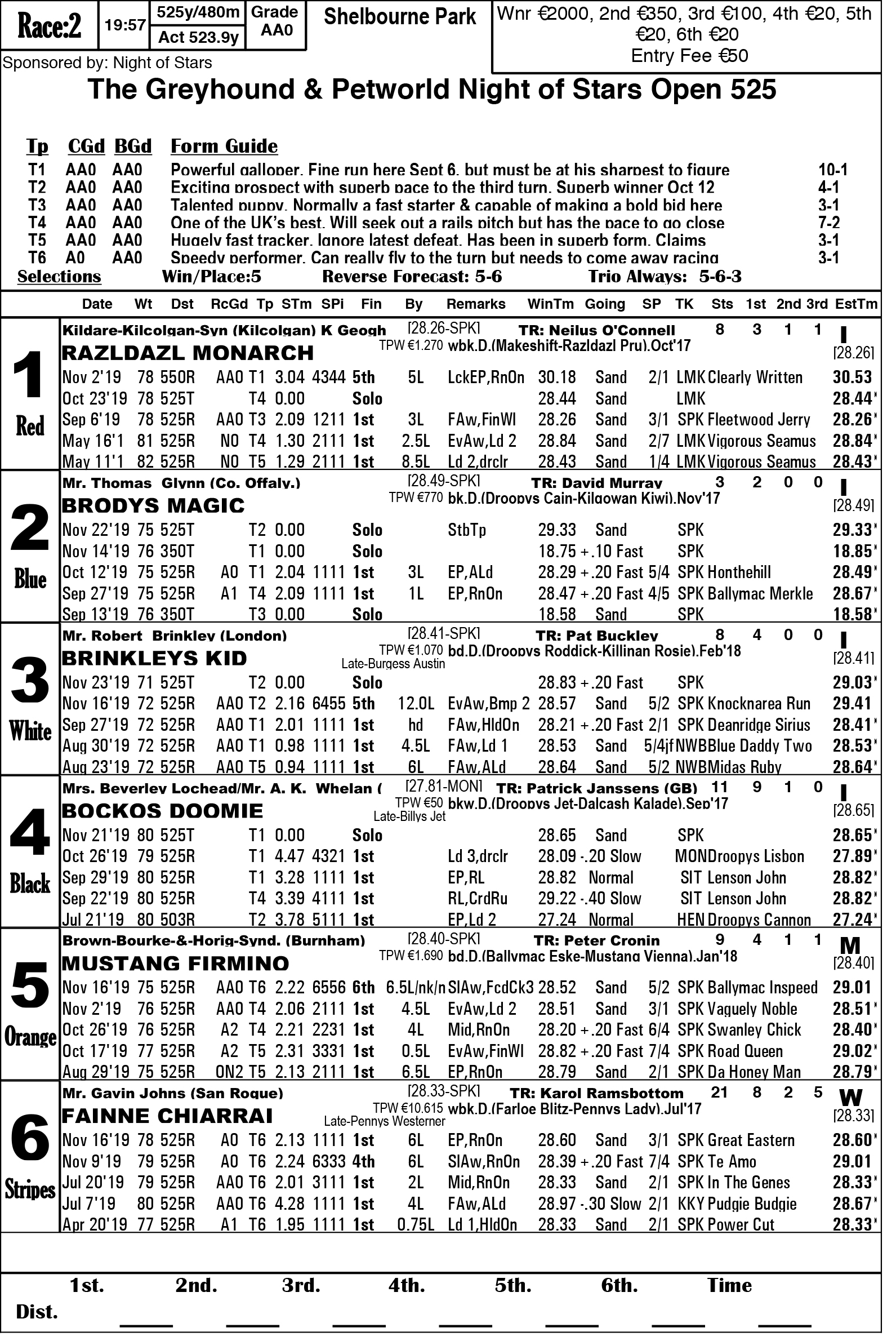 I was a bit disappointed not to have one in here. Fainne Chiarrai looks the one that they all have to beat. He has a nice bit of early and seemed to be coming back to his best last week. Brinkleys Kid looks the danger. Brodys Magic has ability but still looks a bit novicey.
I thought our Ballydoyle Bee might have been accepted for this because she has beaten most of the leading fancies in it. For that reason I would have to fancy Southfield Code who ran her quite close last week without getting past.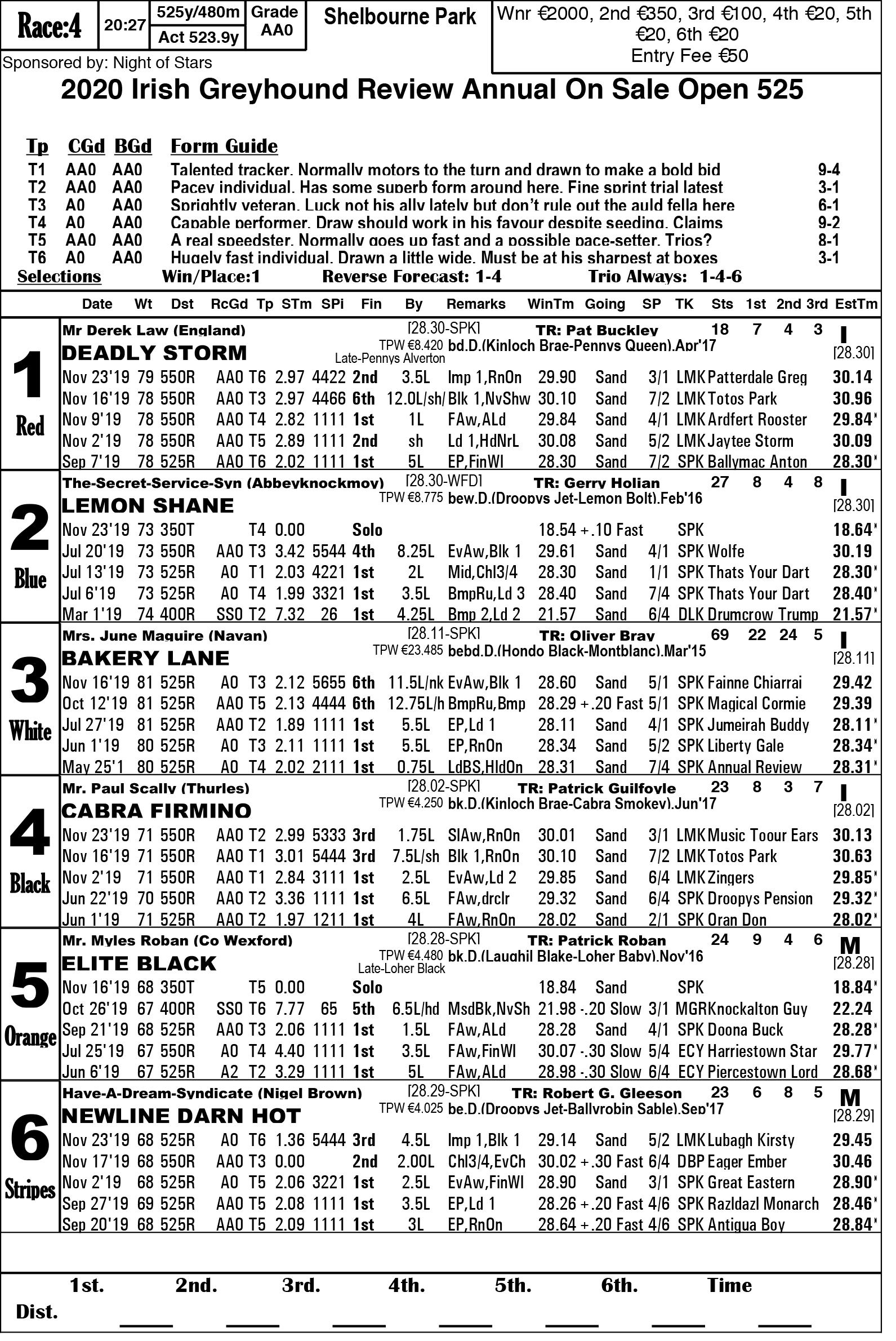 This looks quite competitive. Elite Black is good enough but is coming back from lameness. I am a little bit concerned about Bakery Lane moving across to the rail on the run-up. Providing he can avoid him though, I would think Lemon Shane should be good enough on the night.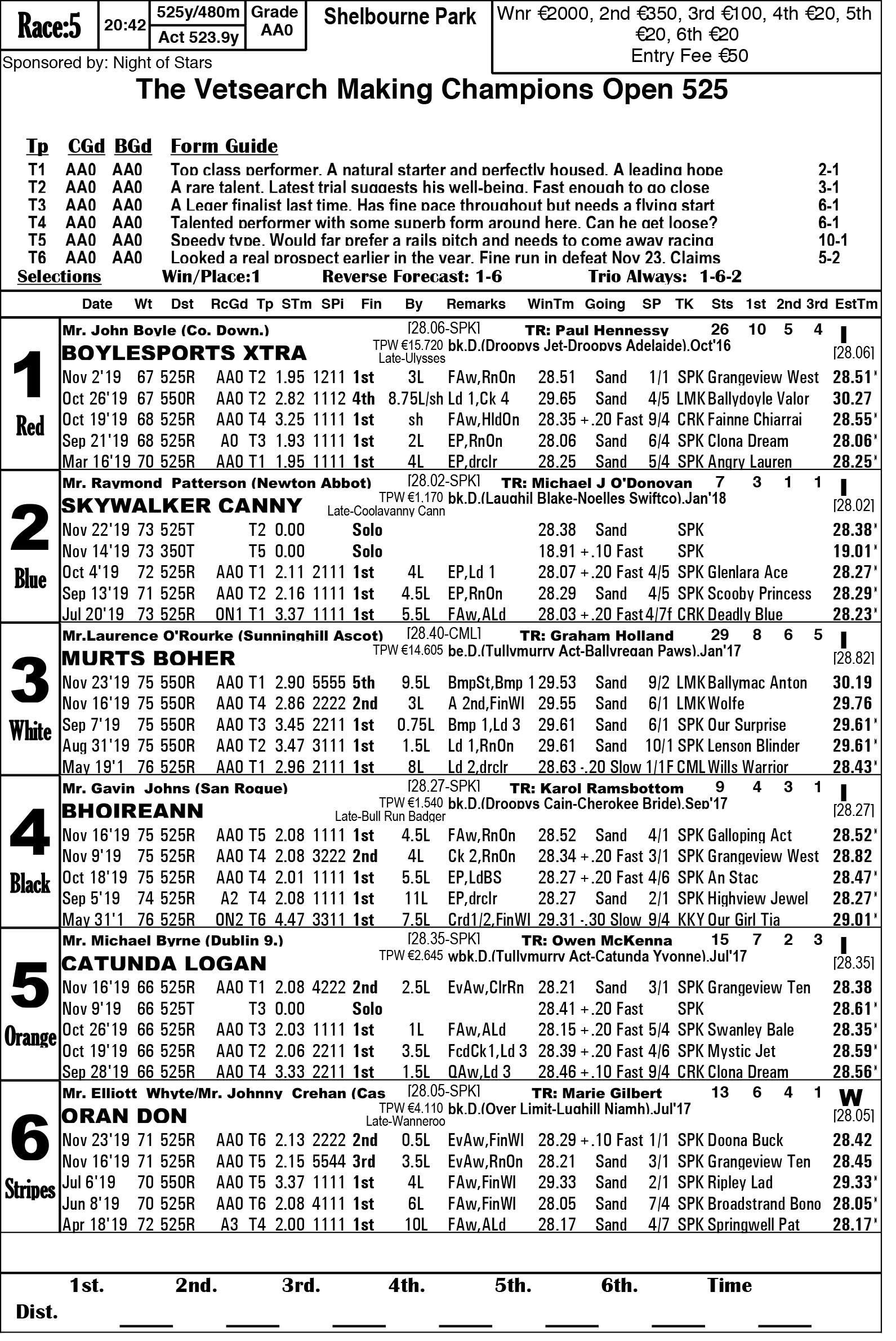 This looks to be a penalty kick for Boylesports Xtra. He has the ideal box with Skywalker Canny lacking a yard of early over the 525 so the red should get a clear run. I would like to think that Murts Boher could keep the distance respectable but I don't think he will be able to catch the favourite.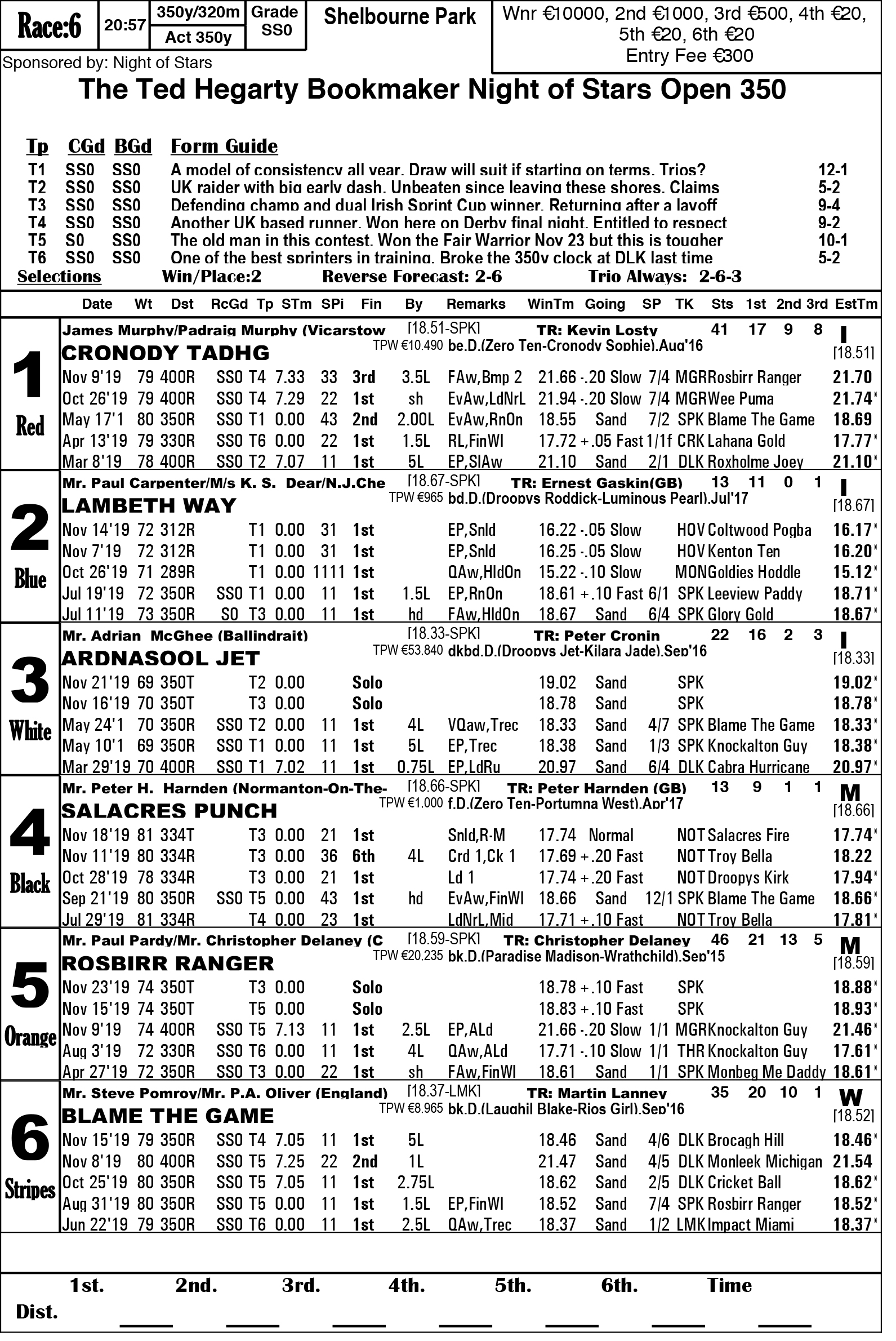 Blame The Game is in the form of his life and looks a good thing here. Rosbirr Ranger has been a good dog but age is against him. We all know how good Ardnasool Jet has been over a long period though there must be a question mark on his soundness.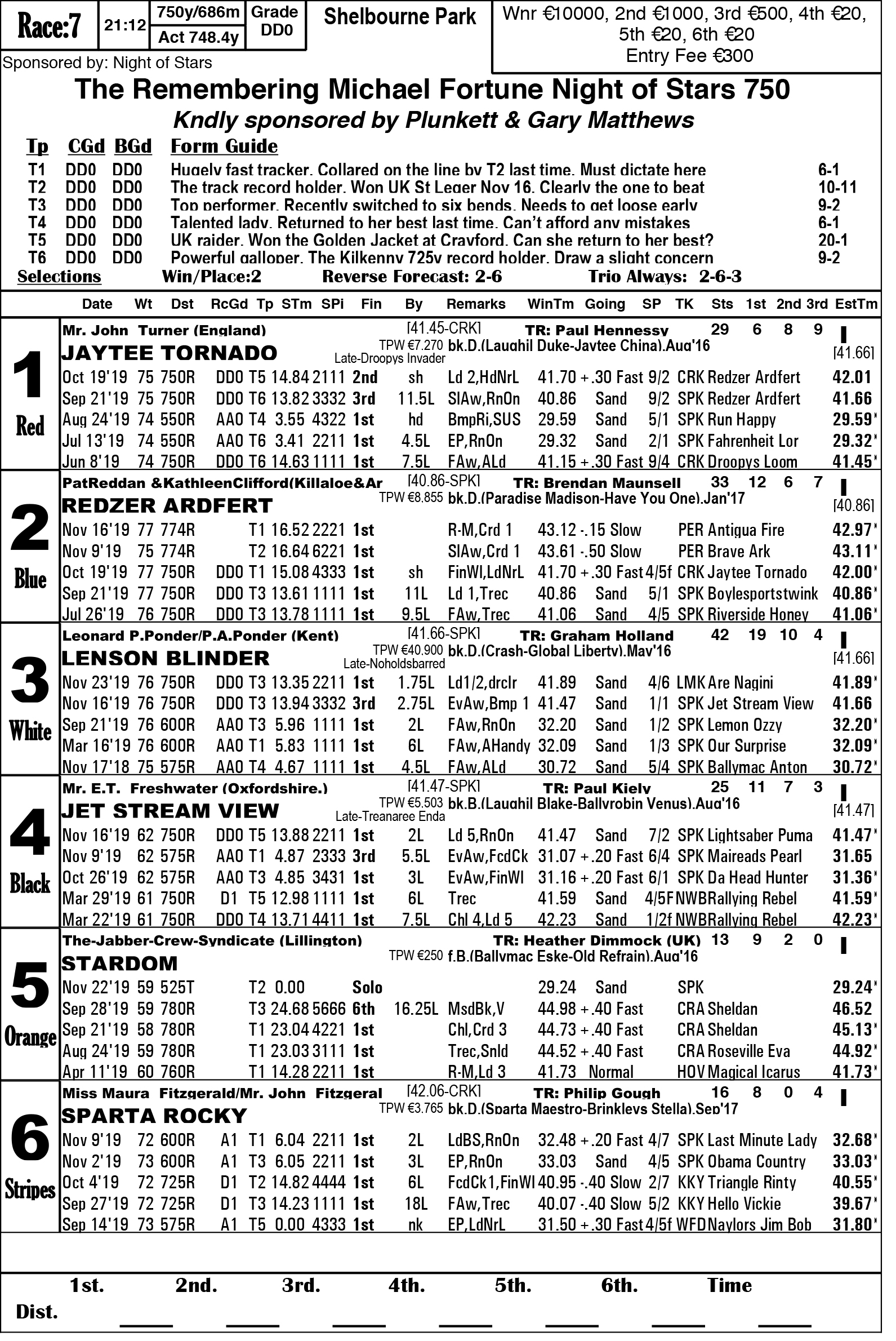 This looks to be a race that could be decided by the run to the first bend. Track record holder Redzer Ardfert will probably start favourite and is good enough to win it if he can dominate. But if Lenson Blinder was to steal a lead, the St.Leger winner will have a race on his hands. The red is fast enough but has been suspended for fighting so you don't know what he will do.
SLIPPY JADE runs in Trap Five.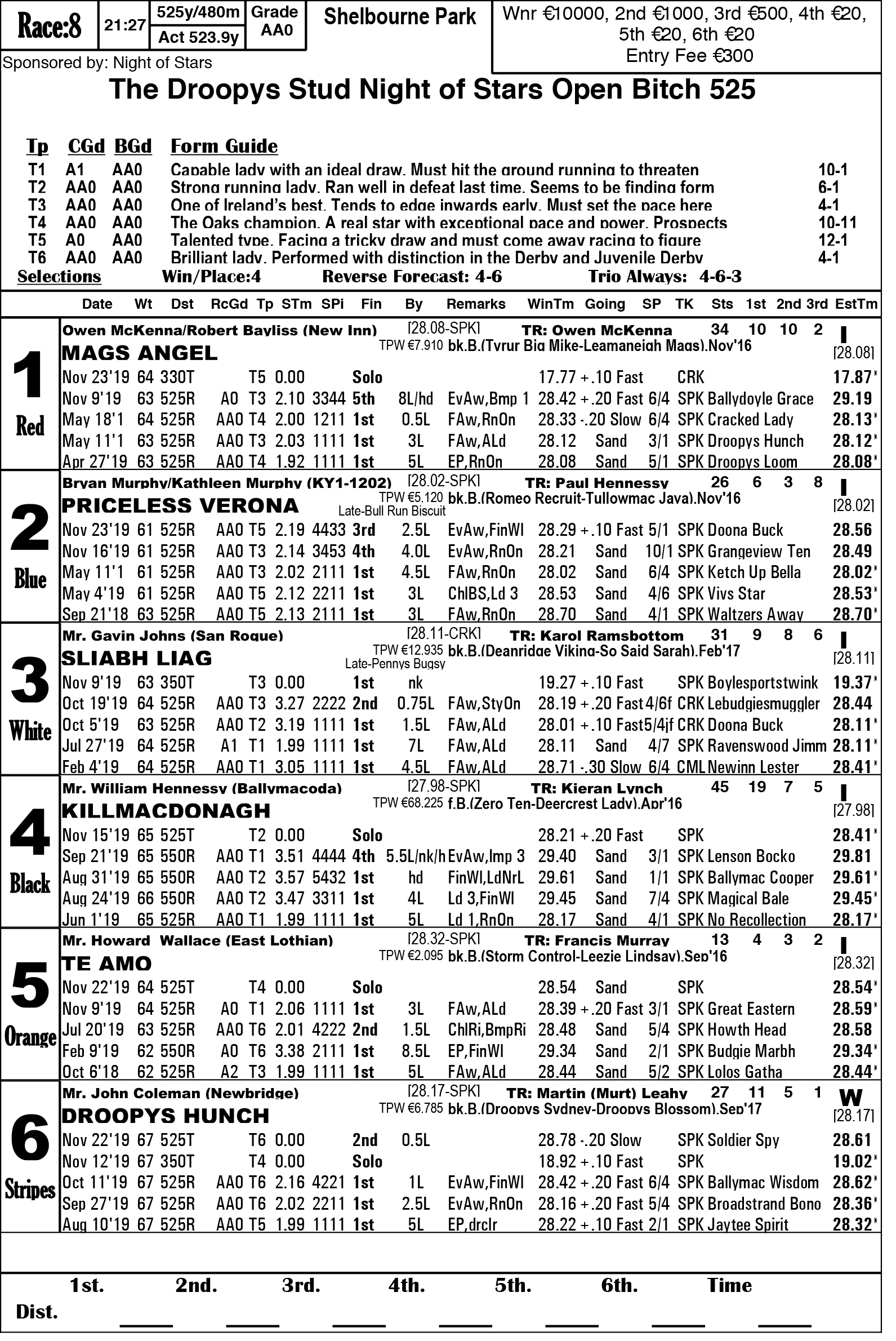 It is all about Killmacdonnagh's fitness. In fact, if you knew she was in form, she would be as close as you could get to a certainty. She will also be helped by three moving in on the run to the bend. Priceless Verona ran very well last time and could dispute the places.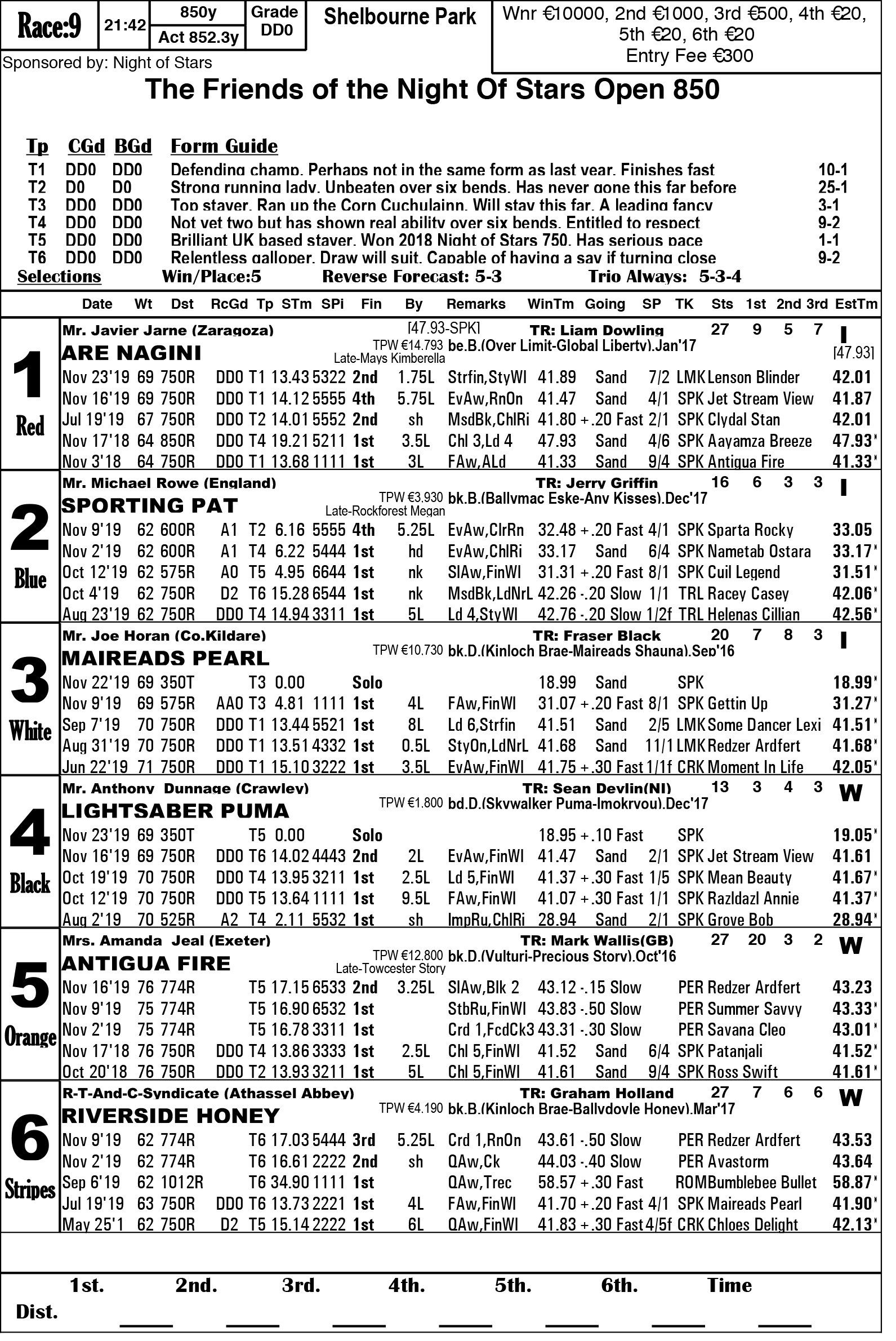 As far as Nicky is concerned, this is by far the most important race on the card. It is also one of the toughest to call. You would have to rate Mark's dog Antigua Fire and Lightsaber Puma was hugely impressive in a novice 750. Maireads Pearl is a track record holder and also very taleneted. But I am going to stick with our girl Riverside Honey. She has been going very well at home and I am expecting her to go very close.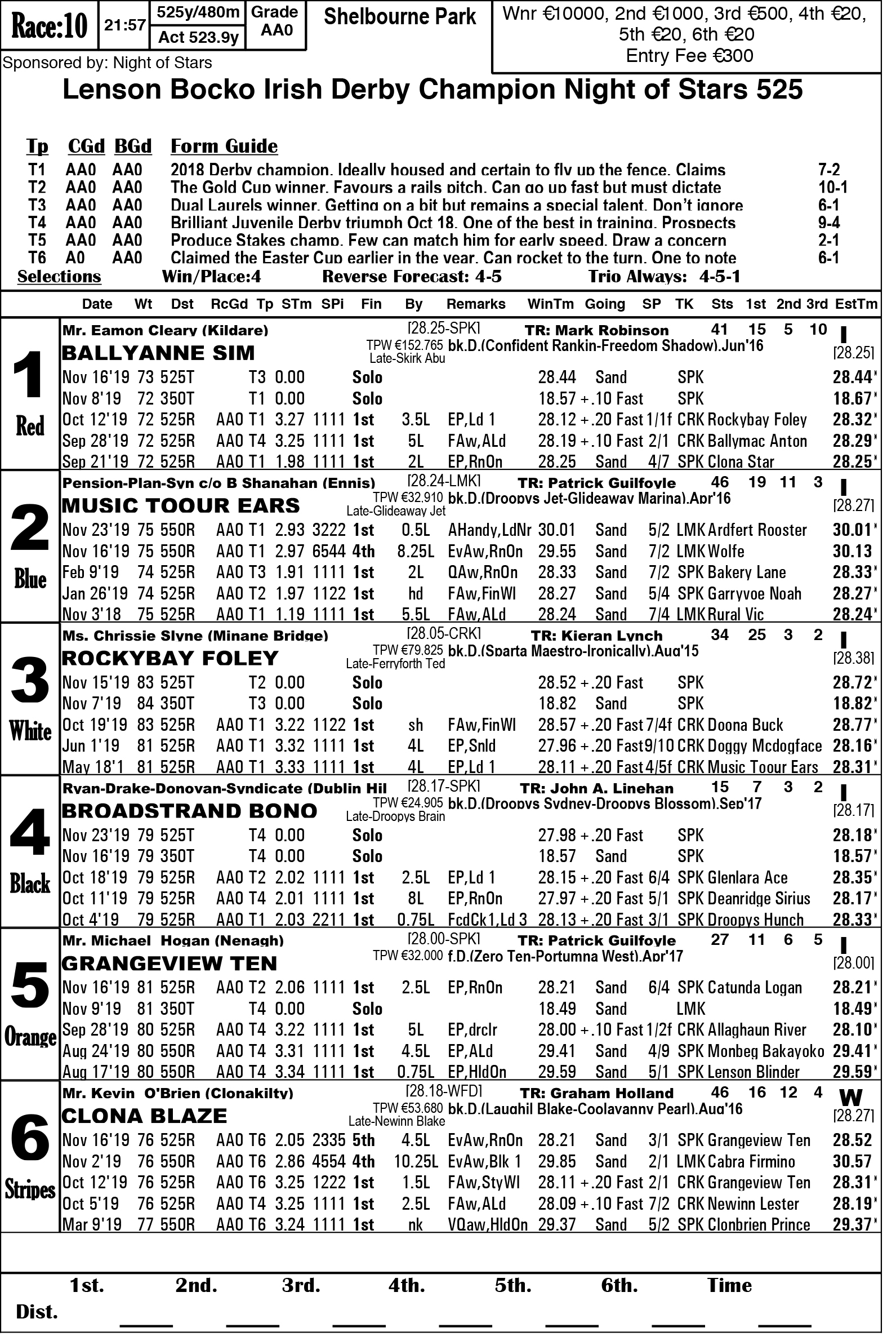 I think there are only two well drawn dogs here, the one and the six. Clona Blaze has been a bit below par for a while. We had some tests done and discovered that he has a thyroid issue and seems to be responding. I like Broadstrand Bono – a lot. Loads of early pace and likely to give anything a run. Rockybay Foley has never reproduced his Cork form at Shelbourne and will be moving in. Grangeview Ten is the worse drawn dog of the lot. So on that basis, I'd have to side with Ballyanne Sim.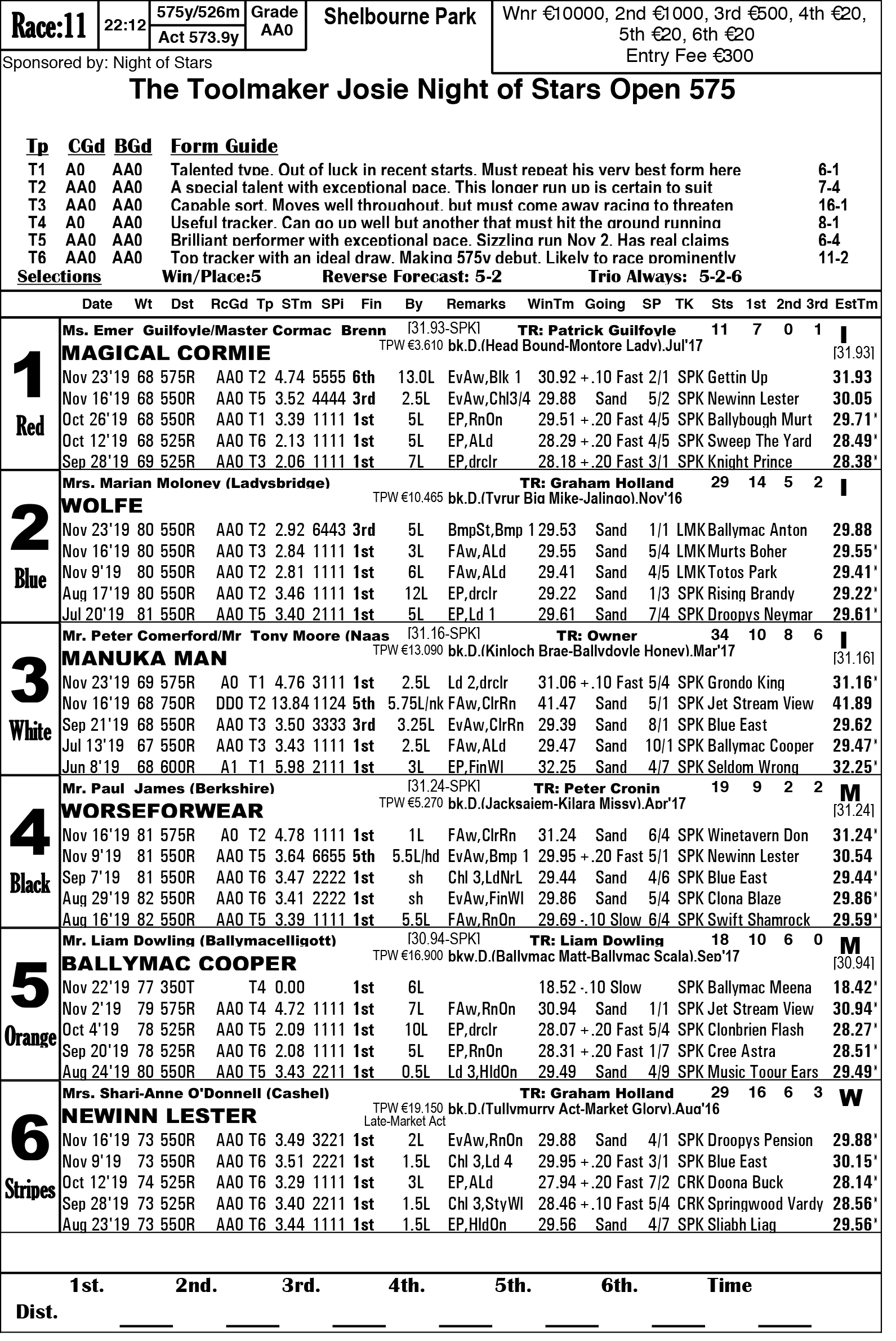 I make this between the two, five and six. Wolfe needs to clear Magical Comie who is a nice dog though this is a rise in class. Manuka Man will be moving in while Worseforwear will be moving right. Ballymac Cooper should go well from five and will appreciate the long run to the bend. Newinn Lester is probably the best drawn dog in the race and a danger to anything, though I would just edge it to Wolfe.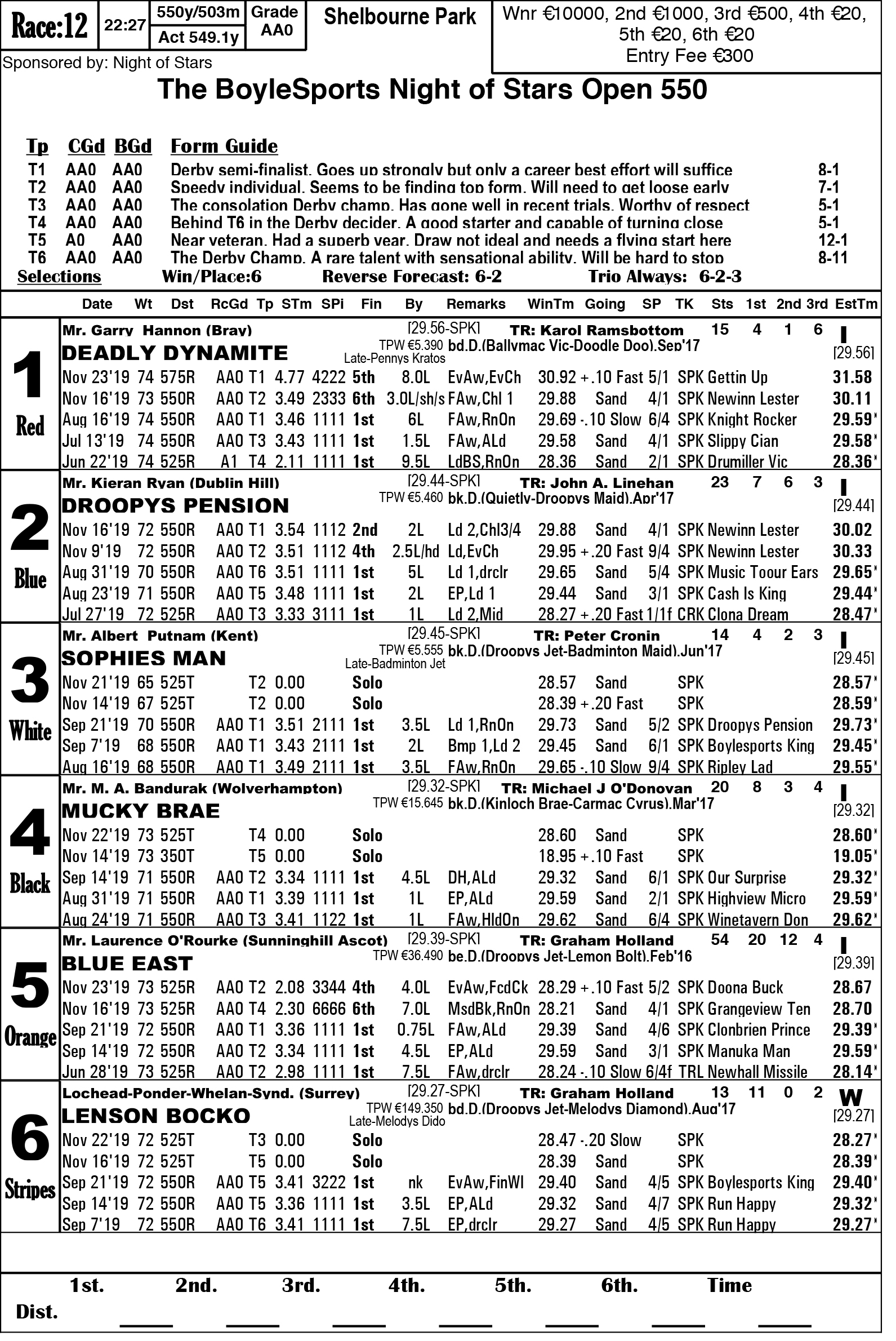 What can I say? I fancy Lenson Bocko. He has had two trials back. He tied up in the first but stayed on better in the second. The going was given as .20 slow. Personally I thought it was closer to -40. He should be helped by Blue East moving straight in. Ideally I would have liked Bocko to have had a race last week to prevent him being too fresh, but I don't think that should prove too much of an issue.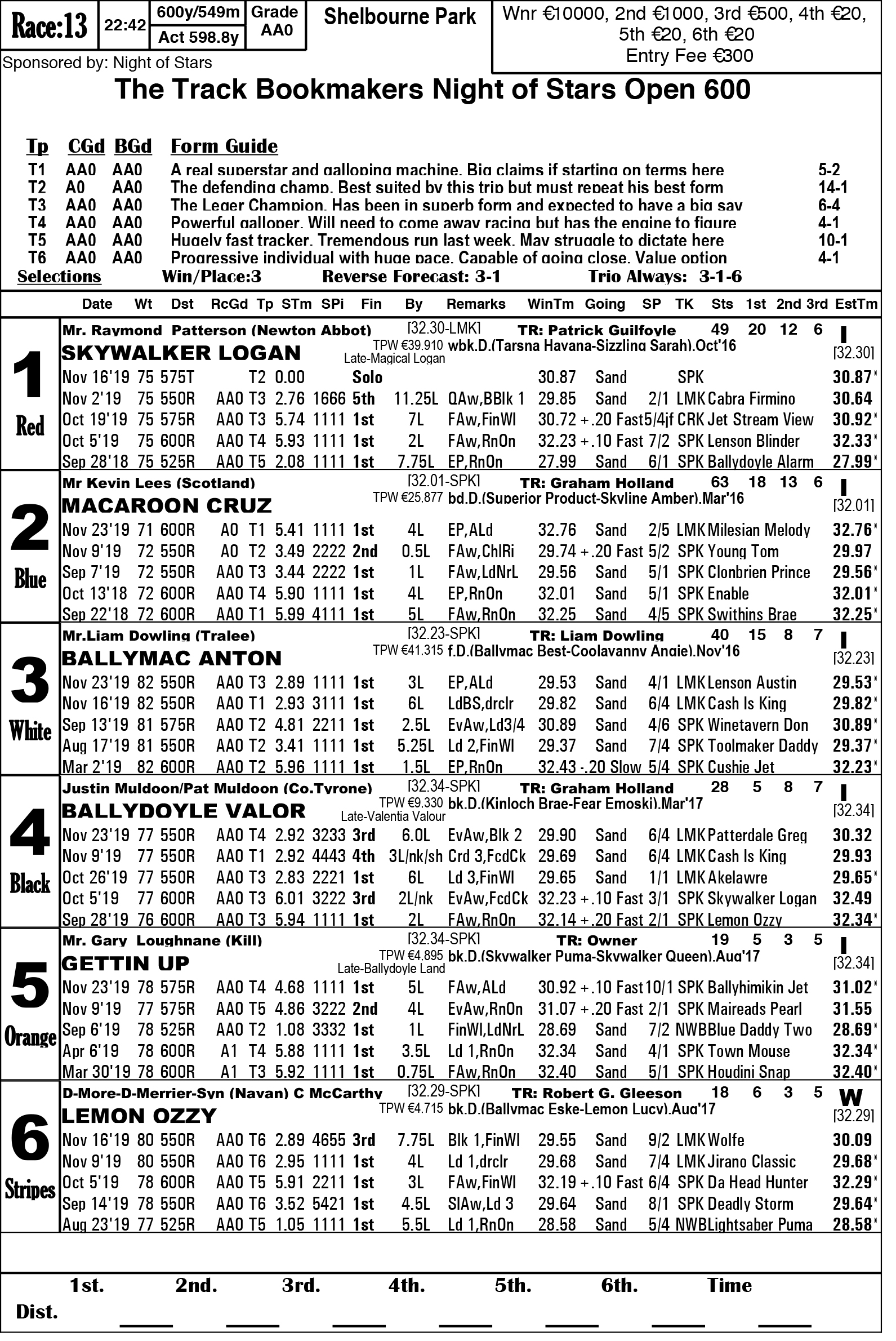 A good competitive race to finish the night. You can make a case for all six including both of ours but I thought Ballymac Anton ran very well to win the St.Leger and you can never discount Skywalker Logan as the main danger.