By Mark Pierrepont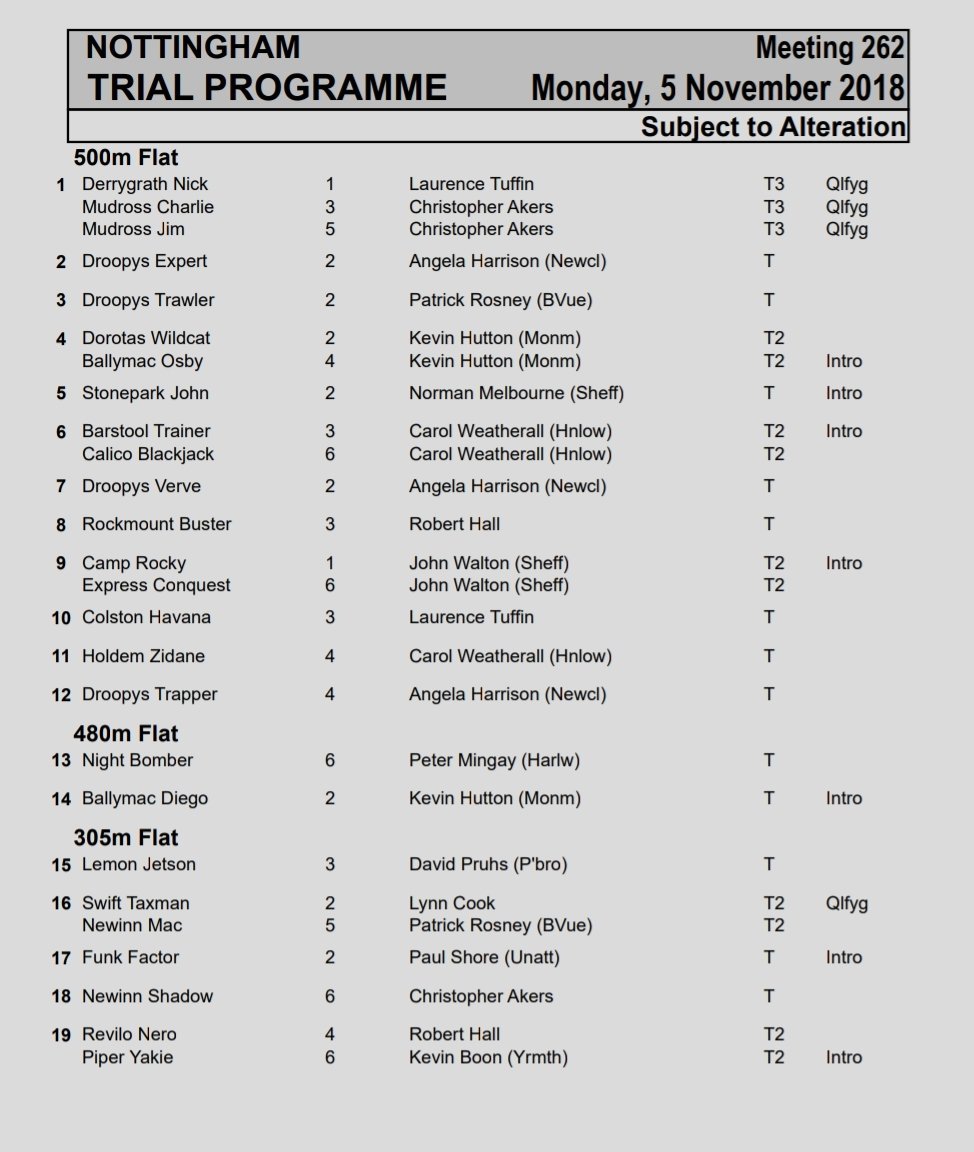 Wise Thought, Eye OnThe Storm, Nambisco, Mill Bling Bling, Sawpit Sensation, Bridge Honcho, Fit To Win, Pinpoint Boom, Droopys Buick and Bubbly Bluebird. 
A quick glance at the names of the last 10 greyhounds to prove successful in the Eclipse at Nottingham's Colwick Park precisely highlights the calibre of greyhound required to be allowed to dream about lifting the famous trophy. They came be distilled into two word 'class' and 'durability' – cos if you don't see out the tough Colwick 500m, you can forget it.
Betfred have been excellent sponsors of the Eclipse for many years however after that association ended Nottingham worked tirelessly to find a sponsor befitting such a prestigious competition.
Step forward Mark Lowther and his MSCM Limited company.  Mark has been a huge supporter of greyhound racing for many years and it should have come as no surprise when he not only brought his ever growing in stature category 1 Lowther Stakes to Nottingham, but also stepped in to fill the void created by Betfred in sponsoring the Eclipse.
A few sets of connections were left disappointed to miss out on a place in the Lowther, however Mark wanted the competition to be of the very highest class and there can be no argument that the 24 bitches who lined up for the first round were of the very highest order.
This first running of the Eclipse under the banner of MSCM Limited promises to be exactly the same and it will take a greyhound of the highest calibre to emerge victorious in the final come Monday 26th November 2018.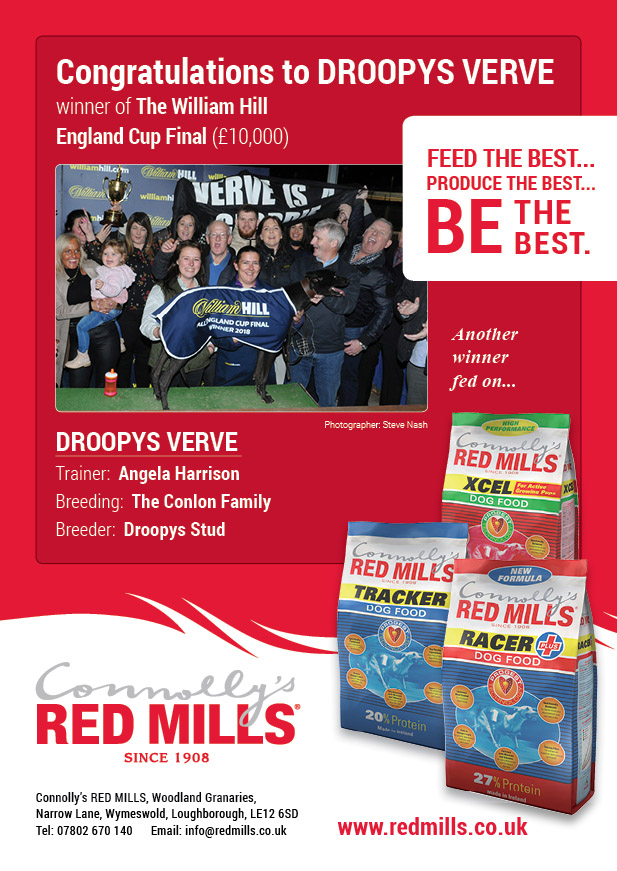 With the first round now just over a week away, all eyes are set upon this coming Monday.  There are three trial stakes taking place on the card which hold much interest. However the trial session pre-racing which is due to commence at approximately 515pm would be worthy of the admission cost alone.
The Alnwick based team of Angela Harrison and Jimmy Wright give solo trials over the 500m trip to 3 of their superstars.  After winning heat and semi final of the Puppy Classic at this venue in 2017, Droopys Expert was then beaten into second place in the final when an odds on 4/6f.
He soon made amends for that defeat however, just a matter of weeks later he went unbeaten through the All England Cup at home track Newcastle.
Leading member of the Harrison team, kennel hand Elley-Jane Savage reports that Expert came off a little sore after his first round elimination from this years All England Cup.  Team Harrison have been working over time in order to get Expert ready for a tilt at the Eclipse, he's not far away but a firm decision in on his participation in the competition is yet to be made.
The kennel's other 2 representatives at Mondays trial session however are at this stage 100% on target to take their chances.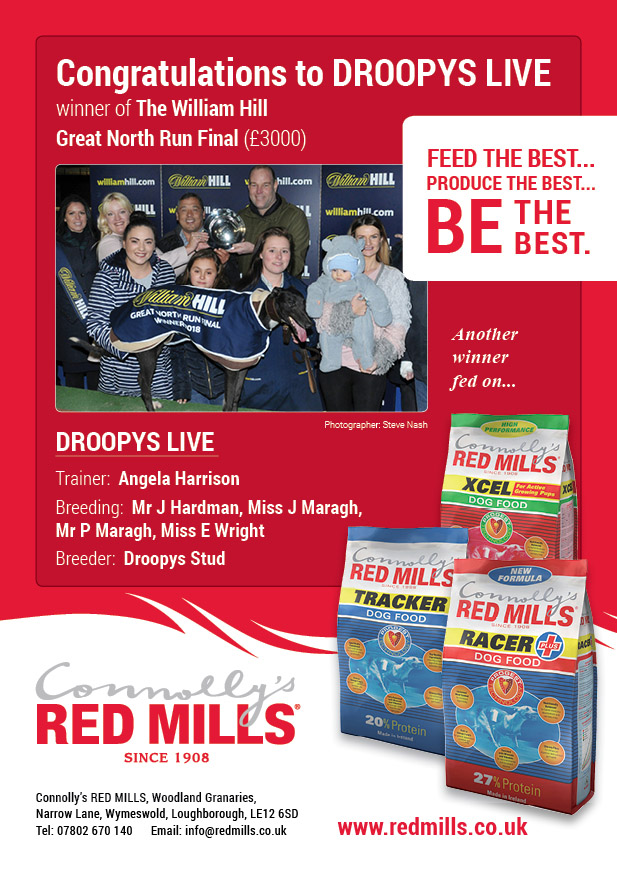 Droopys Verve is a dog that most people will only ever dream of being connected to during their lifetime in the sport.  Absolutely awesome throughout this years Star Sports Bookmakers English Greyhound Derby, he lost absolutely nothing in defeat when finishing runner up in the final behind Dorotas Wildcat.
After the Derby, Verve headed to Dundalk for a tilt at the International, running a game race to just hold off Borna Gin in a track record time of 2939.
Although beaten in the first round of the All England Cup at Newcastle, Verve soon put that behind him with flawless performances in both semi final and final.  The dog is a class act and has the temperament to perform on the big occasions.
Last but by no means least of the Harrison trio is Droopys Trapper.  Though running out an impressive winner of the William Hill Puppy Plate at Sunderland in July, this strong running sort always looked as if he'd be better suited to a bigger test of stamina and a galloping track.
Though beaten at even money in the final of the Northern Puppy Derby, connections believe Nottingham should suit down to the ground both as a track and for the extra distance that the Eclipse trip provides, it will be very interesting to see what kind of time he puts up in his trial on Monday.
Star Sports English Greyhound Derby winner Dorotas Wildcat trials for Kevin Hutton in a two dog trial against his hugely exciting kennel mate Ballymac Osby.
Wildcat needs no introduction, a superstar of the highest order, he has emphatically won 2 open races around Swindon as he sets out on his comeback after a short stint at stud over in Ireland.  There has been some calls that 'The Cat' should have been performing before bigger crowds than would have graced Swindon for those two races.
However they have served their purpose and he should now be well on the way to regaining the sharpness that marks him out as one of the all time greats.  Kennel mate Ballymac Osby is lightly raced but connections have obviously been patient given his huge 37 kilo size.  After the manner in which he won on debut in A4 at Towcester, it was obvious that this greyhound wouldn't be hanging around in graded company for too long.  Victories in A3 and A1 soon followed and he has since added open race success to his cv with wins around Sheffield and Central Park.  Nottingham should suit and it will be interesting to see how he fares against his illustrious kennel mate.
Droopys Trawler lines up in a 500m solo trial for 2018 Scottish Greyhound Derby Final winning trainer Pat Rosney.  Trawler belied his odds of 8/1 when winning the William Hill Northern Puppy Derby Final at Newcastle in August.
Many good judges had noted this strong running sorts pace in defeat and though the victory might have proved a small shock to some, it didn't come as a surprise to Rosney who has marked this dog out as a future six bend competition performer and soon after agreed to purchase him from the kennel of Andrew Wood.
After arriving at Rosney's Leyland kennels, Trawler went unbeaten in his first 3 races for his new trainer, all of which came at this Nottingham track and gained him some more valuable experience of the venue.  Though beaten last time out, his chance was all but ruined at lid rise by the middle running Drifting Bill who immediately moved off from his trap 2 berth.
Trawler is a game and gutsy dog and though his future will undoubtedly lay over further, he is sure to go well in the Eclipse and will be a difficult dog to keep out of the frame.
Those are just some of the greyhounds trialling at what is a top class session and if you live within travelling distance of the track you will surely want to head down to gain some valuable insight into some of the leading contenders ahead of the following weeks first round.
Of the three MSCM Eclipse Trial Stakes to take place on the race card itself, the second of those looks particularly interesting with Knockard Spring and Alfies Prince amongst the line up along with the returning from injury Salacres Vincent.
Star Sports Bookmakers English Greyhound Derby quarter finalist Salacres Vincent has been off the card recently and his return to the track has been a labour of love for trainer Peter Harnden.  To say Vincent isn't the easiest dog in the world to train would be an understatement, not too keen on too much hands on fuss it has taken many hours of dedication to see him finally ready to make his return.  Trainer Harnden was delighted with his first 500m trial post comeback last week, recording 2993 (+50).  Harnden reports that Vincent can only improve for that run and will continue to come forward over the coming weeks.
Nottingham director Nathan Corden says "The MSCM Limited Eclipse looks like it will yet again be one of the hottest competitions of the year if Mondays trial session is anything to go by.  It's not often you have a Derby winner and runner up plus Dundalk International winner trialling at the same session, along with many other class greyhounds having a look around before the competition starts next week it promises to be a really exciting and informative meeting.  I hope to see as many people as possible down at the track".
Please keep a check on the Greyhound Star throughout the MSCM Limited Eclipse, I will be previewing /reviewing throughout.