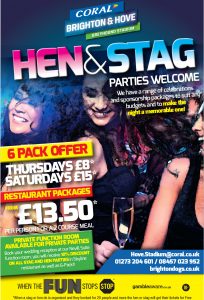 Connections of Huarache Scotty (Top Savings-Sizzling Sarah, May 14) will be hoping they can do a 'Billys Bullet' in the forthcoming Sussex Cup at HOVE.
Mark Wallis' runner famously returned from a broken hock in the 2015 Regency to land the final a year later. Kevin Hutton's Scotty went lame in the semi finals of the Brinkley Unraced in April 2016 and spent six months off the track.
On Thursday night, the white and black recorded the fastest of the Sussex Cup trialstakes with a 29.75 length and a quarter win over Starring Storm and King Kid.
The only other runner to break 30.00 for the 515m was Heather Dimmock's Donation (Droopys Cain-Delightful Flyer, Jul 15) who made it five wins from seven UK outings with a 29.81 win over Droopys Jester.
Prior to racing, puppy Calico Ranger clocked a stunning 29.57. Brinkleys Blaze recorded 29.73, Roswell Romanov-30.12, but Bruisers Bullet, a disappointing 30.48.
The £10,000 to winner Coral Sussex Cup (RU £1,000, Others £500) starts next Thursday. Entries close at Noon on Monday.
Paul Maynard's Glideaway Bertie (Kinloch Brae-Glideaway Marina, Jul 14) might not get many headlines, but he quietly raids the open race seas and captured more riches at Monmore on Thursday.
The Swindon runner was an 8-1 chance when turning over the rated Cuba Libra in a Monmore 630 open. The winner's time was 38.14 on going rated .30 slow. It was his seventh win from 28 races on his fourth different track from 480-685m. However given his low profile, he would certainly have been worth following – a £10 bet on every career outing would currently show a profit of £180.
The star performance over four bends belonged to locally trained and bred Artic Lightning (Take The Crown-Ballymac Almighty, Aug 15). Stuart Buckland's 37 kilo pup who was knocked out of the Produce Stakes in the first round clocked the fastest 480 on the night when landing a maiden open in 28.42 (-20).
The Ladbrokes Gold Cup and Summer Stayers Classic both get underway on August 3.