1980 A change in legislation means British tracks are allowed to stage regular ten race meetings instead of eight, for the first time.
1995 NGRC stewards announce a new licence category "assistant trainer"
1969 The GRA announce that their trainers will no longer be required to provide runners for two different tracks. Sixteen trainers based at Northaw Kennels near Potters Barr will be split into groups of four to supply one venue. White City, West Ham, Clapton or Harringay. A similar system will be operated at Biggin Hill for the Charlton and Catford handlers.
1972 Bertie Hatton, breeder of the "Monalee" prefix dies at his home in Enniscorthy.
1985 A special race meeting at Harringay to highlight opposition to the closure of the track is well supported – but it takes place on the day that the company announces the closure of Slough. Also to go is the famous kennel complex at Northaw near Potters Barr. Among the Harringay trainers still in residence are Ray Peacock and Mick Puzey.
1995 A row breaks out involving Ballyskeagh's Paddy Owens when he discovers that the ICC had been in consultation with the BGRB over rules of racing in Northern Ireland. Owens remarks "I am totally opposed to the Irish Coursing Club having control in Northern Ireland. It is time for the ICC to go and I have told Jerry Desmond just that."
1935 The first winner of Wimbledon's Gold Cup over 500 yards hurdles in 1929, Honeymans Last, has died after a long illness. Whelped in Mar 26, the nine-year-old was known as The Growler, for during his racing days he had a habit of growling at his opponents, frequently frightening them. During his brilliant track career he broke 10 track records including four world records, over 500 to 700 yards. He was owned by G W Drewett, the chairman of Brighton stadium.
1992 It's musical chairs at the GRA. Wembley GM Mike Raper takes over at Catford. David Turner, the Wimbledon assistant GM moves to Wembley. Hall Green's Jean Feltham becomes Group Projects Manager as Ken Hair takes over the reins at York Road.
1993 The first 16 race BEGS cards start to appear on racecards.
1995 Northern Sports, the owners of Oxford and Ramsgate and lease holders at Long Eaton, go into receivership.
1968 The Tsar of Russia used borzois (relatives of the greyhound) to course wolves. Now one of his descendants Prince Yurka Galltzine, is an owner at London White City, purchasing Jul '66 dog Brissenden.
1933 The first meeting is held at Southend, when more than 5,000 people attend a seven-race card. Several greyhounds from other NGRC tracks open at the time are involved in open races. The honour of winning the first race goes to Janet McNab, who clocks 32.22 for 525 yard trip.
1992 John McGee takes the Trainers Championship at Reading. He has four of the eight winners and beats closest rival Patsy Byrne by 56 points to 34.
1987 The Pall Mall final, the 47th to be run at Harringay, is to be the last held there. The race over 475 metres is worth £3,000 and perpetual trophy to be held for one year to the winner (it was never returned). It goes to owner-trainer A Hill's 7-1 chance Forest Fawn (Special Account-Mauramitch, Jul 84). Hugging the rails from trap 1, he wins by a length in 29.06. The event is moved to Oxford the following year. Late in his career, Fawn is disqualified for fighting.
1994 NGRC Stewards announce that widespread pre-race testing will cease. It is to be replaced by random pre-race testing by 'The Flying Squad'.
1970 West Ham and Wimbledon combat the reply of the FA Cup between Chelsea and Leeds by installing colour televisions at their meetings. Roger Cearns of Wimbledon says: "The last time a big match was televised on a Wednesday, we lost two thirds of our normal crowd, so we hope the punters can see live racing and football in colour, which is out of reach for most people as the sets are very expensive.
1978 The 5th running of the Scurry Gold Cup at Slough, sees its fourth change of distance since the event was transferred from Clapton, the trip is now over 442 metres, last year it was 434. The final on the 15th has a useful field but the first prize of £2,500 and trophy goes to Mr D O'Sullivan's Greenfield Fox (Burgess Heather – Skipping Chick, May '75) and 5-2 second favourite. He just holds off the strong finish of 4-1 chance Northwood Double, by a head in 27.00. Trained locally by Ted Dickson, it gives Slough their first win in the event since it started in 1928. The 9-4 favourite Lacca Champion, finished 5th, but ten weeks later is to carry off the English Derby trophy for trainer Pat Mullins.
1973 Wembley Stadium celebrate their 50th birthday with a 12-race programme and free admission. Although greyhounds did not start racing till 1928, the stadium opened in 1923 with the famous White Horse FA Cup Final between Bolton Wanderers and West Ham, where an estimated 200,000 turned up.
1968 The Grand National final is a foregone conclusion say the bookies after Ballintore Tiger (Prairie Flash-No Landing) almost fell at the third flight in the semi-final when 1-4 favourite and still finished second. He is made 1-3 to take the final, which he does easily by 43⁄4 lengths in 29.50. Tiger is bred by Robert Phelan of Ballygown, Kilmoganny, Co Wexford, and trained by Norman Chambers at New Cross.
1967 Clonmoney Grand (The Grand Fire-Last Landing, Jan 64) breaks the Harolds Cross 525 track record with a superb win in the Callanan Cup. The tiny blue bitch clocked 29.03 for the trip, her seventh consecutive unbeaten race. A week later she carried off the Easter Cup at Shelbourne Park in 29.50. The Callanan Cup runner-up (btn 5 lengths) Movealong Santa went on to win the same year's Irish St Leger, the Easter Cup runner-up Always Proud (beaten 21⁄2 lengths) was to win the same year's Irish Derby.
1956 Despite a gang of wreckers who destroy electrical equipment and remove some overhead cables, Ashfield hold the first meeting. Track owner Jim Donald employs two police-trained Alsatians to do night patrols in the week leading up to the opening.
1936 H Farrand's Doumergue dies of a heart attack at Northaw kennels. He is the sire of the 1935 Derby winner Greta Ranee, and during the early 30s he had a notable track career, which saw him win the Northern and Midland Flat championships. He was also beaten only a short head in a match race with Mick The Miller. He is to be buried at the cemetery at Northaw, which was laid out by racing director Colonel Cameron.
1934 Enniscorthy hold their first meeting. Despite a heavy downpour, the crowd see six exciting races. The honour of winning the first race, the Kilkenny Stakes over 525 yards, goes to J Byrne's Queen Of The Line by a length in a time of 31.89.
1928 April 7th Little known track at Hellaby, on the Rotherham to Maltby road, hold their first races when they have meetings in the afternoon and evening. The first race over 525 yards flat, the Hellaby Stakes, is won by Mad Madam by 15 lengths in a time given as "33 and 10-16th seconds."
1963 The 1962 Irish Derby winner Shanes Legacy (w.bk.d Knock Chieftain – Betsy, Jan 61), now with new owner Bob Gough and trainer Tony Dennis, goes unbeaten through the 1000 Guineas over 400 yards at Park Royal, picking up the £600 first prize. Bob Gough bought Shanes Legacy from John McCann, an owner-trainer from Co Antrim for £2,500 after his Derby success.
1970 The first heat of the BBC Television Trophy over 880 yards at Southend, catches many stay-at-home punters out when after watching the boxing, David Coleman introduces the races without a betting show. As punters try to phone in their bets, they find out that the race has been run 10 minutes earlier. Only after the recording is shown do the BBC admit what has happened. First to complain is Lew Cohen, a director of Corals, who says the BBC lost them thousands of pounds of business.
1975 The first greyhound from the mating between prolific open race sire, Monalee Champion and Derby/St Leger double winner Dolores Rocket, makes her debut at London White City over 500 metres. Lukes Ming, a black and white bitch whelped in Jan 73 lines up in a trialists and newcomers stakes. After running on well to take third place at the third bend, she checks badly and finishes last, beaten over 13 lengths in 31.63.
1976 Rochester holds a 12-race charity meeting in aid of the Guide Dogs For The Blind. Highlight of the evening is a three-way match between local champion Burnley, Spats from Wimbledon and the Brighton champion Glin Bridge, trained by George Curtis. Bridge shows his two rivals a clean pair of heels and wins as he likes in a new track record of 40.15 for the 650 metres race. The track is really flying that night with two other track records set. In a 277 metre sprint Greenane Juno sets new figures in 17.01, and in a 901 metre marathon Go Ahead Girl wins in 56.88. Finally in a 698 metre race her litter sister Santolina goes within a length of the track record.
1995 Yarmouth trainer Linda Jones is offered a contract by Romford.
1979 The sixth race at Youghal, is a 700 yard flat confined to greyhounds that had not bettered 41.00 for the distance However there is a turn up when P Finn's Black Ashgrove (bk.d. Ashgrove Trish-Pipers Cap, Nov 76) leads all the way wins by three-quarters of a length at odds of 100-1. The starting price is all the more remarkable sinse Black Ashgrove had won in 41.05 over the same course and distance the previous November. Bookmaker Liam Cashman takes four bets at these odds, £200 to £2 and £1 three times.
1980 The previous year's Irish Derby finalist Indian Joe (Brave Bran-Minnatonka) wins the first major event as an adult, the £2,000 Easter Cup at Shelbourne. Already with a 29.09 on his card, John Hayes' black (pictured below) beat Distant Clamour in 29.16.
1994 World win record breaker Ballyregan Bob dies in the early hours of April 3, a month short of his 11th birthday.
1974 The £1,000 final of the 525 yard Pall Mall at Harringay, has a great line-up of potential Derby talent. T1 Jordans Valley, 2 Myrtown, 3 Pier Hero, 4 High Priestess, 5 Blackwater Champ, 6 Cheers For Akii. Myrtown (8-11f) went lame on the run-in having strained a tendon. This allowed Blackwater Champ (Monalee Champion-Athnid, May72) to win by a length and a half in 28.53.
1992 Wembley trainer Terry Dartnall had his explanation accepted when facing a stewards enquiry over local grader Crefogue Bob. Winning on his first race back from injury, the dog found 79 spots and was backed from 7-1 to 2-1.
1975 After winning the Guinness Puppy Cup final at Limerick in 29.27, just outside the 525 yard record, owner Andy Kelleher sells Top Customer for a record £6,000 to Alfie McLean. Customer (Monalee Champion -Gruelling Point, May 73) will now be trained by Ger McKenna and aimed at the forthcoming Derby.
1976 Kojak (Own Pride-Steal Out) wins the Islandbridge Open Sprint, his 12th consecutive victory. He is pictured here on the right with trainer Brendan Matthews and kennel mate Thurles Yard, winner of the same year's Irish National Sprint where Kojak finished third.
1991 Greyhound racing has made umpteen appearances in TV dramas over the year – mainly in fleeting story lines. The exception was Central TV's Gone To The Dogs, a six part drama featuring Harry Enfield, Jim Broadbent, Warren Clarke and Alison Steadman. It went to air in November 1991. BBC's Eastenders filmed their greyhound scenes at Henlow, which was re-christened the 'Mile End' track. Freda, the former grader at Mildenhall featured with Ross Kemp below, remained on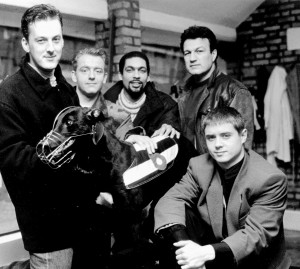 the cast as the family pet of the Mitchell family in the Queen Vic. Meanwhile London's Burning (pic left) set in a fictional fire station close to the Blackwall Tunnel, also found time for a 'doggie' story line and filmed numerous scenes at their local track, Catford.
1984 Game Ball, trained by Jerry Fisher and owned by Brian Smith is one of the most impressive winners in the history of the Pall Mall. The 11-10f beat Ballyhadden Slave and Westmead Milos by almost five lengths in 28.23 for Harringay's 475 metres one spot outside Yankee Express's track record
1985 The 1982 Derby winner Lauries Panther (left) dies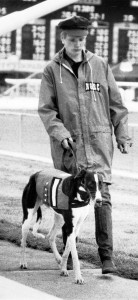 suddenly aged five. He had burst a blood vessel in his neck before haemorraging.