It is way too easy to put the boot in when a man is down. So bring me the shiniest steel toe caps and a litre of Red Bull!
Obviously inspired by last week's motivational speech, the Velvet Tonsilled One went 'double condom' with the full £100 on 1-2 winner Bettys Book for a £50 profit on the night.
The feisty Evertonian invested his virtual £30 on Salacresprecious. Boom. What a shrewdie! Only to see the wheels come off (insert your own Scouse joke here) when his £50 single, combined with a £20 double, on A Perfect Boy, got beat. And who beat him? 9-2 chance Salacres Magnier. Feel free to mention it to the big lad. How he'll chuckle! £40 loss – Ed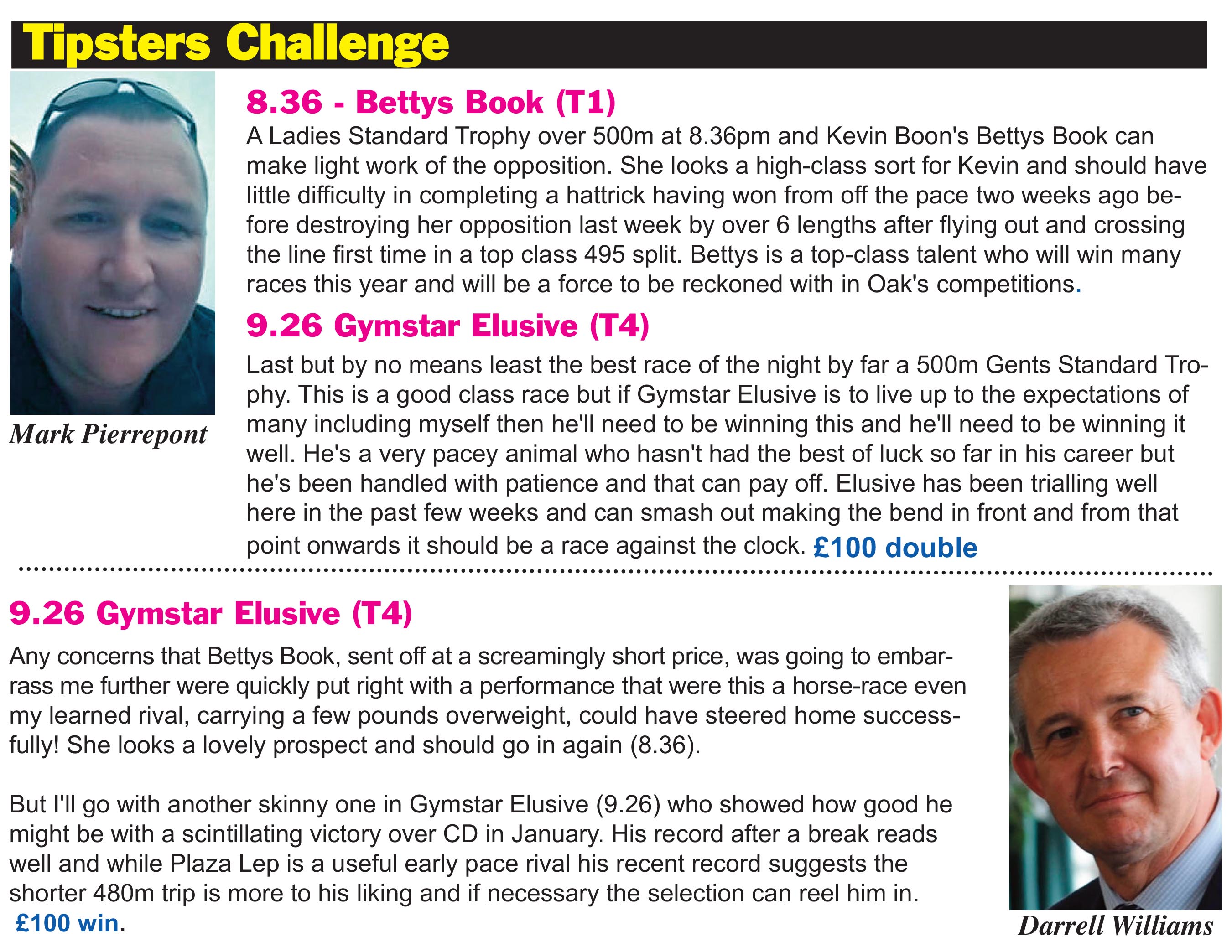 Eight graded races and four opens at Nottingham's Colwick Park stadium this evening with each being shown live on Sky Racing.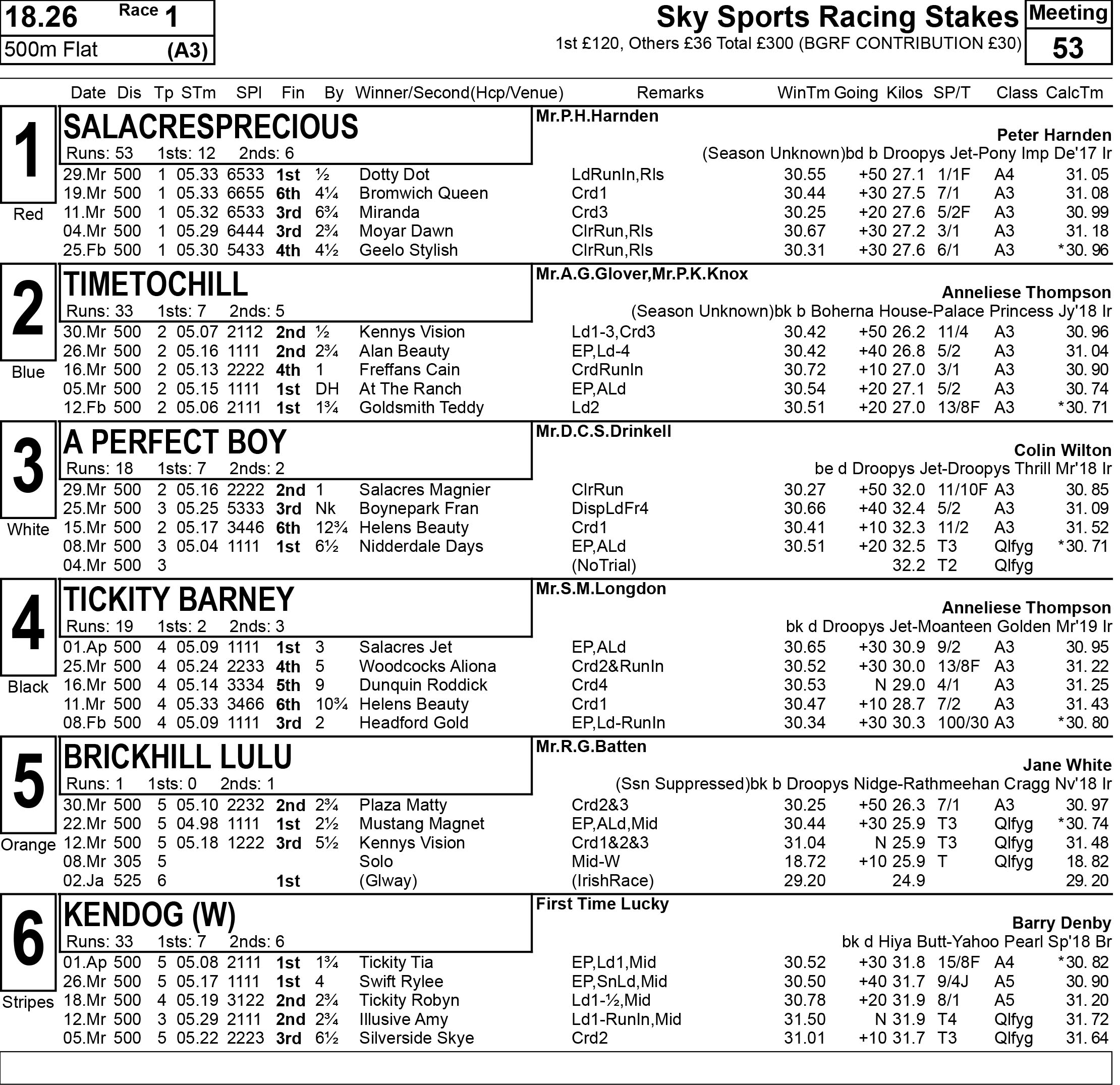 First up at 6.26pm is an A3 over the standard four bend distance of 500m. It's just a matter of time before Colin Wilton's A Perfect Boy gets a win in this grade post comeback from a long time off injured. He run well in defeat last time out behind a good winner in the shape of Peter Harnden's Salacres Magnier. The grader hasn't made it easy for him tonight by placing the early paced Timetochill trained by Anna Thompson to his immediate inside. Granted he reached the second turn without too much trouble though he can really begin to open up and showcase his class.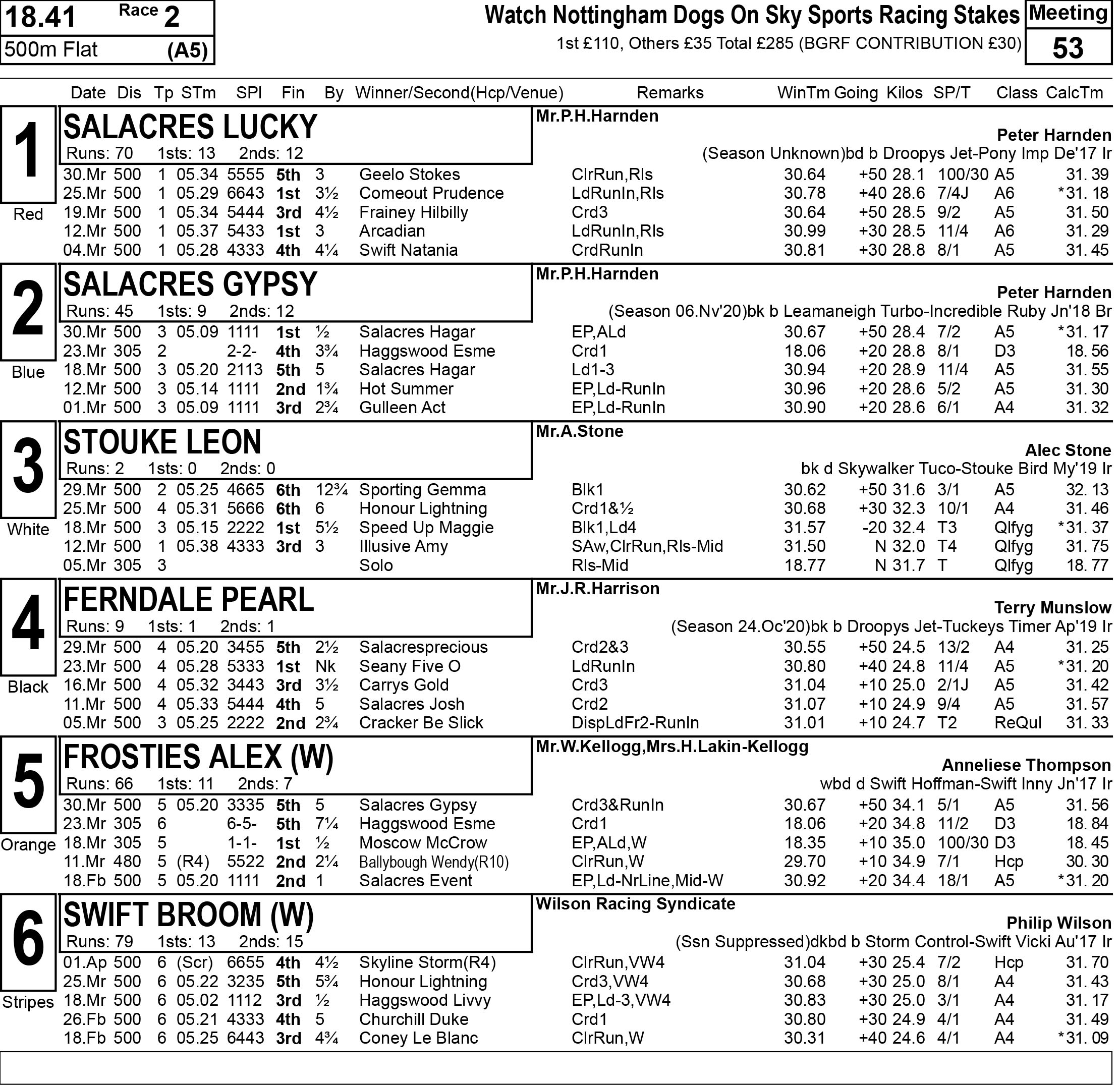 An A5 is next up at 6.41pm and it can go the way of Terry Munslow's Ferndale Pearl. Pearl was gaining the first win of her career on her tenth start. After a couple of unsuccessful efforts at Cork in Ireland Pearl was transferred to the Munslow kennel and she carries the profile of a bitch that Terry does really well with. There is a note of caution to add to her since she has been marked awkward and deservedly so on a couple of occasions but she is young and hasn't done a thing wrong in her last two outings. Going clear to the pick up on that aforementioned neck victory from a couple of weeks ago. Beaten but far from disgraced on her last outing when upped to A4 she received no kind of run on that occasion and couldn't get going until the race was as good as over. This appears to be a very lenient immediate downgrade back to A5 company and in a race which looks sure to see her get plenty of room to manoeuvre in the early stages. Peter Harnden's Salacres Gypsy won well when leading all the way in this grade last time out and once again has a leader's chance to follow up. Gypsy could well set this up for Munslow's bitch and so long as she gets about her business once getting there looks a fair bet to land the second victory of her career on her twelfth start.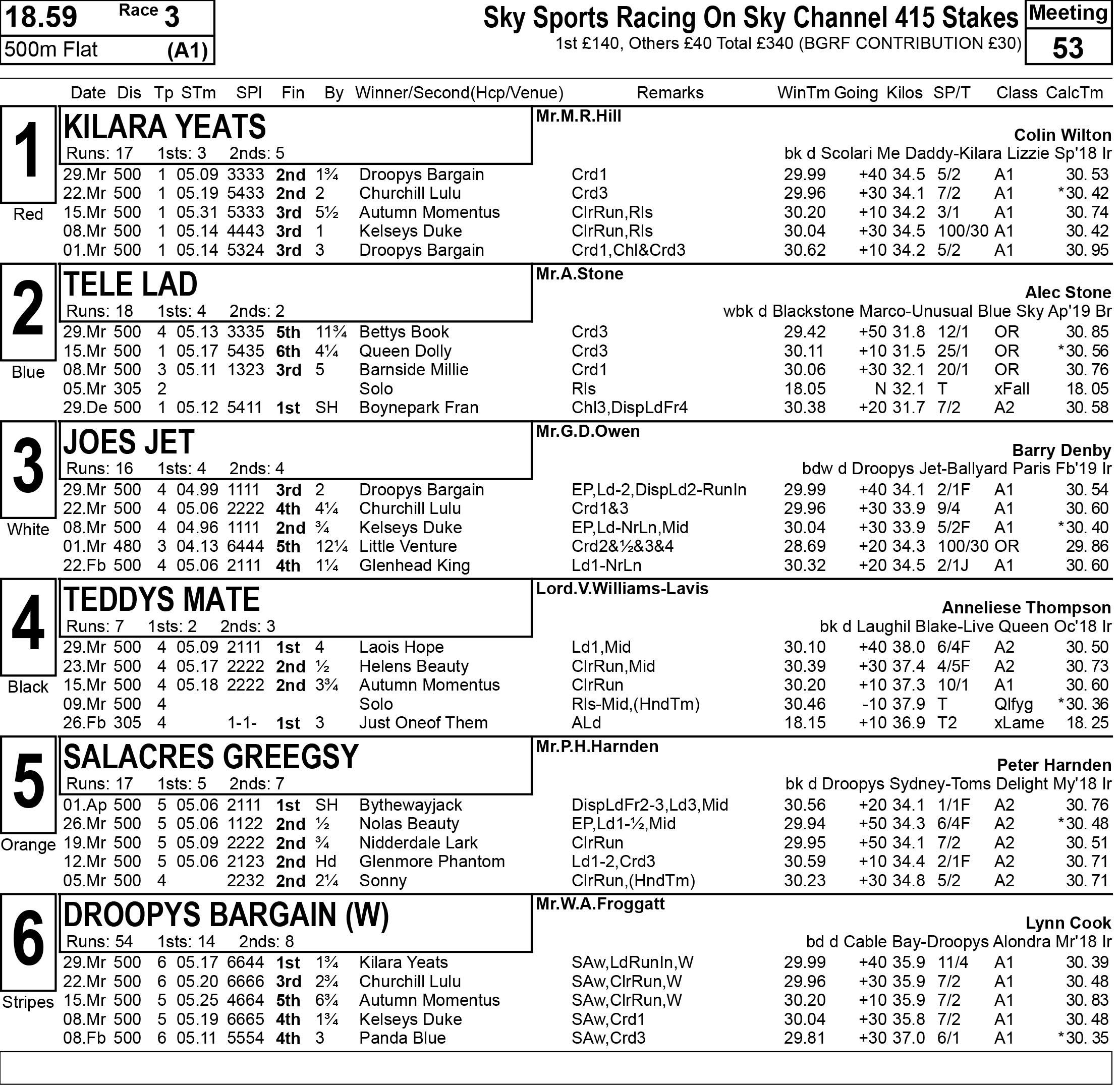 Top grade A1 company at 6.59pm and I'm once again siding with Lynn Cook's Droopys Bargain. A real nice dog with a never say die attitude if you had a kennel full of dogs with his will and determination you would be in a good place. A winner of three of his last six outings where a win in A2 has quickly been followed with a couple of top-grade successes he can make it four from his last seven here. Joes Jet looks set to lead for Barry Denby but he does find this 500m a test of his stamina in the latter stages and he can set it up nicely for Bargain to come through late.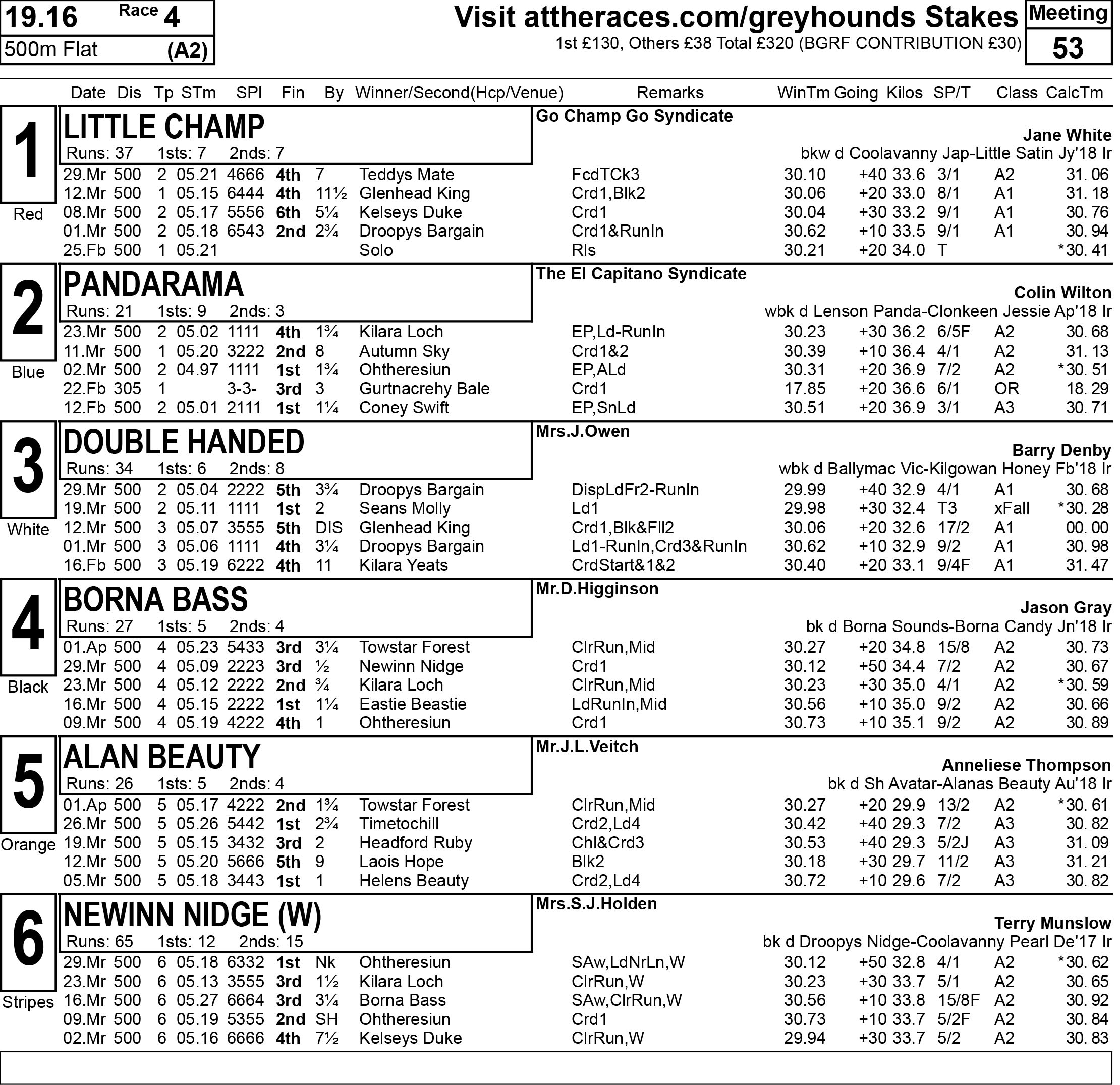 Down one level to A2 at 7.16pm and Colin Wilton's Pandarama can gain compensation for a costly defeat at this level last time out. Looking likely to win for a huge portion of the race he was treading water in the final stages and eventually finished fourth behind Anna Thompson's Kilara Loch. He can lead again here and though he'll have one eye looking over his shoulder on the home straight he can have built up enough of an advantage to hang on from the stronger runners including Terry Munslow's Newinn Nidge on the wide outside who can come home strongly to fill the forecast slot.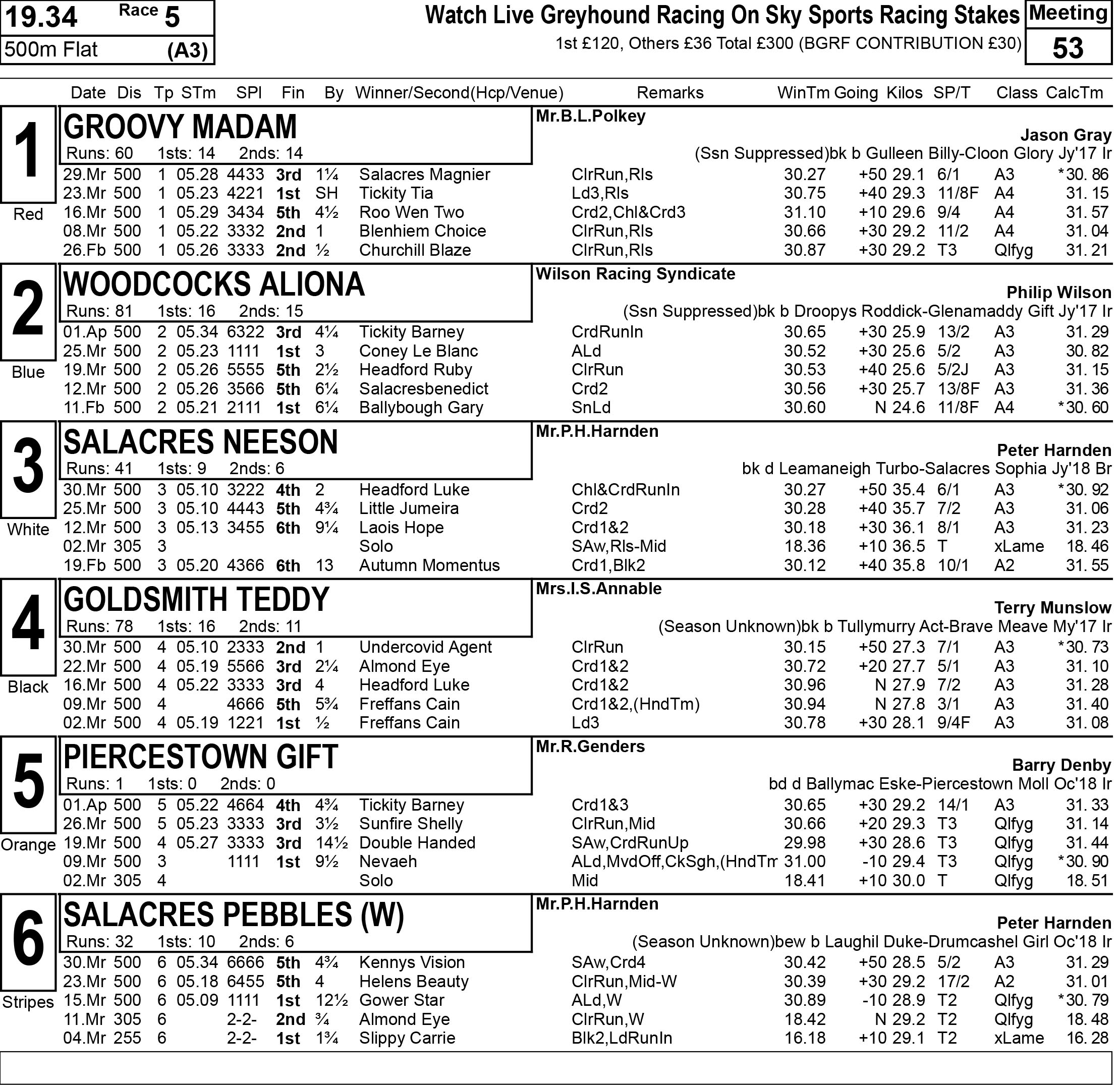 A very tricky A3 to solve at 7.34pm but a chance is taken on Peter Harnden's homebred RPGTV Nottingham Greyhound Of The Year 2020 Salacres Neeson. He's suffered for such a good year by being posed some near on impossible questions of late but at what should be a fair price he can take an early lead here and gain his first win in thirteen starts. Do keep an eye on Barry Denby's Piercestown Gift though and at what maybe another fair price he would be well worth a saver. He's a greyhound who has some strong running form in A2 and even A1 company at Enniscorthy in Ireland including a come from behind 28.88 success in A2 when winning by 3 lengths pulling away. Nottingham is a track that should play ideally to his strengths and despite being sent off at 14/1 on his debut last week I don't think it will be too long before we see him leaving A3 here behind. Support in the market for Gift would be a huge positive for a greyhound coming from a very shrewd kennel.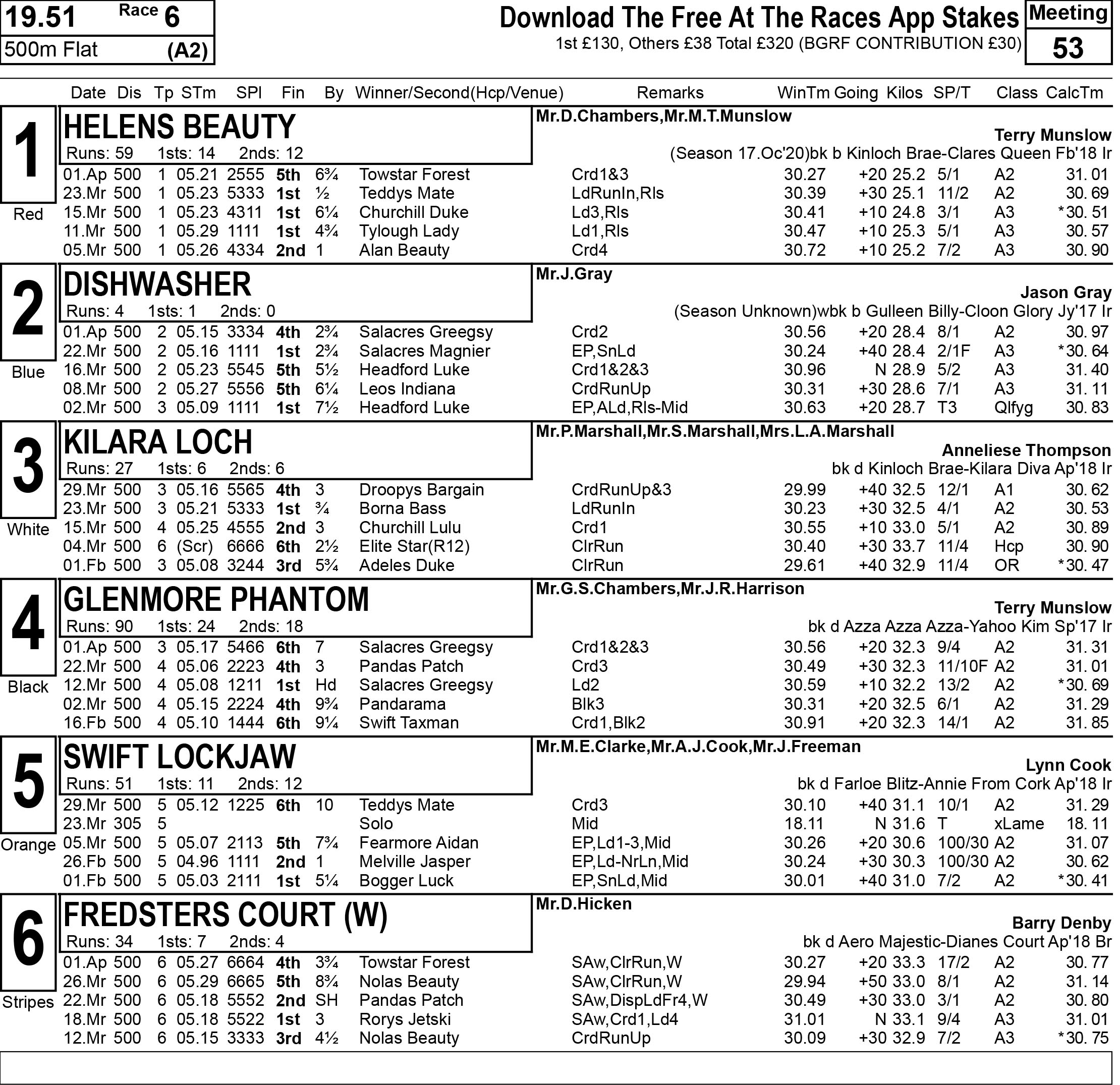 Back to A2 class at 7.51pm and this looks a big drop-in class for Anna Thompson's Kilara Loch who won well in this grade two runs ago and ran more than creditably despite not gaining a clear run in A1 last time out behind Droopys Bargain. With any kind of run he'll prove very difficult to beat.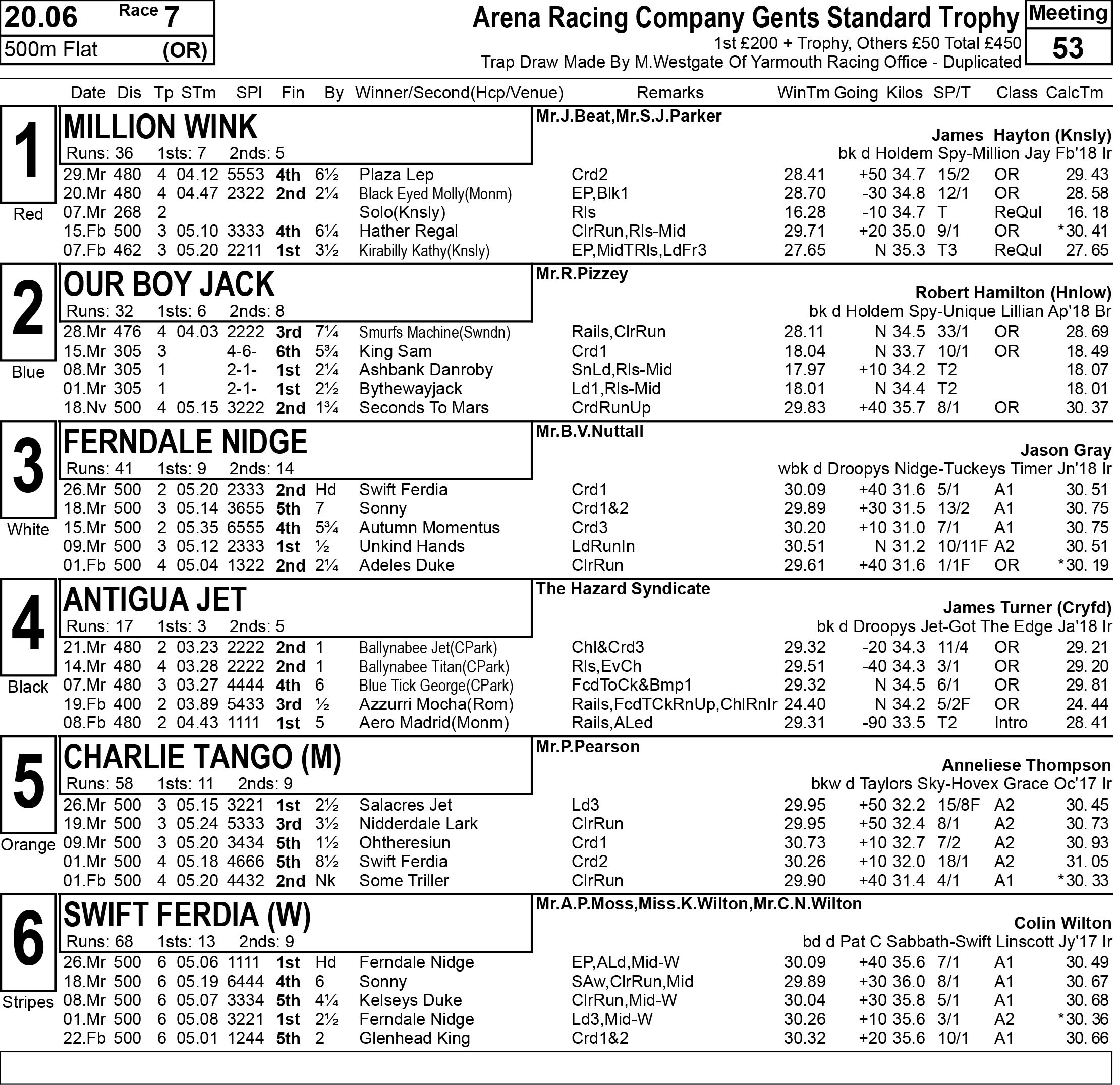 The first of four Arena Racing Company sponsored opens at 8.06pm with a 500m Gents Standard Trophy. Antigua Jet has a bit of class and would be the fastest of this group but he lacks a look around and that can prove so important around here. He could well get lost around the opening two bends and therefore a chance is taken on Jason Gray's locally trained Ferndale Nidge to follow up on a very impressive victory in A1 company last time out. The advice would be to back Nidge both win and given the likely short odds of Jet he's also likely to be backable in the place market too.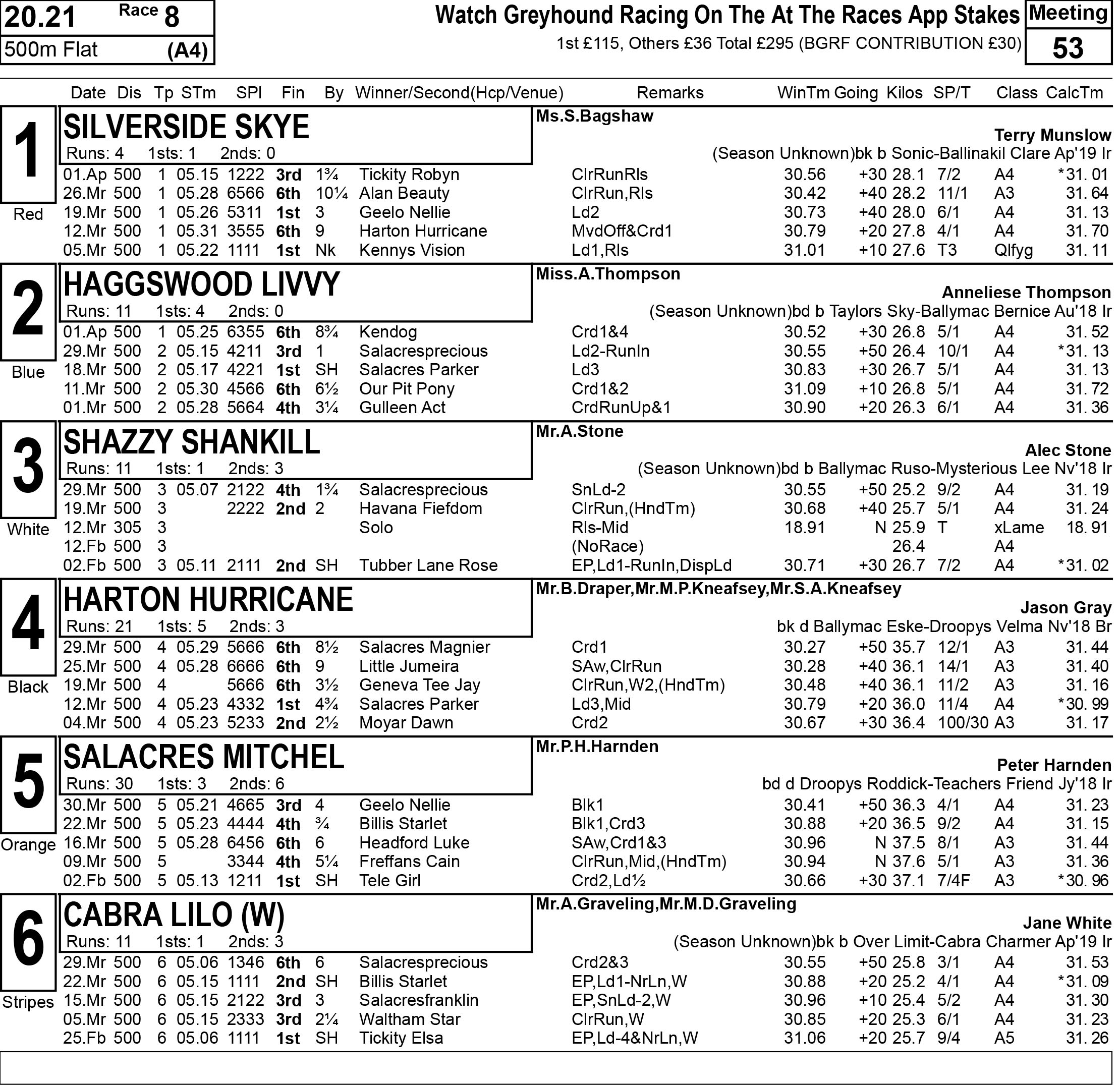 Back to graded company with an A4 at 8.21pm and the race can go to Jason Gray's Harton Hurricane. He's been well enough beaten in some tough A3 races over the past few weeks but has won well on both his previous starts in A4 and can make it pay on his first run back at this level.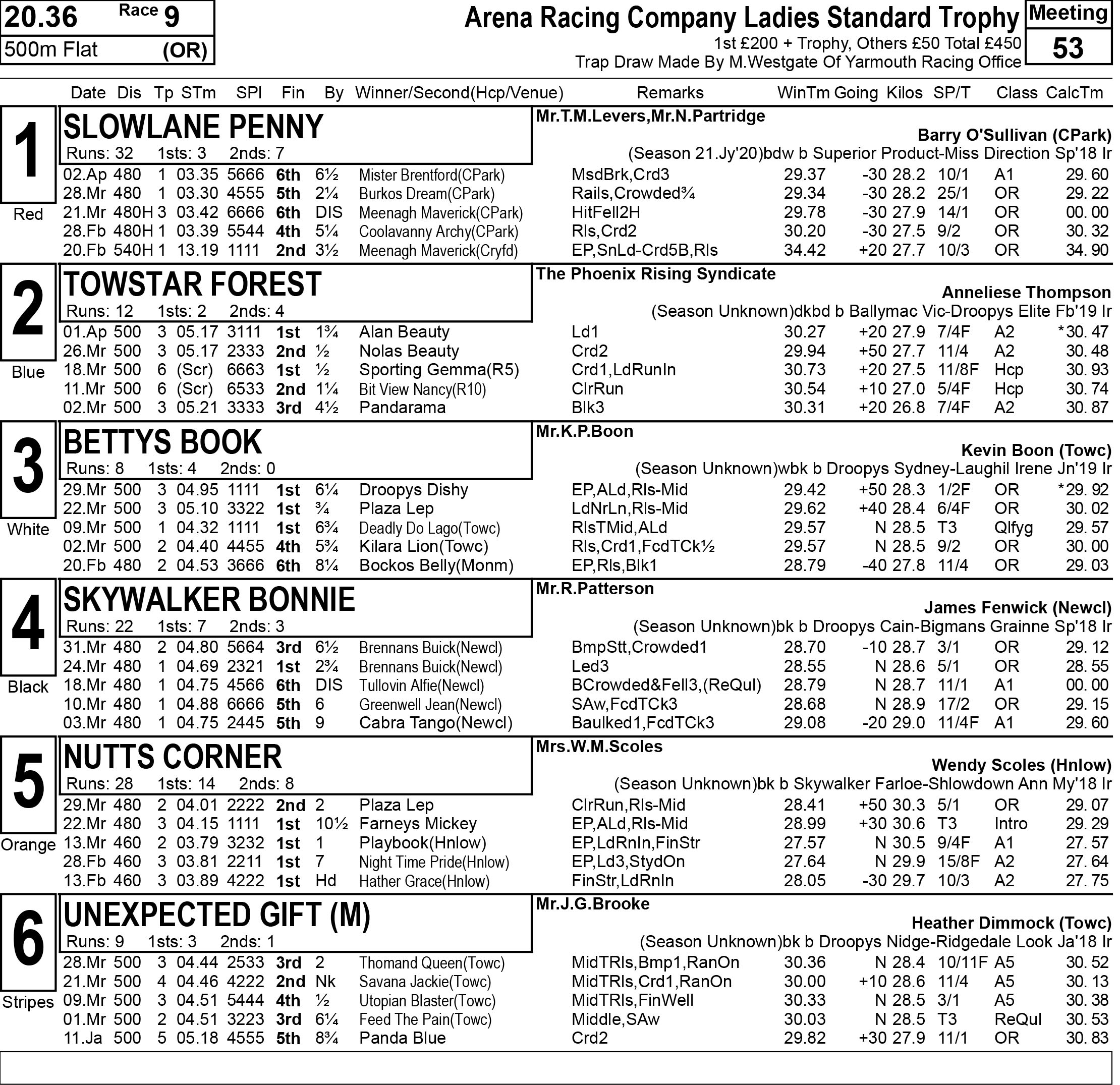 SEE ABOVE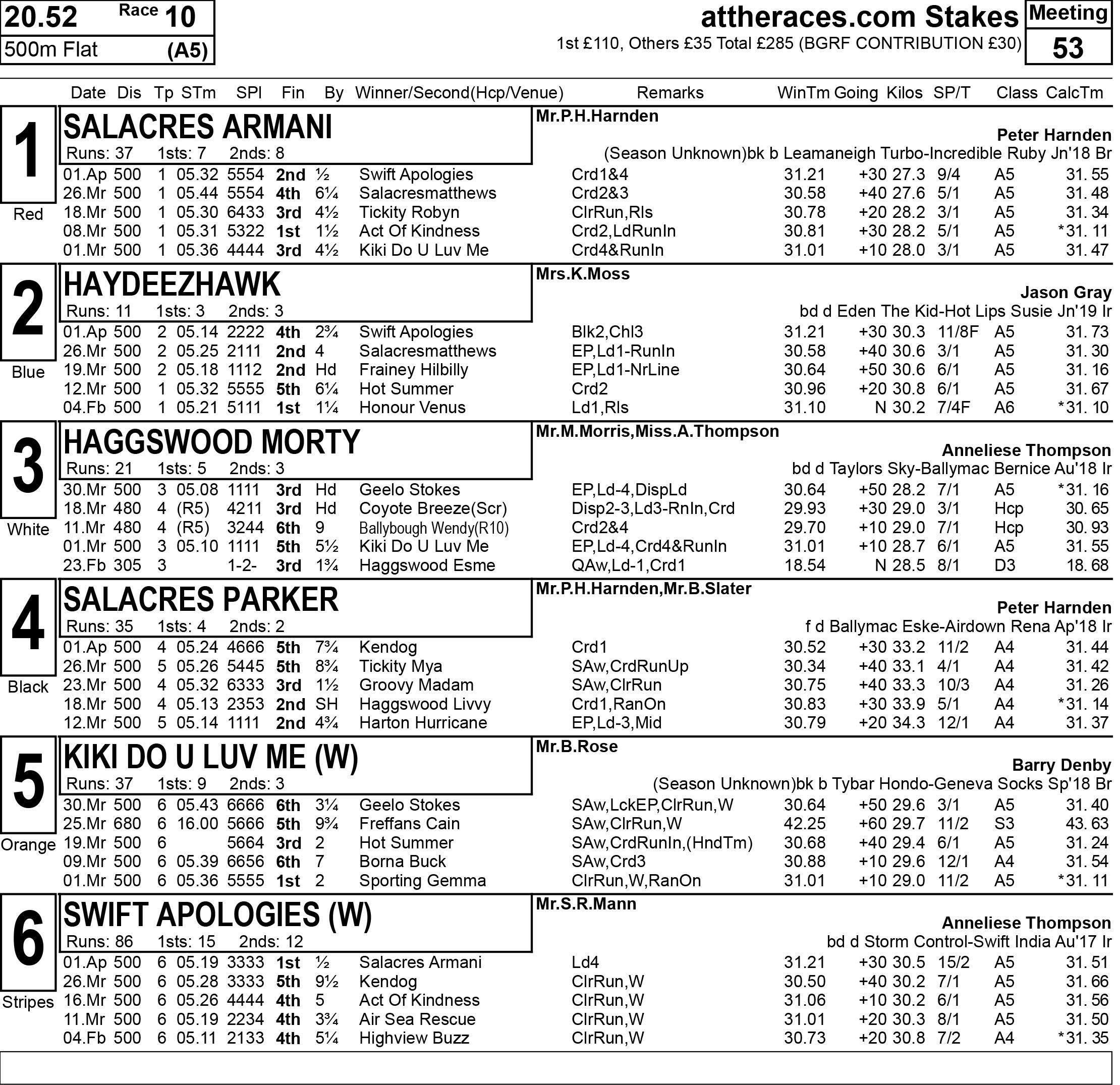 An A5 is next up at 8.52pm and Jason Gray's progressive youngster Haydeezhawk can take the spoils. He should comfortably lead up Salacres Armani drawn to his left and if holding off Haggswood Morty to the second bend he should then be away and gone from this field. Barry Denby's Kiki Do U Luv Me can stay on around the outside to claim the forecast spot.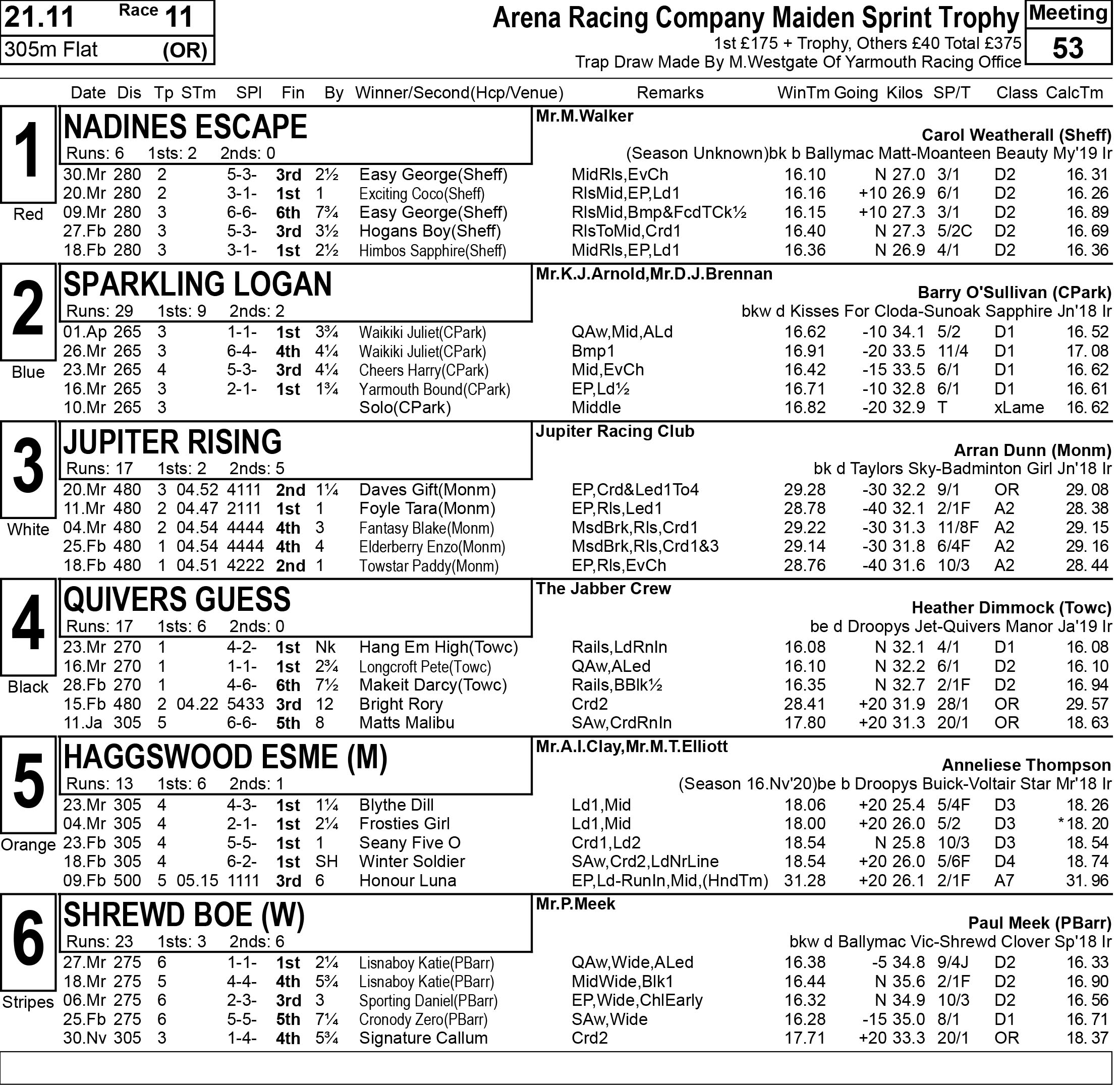 A Maiden Sprint Trophy over 305m at 9.11pm. Half of this field have never been round , one of them has had one look in the summer of last year. If you feel the need to have a bet in a race of this nature think again.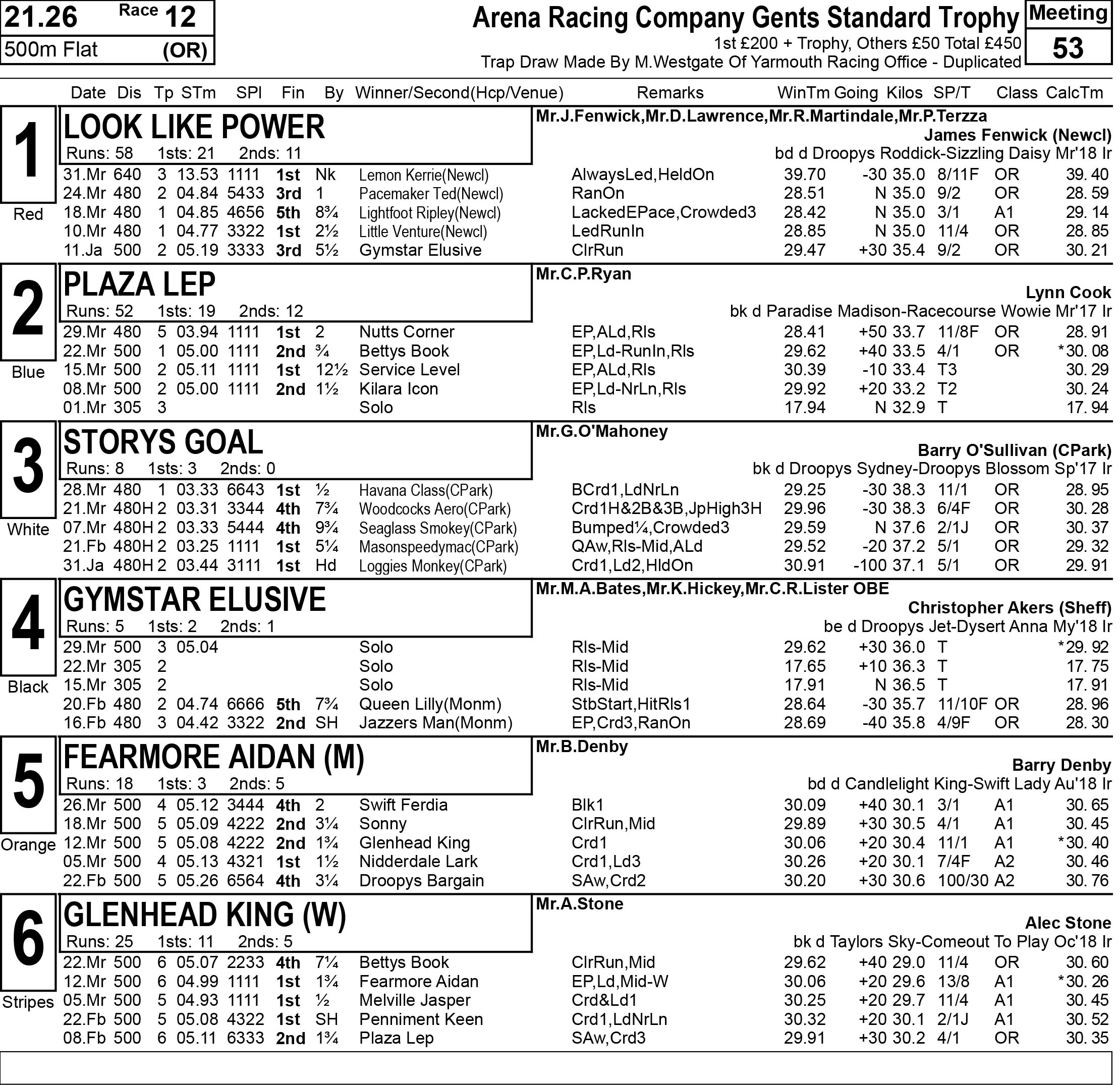 SEE ABOVE