The 2014 driving of two tons of high explosives into the Kabul Sewerage Treatment plant was widely acknowledged as the world's biggest ever shit show . . . .until last Monday.
Messers Pierrepont and Williams went head-to-head in a tipping contest. They came out of it smelling worse than the 800 airborne remnants of Ali Bin Shred-Ed.
They will give it another go this week – all details below along with Mark's wide round-up of the meeting which is featured on the SKY Racing channel.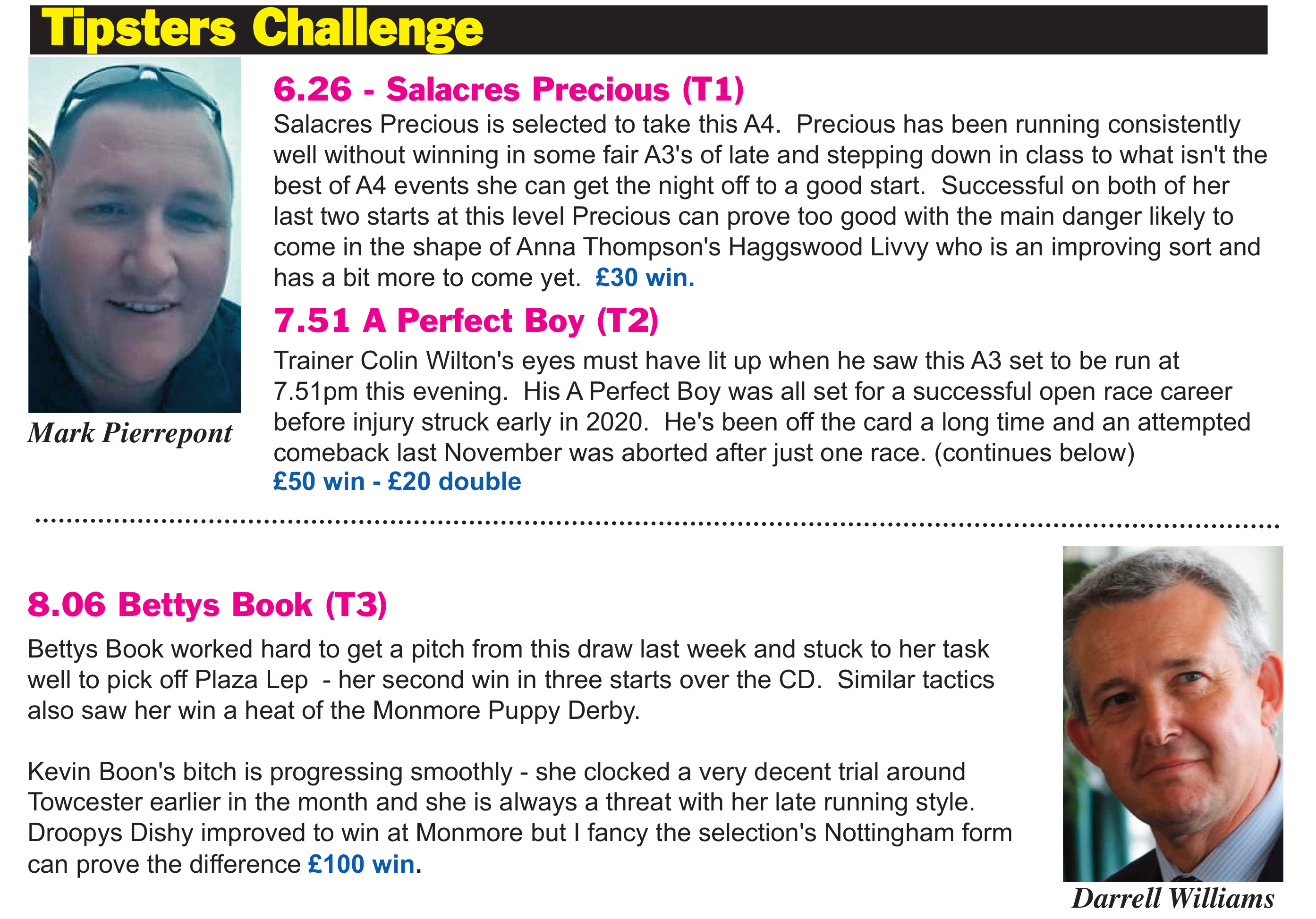 A decent card consisting of eight higher end graded races and four opens over 305m , 480m , 500m and 730m take centre stage on Sky Racing this evening at Nottingham's Colwick Park stadium.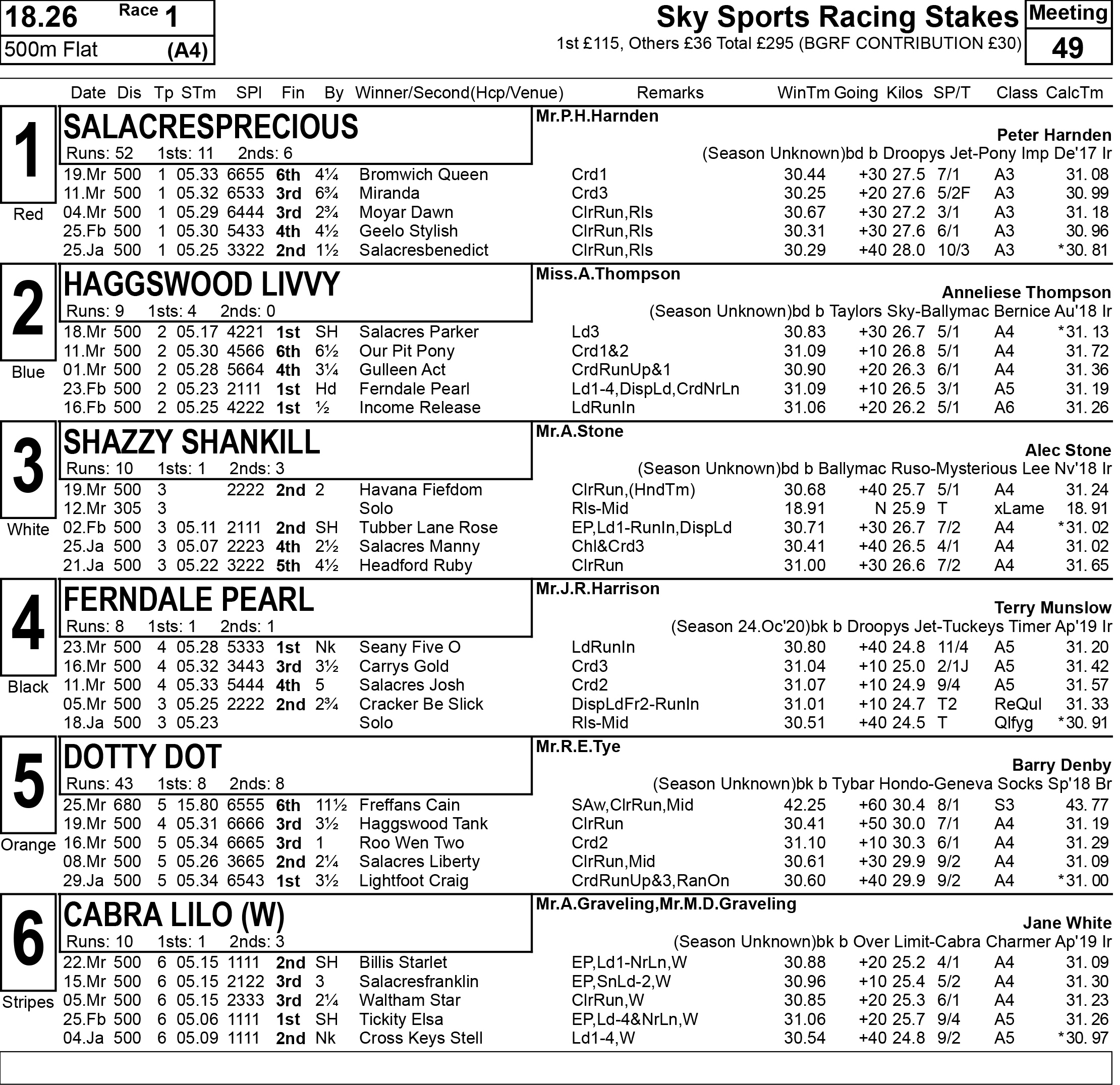 Preview – above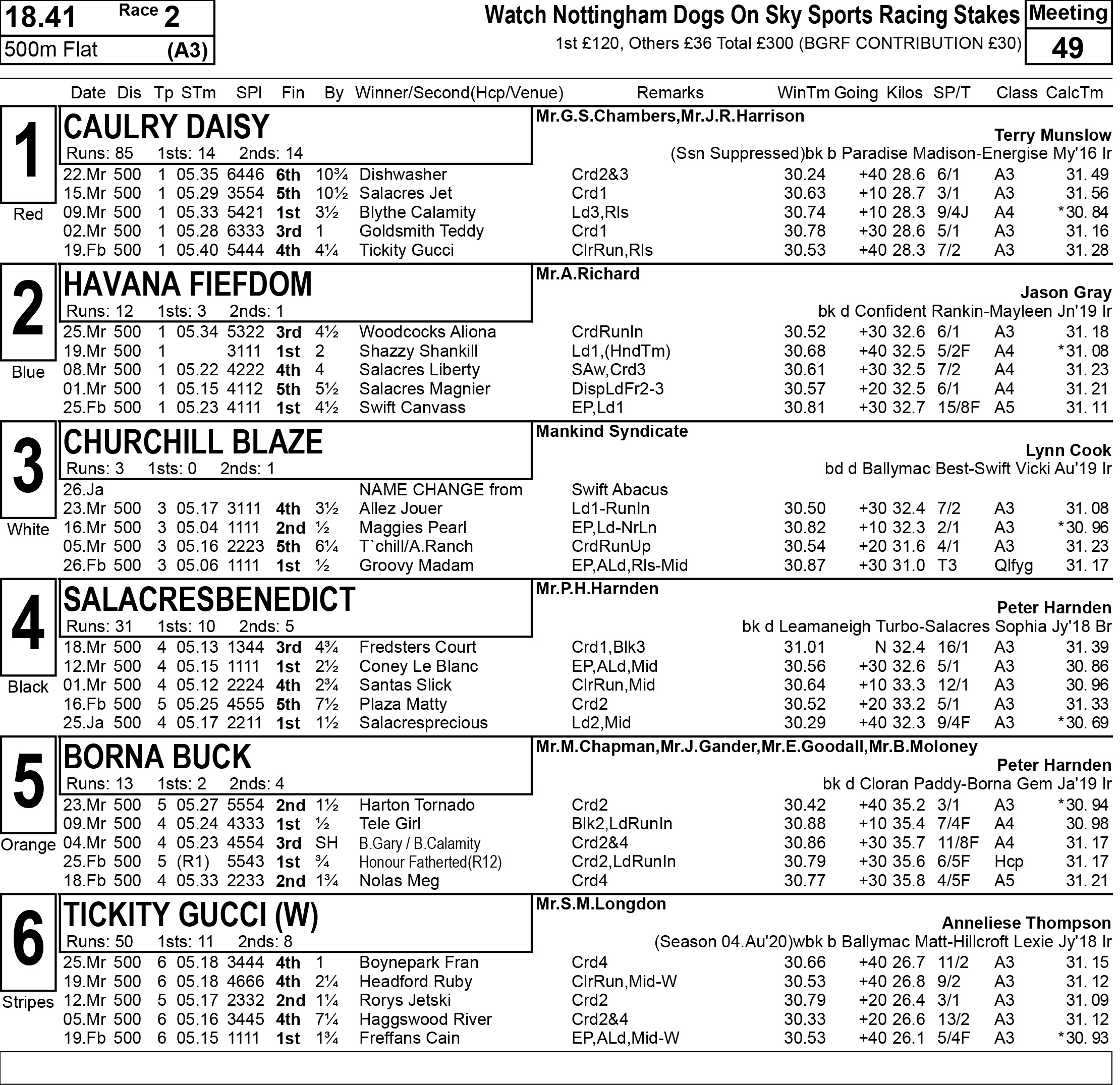 Stepping up a grade at 6.41pm as the dogs head to traps for a competitive A3.  It's not a great race for betting in with any number of these able to lay claims.  Take a chance with Borna Buck to complete a quick-fire double for Peter Harnden.  A pacey sort who is a danger to all if getting around the opening two bends unscathed at which point he can really begin to open up before coming through on the run in to land the spoils.  Buck will have to be careful in the early stages as there is a fair amount of early pace drawn inside him however he's improving rapidly and shouldn't be far away at the finish.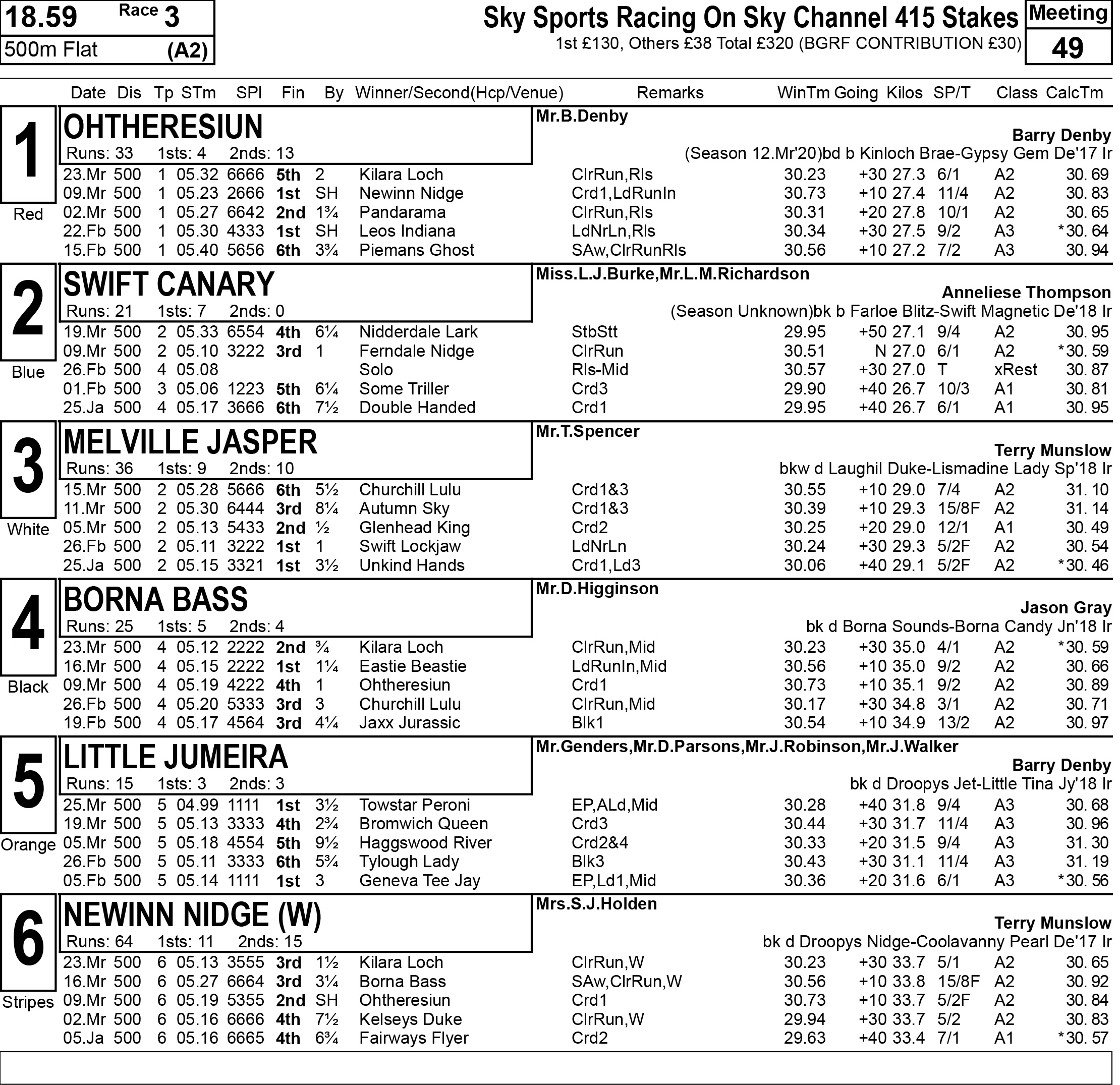 Stepping up in grade again at 6.59pm with an A2 that can go the way of Jason Gray's Borna Bass.  Well proven at this level he should get plenty of room to run up the middle of the track before taking control of the race at the first turn.  If doing so he shouldn't then be for picking up even if Newinn Nidge can make late grounds on the outside to claim the forecast spot.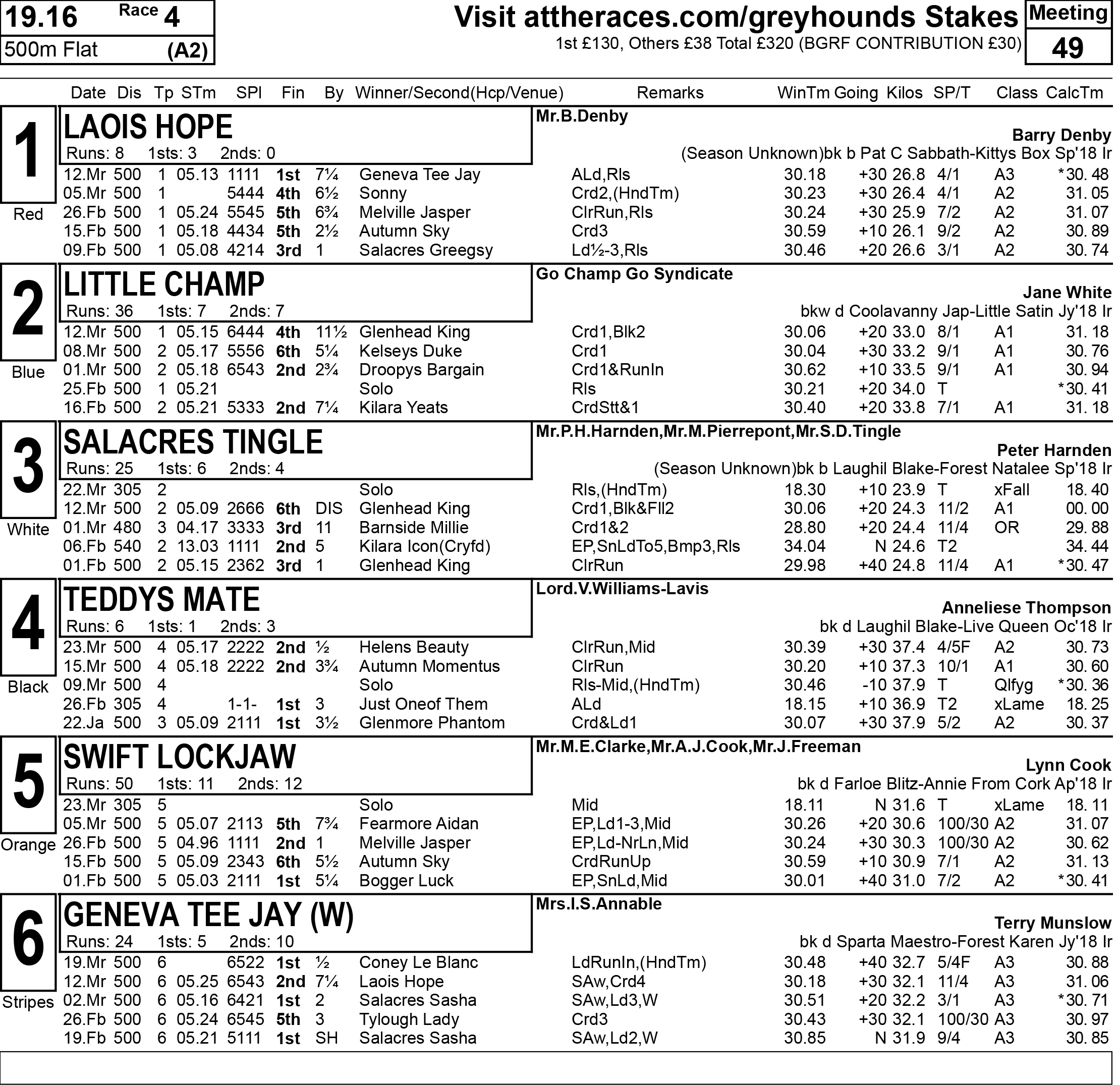 Salacres Tingle can give Peter Harnden a treble by taking the A2 at 7.16pm.  Tingle is a usually reliable trapper and can come away well make the bend in front and should be away and gone if doing so.  Geneva Tee Jay can stay on well around the outside to fill the forecast spot for Terry Munslow.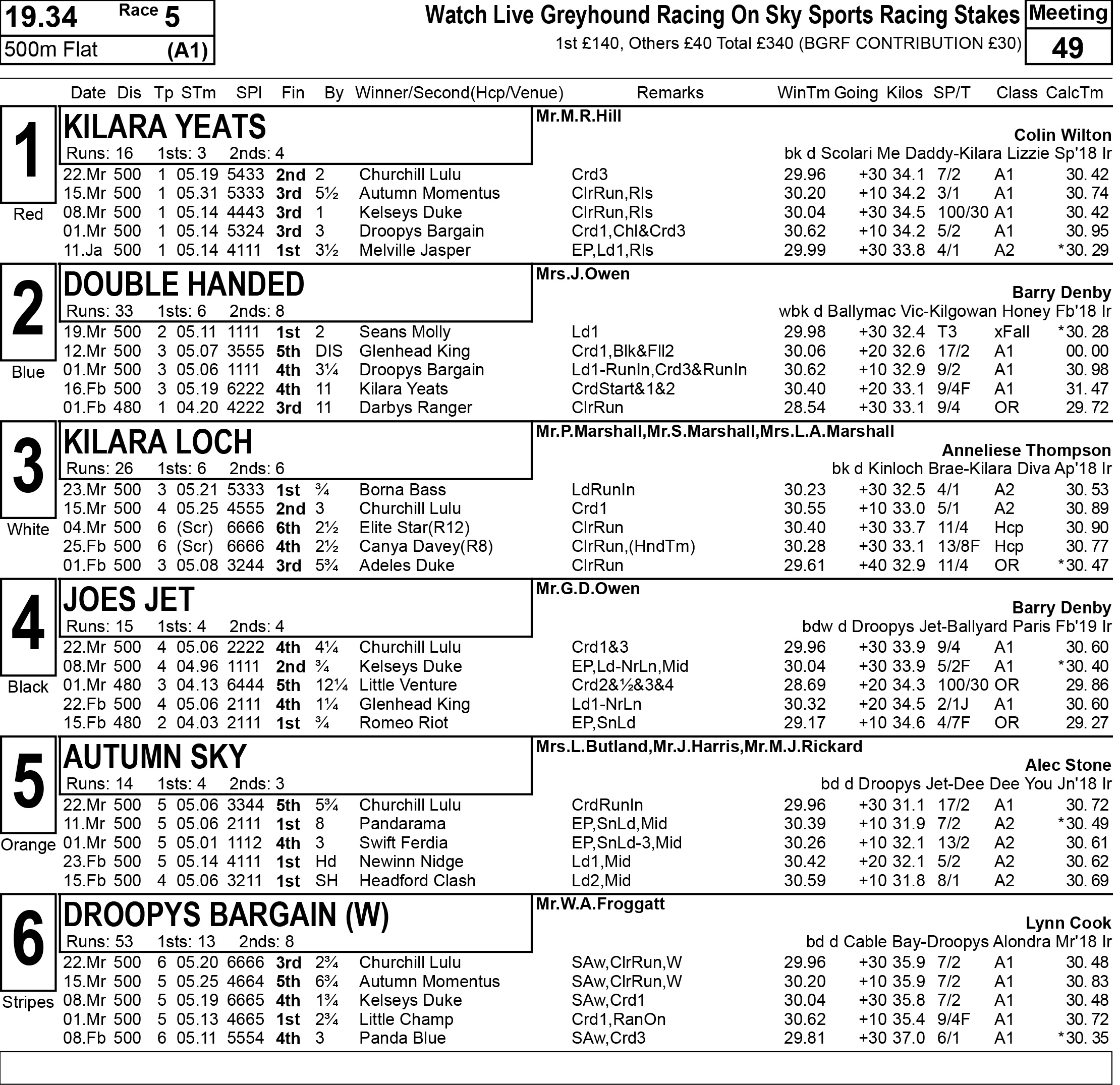 Top grade A1 company at 7.34pm and a race that could very feasibly get competitive upfront between a few of these.  That could well play into the hands of Droopys Bargain who can stalk them until the turn for home and come through late and fast for Lynn Cook.  Kilara Yeates drawn in trap 1 for Colin Wilton will also be staying on late but might just struggle for a run when mounting a challenge heading into the third bend.  Yeates looks tailor made for a 575m maiden down at Romford and it would be no surprise at all to see trainer Wilton heading south in the coming weeks to give this greyhound a change of scenery and would be of great interest in such an event if drawn in red.  Joes Jet for Barry Denby is another greyhound who'd be well suited by the Essex circuit where his excellent early pace should see him picking up a small open or two over the 400m four bend trip.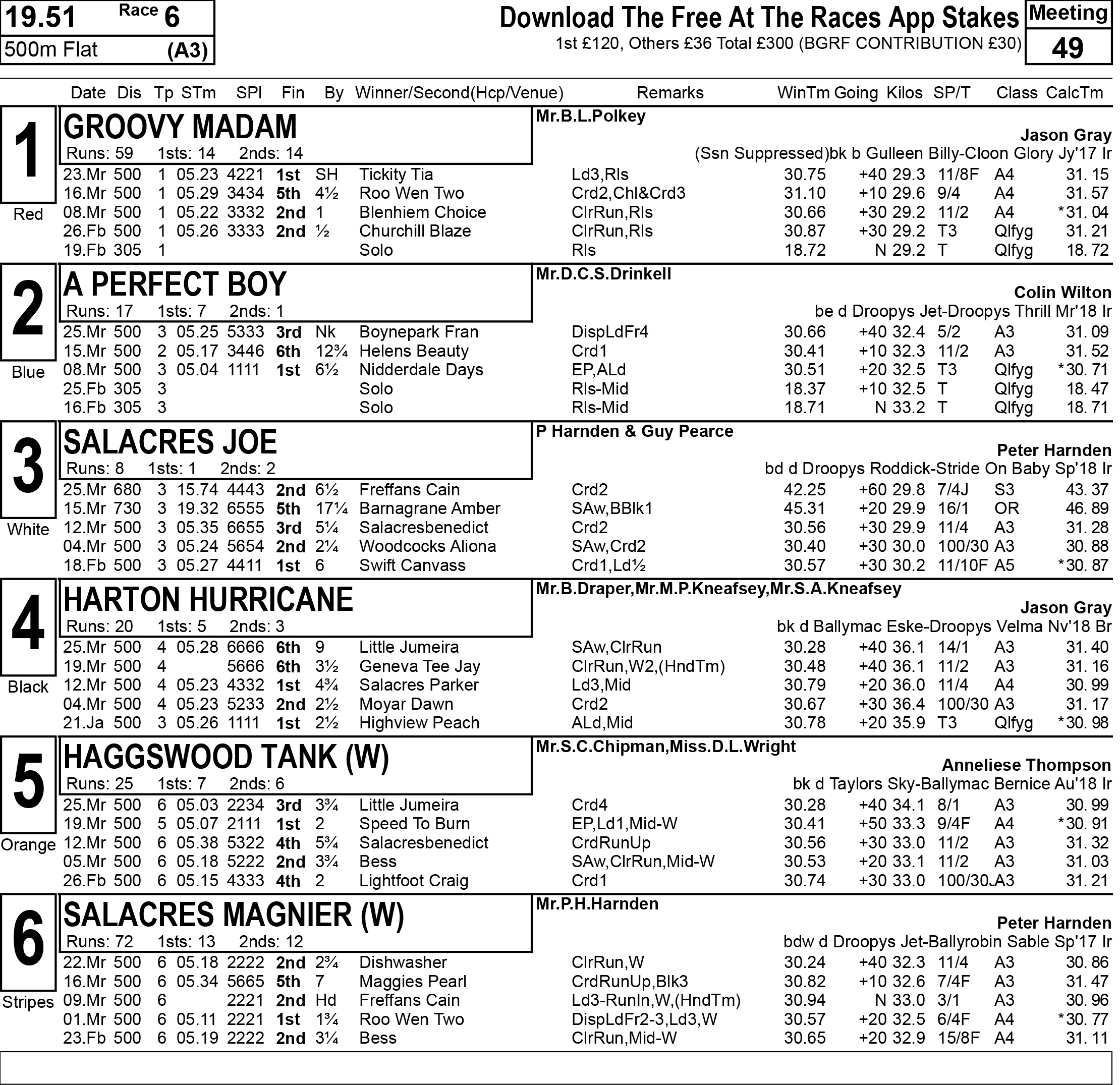 (Continued from above) This is his third race post comeback this time around and quite simply the Wilton team wouldn't be taking any chances if this greyhound was anything less than perfect.  Well beaten first time up his effort in this grade last time out was much more like it.  Much slower into stride than is usually the case he also saw himself struggling to get across to his favoured rails pitch from trap 3.
Though he showed plenty of middle pace and came there full of running he blew up late on showing that he needed the outing once again.  Moved into trap 2 this evening with slow starters drawn to his left and right he should have little difficulty taking command of the inside and he should soon have matters well in hand.  He looks the best graded bet on the card by some way and stands out like a sore thumb.  Watch out for the early prices as they're likely to be in high demand within minutes of appearing on site.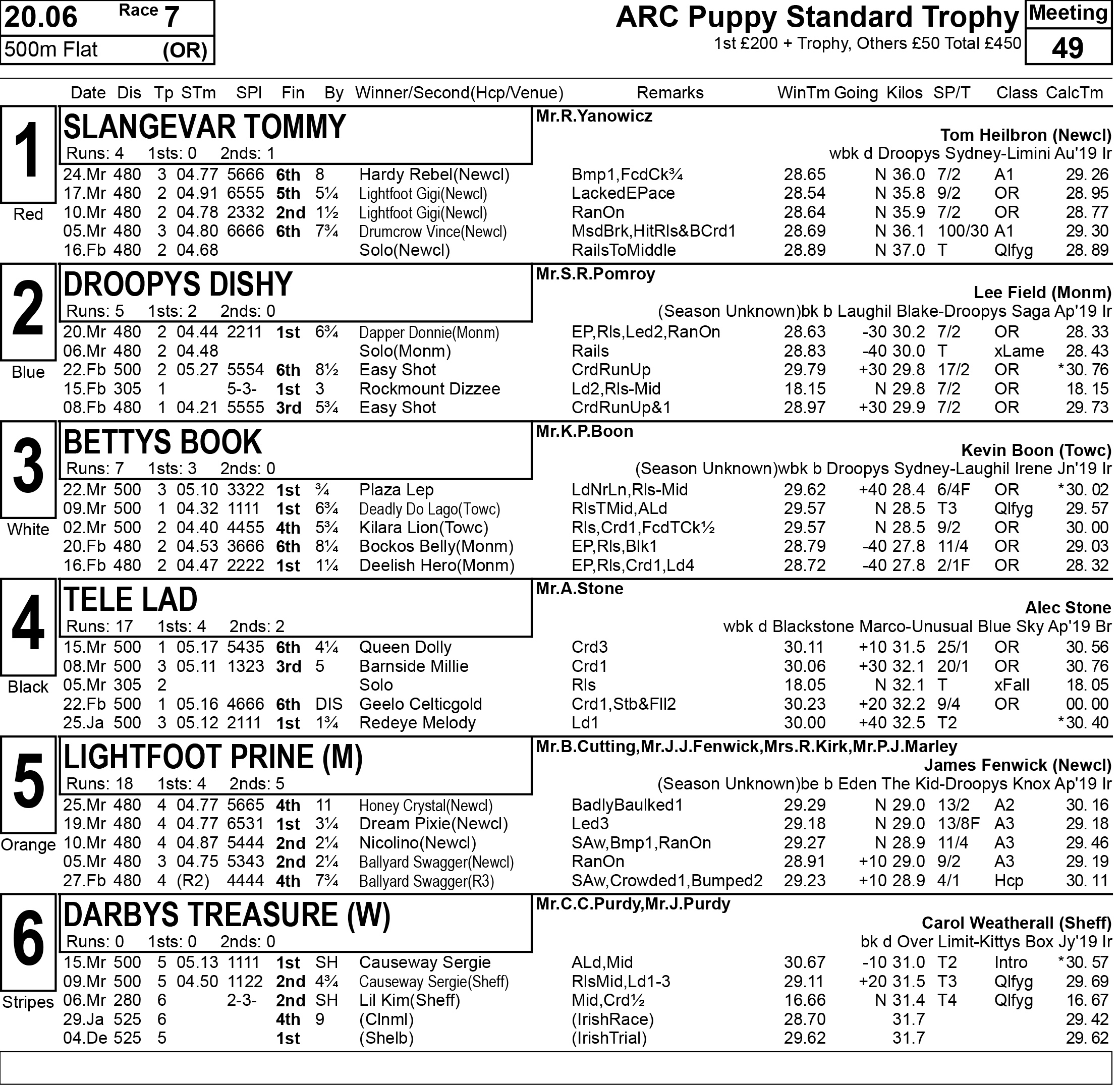 The ARC Puppy Standard over 500m at 8.06pm and a race that can go to Lee Fields Droopys Dishy.  Lee's bitch has already tasted success when winning over 305m here in mid-February although it's been obvious that her best form will come over more testing trips than that.  Well beaten next time out at Nottingham Dishy then spent a month off the card before making a successful reappearance in a 480m puppy event at home track Monmore.  I'm taking her to break well and get first run on another bitch firmly heading the right way in Bettys Book trained by Kevin Boon.  Bettys was a good winner here last week when picking up Plaza Lep in the latter stages and rates a strong danger to the selection.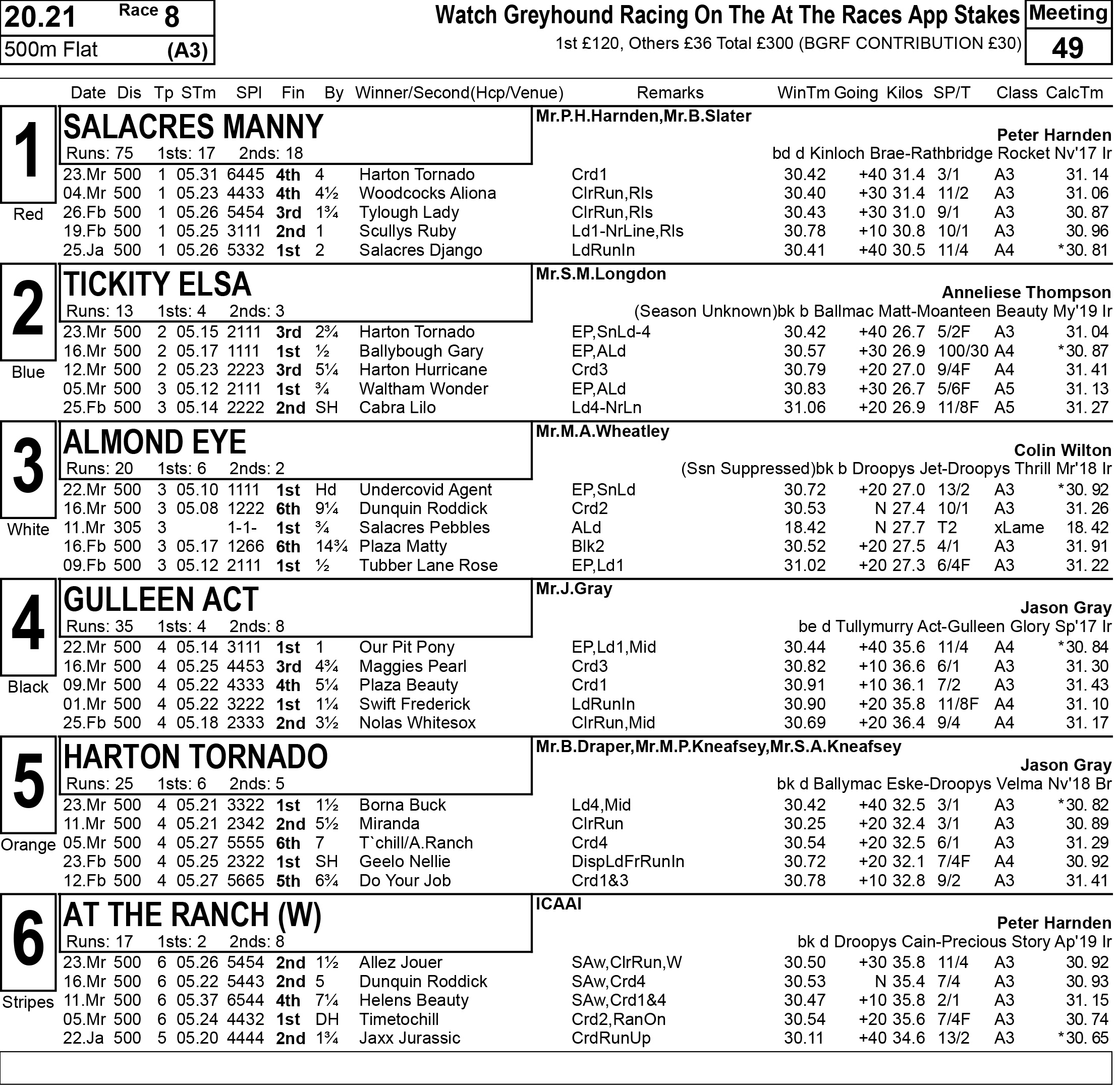 Back to graded company with an A3 at 8.21pm and a chance is taken on At The Ranch getting Peter Harnden on the winner's podium once again.  Ranch is far from an easy dog to win with and will need to do things right before coming through with a late run.  The make-up of the race however could see him brough into contention when it really matters with Tickity Elsa for Anna Thompson and Colin Wilton's Almond Eye set to be engaged in an early and middle paced battle they can tee the race up nicely for Ranch.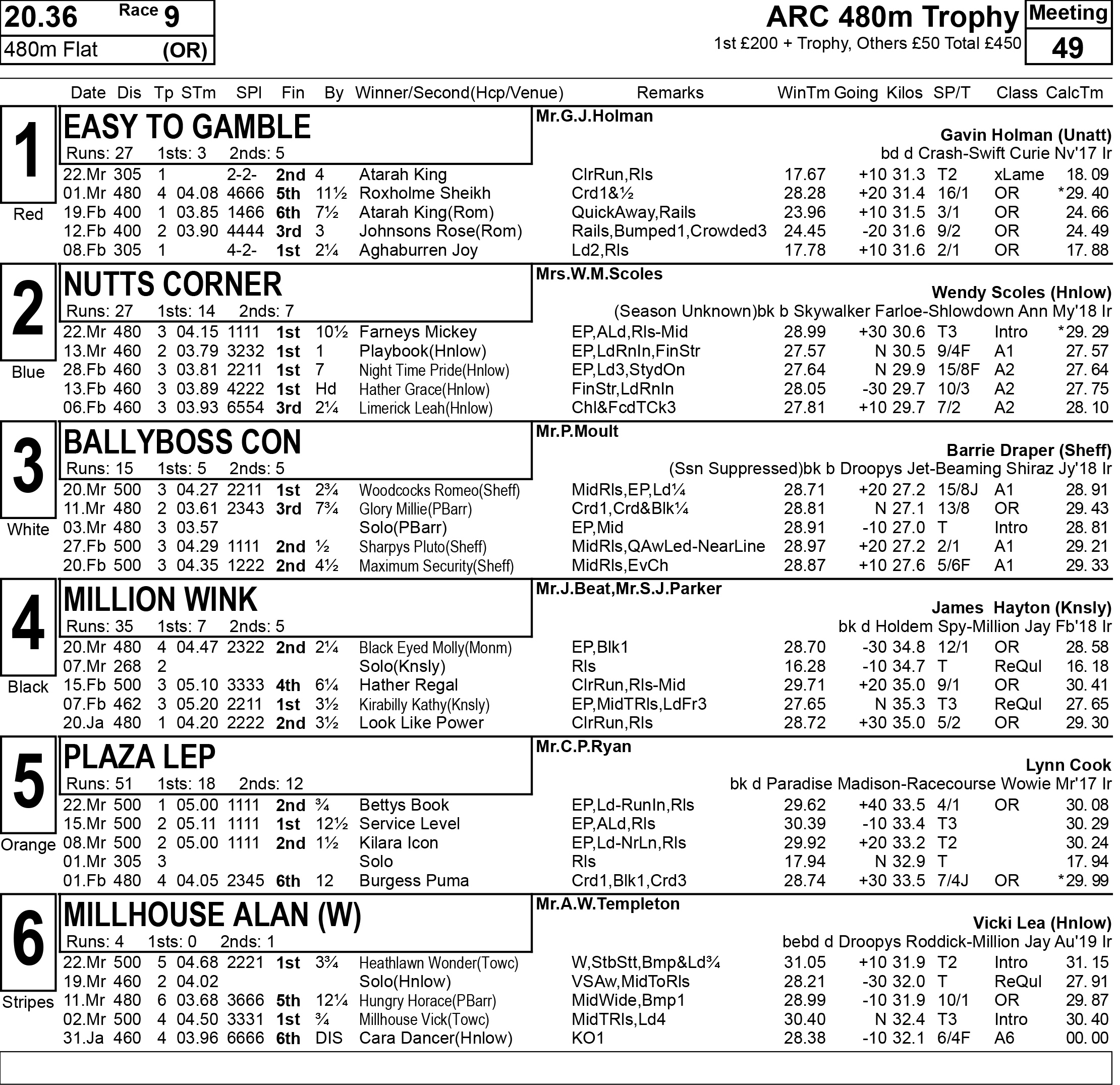 The ARC 480m Trophy at 8.36pm can go to Barry Drapers Ballyboss Con.  This bitch possesses excellent early pace and did have a look around the track in a 305m trial not too long ago.  Con showed herself in good form when winning in top grade A1 company at Sheffield last time out and can make all here.  Do remember if taking any early prices on this race that any late withdrawals would result in all bets being settled at SP.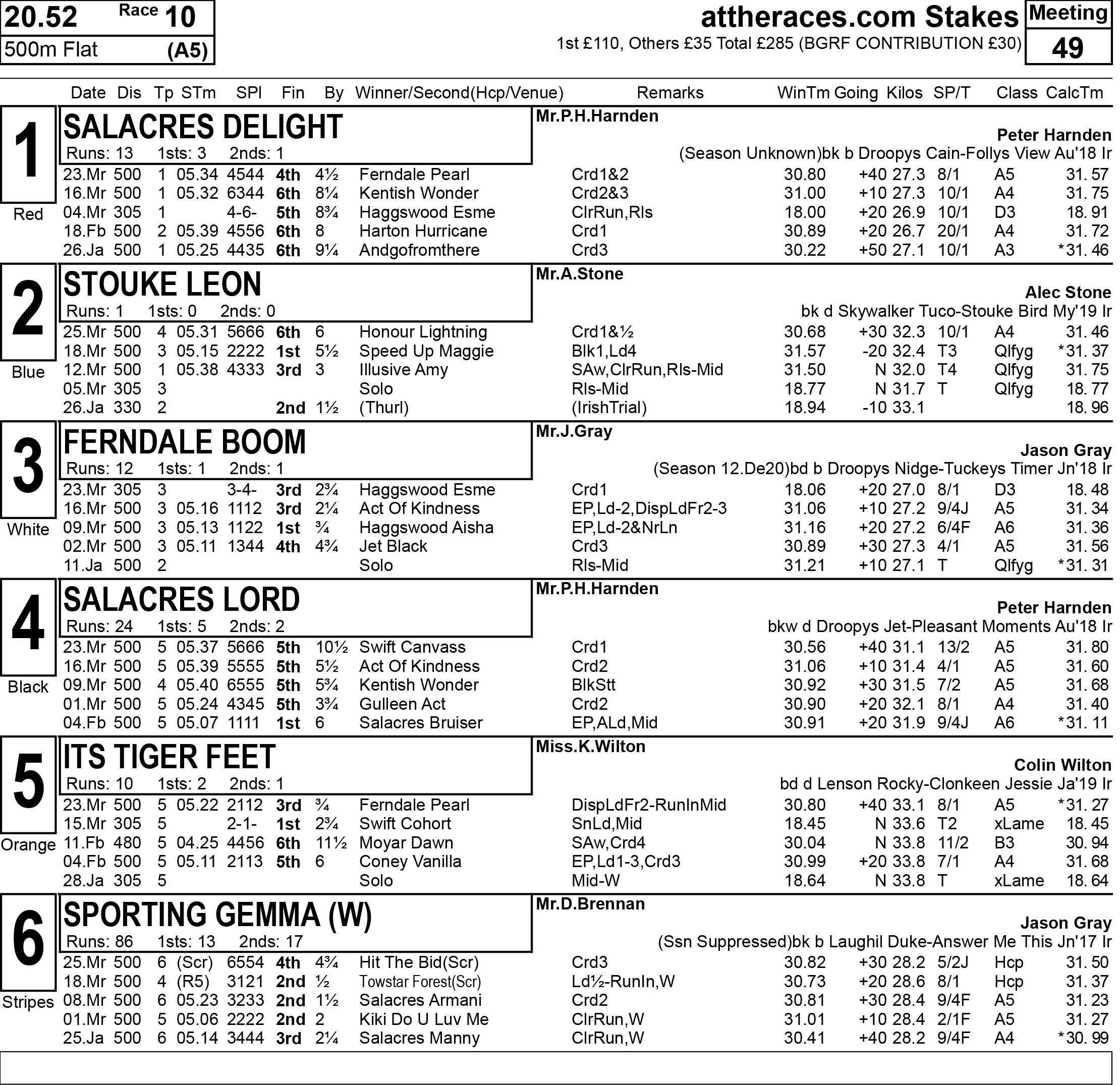 Back to graded company with an A5 at 8.52pm and though Sporting Gemma finds wins hard to come by she's more than capable at this level still if consenting.  They key word here is 'if' and for that reason stakes should be kept to a minimum.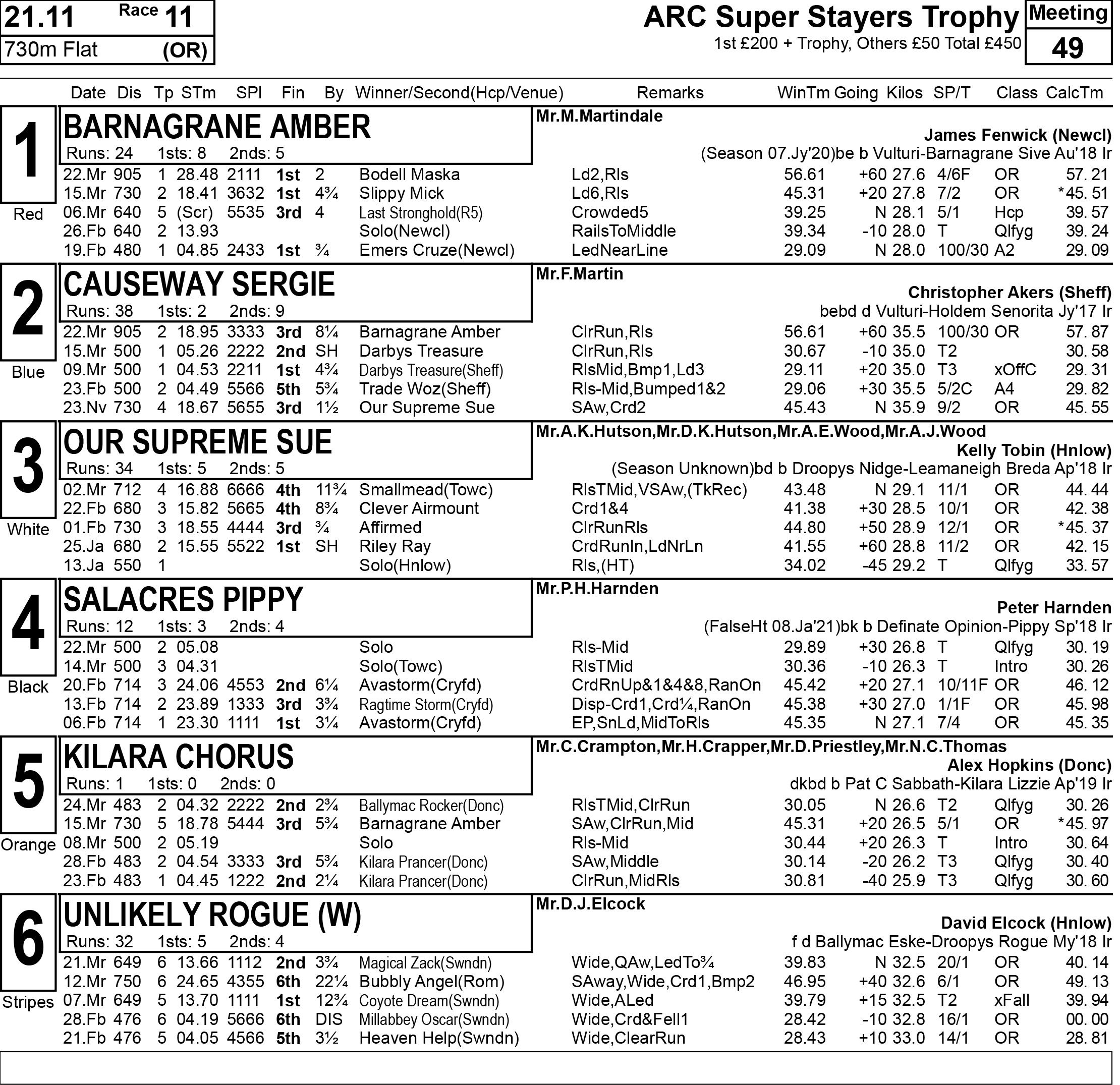 Back to open race company at 9.11pm with a 730m ARC sponsored Super Stayers event.  Peter Harnden's Salacres Pippy is a hugely classy sort who finished runner up in the 2020 St Leger Final at Perry Barr and also has some other huge runs to her name including when posting the fastest time of the first round in the Golden Jacket at Crayford in February despite being off the card since the aforementioned Leger Final in November of last year.  Pippy does lack a competitive run since finishing runner up in the Golden Jacket consolation where she got no kind of run early before finishing well late on but did trial well over 500m here last week when stopping the clock in 29.89 (+30).  Pippy can ping out and make all with the main danger likely to come from Jimmy Fenwick's Barnagrane Amber who looks to complete a hattrick here in as many weeks after she followed up success over this course and distance two weeks ago with another battling performance over the 905m marathon trip last time out.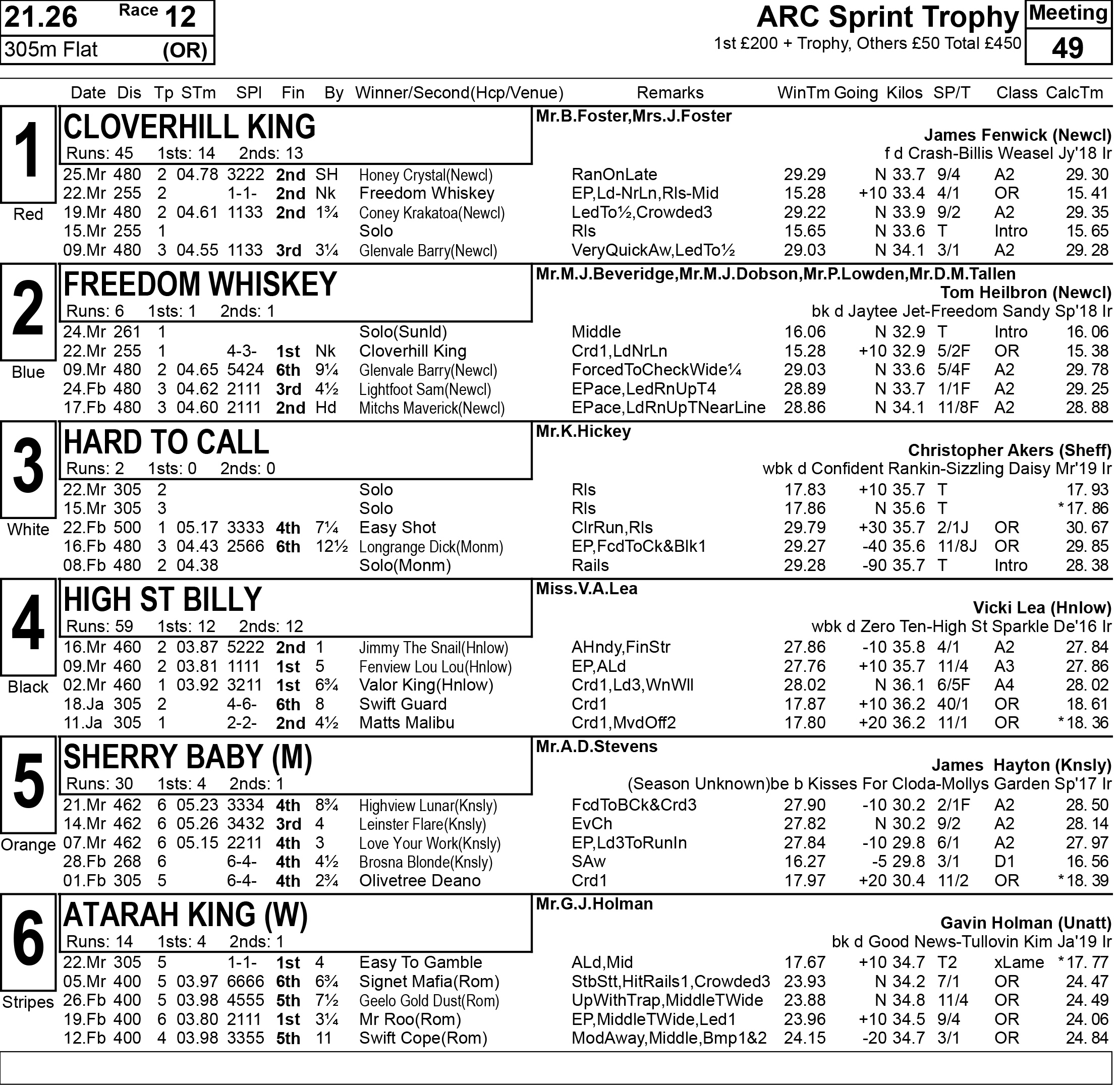 The final race on the card is the ARC Sprint Trophy over 305m and can go to Chris Akers Hard To Call.  A real nice type who could well progress into a top-class competition dog in time.  He's shown signs of greenness in some of his outings to date but that's understandable and he can benefit from a couple of fair trials over course and distance over the past couple of weeks by running out a good winner of the finale from a plot draw in trap 3.