Towcester racecourse quickly re-established itself as the sports premier greyhound racing venue throughout 2021.  Category One events came around evermore quickly at the Northamptonshire venue and in 2022 we quickly get up and running with the £10,000 to the winner Premarket Pets Blue Riband.  Most in the sport will be fully aware of Premarket Pets but for those who don't, the company is owned by the countries number one trainer Patrick Janssens.  He supplies everything a greyhound trainer or owner could need for their pride and joy with the companies www.premarketpets.co.uk website well worth a visit. 
If you can support Patrick and his firm as the more we support businesses who support us then the bigger our sport will grow.  As well as the winner of the competition receiving £10,000 Patrick has very kindly put up the money to ensure that all finalists receive a magnificent silver framed photograph of their greyhounds on final day , £500 to the kennelhand(s) of the winning greyhound and £100 towards the drinks bill for each of the finalists.  Magnificent gesture from a trainer who understands the sport , the greyhounds and the people involved in the game.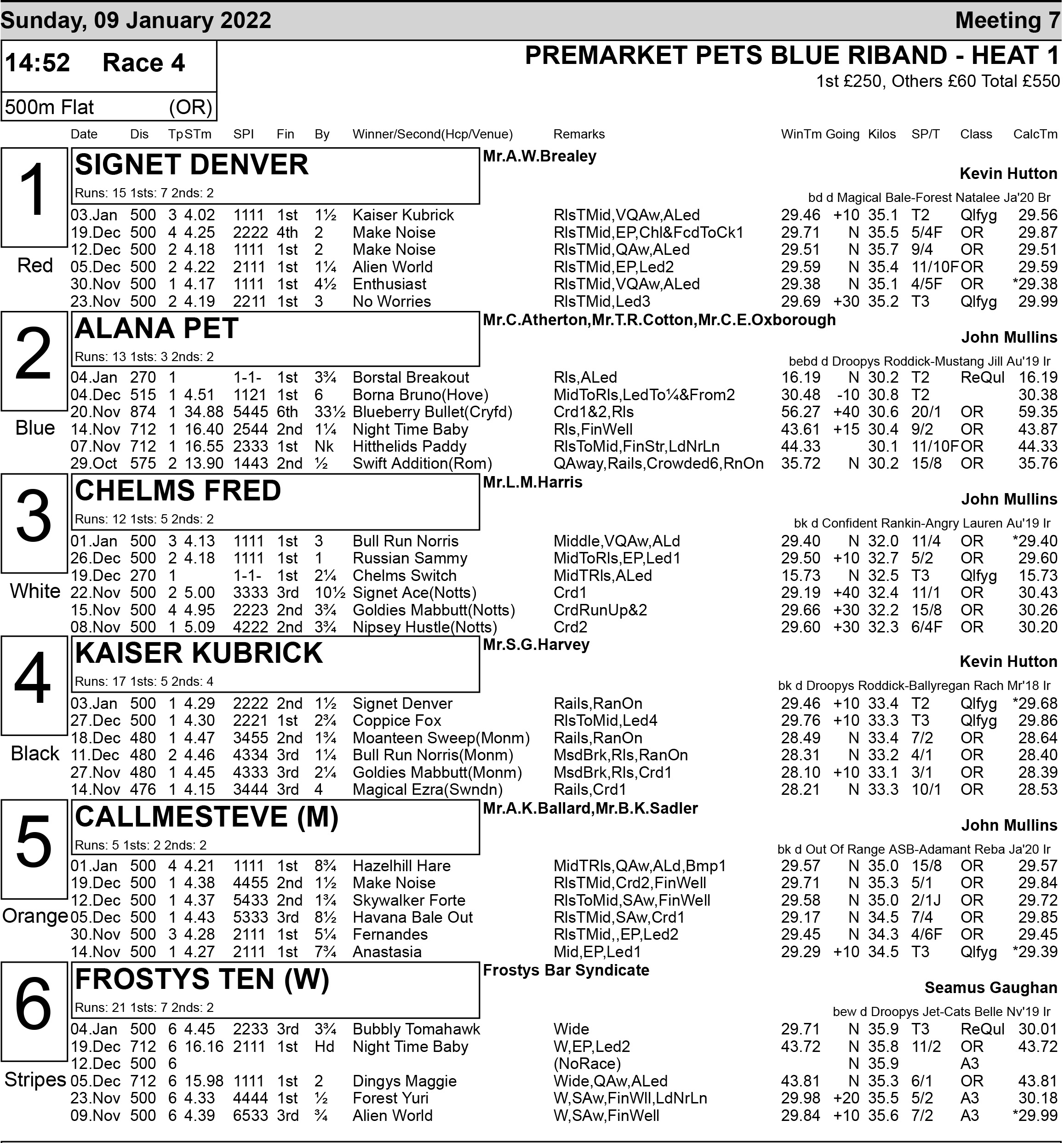 The first round consists of eight top class first round heats the first of which sees the greyhounds head to traps at 2.52pm.  Kevin Hutton's RPGTV English Puppy Derby Finalist
Signet Denver
is improving at a rapid rate of knots and produced an aeroplane like 402 sectional when flashing from the traps in a 29.46 (+10) course and distance trial last week.  That kind of trapping and early pace will render him pretty much unleadable in more or less any race which he lines up.  'Denver' is selected albeit with a note of caution that the move to trap 1 might just need him to be ultra-alert at the start if he's to come away in anything like similar fashion.  John Mullins looks to have the main two dangers in the race with Chelms Fred looking to complete a course and distance hattrick and English Puppy Derby runner up Callmesteve looking to follow up last week's facile 8 3/4 length victory in a winner of one open race.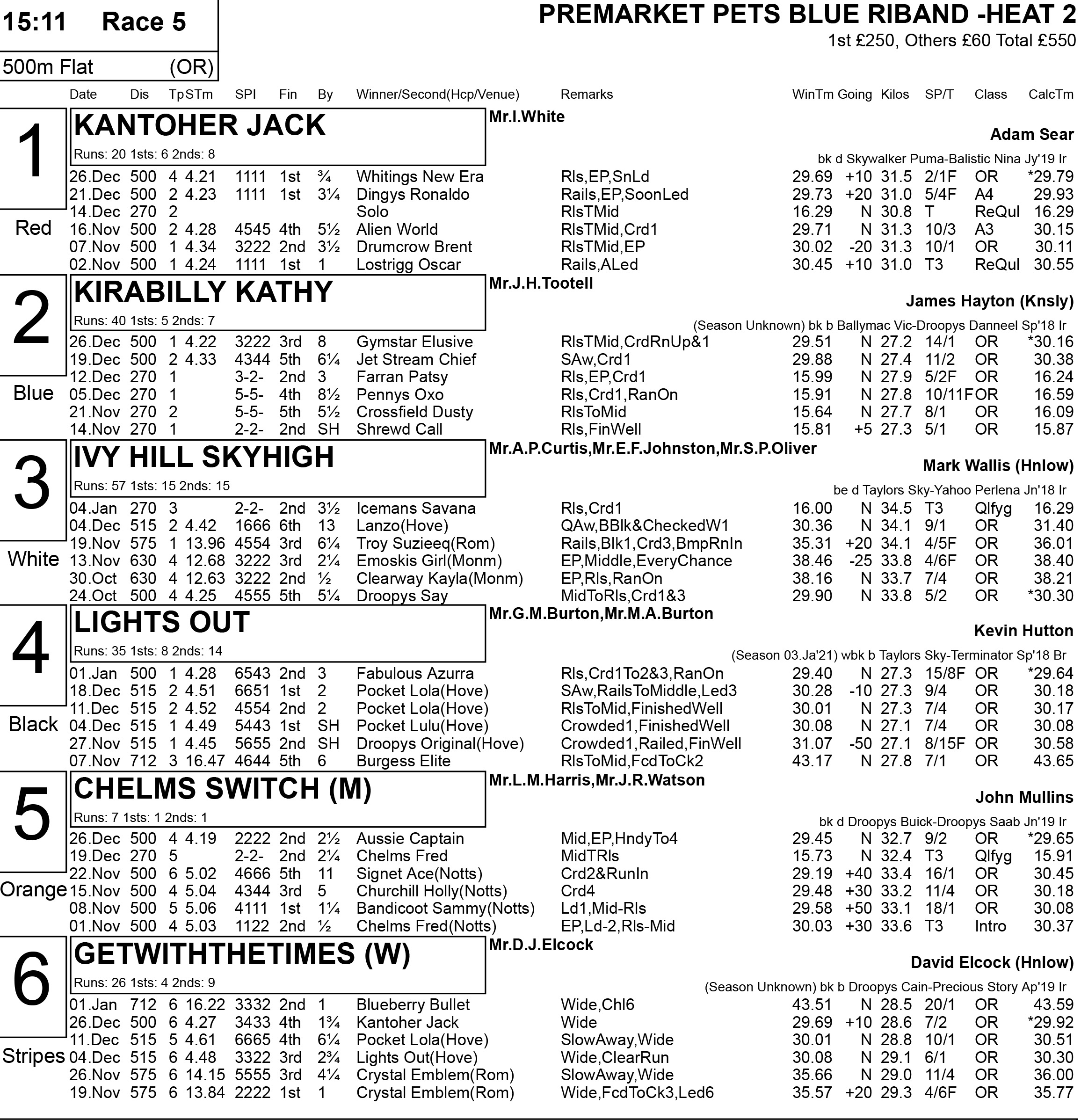 Heat two at 3.11pm and for the first time in a while I'm opposing one of the fastest bitches we've ever seen on a track.  Lights Out has so many gears it's untrue she's a sight to behold when she begins to take off coming off the second bend.  Though beaten last week in a good class bitches race on New Year's Day she came from miles back to not be beaten far and was clear heading into the pick-up.  Lights Out will once again be there at the finish but there is no getting away from the draw that the John Mullins trained
Chelms Switch
has here.  He's going to have the middle of the track all to himself and he's a greyhound who we've yet to see the best of in competitive action.  'Switch' should soon scoot clear here from the draw of all draws and it will then be a case of whether Lights Out can secure a clear enough passage in time to set about catching him.  The advice would be to back 'Switch' to win with a saver forecast Lights Out to beat him.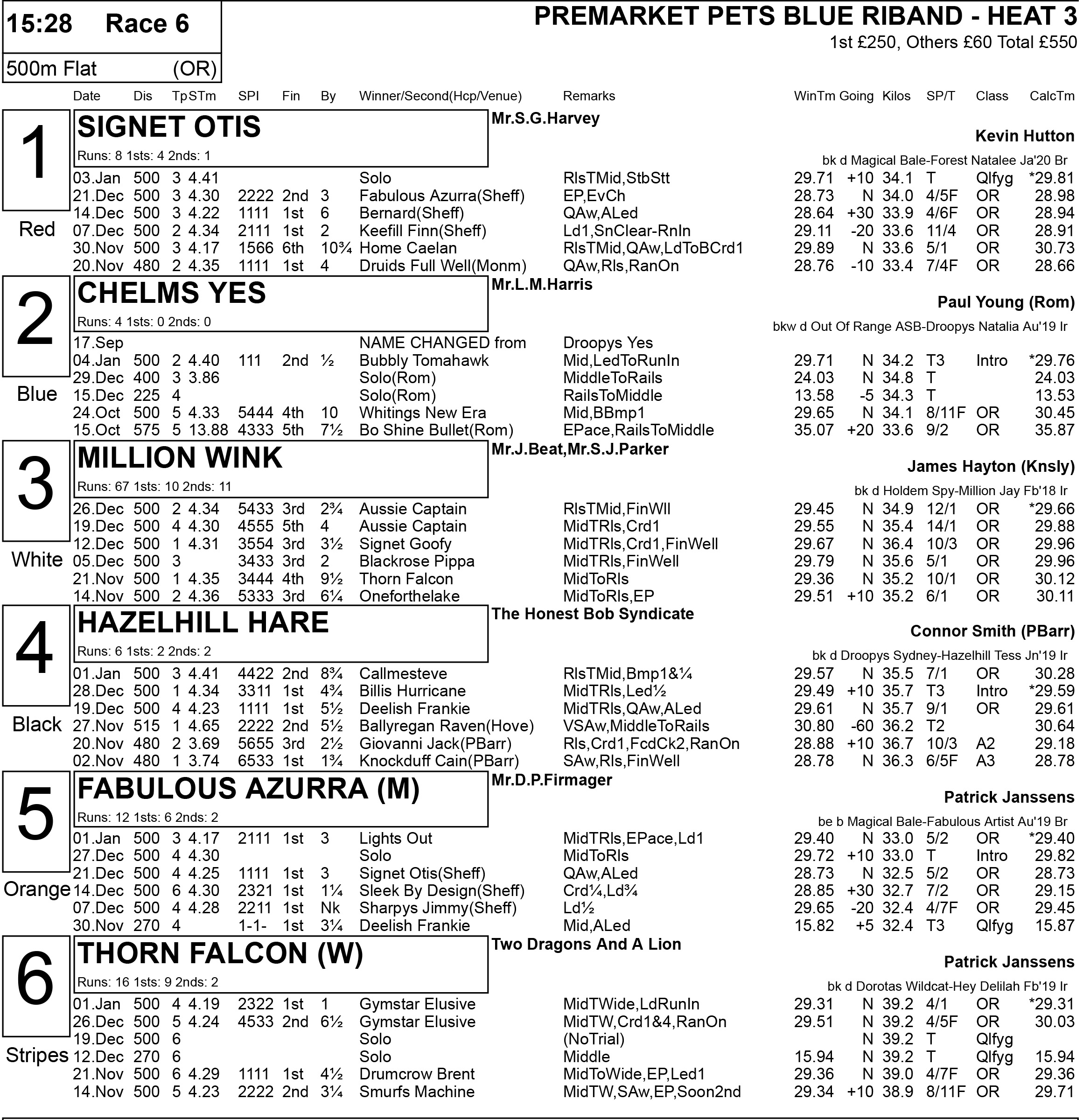 Heat three at 3.28pm and a greyhound which will give the sponsor live chances of winning his own money.  Star Sports Bookmakers English Greyhound Derby Champion
Thorn Falcon
lines up from trap 6 and comes into the race off the back of what I'd personally consider a career best effort when back running Gymstar Elusive and Candy Man in a course and distance open on New Year's Day.  Immediately after the race Patrick couldn't hide his delight , 'what a dog'. What a dog indeed.  Picking up two greyhounds you simply don't pick up and picking them up around a track that apparently you can't come from behind on.  'Falcon's' 29.31 effort last week was a run which should finally dispel the myth that Towcester is a track which you can't back run but then some perceptions are so deep rooted in agenda driven mindsets that even a Scurlogue Champ-esque type performance would still leave the track with naysayers.  It was a performance right out the top drawer and he can lay handy to kennel mate and fellow New Year's Day winner Fabulous Azurra before picking her off by the third bend.
Heat four at 3.48pm and
Aussie Captain
can get back to winning ways and provide Janssens with a quickfire double.  Drawn in blue last week 'Captain' found the early pace of Burnchurch Mick a hindrance all the way up the run up and around the opening two bends before eventually being dragged back and put totally out of contention as they headed down the back straight.  The run can be written off and from a nice draw against the fence he can get back to winning ways.  It will be good to see Nottingham's Alec Stone enjoying the fayre at the promised land and he brings a nice type to the track in the shape of Point Of Law.  A pacey greyhound and though not always well away from traps a recent 500 dead sectional at Nottingham suggests he's well capable of going up a fair bit better than splits of 4.34 and 4.29 in preparation trials around here.  Granted 'Law' clears Boca Junior by the bend he can follow 'Captain' home and safely qualify for next week's semis.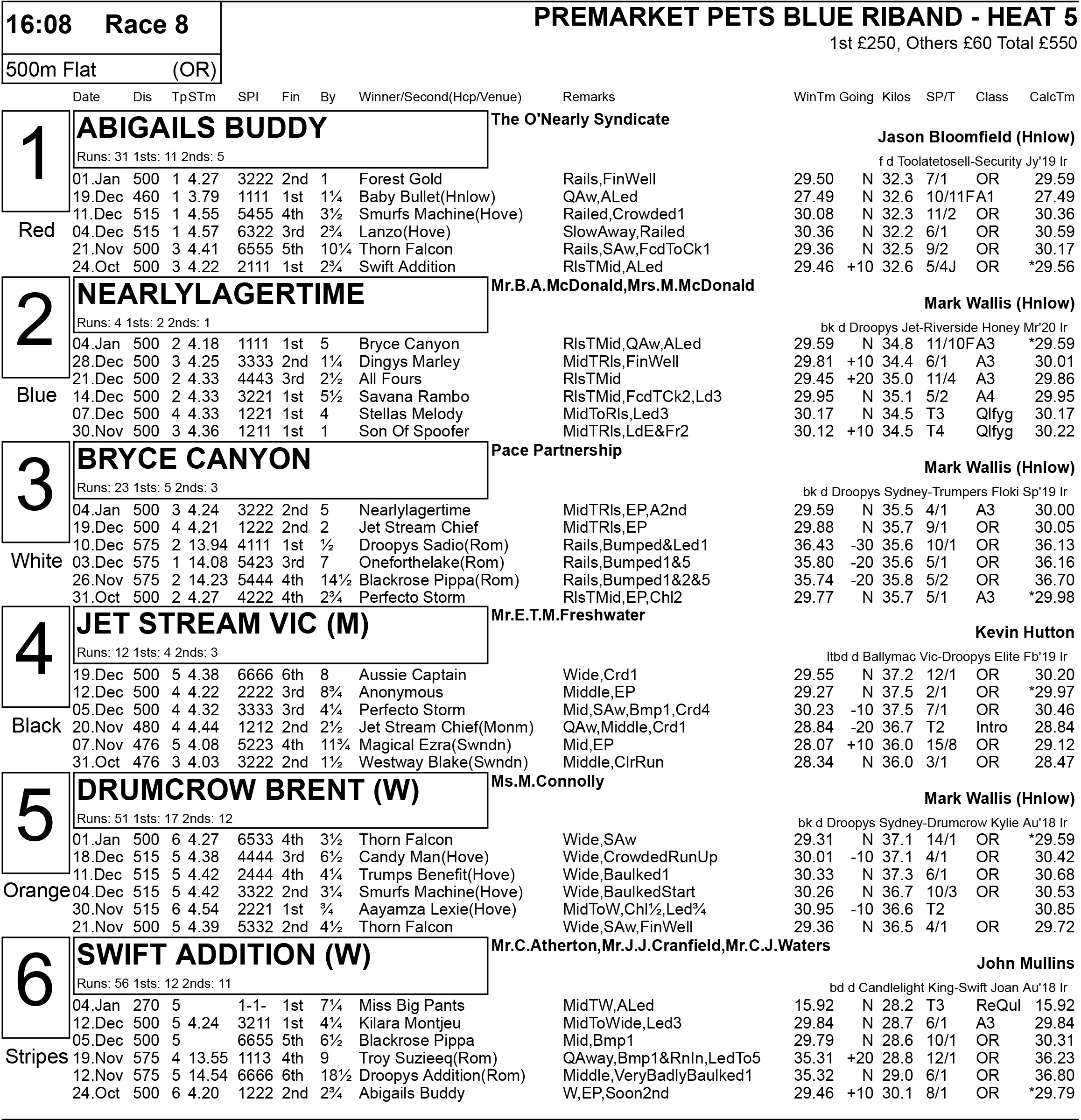 Heat five is at 4.08pm and though Mark Wallis's Drumcrow Brent will likely line up as favourite and will undoubtedly have chances he's always worth opposing when not donned in the stripes of trap 6.  Kennel mate
Nearlylagertime
destroyed A3 opposition last time out when winning by fully 5 lengths in 29.59.  Just a March 2020 pup this is a greyhound who should very much be competing on the open class stage this coming year and is taken to get first run on Jason Bloomfield's Abigails Buddy.  Granted he does so then he can kick for home coming off the second bend.  'Buddy' followed up a top-grade success at Henlow with a super runner up performance here on New Year's Day behind the impressive Forest Gold.  He looks nailed on to qualify and could very well win if he does hold off Wallis's youngster in the initial stages.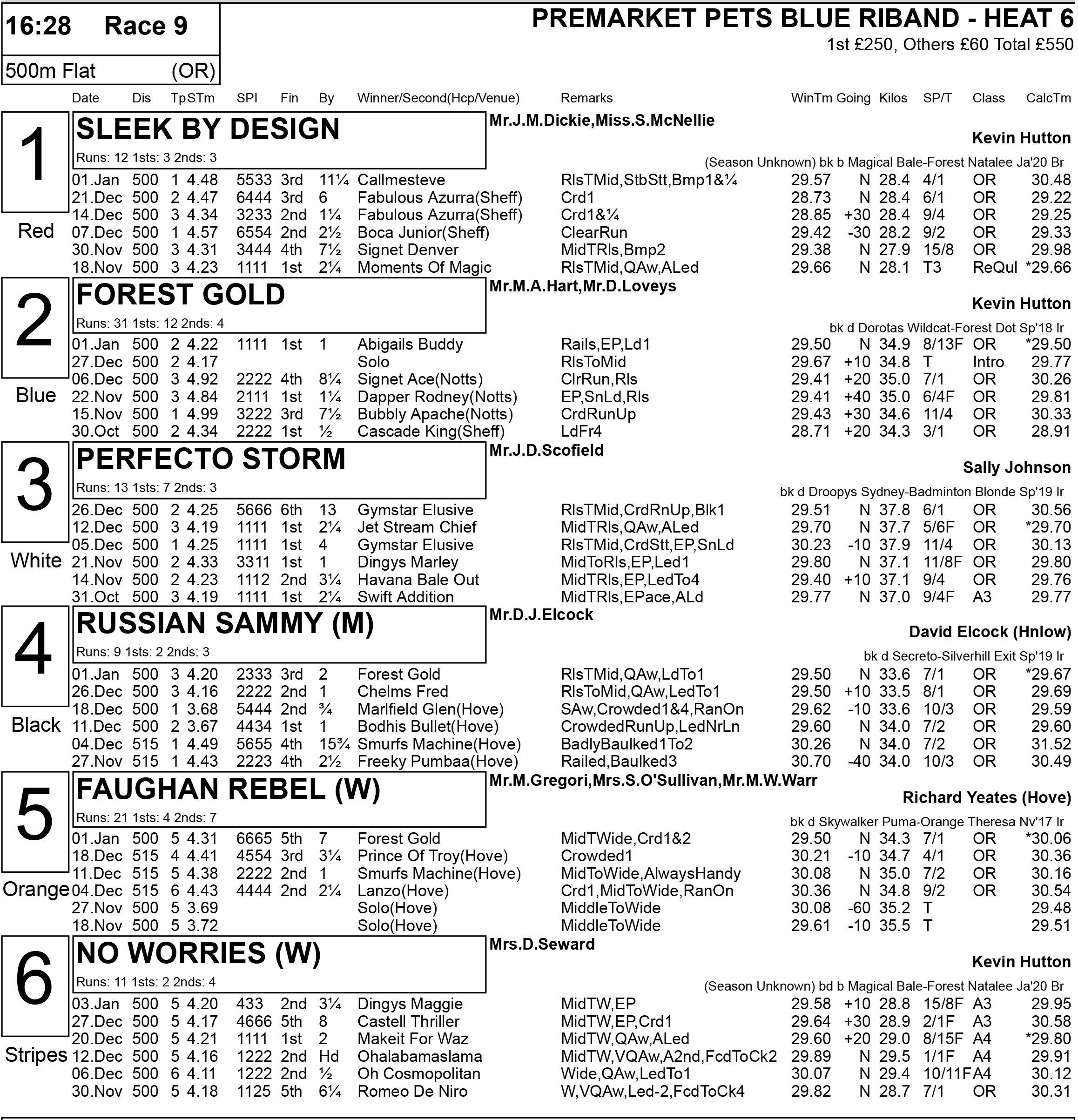 Heat six at 4.28pm and though likely to be priced short enough Kevin Hutton's
Forest Gold
who rates one of the most consistent greyhounds in training can follow up his well-supported in the market New Year's Day victory.  'Gold' will have Sally Johnson's Perfecto Storm as a bit of a hassle going into the bend , ' Storm' has been showing great early around here of late but the experienced 'Gold' can use that rival to see him around the bend and if getting his nose in front by the second he should then be away and gone.  Hutton's Sleek By Design drawn against the rail looks well drawn to get a nice run to halfway and he can come through in the latter stages to secure a place and is worth a look in the place only markets.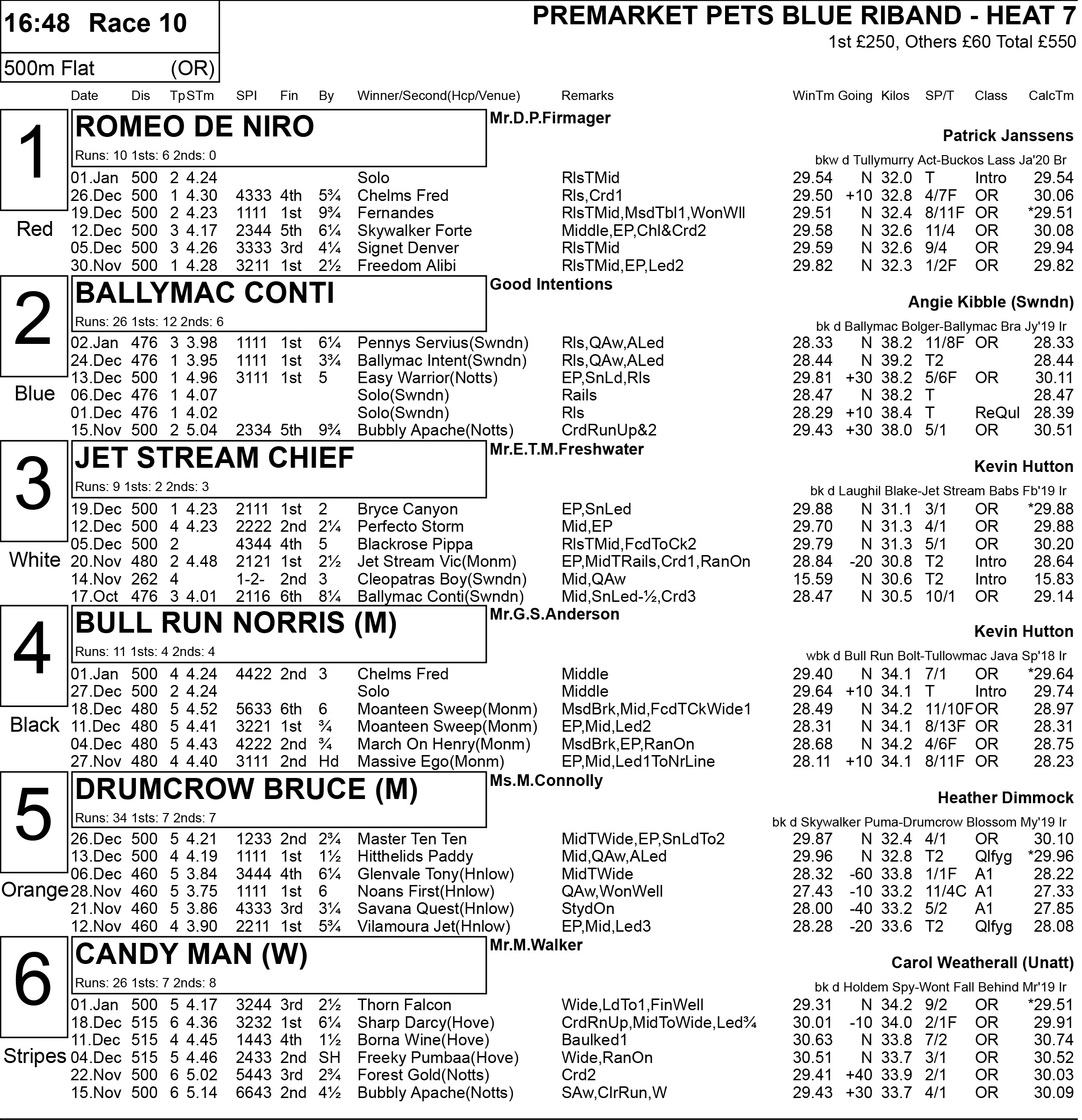 The penultimate heat of the day with heat number seven at 4.48pm.  Carol Weatherall's M Lambe Construction Birmingham Cup hero
Candy Man
was beaten into third in the top-class New Year's Day open won by Derby champion Thorn Falcon.  It was still some effort from the hugely talented greyhound however and the refresher of the circuit will have done him no harm at all.  He can land the spoils here in a race which though decent enough is a much easier assignment than last time out.  Kevin Hutton's Bull Run Norris looks well drawn and can give the selection plenty to think about throughout.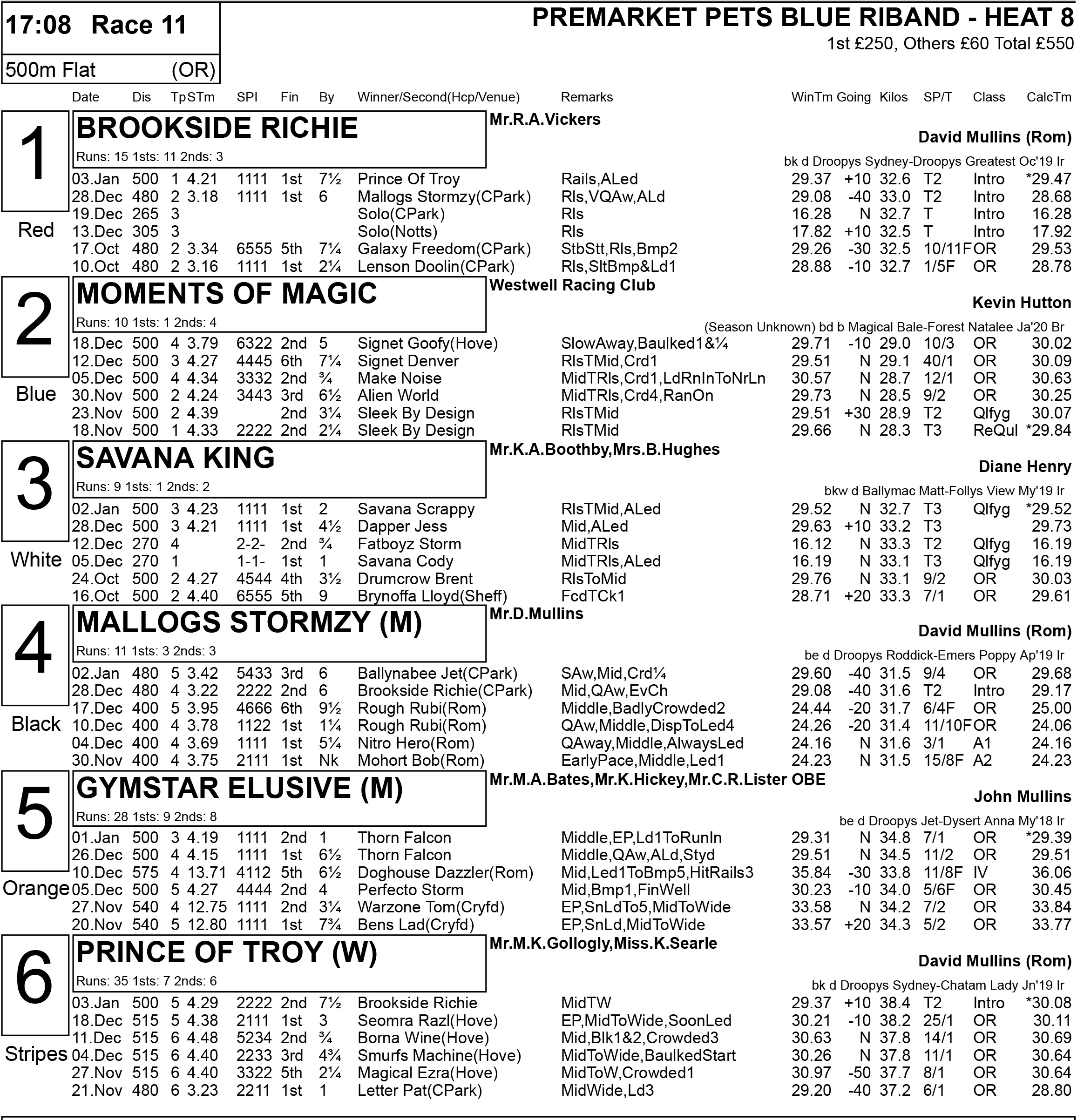 Heat eight at 5.08pm and we see the return to action of David Mullins superstar greyhound
Brookside Richie
.  The 2021 Juvenile Classic winner over course and distance last July has been off the track since being beaten in the final of the Kent Derby at Central Park in October.  'Richie's comeback trials have been solid though culminating in a 29.37 (+10) effort around here last week.  He simply destroyed kennel mate and recent Olympic champion Prince Of Troy in that trial and that rival re-opposes today.  He's likely to have most to fear though from John Mullin's Gymstar Elusive who though surprisingly beaten last time out only went down by a length to Thorn Falcon and the run still rates as top class.  Diane Henry's Savana King is a lightly raced type here in the UK and has no doubt been well prepared for this competition having been off the track since the end of October.  'King's' most recent 29.52 trial shows him in good shape and with improvement on the clock likely and from a decent draw he could give 'Richie' plenty to think about if breaking smartly.