The final of the £12,500 to the winner category one Stadium Bookmakers Hunt Cup takes centre stage at Towcester this afternoon and is ably supported by 12 other open races including 6 heats of the Gain Greyhound Nutrition Sovereign Stakes set to be run over the 270m sprint trip.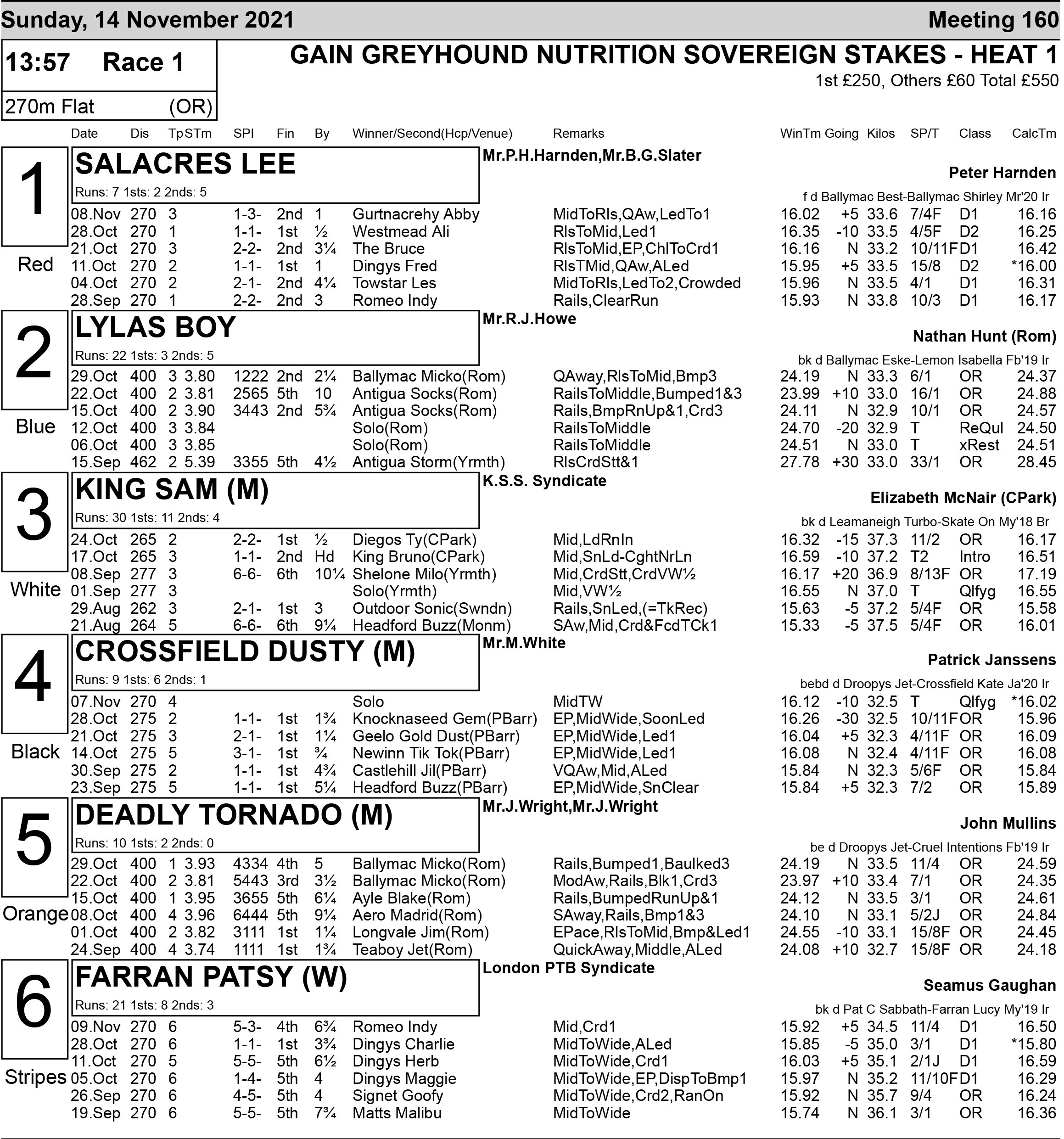 We get underway at 1.57pm with heat 1 of the Sovereign and it's difficult to get away from Patrick Janssens
Crossfield Dusty
.  Droopys Jet offspring are well known for their searing early pace and this lad is no exception.  Unbeaten in his last 5 around Perry Barr including landing the final of the Scurry last time out he looks well drawn to make it six in a row.  Peter Harnden's Salacres Lee is a nice type and steps up to open class company for the first time after some more than solid efforts in top grade company around here.  He's one to keep on side over the coming months although on this occasion he'll likely find Dusty tough to beat.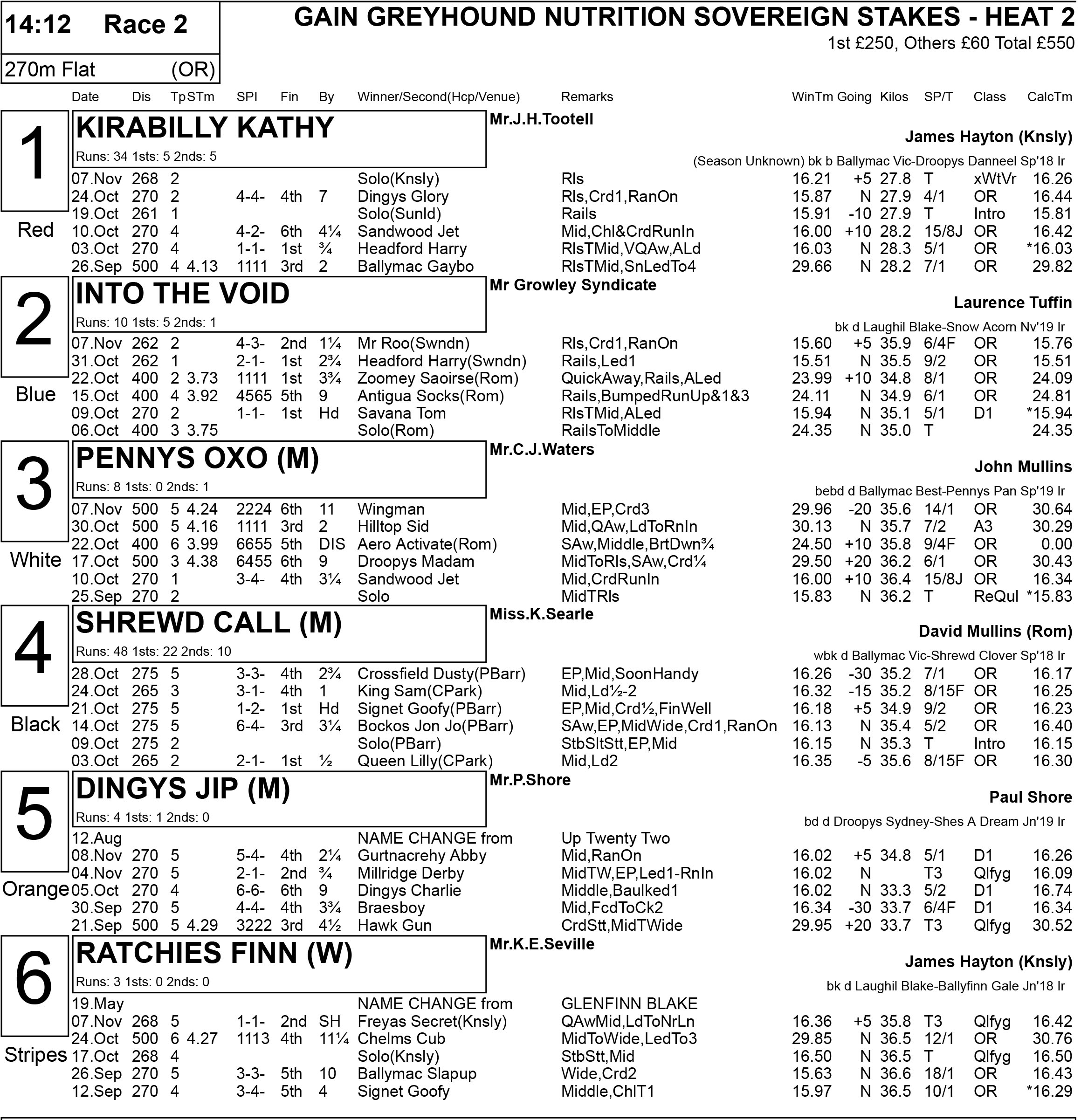 Heat 2 sees the greyhounds head to traps at 2.12pm and though likely to be priced short enough it's difficult to oppose David Mullins
Shrewd Call
.  A hugely pacey greyhound his downfall has often been his trapping.  He can't afford to be too tardily away from the traps but anything close to a level break should see him clear by the corner and away and gone from that point home.  Paul Shore's Dingys Charlie won well in top grade here last time out and could give the selection plenty to think about if he does miss the kick.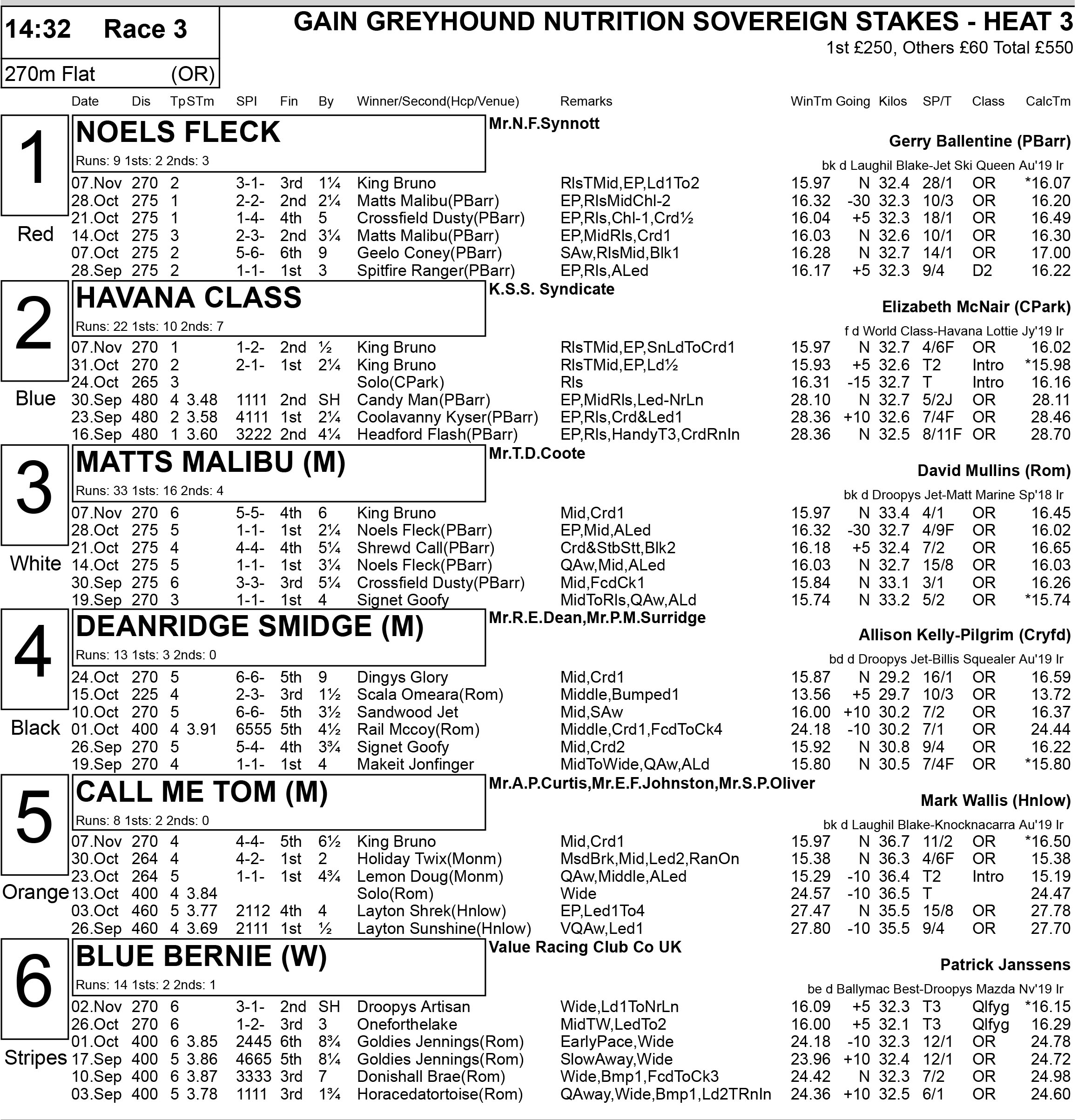 Havana Class
should be a little sharper for what was his first competitive outing since the end of September last week.  He finished second on that occasion narrowly beaten by kennel mate King Bruno.  He's fancied to ping out and make all in heat 3 at 232pm with Patrick Janssens Blue Bernie well drawn on the wide outside to claim the forecast spot.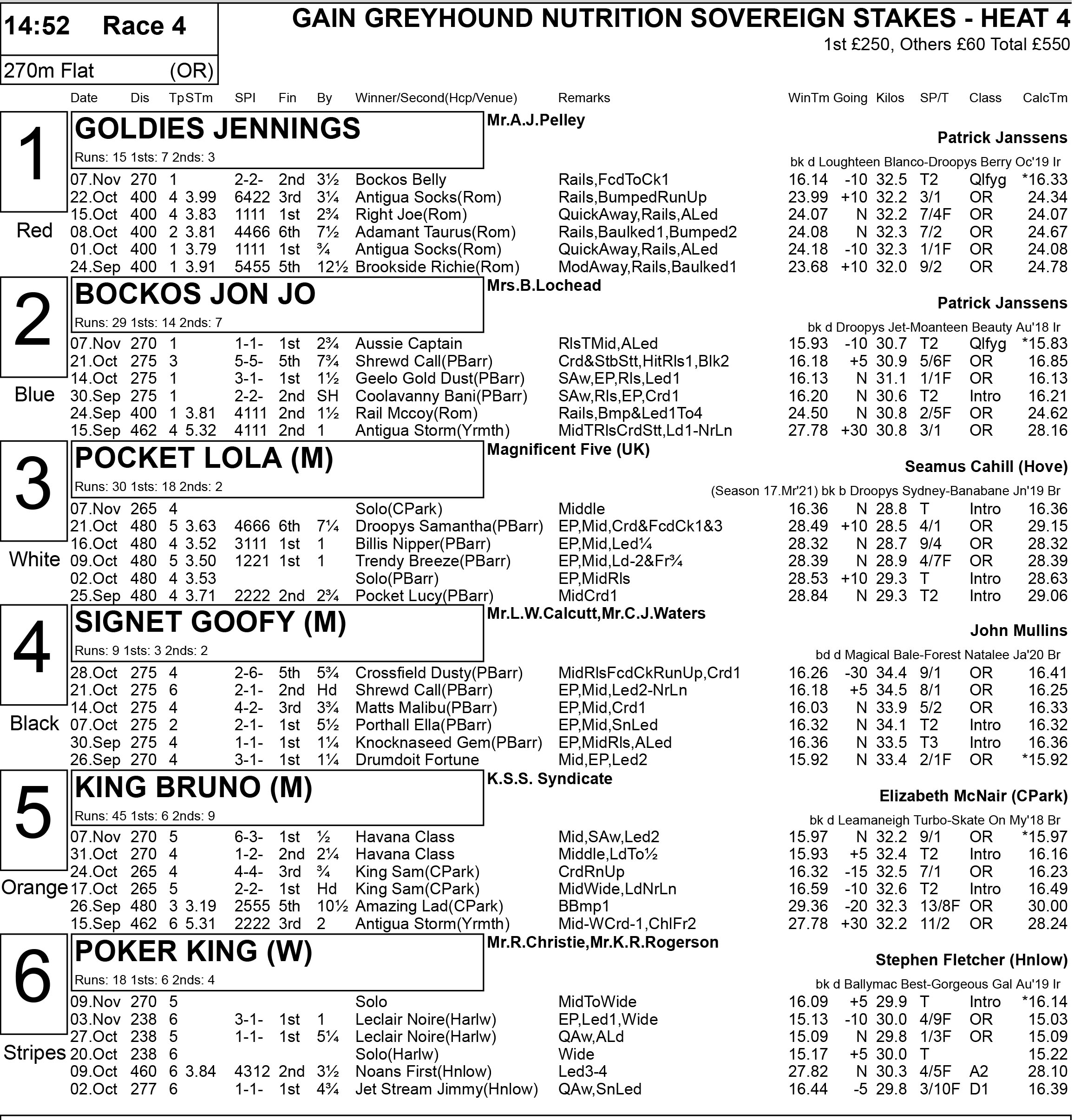 Bockos Jonjo
was eliminated from the Scurry at Perry Barr recently after a trouble marred run in the semi-final.  Given a couple of weeks off afterwards he showed himself in fine form with a 15.83 trial over course and distance last week.  Patrick Janssens greyhound should soon claim the rail and that will be enough to secure victory with Liz McNair's King Bruno selected to run on for second in heat 4 at 2.52pm.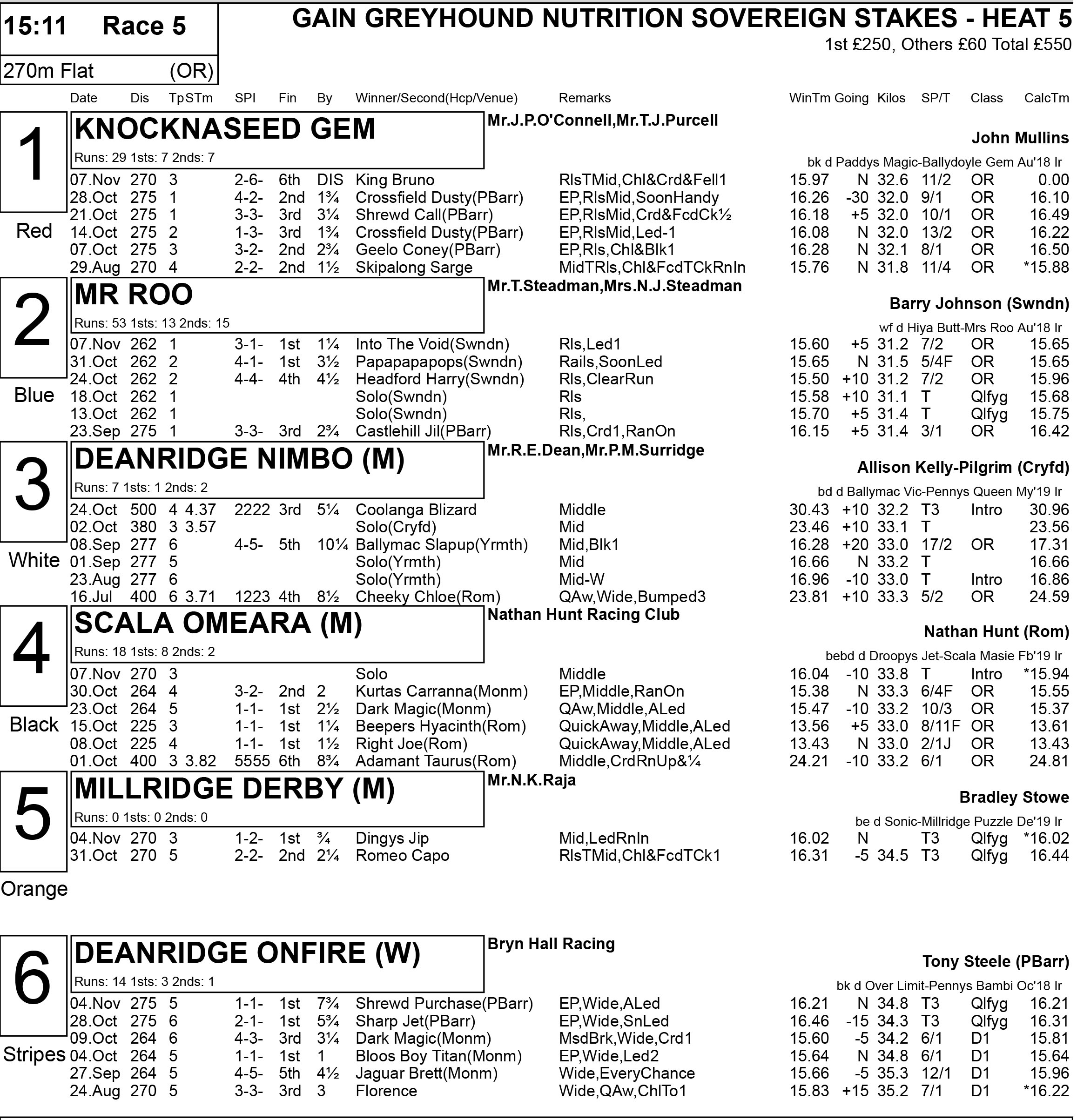 The John Mullins trained
Knocknaseed Gem
was in the process of running a huge race last time out in the sprint won by King Bruno.  He was within a short head of the lead at the first turn after showing huge early pace up before unluckily hitting the deck.  That race was a vastly superior one to which he lines up in today in heat 5 at 3.11pm and with the draw in red likely to prove beneficial too he's selected to land the spoils.  Coming into a race off the back of a fall isn't ideal but Mullins is far from a fool and if he believes the greyhound is fit and ready to do himself justice then that's good enough for me.  Millridge Derby looks an interesting recruit for local trainer Bradley Stowe and he could go better than his odds might indicate.  Regardless of today he's one to keep an eye on especially if stepped back into graded company where a 17.89 Drumbo run highlights that he might just prove a fair bet in that sphere.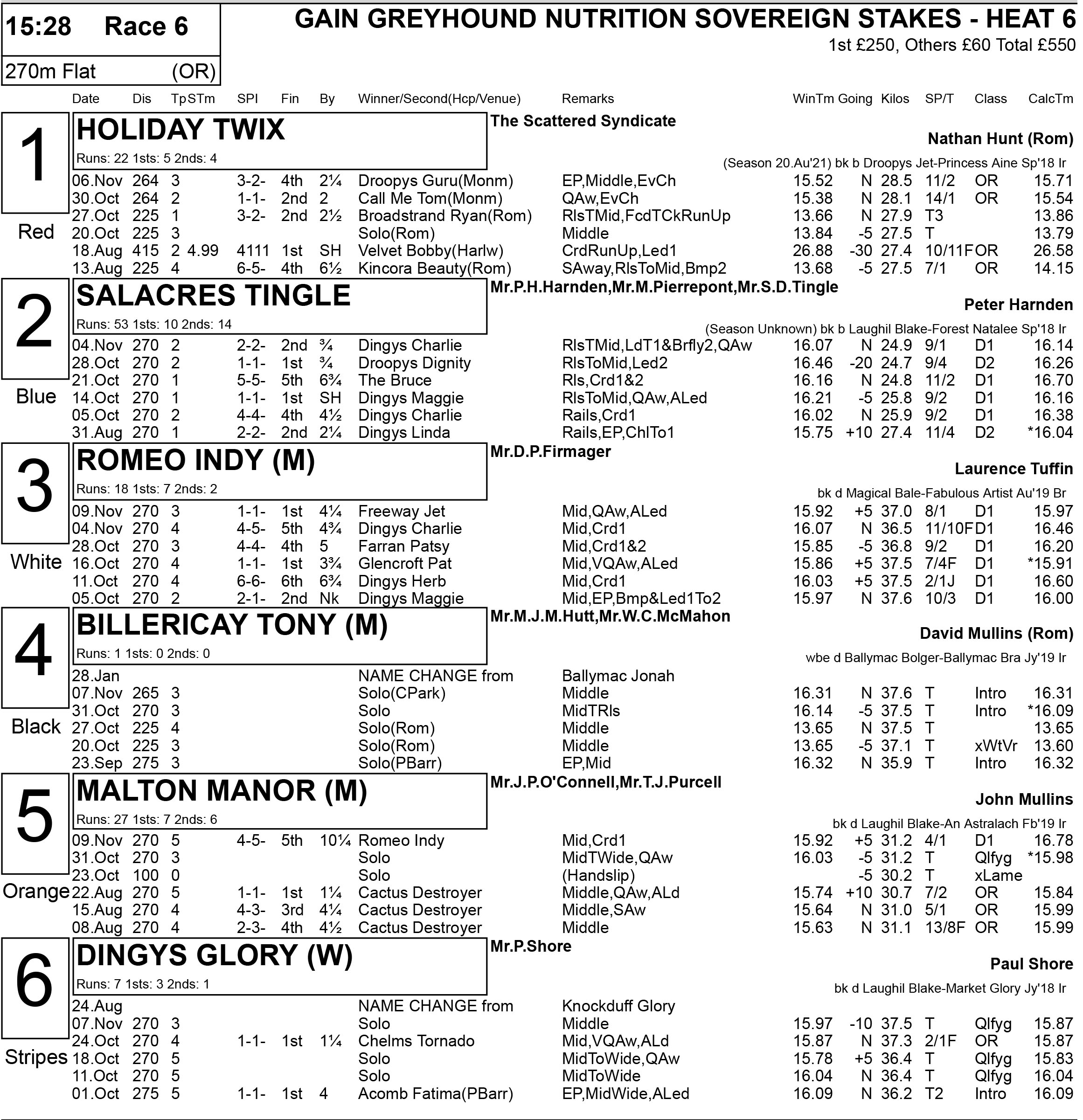 Paul Shores Dingys Glory isn't seen in competitive action as much as you'd like but he's got plenty of pace when he does line up.  A super winner around here a few weeks ago in a top class 15.87 he has since backed that up with an identical run in a trial.  I've not seen too much to suggest he wants trap 6 but given a decent break he should have too much pace to the turn and can soon take up his preferred middle of the track position.  Salacres Tingle rarely runs a bad race and Peter Harnden's bitch can stick on well for second.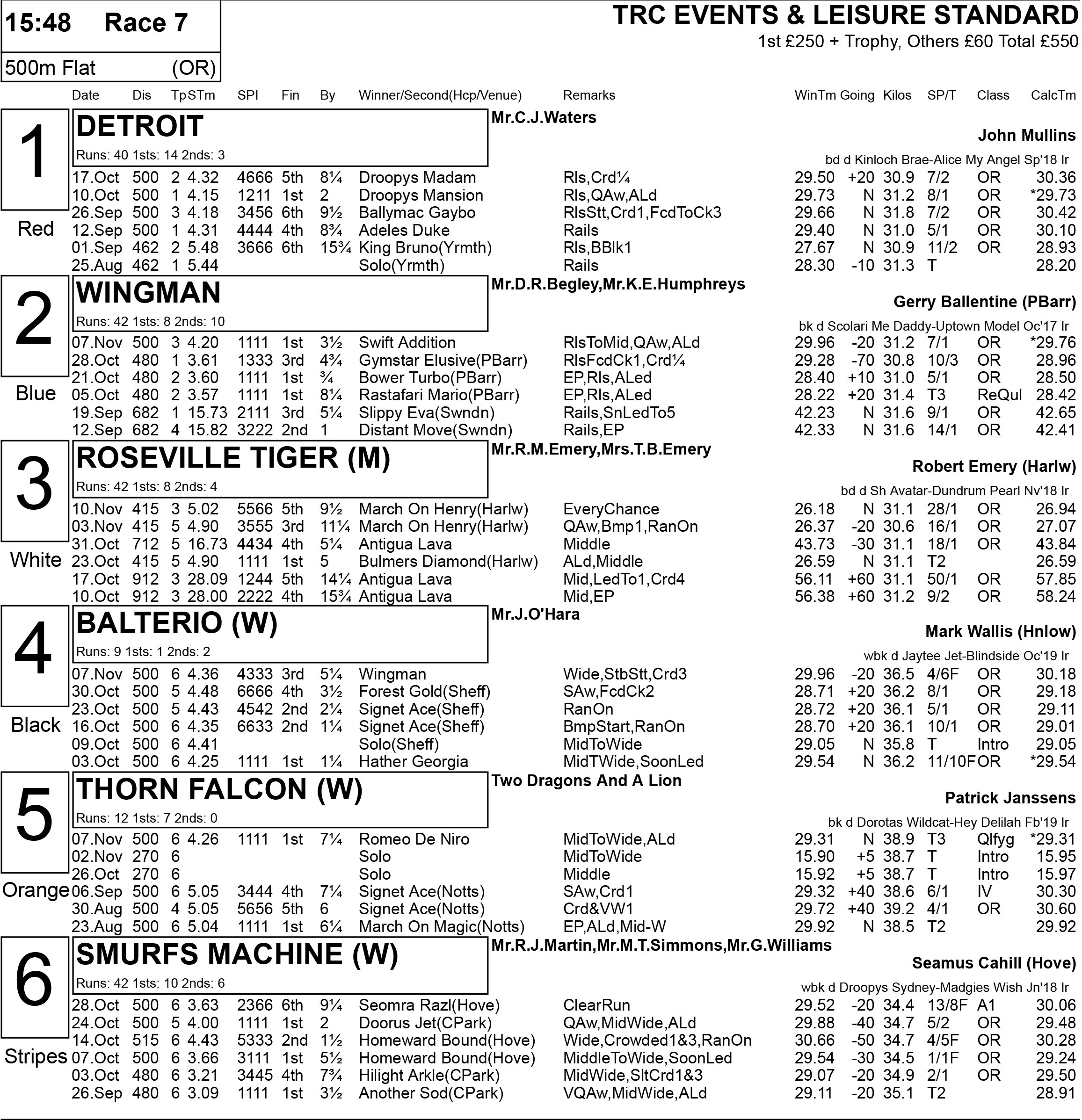 TRC Events & Leisure Standard company over 500m at 3.48pm and what a race we have in store.  Thorn Falcon looked like a dog in need of a break after his sensational victory in the final of this year's English Derby but with a few important targets on the horizon he was kept up to his work.  That didn't really pay off for Patrick Janssens and connections but he looked back to his best last week with a superb 29.31 trial over course and distance.  The run was also done off a decent though not spectacular 4.26 split so to think that there is still improvement to come connections must once again be on cloud nine.  Good times are surely only round the corner and he may well win and win a long way today but sandwiched between Balterio and Smurfs Machine he can't afford too many mistakes on the run to the corner.  Those 3 may not play into each other's hands and it's far from inconceivable that they might just ruin each other's races so at what could be a huge price in both the win and place markets take a chance on John Mullins
Detroit
.  Perfectly drawn against the rail he's a vastly underrated greyhound who has proved on many occasions that he isn't one for passing easily once in front.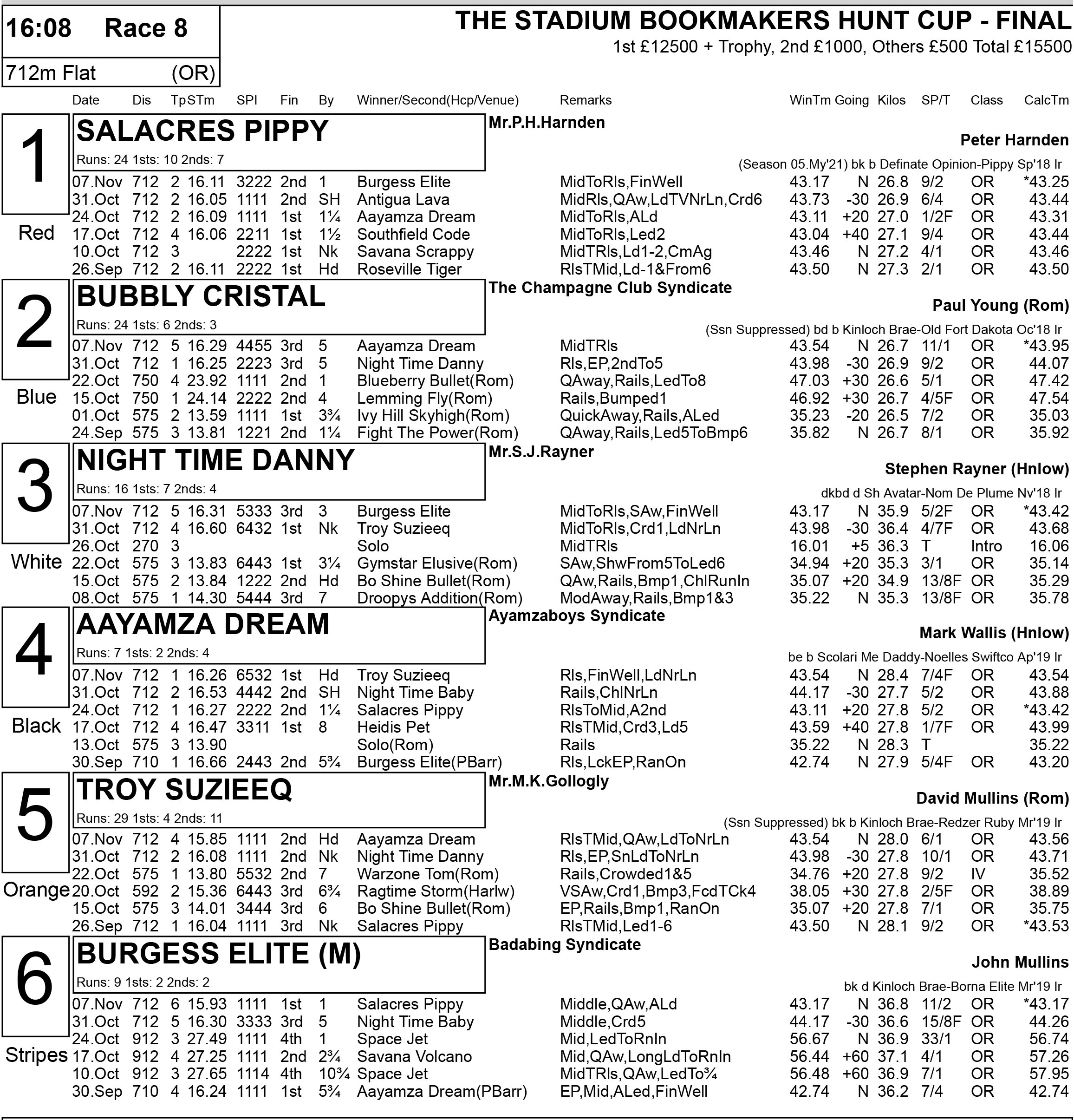 The main event of the day at 4.08pm sees the greyhounds head to traps for the Stadium Bookmakers Hunt Cup.  Worth £12,500 to the winner it's a final worthy of the prizemoney on offer.  Towcester has quickly established itself as the home of greyhound racing in the UK and the Sunday afternoon meetings are quickly becoming the meeting of choice for greyhound racing die hards who appreciate a little quality in life and not just the mundane betting shop fare served up by many.
Peter Harnden's Salacres Pippy announced herself to the UK public with some sensational performances in the 2020 running of the St Leger at Perry Barr.  Young and inexperienced at the time she performed miracles to finish runner up in the final narrowly beaten by Smallmead.  One of the most consistent bitches in training Pippy's undoubted class is matched by a determination that few can match.  Drawn nicely in trap 1 she's selected to ping out and hold off all challengers.
It's a quality final however and success will not come easily.  Paul Young's Bubbly Cristal is another incredibly game and consistent sort who always gives her best.  Connections thought she was home for all money for such a long way in the recent Mitch Millward Memorial Trophy at Romford however she was collared close home after a terrific come from behind win by Blueberry Bullet.
Cristal lost nothing in defeat though and it would be no surprise to see her improve on heat and semi-final form today.
Steve Rayner's Night Time Danny ran a stormer for such a long way in the St Leger Final at the end of September.
Connections must have been heartbroken to see him picked off late by Space Jet but the run marked out Danny as a high-class sort and category one compensation was only around the corner.  After finishing third in his heat of the Champion Stakes Danny went one better by finishing second in the semi-final.  The positional improvement continued as a magnificent run from behind saw him come through powerfully in the latter stages of the final to claim a victory that early on in the race seemed inconceivable.
Mark Wallis's has brought Aayamza Dream along nicely here in the UK.  Already holding some top-drawer form over in Ireland the bitch was given the benefit of getting off the mark here in the UK in a course and distance maiden in mid-October.  It was a facile success but brought her on nicely.
Going down narrowly behind Salacres Pippy in a subsequent open here she's run with huge credit in both heat and semi-final. 
Her come from behind win in the semi
marking her out as another who may just appreciate a step up to 8 bends and add further interest to a division which is currently bulging with talent.
David Mullins Troy Suzieeq won a course and distance maiden here in May and though she's invariably found one or two marginally too good when in against the real cream of the staying division since she's never been disgraced and is rarely far away.  Suzie has a tough draw to contend with out in trap 5 however she's a nice touch of early pace which could negate that somewhat if she were to hit the lids.
Last but by no means least the John Mullins trained Burgess Elite who lines up today for just the tenth time here in the UK.  Quickly establishing himself as one of the leading stayers on these shores with anything from a tough six bends to marathon distances suiting well.  Eliminated at the semi-final stage of the St Leger he went down all guns blazing after a sensational front running performance in the final of the 1st Containers Marathon Trophy here recently over 912m.  Leading for the majority of the race it was only in the latter stages that he was reeled in by Space Jet.
After leading in last week's semi-final
it was near on impossible to pick him up and though todays selection Salacres Pippy tried she could get no closer than a length of the winner.  A top drawer final but Salacres Pippy to set the fractions upfront and land the honours.
Just the one graded race on the card today but a quality D1 affair over the 270m sprint distance.  Heather Dimmock's Bentley Crew is a little in and out at the boxes but the move to trap 3 today might just help him come away.  If doing so then he's nicely drawn to use his undoubted early pace and sieze command by the first bend.  If he does it's race over.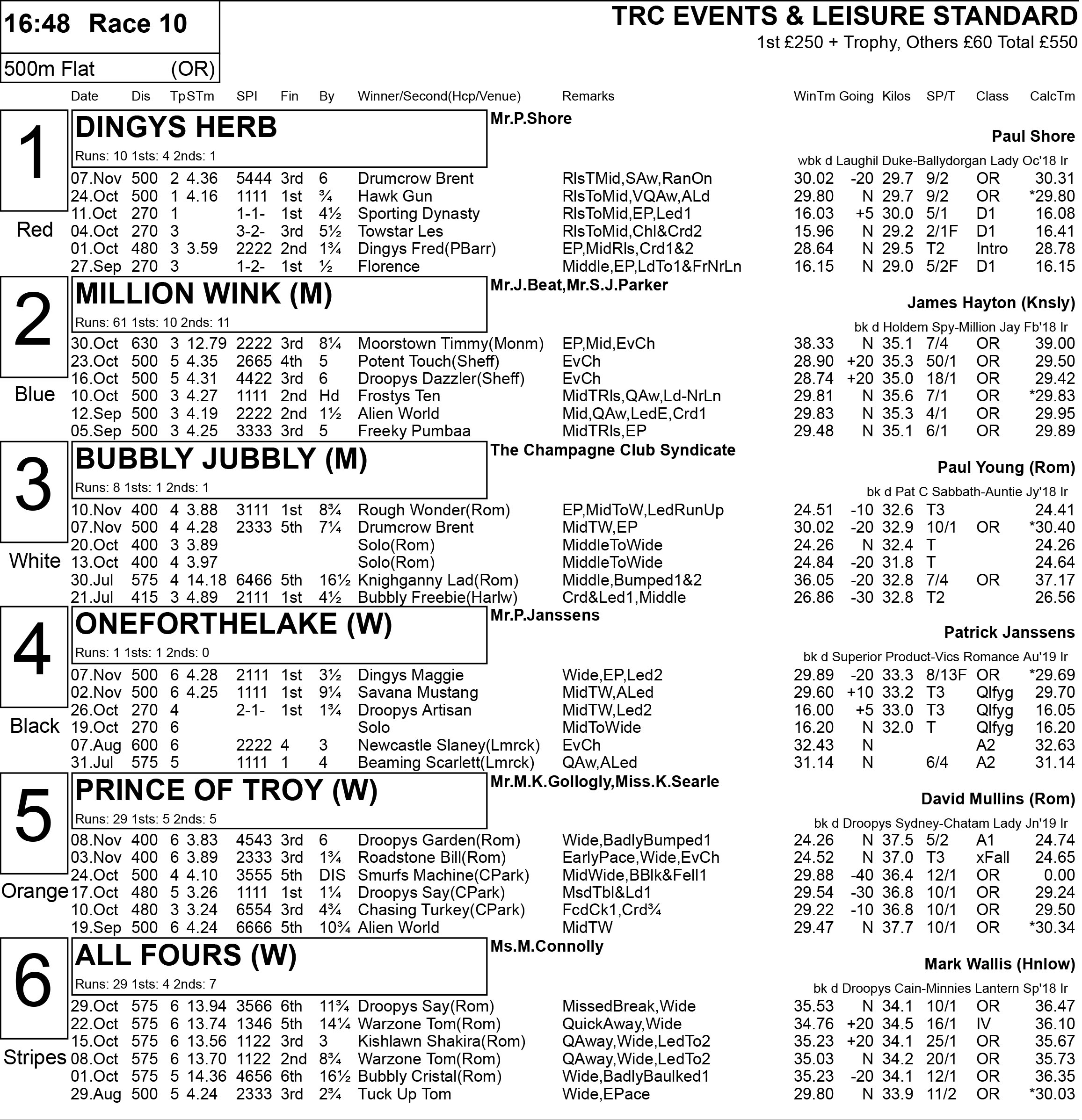 The 4.48pm is a futher 500m race sponsored generously once more by TRC Events & Leisure.  Patrick Janssens Oneforthelake made an impressive UK debut last week in maiden company here but he'll need to go up a little bit better than he did on that occasion and though a move to trap 4 wouldn't be too much of a concern once in front the suspicion is he'll move off from there in the initial stages before straightening up.  If not taking a flier it's those initial stages that could see and end to his race before it's begun and though the most likely winner he's passed by at the likely odds.  For selection purposed take a chance with Paul Shore's Dingys Herb who is superbly well drawn against the rail and on this occasion at least wouldn't have to improve much upon his 2980 maiden winning effort here from the same box a couple of weeks ago.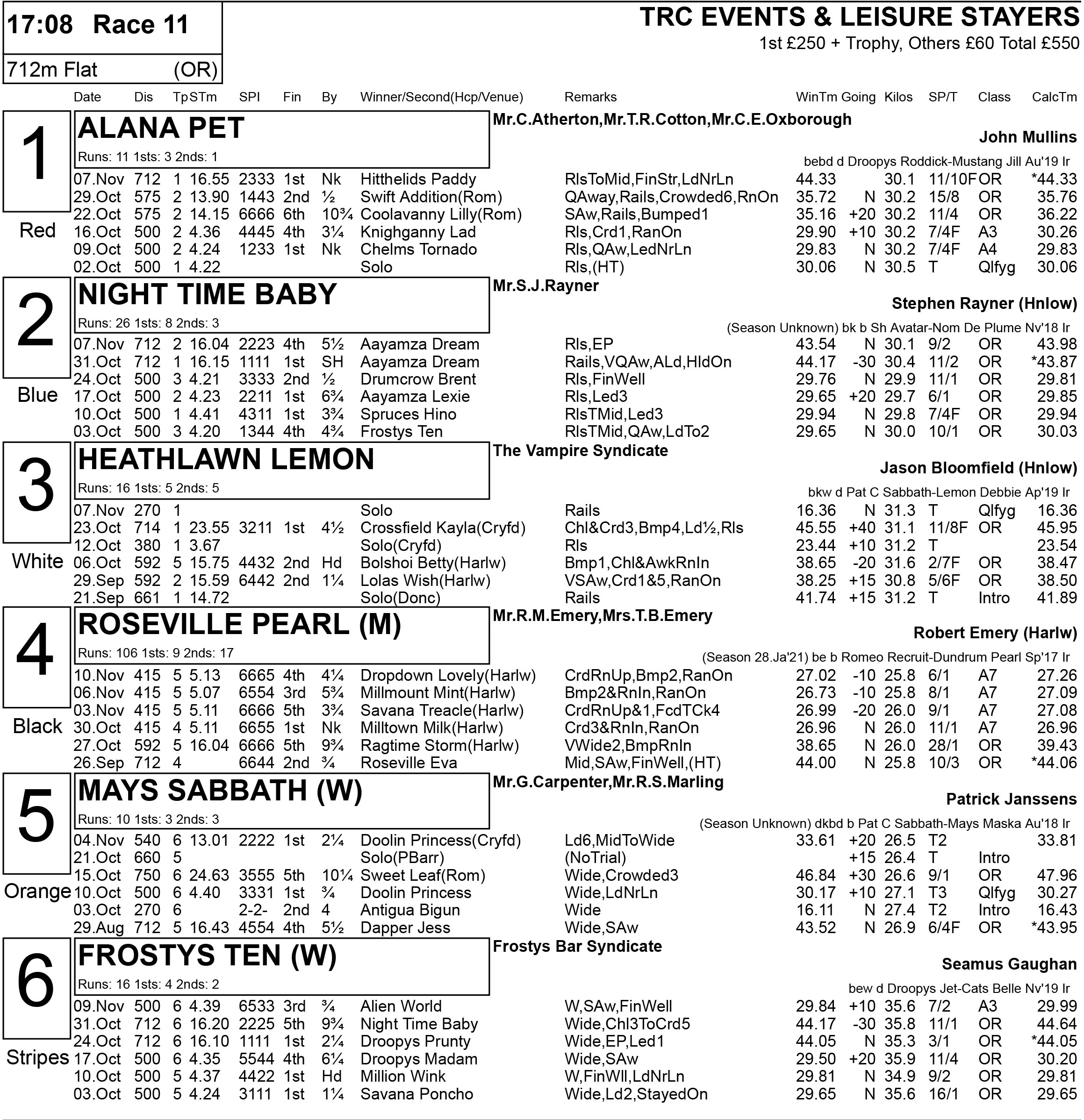 TRC Events & Leisure Stayers over 712m at 508pm and Steve Rayners Night Time Baby can smash out and make all from a perfect draw in trap 2.  Though winning on six bend debut a couple of weeks ago in a heat of the hunt cup there is no doubting that she'll be getting stronger for every run over the distance for a while yet.  Baby can and should lead here with anything like a normal break and it would be disappointing if she were to be beaten from that position.  Alana Pet would be well drawn in behind Baby to fill to forecast spot for John Mullins if the selection does trap in the anticipated fashion.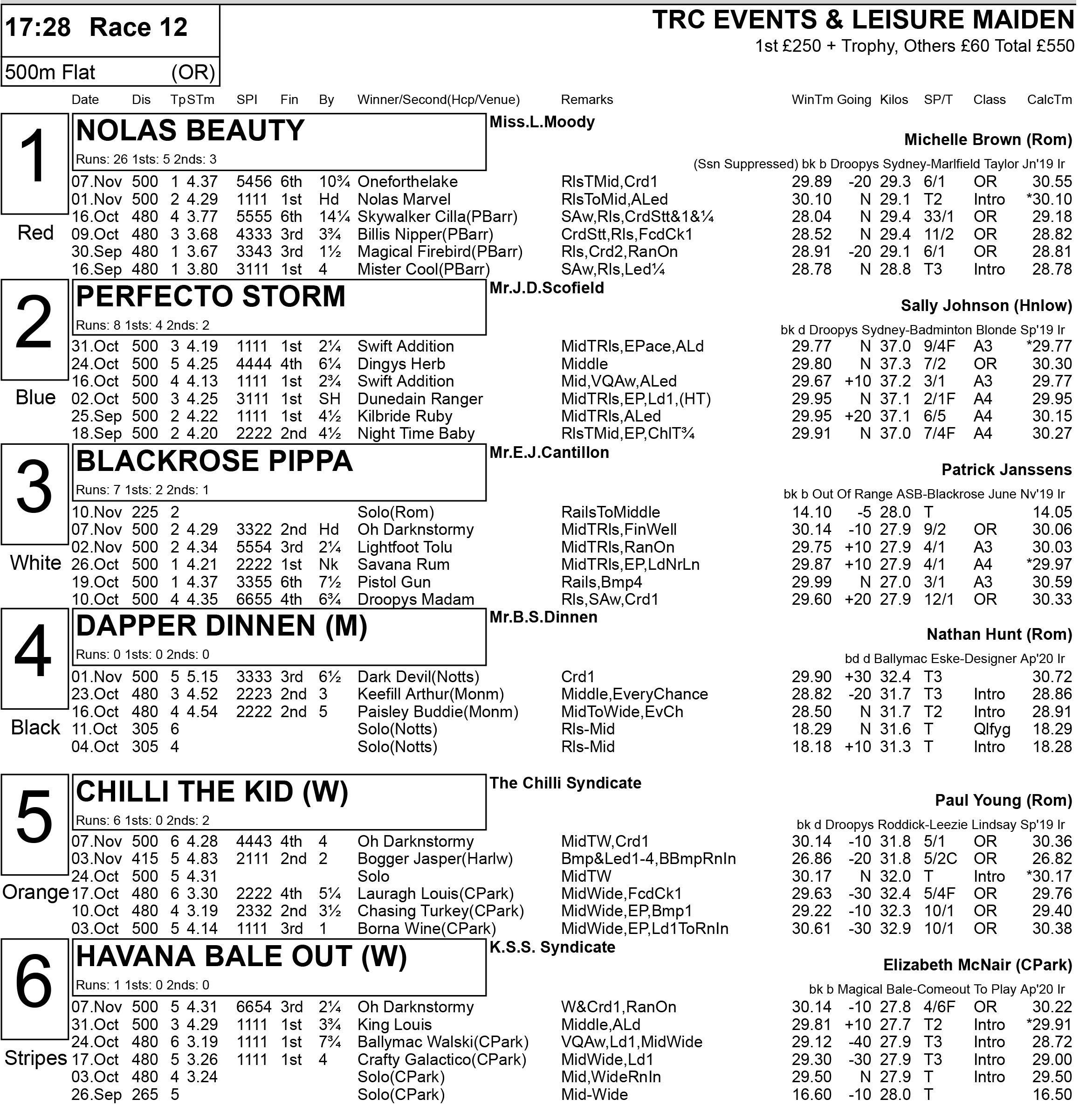 TRC Events & Leisure Maiden company at 5.28pm and though beaten on career debut in a similar event here last week Liz and Rab McNair's Havana Bale Out can showcase what the fuss is all about here.  The regard in which he is held by connections is no secret and he can smash out and make all.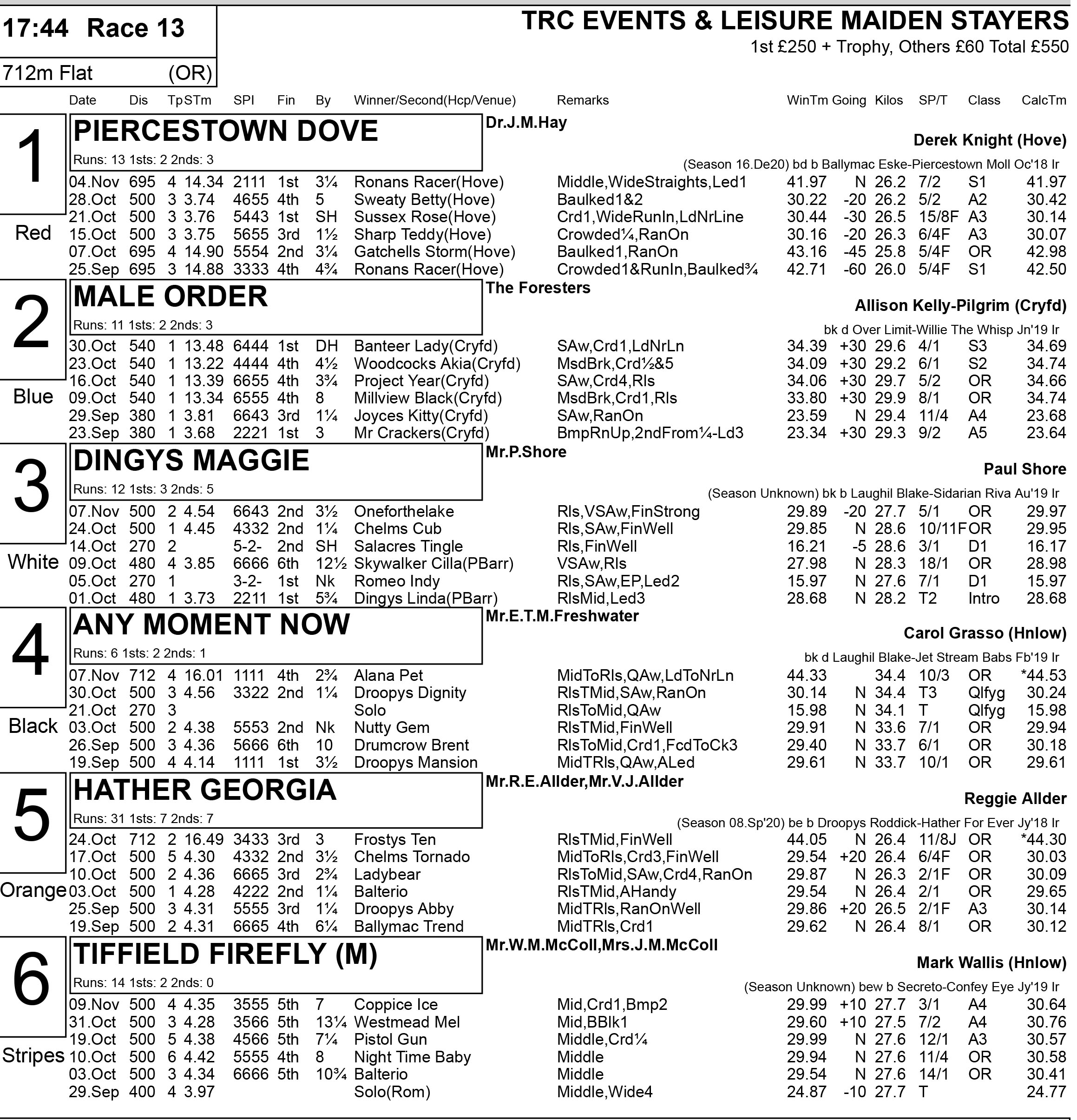 TRC Events & Leisure Maiden stayers over 712m at 5.44pm.  It looks an absolute given that there will be crowding on the middle to inside of this race in the early stages and on that basis a chance is take on Mark Wallis's Tiffield Firefly.  Drawn out in trap 6 that's not really where she wants to be either but on her best four bend form she could well be away and gone from this field and with trouble in behind it could well be a lead which isn't relinquished easily.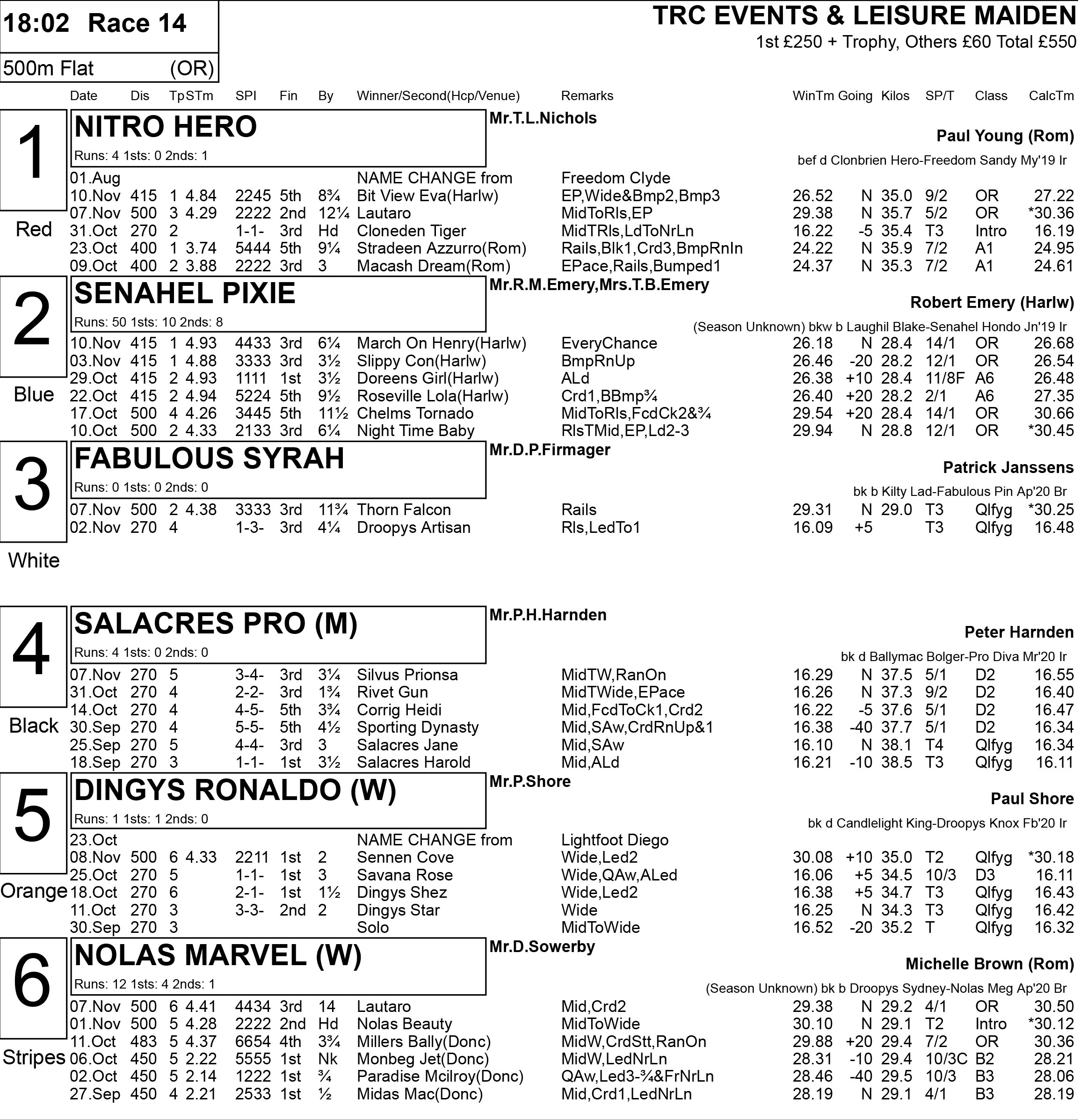 The final race on an excellent card is a TRC Events & Leisure Maiden over 500m.  Paul Young's Nitro Hero was purchased for decent money out of the Romford sale in August and though yet to win in 4 starts this is without doubt his best chance of gaining victory here in UK soil to date.  A decent sort when in front he looks well drawn to take command by the bend and once there would be very difficult to beat.