At Hove tonight we are treated to the finals of the Coral Sussex Cup and Premier Greyhound Racing Regency. Throw in a category two and three final, a graded sweepstake final and seven supporting opens, you have yourself an unmissable night.
As the card is so good, it felt rude not to give it the 'Round Up' treatment. As ever yours truly has found out more about three greyhounds making their Hove race debuts.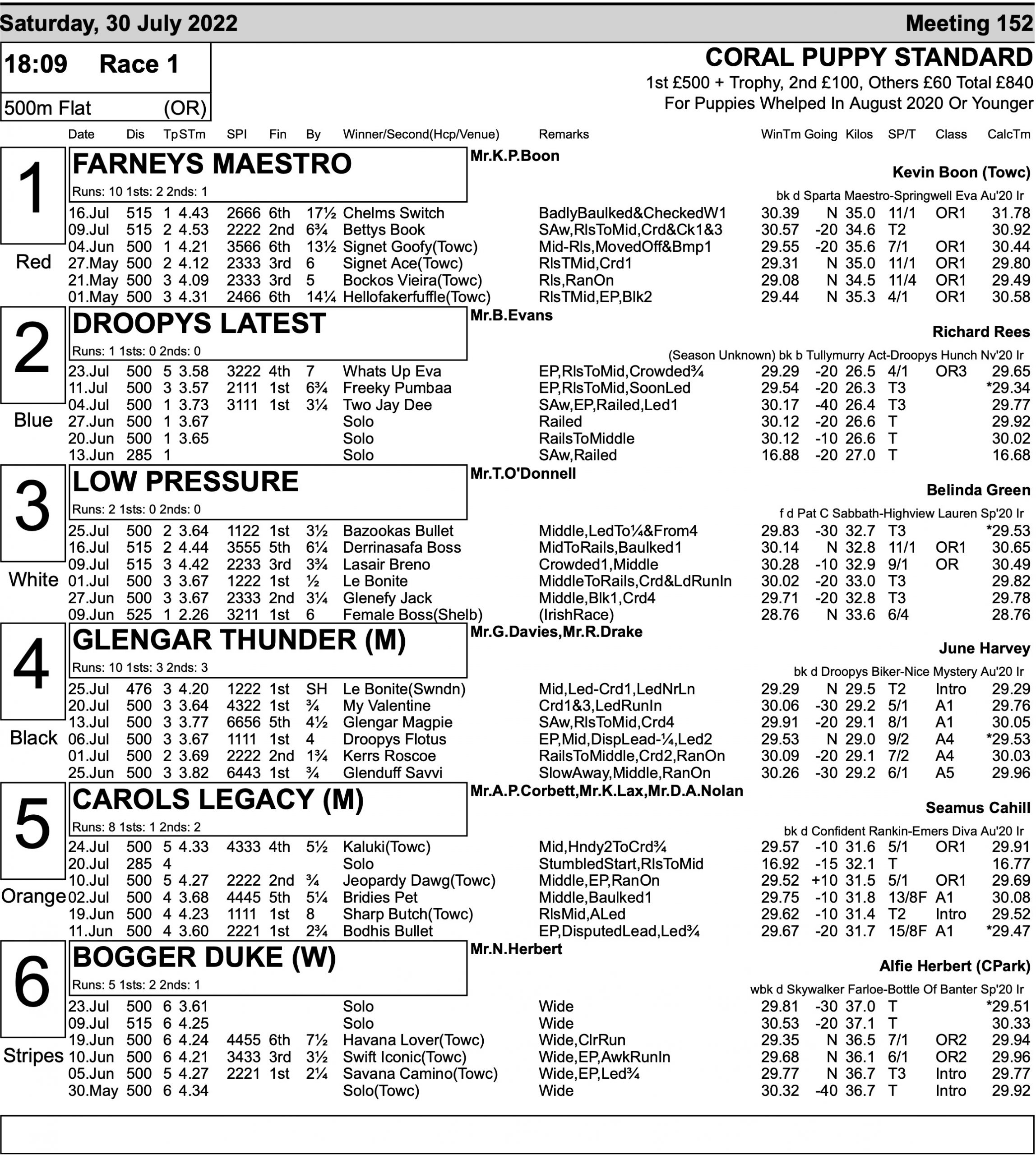 Bogger Duke for Central Park trainer Allie Herbert is tackling Hove tonight for the first time in race conditions in the opener at 6.09pm. The September '20 whelp goes into the Coral Puppy Standard over 500 metres after two trials around the track over 515 and 500 metres. The son of Skywalksr Farloe and Bottle Of Banter has won twice at home track Central Park in an A2 graded affair and open race. He went well in his trial over C&D and will be looking to make an impact first time up.
Allie on him said: "He's a nice dog and has won a maiden at Central Park in 28.89 seconds which is a fair run for a pup.
"We took him to Towcester but the track didn't suit him so we took him to Hove for a trial with a view for the Sussex Cup but he didn't get in. He did some nice trials at Hove and handles the track well.
"At Towcester he was marked awkward but that was completely out of character for him. In his trial before he went passed a dog no problem and showed no signs of it when we tried him there again afterwards. We gave him time off to grow up a bit as he was very puppyish. We don't think he will do it again.
"He is as wide as they come and has his draw in six. It's where he wants to be.
He is generally available at 3/1 with the 'bookies' to take the spoils.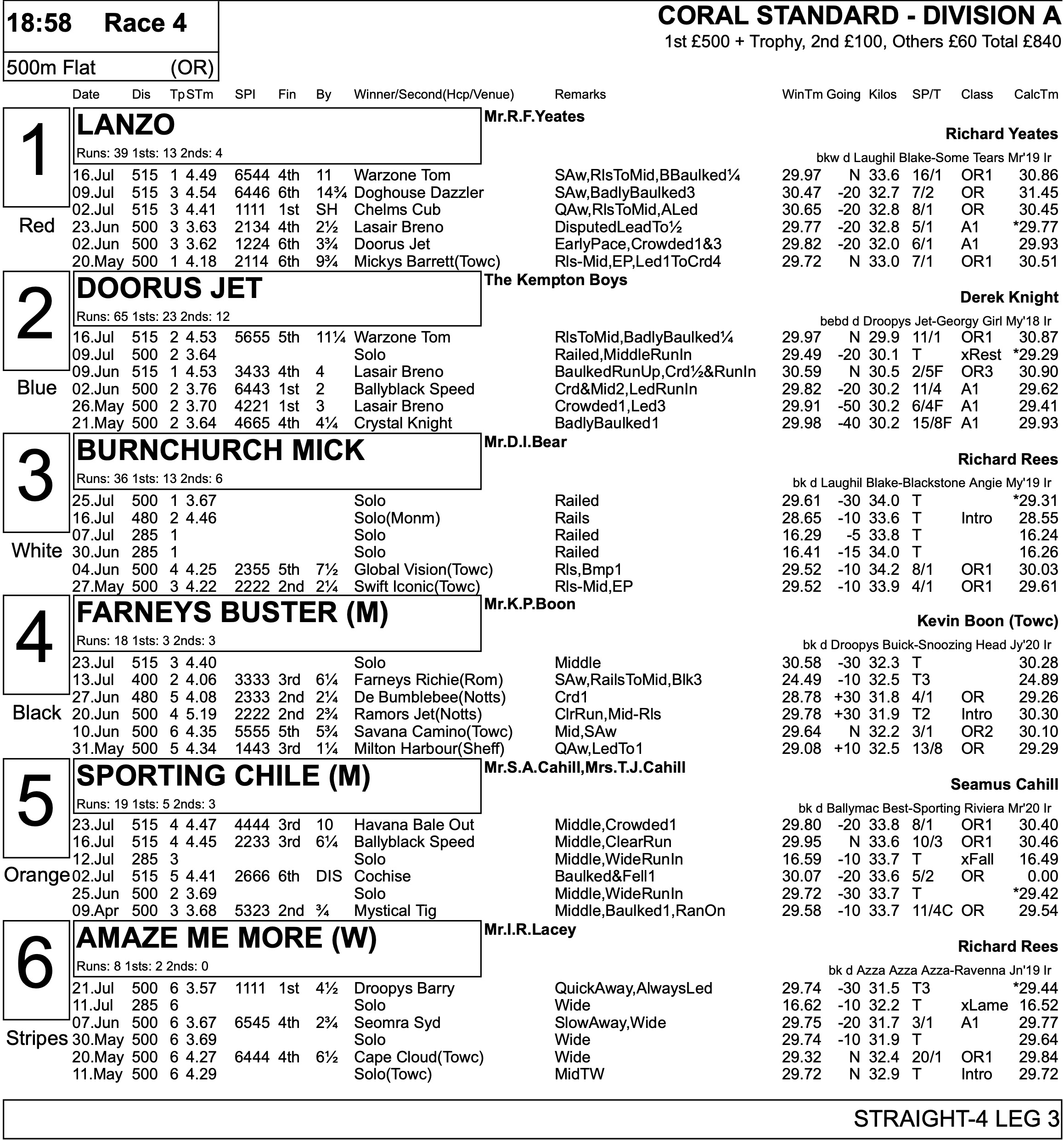 Followers of the open scene will know the name Burnchurch Mick. The winner of the Ladbrokes Winter Derby unbeaten at Monmore amazingly makes his race debut at home track Hove tonight at 6.58pm in division A of the Coral Standard over 500 metres. After thirty six on these shores the May '19 whelp finally tackles his home track for trainer Richard Rees. In a recent trial over C&D the son of Laughil Blake and Blackstone Angie showed all is well in a recent trial over C&D clocking a calculated time of 29.31.
Richard on him said: "He gets the 500 metres as he changed his style of running a bit. He needs the race but is in good order. All our dogs are at the moment.
"He has never run at Hove before. We trialled him back with the Sussex Cup in mind, but he wasn't quite ready. We thought we would give him a spin. It's his first run for a while and then aim him for the Gold Cup at Monmore.
"It's all about getting out with him. I would prefer him nearer the one box, but he traps better away trap one. He has won from traps three at other tracks before."
Corals are offering 7/4 for the Ladbrokes Winter Derby winner to win at Hove at the first time of asking.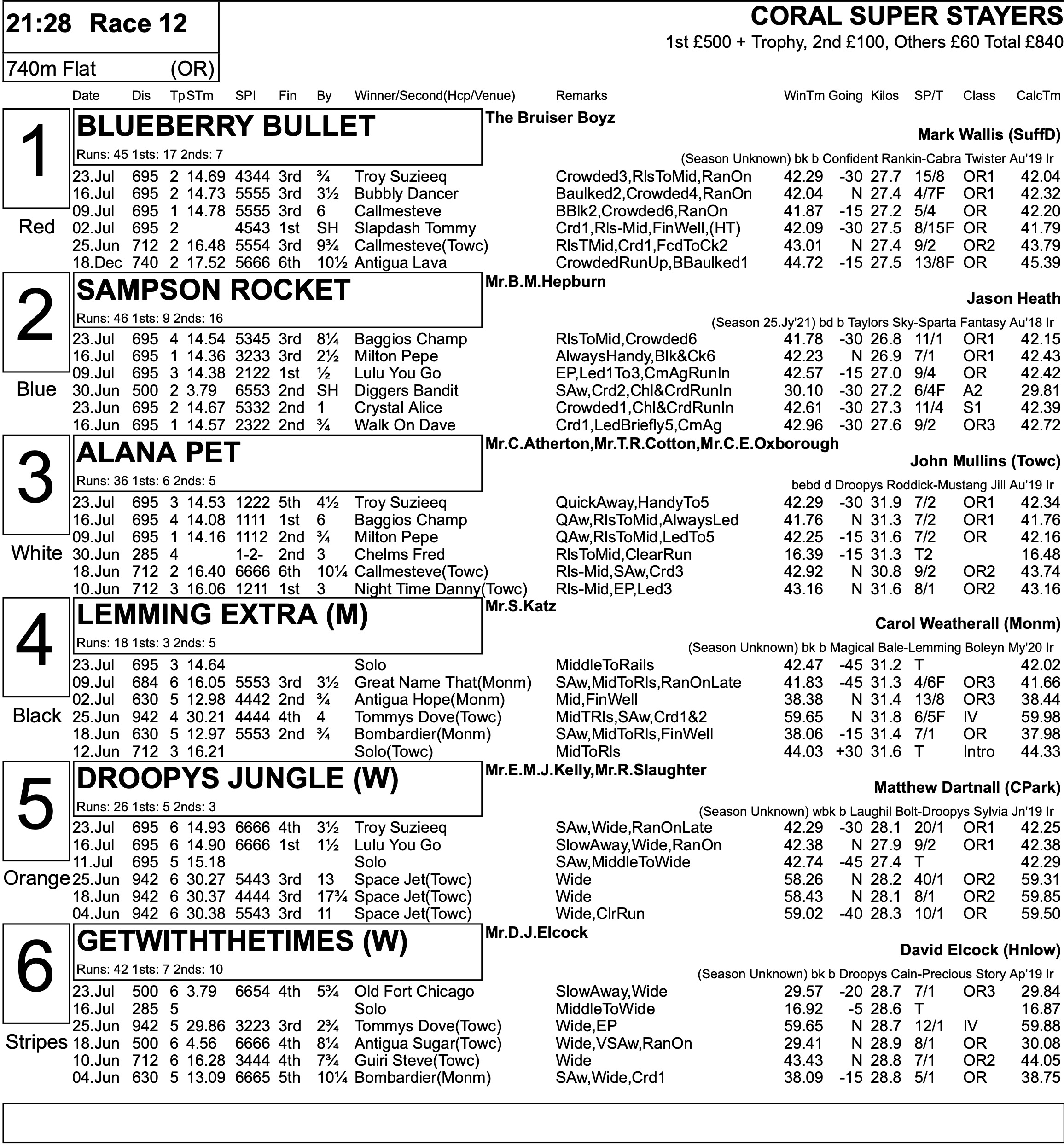 Lemming Extra for Monmore trainer Carol Wetherall races at Hove for the first time in the Coral Super Stayers over 740 metres at 9.28pm. The May '20 whelp has run at Towcester over 942 metres on Derby finals night finishing fourth by four lengths. The 740 metres trip tonight looks well in her capabilities. The daughter of Magical Bale and Lemming Boleyn has won at Monmore over 630 metres in an open race so has shown she can win over longer trips. In a recent trial over 695 metres at the south coast track she clocked a calculated time of 42.02. After the look around the track she will be expected to improve on that.
Darren Holmes, partner and assistant trainer to Carol on her said: "She should get the distance. She has been over further at Towcester. It is a good race though with several Regency dogs in it.
"You never know what type of trip she wants as she is a bit clumsy. She tends to shuffle herself back then starts her running. She left it late at Towcester but if you're not up there early at that track it's not ideal in my opinion.
"There are not a lot of these types of races on the open race calendar so thought we would take our chance. It is a good race and I'll be pushing it to say she could win it, but you'll never know."
Corals and Ladbrokes are offering 7/1 for her to cross the winning line in front.