It's the final day of the first round heats and what a ride we have been on so far. Tonight, is the concluding heats of twenty two to thirty two starting from 6.24pm writes Rob Abrey.
As in the previous twenty one heats expect more twists and turns tonight. For your enjoyment I have endeavoured to find out more about three greyhounds making their Towcester race debuts.
Readers of yesterday's version would have read about Sweep The Yard, trained by Graham Holland which duly won by three lengths in a calculated time of 29.61 at an SP return of 9/2.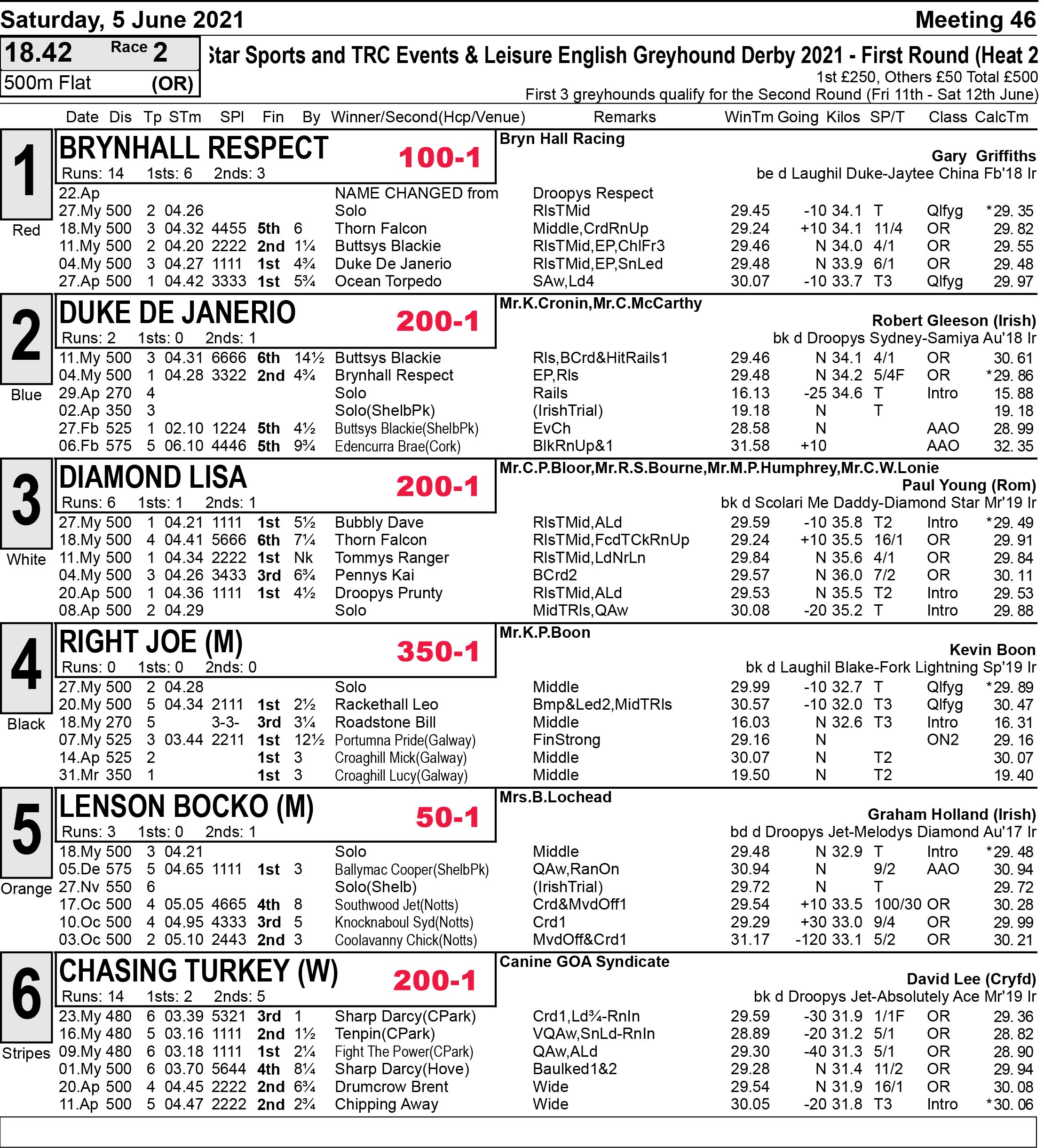 In heat twenty three at 6.42pm his kennel star Lenson Bocko is making his Towcester debut and is covered by yours truly. The 2019 Irish Greyhound Derby victor is having a tilt at winning the English version and is looking to be the first greyhound since Toms The Best to win both. The August '17 whelp has had a recent trial over C&D and showed all is well when clocking a good calculated time of 29.48. Tonight, the son of Droopys Jet and Melodys Diamond has his first race of the year. His last race was back in December when he won at Shelbourne Park over 526 metres.
Graham on him said: "It is very hard to win two Derbys. You always need a certain amount of luck, whether it be trap draws or in running and things like that. It would certainly be a bit of a fairytale should he do it.
"He was unlucky in the derby last year. He wasn't breaking well and had a niggle. After that it was an ideal time to put him to stud. I have some pups now with him and Riverside Honey.
"He is only just over three and a half years old with plenty of experience. I was asked if I could get him ready and he was going very well at home. He went very well at Towcester in his trial.
"He has not been in a competitive race since last December when he ran at Shelbourne Park. When he won the Derby he was seeded wide but he has changed his style of running and is now seeded middle. He will show us whether to change it or not.
"He still has the pace and if he breaks well will do himself justice."
Corals are top price 11/10 for him to get off to winning ways while Skybet and Ladbrokes are offering 66/1 for him to take the outright spoils.
In the first English Greyhound Derby to be held at Towcester back in 2017, trainer Kevin Boon had his charge Murrys Act in the final.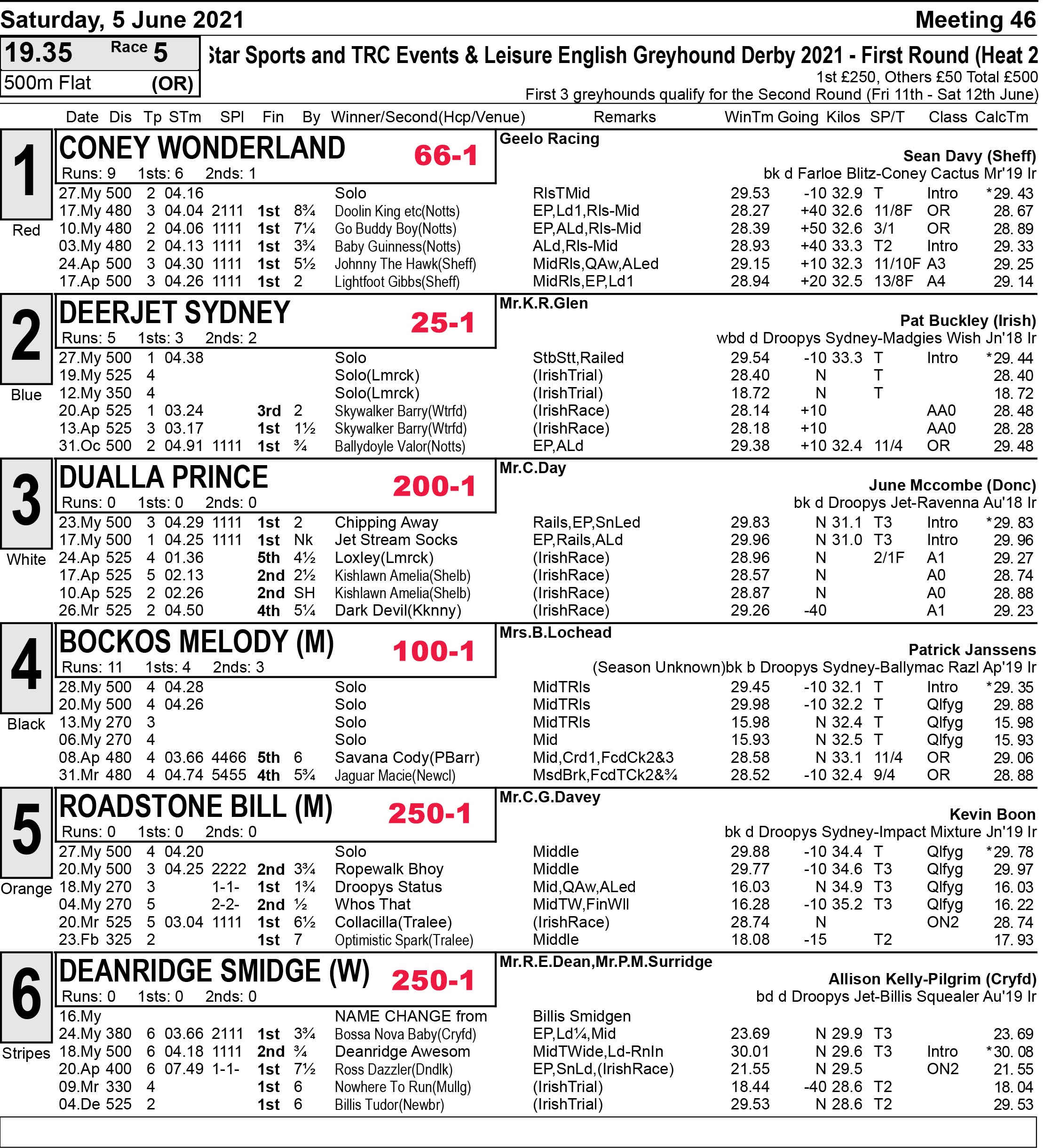 Now back at Towcester he will be looking to go one better and win it. In heat twenty six at 7.35pm, Roadstone Bill is one of two entries for Kevin trying to do that. The January '19 whelp is yet to race on these shores after arriving from Ireland. Over there he does have winning form over 480 metres at Tralee. The son of Droopys Sydney and Impact Mixture has had two trials over C&D where from the first one he improved by nineteen spots. That improvement will be expected to continue.
Kevin on him said: "He looks really good. We have rushed him to get to this point. We are hoping to qualify and improve per heat.
"His preparations were rushed. He took a while to settle in. We have done our best we can do and thought we may as well try him in the Derby, give him race experience and fitness.
"He showed a nice bit of early in Ireland. He is fit and well and all he really wants is a couple of good races to bring him on. He will get better with every race. He is 80% race fit. I'm happy with him but need a little luck on Saturday to get him through."
Bet365 are top price 33/1 for him to win first time up on these shores while Skybet are 300/1 for him to win it outright.
Veteran Sheffield trainer Barrie Draper is having a tilt at the Derby with his charge Jirano Jet. The June '18 whelp is having his first race on these shores after only four trials in heat twenty nine at 8.34pm.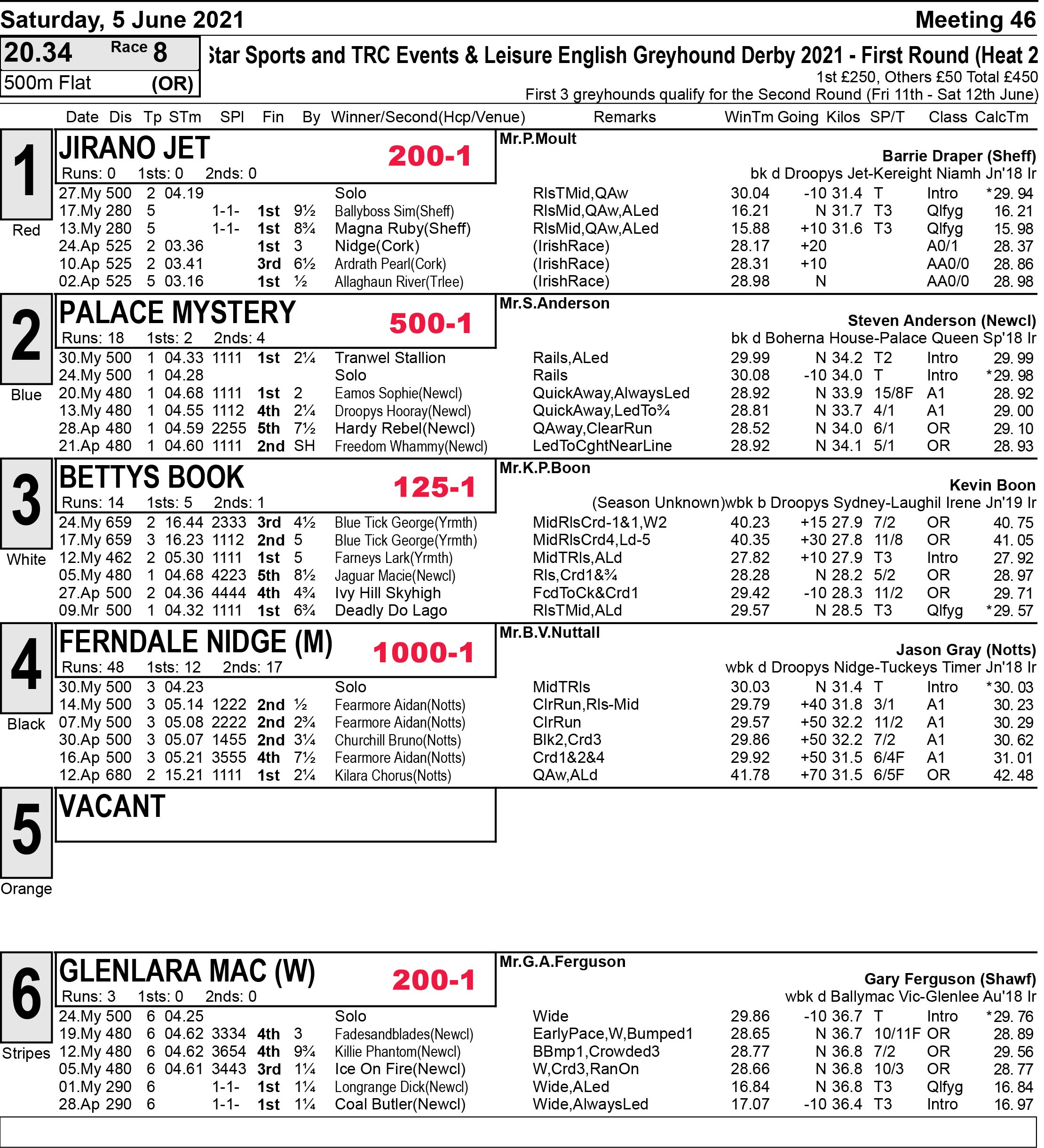 Three of those trials were at home track Sheffield over 280 metres. The son of Droopys Jet and Kereight Niamh has had one trial over C&D clocking a calculated time of 29.94. He will be expected to improve on that first look around. Over in Ireland he is very experienced with twenty five races at Enniscorthy, Shelbourne Park, Tralee and Cork all over four bends. Late last year at Tralee he reached the final of the Kingdom Derby finishing fifth.
Debra Draper, wife and kennel hand to husband Barrie on him said: "Pete Moult the owner bought him for the Derby. It will be nice to get through a couple of rounds and see where we go from there.
"We don't know a great deal about him really. He was bought for the Derby but it's been a rush to get him in. He settled in well and we gave him one trial over 500 metres at Towcester. His trial time was pleasing and you would expect an improvement.
"We didn't want to push him and put him over 280 metres at Sheffield again for a fitness exercise. We didn't want to put him over 500 metres so close to the Derby. His time of 15.86 before going was good.
"Everything is going the right way with him. He has settled in from day one and is a good traveller. I've seen him trial and he didn't stick to the rails like a Ballymac Eske but he is not a middle runner either. We are happy with what we have got (trap one)."
Bet365 are top price 7/2 for him to win first time up on these shores while he is generally available at 150/1 for the outright spoils.
I hope you have enjoyed the first round Derby coverage by yours truly as much as I've enjoyed putting it together, looking at ten greyhounds more closely with the assistant of connections. I will be back next Friday at Romford with 'Rob's Romford Round Up'. I will be back at Towcester all being well for the Derby final night on Saturday 10th July looking at some greyhounds for the supporting opens.