It's day two of the Derby with heats eleven to twenty one on show tonight writes Rob Abrey.
As it is the Derby expect more thrills and spills from the competition all trainers and connections want to win. Like yesterday I have endeavoured to find out more about four greyhounds running tonight.
Towcester trainer Patrick Janssens is yet to win the English Derby in his own right. This year he means business with an eight strong team that could end the wait for him winning it. I have found out more about two of them running tonight.
First to get the 'Round Up' treatment is Aussie Captain in heat twelve at 6.42pm.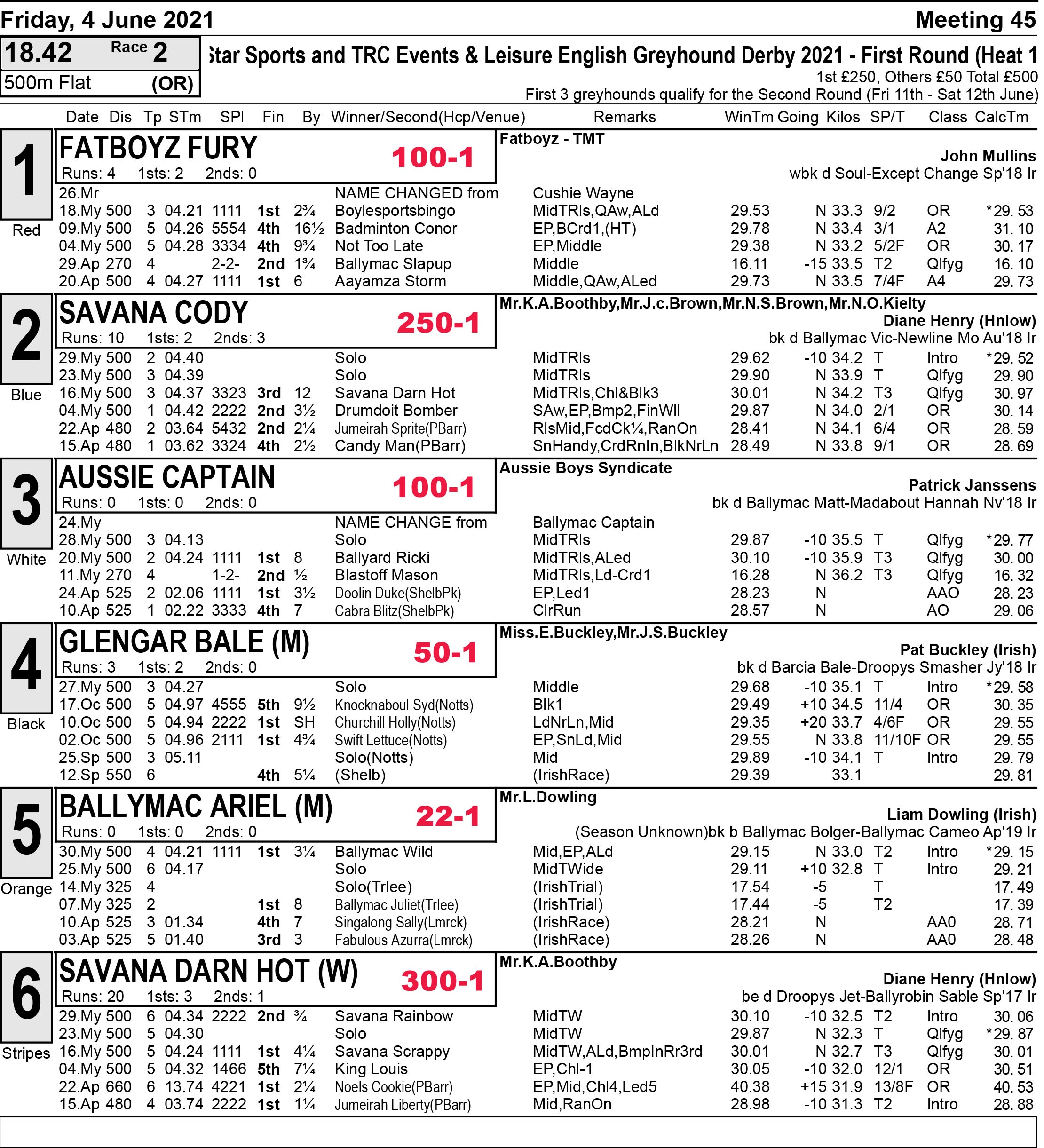 The November '18 whelp is making his race debut on these shores after three trials all at Towcester. Two of those were over C&D where the son of Ballymac Matt and Madabout Hannah clocked calculated times of 30.00 and 29.77. In his second trial he found twenty spots and will be expected to improve on that with more experience around the track. Although making his race debut over here, in Ireland he is experienced with nineteen races to his name. He has winning form at Shelbourne Park, Enniscorthy and Waterford all over 480m metres.
Patrick on him said: "We bought him after he did 28.23 at Shelbourne Park which is some time. At the moment though he doesn't seem to be running the bends at Towcester as well as he did at Shelbourne. I've had this with some other greyhounds before. At the beginning they struggled then got it with more runs. Hopefully, that is the case with him.
"It is a very tough heat; he needs to lead and has the early to do it. He will get the trip and is capable of 29.40. He has trap three and that is perfect for him. He is more middle than rails and it's perfect where he is."
He is generally available at 6/1 to claim his heat and is best price 80/1 with Skybet and William Hills to claim the outright spoils.
Bockos Belly is another for 'team Janssens' that is trying to win the one they all want.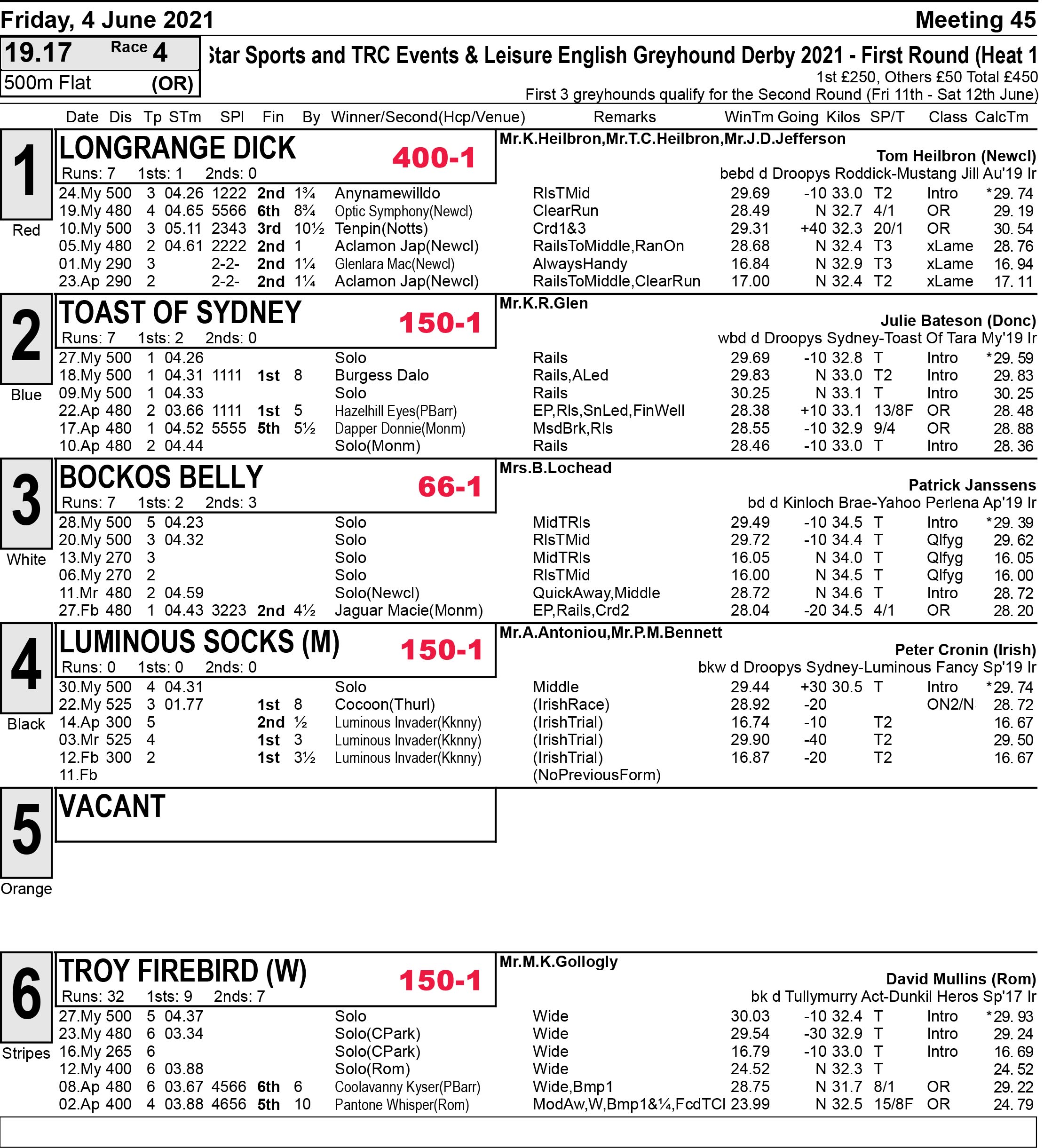 The April '19 whelp goes in heat fourteen at 7.19pm in a five dog affair with trap five vacant. The son of Kinloch Brae and Yahoo Perlena has had race experience over C&D but that was last December where in two races he finished third and fourth. Since then, he finished second in the Ladbrokes puppy derby final at Monmore over 480 metres. He has trialled over C&D recently clocking a very good time of 29.39 in a solo. All seems well for the classy sort going into the first round.
Patrick on him said: "His last trial was very good. 29.39 at Towcester is very good. We will see what he can do throughout the Derby.
"We expect him to win his heat. If you have any expectation for the Derby then he needs to be winning that and show what he can do. He has trap three and that is fine for him. To be truthful he is absolutely bouncing and is the best we have had him."
On all of his eight runners who he thinks could go well, Patrick said: "We have a strong team. Kilara Lion and Thorn Falcon are very good. Bockos Belly and Bockos Melody are also going very well at the moment as well."
Corals are top price 4/6 for him to get off to winning ways in the Derby and is top price 80/1 with skybet to win it outright. Kilara Lion and Thorn Falcon are available at 66/1 and 25/1 while Bockos Melody is generally 100/1.
Newcastle trainer Tom Heilbron on the back of his win in the Northern Flat at home track Newcastle with Pacemaker Ted is taking on the Derby with five of his charges.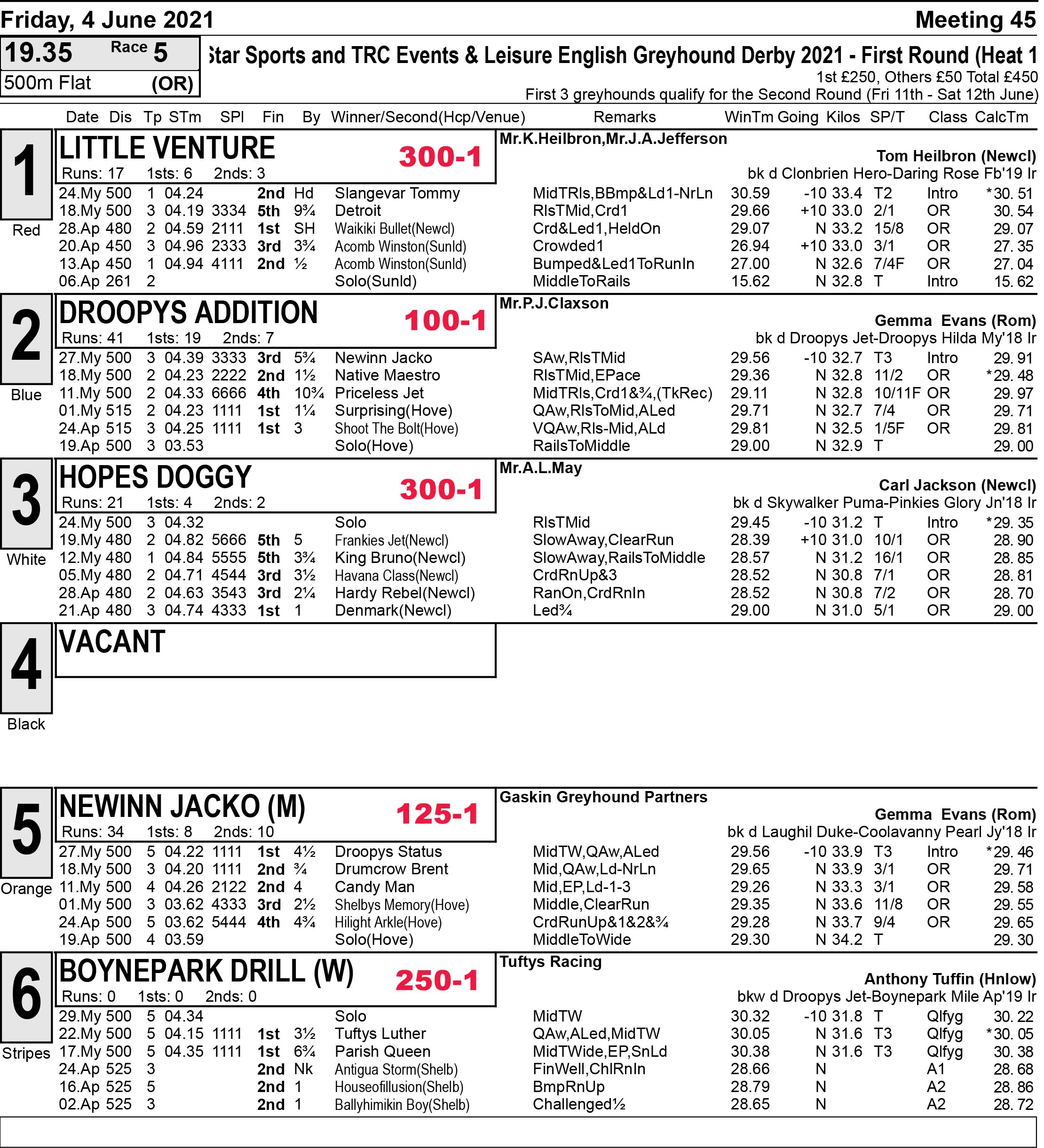 It is Little Venture in heat fifteen at 7.35pm that gets the 'Round Up' treatment. Although the February '19 whelp has had a race and trial over C&D he has found trouble and has not shown his potential. The son of Clonbrien Hero and Daring Rose has winning form at Newcastle, Perry Barr, Nottingham and Sunderland all over 480 and 450 metres. Apart from Newcastle where he won in A2 and A1 graded affairs the wins at the other tracks have been in open races. He can clearly take to other tracks but is yet to show what he can do at Towcester.
Tom on him said: "In his trial the two took each other out early on. He has to lead to win. If he doesn't he will struggle. In his recent race he walked out and struggled. At Sunderland he has the fastest time of the year.
"He did race at Towcester last December in the English puppy derby. His race was before the meeting was called off due to fog. He led to the fourth bend but lost his way in the fog with the race being won by Surprising.
"He is good enough to be in it. He has as much early pace as anything in the competition. Up to 450 metres he is top draw. If he's not in front going into the last bend he probably won't qualify."
Tom on all who he thinks could go best from his five entrants said: "On proven form then Pacemaker Ted. He has proven cat one form when he won the Northern Flat. The pup Anynamewilldo is improving all the time. He has the hardest heat of the five but if he qualifies, I like to think he could go the deepest of ours. He wants every yard and is very game."
Corals and Ladbrokes are top price 7/1 for him to win his heat while William Hills are top price 300/1 to win the Derby. Pacemaker Ted is generally available at 100/1 while Anynamewilldo is available at 250/1 antepost.
Irish based trainer Graham Holland knows what it takes to win a Derby having won the Irish version three times and has entered eight of his charges in this year's English version.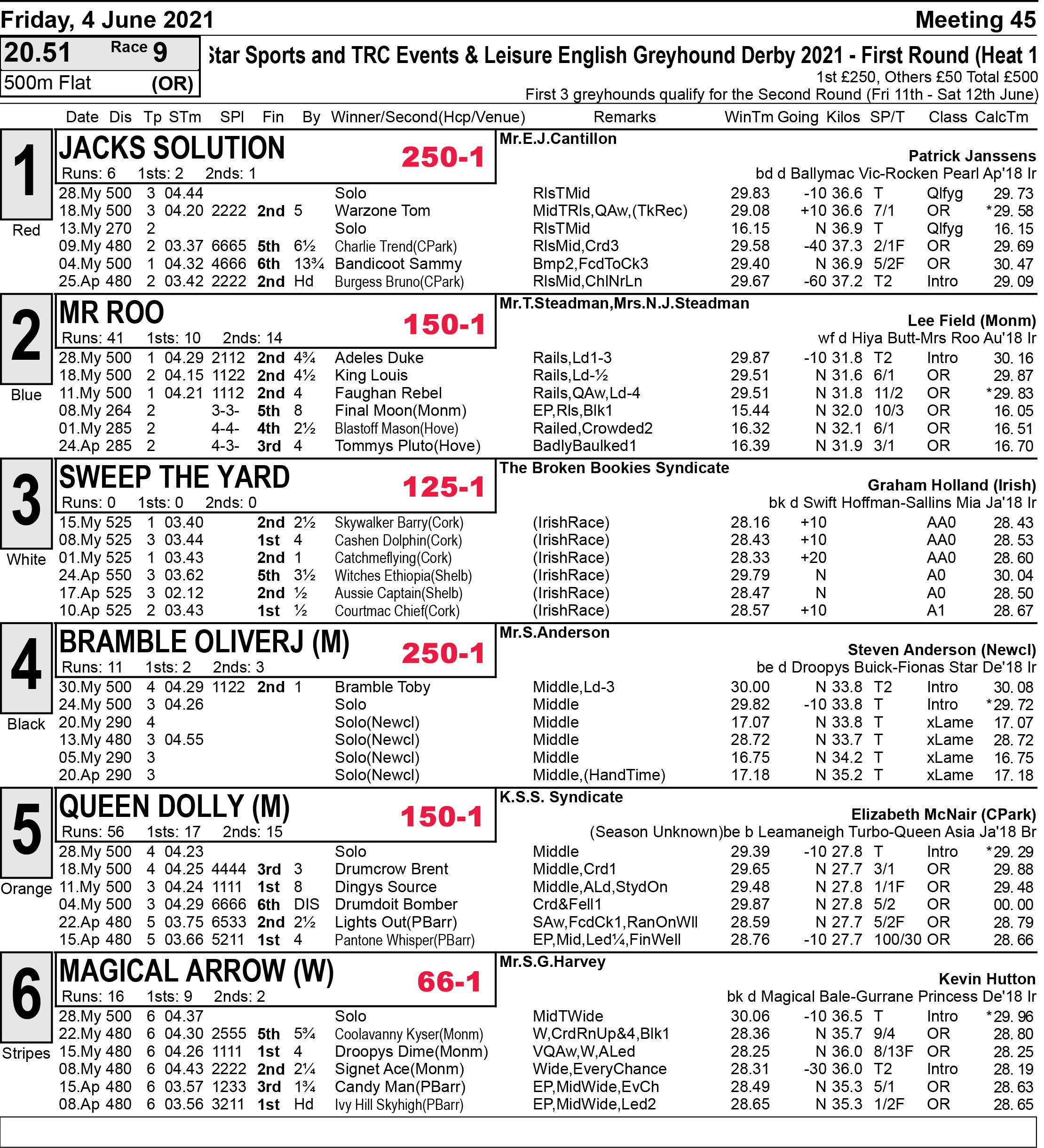 Two of his eight get the 'Round Up' treatment today and tomorrow. Sweep The Yard goes in heat nineteen at 8.51pm having not been around the track before. The January '18 whelp is not inexperienced though with lots of races in Ireland under his belt. The son of Swift Hoffman and Sallins Mia has winning form at Cork and Shelbourne over 480 metres. He has reached the semi-finals of the Laurels at Cork and Easter cup at Shelbourne Park as well as the finishing fourth in the Michael fortune memorial plate also at Shelbourne. He clearly has a bit about him and if taking to Towcester could go far.
Graham on him said: "He came over for a trial, but it was cancelled when the hare broke. It was unfortunate and I'm sure it won't happen again.
"He is a nice genuine dog. He loves Cork. He is an experienced dog and will probably handle the track well as long as he breaks. He stays every inch of Cork and will get 500 metres. He has a bit of early and can stay. He has a bit of both.
"In his last race at Cork he ran well and was unlucky against Skywalker Barry who beat him by only 2 ½ lengths. Barry is a very good dog who has won the Juvenile at Shelbourne and Select Stakes at Waterford.
"He is experienced and can shuffle his way through the pack and can take a bump. He has heart. He is a nice genuine dog."
Several firms are offering 3/1 for him to win at the first time of asking on these shores and 125/1 to win outright.