'Romford Rob' Abrey has quite a following with his regular Friday Round Up column. But a true dog man at heart, he has extended his interest to the Star Sports/TRC Events & Leisure English Derby first round. His contributors today are Chris Akers, John Mullins and Stuart Buckland
You have not got your days confused. It is indeed Thursday and that means the start of the 2021 Greyhound Derby at Towcester from 6.42pm. To coincide with the showpiece competition, I have endeavoured to find out more about three greyhounds from each of the three days hosting the first round. Regular readers of 'Rob's Romford Round Up' will know what that entails. Coverage at Romford will be back next week but as it's Derby time it felt rude not to give the first round the 'Round Up' treatment.
What a perfect way to open up proceedings then start with the opening heat at 6.42pm which kick starts it all. Gymstar Elusive trained by Sheffield's Chris Akers will be looking to get the competition underway with a win. The May '18 whelp has won twice from six starts on these shores with those wins coming at Nottingham over 500 metres. The son of Droopys Jet and Dysert Anna has had two trials over C&D clocking times of 29.79 and 29.65.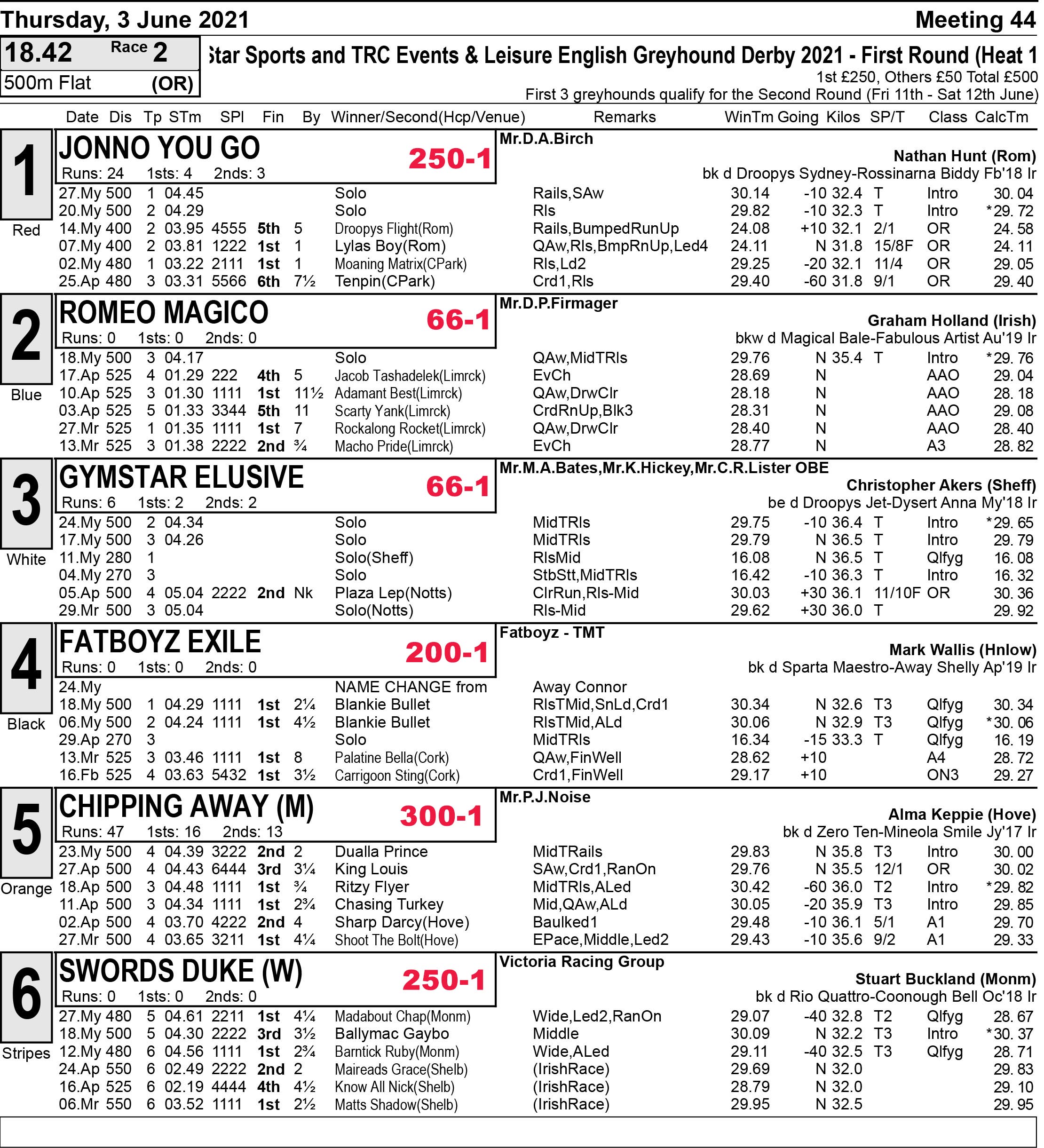 The fourteen point improvement from the first to the second trial is interesting with continued improved performances surely expected from the lightly raced sort. What makes it even more interesting is the fact his overall time improved but his sectional was eight points slower.
Chris on him said: "I'm pleased with the dog. He hurt his wrist just before the Derby last year and it has been a bit stop start for him since. We think he is race fit enough and if we didn't think he had a decent chance we wouldn't be in the competition.
"We wanted to get him to the first round ready and we have. He has only had nine races in his career including over in Ireland. We have got him there and now hope he keeps qualifying.
"It is not the hardest heat in the competition and has a good chance to win it. The only thing is, he's not breaking as he can. His overall form should get him through if not win the heat but we will be happy to qualify,
"I would just like to see him start a bit better. Early on in his career he showed early pace early on and you need did a little bit of early at least at this level. He can finish and although the times are a bit hard to work out he looks like he's running on. Fingers crossed he gets a run and shows what he can do. He has trap three and were not worried about this draw.
"We only have one dog in the derby but as I've always said you can only win it with one dog!"
He is 11/4 with Ladbrokes to take the opening heat and is top price 80/1 with Ladbrokes to take the outright spoils.
Followers of the Romford open race scene will know the name Russian Blake. Trained by local handler John Mullins the June '18 whelp had two recent races over 400 metres at the Essex venue winning both. The son of Laughill Blake and Rushmoorbeatrice then went to Yarmouth and clocked a sub 28 second time over 462 metres.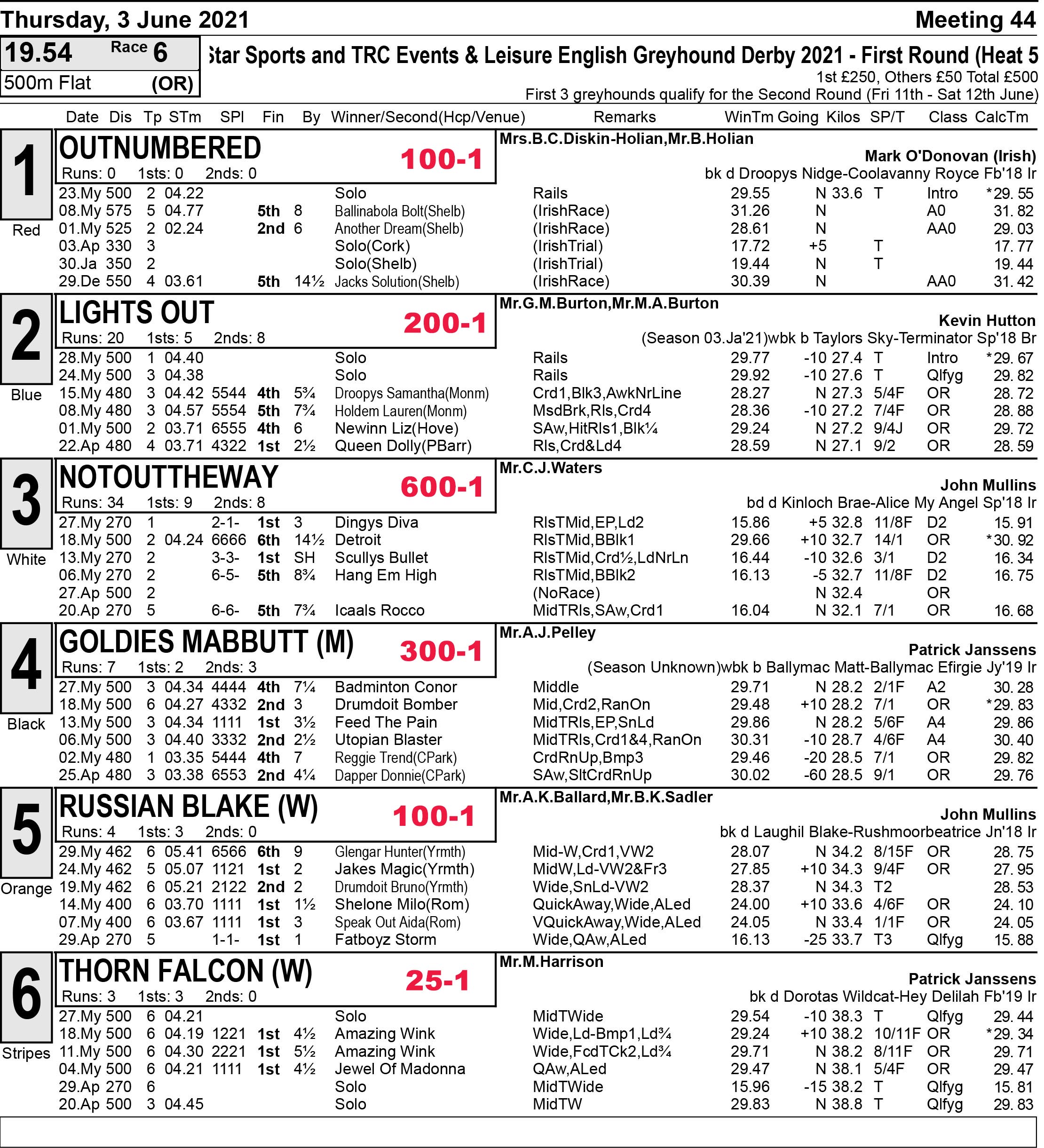 To say he has early pace is an understatement. He has bag loads of it. The furthest he has been over on these shores is over 462 metres. If he gets the 500 metres he will be a livewire, that is for sure. He has had a sprint trial at Towcester so does have some track experience before his Towcester race debut in heat five at 7.54pm.
John on him said: "He will struggle to get it but there is only one Derby and you have to try these things. If we did think he would get it, he would be the ante-post favourite with his early.
"We don't think he will get it but with his early he will be out and be gone and it will be a catch me when you can scenario. He did 27.85 at Yarmouth before going [+10] and in the final fluffed his lines at the start and never looked like getting back into it. You know your fate very early with him.
"He has been at Towcester in sprint trials and loved the place. He has trap five in his heat and that is fine with his early."
John has eleven runners in this year's Derby and when asked he thinks could go well he said: "The bitch Fatboyz Storm. She is not long out of season has had one race at Towcester and is improving all the time.
"I have eleven runners and realistically not sure we have the Derby winner. You never know though."
Corals are 8/1 for Russian Blake to lead and hang on for a heat victory while Skybet are 125/1 for the outright honours.
William Hills and Skybet are 250/1 for Fatboyz Storm to the lift the trophy next month.
Chasing Landy in heat nine at 9.09pm is another chasing the dream for Monmore trainer Stuart Buckland. The March '19 whelp is making his race debut on these shores after five trials. One of those trials was at Towcester over C&D where the son of Droopys Jet and Absolutely Ace clocked a calculated time of 30.04. He will be expected to improve on that time. Over in Ireland he has winning form at Clonmel over 480 metres in A3 graded company.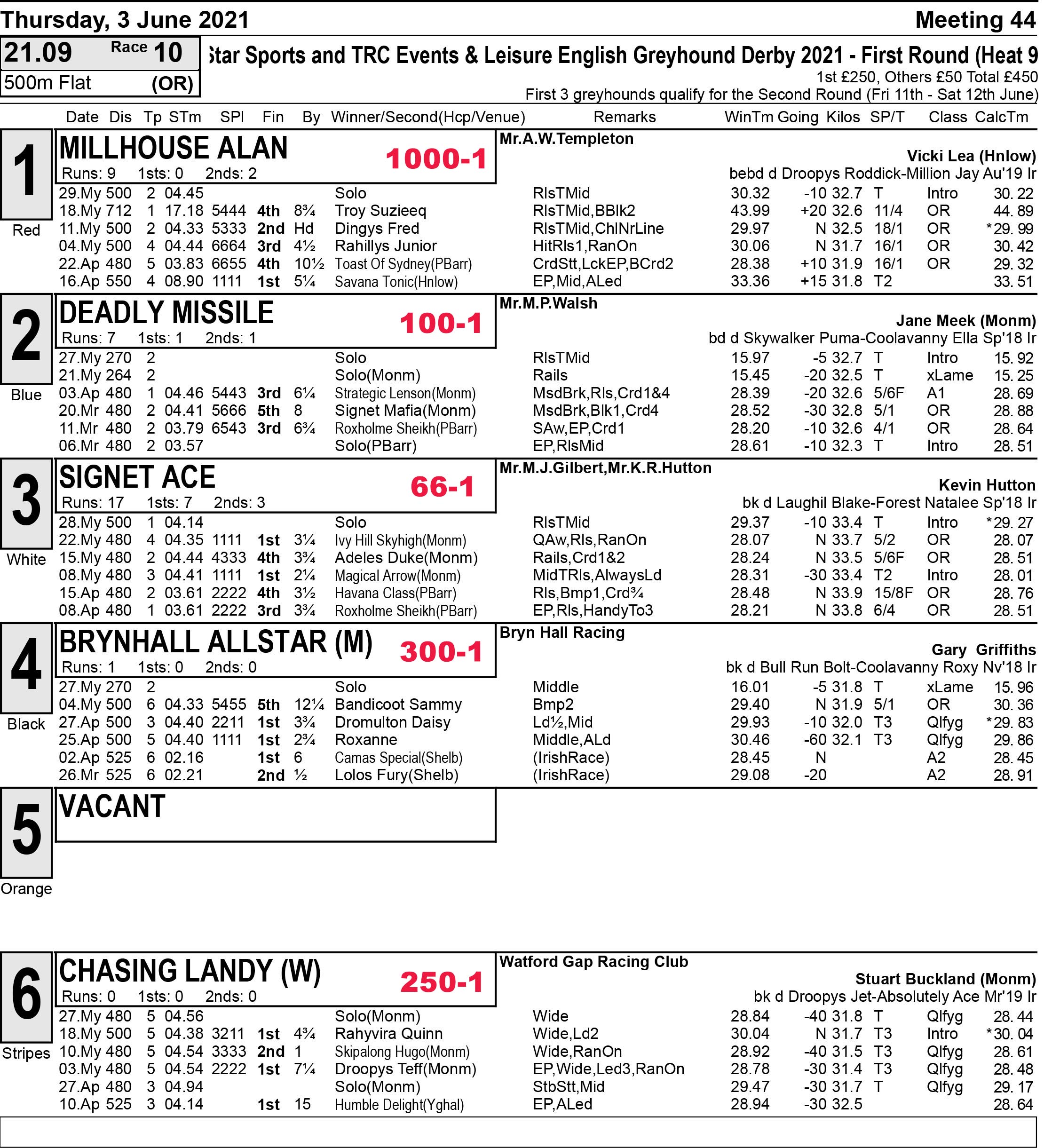 Stuart on him said: "We bought him from Youghal sales. He went well in trials over 480 metres at Monmore. We thought we would trial him at Towcester, he did a nice time for a first look and thought we would give him a crack. Hopefully, he will improve on his trial.
"What we have seen from him he looks a strong dog, keeps running on. We bought him as a strong running sort and he looks just that.
"He is a strong running wide dog. He should keep getting decent draws and could keep qualifying. Everyone seems to want early paced railers for the Derby at the moment. There has got to be room for a wide running strong dog."
Stuart on who could go best from his two entrants said: "Chasing Landy could go the furthest. We are still learning about our other one (Swords Duke) at this stage. We don't know a great about him at this stage."
Ladbrokes are top price 14/1 for him to take his heat on his first run on these shores while he is available at 250/1 with several firms to take the outright spoils.