It's Friday and that can only mean one thing: open racing at Romford. As ever the Essex track have put on opens for our enjoyment. With nine opens amongst their thirteen race card including the start and conclusion of two category three competitions, there is plenty to look forward to. As ever there are several greyhounds making their Romford debuts and stepping up in trip and yours truly has endeavoured to find out more about four of them.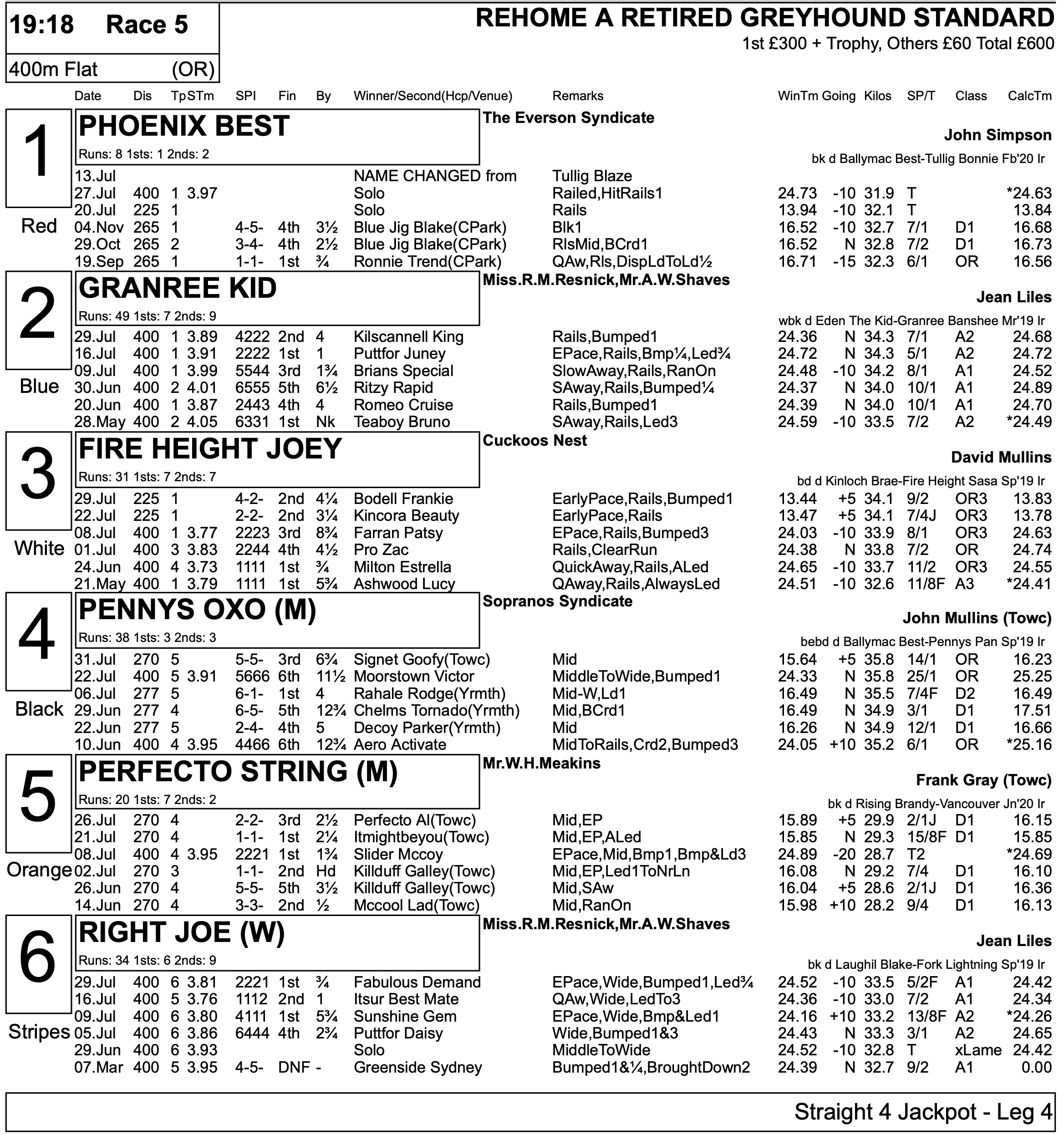 Phoenix Best is not only making his debut for local handler John Simpson but his race one at Romford as well in a standard open over 400 metres at 7.18pm. The February '20 whelp started his career at Central Park late last year with Liz McNair then went into the capable hands of Tony Collett. At Central Park the son of Ballymac Best and Tullig Bonnie won an open race over 265 metres before going to Ireland to race. Over in Ireland the pacey sort won at Dundalk over 366 metres in an S! graded affair. He is now back on these shores with John and after two trials at Romford has been put straight into an open race over the four bend trip. His recent trial of 24.63 over C&D shows all is well and he will be expected to improve on that.
John on him said: "Ian Reilly is a good friend of mine and I got him from him. We are going to take it step by step with him. He is really head strong and has settled in well.
"He won't stay long four bend trips but 400 metres should be ideal for him. He still needs a couple more runs and in the next two or three races could clock 24.20. He did a nice trial over the trip and has bundles of early pace.
"He is not going to be a world beater but may nick the odd open. He is a bang railer so trap one is good for him. He would go inside the fence if he could! He is never more than six inches off the rails.
"We will see how he goes in his first race and take it from there. We are more hopeful than expectant."
Corals are offering 7/1 for him to win first time up at Romford.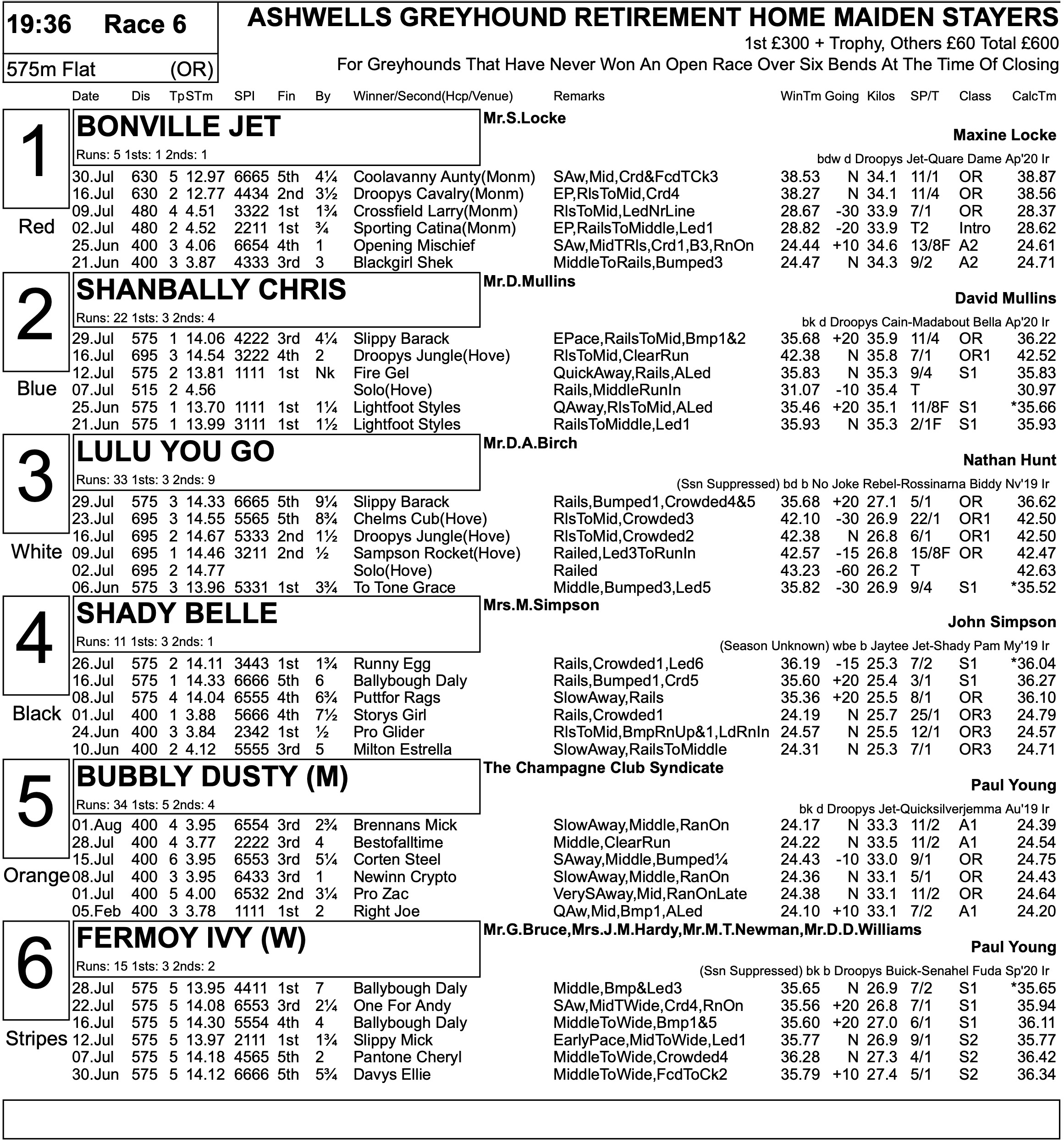 Bubbly Dusty for trainer Paul Young is attempting six bends for the first time after thirty four races over four bends. In a maiden stayers race over 575 metres at 7.36pm the August '19 whelp will be looking to win first time up over the extended trip. The son of Droopys Jet and Quicksilverjemma has won six times over 400 metres including an open race and three times in top graded affairs. He clearly has experience around the track and looks like he needs further with 575 metres looking ideal for him right now.
Steve Fluin, head of the Bubbly Syndicate on him said: "He's been in hard races and couldn't go the pace to the bend. He is not a 400 metres dog but it is a bit of a shot in the dark stepping him up.
"Paul [Young] thinks he will stay and he is brilliant at what he does. If he does get the trip it will have to be off the front and hold on. He will not come from behind.
"He is good enough to lead. He won't be finishing but won't be stopping either. It is not the hardest maiden stayers race and he has won over 480 metres at Central Park. He is good enough to land a maiden and I'll be telling my members to have an interest if the price is fair."
On his other runners, Steve said: "I like both the others chances. I'll be disappointed if they didn't do well. They are both progressive types. It wouldn't surprise me if all three won but not disappointed if they didn't."
Corals are offering 9/2 for the Romford raider to win over six bends at the very first attempt. Corals are 6/4 for Bubbly Dancer to win the 9.28pm and are 6/5 for Bubbly Ranger to win the 'lucky last' at 9.42pm.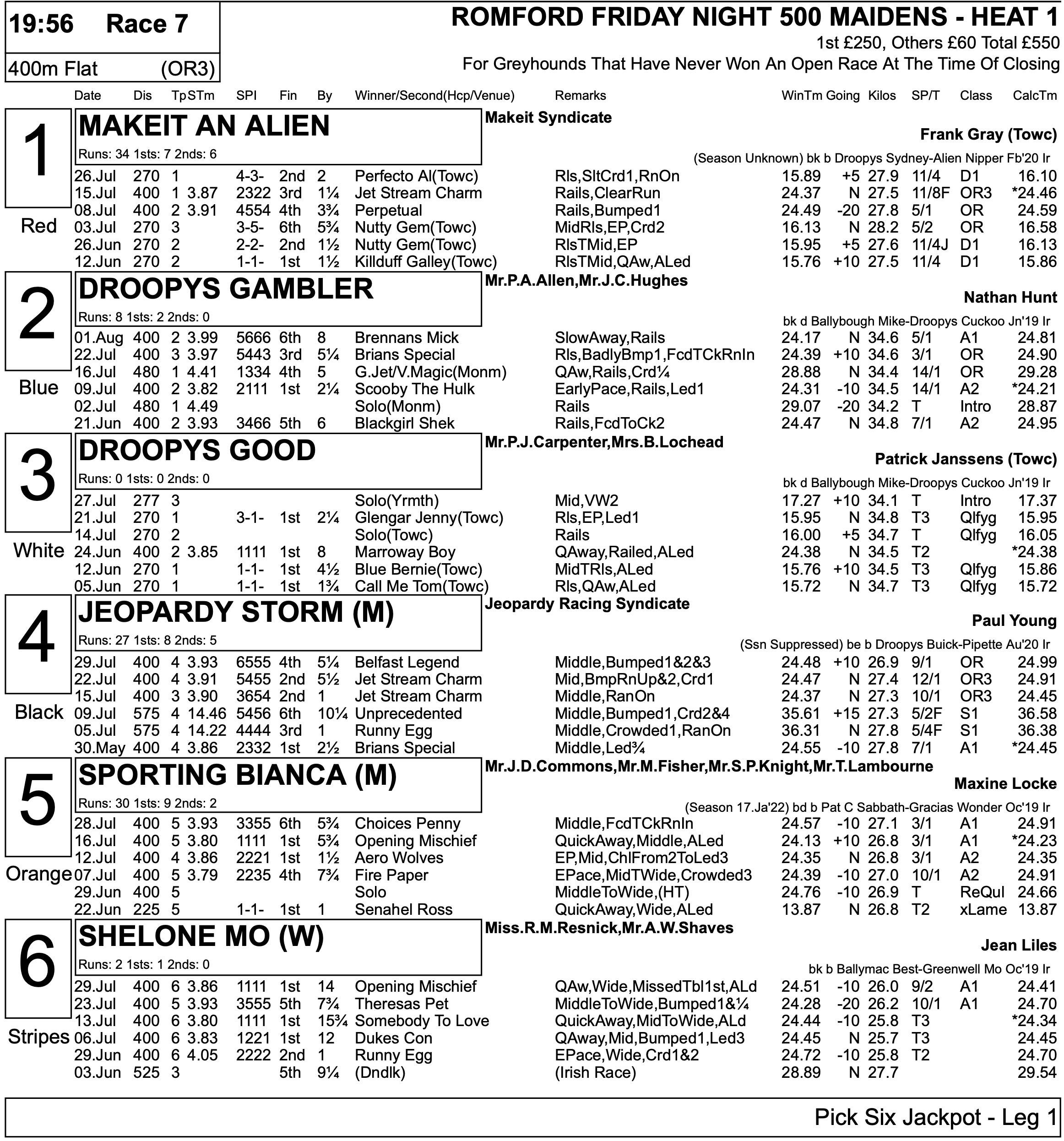 The category three Romford Friday night 500 maidens over 400 metres starts at 7.56pm with Droopys Good for trainer Patrick Janssens looking to get off to winning ways in heat one. The June '19 whelp is making his race debut on these shores but is no maiden in Ireland. The son of Ballybough Mike and Droopys Cuckoo has winning form at Clonmel, Shelbourne Park, Dundalk and Cork. At Shelbourne Park last year he reached the fourth round of the Irish Greyhound Derby. At Cork over 480 metres the early paced sort reached the final of the Irish Greyhound Laurels finishing fifth. In a trial over C&D in June he showed all is well with a calculated time of 24.38 along with a 3.85 split. Since then, he has three trials at Towcester and Yarmouth and will be expected to improve on his return.
Patrick on him said: "He was a fair dog in Ireland at open class. He came over and has done some good trials at Towcester. His trial at Romford was good but not spectacular.
"We thought we would give him a maiden at Romford to start him somewhere and see how he gets on. We expect improvement from his trial. He should be much better than that trial time on his Irish form.
"We gave him one trial at Yarmouth but it wasn't that great. It is a tricky track to get used to first time so might try him there again. We thought about Monmore for the Gold Cup for him but wanted to give him a few races before throwing him at the deep end.
"He is a bang railer but stays fairly straight to the bend so three should be okay for him."
Corals are 11/10 for the former Irish raider to shed his maiden tag at Romford at the first attempt.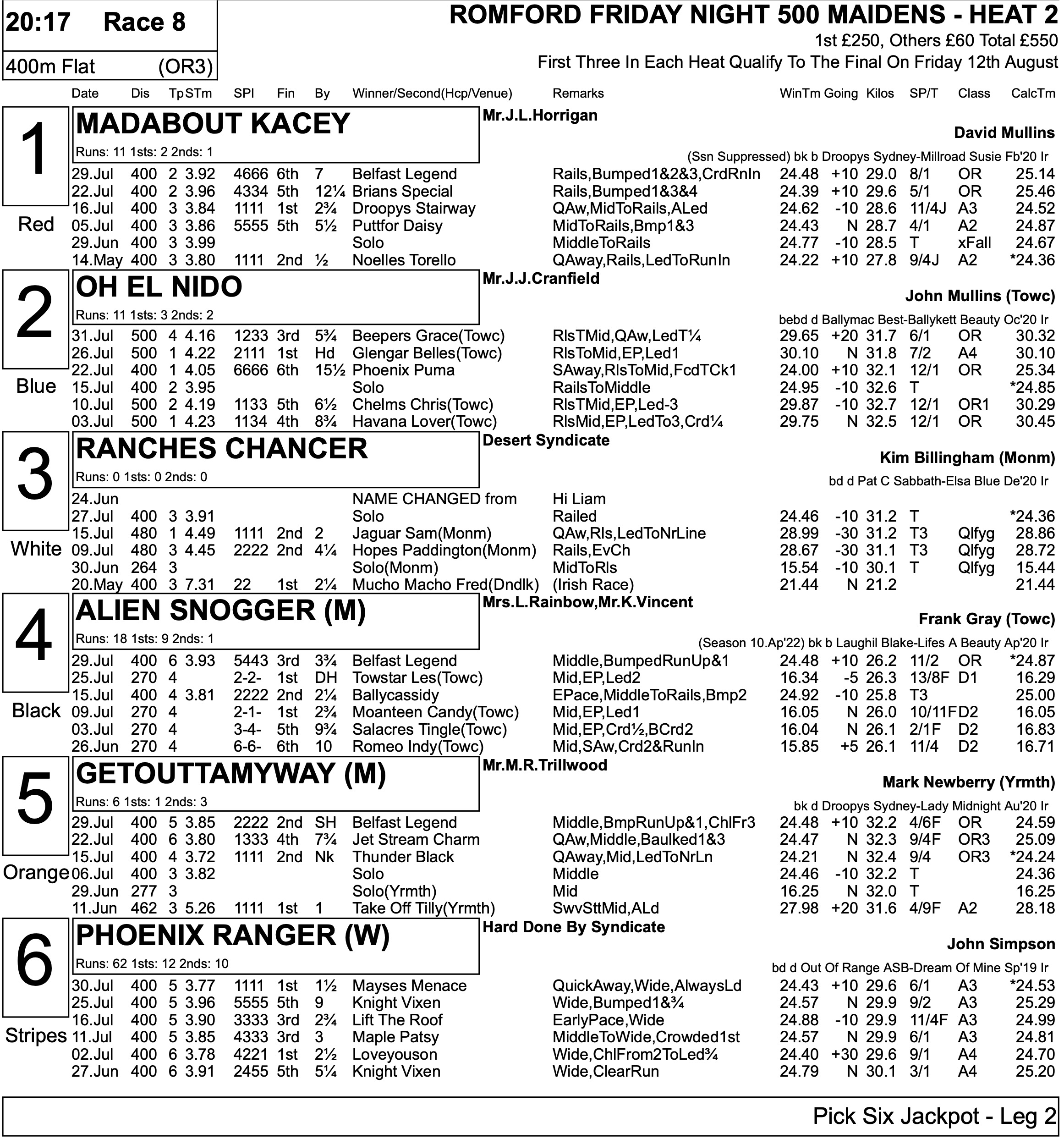 Ranches Chancer is not only making his Romford debut but his race one as well for Monmore trainer Kim Billingham. In heat two at 8.17pm the December '20 whelp will be looking to shed his maiden tag at the first time of asking. In Ireland the son of Pat C Sabbath and Elsa Blue has had one race at Dundalk over 366 metres which he won so does have race experience. He has had one trial over C&D clocking a good calculated time of 24.36. After two trials at Monmore over 480 metres the drop in trip looks ideal for him.
Kim on him said: "He is making his race debut in a maiden as the puppy race didn't fill. He trialled in well at both Monmore and Romford and are well pleased with him.
"He is a bang raiser and will need the rails. He has good early and if he comes away should do well. He looks s capable sort and it looks a nice race for a debut.
"He has early pace on paper and should be up there early. Hopefully he can show us what he can do. We are full of hope he goes well.
"He did a smart trial at Monmore over the sprint trip but 480 metres is stretch for him right now. I'm not saying he won't get get it but 400 metres is s good trip for him right now. We intend to give him a few runs at Romford to aim him for the Puppy Cup.
"We will enjoy watching and learning about him. We have two nice dogs at Romford with two nice chances."
Corals are 10/3 for him to win his first ever race on these shores and are 6/4 for Across The Field to win the 9.12pm over 400 metres.