It's barely half-way through the first month of the year and Romford have started the party already with not one but two competitions starting tonight. The new category two competition Coral maiden starts first. Worth £3,000 to the winner for three runs over 400 metres, it is open to greyhounds that have not won an open but have run at least six races, graded or opens in the UK. Straight after the last of the six heats, the Essex Vase takes over.
With no time to catch the breath, the showpiece category one competition gets underway. First inaugurated in 1939 the category one competition has been won by greats such as Delores Rocket, Ballyregan Bob and El Tenor. The thirty six greyhounds competing tonight will be trying to get their name etched on the trophy amongst those prestigious names.
As ever there are several greyhounds making their Romford race or six bend debuts and yours truly has found out more about two from each competition.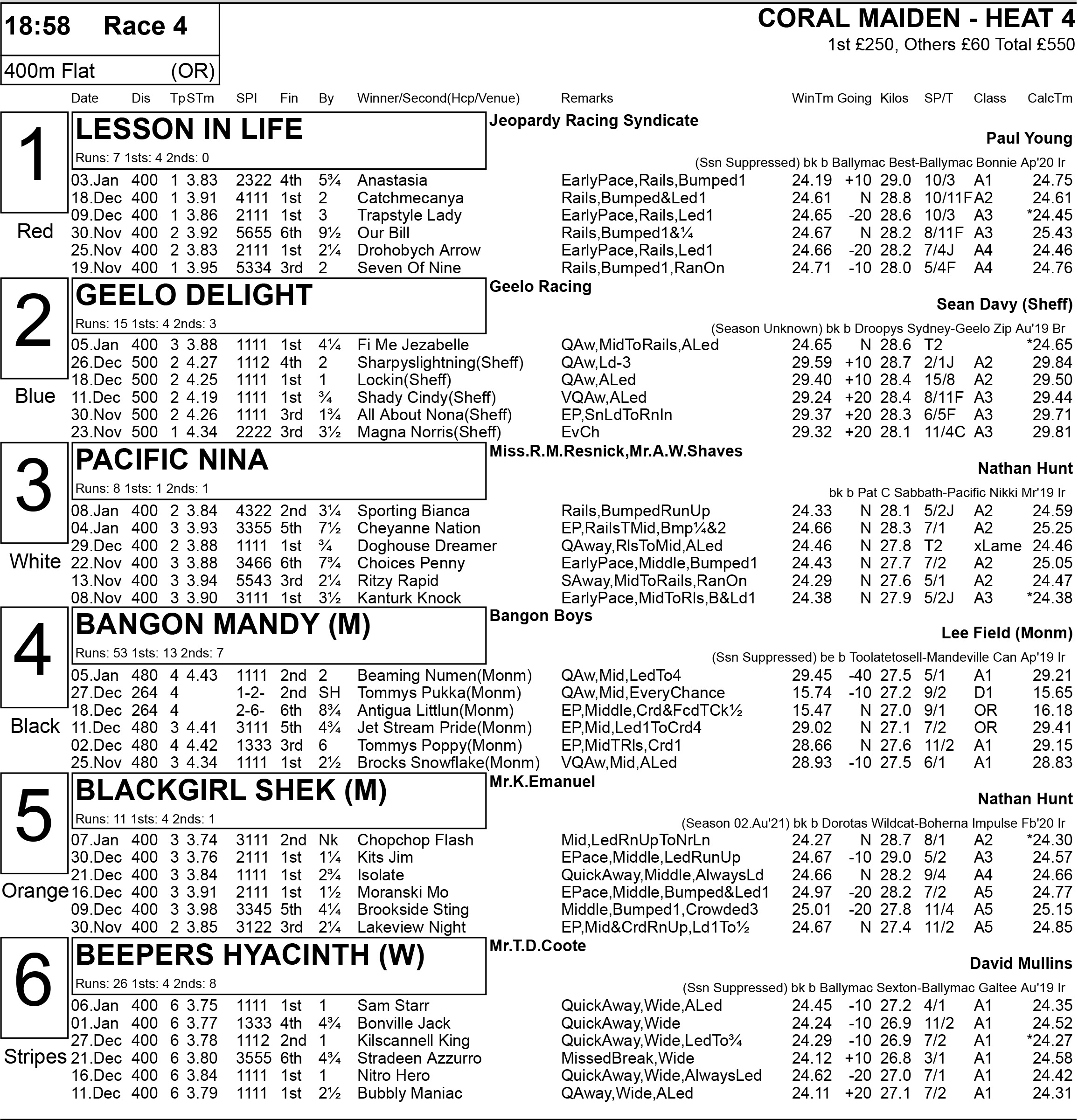 Heat four at 6.58pm sees another Sheffield raider take on Romford. Geelo Delight trained by Sean Davy tackles the Essex Venue in a race for the first time after one recent trial over C&D. In that trial the August '19 whelp clocked a decent calculated time of 24.65. The early paced daughter of Droopys Sydney and Geelo Zip will be expected to improve on that.
Like Sir Gordon the drop to 400 metres could prove beneficial for her. She has had all her fifteen races at Sheffield winning four times. One of those wins came over 280 metres in a D3 graded affair. The other three were over 500 metres in A4, A3 and A2 races.
Sean on her said: "She has plenty of early. 500 metres is too far for her at Sheffield and 400 to 450 metres could be her cup of tea.
"She handles the track better first time than I thought she would as the tracks are so different. We expect her to find a fair bit on her trial time.
"She has clocked a 4.19 sectional at Sheffield and not many will beat that this year. She is a very good trapper. She has trap two and traps two or three are her boxes. It's where she wants to be. Trap one is not ideal for her.
"It is a nice competition with a good format and the aim is for to at least qualify. Our other hope for it was Geelo Striker. He would have been our main hope but is having a bit of time off but hope to be back at Romford with him soon."
Corals are top price 6/1 for her to win at Romford at the first time of asking and Ladbrokes are 40/1 for her to lift the trophy.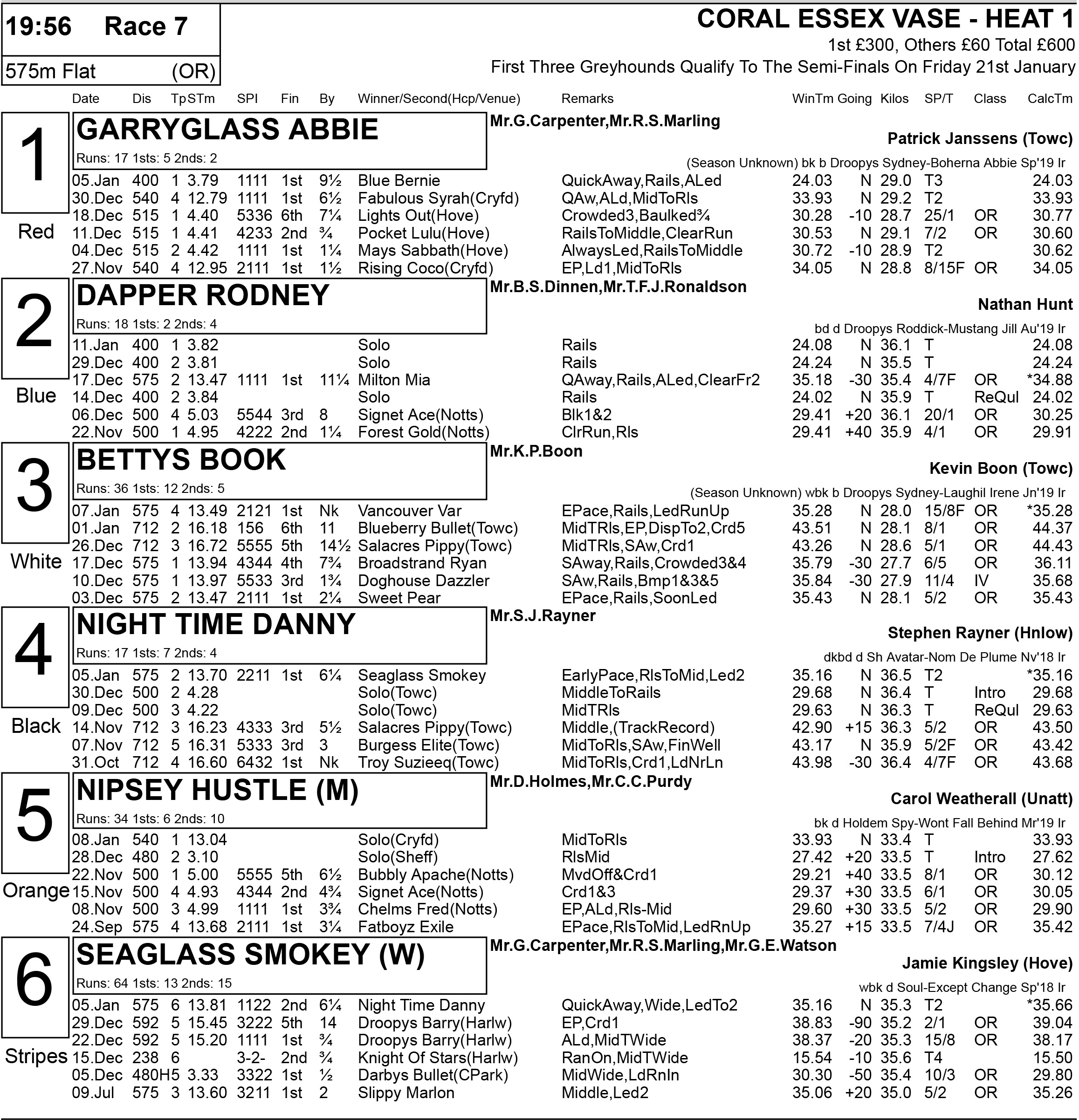 Garryglass Abbie attempts her longest distance to date for Towcester trainer Patrick Janssens. The furthest the September '19 whelp has run over is over 540 metres at Crayford where has won twice from three.
The daughter of Droopys Sydney and Boherna Abbie although running over 575 metres for the first time tonight in heat one at 7.56pm, does have Romford experience. She ran over 400 metres last October finishing last after some third bend trouble.
She has had a little spin over 400 metres in a trial earlier this month and showed all is well with a very good calculated time of 24.03 along with a 3.79 split. That was from trap one which she has tonight. If she replicates that early tonight, she will be a player.
Ria Tillet assistant trainer to Patrick, said: "We are really pleased with her. Off the front she will definitely get it. She won't do it from behind as she can be a bit clumsy.
"If she can repeat her trial she should lead. There are some strong stayers in the race and hopefully they don't turn too handy.
"She will come on for the run as she needs it. We always thought Romford would suit her but have been going to competitions like the Brighton Belle at Hove with her. She is a bit in between distances. She doesn't quite have the early against top four bend dogs but is not a strong stayer. Romford could be her track.
"We are very happy with her draw in trap one. She is a tight railer and sticks to her lines. The draw has worked out brilliantly. "
William Hills are top price 10/1 for her to win her race over her furthest distance to date and is generally available at 50/1 to win the Essex Vase outright.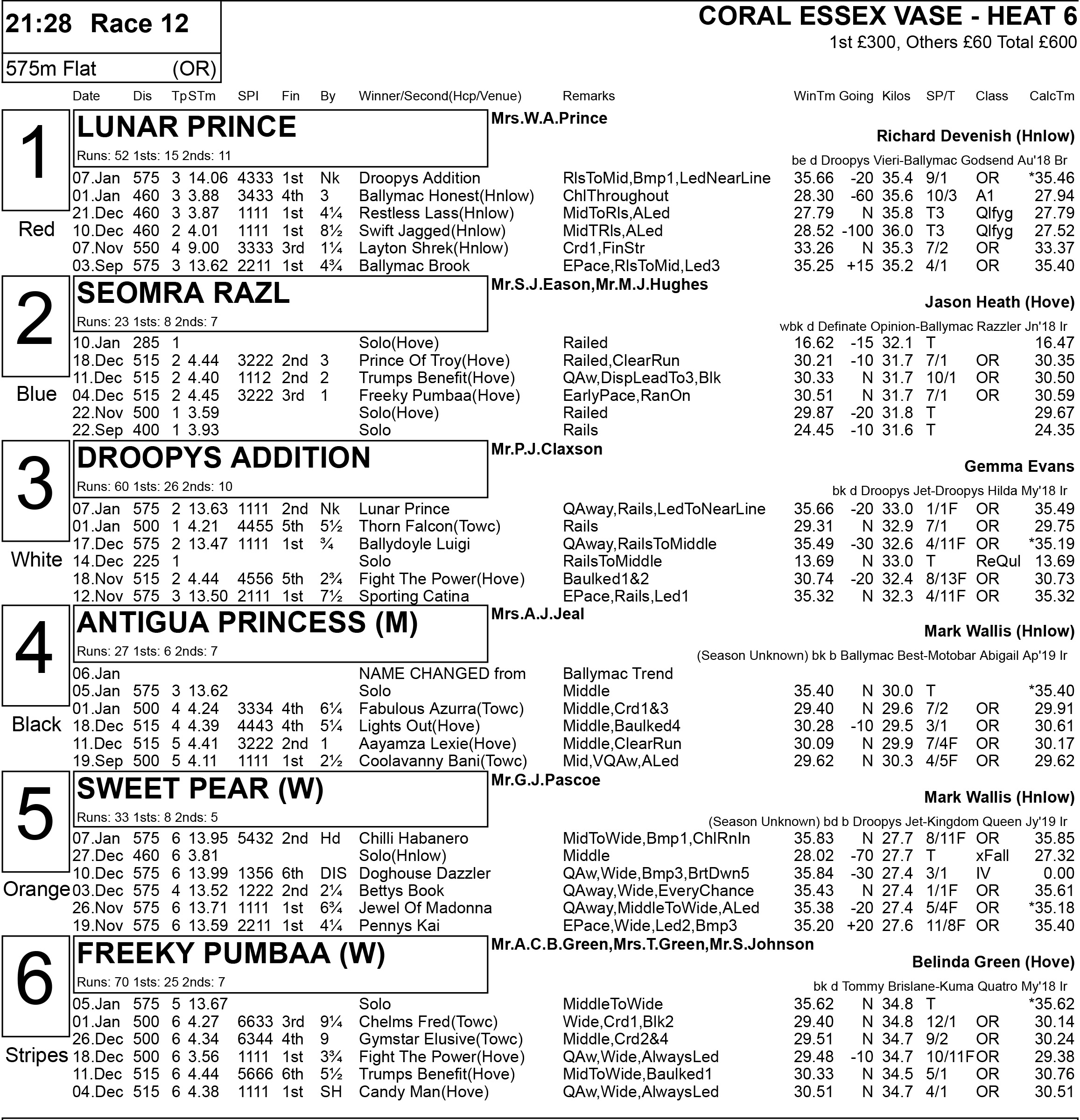 Seomra Razl for Hove trainer Jason Heath makes his six bend debut in heat six at 9.28pm. The May '18 whelp has proven four bend form though by finishing second in the Olympic at Hove over 515 metres at Hove last month. The June '18 whelp has won eight from twenty three; a strike rate of 35%. All but one of those wins have come in open races at Hove, Monmore and Swindon.
Although he is making his six bend debut at Romford the son of Definate Opinion and Ballymac Razzler has had one trial around the Essex track over 400 metres last September. In that trial he clocked a good calculated time of 24.35. Tonight, is his first run since the Olympic final last month but showed in a recent trial at home track Hove over 285 metres recently all is well with his 16.47 calculated time. Traditionally, greyhounds that get 515 metres at Hove get 575 metres at Romford.
Jason said: "He seems to be running on over 500 and 515 metres. He seems to have lost a bit of early and stays better. His style of running has changed a bit.
"He has a bit of early and I think he will get the distance. If he can get on the bunny he will be hard to peg back. If you get 515 metres at Hove you can get 575 metres at Romford. He looks Taylor made for it right now.
"He needs to kept fresh and is in good spirit. He is as good as he can be. He has been kept fresh. He was the Olympic runner up with good dogs behind him. The best dog won on the night.
"He can move off a bit from trap one and tends to trap better from two. He is a sensible trapper. He had trap two in every round of the Olympic and finished second."
Ladbrokes are offering 14/1 for the Olympic finalist to win over six bends in his very first attempt and Ladbrokes and Betfred are 50/1 for him to take the outright spoils.