It's Friday and that can only mean one thing: open racing at Romford. The Essex track once gain has put on a bevy of open races for us to enjoy. From their twelve race card, eleven are opens with two minor competitions getting underway.
One of those competitions is the Romford Friday night maiden stayers over 575 metres. These races always attract interesting entries and yours truly has endeavoured to find out more about one from each of the two heats along with a maiden over 400 metres.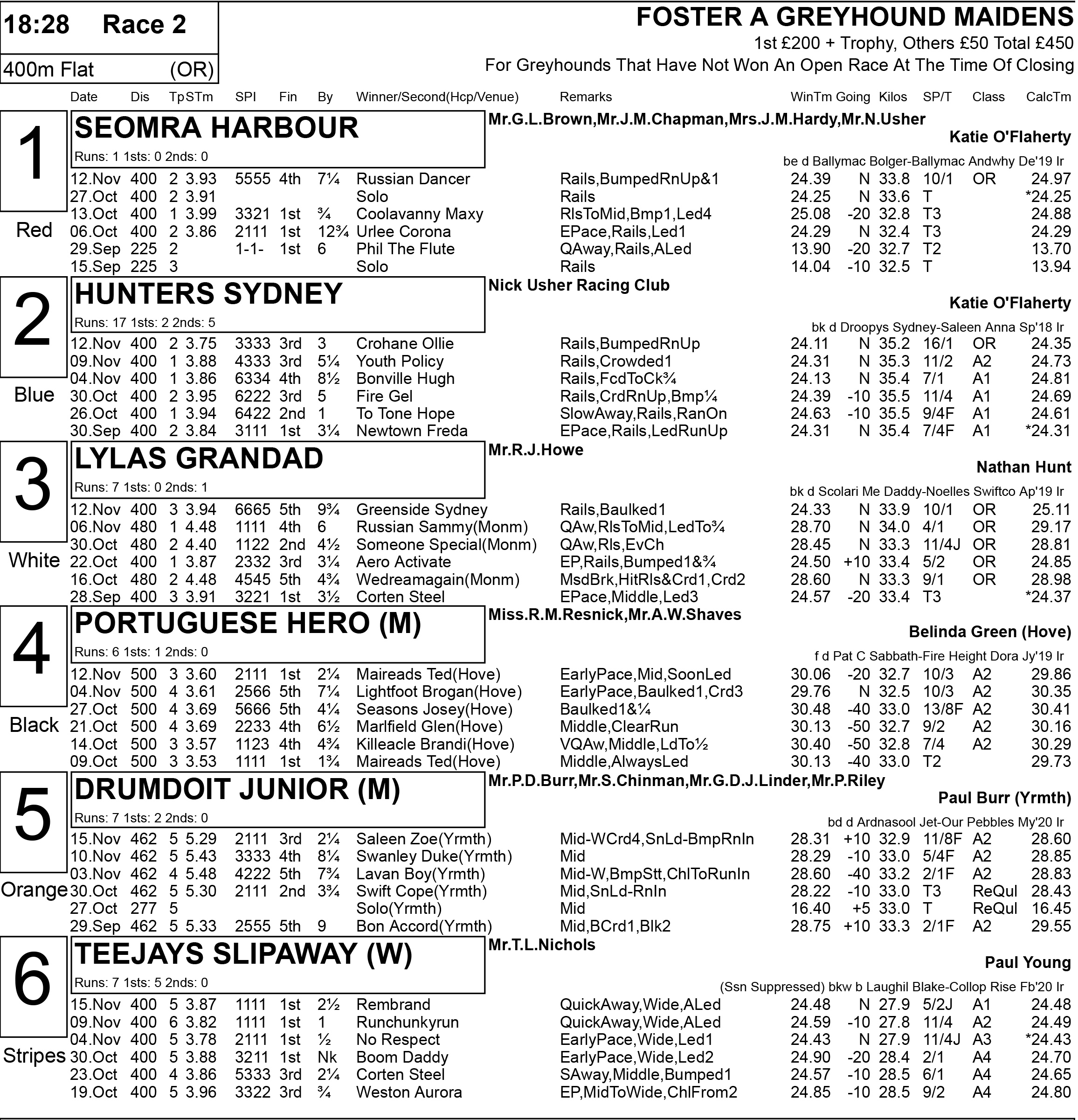 Yarmouth trainer Paul Burr spends so much time in Essex these days he will soon pop up in TOWIE. The Romford open race regular is back once again giving his charge, Drumdoit Junior his Romford debut in a maidens race over 400 metres at 6.28pm.
The son of Ardnaseed Jet and Our Pebbles has had all of his seven races at home-track Yarmouth over 462 metres winning twice. Those two wins came in A4 and A3 graded affairs. The May '20 whelp has early pace and will need to utilise that to shed his maiden tag at the first time of asking.
Paul on him said: "He's an interesting sort. Were giving him his Romford debut as he has a lot of early pace like our Zari Rose. He's not quite getting the 462 metres trip at Yarmouth. In his last run there he was two lengths in front to the run in and came third. He'll get it in time and especially on summer going. He's only a May '20 puppy. He will get stronger.
"He looks the ideal Romford type. The distance is perfect for him, trap five is perfect for him. We're expecting a bold show from him. He has not been at Romford before but took to Yarmouth straight away."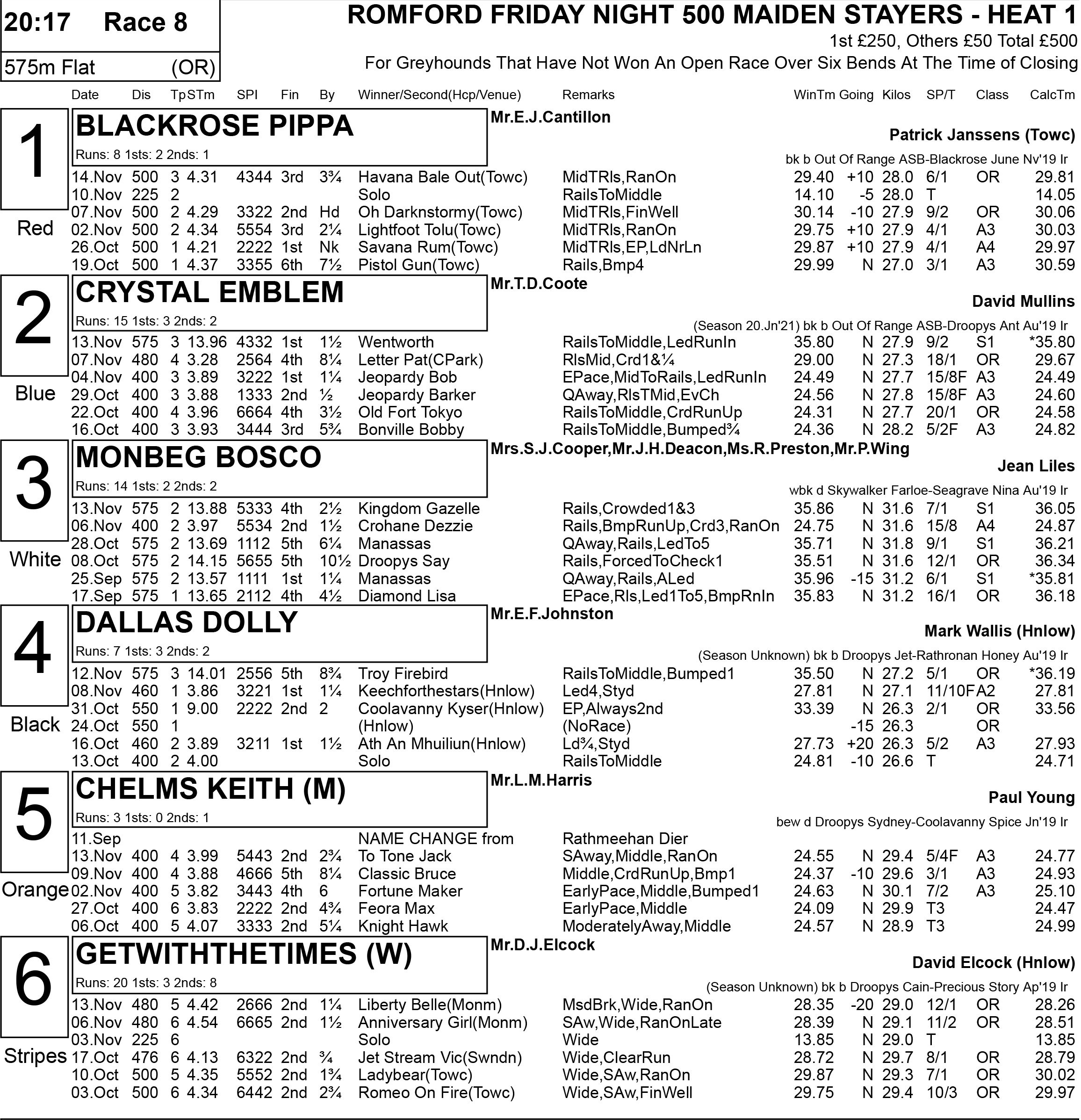 The first of the two maiden stayers heats over 575 metres starts at 8.17pm and Getwiththetimes for Henlow trainer David Elcock will be looking to take the spoils. The April '19 whelp may be making her Romford race debut but the daughter of Droopys Cain and Precious Story is no stranger to six bend trips.
She has had six races over the longer trips at Monmore, Hove and Towcester but is yet to get off of the mark. Over 575 metres tonight could be where that all changes. Over four bends she has won three times, all at open race level at Central Park and Towcester over 480 and 500 metres.
She does have some track and traps experience with a spin over 225 metres earlier in the month, In that sprint trial she clocked a decent calculated time of 13.85.
David aid: "She will get the trip for sure. She has been crying out for longer. She will get every inch of 575 metres. She wasn't at her best in October so we gave her a couple of weeks off to treat and rest her. After that we gave her a trial at Romford over 225 metres and went okay to do 13.85 first trial back.
"We then took her to Monmore for a little bitches competition over 480 metres. She finished second twice and was beaten by two fantastic bitches in Anniversary Girl and Liberty Belle. In the final she beat Ritzy Lady who is another fantastic bitch. She ran out of her skin considering it was over 480 metres. She came second in the final by 1 ½ lengths but was first to the pick-up.
"Ideally, right now she is a 600 metres bitch. She may get stronger next year. She has had a little trial at Romford and will benefit from it and hopefully won't be too far away. She is a wide runner so six is a great draw for her. We are hoping Romford may hold her in a bit."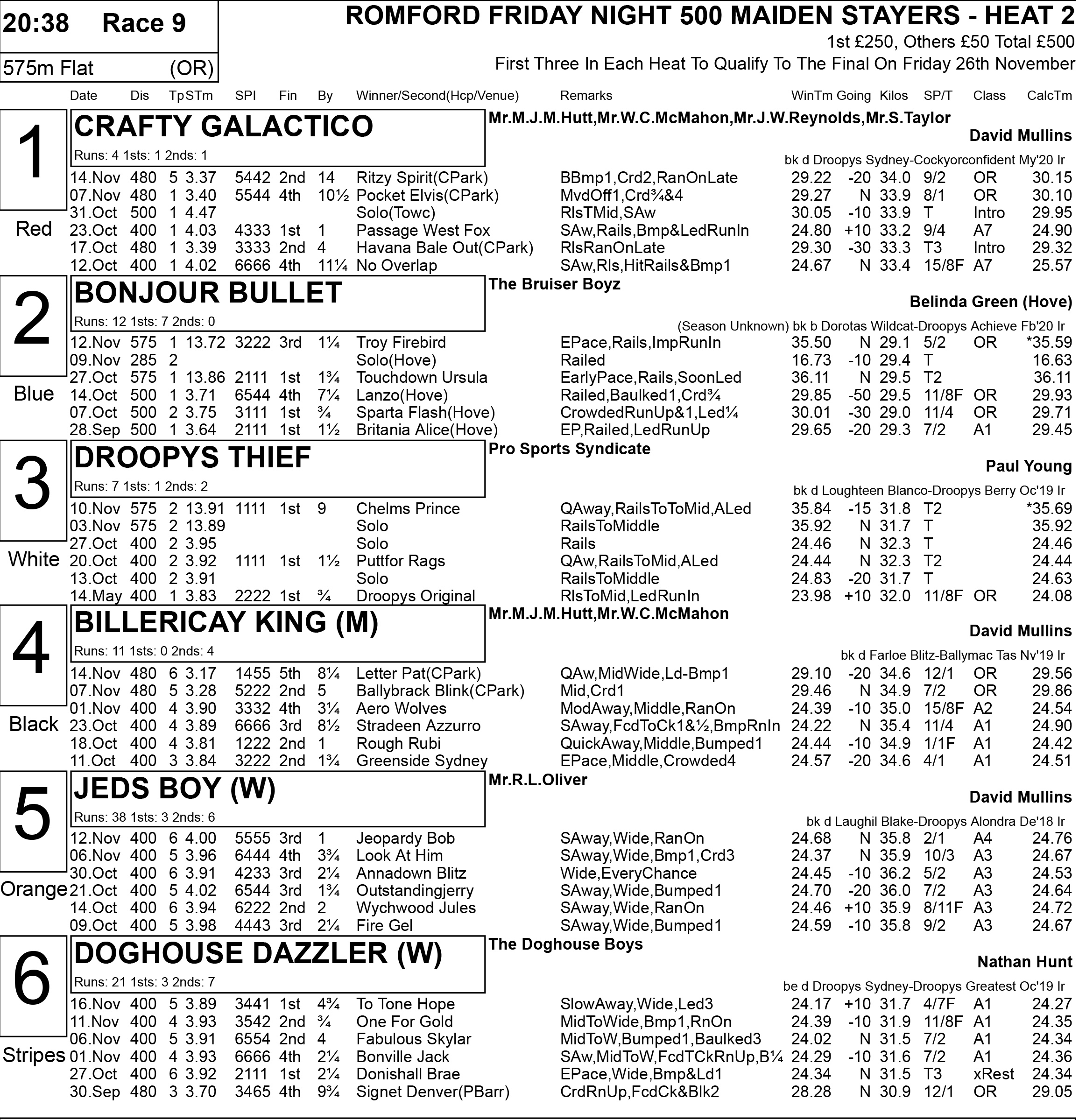 Local raider, Doghouse Dazzler trained by Nathan Hunt steps up to six bends for the first time tonight in heat two at 8.38pm. The October '19 whelp has had the majority of his twenty one races at Romford over 400 metres.
His three wins have all come at the Essex track in A5, A3 and A1 graded affairs. That A1 win came on Tuesday where the son of Droopys Sydney and Droopys Greatest clocked his best time to date of 24.17. He goes into tonight's race in fine fettle and if able to get the trip could make it back-to-back wins over different trips.
Nathan on him said: "I expect him to stay. He got to the Puppy Classic final at Nottingham and stayed the 500 metres well. After that we gave him a break and dropped him to 400 metres for a few graded races.
"He won on Tuesday and ran really well. He lacks a bit of early for 400 metres but if he gets room, he is very fast from the third bend.
"He has been crying out for six bends. We were waiting for a little 575 metres maiden competition to enter him in. We're looking forward to seeing him over six bends.
"He has trap six and should clear the five dog and get a run. He is not devoid of early and can be closer to the front over 575 metres than he is over four bends."
On his other runners Nathan said: "I like Zoomey Saoirse in the third race for puppies. She is a nice bitch and has already done 24.12 around Romford. She has a good draw and if she traps, she will give herself a good chance."