We have two through to Monday's British Breeders final at Nottingham and the race is important to both our runners but for different reasons.
I would love to see King Sheeran win it because 364 days previously he broke his hock in the semi finals of the same competition. Dogs have good memories but he still drives fearlessly into that first bend. Even as a wide runner he loves the track and was unlucky not to reach the Derby Final.
The draw is not ideal. I would have preferred either six for a clear run on the outside or four, to have been on the inside of Heather Dimmock's dog. But there is not point in moaning about trap draws, you just have to accept them. Besides, Sheeran has won from traps two out to trap six so we will just get on with it.
As for King Turbo, he looks perfectly drawn in red. I expect two to move off on the run-up and he should get a perfect run on the inside.
Unfortunately, coming up to four, he is doesn't have the pace that he used to have, and I have also noticed that he is looking after himself a bit these days. We know his career is coming towards the end and after speaking to Brendan (Keogh), we've decided that if he were to win on Monday, it would be his last race.
And that shakes me a bit. It only seems like five minutes ago that I was turning up with two young British breds, Turbo and King Elvis, and expecting to win. Obviously, it didn't always go as we wanted, but when those two were at their peak, and running on tracks and distances that suited them, I didn't fear anyone.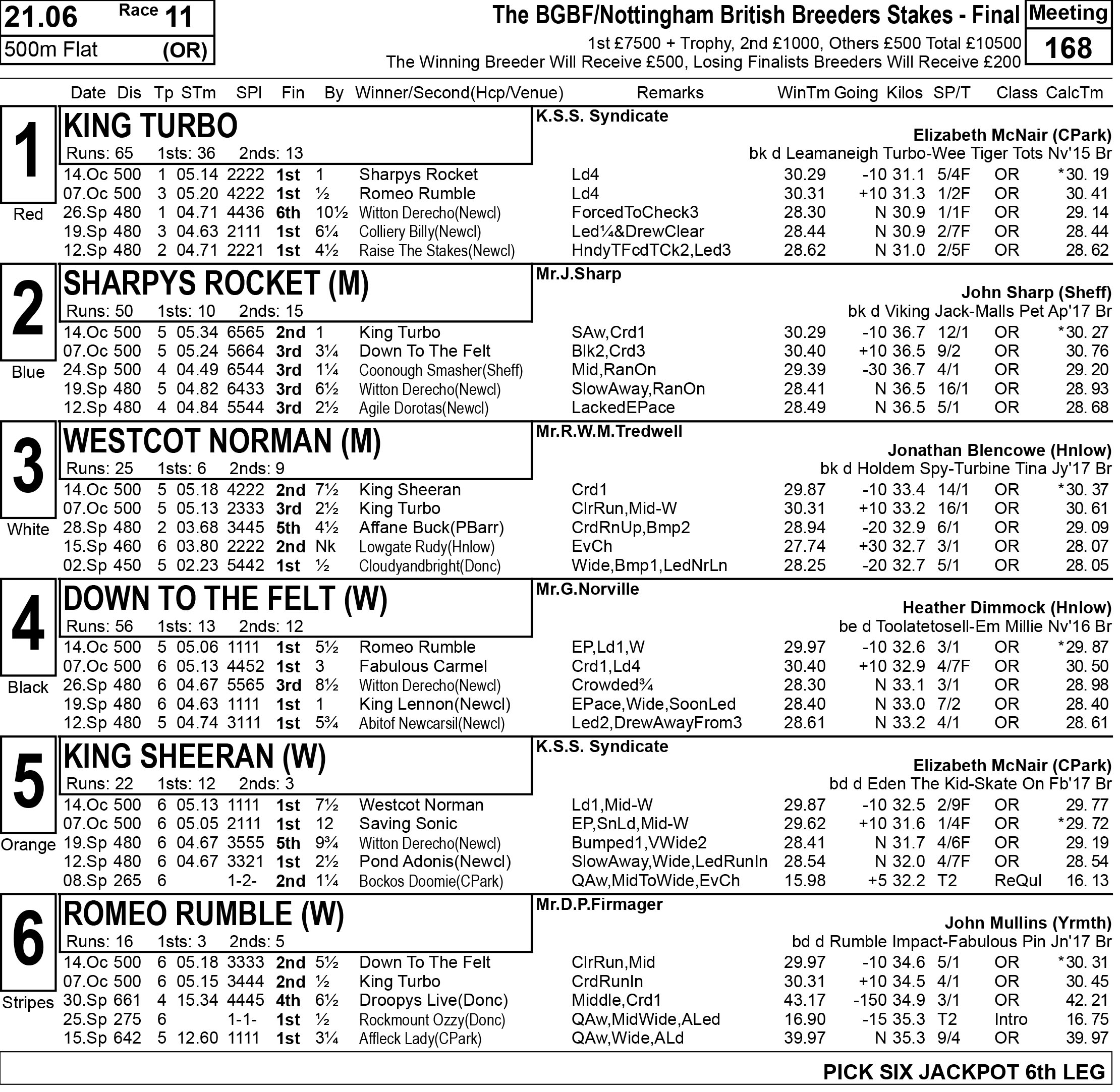 Since my last column, Nottingham has been announced as the Derby venue and as a fan of Central Park, a few people have asked, how I felt about it.
Truthfully? I am delighted that it is going back to Nottingham. I stand by the only two concerns I had last year, the traps and the banking at the bend.
I have never liked the traps that they have at Nottingham because they favour 'smash breaks' from three and four. I have tried to picture how Kevin Hutton (Magical Bale) and Graham Holland (Clonbrien Prince) must have felt when, at the Derby lunch, they drew one and six in the final. The only word I have is 'gutted'.
(You could make a similar argument for dogs drawing three or four at Shelbourne – Ed)
I understand that Nottingham are looking at the traps issue and I think the banking issue is already being addressed with the banking slowly being increased.
But – I don't want to concentrate on the negatives because there are so many good things about Nottingham. At least it is a big circuit that can be tweaked to make it perfect. The staff are brilliant, from the racing office, to the paddock staff to Paul who takes such pride in the running surface.
It is a central location and the facilities are good. It is true that it is limited for viewing, but how often are they going to get a big enough crowd for that to matter? You can't run a track for one night of the year.
So, we will be there, and thank God we have a Derby. Lessons will have been learned from last year and we should all support it.
I hear rumours that the contracts have been signed to re-open Towcester and I really hope it is true.
While all the daytime racing has helped trainers pay the bills, I think we have all missed a showpiece 'Saturday night' location. Somewhere where someone like my boss Brendan could take his family or clients, have a great meal, watch top class racing and possibly stay overnight in a hotel.
I read about Jon Blencowe on the site and I think there a lot of people in a similar position. We are not in it for the money, and the industry misses a Walthamstow or even Wimbledon, on a Saturday night.
Towcester was so accessible for so many people. If it was to re-open with Saturday night opens, we would be there every week.