It hasn't been a particularly special year but with a bit of luck it could take an upturn if Newinn Banger was to win the Gain Nutrition Puppy Derby Final at Henlow on Sunday.
He won the fastest semi final and must have a live chance in the final. But I have been in the game long enough to know that it is very very open. I am happy enough with the draw in five. Argentina has a slightly faster sectional and I would rather be drawn on the inside of him. Kevin's other dog Swift Jim probably has an even better draw in one.
It is great to see Rab with the three littermates through to the final. I don't think any of them look particularly like 'Henlow dogs', they would probably be better suited to a bigger circuit, but I certainly wouldn't want to see one of them a length behind us off the second bend.
But I wouldn't swap Barney for anything else in the field. He is a lovely dog, a gentle giant who a child could handle. He is owned by the Get Carter Syndicate which was set up by Darren Price, and named after another syndicated dog that used to be in the kennel Swift Carter. Darren also owned Take The Crown with me.
Henlow is quite a trek but I enjoy it there and it is great to see the place doing so well. I was brought up on tracks like Henlow, it reminds me a bit of a bigger version of Westhoughton.
The atmosphere is very good too. The local trainers struggled along with the track and now they are earning a decent living. Best of luck to them, they came through some tough times.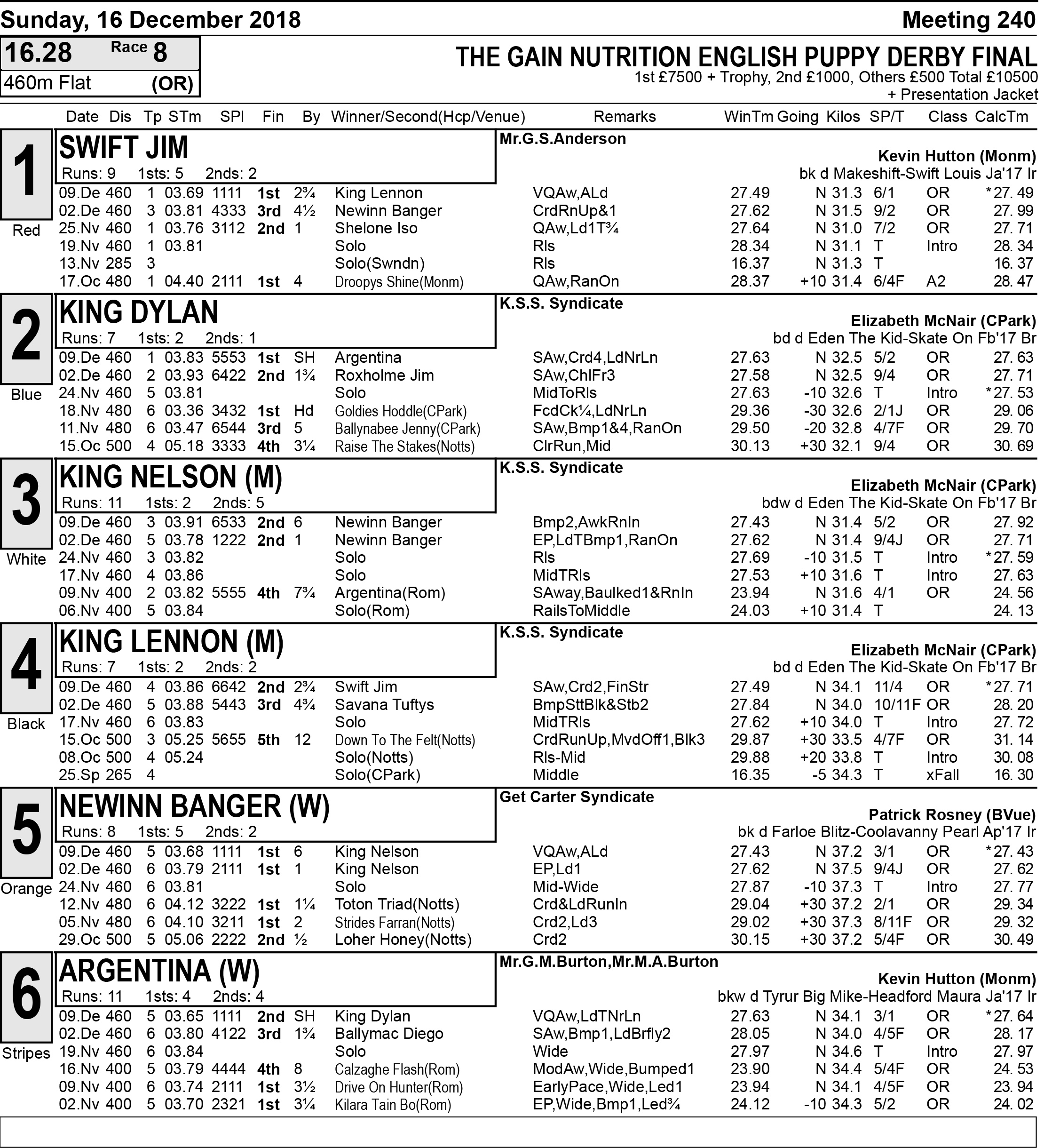 It has been one hell of a tough week. On Saturday after, Julie set off for Swindon for the Oaks, I was left with seven runners to cope on my own at Belle Vue.
The M6 was closed and Julie didn't get back until 1am. Then we were up at 6am on Sunday morning. We left David in charge of the kennels and Julie was off to Belle Vue at 8.30am. I had already left for Henlow and didn't get back until 10pm that night.
Maybe I am getting old for this, but the journeys seem to be getting worse and with so few tracks now, you simply have to travel further.
After so many years of open race traveling up and down the country, I enjoy getting home from Belle Vue in around 40 minutes.
I realise that it isn't 'popular' in some circles to praise Belle Vue, but I have loved racing there this year. There is nowhere with a better atmosphere on a Saturday night. The place is buzzing; no different to 25 years ago.
The racing surface is also as good as any you will find and we have a full kennel. I've made worse decisions this year.
---
It is looking as though Nottingham is likely to host next year's Derby and I would be delighted if that is confirmed on Thursday.
The place ticks all the boxes as far as I am concerned. It is a well run stadium and is always spotless. The racing circuit is made for genuine pace. If you can't show it at Nottingham, you haven't got any.
The racing office is professional, they have superb track staff, and a great racing surface.
It seldom gets mentioned, but I love the fact that the winning line is near the bend but the pick-up is very close by the sprint traps. If you are going for six rounds of a competition plus trials, you don't want to be racing any extra metres.
I read some of Rab McNair's views about Nottingham and I don't agree with them. But it isn't anything we haven't talked about between us. We are old mates, but we don't have to agree. For a start, I don't think the bends need extra banking, though I do think it is a track that you need a couple of looks at to produce your best.
Rab is a big fan of Central Park, and everybody tells me that it is a great circuit these days. Fair play to them. But, the location just doesn't work for me. You are half an hour away from it being a French Derby. If you ran an English Derby there, it would severely reduce the number of entries.
Nottingham, like Towcester, gives everyone a chance. I know Rab says, 'yes but you come for the Scottish Derby, its the same thing'. I keep reminding him that you can only run the Scottish Derby in Scotland!
Can you imagine one of the Newcastle or Scottish trainers entering three dogs at Central Park and seeing them drawn on three different nights of the first round?
---
Mike Donovan is doing a great job in the Shelbourne Marathon with Looking Sharp who has reached next Friday's final.
To win it, she probably has to find five lengths on the favourite and track record holder Ballykett Beauty. It would have been a tough task that might have got a bit easier with a better trap draw in the final. We wanted one but got three.
She has been cramping in the cold weather. I realise it is the same for all of them, but it doesn't affect them all the same. Whatever happens, owners Kevin and Tony are looking forward to seeing her run.
We'll have her back afterwards. Although we don't have any plans at this stage, now Kevin Boothby has a great marathon runner in Savana Winner, maybe we will see a few more marathons at Henlow.
---
Owner Tommy Smith and I weren't planning to make any decisions about Droopys Trawler's future until the New Year. But we were at Old Trafford and the game against Young Boys was so boring, we had to find something interesting to talk about.
The result was a decision to give Trawler an attempt at the Springbok. Given the distance to Central Park, we decided to ask Seamus Cahill if he would take the dog and I dropped him off when I saw Seamus at Henlow on Sunday.