There is a special place in the collective heart of the Wallis family for the Regency meeting. This weekend, one year ago, they saw Aayamza Royale prevail by black nose leather in the main event with kennelmates Drumcrow Brent and Antigua Storm sharing the Sussex Cup forecast.
It was their fourth triumph in the Regency having won the main event with Blonde Fletch (2011), Billys Bullet (2016) and Aayamza Breeze (2019).
Mark said: "What was particularly nice was that because Emily and Daniel had been going throughout the competition, I decided that they should be there for the final and I think it is still their favourite night in racing."
Pickings were a bit thinner on the ground this year with just two runners on the night including Bombardier in the £20,000 Premier Greyhound Racing sponsored final.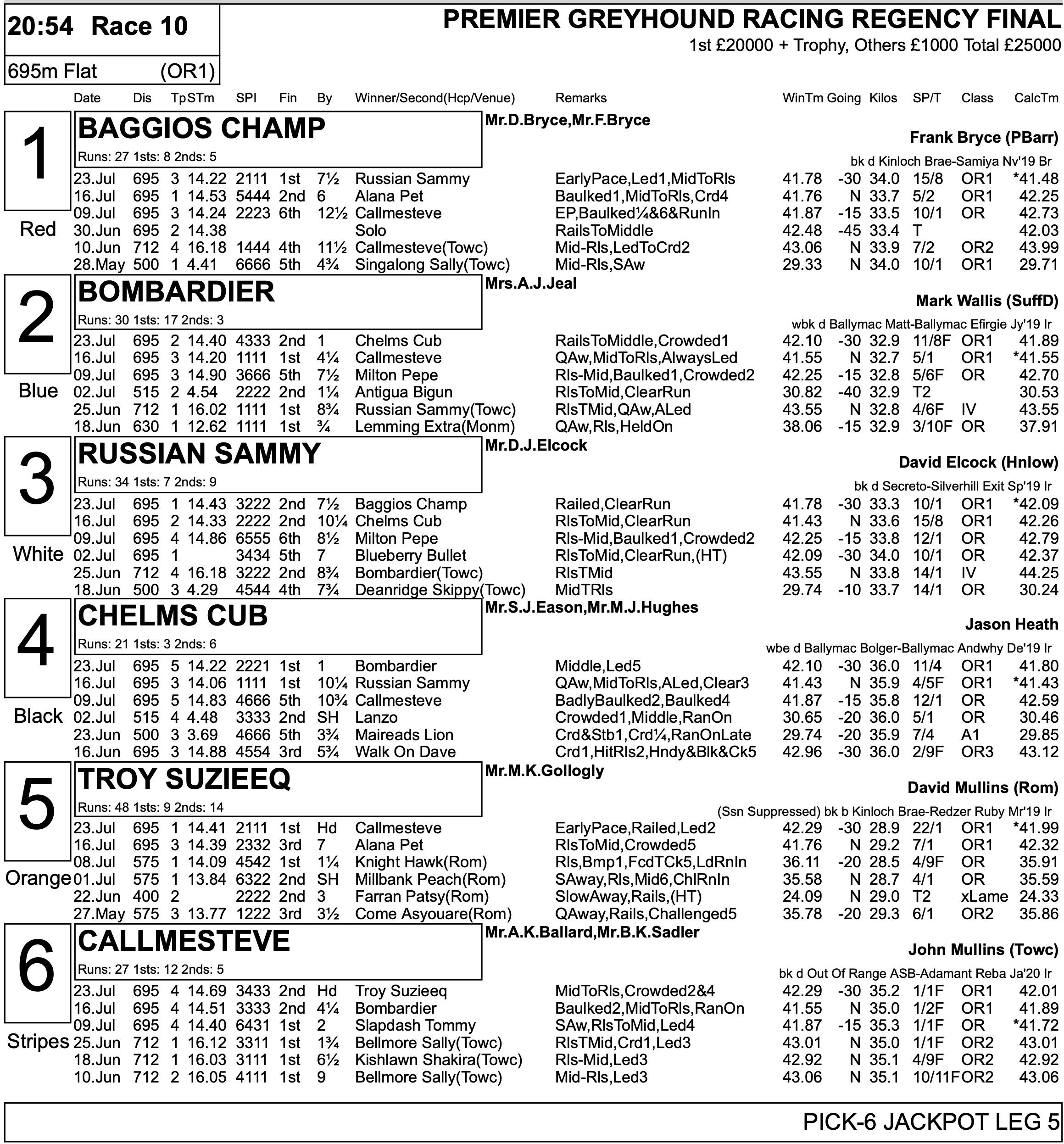 Mark said: "They might have been short of entries for the first round, but it is a very high class final in my view and a very good competitive race. I haven't looked at the market but I reckon it is a '5-2 the field' event with several dogs capable of winning it if things go their way.
"Bombardier would be in that group but he would have to do everything right include taking a ping break and getting across the one before the bend."
The kennel's only other runner on the night is Blueberry Bullet who missed out on a ninth Cat One final when beaten half a length for the second qualifying spot last weekend. The beaten favourite in last year's Curtis/Ballyregan Memorial event returns to her preferred 740m trip.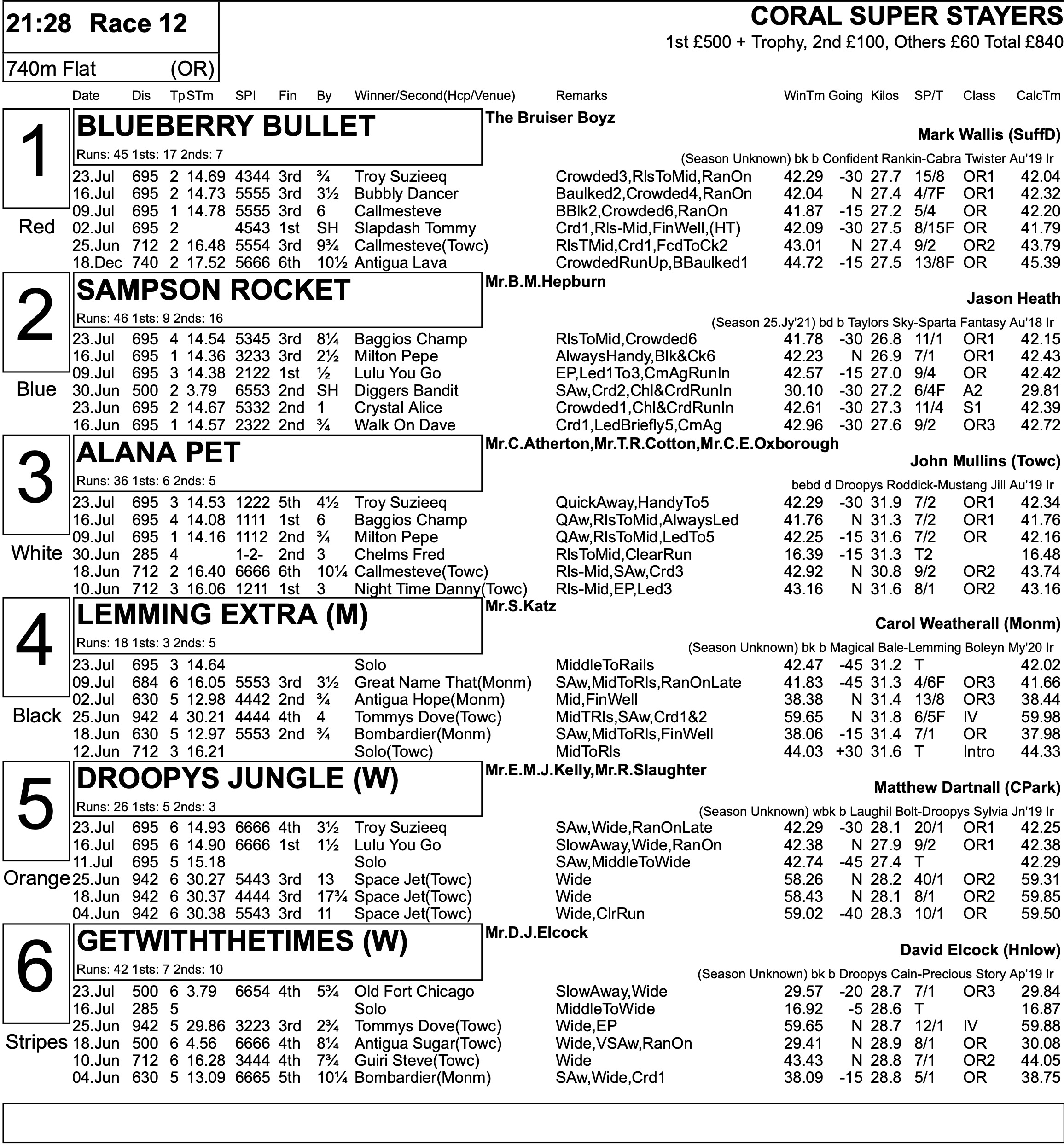 Mark said: "I thought she was desperately unlucky not to qualify for the final. But this is definitely her best trip. The short run to the bend in the '695' doesn't really suit her and the TV Trophy trip was a bit too far. But I expect her to run well on Saturday."
---
Mark is hoping that Entain and the other leading promoters revisit their decision to insist that dogs should have course form before being allowed in open races.
He said: "There were a number of factors as to why there was a low entry for the Regency, but that rule was certainly among the main ones. You will never persuade me that you need a trial to race at Hove, particularly with stayers. But even the 515 is a fabulous course; one of the best galloping tracks we have. You shouldn't have to trial at Hove.
"I have runners, including a couple who had been running at Monmore, who I would definitely have entered and taken our chances in the first round. But it would have meant taking them off the open race strength for a week and the owners wouldn't have liked it. I don't blame them!
"In my view there are only two tracks where I would always trial dog before running them in opens, Crayford and Yarmouth. At other tracks, there might be certain dogs who I would want to see trial.
"But that is about being a decent trainer, knowing your dogs and knowing which ones will adapt. I had great satisfaction winning races on the old SKY meetings, particularly at Wimbledon, with dogs on their first look at the track.
"But I can also recall entering a dog for Yarmouth and telling them, 'my entry is dependent on my dog not being drawn in a race with anything that hasn't been around the place' and they were as good as gold about it. They put it as part of the entry. Peterborough used to do it for their Derby, and it was a great idea.
"Before then, I remember having a dog drawn on the outside of another entry who had been entered as a railer, but with plenty of 'middle' comments, and no trial. So I withdrew my dog.
"I had a long discussion with John (Mullins) about this. The promoters and GBGB have our email addresses, why not give us the courtesy of some feedback?
"In the vast majority of cases trainers should be able to make the decision, and if not, what about the racing offices?  They don't have to accept the entries if they are unsure about the trainer or the dog. The old system wasn't perfect, but it worked well most of the time if people were prepared to be sensible and take some responsibility.
"This (local) rule needs to be looked at again in my view."
---
Such is the nature of racing in the fast lane that within hours of their Hove efforts, Imperical Kennels will be 'thricely' represented in the Juvenile Championship semi finals at Towcester.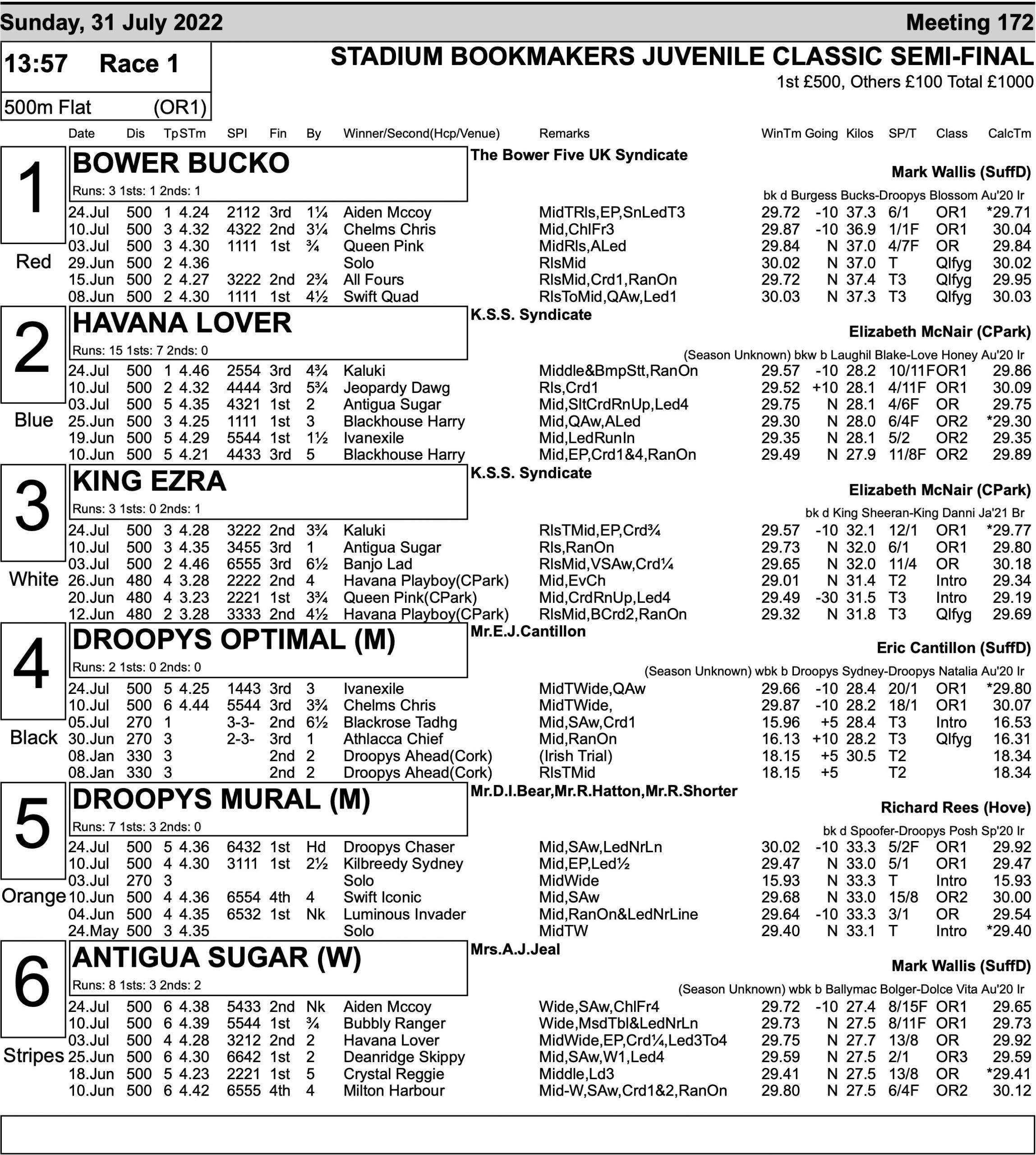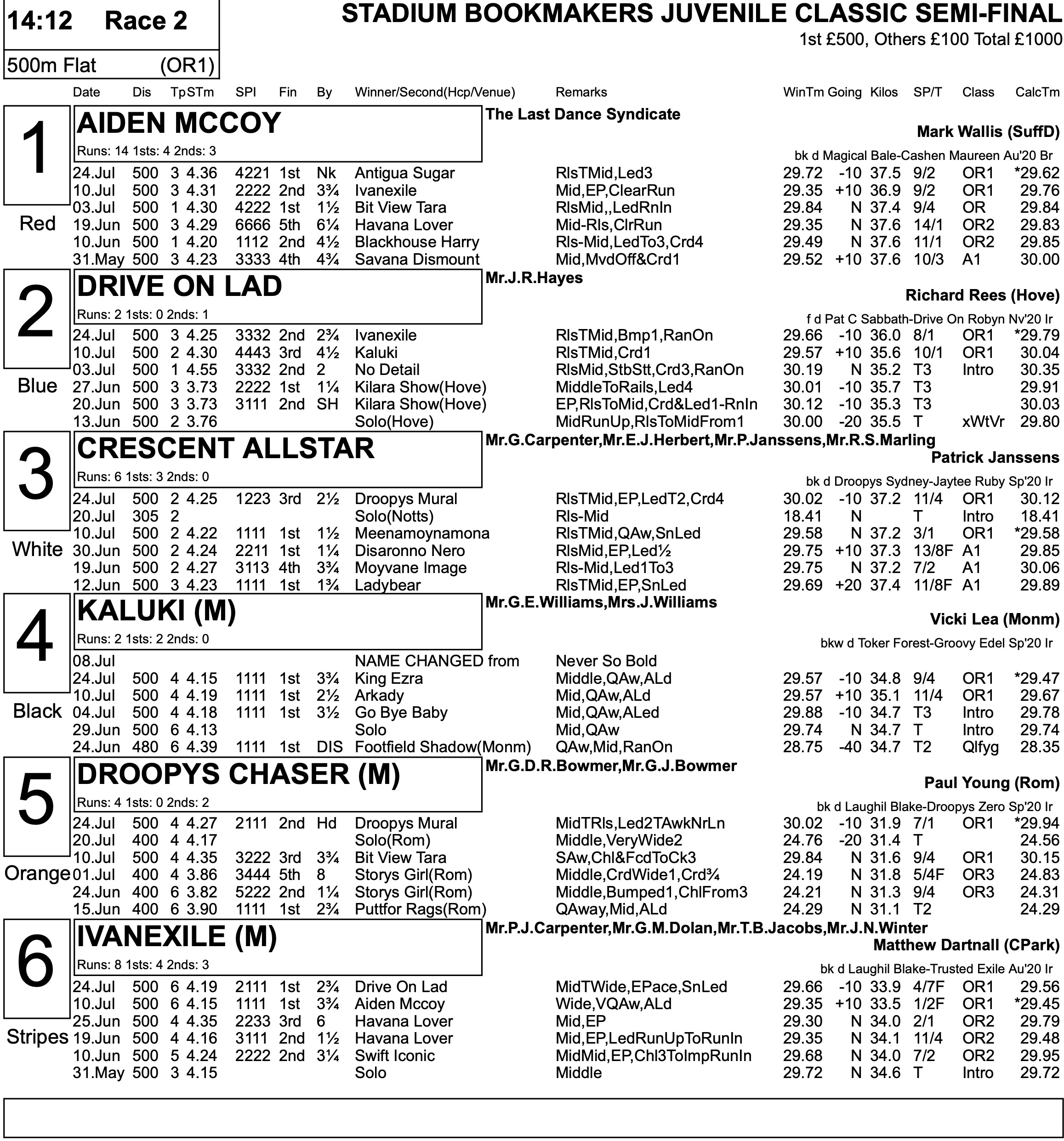 All three qualified from the same second round heat where the kennel supplied all five runners.
Mark said: "Don't get me started on that. I've said enough already. Hopefully we get some through to the final. In the case of Bower Bucko, it is a real bonus to have him there. He wasn't an expensive dog, so to see him progress to this stage has been great for the connections.
"It is a similar story for Aiden McCoy who is a 37 kilo British bred and just about the best pup that Cashen Maureen has thrown. He started out in A2 and has continued to make steady progress; I am delighted with him.
"As for Antigua Sugar, I think the world and his wife are waiting for her to step up in trip and she will be heading to the Stayers Classic at Monmore once the Juvenile Classic is over. She is very useful."
---
Mark expects to send a strong team to Monmore and be well represented in both the Gold Cup and Stayers Classic.
"The Classic entries should hopefully include Antigua Sugar, Antigua Hop and course specialist Bombardier. The four bend team will hopefully include East Anglian Derby winner Antigua Storm and Suffolk Downs track record holder, Saffrons Dash.
Mark said: "Storm trialed back well after damaging the tendon behind the wrist, but he had a minor setback in his last trial. He didn't go lame but there was a bit of puffiness around the old injury. He'll be checked over this week, but hopefully it is nothing too serious and he will be ready for the Gold Cup."
Saffrons Dash is new to the open race scene. The son of Superior Product out of Billy Boyle's former stayer Saffrons Bonnie set the SD 388m record with a 23.55 run six weeks ago. After being elevated to take on the best at the track, he stuttered but bounced back with comprehensive victories in his last two A1 races.
Mark said: "He is two years old in a few days and they will find it difficult to grade him again so he is now ready to see if he is ready for the next level."
---
Like other businesses, greyhound kennels are struggling to find staff in the post Covid era and in Mark's view, the position is not sustainable.
Mark said: "Between our Suffolk Downs, Towcester and open race commitments, we have a full kennel and I am regularly turning dogs away. Thankfully, Suffolk Downs is local and Towcester are brilliant at managing our dogs. We try to get all our dogs on the Tuesday meeting and if they do need to race them on the Sunday, they normally try to put them on early, after the open races, so the staff aren't sitting around for two or three hours waiting for the last runner.
"But we have lost full time and part time staff since last year. These dogs deserve and need a level of care and if you can't provide it, you need to make alternative arrangements. So I am looking to reduce the number of dogs in the kennel.
"Kennel staff have traditionally been taken advantage of because of their love of working with dogs but with inflation as it is, it is getting far tougher to find them. I like to think that I pay at least minimum wage, given the number of hours that the staff work – and I work more hours than them. I am sure many trainers are the same as me, but there will be an awful lot who are struggling to pay their staff."
The necessity to have good staff, prepared to run their lives around kennel demands was never better demonstrated than during the recent heatwave.
Mark said: "It was just ridiculous. At one stage it reached 41.2 degrees. We got the dogs out at 4am and finished by 9am. The kennels were opened up and the fans were on full. Every hour, on the hour, during the day, I spraying a fine spray to keep the kennels cool. It didn't seem too bad because of the water, but I still picked up sunstroke. Then of course at 9pm, we had to be back down the kennels to get the dogs out again.
"All of that and losing the Sunday, Monday and Tuesday meetings, it probably cost £3-4,000 in prize money and trainer payments. But I am guessing we will have to get used to the idea because it looks as though it is going to become a trend in future years."