Stadium Bookmakers Juvenile Classic semi-final day at Towcester racecourse where twelve greyhounds will become six and book themselves a slot in next weekend's £10,000 to the winner final.  The two main races of the day get the action off to the perfect start and are followed by a further nine high class opens writes Mark Pierrepont.
Mark Wallis can provide the winner of semi-final one of the Stadium Bookmakers Juvenile Classic however it may well come in the shape of what on paper looks the kennel second string in the shape of
Bower Bucko
.  Not great away last week but his early pace soon took him clear.  Eventually beaten into third with his strong running kennel mate Antigua Sugar finishing second and reopposing today there is every chance he could have held on last week had Aiden McCoy not caught him at a crucial stage of the race going into the third bend.
Despite being passed at this point on the inside and with Sugar challenging him on the outer he stuck on well to not be beaten far at all.  Taking a chance that he traps a little better today that can see him once again lead but crucially make the third bend in front.  If doing so he can just about hang on to claim a big priced win.  There will be greyhounds finishing off strongly but the presence of Droopys Optimal in the race may just hold up the outside pair of Droopys Mural and Antigua Sugar so for the forecast slot side with Havana Lover who is no doubt the fastest of Liz McNair's pair even if at times she's a little frustrating from a punting point of view.  King Ezra at January '21 is the youngest and most unexposed left in the competition and whatever happens today looks to have a bright future.
---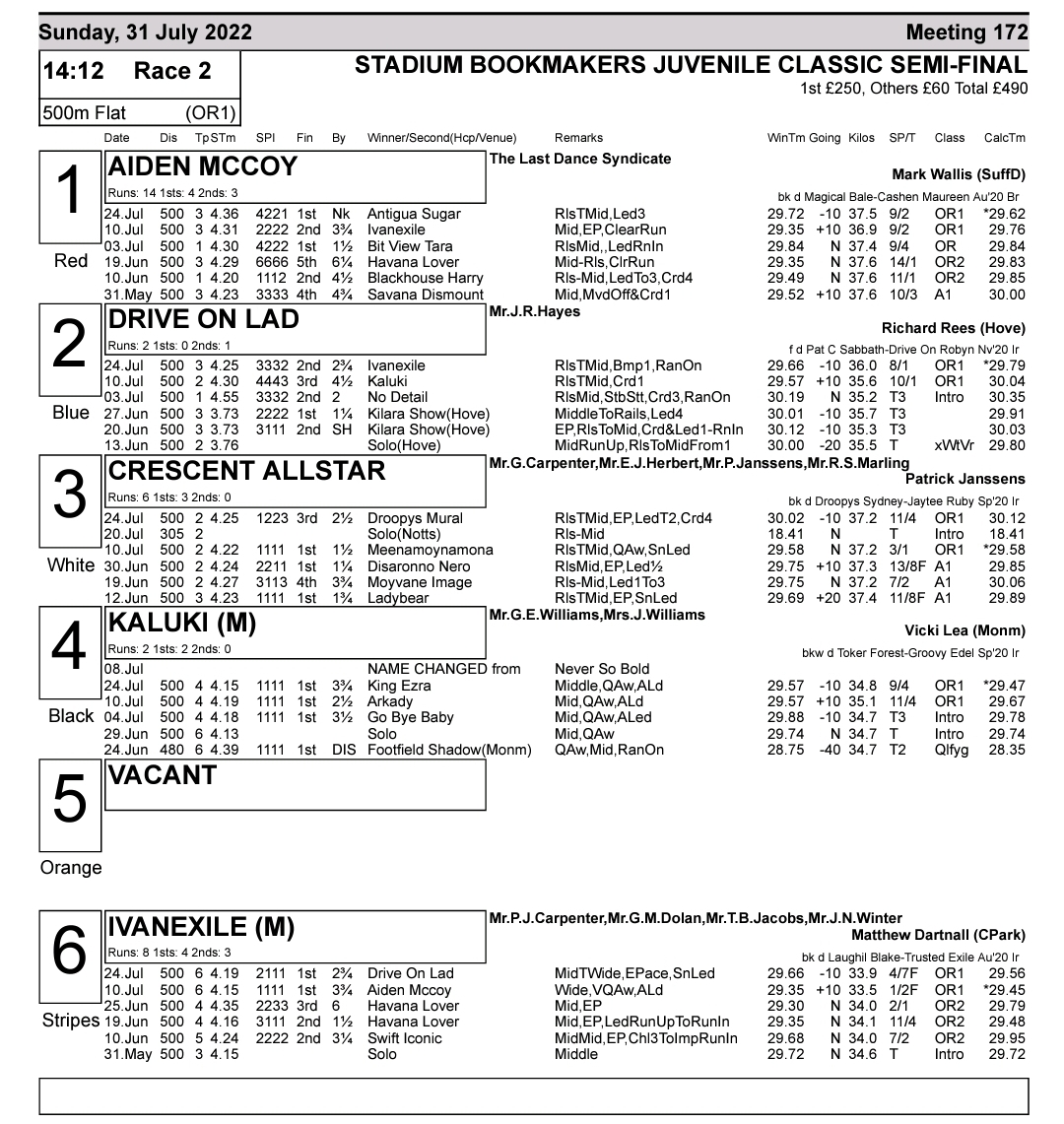 Matt Dartnall's Ivanexile is turning into a really nice dog but like with a lot of genuine middle seeded greyhounds has suffered badly in the draw in recent weeks.  Trap 6 draws in each of the first two rounds haven't been what this fast-improving greyhound has wanted but despite this his early pace if not yet his trapping ability has seen him roar to the front and overcome the draw.  Drawn again in trap 6 he may well put up a repeat performance but there is a huge challenge to overcome today in the shape of Vicki Lea's Kaluki.  Himself a winner of his first two rounds but a greyhound who traps well and paces up really well.
On that basis I'm going to side with Vicki Lea's greyhound who has done absolutely nothing wrong in his two UK starts and in the hands of a so-called big-name trainer would likely be much shorter odds for today's race than he's likely to be available at.  Vicki and the team can train a dog make no mistake about that and if he hits the lids again he'll not easily be reeled in.  Richard Rees Drive On Lad will be getting fitter with every run and today's race make up will see him very difficult to keep out the frame.
He can claim second with Mark Wallis's second round heat winner Aiden McCoy claiming third.  Patrick Janssens Crescent Allstar may just find himself in behind the early pace setters today with some stronger types on his tail and that may well prove his undoing.
---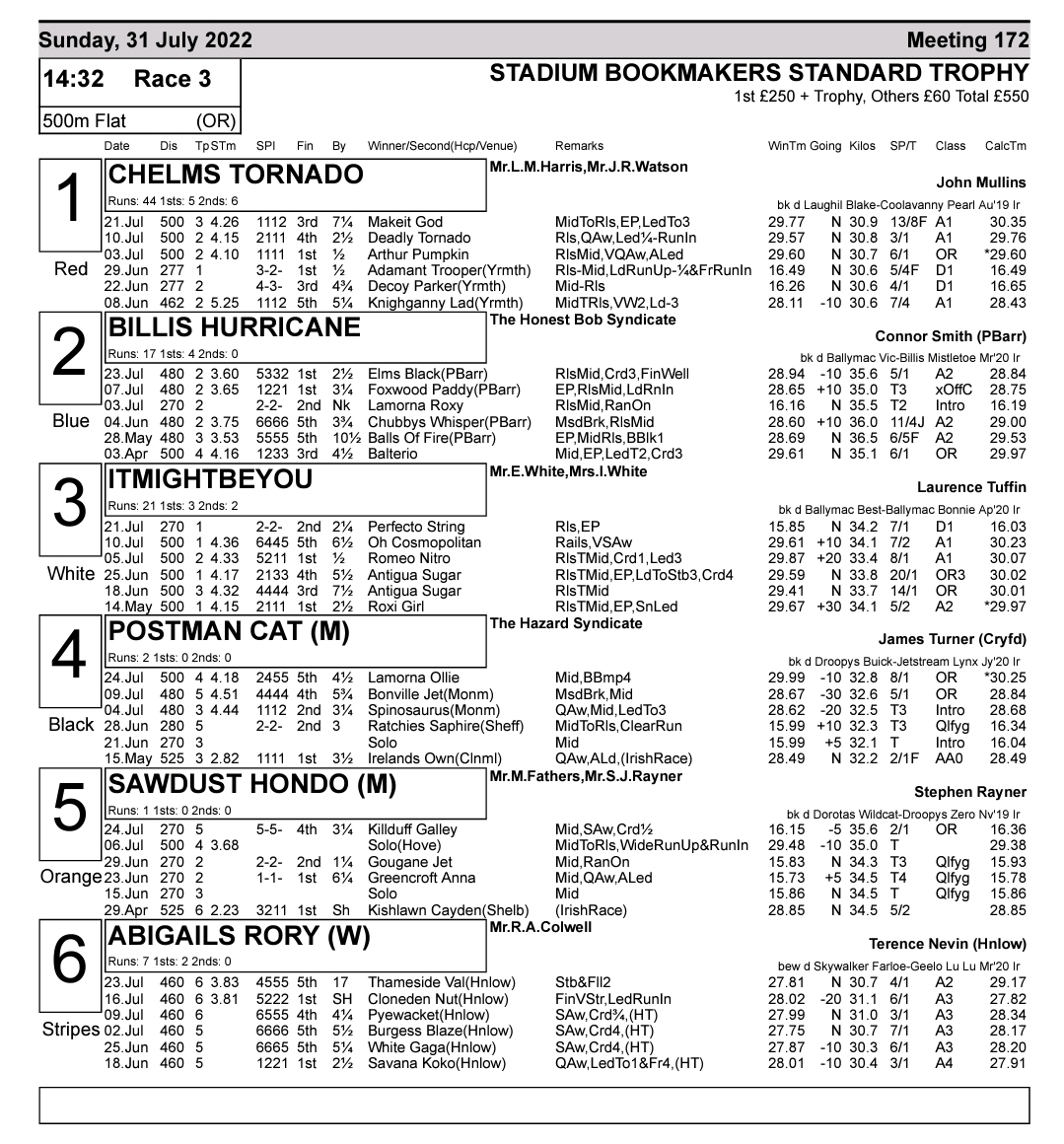 Steve Rayner has so far done a reasonable job of hiding the true four bend form of Sawdust Honcho but a brief look at his Irish card (2863 Kilkenny , 2849 Shelbourne) tells you that he should be well capable of winning a moderate open like todays Stadium Bookmakers Standard Trophy.  Left at the start in a sprint here last week and then encountering trouble at the turn his running to the pick-up didn't go unnoticed and it's no surprise to see him immediately stepped up in trip.  He can prove too good and readers are advised to avail of early prices where possible as money is likely to arrive as the race nears.
---
Liz McNair's Queen Pink hasn't had much luck in running in the first two starts of her career here at Towcester but she's shown enough in trials and in those races to suggest that she should be well up to winning a race of this nature.  Pink may well get a very cheap lead in this Stadium Bookmakers Puppy Trophy and if doing so the rest will be chasing shadows throughout.
---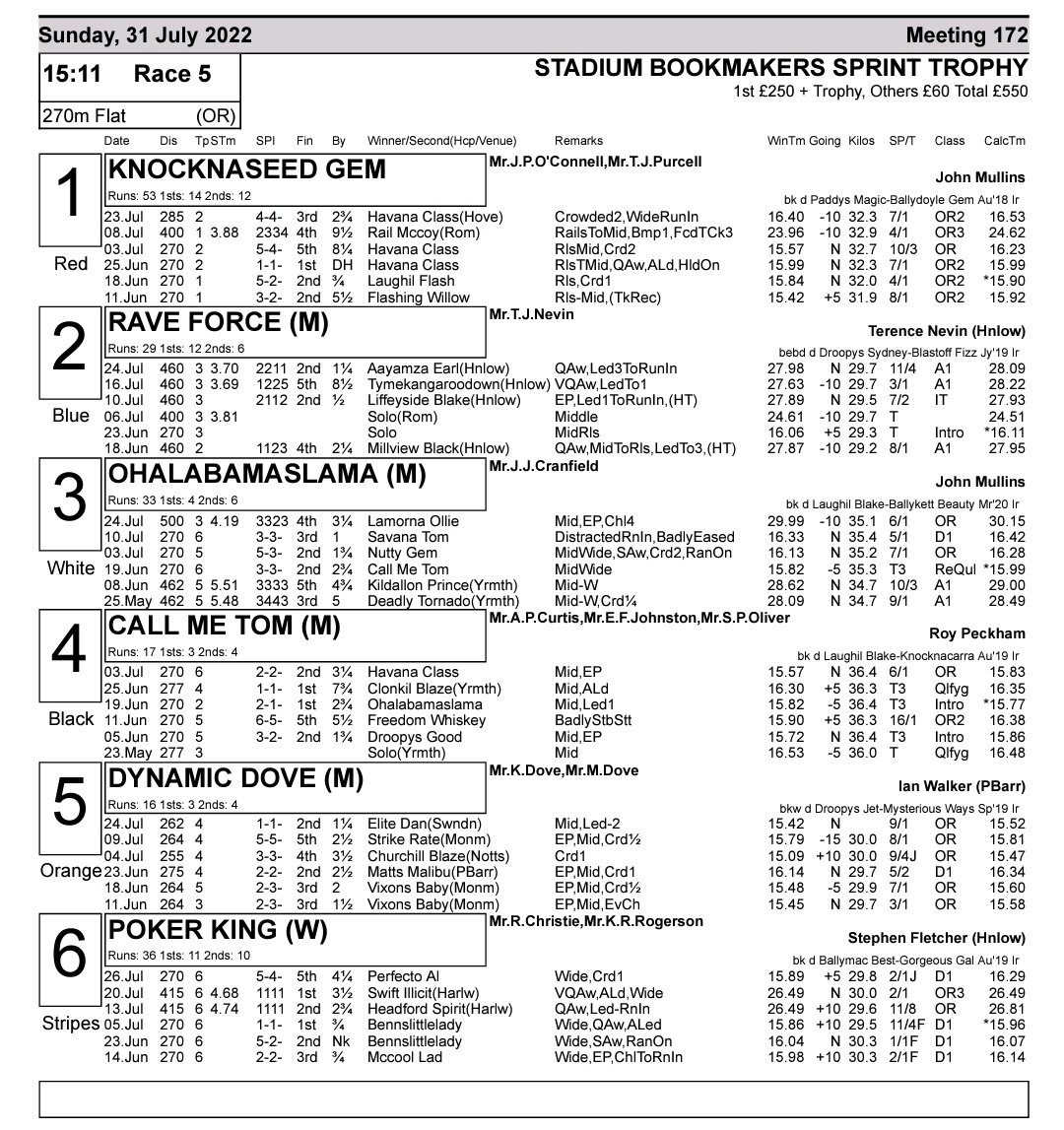 The Stadium Bookmakers Sprint Trophy can go to John Mullins Knocknaseed Gem.  He'd prefer to be slightly off the fence but he's won from the box before and the make-up of the race should see him with plenty of room to run on the inside.  A level break should be all he needs to make the turn in front and if doing so he'll not be for catching in a race which wouldn't be off the class of many in which he's recently lined up.
---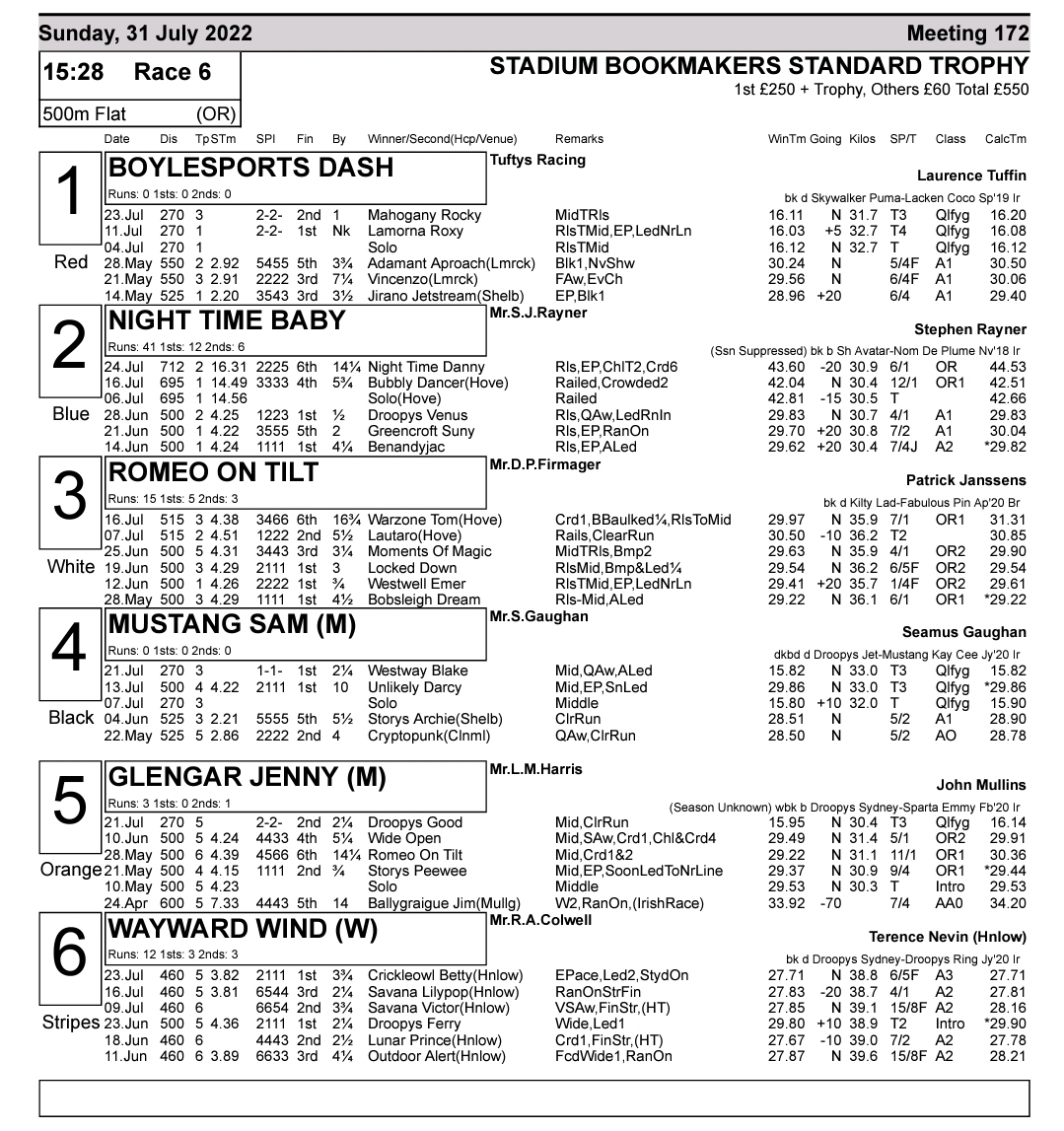 Seamus Gaughan gives a UK debut to Mustang Sam who may well have to find a few lengths on the sole four bend effort on his card to date here at Towcester but may well do so.  His two sprint trials of 1590 and latterly 1582 read well as does the 2868 on his card at Kilkenny when comfortably accounting for decent A1 company there.  He'll have the market made for him by Romeo On Tilt and Glengar Jenny who though both are talented are both opposable and fair types to have in opposition if you were looking to land a touch first time up.  A decent break and get clear at the turn and the money can be in safe keeping for Seamus and the team.
---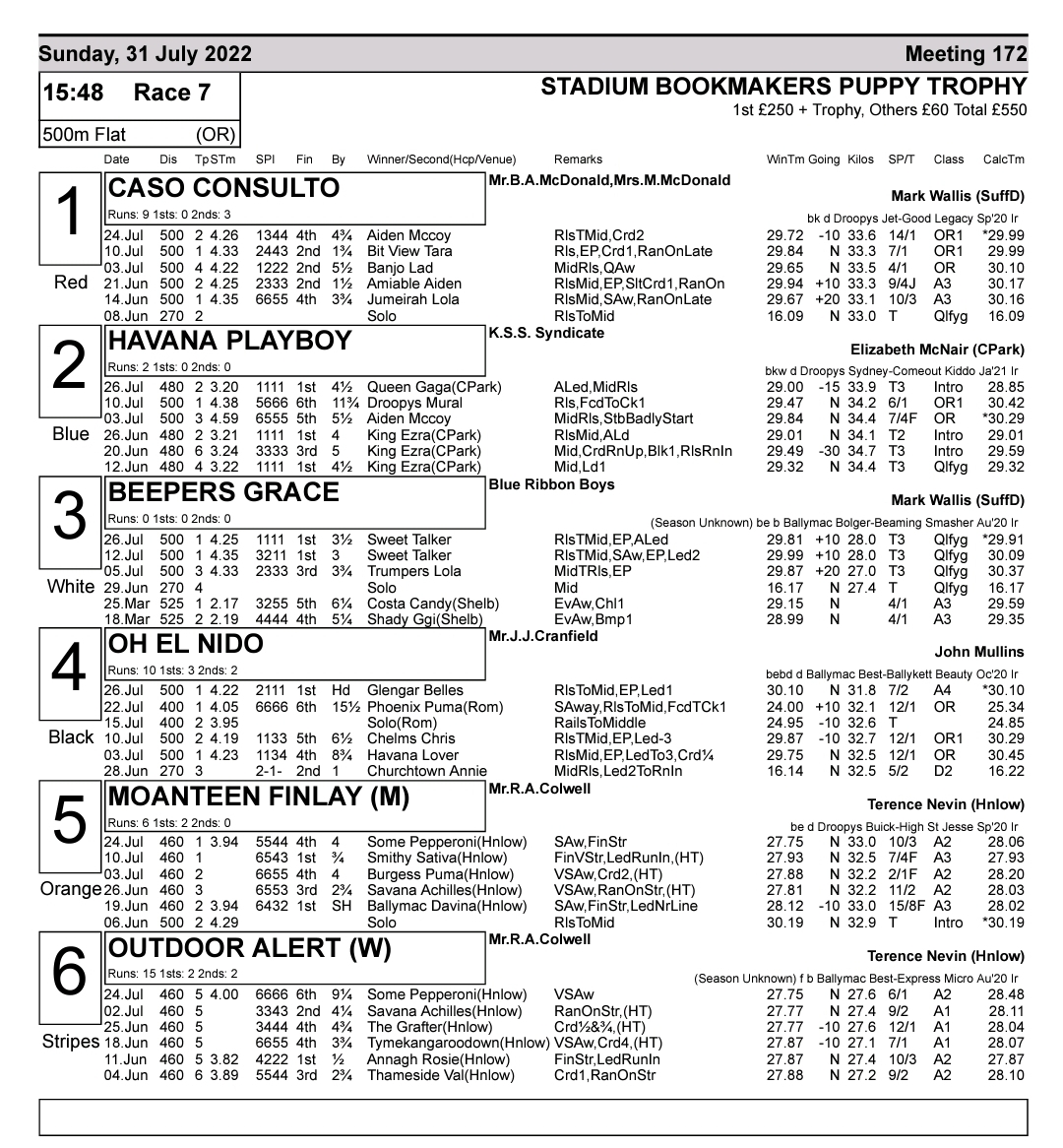 Havana Playboy is another Liz McNair trained greyhound who has encountered more than his share of trouble in his two career races to date here at Towcester but his recent 2885 trial around home venue Central Park highlights his pace.  This Stadium Bookmakers Puppy Trophy is an eminently winnable race and it won't take too much leading.  A sensible break should be all that Playboy needs to hit the lead by the turn and from that point onwards it should be a race against the clock.
---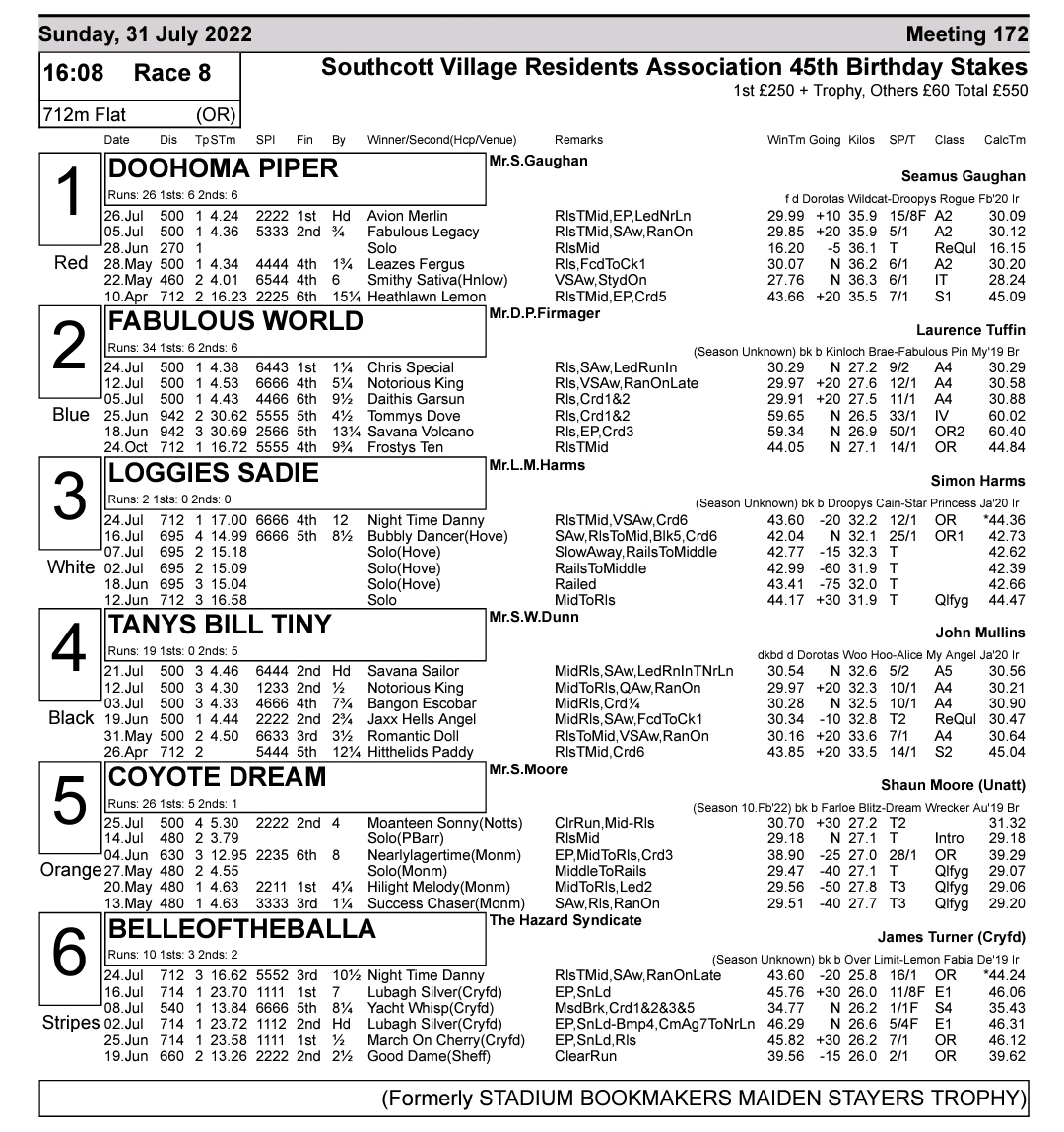 At the time of writing Doohoma Piper finds himself up for sale on the Greyhound Data website.  He may well advertise himself in the best way possible by landing this Southcott Village Residents Association 45th Birthday Stakes over 712m.  He's yet to win over six bends in 4 attempts but the run at the start of April when leading an S1 here until close home reads well in the context of this race.  Seamus Gaughan's greyhound won well here over 4 bends last time out in A2 coming from behind to get up close home and pull well clear to the pick-up.  From a decent make up he can make all.
---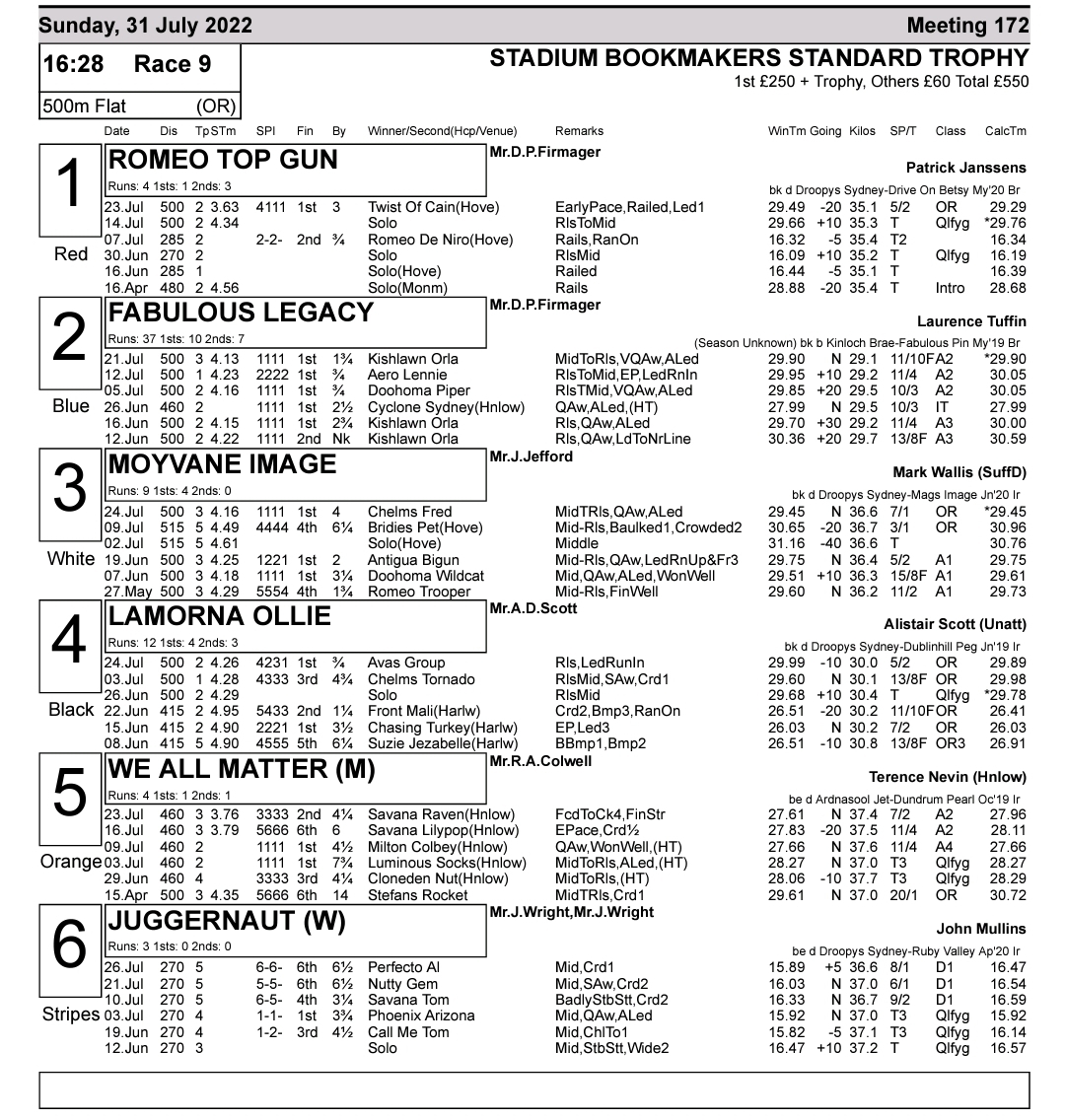 Patrick Janssens British Bred Romeo Top Gun has obviously had a few issues in recent months.  Pulled out of an intended engagement in the BGBF British Breeders Stakes in March 'off colour' he was brought back a month later to contest the Seasons Scaffolding Puppy Cup at Hove where he finished second in both heat and final.  He hadn't been seen on the card in competitive action since until winning well in an open down at Hove last week.  Despite missing the break he paced up well took the lead and despite running a little green and looking in need of the outing the result never really looked in doubt.  He weighs in at 35 kilo and looks the type who should continue to progress over the coming months if stringing a few runs together.  He can get first run on what really looks his only danger in the shape of Alistair Scott's Lamorna Ollie who won well here last week.  Top Gun doesn't really want to be this close to the rail but Laurence Tuffin's Fabulous Legacy has fare early pace and can soon get clear from his trap 2 draw.  That should give him plenty of room to run on the inside and he can be past her by halfway at the latest.
---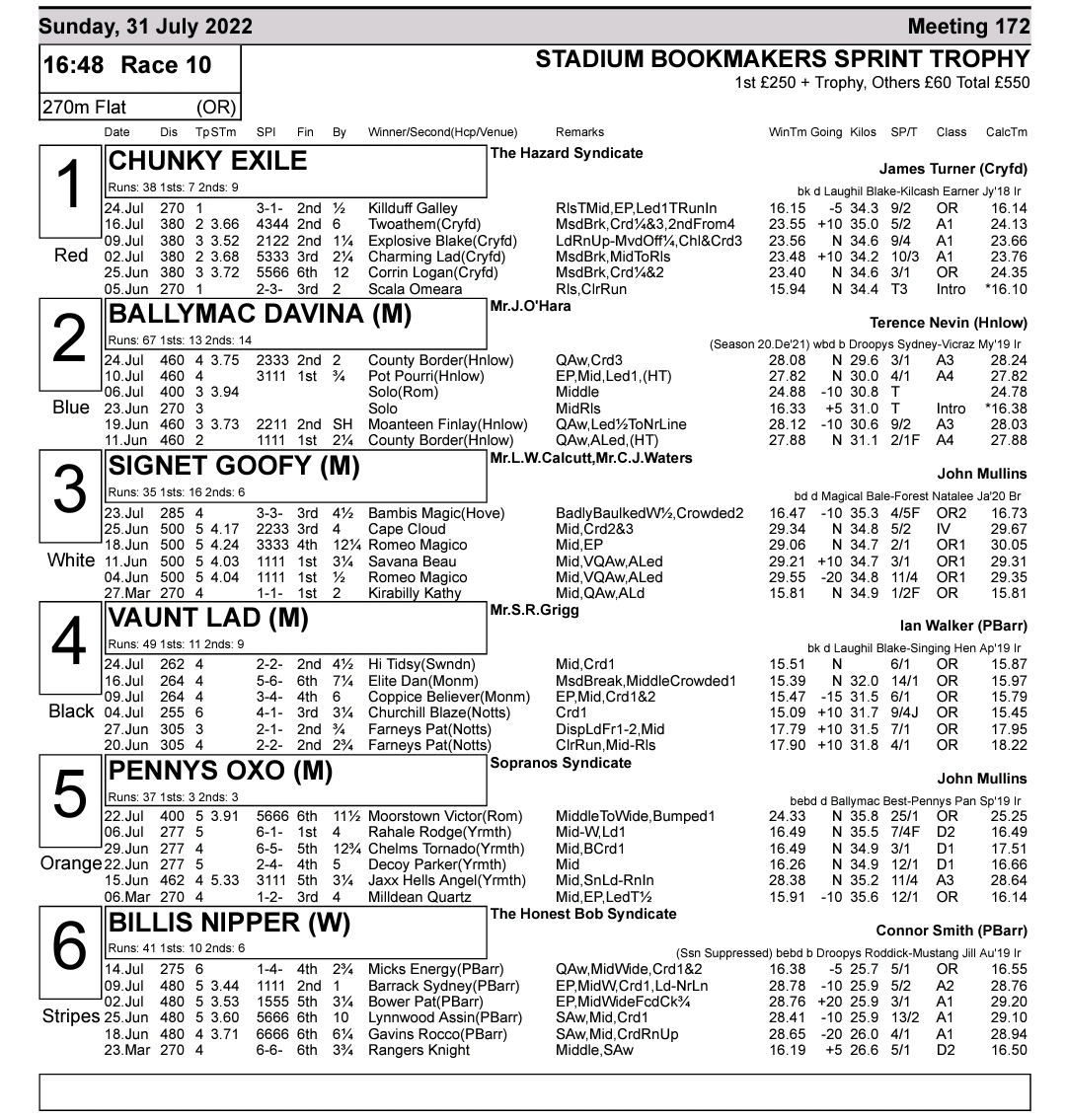 John Mullins Signet Goofy was the only greyhound left unbeaten heading into the English Derby semi finals having ran out an impressive winner of each of his first four rounds in spectacular early paced fashion.  He wasn't quite at his sharpest in the Jack Murrell Memorial Trophy on Derby Final night and subsequently had a few weeks off before reappearing in a sprint at Hove last week.  He wasn't beaten too far considering the trouble he encountered and the run can have brought him on nicely for today.  From a plot draw in trap 3 I fully expect him to ping the lids and make every single yard.
---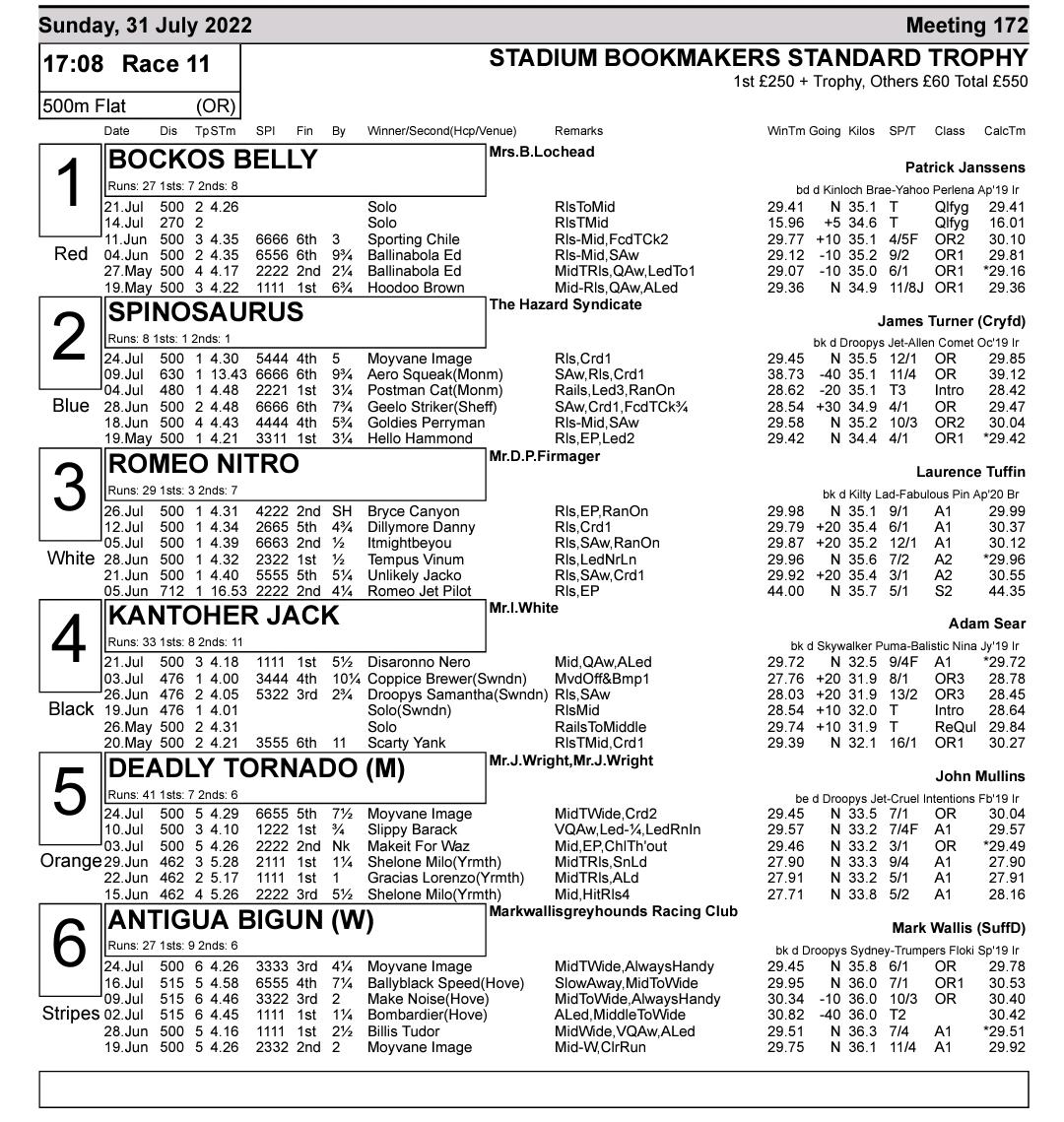 Patrick Janssens talented Bockos Belly couldn't have wished for a better race make up on what is his first competitive outing since being eliminated from the English Derby at the quarter final stage.  He's had two trials back a 15.96 sprint was followed up by a 29.41 effort over today's trip of 500m and despite the fact he should improve for the run he looks plotted up to land the final Stadium Bookmakers Standard open of the afternoon.