Not such a successful night for the big man on Friday with four of the eleven winners, the highlight being 4-1 chance Queen Beyonce. So, now Saturday.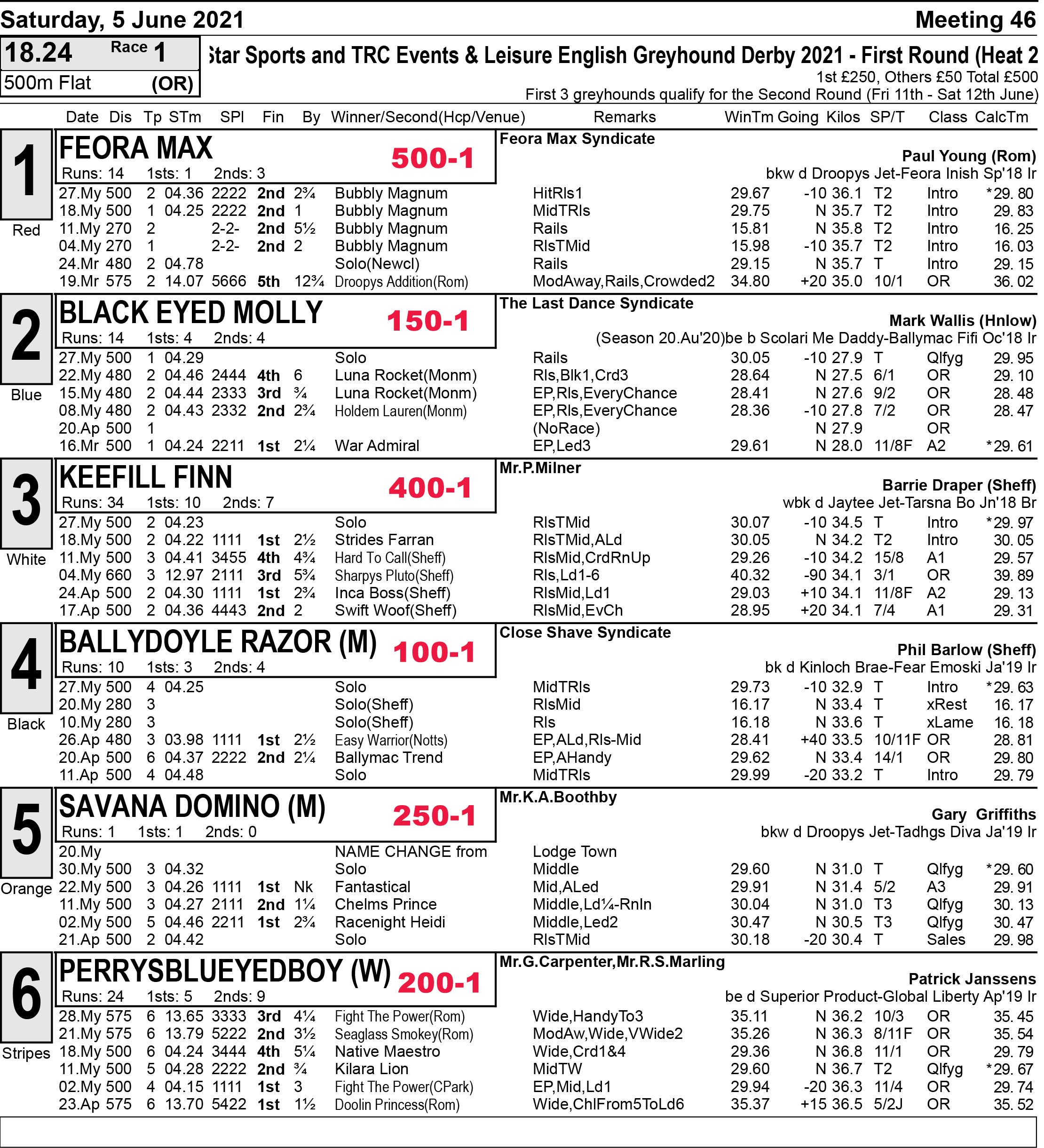 Champion trainer Patrick Janssens can get the third and final night of round one off to the best possible start with his Perrysblueeyedboy (15-8) selected to take full advantage of a plot draw on the wide outside of the track.  He stays this trip very well and though he's rarely quickly away from boxes he can lay handy enough at halfway to ensure he proves too strong in the latter stages.  Gary Griffiths Savana Domino (13-2) looks an interesting type who is undoubtedly a better greyhound than his sole one UK line of form so far when winning well here in A3.  He's got excellent early pace and with trap 4 now being vacant inside him due to with withdrawal of Phil Barlow's Ballydoyle Razor he can take full advantage to pace up and take a first bend lead.  That lead can be hung onto for some way before being claimed by the selection and holding off the strong late challenge of Paul Young's Feora Max (7-) who is taken to fill the third qualifying space.  Max has been trialling well around here over the past few weeks behind comfortable Thursday evening heat winner Bubbly Magnum. Others: Black Eyed Molly (2-1), Keefill Finn (8-1)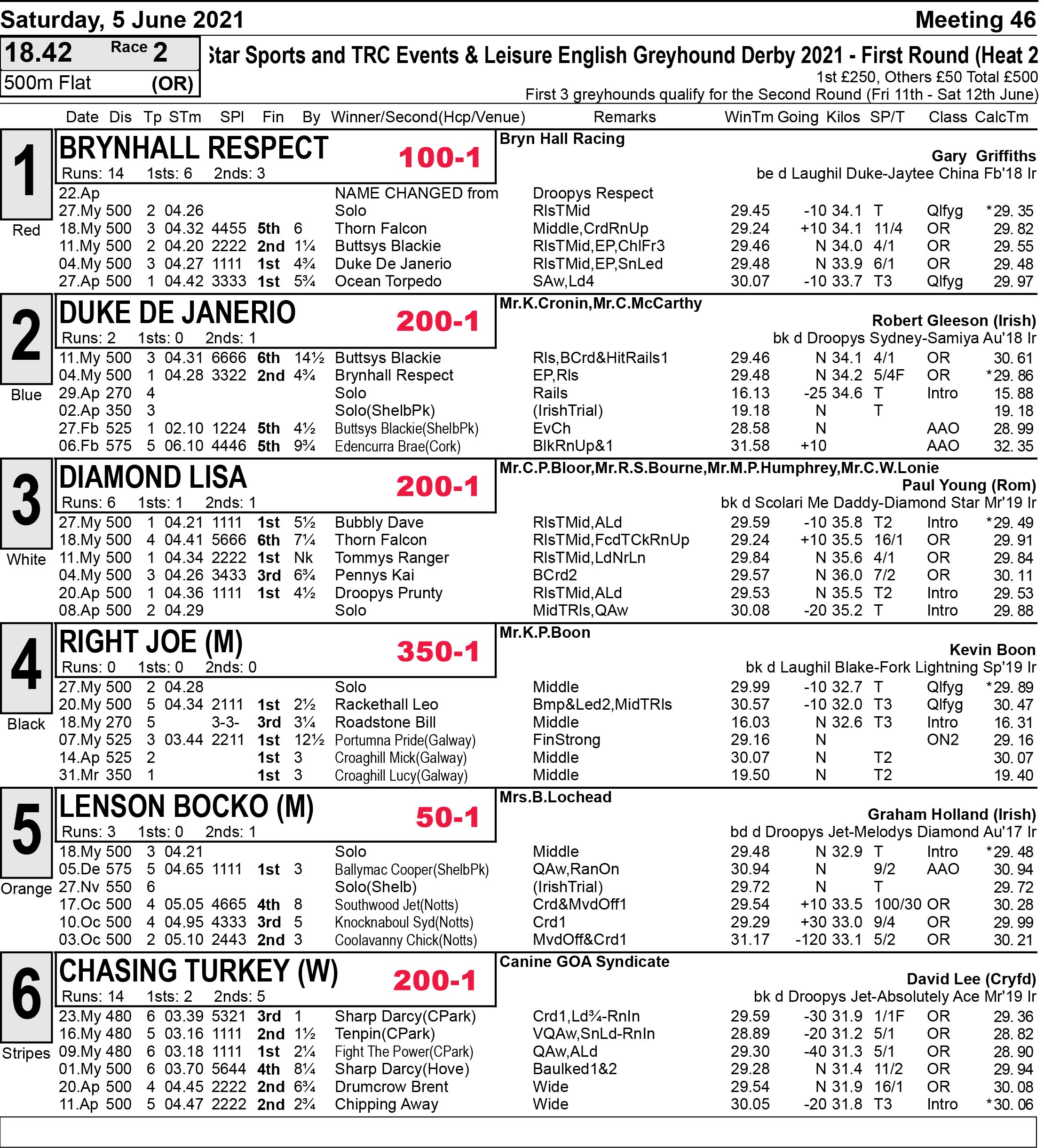 Lenson Bocko (11-8) has been superbly trained by Graham Holland throughout his distinguished career.  The obvious highlight coming when landing the Irish Derby Final in 2019.  That career appeared to have reached the end of the road early last December though when after comfortably accounting for his rivals over 575 yards at Shelbourne he was immediately retired by connections.  Six months later however he's back and if his 29.48 trial around here in mid-May is any indication at all he's not just back for the ride.  He's going to be a big danger to all in the competition if maintaining that level of form however on this occasion I'm siding with the Gary Griffith's trained Brynhall Respect (4-1).  This is a seriously fast greyhound and despite being beaten in the final of the KAB Maiden Derby here last month he showed he remains firmly on an upward curve with a flying 29.45 (-10) trial here last week.  He'll edge off from trap 1 there is little doubt about that but he can make the bend and if getting around in front won't be for catching.  The aforementioned Bocko can claim second with fellow Irish raider Duke De Janerio (6-1) claiming third for Robert Gleeson. Others: Diamond Lisa (6-1), Right Joe (20-1), Chasing Turkey (11-2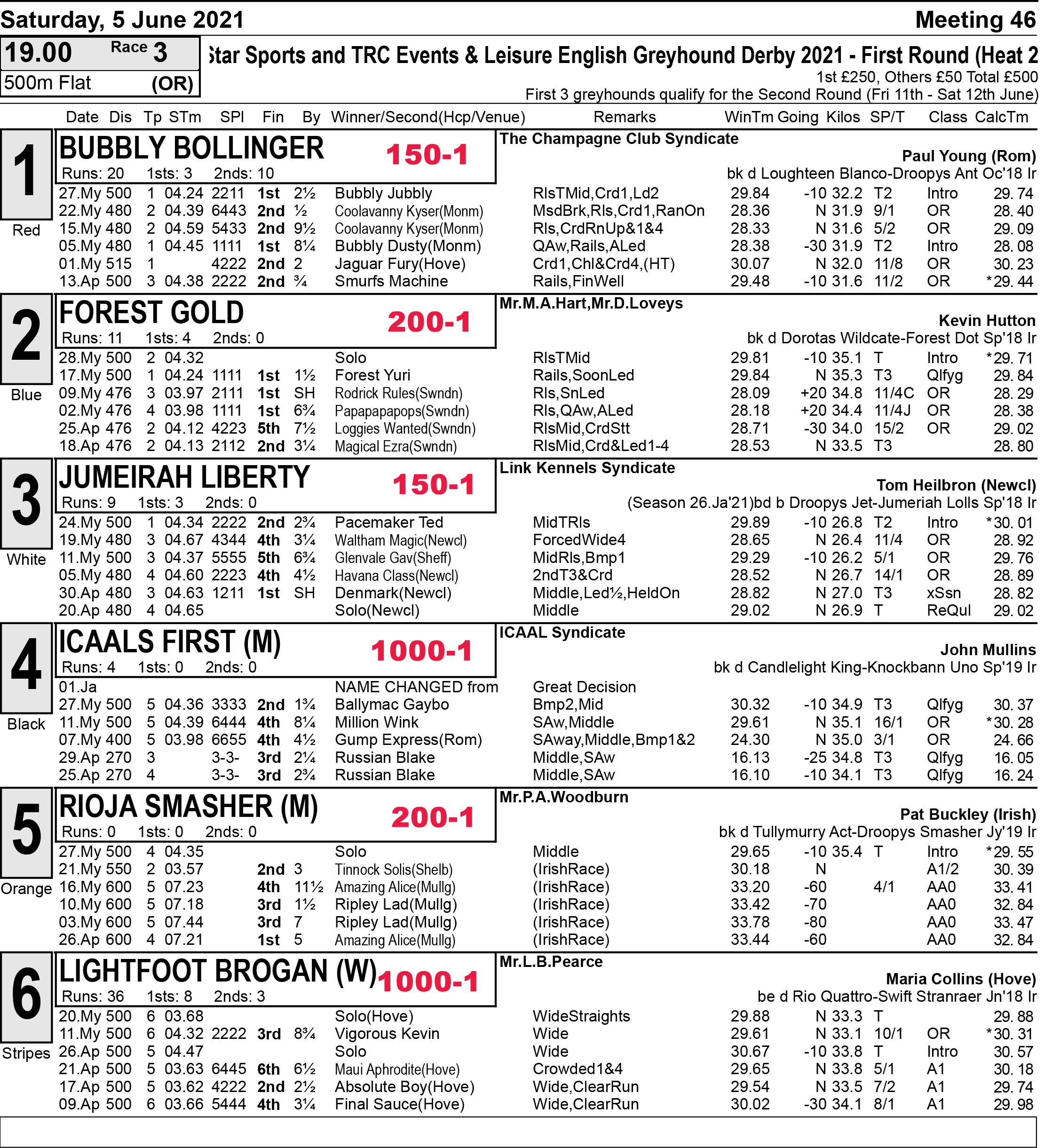 Pat Buckley's Rioja Smasher (9-4) is one of those young greyhounds who literally has the world at his feet.  A finalist in the Irish Cesarewitch at Mullingar last month in what was just the seventh race of his life.  Well beaten on that occasion but the experience of such an event will stand him in good stead going forward.  His first look at the English Derby circuit last week resulted in a 29.65 (-10) trial and in the hands of Pat Buckley this greyhound can do nothing but improve in the weeks and months ahead.  Paul Young's Bubbly Bollinger (13-8) is a classy type stays well and will keep to the rail.  He's ideally drawn here and looks sure to be involved in the finish.  Kevin Hutton's Forest Gold (7-2) possesses plenty of ability and can join the aforementioned duo in the draw for the next round. Others: Jumeirah Liberty (15-2), Icaals First (25-1), Lightfoot Brogan (16-1)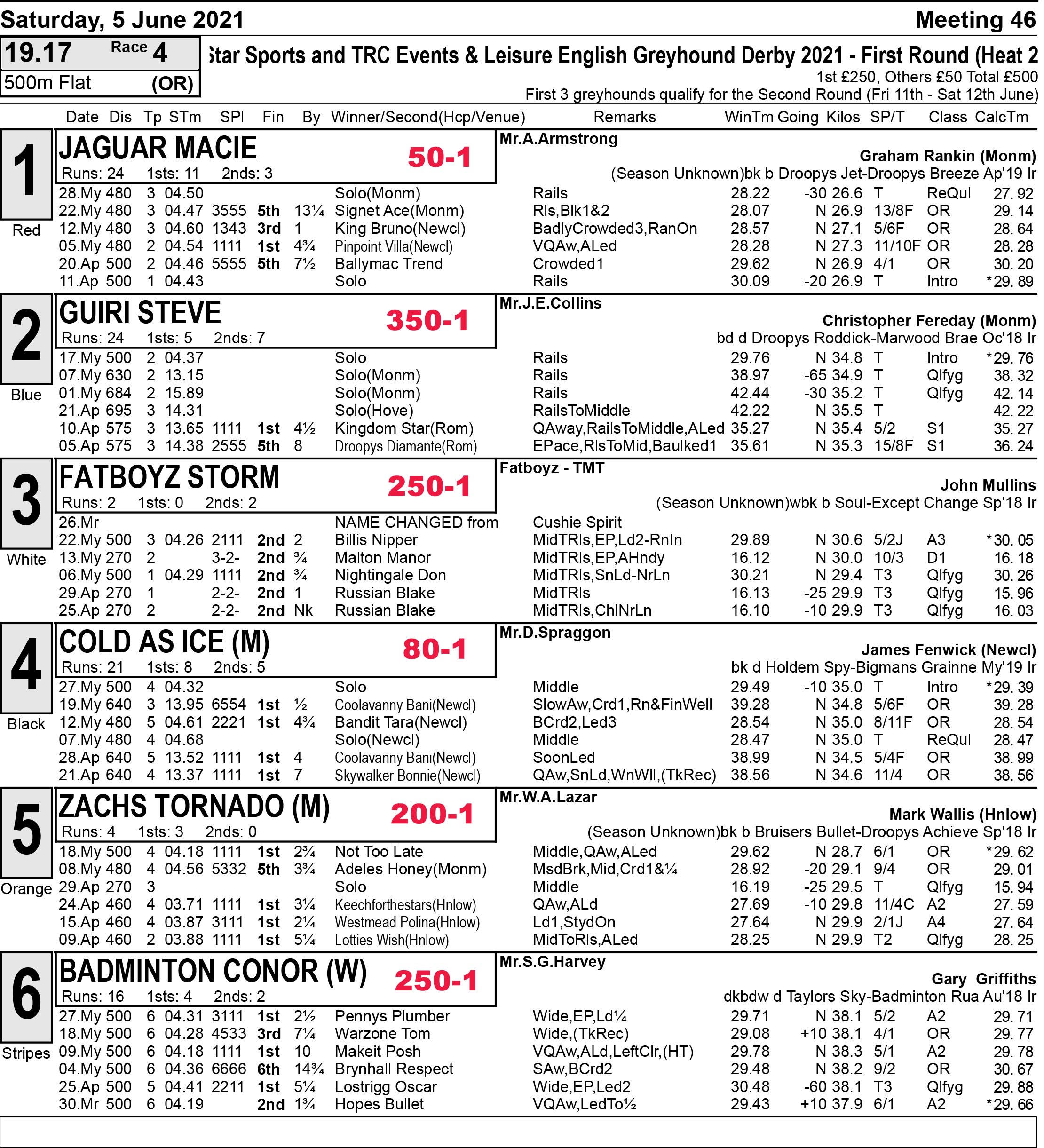 Jimmy Fenwick's Cold As Ice (9-4) is a greyhound who always showed massive pace throughout his puppy stage.  Reaching the final of the Puppy Derby here at Towcester and the semi-finals of the Monmore version and Northern Puppy Derby at home track Newcastle.  Since stepping up in trip to six bends though he's really come into his own winning his first and so far only three races over 640m at Newcastle.  The step back in trip is interesting but his shrewd handler will know this dog better than anybody and his 29.49 (-10) trial here last week showed that 'with a run' he's capable of some big runs over this trip.  In what looks a match on paper he's take to get the better of main market rival Jaguar Macie (10-11) trained by Graham Rankin.  Macie has already showcased her huge class when winning the finals of the Monmore Puppy Derby and the Northern Puppy Derby already this year although there is a suspicion she didn't quite look as at home when finishing well beat in the Juvenile around here in April.  Rankin has since gone on record to say he was undecided if the track was to her liking and the decision to enter for the Derby was a late one.  All this said she should have enough in the locker to take second   Zachs Tornado (13-2) can qualify in third for Henlow's Mark Wallis. Others: Guiri Steve (28-1), Fatboyz Storm (25-1), Badminton Conor (10-1)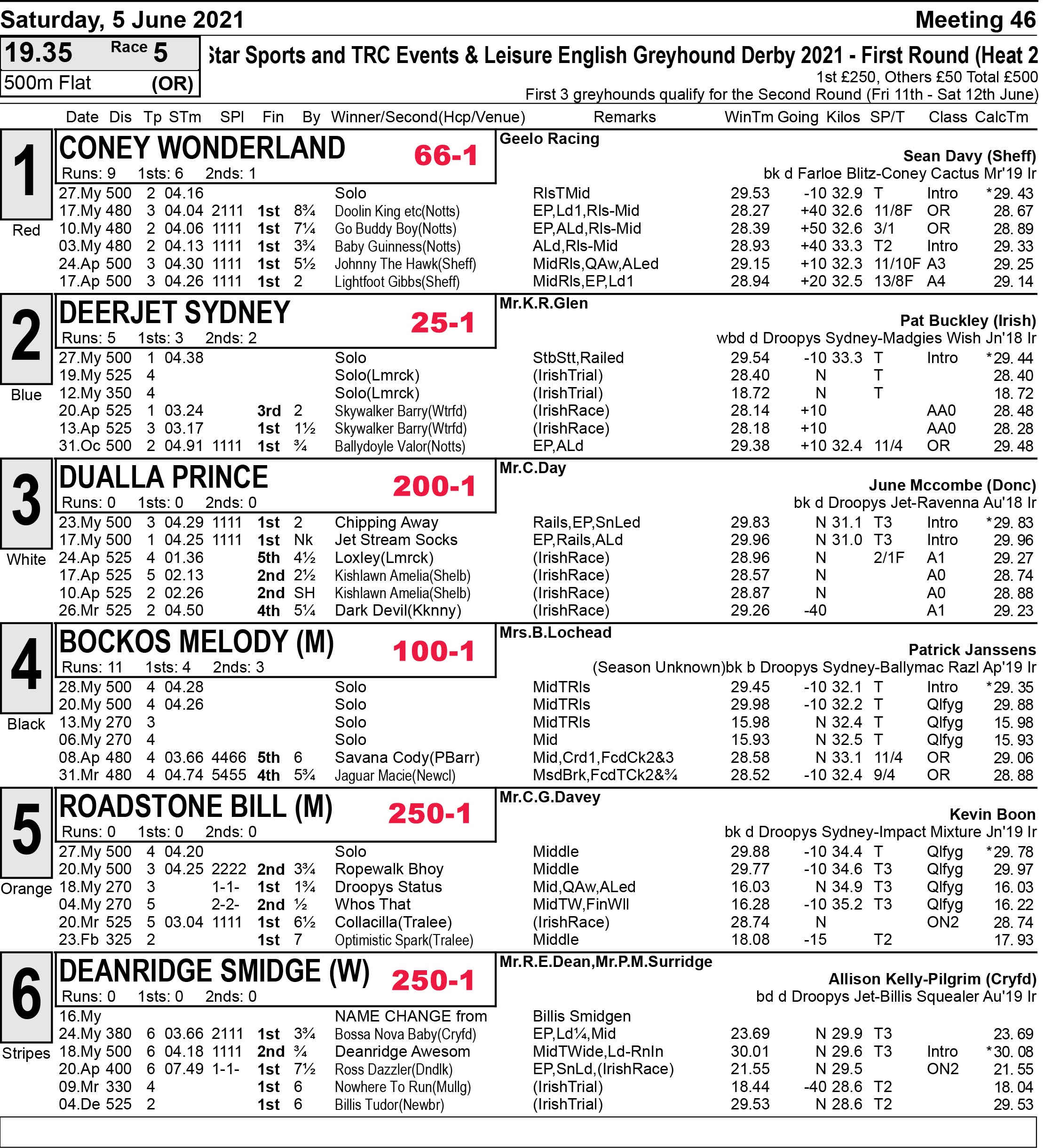 The Champion returns to the track and Pat Buckley's Deerjet Sydney (8-11) , a superb winner of the 2020 English Derby Final at Nottingham can soon skip clear and advertise his claims at retaining his crown here at Towcester in 2021.  Ideally drawn here in the blue jacket Sydney can smash out and make all.  He'll need to be near his best though with Patrick Janssen's Bockos Melody (7-2) in opposition who has already advertised his liking for this venue when finishing runner up in the Puppy Derby Final here before more recently reaching the final of the Northern Puppy Derby at Newcastle.  There has been plenty of market support for Sean Davy's Coney Wonderland (9-2 in recent days after some excellent early paced performances at Sheffield and Nottingham recently were backed up by a 2953 (-10) trial around the Derby venue last week.  Hugely unexposed he wouldn't be the first greyhound with a similar profile to go very deep into a debut Derby campaign. Others Dualla Prince (20-1), Roadstone Bill (25-1), Deanridge Smidge (33-1).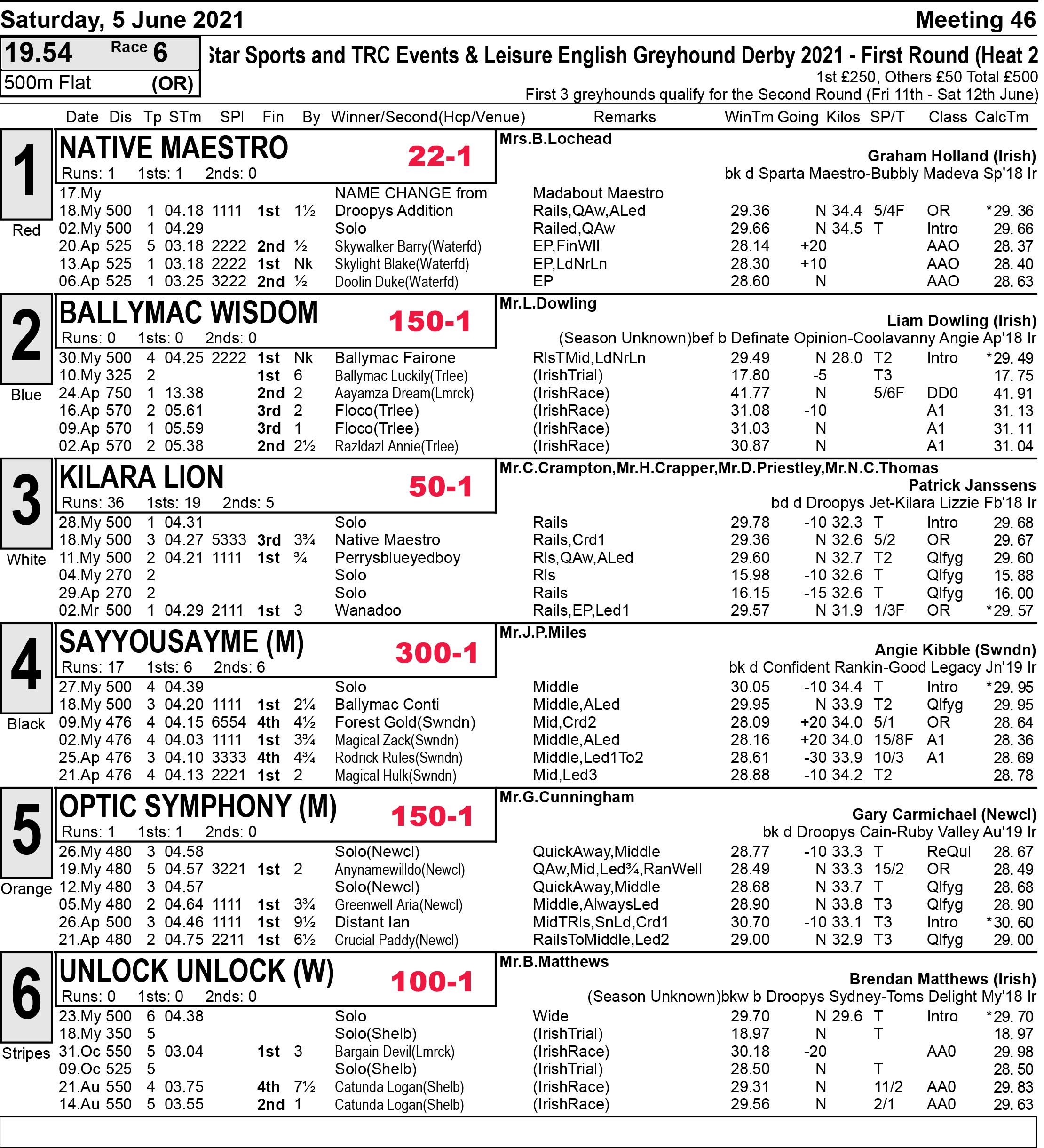 What a race in prospect.  Native Maestro (4-6) is ideally housed against the rail here and Graham Holland's 2020 Kingdom Derby finalist at Tralee and more recently 2021 Select Stakes finalist at Waterford is selected to come out on top.  It's not going to be a walk in the park though.  Patrick Janssens Kilara Lion (9-2) is well proven at top Cat One level being a winner of the Kent and East Anglian Derbys in 2020 and backing those victories up with Blue Riband success around this venue in 2021.  He really is a top-class greyhound who can push Maestro all the way.  Liam Dowling's Ballymac Wisdom (8-1) can drop in behind that pair and use her customary late finish to ensure a qualifying position. Others: Sayyoursayme (66-1), Optic Symphnoy (12-1), Unlock Unlock (13-2)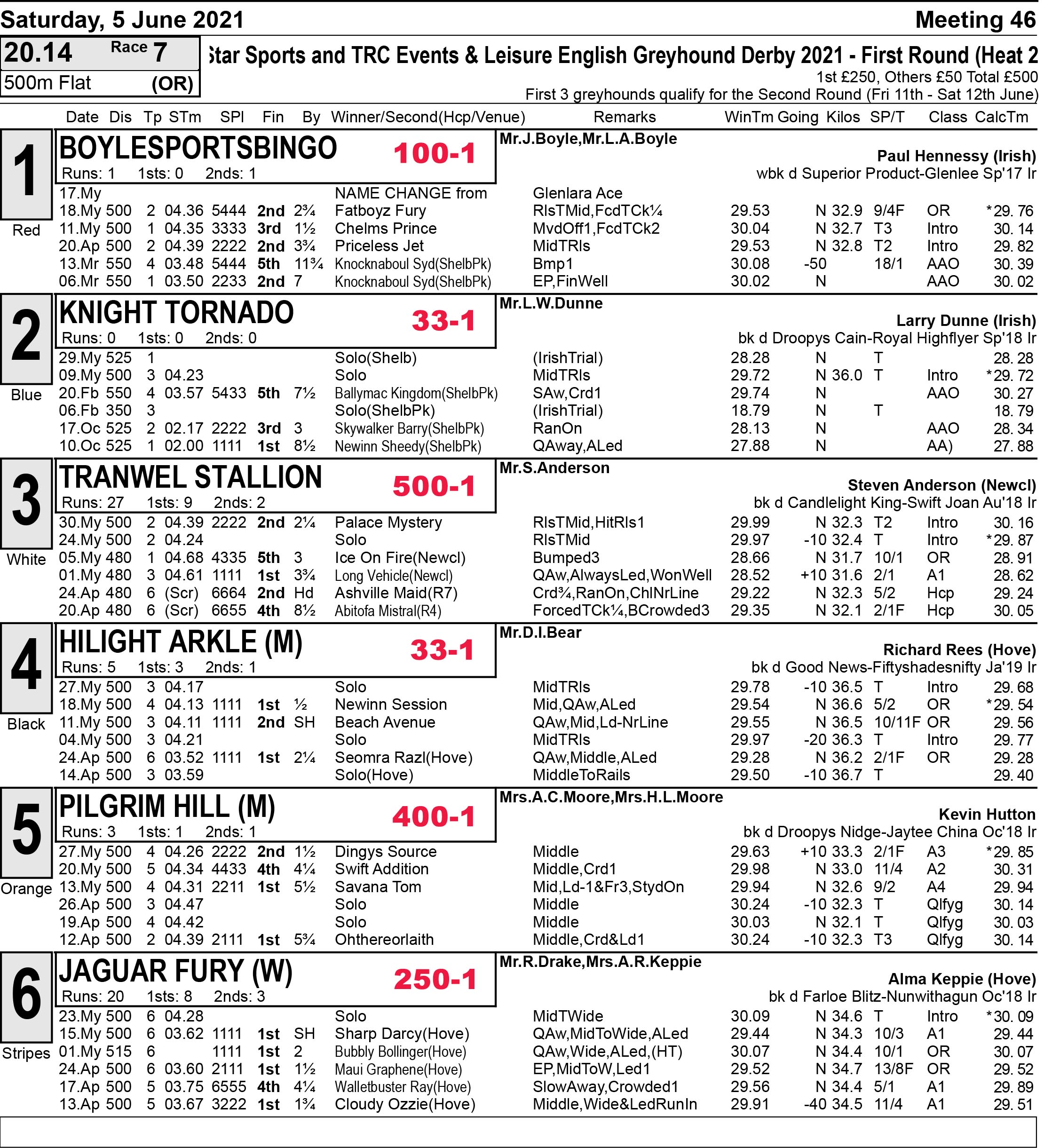 Richard Rees' Hilight Arkle (5-4) had finished beaten in top grade company at Hove when I put him up as one of my ten to follow for 2021 earlier this year and marked him down as a dog who could progress into becoming a top-class competition greyhound.  I'm pleased to say that he's well on the way to becoming just that having put in some huge runs in recent weeks most notably when gamely holding off Irish star Newinn Session in a trial stakes here a couple of weeks ago in 29.54.  He's getting stronger all the time and will take some beating if smashing out in his usual style.  Larry Dunne's Knight Tornado (13-8) is well housed to ensure this is a good race and he can take second with Paul Hennessy's strong running Boylesportsbingo (4-1) who has already reached the finals of the Gold Cup and Easter Cup at Shelbourne Park this year running on for third. Others: Tranwell Stallion (50-1), Pilgrim Hill (20-1), Jaguar Fury (20-1)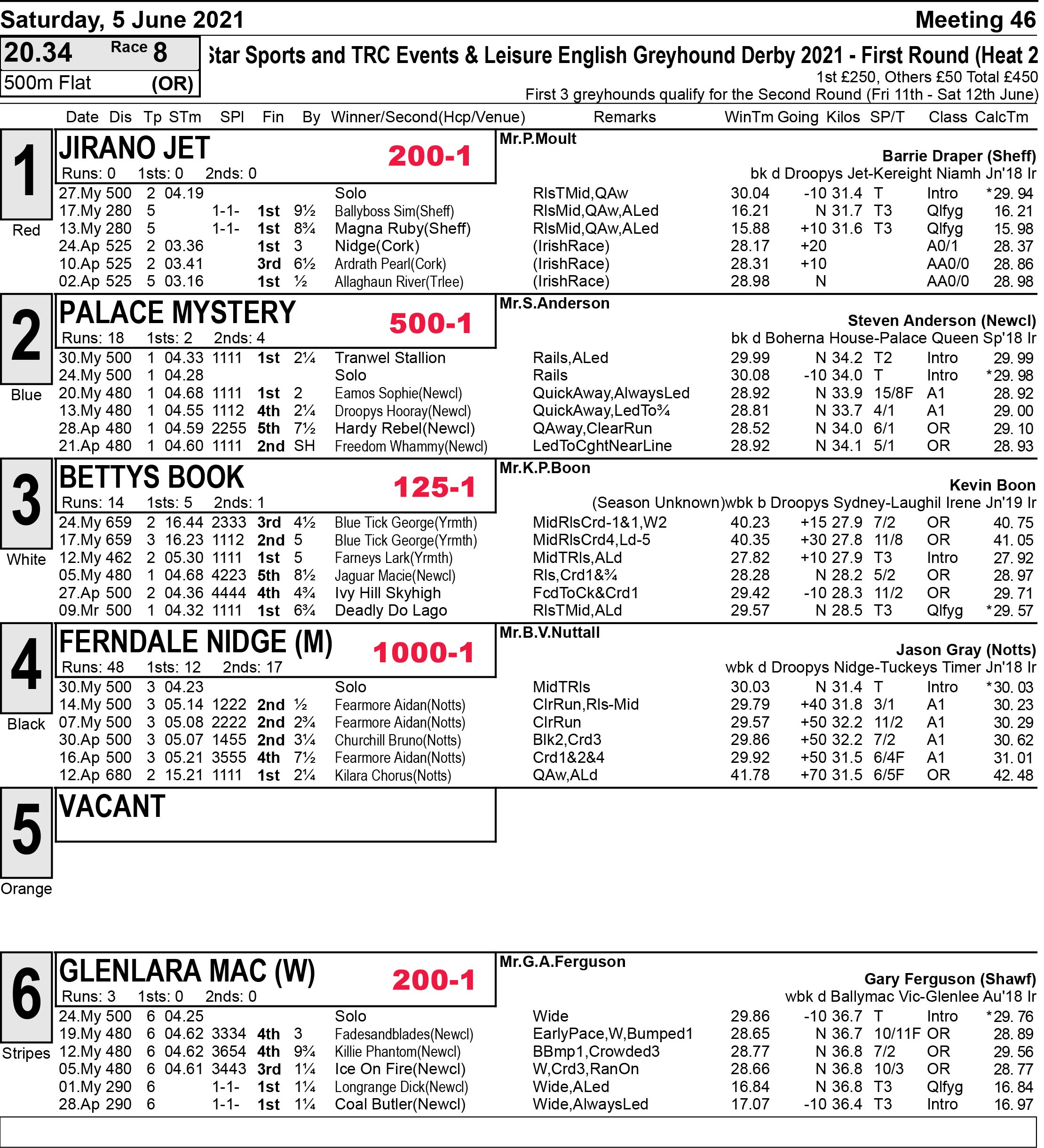 Kevin Boon's strong running Bettys Book (6-4) is a classy bitch who has already reached the semi-finals of the Monmore Puppy Derby and the George Ing St Leger at Yarmouth more recently when stepped up to six bends.  Boon couldn't have wished to a better first round draw with this being one of the easier first round examinations that his bitch could have faced.  It will be disappointing if she doesn't have too much at her disposal to account for these rivals.  Glenlara Mac (3-1) is plotted up on the wide outside to take second for Gary Ferguson with any of the other three capable of taking the third and final spot in next week's second round draw. Others: Jirano Jet (3-1), Palace Mystery (13-2), Ferndale Nidge (20-1)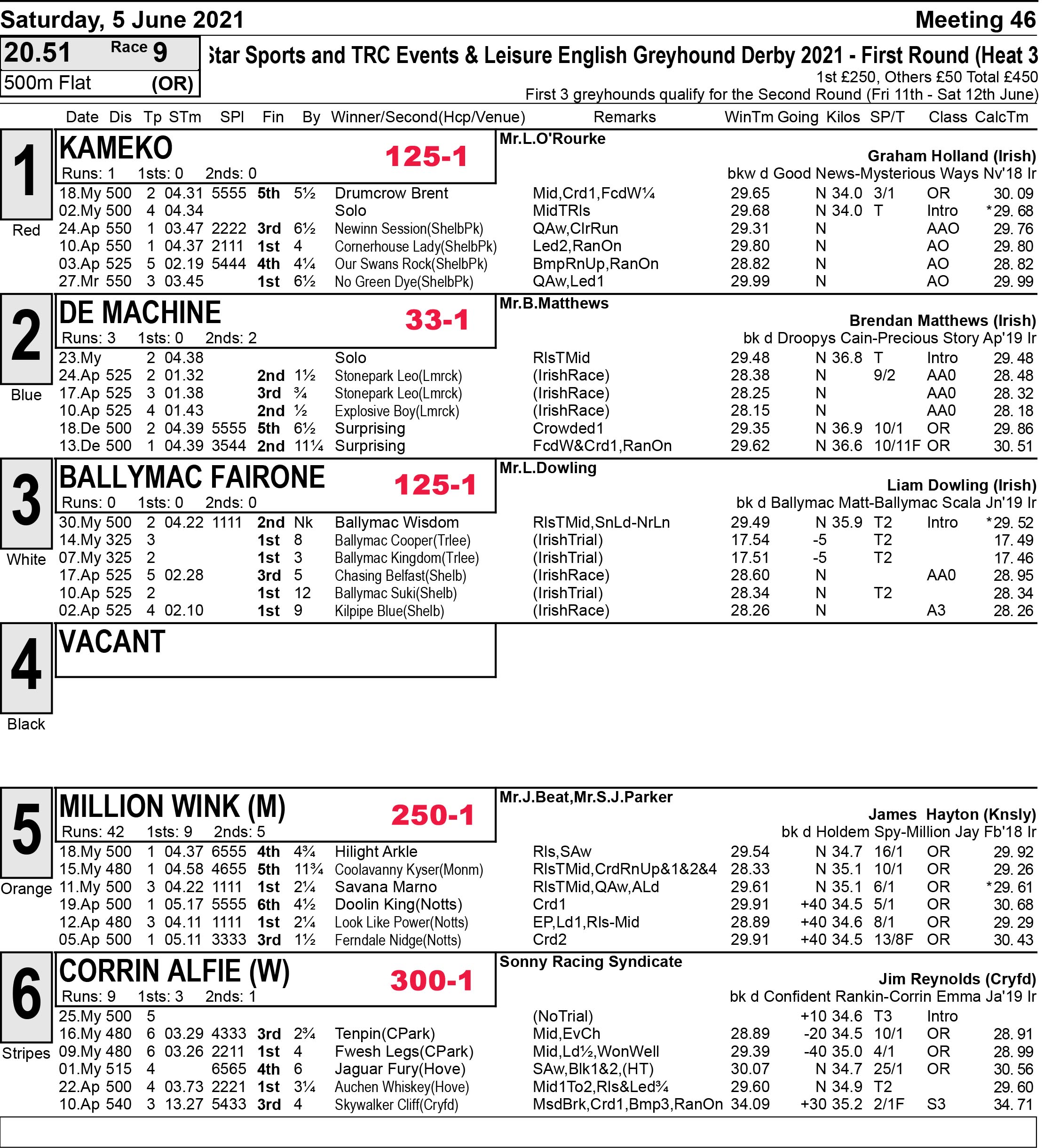 Liam Dowling's Ballymac Fairone (7-2) might not be the Ballymac that immediately springs to mind when looking for the Kerry trainers leading hope but he's a young greyhound with unlimited potential who left plenty on the track when still recording a more than decent 29.52 when going down by just a late neck to kennel mate Ballymac Wisdom in what is his so far sole look around this venue.  All he can do is improve and from a good make up he can ping out and make all.  He'll need to though as with Brendan Matthews De Machine (8-13) in opposition , a strong runner already proven around this venue when making the Puppy Derby final earlier in the year , nothing but a top-class performance from the Ballymac dog will do.  Kameko (4-1) drawn against the rail for Graham Holland can make it an Irish one-two-three. Others: Million Wink (16-1), Corrin Alfie (25-1)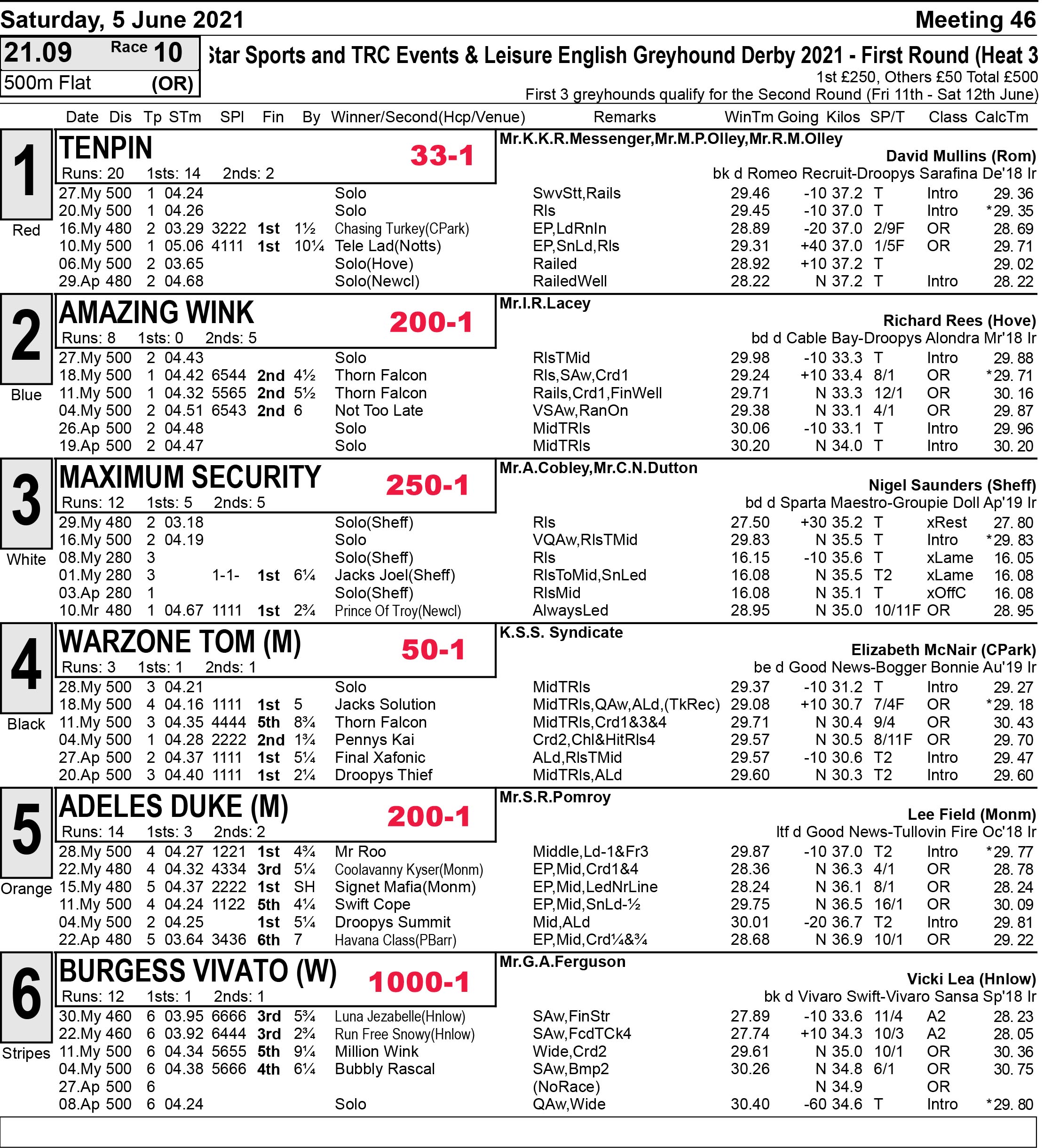 Dave Mullins Tenpin (8-11) is without doubt one of the leading hopes of the UK for this year's Derby.  A high-class sort with all-round pace his only negative would be a reliance when it comes to the very top company on a rails pitch.  He's got that here though and with any kind of break I simply can't see him beaten.  Warzone Tom (13-8) for Liz and Rab McNair shouldn't be too far away in second whilst the strong running Amazing Wink (16-1) can take third for Richard Rees. Others: Maximum Security (25-1), Adeles Duke (20-1), Burgess Vivato (50-1)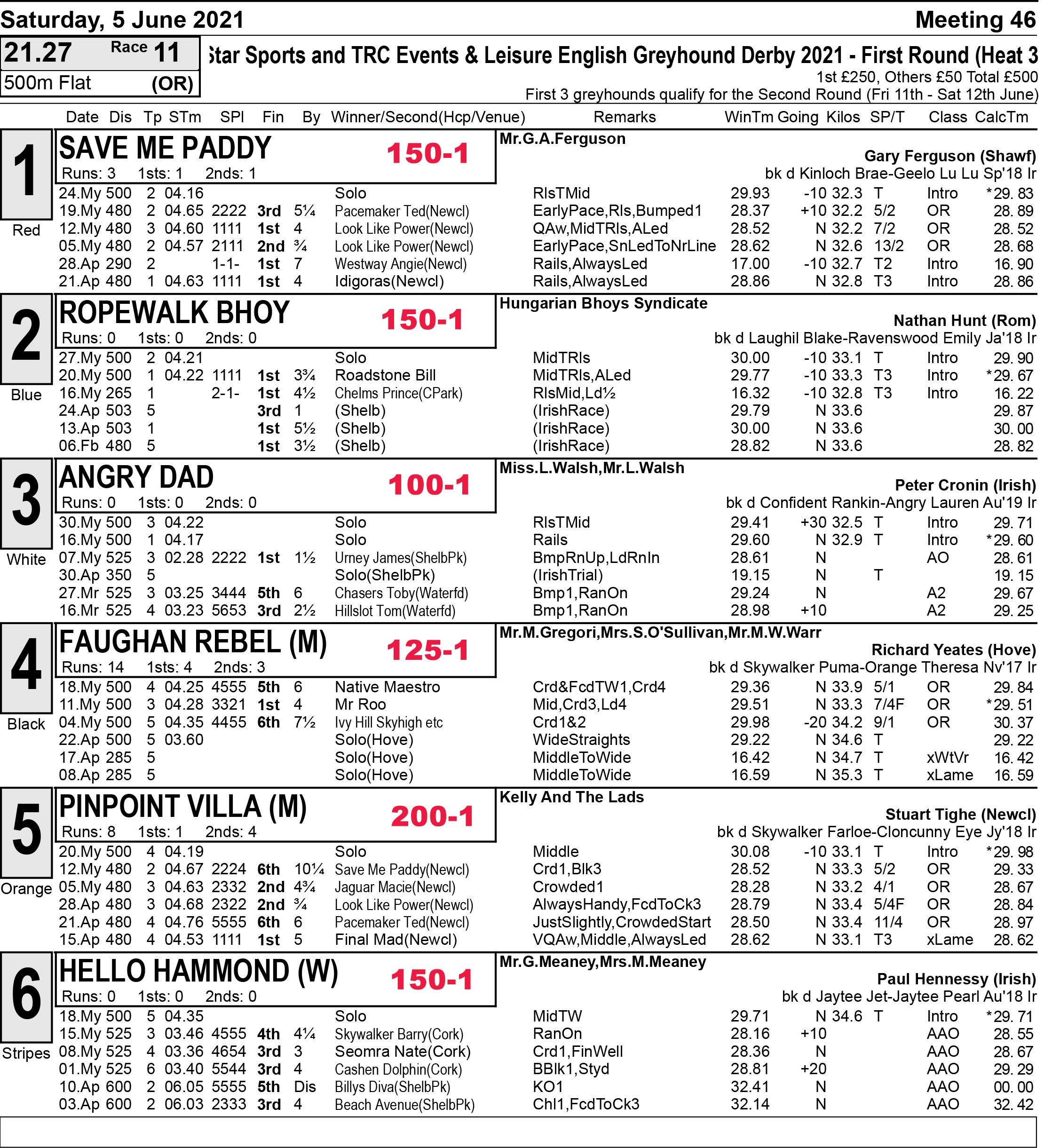 Gary Ferguson's Save Me Paddy (9-2) may prefer to be drawn off the fence a little but he's enough early pace to secure a first bend lead and if doing so will take the beating in the final heat of the first round.  Paul Hennessy's strong running wide seed Hello Hammond (9-4) can take second with Peter Cronin's massively unexposed pup Angry Dad (9-2) claiming third and with it the final place in next week's second round draw. Others: Ropewalk Boy (13-2), Faughan Rebel (4-1), Pinpint Villa (6-1