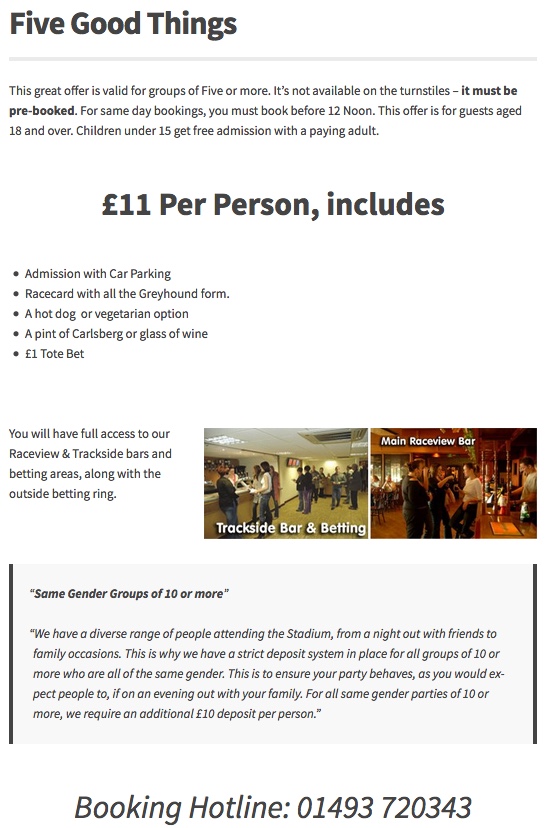 The powerful Liam Og (Kinloch Brae-Cool Article, Aug 14) made full use of his stamina to land the £1,200 Bud Light East Anglian Challenge at YARMOUTH on Wednesday.
The wettest day of 2017 on the east coast saw the usually pristine Yarmouth circuit running its slowest of the year .
In a messy race, where every runner had some form of "Crd" in their in-running comments, it was the toughness of the Henlow Christmas Cracker which saw him land his second competition.
Paul Crowson's 5-2 shot was last away as the other five crossed the sectional separated by as many spots on the clock.
'Liam' didn't take up the running until the last bend, but the dog with open race winning form over 692m soon pulled away to win in by more than five lengths in 29.35 on a track rated -120.
The highllight of the supporting card was Shaneboy Freddie completing a four-timer in his 77th race. Kevin Boon's Sussex Cup winner, had been beaten in all six previous attempts over course and distance but covered the 462m in 29.32 (-120).
Veteran Jet Stream Bound (Razldazl George-Southest Lazey, Apr 13) clocked the fastest 685 of the year at SWINDON in the 67th race of her career.
Pete Swadden's veteran dominated from the outset and crossed the winning line in 41.68. It was her fourth win in her last six outings and just 20 spots off a personal best recorded back in 2015.
There was also a very sharp 509 from Gary Hodson's Danzey Exception (Kinloch Brae-Have You One, Jun 14) who clocked 29.84 (+20), equalling Empress Katie's best for 2017 plus a 62-1 double from just three winners for Clive Elliott thanks to Alarming Khaos (Coolavany Bert-Alarming Jacks, Apr 15) (28.96 – 480m) and Fridays Moscow (Crash-Fridays Sasha, May 14) (30.37 509m).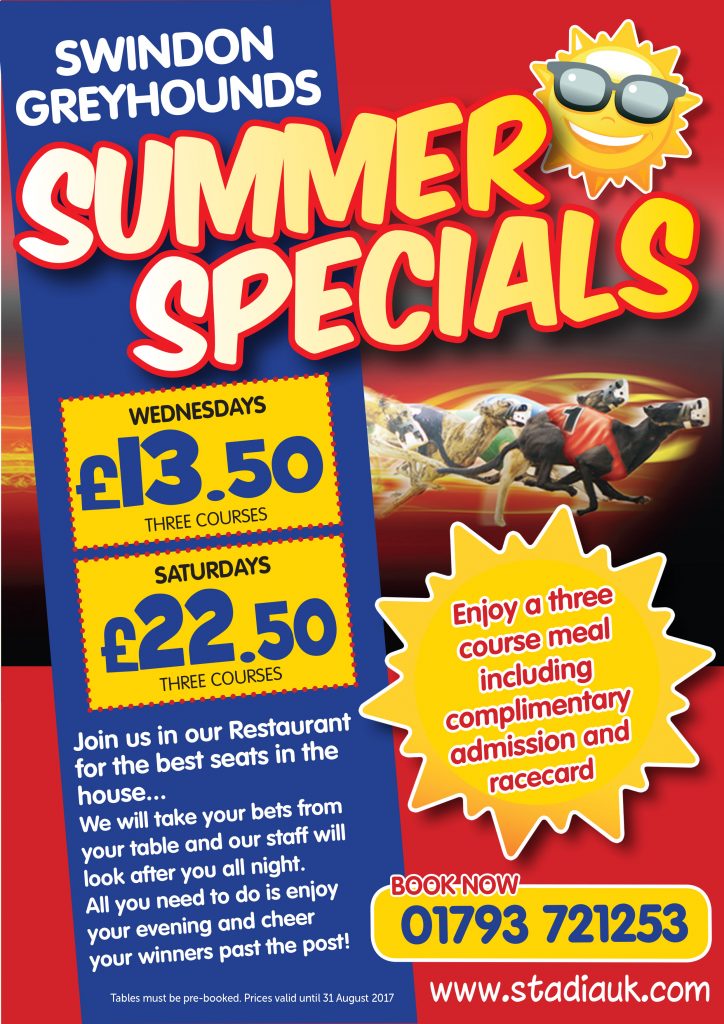 Headford Johnny (Superior Product-Aero Avia, Sep 15) landed the final of the Doncaster Maiden Trophy. Darren Cowell's 5-4f (T1)  improved on his heat victory with a 28.06 (-30) run for the 450m
Locals landed half the heats in the William Hill PETERBOROUGH Derby first round.
Fastest on the night was Dave Pruhs' Kooga Klammer (Roxholme Bully-Millbrook Gaga, Dec 14). The white jacketed Romford Puppy Cup winner justified evens favouritism to clock 26.03 (all -30) for the 435m. He was followed home by Knoackard Spring (T1 3-1) and Swift Dartmoor (T2 7-1).
Trevor Simmons' Bit View Colin  (Tullymurry Act-Broadacres Mist, Jun 15) was half a length slower when winning his heat from trap two and returning at 11-4. He was followed home by Idle Talker (T5 3-1) and Minglers Toure (T4 4-1). Favourite Pinpoint Mo (T1 7-4f) was eliminated.
Ante post favourite Hiya Butt (Hondo Black-Hather For Pat, Sep 13) went from blue and justified odds of 2-7f with a two length win over Ginas Blue (T6 6-1) and All About Class (T3 7-1).
Cork Falcon (Razldazl George-Apple Padro, May 15) was next quickest in 26.36, beating Angry Man (T6 5-2) and Coonough Bell (T1 10-1)
Veteran Clondoty Alex (Razldazl Jayfkay-Castlehill Alex, May 13), landed the 81st race of his career in 26.42. The red jacketed evens favourite beat Viking Jimmy (T5 5-1) and Thomas Golden (T4 8-1).
The opening heat had gone to Dark Recruit (Romeo Recruit-Borna Gem, Oct 14). The Romford Puppy Cup third (T1 9-2) was followed home by Ballymac Dema (T2) and Corrin Boyshane (T5). The winner clocked 26.54 and was favourite Crossfield Giles (T6) eliminated in fifth spot.