My Mate Max, a long standing regular on the open race circuit and winner of 21 races out of a career total of 105, has been retired.
Chris Waters, who owns the Kinloch Brae – Swift Sandy Sept 13 brindle with Lee Calcutt, said that the dog owed connections absolutely nothing, and the decision to give him a much deserved retirement was in total agreement with trainer John Mullins.
Waters explained: "Of all the dogs I'm involved in, he's been my favourite, ever since I bought him off Ian Greaves at four months old. I named him in memory of my pet at home, our much loved springer spaniel Max who passed away at nearly 14. Max the greyhound has carried that memory on, always giving his all, and was a joy to watch on our travels. He was versatile as well. In all he won at seven tracks, from two bends up to six, and although I'm the first to admit he was unlikely to win a Derby, I'm immensely proud of the following he built up amongst racing fans.
"There have been some great nights, the 450m clock (26.92 Oct 2016) at Central Park being a highlight. He was also narrowly beaten in the Golden Crest Final at Poole, contested the Kent Derby semis, won the East Anglian Derby Invitation on Yarmouth Derby night back in 2015, and at a good age reached the semis of both Champion Stakes and Coronation Cup at Romford. The century came up in December's Olympic heats at Hove.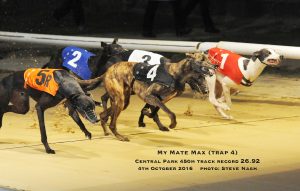 "After he ran a little flat at Monmore recently for no obvious reason, John was on the phone to ask my feelings – we were clearly on the same page – and agreed straightaway that it was the right time to call it a day. Lee instantly agreed as none of us wanted to see him dropping down in class. He's as fit as ever, but now enjoying chasing around the paddock with the other retirees instead of jumping in the van. And his track record at Central Park still stands."