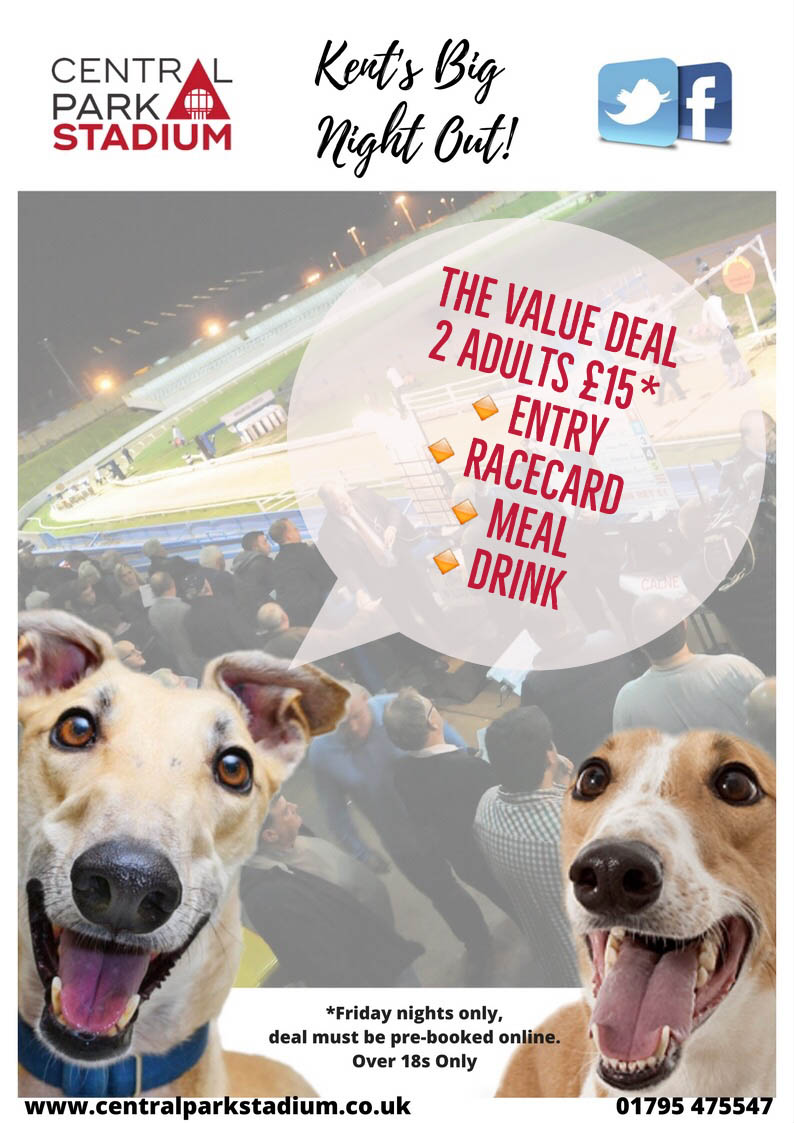 There were contrasting fortunes for trainers Ricky Holloway and Mark Wallis at Central Park on Friday night.
With  a Grand National and Springbok winner among his powerful sextet, it was a night to forget for the locally attached handler.
Not only were Lenson Wilson (2-9f) Shaneboy Bowie (1-3f) and Razldazl Raidio (2-5f) all beaten, the former was eliminated, along with kennelmates Hazelwood Terry (2-1) and Razldazl Star (20-1).
For Mark Wallis though, the contrast could not have been greater. Not only did Parkers Dynamite (Kinloch Brae-Toms Delight, Apr 15) turn over Raidio (Blk1,Ran On) by a length and a half in the fastest time of the night – 29.52 (-20), the kennel's other two runners finished a neck and short head behind the first heat winner The Other Bear (Razldazl Jayfkay-The Other Peach) who clocked 30.23
The second heat went to Dave Lee's evens favourite Droopys Stephan (Forest Master-Droopys Twirl, Aug 15) who beat the Holloway trained Barricane Jack (7-2) and Young Columbus in 30.17 (-20) – a length and a quarter – a length and a half.
The third heat went to Stephan's litter brother Go On Taylor. Claude Gardiner's 5-1 shot beat The Alickadoo and Shaneboy Bowie by a length and a half, and a length and a quarter.
To round the night off, Wallis' Rubys Rascal romped a 642m open by more than six lengths in the third fastest time of the year – 40.13 (-30).
Wallis said: "I was very pleased with the hurdlers, though I thought we should have won the first heat too, if they had wanted to get on with it. All my three were fast dogs on the flat. Parkers Dynamite is a 23.96 (400m) dog at Romford. He went into the Springbok very inexperienced, with just one race on his card, which he won, and a 29.60 qualifying trial.
"But he is now showing signs that he has come forward as a hurdler and at this stage, I would really just like to get at least one of my trio through to the final. We've reached a few Cat One finals this year and have been knocking on the door. But if you keep getting there, eventually things fall into place."
GRAND NATIONAL DRAW
1) Go On Taylor, 2) Parkers Dynamite, 3) Barricane Jack, 4) Shaneboy Bowie (M), 5) Razldazl Raido (W), 6) Droopys Stephan (W)
1) Young Columbas, 2) Ninja Storm, 3) Swift Dartmoor, 4) The Other Beat (M), 5) Ballymac Leo (M), 6) The Alickadoo (W)
The meeting featured another open race double for Seamus Cahill with Lughill Robbie winning for the fourth time in his first five sprint opens (16.52 .10 slow) and Sporting Dave in a calculated 28.61 for the 480m.
The performance of the night though was probably the victory of King Bowie (Tullymurry Act-Shirocca Star, Oct 16) in the 450m maiden final. Contesting only the third race of his life, the 18 month old beat brother King Como by three lengths in a joint FOY 27.55, on going rated .20 slow.