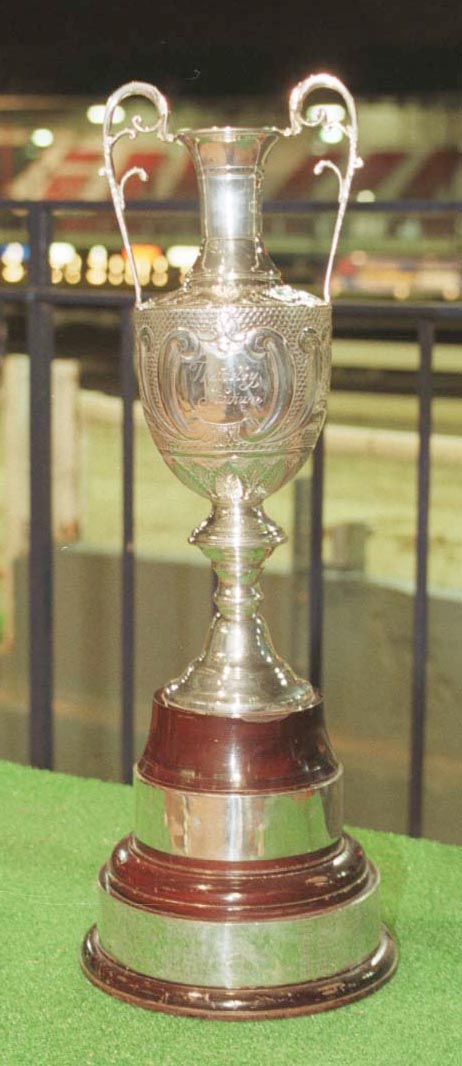 There is top class racing from Perry Barr tonight – featuring six heats of the RPGTV St.Leger plus four supporting opens.
The return of a £15K first prize has attracted three Irish runners and two feature in the top three in the ante post betting:
7-2 Redzer Ardfert
5-1 Antigua Fire,
13-2 Lenson Blinder,
10-1 Droopys Live,
12-1 Riverside Honey,
14-1 Headford Ranger,
16-1 Magical Icarus, Sheldan,
20-1 Goldies Hotspur,
33-1 Avastorm, Brave Ark, Brigadier Bullet, Bumblebee Bullet, Good Karma, Skilful Sandie,
40-1 Token Memory, 50-1 Burgess Villa, Jaxxhappymoments, Kingsbrook Glyn, Piemans Noelle,
66-1 Beechgrove Bell, Causeway Sergie, Summer Savvy,Teecee Dame, 100-1 Cibulkova,
150-1 Colston Pearl, Houdini Act, Longacres Kim,
200-1 Nowhere Boys, Pay The Act, 250-1 Confey Joy, Fabulous Marina, Millhouse Tommy, Poolie Beth, Savana Cleo, Some News
To talk you through tonight's runners, local owner and punter Paul Gebhard – who sent us his selections for last week's card and nailed it – is seeing if he can repeat the feat. His comments and selections feature below each race.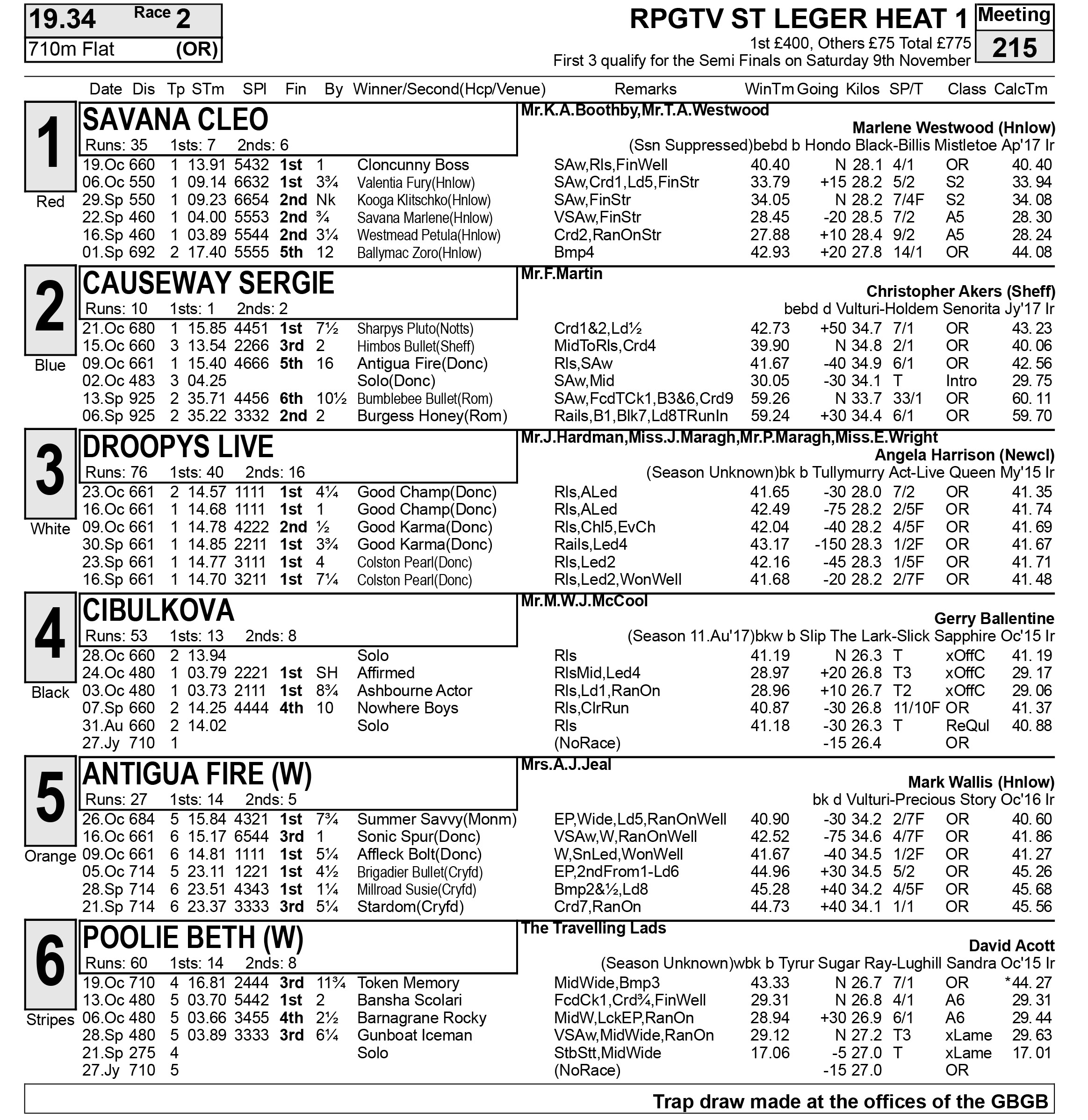 The first of the St. Leger heats. Against decent dogs there's no hiding place over the 710 trip at Perry Barr, if you don't truly stay the trip you will get caught out. Very little track knowledge on display here apart from CIBULKOVA but this one may now be a bit past its best, DROOPS LIVE arrives in top form; the starting prices for ANTIGUA FIRE show how highly he is thought of and I will make him my choice to beat DROOPYS LIVE with CAUSEWAY SERGIE  third for the tricast.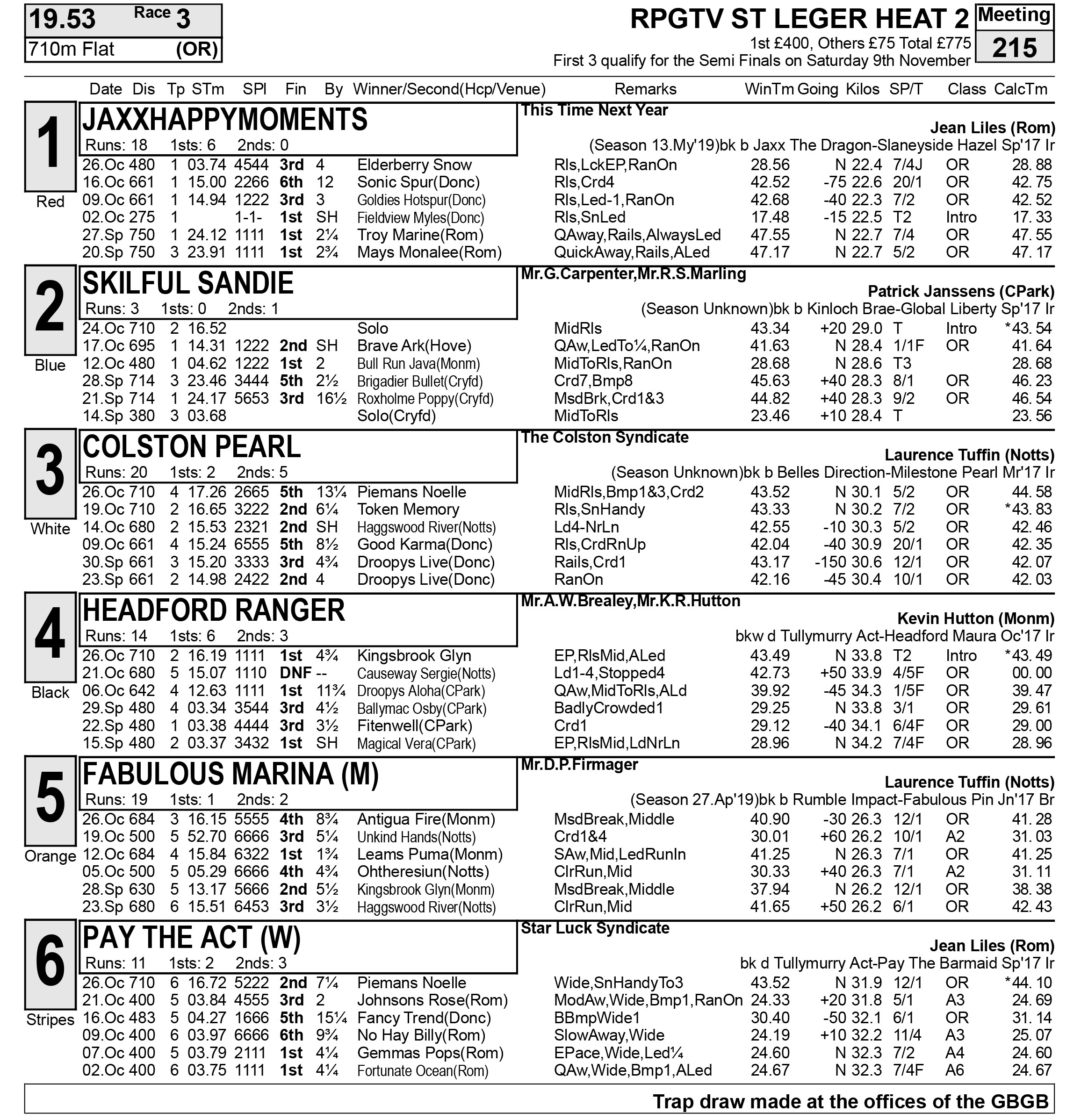 COLSTON PEARL could be treading water up the home straight; I was on HEADFORD RANGER when for whatever reason he lost the plot at Nottingham, but, he's had a 7.10 solo at The Barr where he posted 43.49, I will take him to win with SKILFUL SANDIE for the forecast.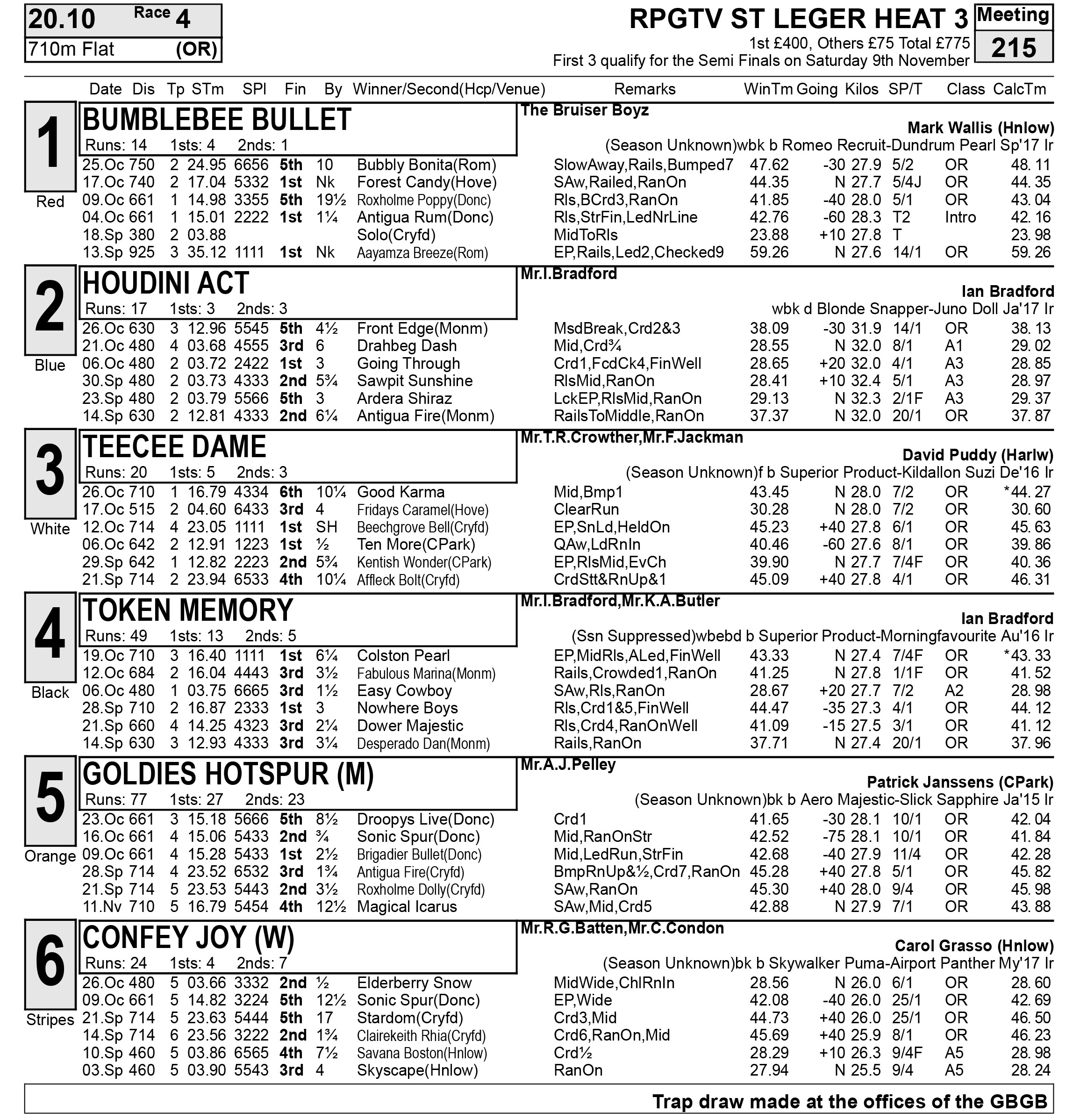 TOKEN MEMORY made it to the final last year and regular track knowledge may get her home here with BUMBLEBEE BULLET for the forecast and the strong finishing GOLDIES HOTSPUR is chosen to complete the tricast.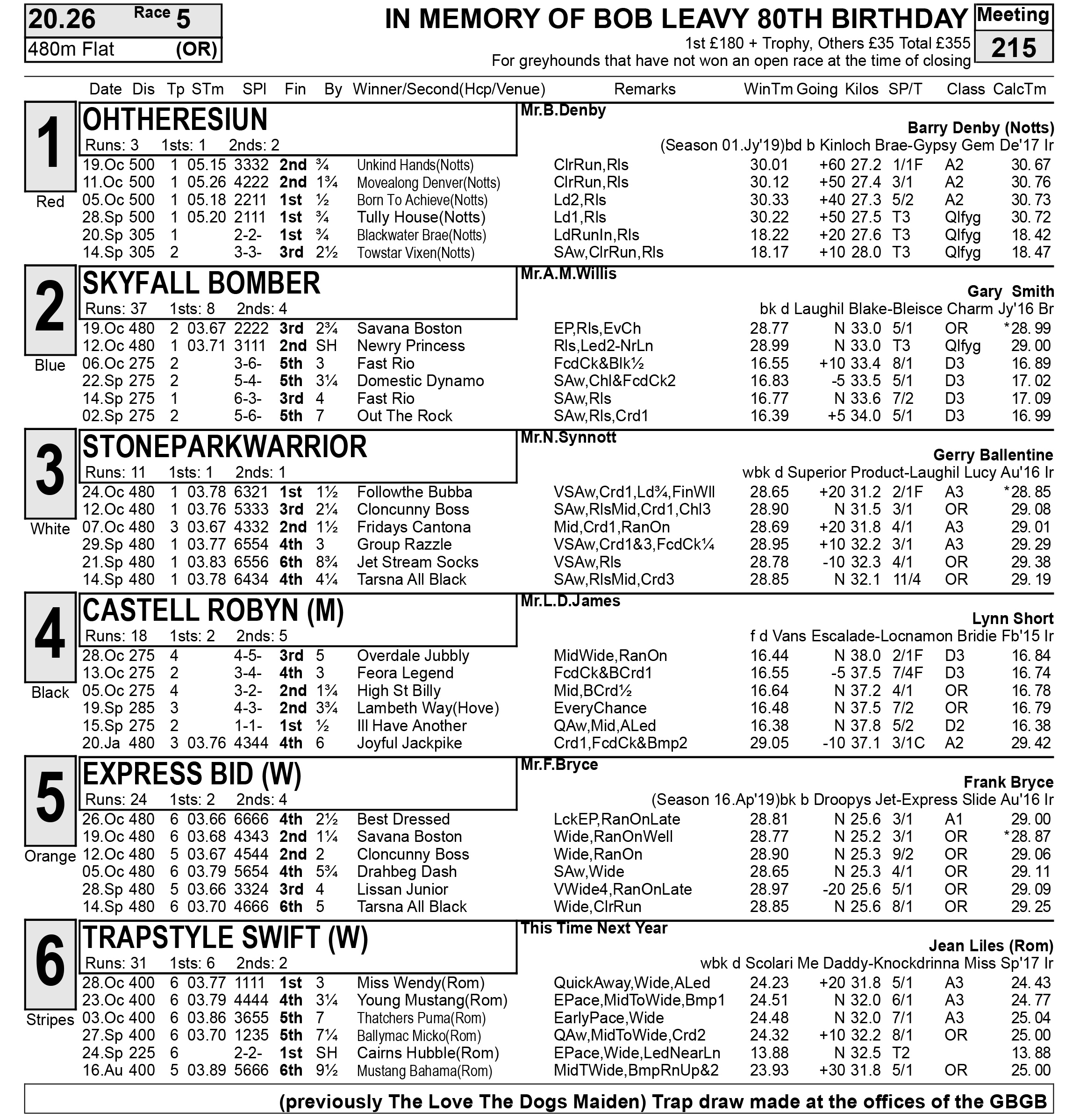 I ended up going for OHTHERESIUN, could be well drawn in Trap 1, she's open to the most improvement (only had the 3 races and the season date of July 1st looks to be spot on); STONEPARK WARRIOR often has to do things the hard way but he seems to have come to form so I will pick him for forecast purposes.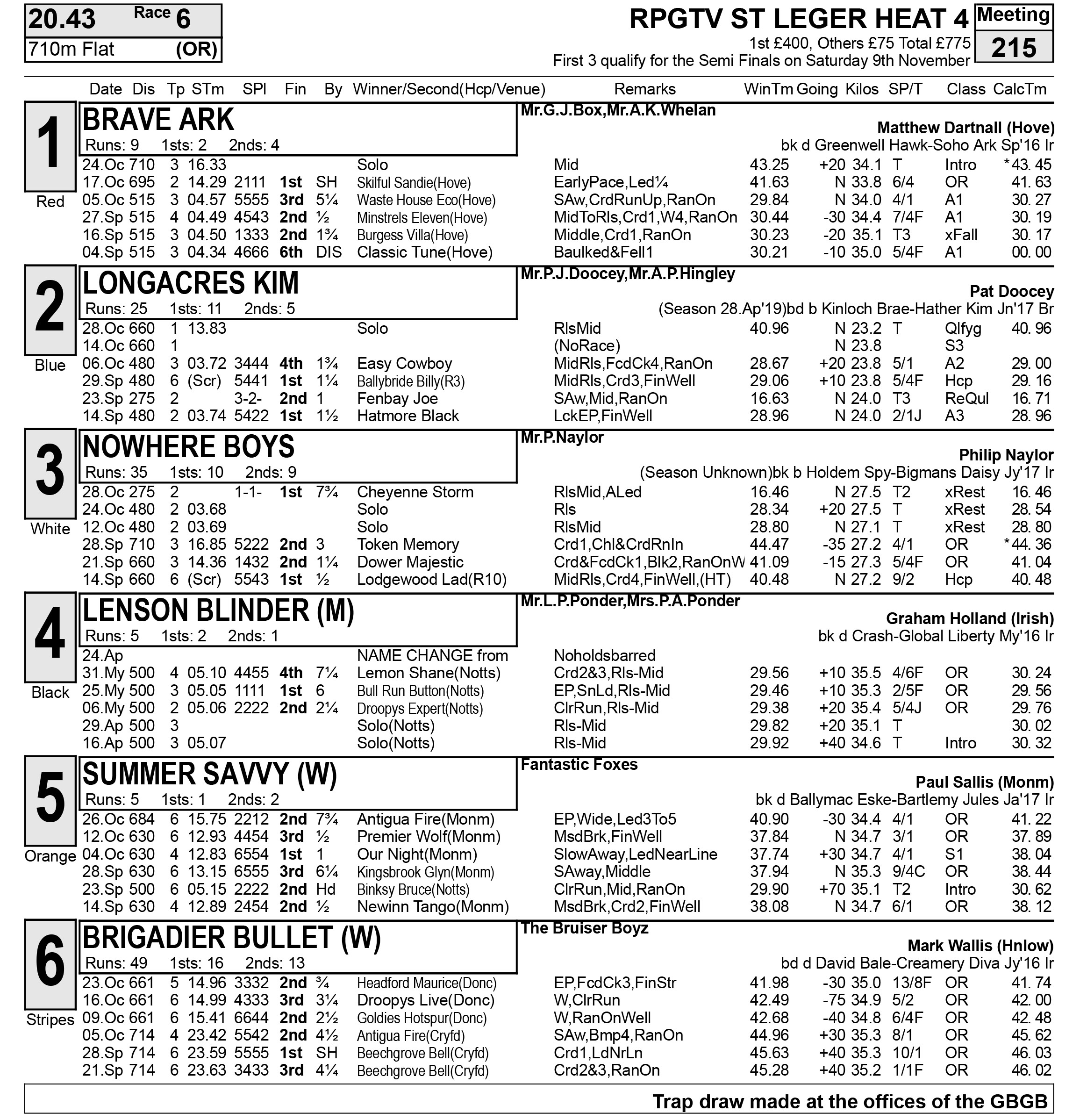 This 4th heat is a puzzler; will LENSON BLINDER and SUMMER SAVVY get the trip? The Dartnall trained BRAVE ARK is a bit of a late comer to long distance racing but he won well at Hove and clocked a very respectable 43.45 in his first look at Perry Barr; I will take him to win and BRIGADIER BULLET for the forecast because of the stamina doubts of others.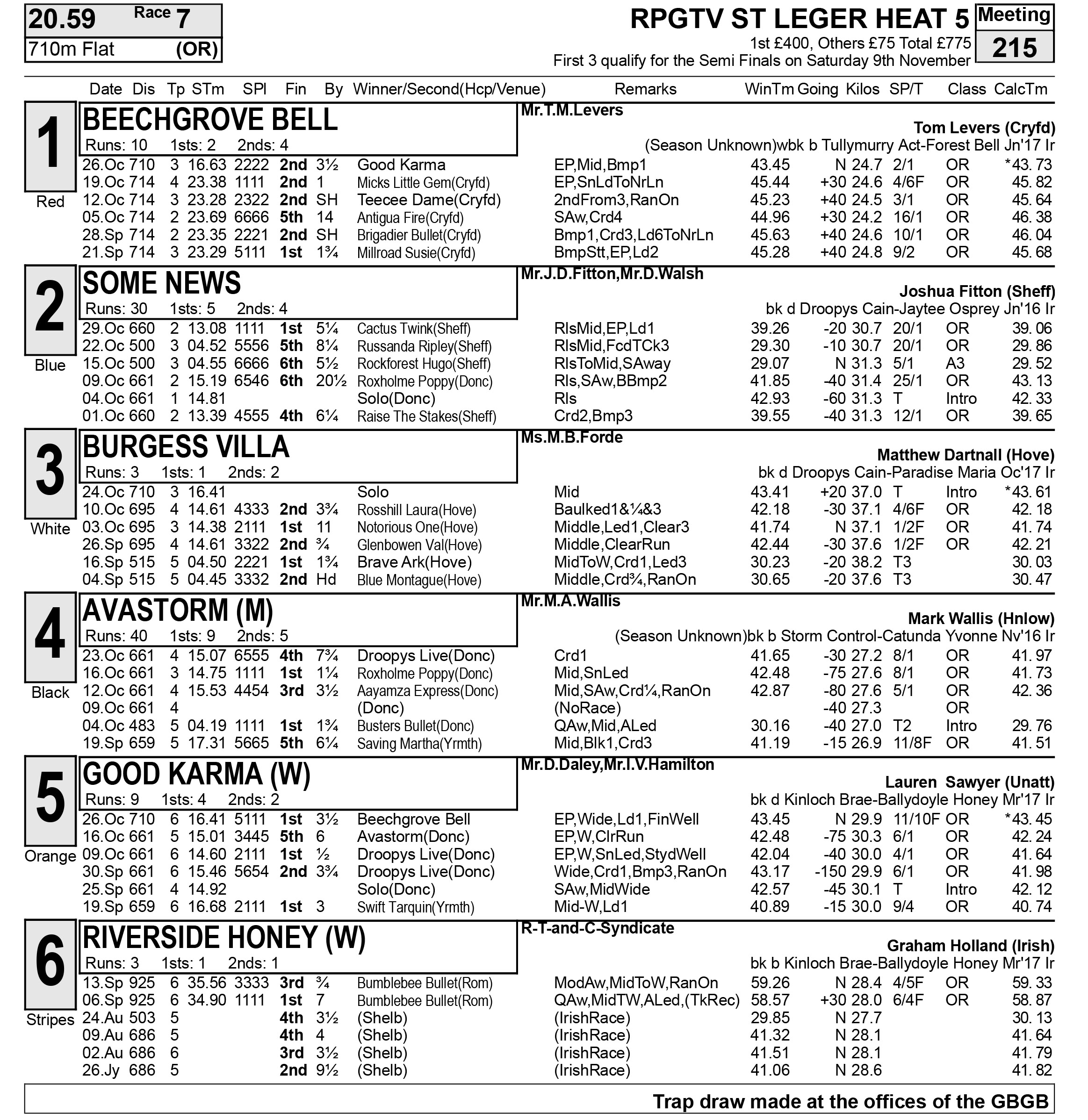 The very lightly raced BURGESS VILLA hasn't had a look round but I will still select him to prevail from GOOD KARMA and for RIVERSIDE HONEY to grab third running on late.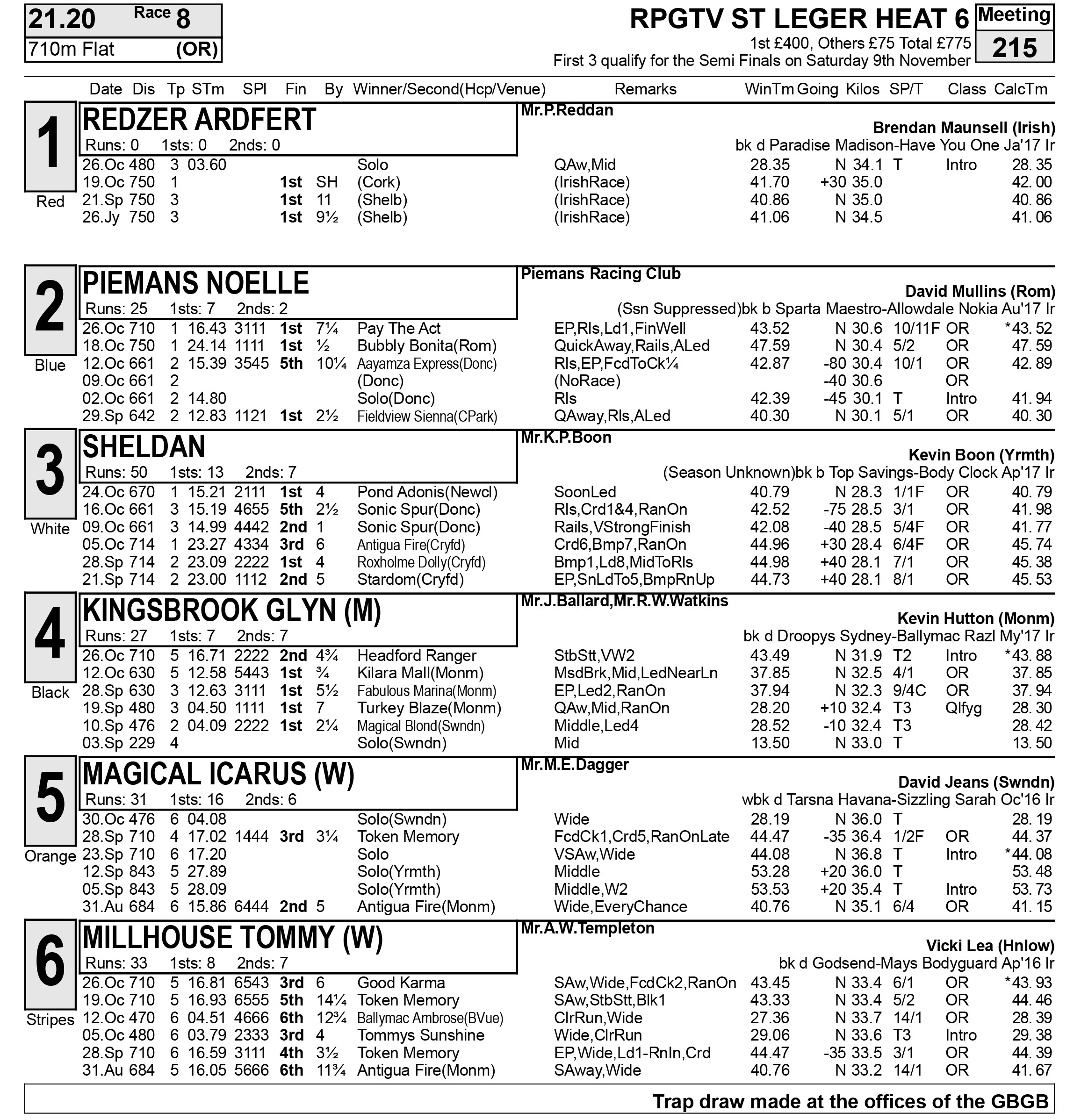 The C.V of REDZER ARDFERT includes the 6 bend track record at Shelbourne, he did 28.35 first look at Perry Barr, that's motoring a bit! I can't oppose him and for the forecast I take SHELDAN to follow him home.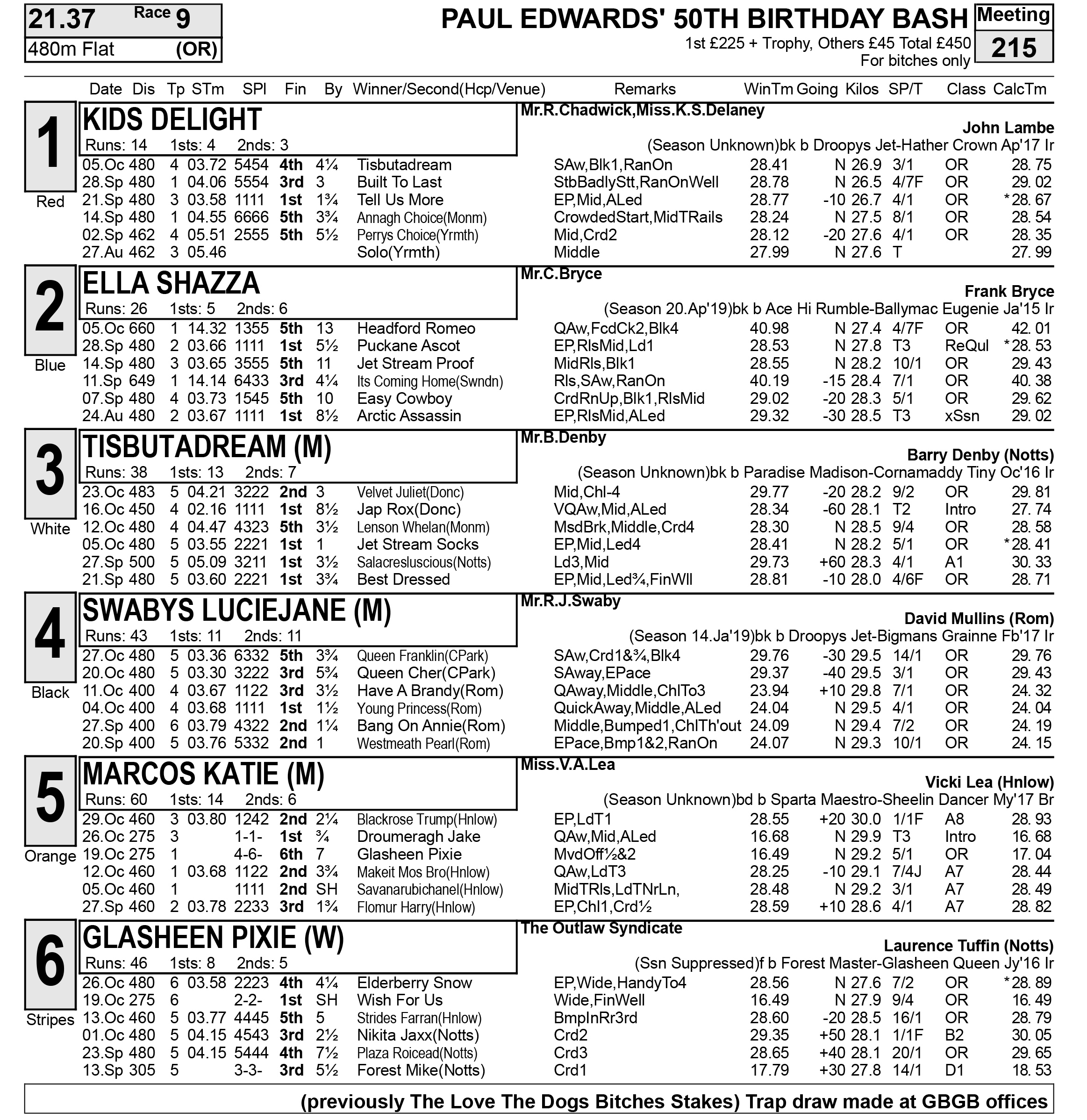 TISBUTDREAM has won an Open here clocking 28.41 off the back of a smart 3.55 sectional a repeat of that or something similar should be enough to win, perhaps KIDS DELIGHT will be the one for the forecast.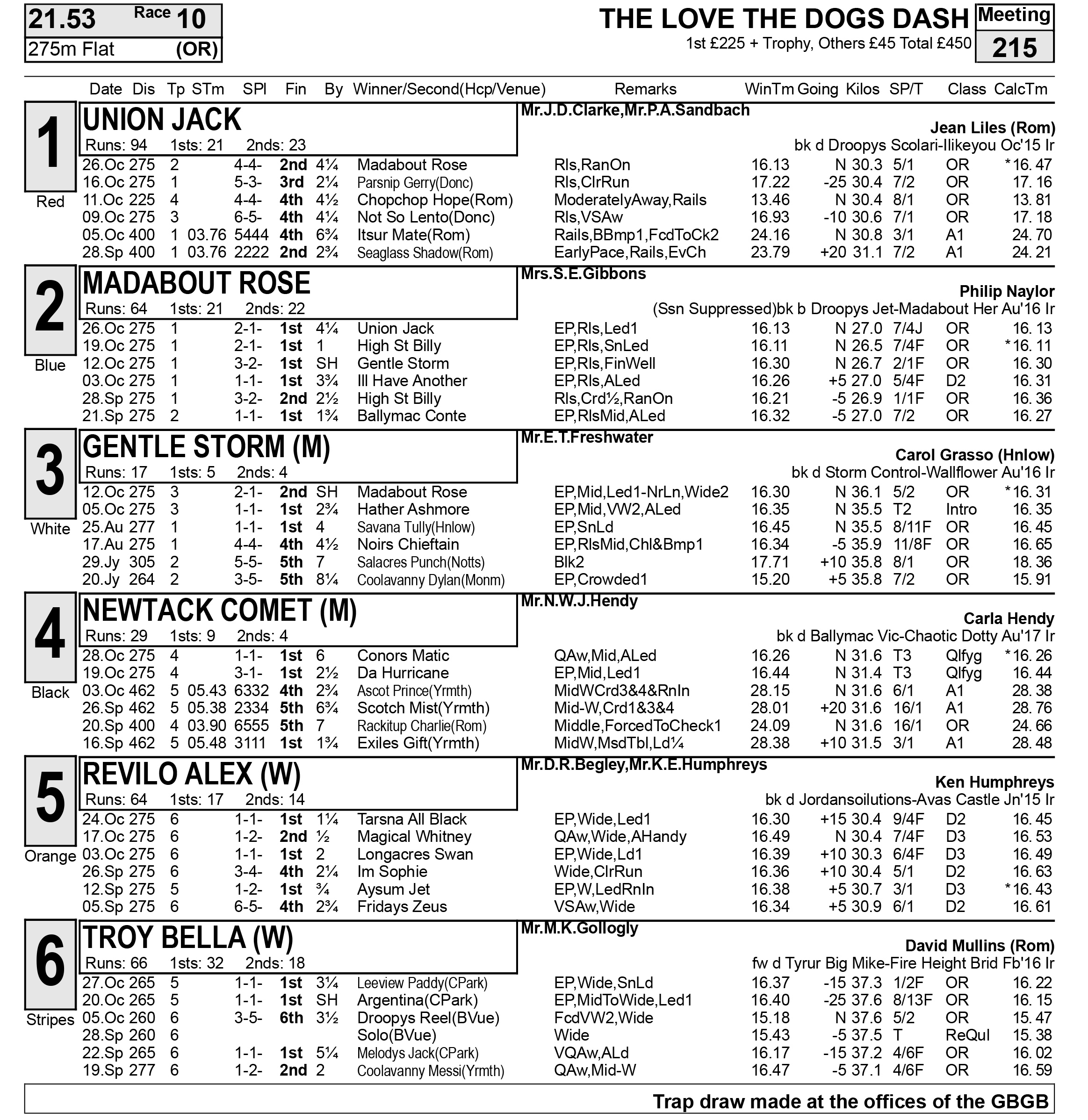 Not too keen on sprint races myself (understatement) nor hurdle races (huge understatement!) but this could be an intriguing contest between the "in the form of its life" MADABOUT ROSIE and the classy TROY BELLA; my heart wants the local dog to win but I shall choose TROY BELLA to beat her (though I'd love the result to be the other way around).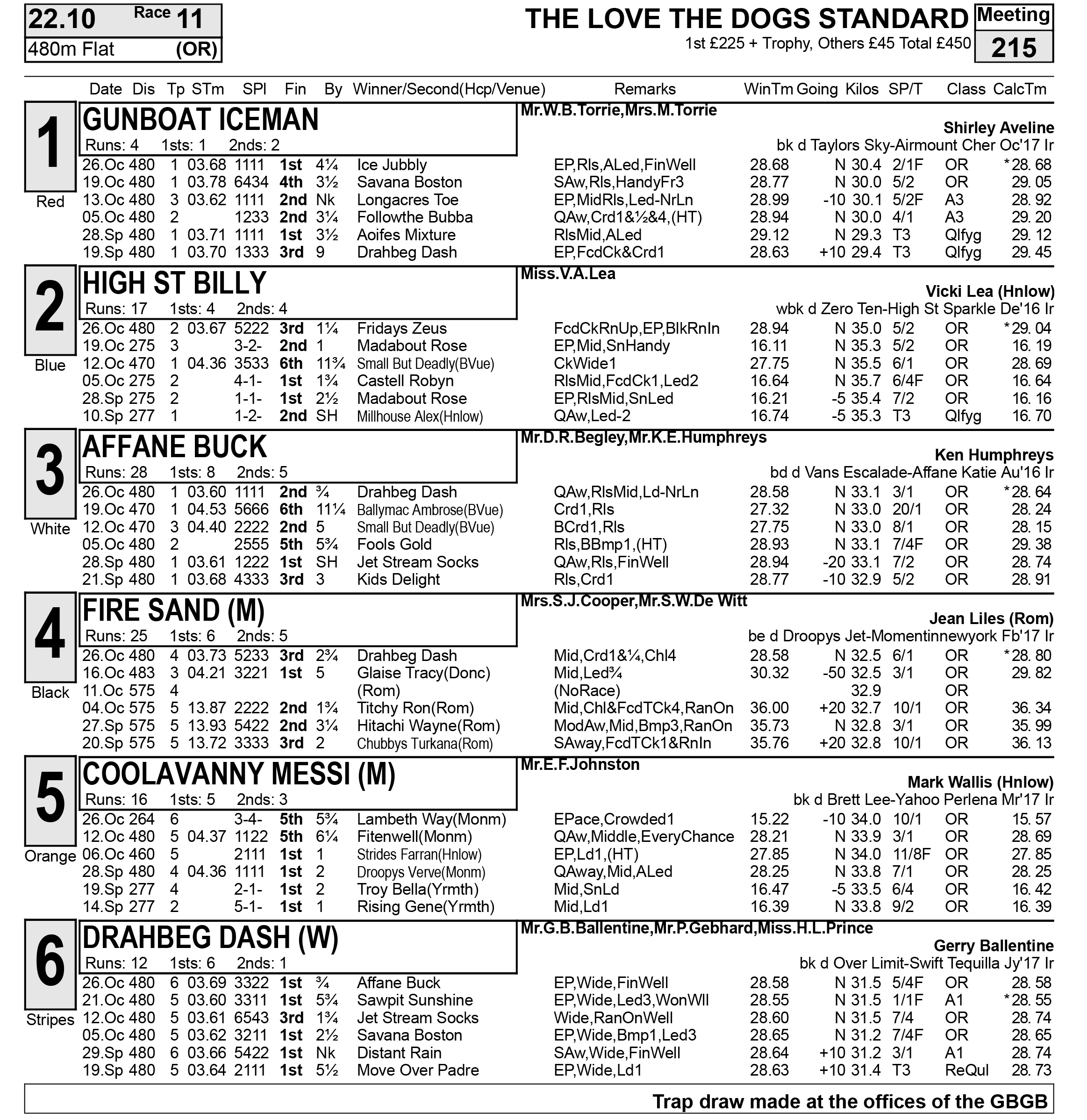 The penultimate race is a  480 metre Open in which my own in form DRAHBEG DASH goes from Trap 6. He's a nice dog with not many races under his belt, we are hopeful that he might yet have a couple of lengths in him because he's still a bit "all arms and legs" at the bends (particularly the first one); COOLAVANNY MESSI is a very decent dog and is trained by Mark WALLIS, he hasn't had a look round though, so, with a combination of head and heart I will stick with my own lad to win and the well drawn GUNBOAT ICEMAN can use his local knowledge coupled with his own recent good form to fill the runner up spot.