The three semi finals of the BGBF/Nottingham British Breeders Stakes are the highlight of tonight's card but they are supported by five other good class open races.
First up is the Stadium Bookmakers Bitches Trophy at 736pm. All barring Conors Alice (trap 4) are locally trained greyhounds and the selection is with Lynn Cooks Plaza Girl.
The inside trio of Frosties Hope, Lilywhite Sarah and Whiteys Indigo look drawn for crowding and Plaza Girl has both the pace and the draw to take advantage Peter Harnden's well bred Salacres Penny has ability on her day but is much the best when leading clear and if Plaza Girl does trap, that wouldn't easily be achieved.
The only 'away' runner, Kim Gooding's Conors Alice, obviously has pace judging by her 3029 (+20) trial over the 500m trip recently, however she eased badly at the turn on last weeks Nottingham debut after initially trapping well and showing pace up, a similar scenario tonight would more than likely play into the hands of Plaza Girl in allowing her to slip clear at the turn.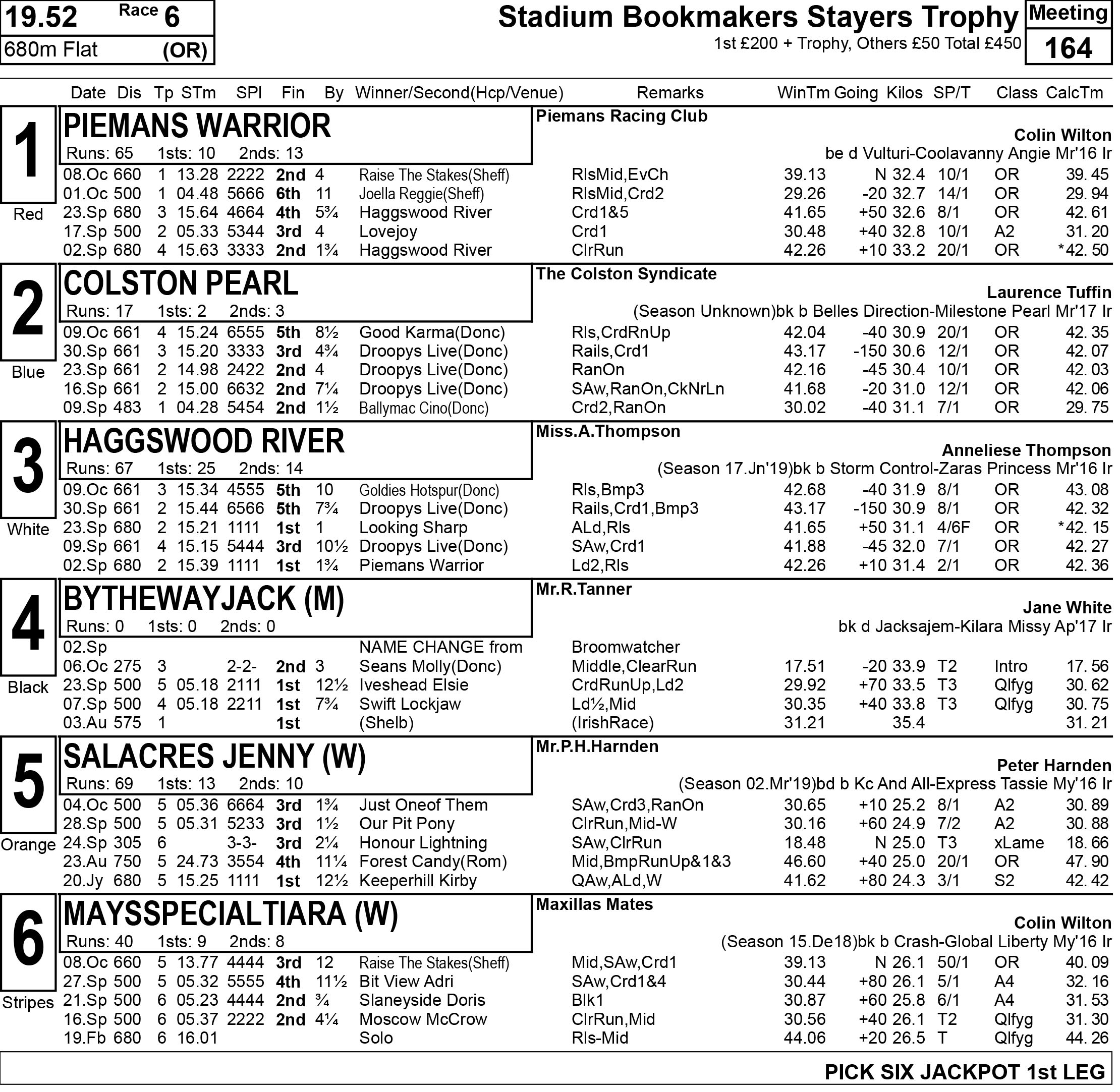 The Stadium Bookmakers Stayers Trophy over 680m at 7.52pm and this looks a good opportunity for Anna Thompson's Haggswood River (NAP) to get back on the winners podium. River is much better drawn against the rail than her trap 3 draw, however neither of the inside pairing are renowned trappers and River can quickly cease command of the inside. If doing so she is a notoriously difficult bitch to pass and in what is an eminently winnable race she's a strong selection.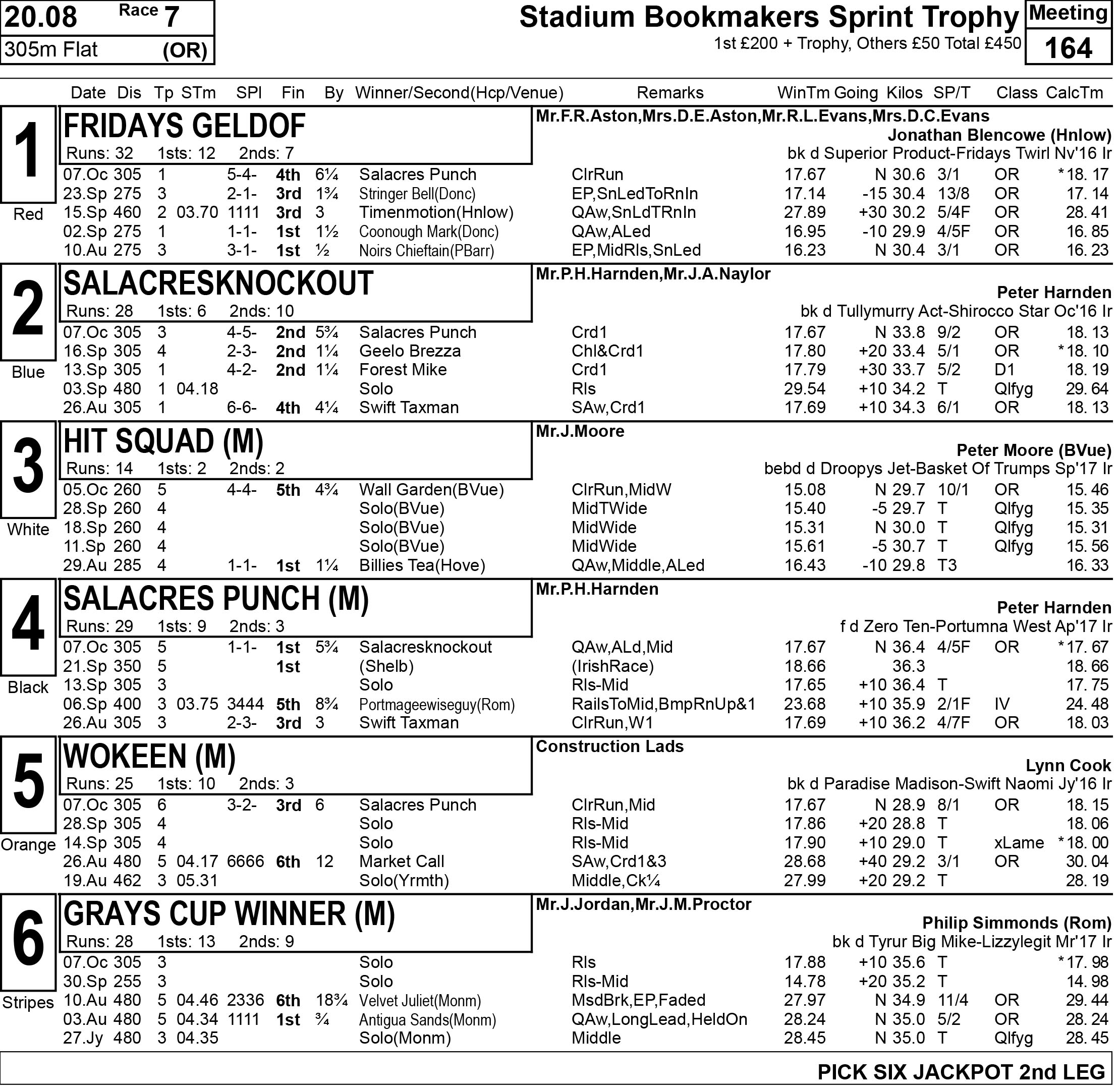 It's the turn of the sprinters at 8.08pm for the Stadium Bookmakers Sprint Trophy over 305m. Peter Harnden and connections have long rated this strapping fawn Salacres Punch as one of the best if not the best greyhound they've had in the kennel.
It might have taken some people a while to wake up to his talents but a sensational performance when back running a top class field at Shelbourne on Irish Derby Final night followed up by a wide margin victory last week back on home soil has seen people sitting up and taking notice.
Tonight's race is a more difficult affair to last week though, Phil Simmond's sends Grays Cup Winner to challenge, a sensational greyhound who's 14.78 trial over Nottingham's 255m trip a couple of weeks ago was 6 spots inside the track record of 14.84 set by Skate On in August 2014. Grays Cup Winner has since recorded 17.88 (+10) in a 305m trial. He's a live danger but the selection is with 'Punch' to win again.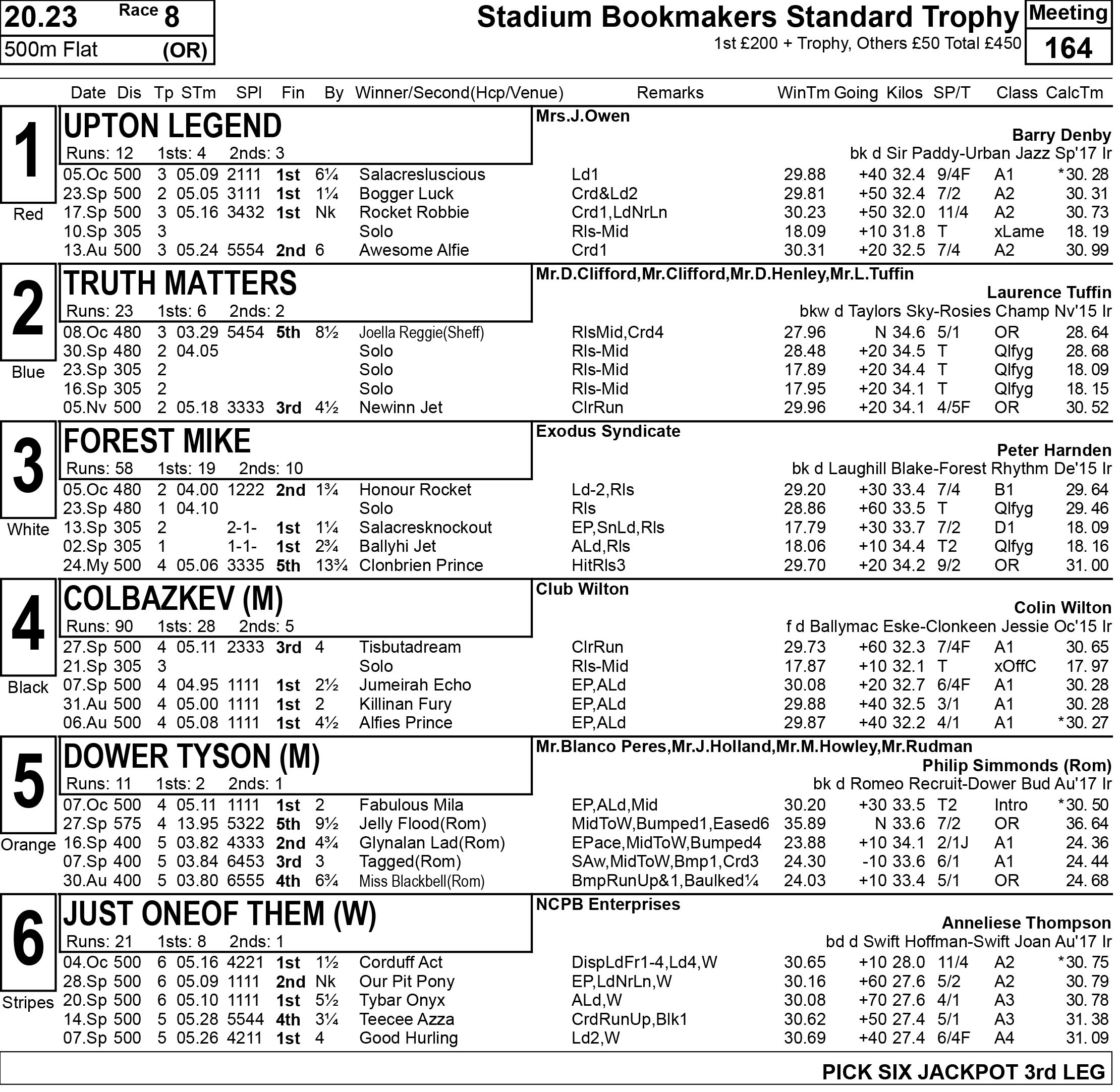 The Stadium Bookmakers Standard Trophy at 823pm. Again the race is dominated by the locals with all bar the Phil Simmonds trained Dower Tyson being trained locally.
Whichever greyhound turns in front is likely to take a lot of beating. Barry Denby's Upton Legend has really impressed me since arriving at Nottingham and is a live contender to complete a four timer.
The selection though is Peter Harnden's Forest Mike. 'Mike' has had a few problems in recent times but is on his way to regaining full fitness and this longer run to the bend combined with his draw in trap 3 can soon see him skipping clear.
We're onto the semi finals of the British Breeders Stakes now with the first of which taking place at 837pm. The Phil Simmonds trained Binksy Bruce was unfortunately withdrawn lame so trap 3 will now be vacant. Liz McNair's King Sheeran will be sent off a heavy odds on chance to follow up his ultra impressive heat victory and it's difficult to predict anything other than another impressive win. Westcot Norman can follow Sheeran around and qualify in second place.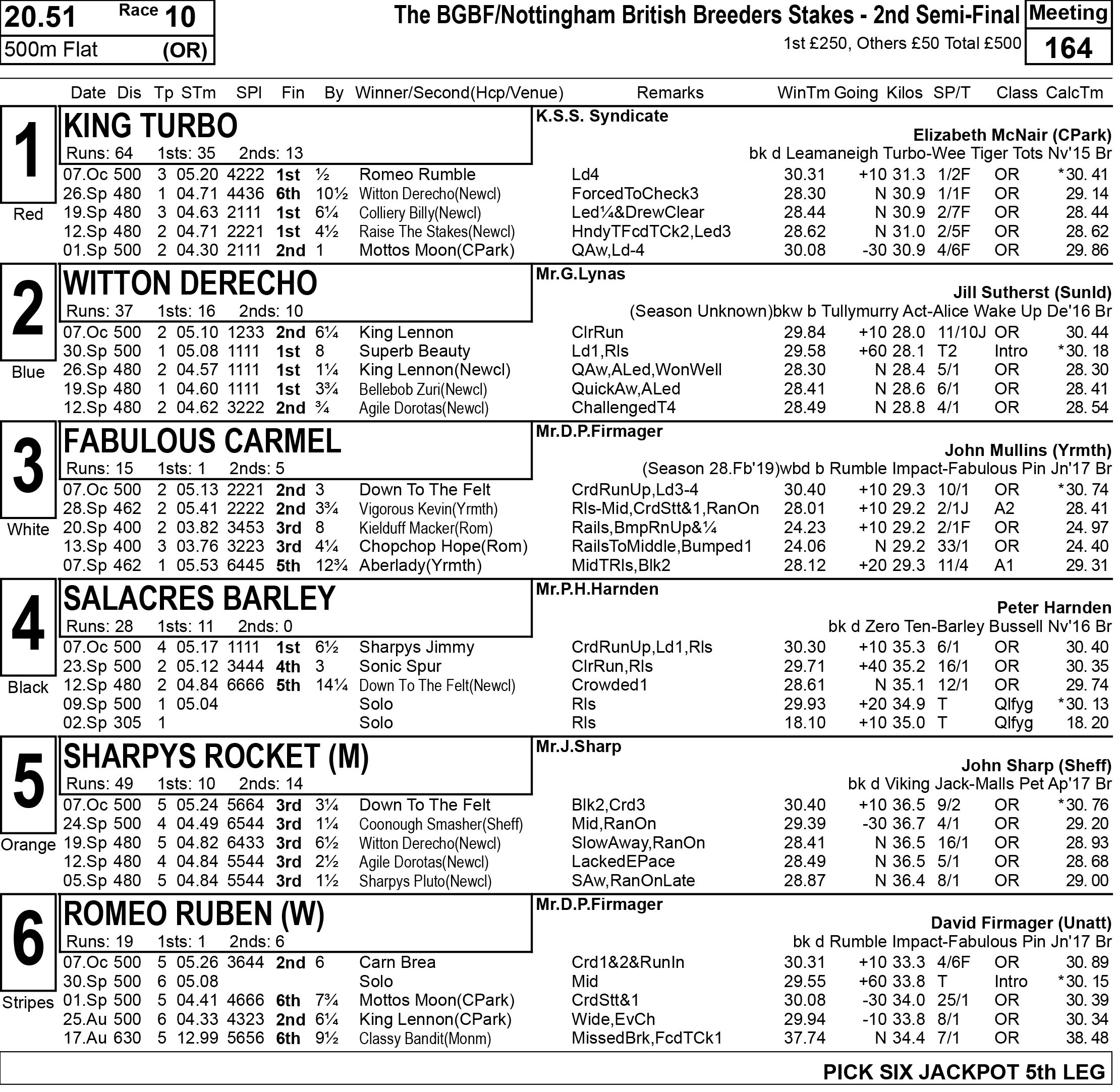 King Turbo will likely be sent off a short price favourite for Semi Final Two at 8.51pm but he's not ideally drawn in trap 1 with recent BGBF Northern Plate winner Witton Derecho drawn to his immediate outside in the blue jacket.
Derecho could never get clear of the early paced Binksy Bruce in last weeks heat and the resultant battle between the two only served to tee up the race nicely for King Lennon.
'Derecho' should have enough pace to make the turn in front tonight and if doing so could well prove a hindrance to 'Turbo' at numerous points of the race.
Peter Harnden's 2018 Puppy Classic finalist Salacres Barley ran out an impressive winner of his heat last week, he'll need a similar break tonight from a once again unsuitable draw in trap 4.
However he can drop into a nice pitch as they head down the back straight and can claim second to qualify for next weeks final.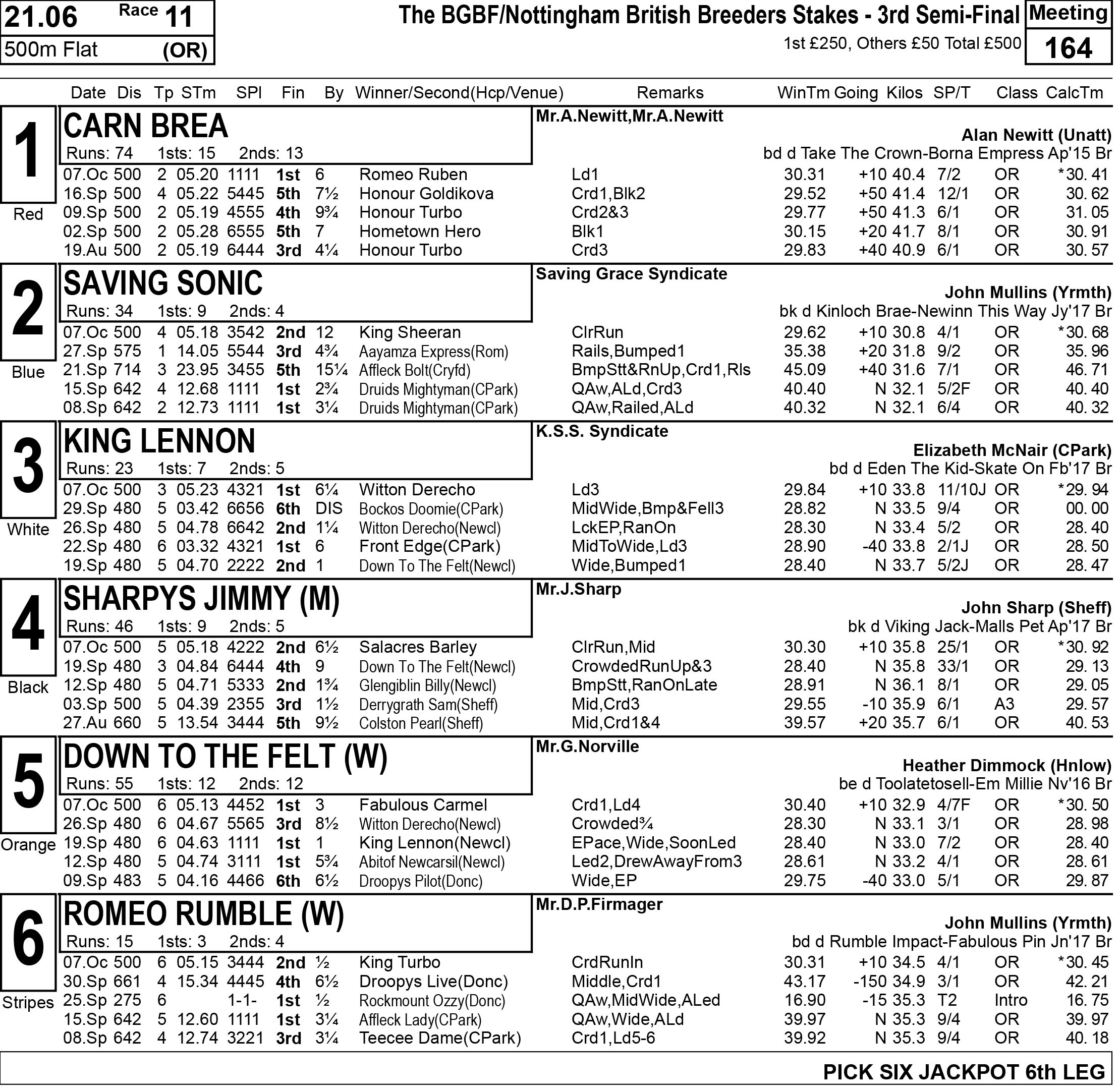 Semi Final 3 will see Liz McNair's King Lennon sent off a short price favourite. He has a good make up from his trap 3 draw and the galloping nature of Nottingham's Colwick Park suits his running style perfectly. It will be a good race for second and with it the final qualifying place for next weeks final. The token selection is with the John Mullins trained Romeo Rumble who stays very well and can battle on for the runner up spot.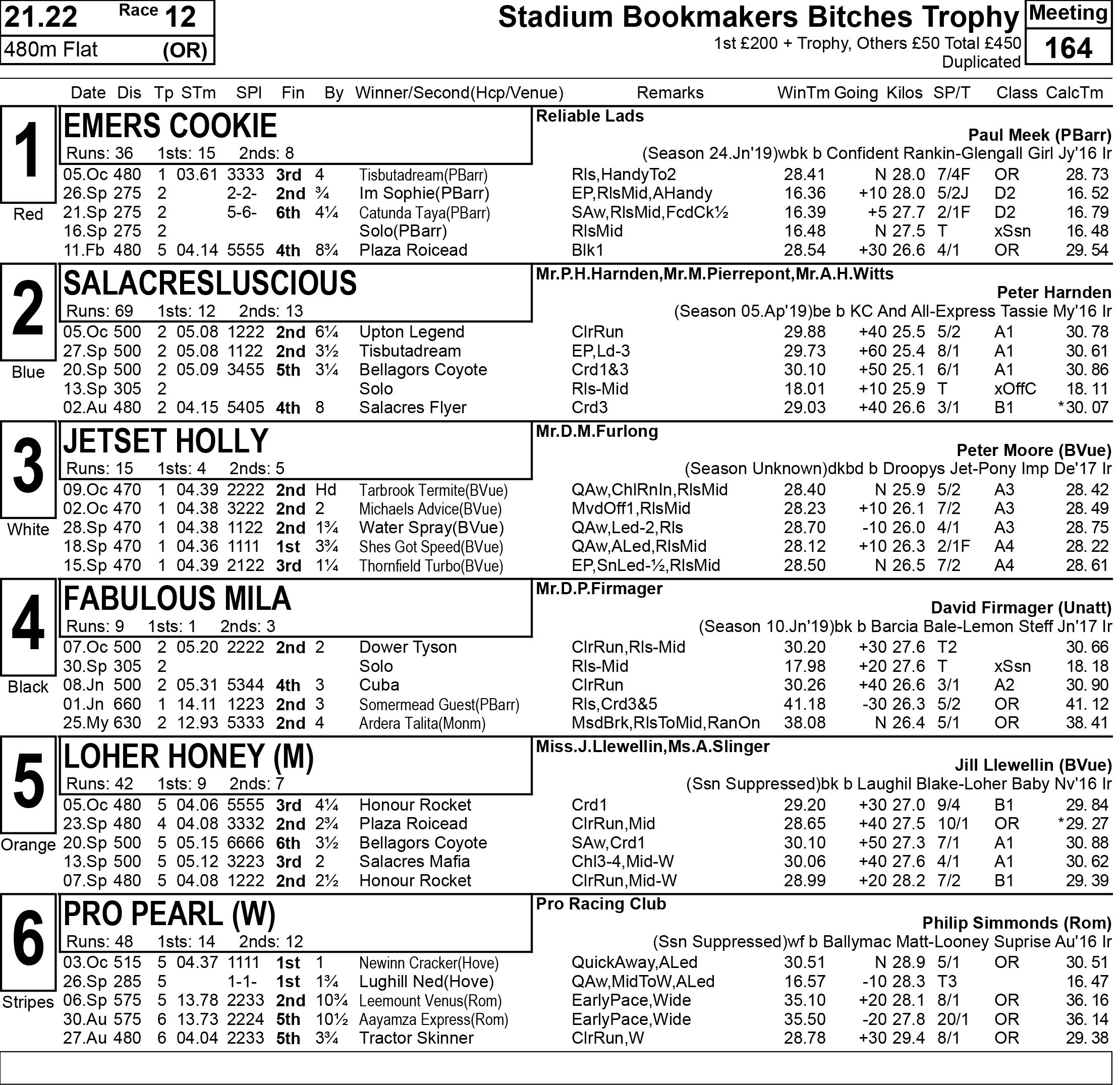 The final race of the evening is the second Stadium Bookmakers Bitches Trophy. The selection is Emers Cookie who has some top class form in similar events and is drawn to perfection in the red of trap 1. Peter Harnden's Salacresluscious is a good local when getting out in front, she would be a big player in a race of this nature with one of her better starts whilst Peter Moore's Belle Vue raider Jetset Holly is an interesting entrant.
Holly has good early pace if trapping well and would be more than capable of pulling off a big priced shock if doing so.