The job of reviewing the Tipsters Challenge is beginning to feel a bit like being an air accident investigator – being forced to sift through the burnt and mangled remains of so many tipping careers.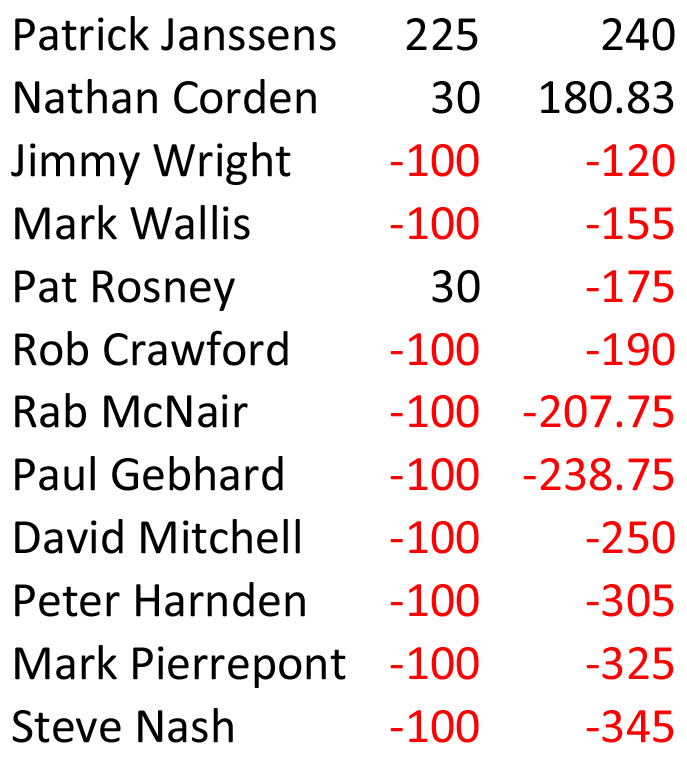 Despite the fact that he had his mind elsewhere – winning a Category One event, Patrick Janssens is the only tipsters to come out of Saturday might's carnage with any degree of respectability.
Patrick went 'all in' on Knocknaboul Syd and came out out of the night with a profit of £225 to put him at the top of the table with a £240 overall total.
'Cocky Corden' was busy Whatsapping when his first selection Vixons Lad went in at 12-1, but the remainder all fell on their faces (thank ****!).
Pat Rosney went £40 on Catunda Logan but was unable to deliver the 'Ginger' double.
As for the rest . . with their exotic doubles and trebles . . . Learn to swim before you dive in at Dover!
Overall though, despite having to drag the lead weight of Peter Harnden, the trainers seem to be edging it over the "tipsters"!