We are thrilled to announce that the Star has broken its previous readership records when cracking through the 25,000 individual active visitors in a single month.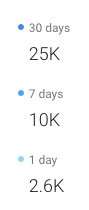 The actual figure was 25,433 who read 120,175 pages.
These figures are way way beyond anything we ever expected in what is deemed to be a 'declining industry'. The Greyhound Star newspaper was first published in 1983, and it is incredible to think that we are hitting record reader numbers 36 years later.
But we are just the scribblers who deliver the words and pictures. We don't make the news. None of this would be possible without the cooperation of all those in the industry who make themselves available to keep us all informed. Plus of course, the real stars, the hounds themselves.
Last but not least, we owe it all to you – our readers.
A massive heartfelt thanks.
You keep coming back and we will continue to try to justify that loyalty.
Floyd Amphlett
Editor Greyhound Star