Local owner and punter Paul Gebhard previews tonight's card from Perry Barr.
Reminder of the semi finals with racing manager Martin Seal's thoughts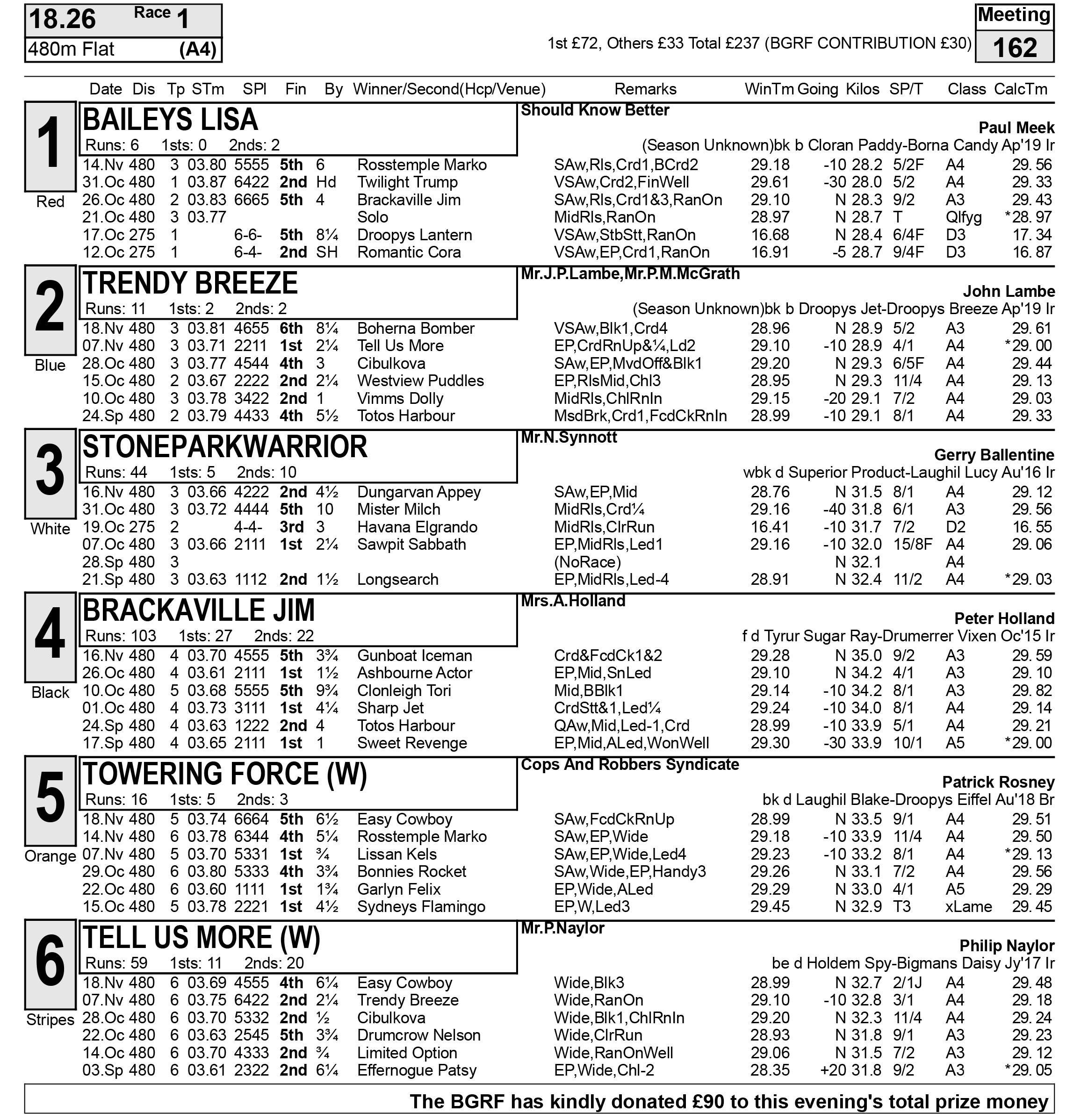 Baileys Lisa appears to have ability and potential but needs to sort her trapping out a bit, Brackaville Jim is a likeable sort and often goes in at large prices, Stonepark Warrior is often his own worst enemy and he is also a veteran, but the make up of tonight's race leads me to make him my selection. Stonepark Warrior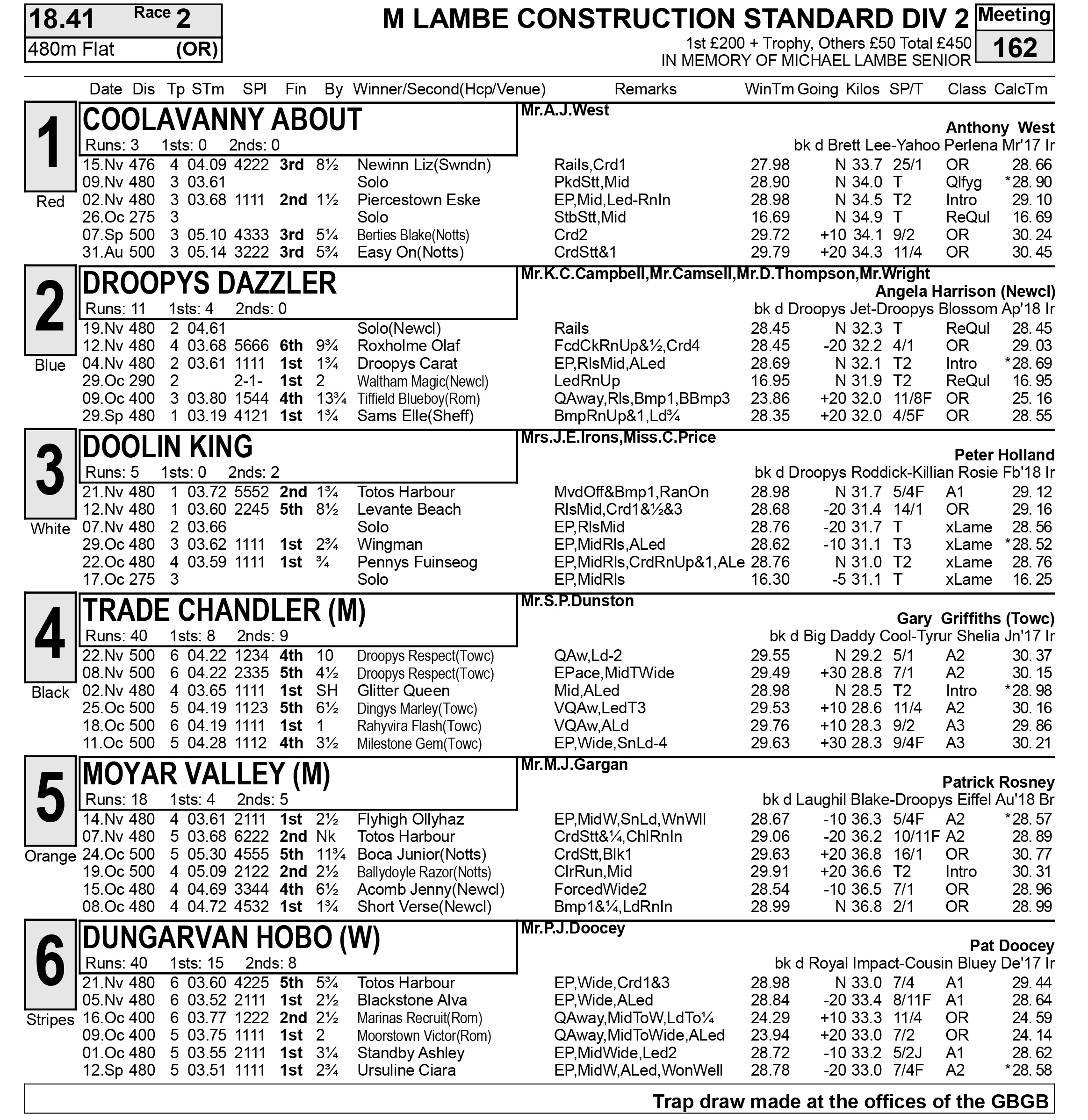 A decent enough open but hard to unravel, Traps 5 & 6 boast the fastest clocks but they were achieved by leading all the way in A2 company,
Droopys Dazzler was drawn trap 4 in his one race at the Barr, the move to trap 2 makes him my selection. Droopys Dazzler
Some potentially high class talent on show here, I backed Marina Recruit at 5/1 last week, she ended up half those odds and led pretty much everywhere apart from the winning line, Swift Woof has got the winning knack (4 from 6), Magical Arrow is taken to confirm last week's form, trap 6 could be a good draw in this. Magical Arrow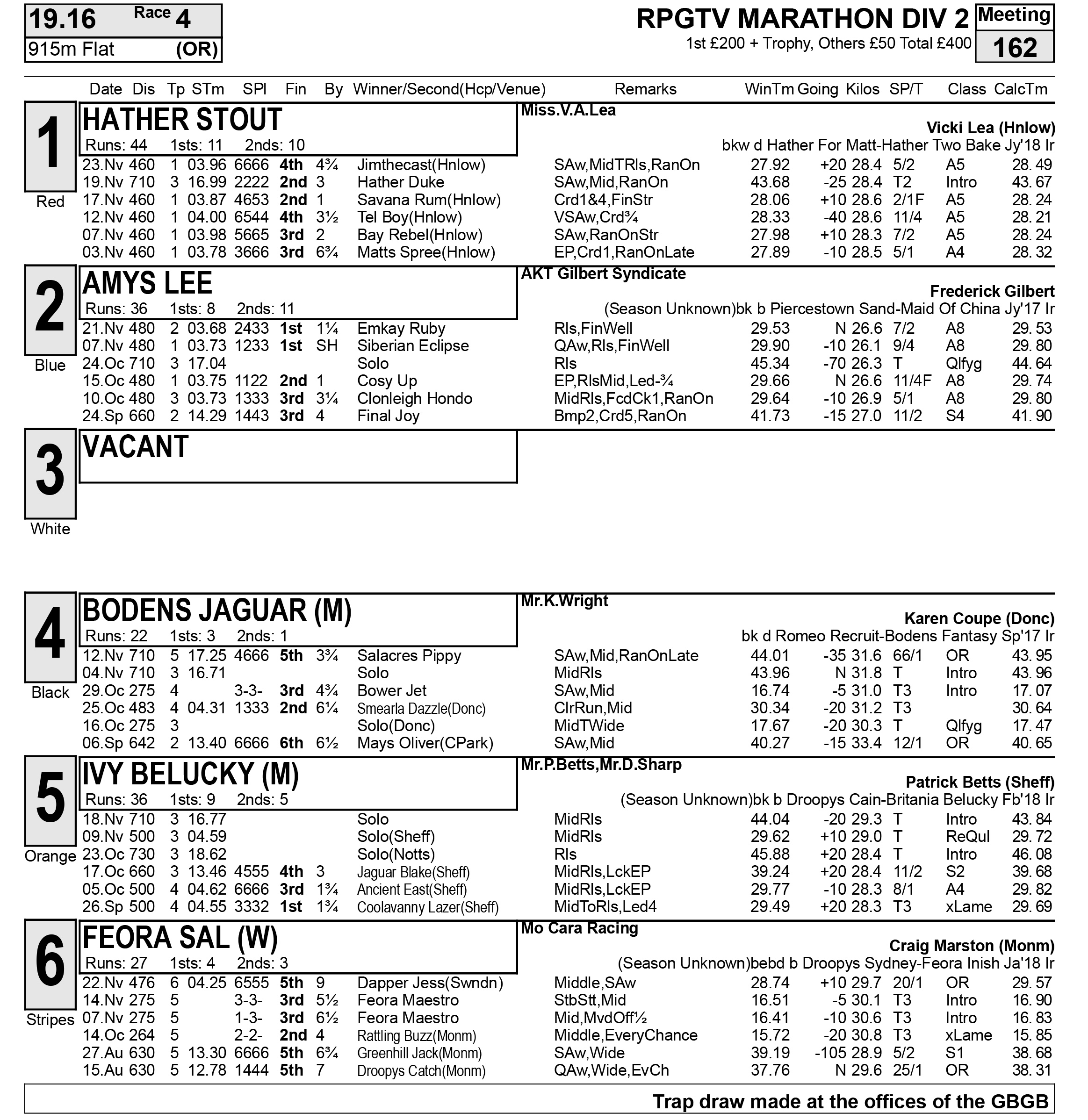 Hands up, for different reasons I'm not keen on sprint, handicap, hurdle or 8 bend races, each to their own of course; perhaps Ivy Belucky has the biggest improvement potential, but jost how many of these will truly stay the trip; I side with Bodens Jaguar solely on the grounds that she may get home that bit better than the opposition. Bodens Jaguar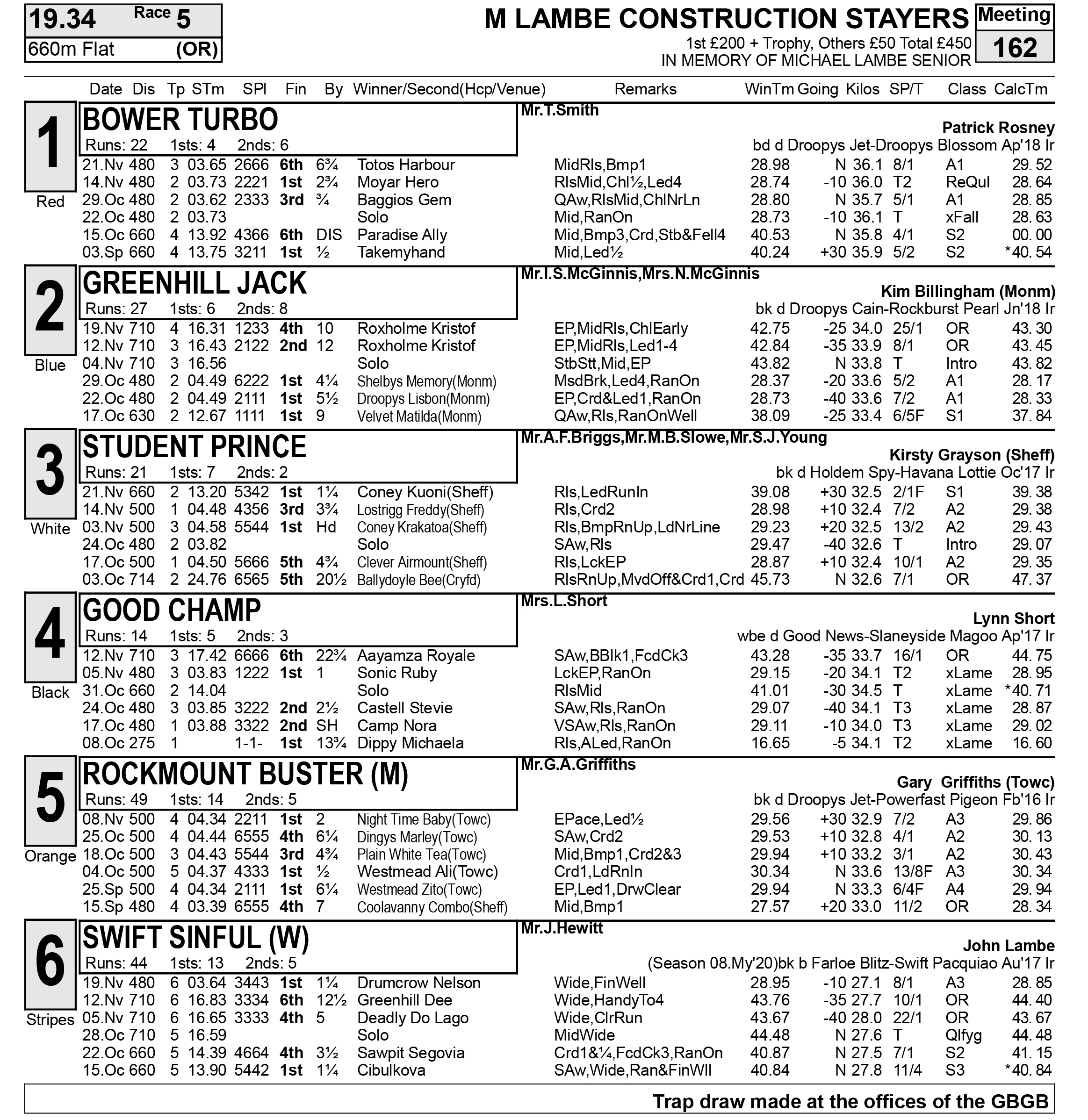 In the belief that he may lead these and stay there Greenhill Jack is the pick.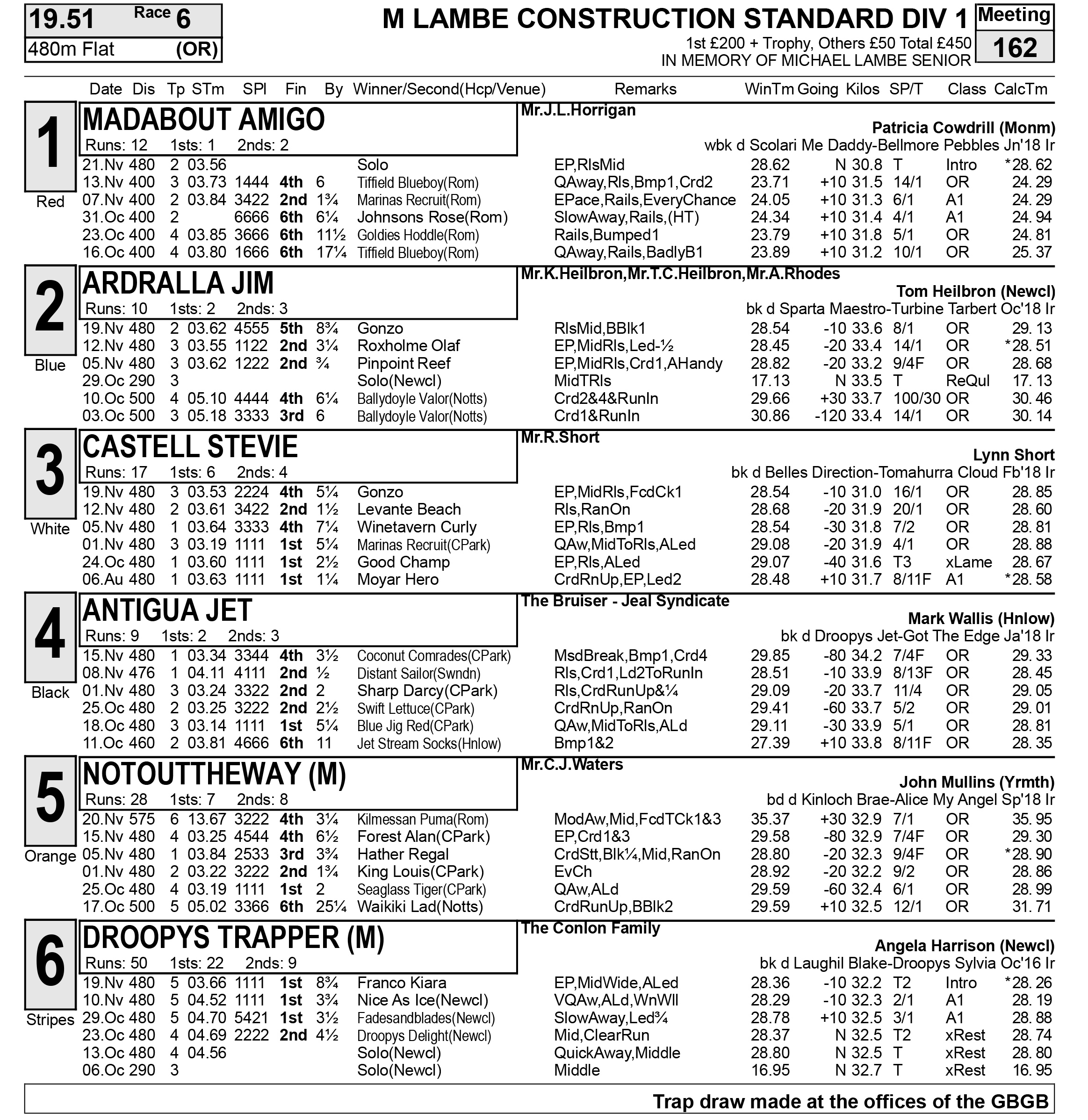 Castell Stevie is no mug but there's no denying that he also loves the red jacket, Ardralla Jim is fast enough but seems to find it hard to win very often, Antigua Jet and Notoutheway both lack a look round, he may be a veteran and a 3.66 sectional isn't anything special here but the 28.26 of Droopys Trapper is hard to ignore and makes him my pick. Droopys Trapper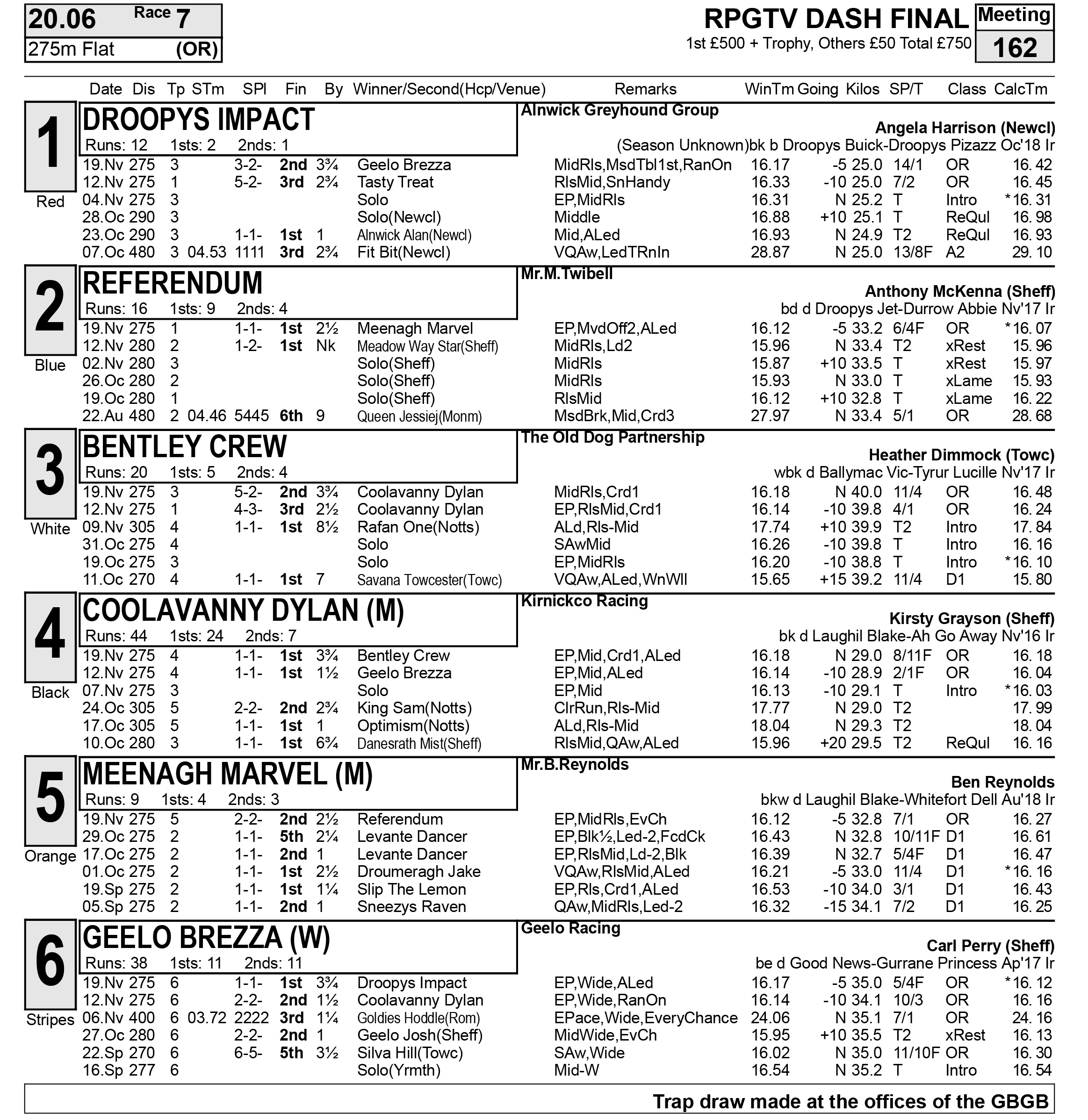 Coolavanny Dylan is a very good sprinter but his odds might be that bit too skinny, Referendum appeared to take a liking to Perry Barr on his very first look at the track so he's my pick. Referendum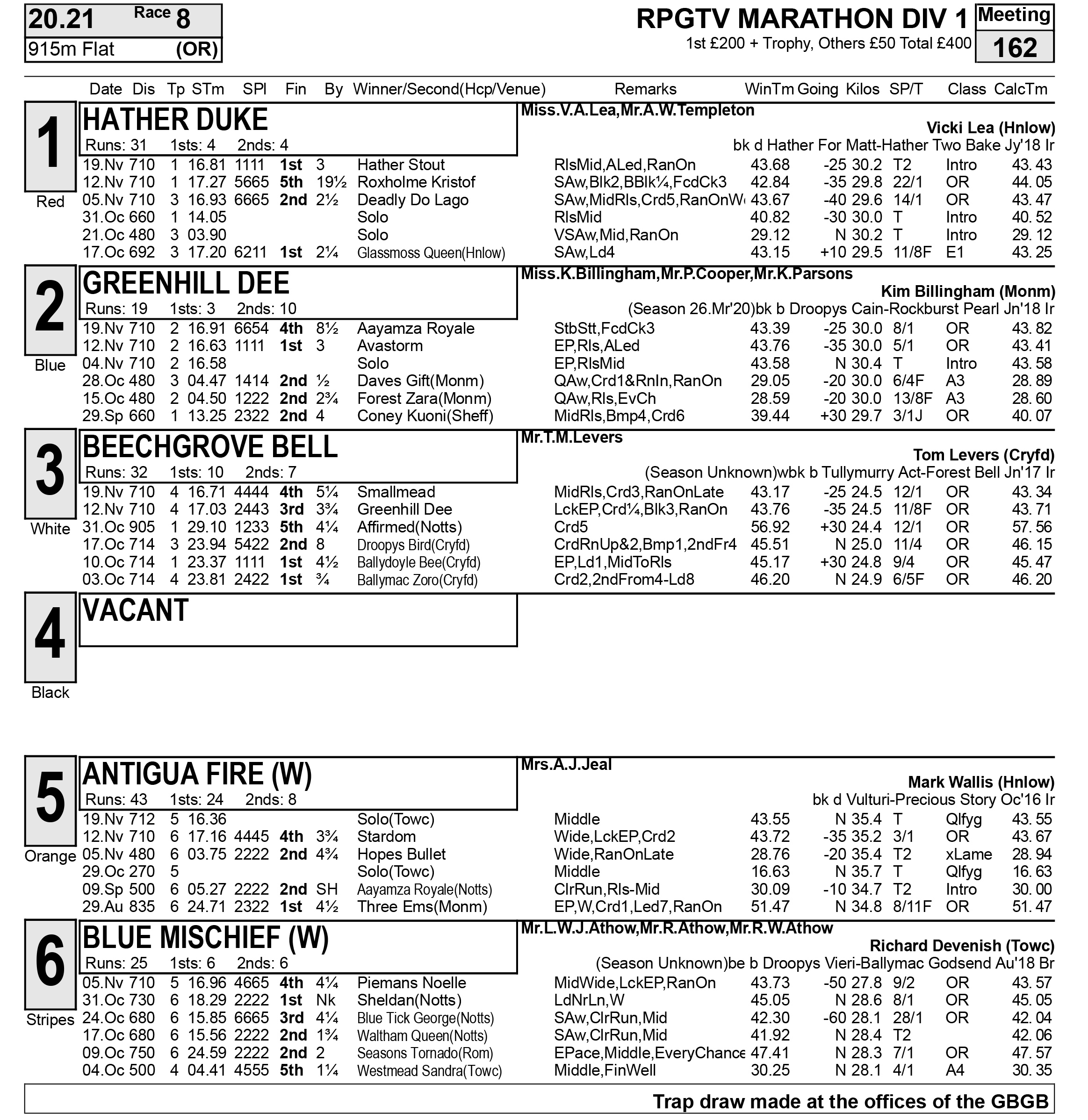 Totally unknown distance territory for 5 of these 6, I'd sooner be a layer than a player, any race has a winner eventually of course so in this case I've gone for Beechgrove Bell. Beechgrove Bell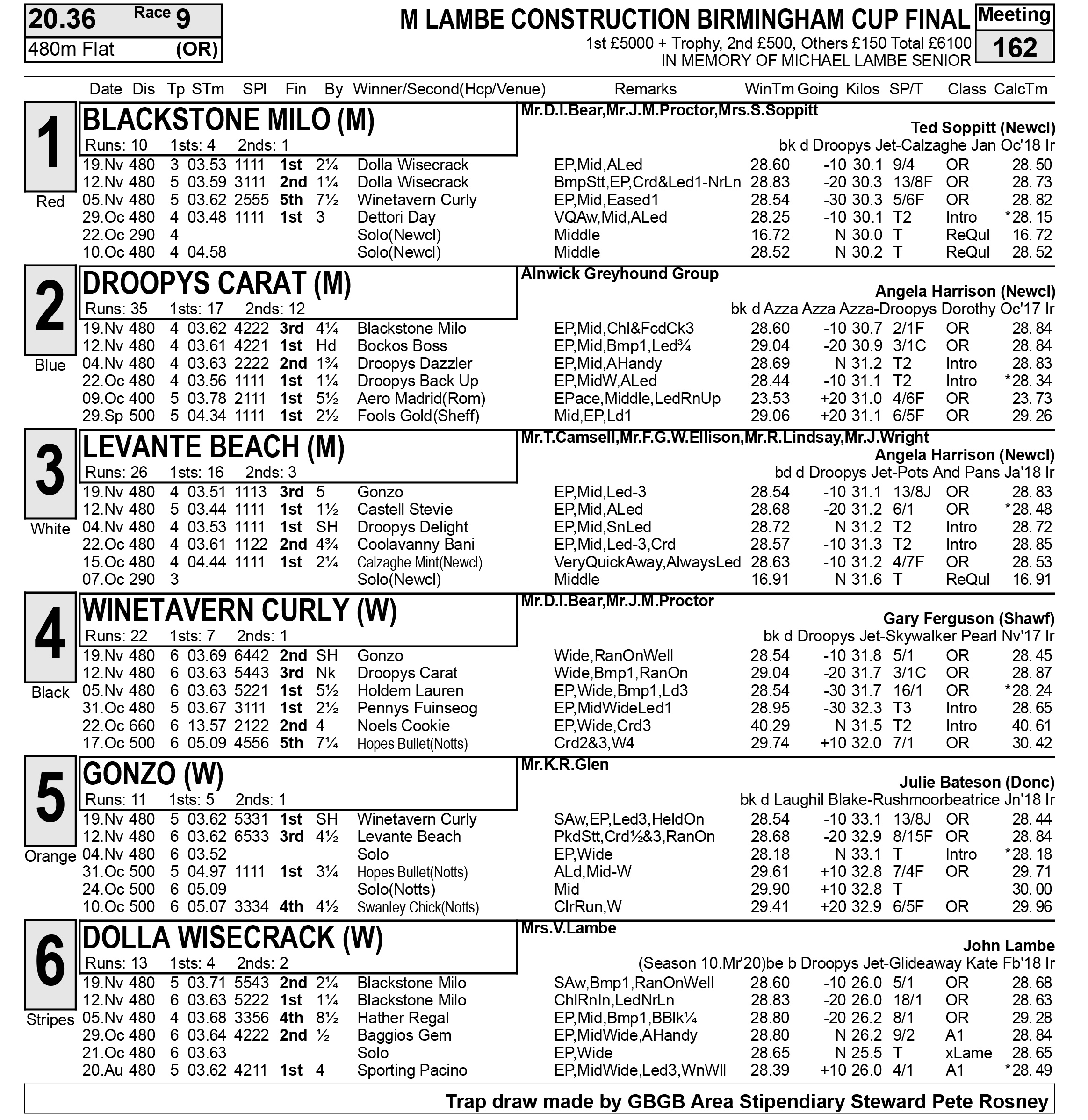 Nice to see a renewal of the Birmingham Cup, well done to John Lambe; Blackstone Milo is undeniably speedy, but Trap 1? Droopys Carat did a fast trial and yes he's found trouble in racing here but his race times here don't look good enough, Levante Beach possesses terrific early and could avoid bother, on all known form Wintavern Curly is a different animal when drawn in the 6 box, Gonzo a fast dog who's yet to trap well here, Dollar Wisecrack if Gonzo misses it she could easily be well drawn in what could easily be a messy race; Gonzo is my choice anyway based on ability, if he were to trap I'd be super confident that he will win. Gonzo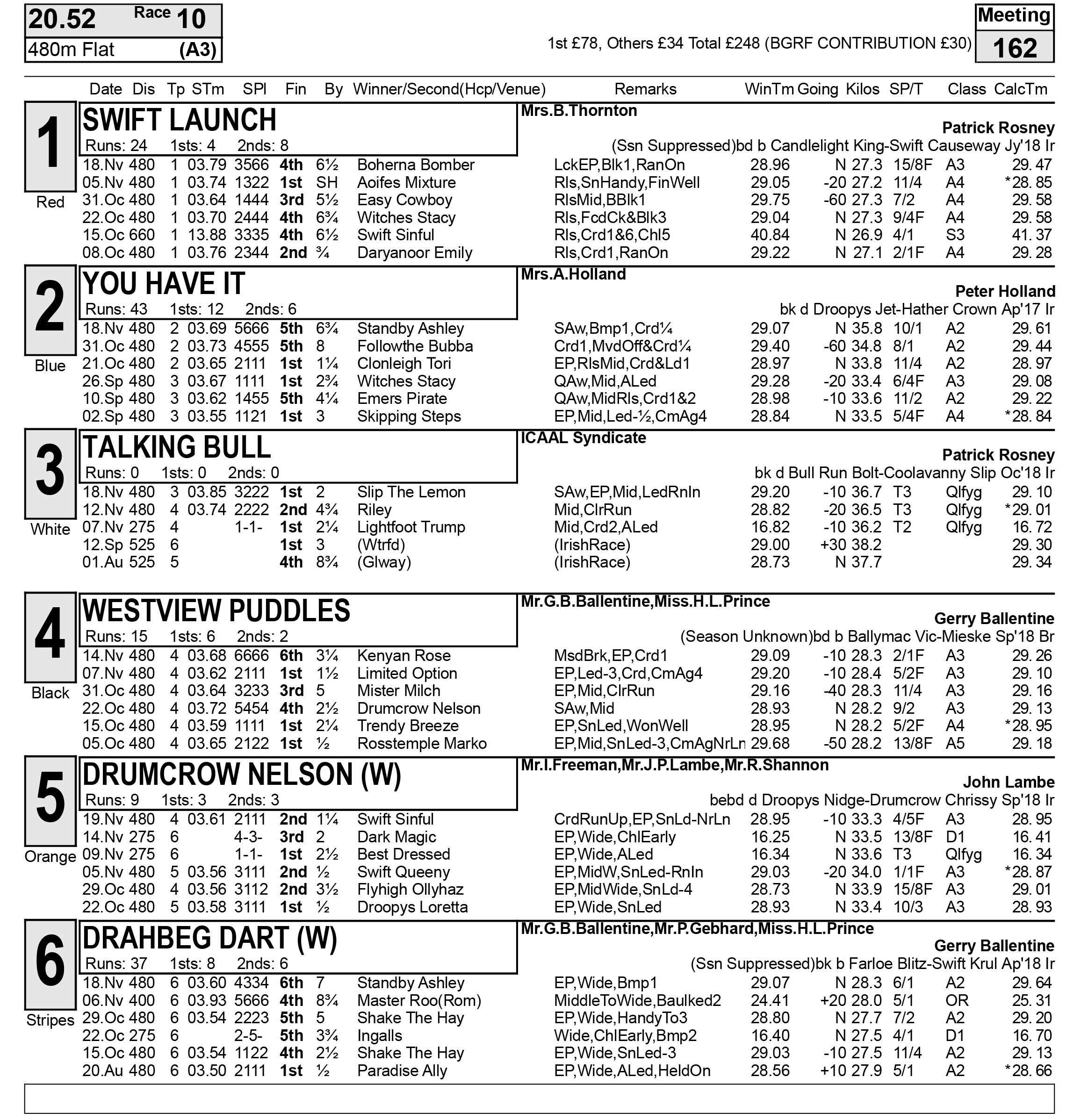 Dart has been out of form for some time now, if she wins tonight it will be because she's bounced back to form rather than the drop in grade; one of those occasions when I can't recommend her with any confidence but neither can I oppose her. Drahbeg Dart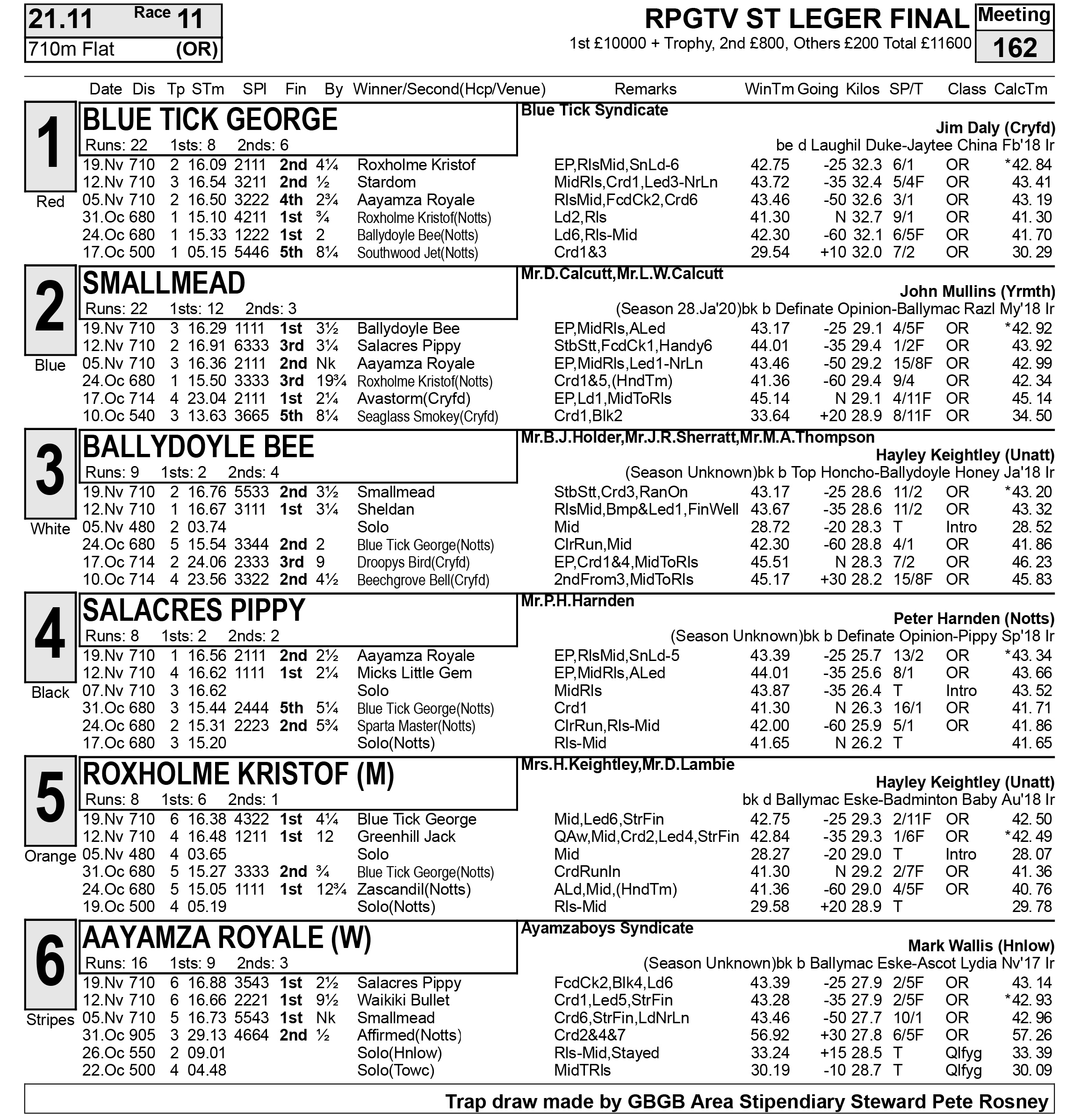 Smallmead is a talented and speedy bitch, it's my view that the 710 is that bit too far for her (when she's in with the best), Ballydoyle Bee very much the kennel's second string, a capable greyhound but she may get going a bit late in this company, Salacres Pippy, not over raced and could well outrun her odds but hard to see her crossing the line first, Roxholme Kristof has had the superlatives bandied about him for a while now, there's no doubting that he is a very smart greyhound, but in my opinion he's yet to prove the level of the hype (I'm not saying he can't do eventually), Ayamza Royale she's taken off in this competition and has been great to watch, beforehand though the majority would have had her down as an "8 bend bitch" can she catch all of these in a 6 bend Category 1 final?  Last but not least Blue Tick George, he has his Trap 1 draw, his sectionals are getting better, still lightly raced over 6 bends he could still be getting that little bit stronger; at the time of writing he's available at 12/1 with some firms and in the hope that he goes past the winning post in front on the first circuit he's my each way selection. Blue Tick George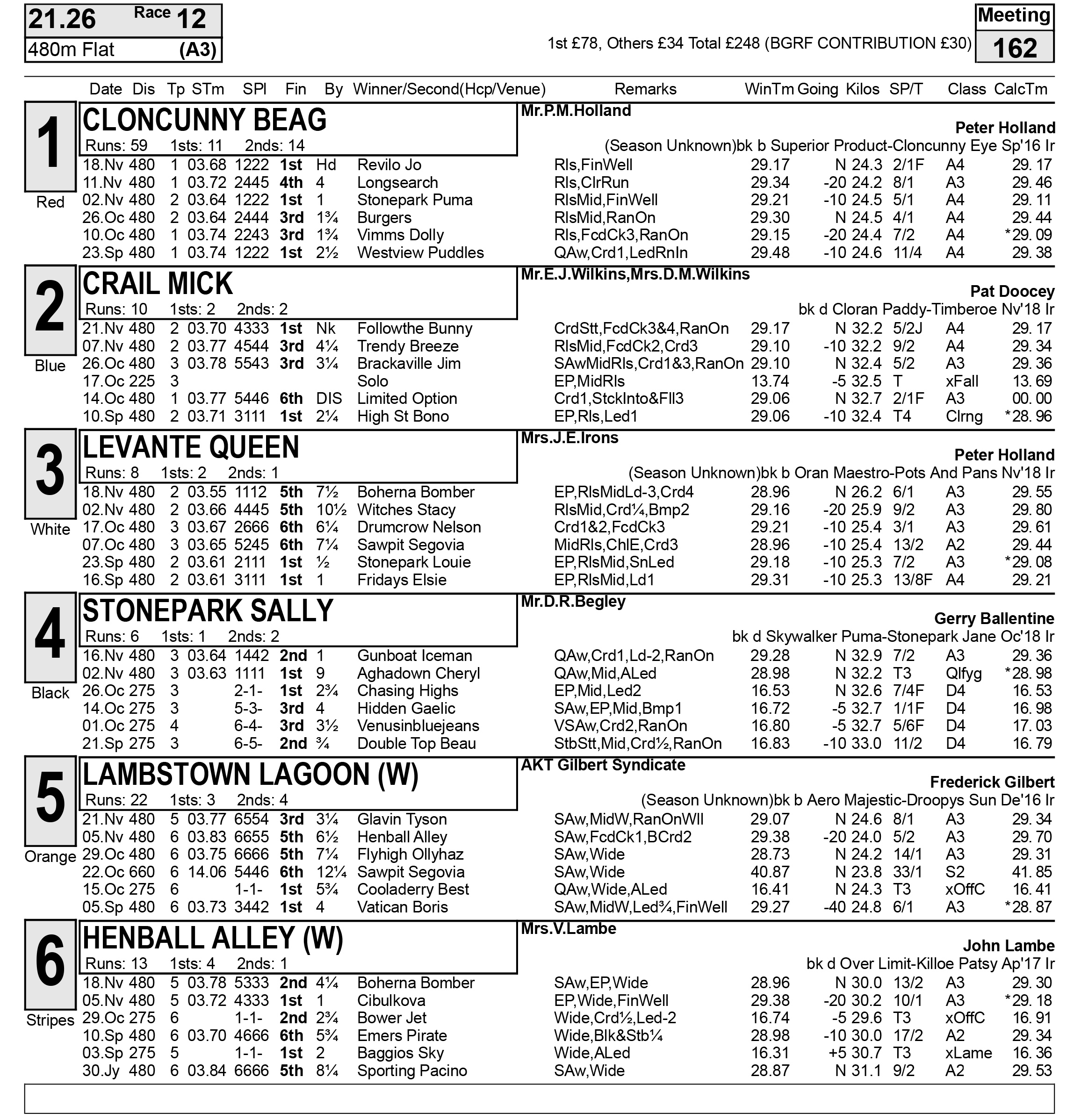 An A3 for the "lucky last" the "getting out stakes" etc. Stonepark Sally stands out as the likely improver, hopefully she can get a tow round from Levante Queen and come home well. Stonepark Sally