Sunday night at Central Park was a tale of three winners, a brace of Lizs, a disqualification, and a non-disqualification writes Floyd Amphlett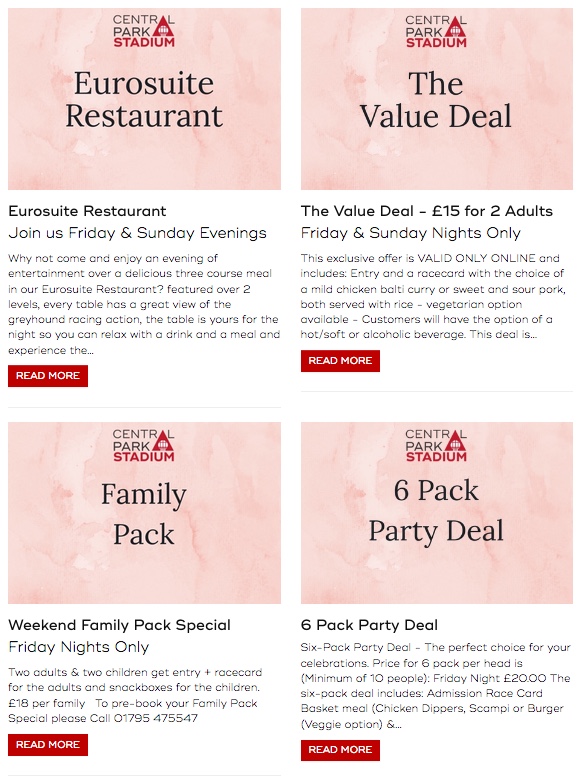 "I thought about it on the way home. This would have to be one of my better ever nights in dog racing" said Rab McNair after a stunning British bred treble for wife Liz at Central Park.
The main event was the final of the £10,000 Ladbrokes Kent Derby where King Turbo (Leamaneigh Turbo-Wee Tiger Tots, Nov 15) landed his third Category One race of the year with a hard earned victory over Headford Johnny.
In the semi finals, Turbo had led Patrick Janssens' runner who had been far from disgraced when beaten two and a quarter lengths. In the final, the tables were turned when Johnny (4-1) burst clear with the 4-6f missing his kick. Turbo pursued the leader along the backstraight before choosing a wide path to overtake. Demonstrating, all the attributes of a champion: trackcraft, determination and ability, the black went on to win by a length and a quarter in 28.96 (-20).
He will be checked over today to determine whether a tilt at a unique fourth 'Cat 1' the British Bred Stakes at Nottingham, remains a possibility.
Rab confessed after the race that he felt relieved of pressure before Turbo had even gone to traps. The first stress reliever was King Cash (Eden The Kid-Skate On, Feb 17) in the heats of a 500m maiden event.
Contesting the sixth race of his career, the brindle clocked the fastest sectional of the night (4.19), before landing his heat in 30.20 (-20). The only runner quicker on the night was the experienced Irish open race Droopys Denny with a 30.14 run).
An hour later it was the turn of Cash's litter brother King Nelson who produced a stunning trap-to-line to land the £2,000 Eden The Kid Young Gun Final. After banging clear from the boxes (3.23), the brindle and white enjoyed a solo with yet another littermate King Sheeran running on for second. The winner's time was a fastest-of-night 28.82 on going rated (-20). (The 480m track record is 28.50).
The irony of Nelson's victory was not lost on McNair who is still smarting that Turbo was disqualified for fighting when 20 months old at Swindon, a situation compiled when Derby hosts Towcester chose to enforce a GRA rule, that disqualified dogs could not contest the English Derby. He has since contested 31 unblemished races.
Ironic then that King Nelson had only been marked 'awkward', and not disqualified when contesting first ever race at Central Park as an 18 month old pup.
McNair said: "Great credit to (racing manager) Peter Miller for understand that these pups need time to grow up. I try to follow the methods of the genius up the road (Nick Savva) by not overschooling these pups and sometimes you can get caught out. The litter had literally had one handslip and once through the boxes before I qualified them."
Rab admits that he still doesn't know the relative merits of this amazing litter. The quickest line of form to date is possibly the 27.67 (+20) recorded by King Lennon in a 480m trial at Monmore.
The brindle and white is due to trial at Nottingham tonight with the British Breeders Stakes as his target. Five of the litter have won opens to date (the four Kings: Cash, Lennon, Nelson and Sheeran) plus Queen Beyonce (six/seven opens) is due to contest tonight's British Bred Oaks at Doncaster.
Rab said: "The boss keeps asking me but I honestly don't know. Because they are so lightly schooled, you don't know how much more improvement is in them. It will be at least the other side of Christmas before we even have a clue. King Diamond won an A1 at Central Park last week (29.12) calculated, but he is a 36 kilo dog, who has had nothing done with him and hadn't raced for three weeks. He could find several lengths next time out."
But behind the success are 'the two Lizs', the said Mrs McNair and Liz Smith.
Rab said: "When we have been out open racing and getting back at 1am Liz (Smith) has been there making up warm milk for the pups. She has looked after them, and loved them all the way through. Sometimes you would wonder where she is, and she was out in the paddock cuddling up to the pups. She has put so much time and care into these pups and now we are reaping the rewards."