2015 East Anglian Derby winner Do it For Twiggy (Droopys Scolari-Rackethall Holly, Oct 12) landed the fastest semi final of the Bud Light East Anglian Challenge at Yarmouth on Saturday night.
Erica Samuels' locally bred runner, just two months short of his fifth birthday, led from box to beam to clock 27.70 (+20) for the 462 metres. It was the 88th race of his career, and 28 spots off his personal best, recorded two years ago. The black is also the fastest runner this year over the 659 metre course.
The other heat winners, Burgess Beano  and Simple Task who both clocked 27.86, were both just a few weeks old on the night of Twiggy's greatest triumph.
The Challenge final on Wednesday is supported by opens over the track's other three distances and includes a return of the locally trained Sussex Cup winner Shaneboy Freddie plus the first marathon since last year's East Anglian Derby Final card.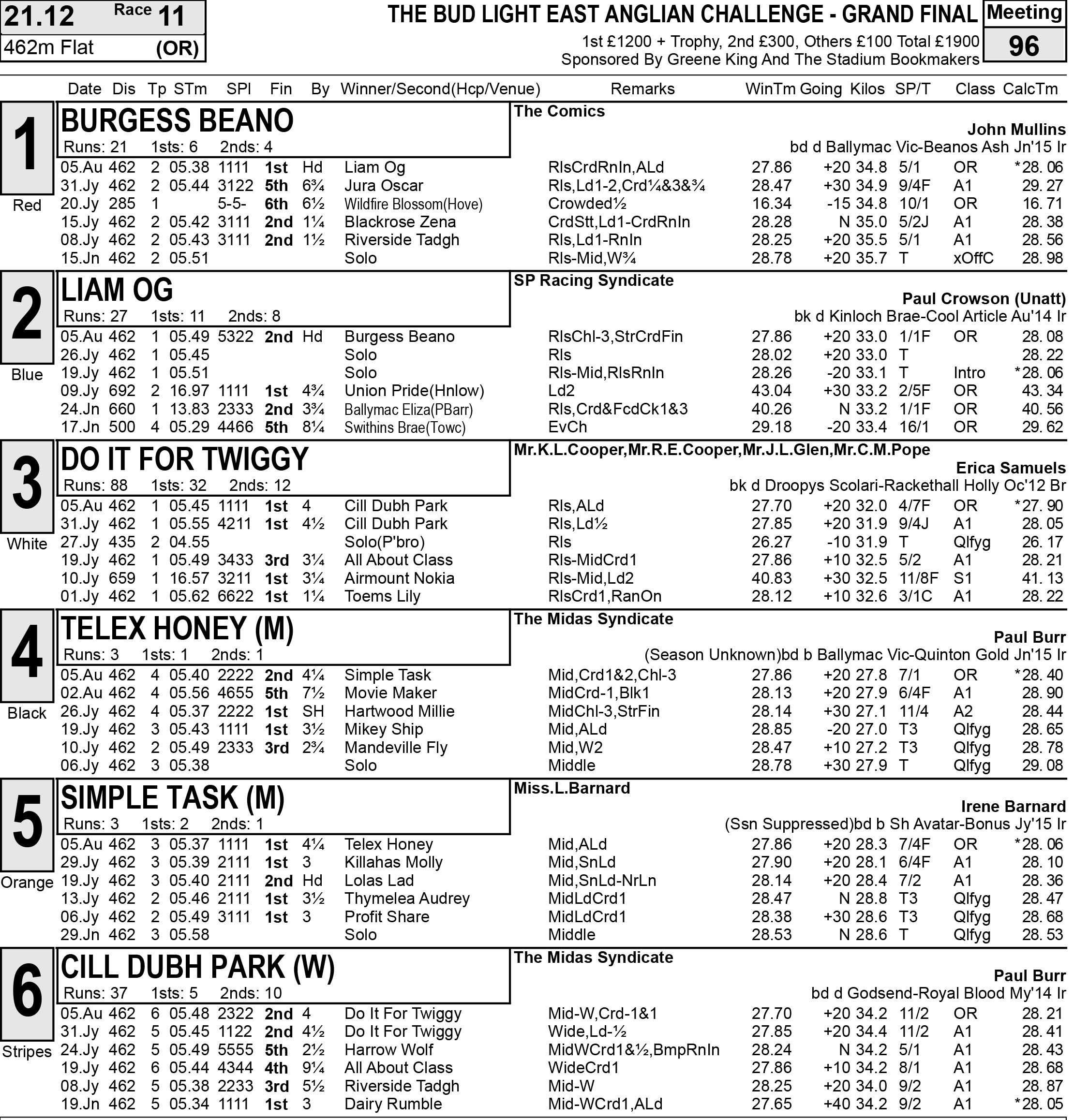 Razldazl Raidio was beaten for the fifth time in his last six races when falling in the Ladbrokes.com Kent National Hurdle Final at CRAYFORD. The £1,000 decider went to 10-1 shot Ballymac Leo (Premier Fantasy-Ballymac Linda, Oct 13). The David Mullins trained heavyweight, who had been beaten almost 13 lengths in the qualifiers, slipped clear at the first bend and came home just over two clear of Gowlane Georgie in 23.66 for the 380m jumps course.
Hurdle racing's other major star Ballymac Manix had an equally unsuccessful evening at TOWCESTER. The 2016 Hurder of the Year (4-5f) could finish not better than third behind Jane Houfton's forecast double of Dunham Hunter (Scolari Me Daddy-Killure Rod Jodie, Sep 13) and Dunham Southey. The winner clocked 29.02 for the 480mH course. Meanwhile Matt Dartnall took the two Lowther trialstakes with Cu Sith Aish (Blackstone Gene-Droopys Audrey, Jul 14) and Away Shelly (Droopys Jet-Danielles Shelly, Feb 15) who covered the 500m course in 29.45 and 29.50 respectively. The double paid 11-1.
Ballymac Vic's younger brother Ballymac Victor (Kinloch Brae-Ballymac Vicky Jun 13) went to traps with just one win in his previous 22 races, but landed the PERRY BARR 660m open by a comfortable couple of lengths in 40.52. Over two bends, Tyrap Lee (Shaneboy Lee-Varra Lark, Jun 13), who previous two victories were clocked at 16.23 and 16.25 for the 275 metres, covered the course in 16.28.