Romford greyhound stadium is officially back writes Rob Abrey
.The long awaited grand opening of the new stand is finally here. The wait has been long but worth it. The Essex venue can once more claim its place in the premier division of greyhound racing. The quality on the track never diminished and now the quality off the track can match it.
If you are going to launch the new stadium then the racing on show is the way to it. Sixteen races from 6.27pm and all on Racing Post TV including the final of the Champion Stakes and the heats of the Coral TV trophy is just some of the races on show tonight.
The card is littered with some fantastic dogs and great racing will surely be a certainty. With the Coral TV Trophy heats starting and the Coral puppy cup just a week away I have endeavoured to find out more about one from each heat and two potential entries for next week. As it is a special night I have also found out more about two greyhounds making their Romford debuts later on the card.
The Essex track host the TV trophy for the first time tonight and have chosen the perfect time to host such an historic competition. Over 925 metres the trip can be testing but with £10,000 up for grabs for only two runs has attracted the top stayers in this country. There is even one entry from over the water. Riverside Honey trained by Ireland's most successful trainer of the last decade, Graham Holland, has taken on the journey to give his charge a crack at the prestige competition in heat one at 8.06pm.
The daughter of Kinloch Brae and Ballydoyle Honey is yet to run over 925 metres or further but has attempted 905 metres back in June in the Dorando marathon at Nottingham on derby finals night. On that occasion the March '17 whelp finished second after tangling with Savana Winner at the last bend. Over in Ireland she recently reached the final of the Cuchulainn 750 at Shelbourne Park. That was over 686 metres and she held her own against strong six bend types, The winner of that competition was none other than Skywalker Logan and we all know how good he is.
Graham on his charge said: "She's a nice type of bitch. There are not too many marathons in Ireland suitable for her so thought we would give her a try. We tried her in the Dorando at Nottingham. She ran well but was run out of it towards the end.
"We think she says – its a long way to go if we didn't. Hopefully she will break. She has quite a bit of early pace. We are hoping she leads and it's a case of catch me if you can. Hopefully she can get a clear run. She has a bit of pace. I wouldn't want to be needing her to come from behind lets put it that way.
"She reached the final of the Cuchulainn over 750 yards at Shelbourne against strong six bend types. She breaks well but lacks a bit of middle and runs on again."
Riverside Honey is 5/1 to take the spoils outright.
Doncaster based Diane Henry is close to being made a surrogate 'Essex girl' with her fifth appearance at the Essex track in the last six weeks. Tonight the Henlow trainer has two runners in the TV trophy starting with Willowdale Shane in heat two at 8.21pm.
Regular readers of this column will remember reading about the July '17 whelp in mid August when he made his six bend debut at the track. On that occasion he finished third after finding trouble. That has been the story of his career on these shores since. In his next run at Nottingham over 500 metres the son of Ballymac Eske and Effernogue Diva again found trouble. Last week he was stepped up to 750 metres and again found trouble at the first, fifth and seventh bends but still managed fourth place with a run that showed he could get the trip tonight. Tonight he has been stepped up to ten bends and will certainly benefit from a trouble free race for the first time since arriving from Ireland.
Diane on the first of her two runners tonight said: "He has had no luck over six bends at Romford purely because he has not led. His trial times at Nottingham show what he can do when he gets a clear run.
"He has had no luck at all. All his races at Romford and Nottingham have been in good maidens. At Nottingham the maiden didn't fill and was against standard dogs. He has been in strong races. It has been quite difficult for him to lead and has been a little bit clumsy when trying to get past.
"I don't know if he will stay the trip on Friday. He stayed 750 last week but because of the trouble I couldn't gauge if he could handle further. We have entered him in the race totally blind. We hope he leads and hangs on. If he doesn't lead he wont reel in dogs."
Willowdale Shane is generally available at 33/1 to win the first TV trophy held at Romford.
In the third and final heat at 8.38pm the defending TV trophy heroine, Savana Winner starts her defence of the prestigious event. Those who follow the open race staying scene will need no introduction to the classy daughter of Ballymac Eske and Old Refrain.
Yes, she has her moments but there is no doubting when on song the August '16 whelp is a real handful. On the back of last weeks performance over C&D she proved she is still a force over extended marathon trips. She has been made the 2/1 ante post favourite by some for a reason and can make it back to back TV Trophy wins.
Diane on her kennel star said: "I have been waiting all year for this. Her year has all been about this competition. Everything we have done with her this year has been leading up to this. We have kept her relativity fresh with a few races under her belt. We have given her enough races to compete with the best.
"She had a couple of looks around Romford. Had a week off then came back but didn't run that well. The travel down wasn't great and it was hot. Last week over 925 metres she showed what she is capable of in a good field.
"I couldn't be happier of where she is at the moment. I'm really looking forward to it. She is running really well. I know she can be a bit of a madam but she still has so much ability and won last week in a good race.
"Winning a race doesn't rely on her breaking but not having trouble in the early part is what we want. Trap five is not a problem for her, she can run from any trap really. Tomorrow is all about her qualifying."
Betfred make her top price 5/2 to make it two TV Trophy wins in a row.
The Coral Puppy Cup over 400 metres starts next week and in preparation for it, some are making their Romford race débuts tonight. Blue Tick George trained by Jim Daly of Crayford is not only making his Romford race debut but his actual race debut at 7.49pm in a puppies only race.
The novice has been given two trials over C&D in preparation for tonights race and showed he can handle the track. From his first trial to his second he improved by twenty three spots. The son of Laughill Duke and Jaytee China will be expected to improve with more experience. The February '18 hasn't just been trialling against fellow novices. He has been up against some very good and experienced dogs and beat them. In a trial at Harlow he beat Harlow track specialist Stonepark Mo and at Romford the Ladbrokes Guys and Dolls finalist Gislebertus.
Jim on his puppy said: "He is a novice but came from the Droopys stud. He has been well schooled in Ireland. He looks a nice prospect. He had two sprint trials and a 415 at Harlow. He has a bit of pace about him. At Harlow he beat a former useful open race winning bitch in a useful time. At Romford he also beat a very useful Crayford dog in Gislebertus which is a good scalp to take for an unraced pup.
"We wasn't sure Romford would suit him but his trial times have been good. He ideally needs to improve his split times. He may need to find a length on them. The Romford puppy cup is on the agenda.
"He has pace and is not without a chance but gives away some experience to the others. He has ability but has ended up in a hot puppy race. I would have preferred to ease him in with an easier race.
"Ideally we would want him in trap one but he keeps a straight enough course to the bend. He won't turn left at the traps and from trap two there is nothing to worry about. We are looking forward to the future for him and maybe 480 metres at Central Park and 490 metres at Hove is what we will aim for."
Monmore trainer Paul Sallis has three runners at Romford tonight and yours truly has endeavoured to find out more about them starting with his puppy Kelseys Phoenix. The October '17 whelp will just qualify as a puppy for next weeks puppy cup and already has one open race win at home track Monmore from four attempts.
That win came over 480 metres, where the son of Pat C Sabbath and Phoenix Fergie showed his early pace to lead from start to finish. He runs at Romford for the first time tonight in a puppies only race at 7.33pm and his Monmore form suggests tonight's trip of 400 metres could be ideal for him.
Paul on his puppy said: "He is the main reason why we are at Romford on Friday. Friday is an exploratory night as none have had trials at the track. We are using the race as a trial. He has blistering early pace. He won his last race by a short head but was that far in front. The drop in distance should suit him. It should be a good distance for him. At Monmore he doesn't fade he stops as he struggles to get the 480 metres trip. He was so far in front before winning by a short head.
"We will see how he handles the track and get him used to running around Romford. We are aiming him for the puppy cup next week and he will be better for the look around."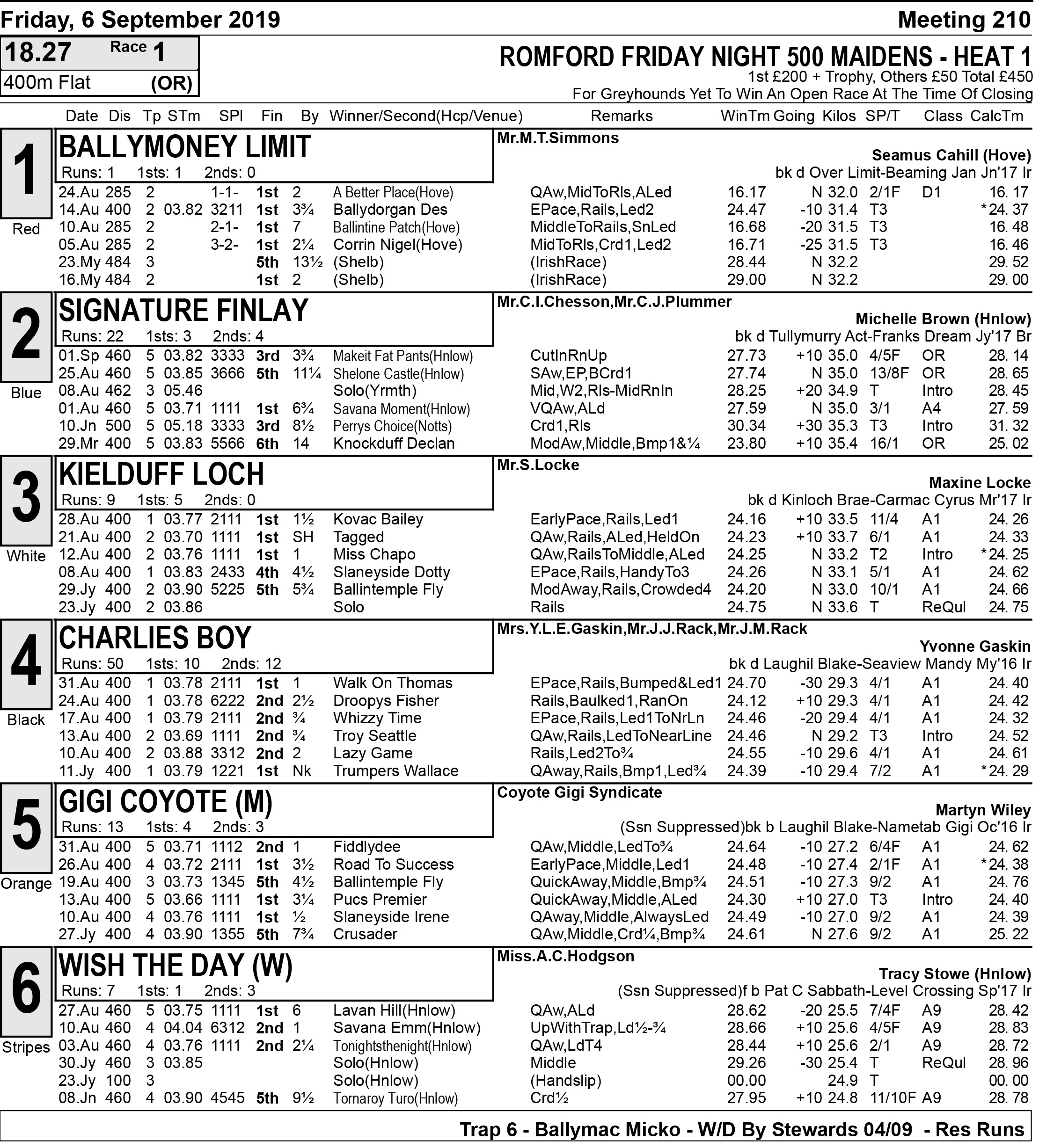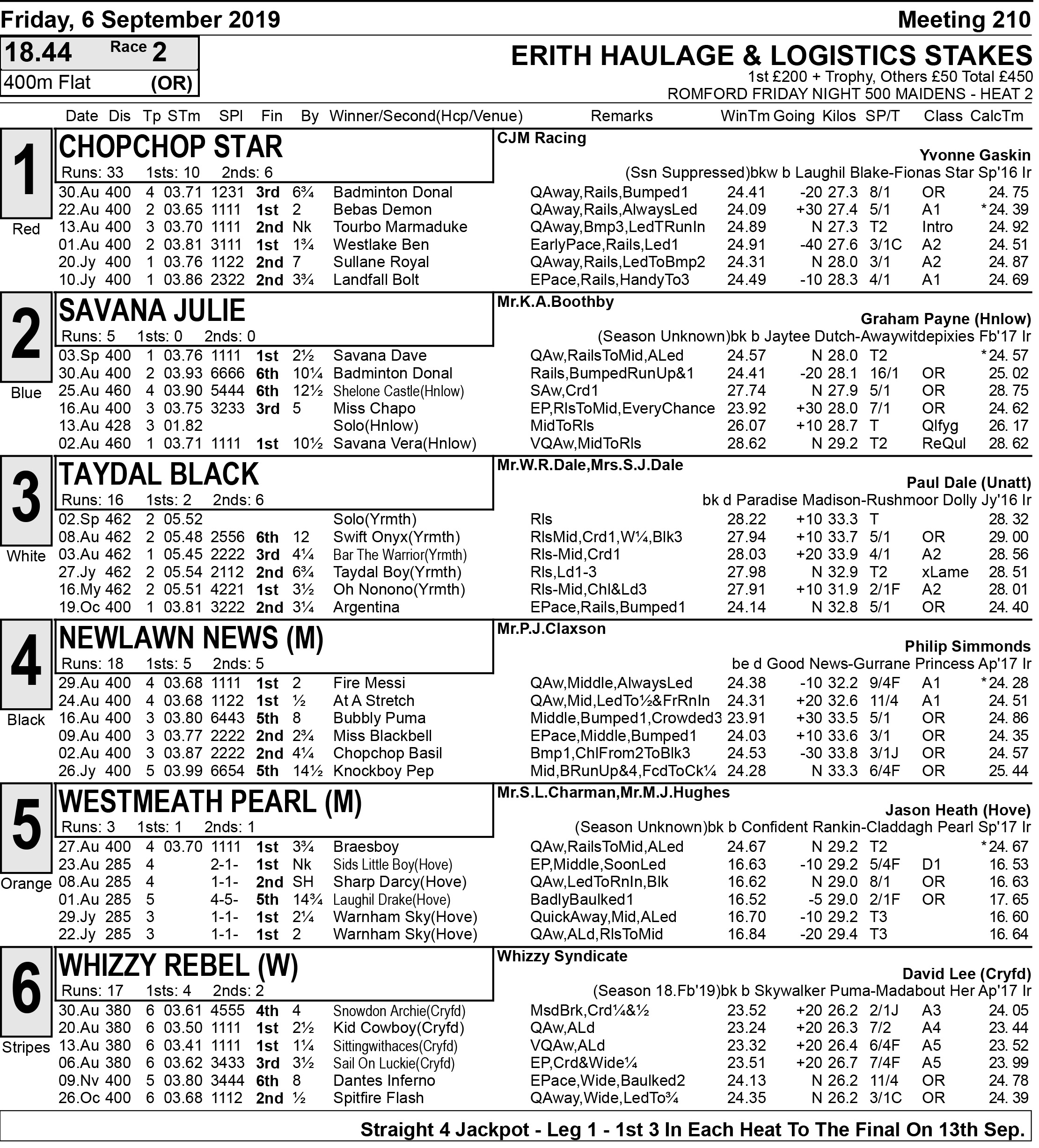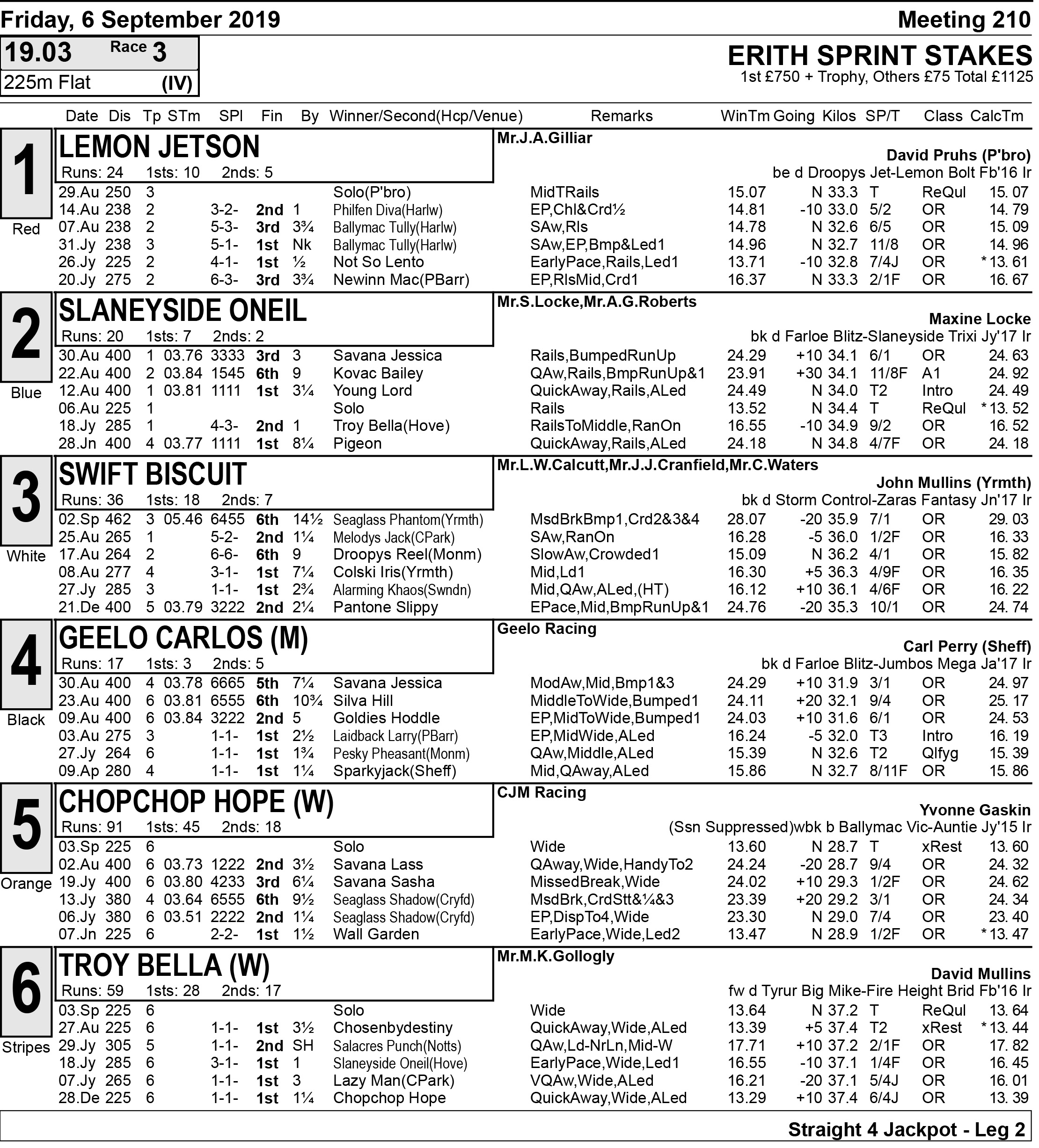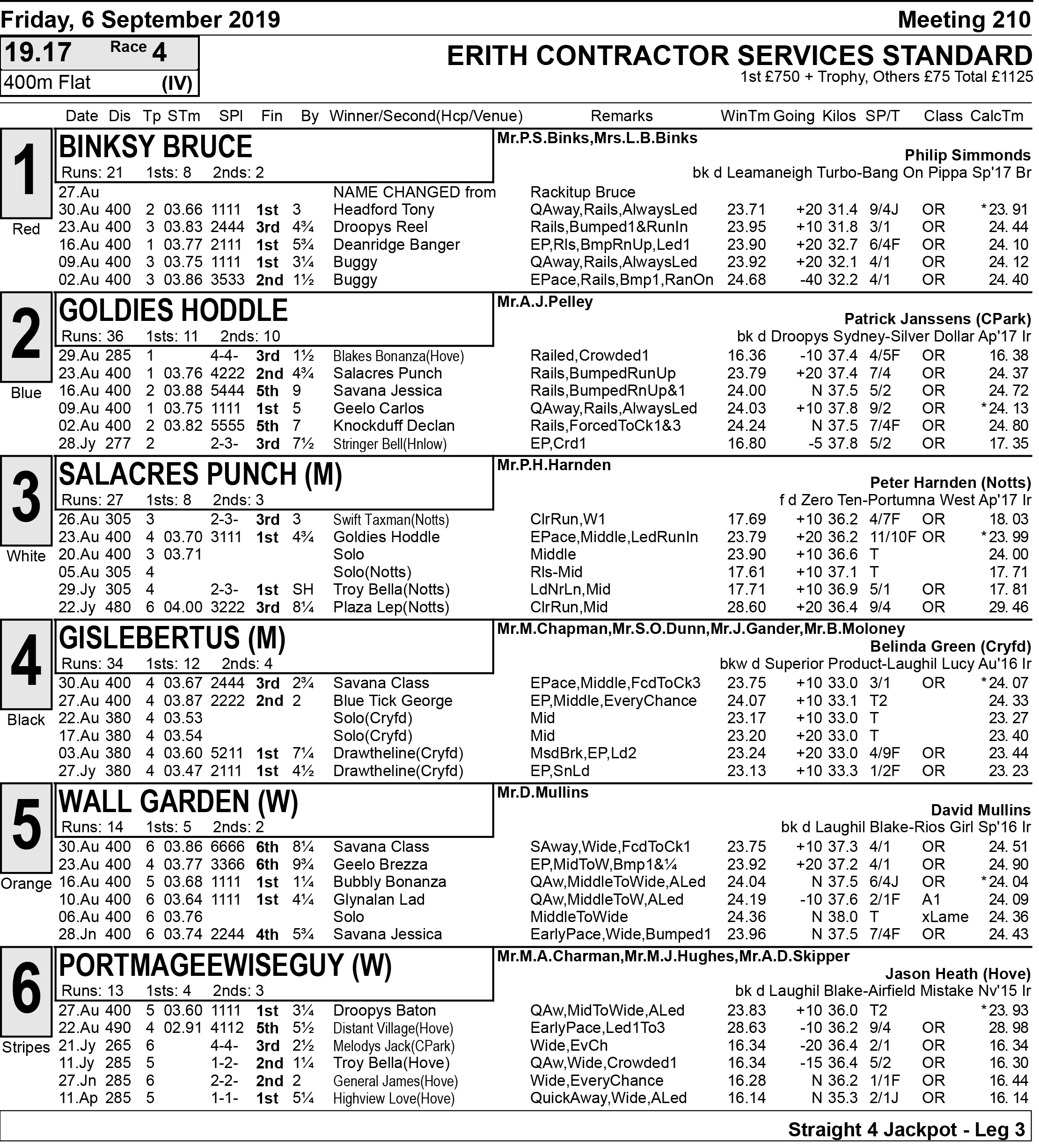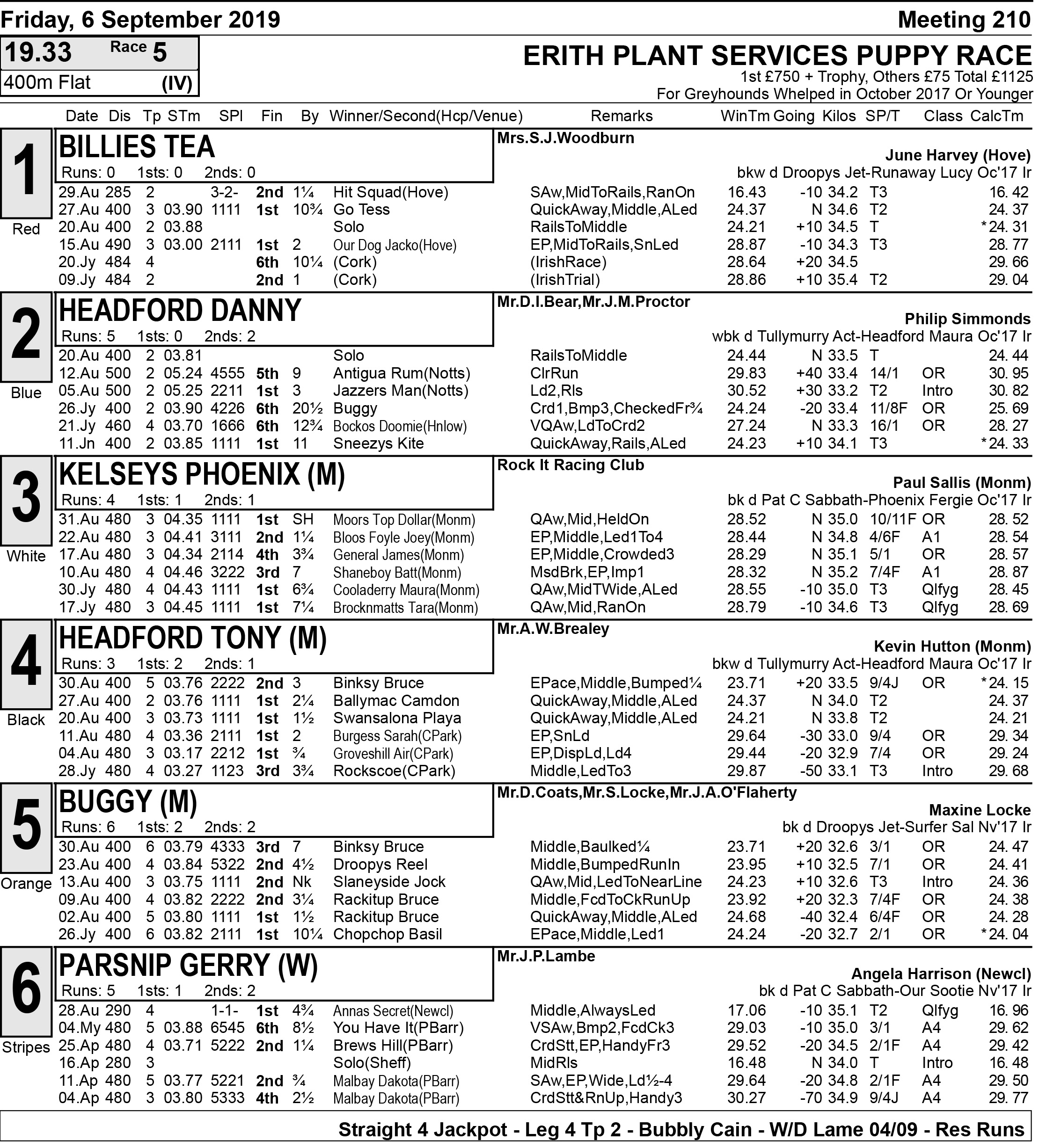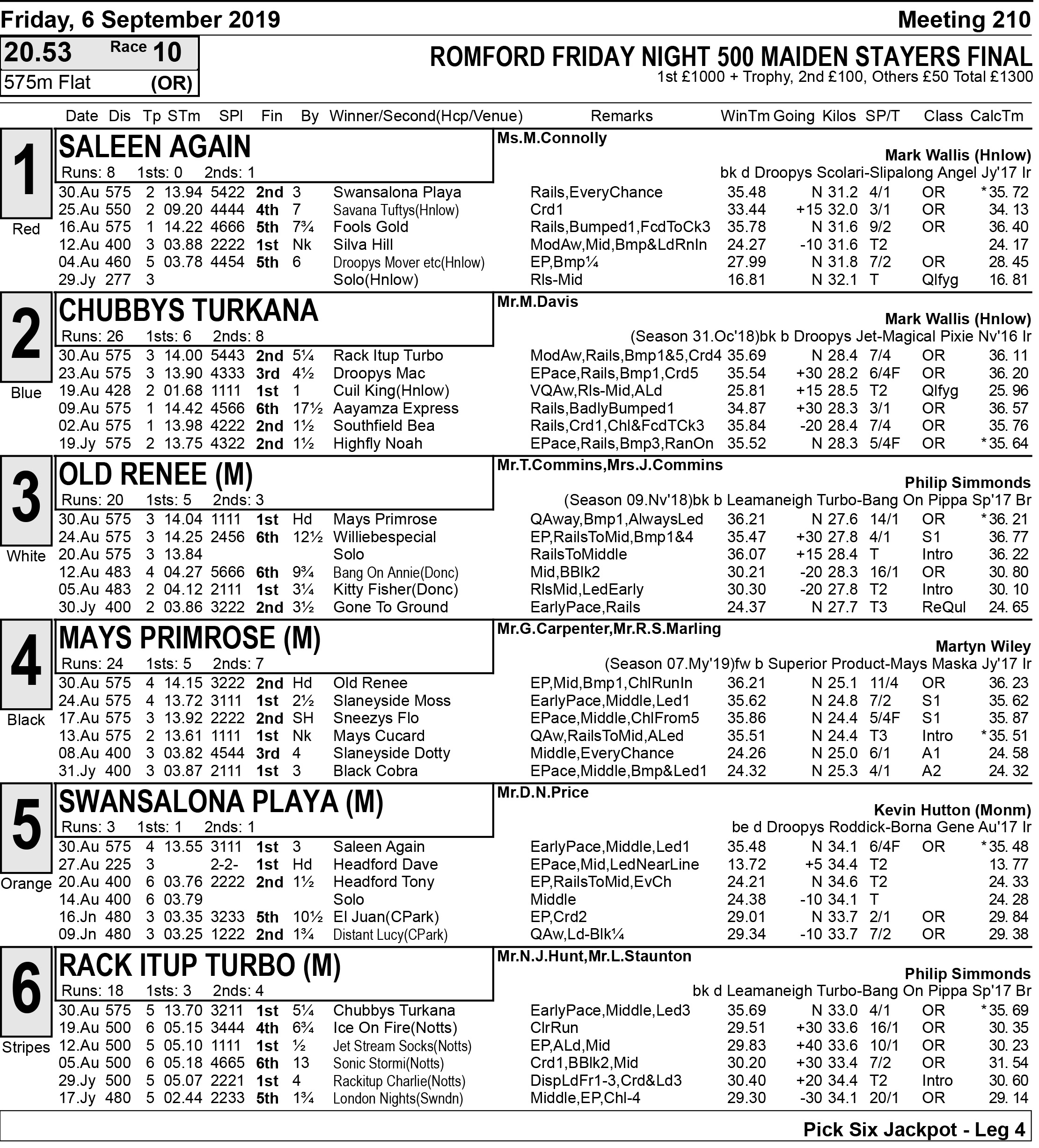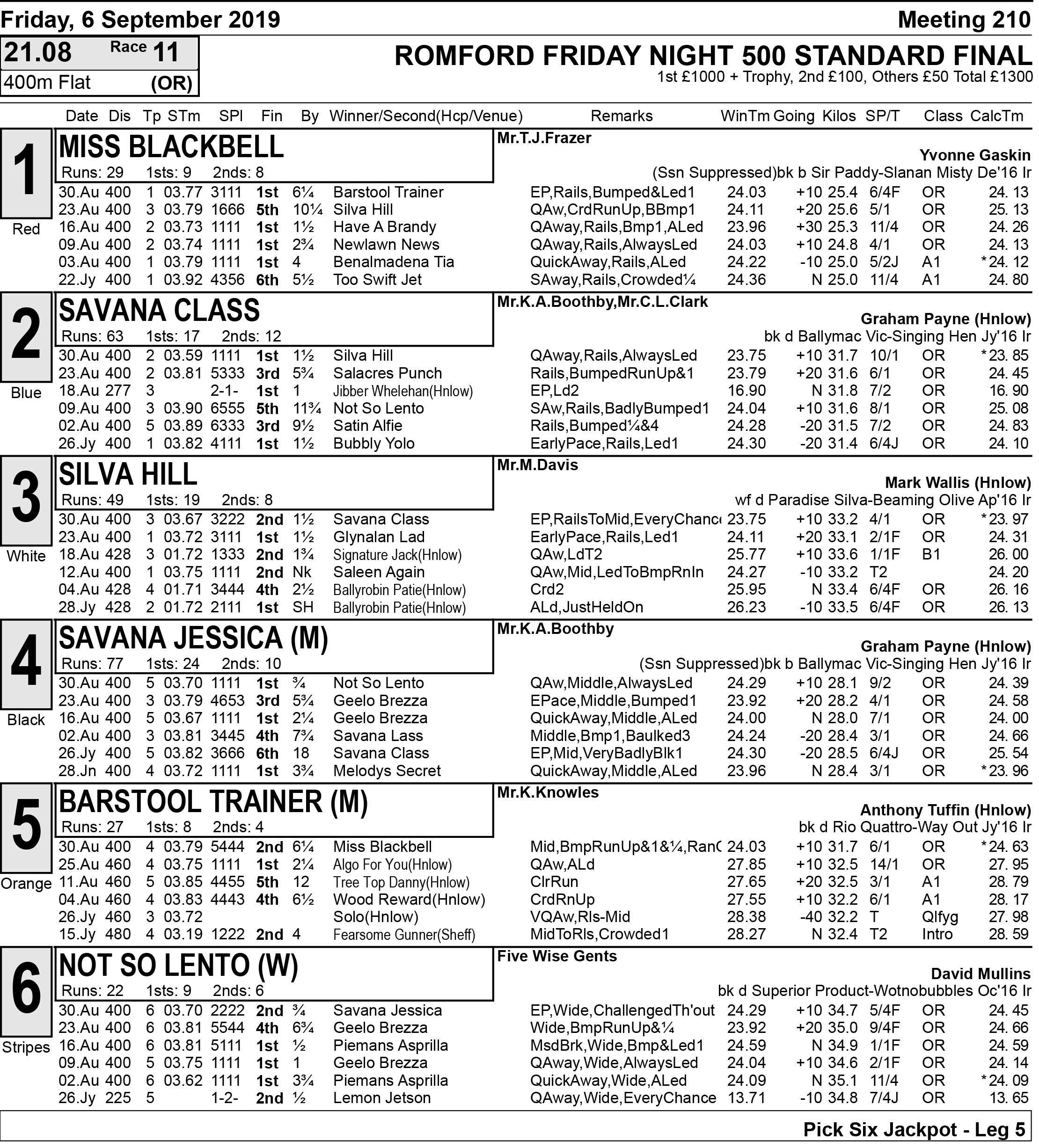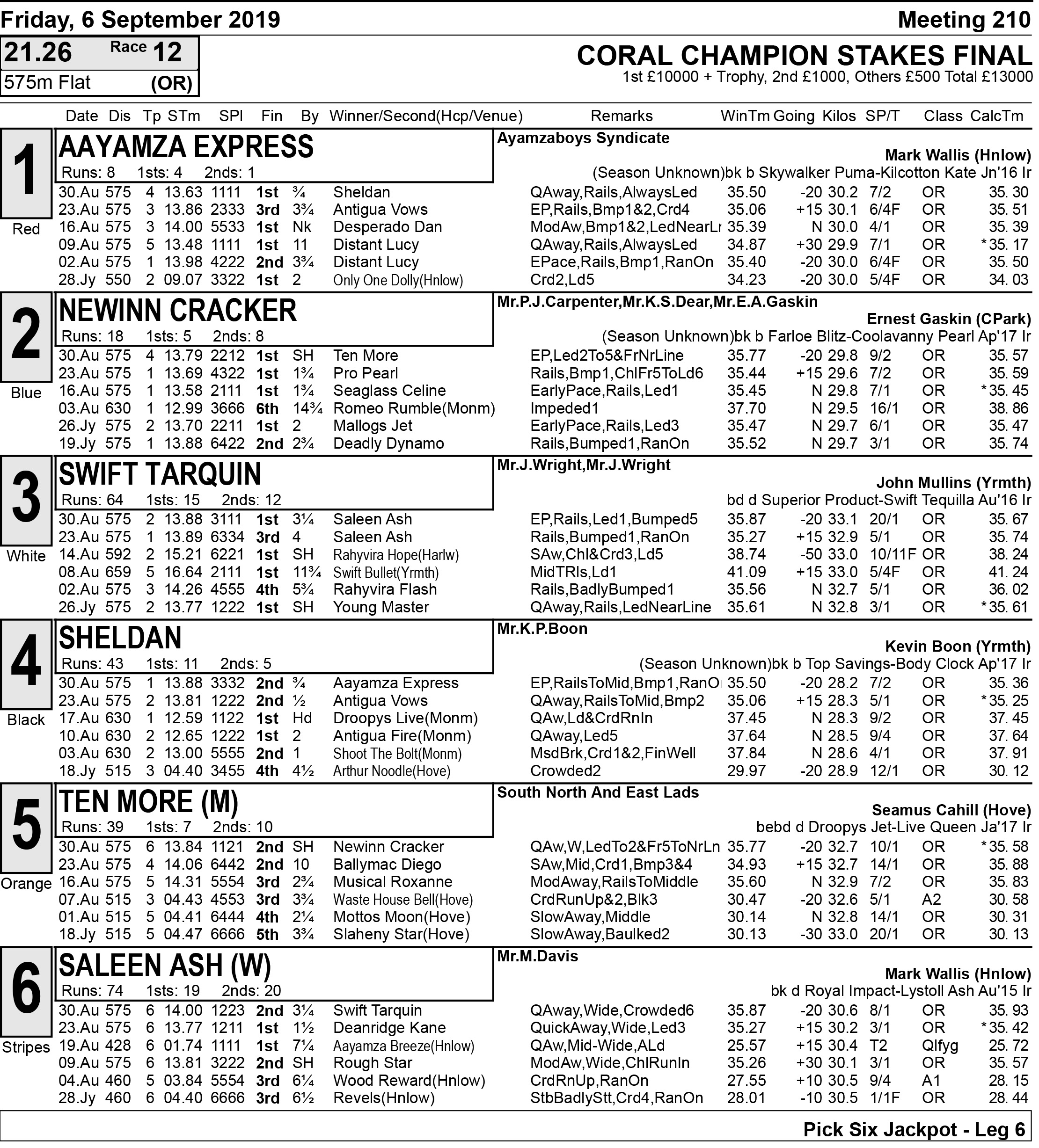 Betting 9-4 Aayamza Express, 5-2 Sheldan, 5-1 Newinn Cracker, 8-1 Swift Tarquin, 8-1 Saleen Ash, 14-1 Ten More
A reminder of trainer Mark Wallis' view of the big race
Want to brush up on the semi finals?