Romford tonight host their first opens of the year and what a way to embrace 2019 than with the start of the Coronation Cup over 575 metres. Worth £5,000 to the winner the category two competition looks very competitive with some expected entries and some new faces. As ever I have endeavoured to find out more about some of the new entries as well as some returning greyhounds.
– Rob Abrey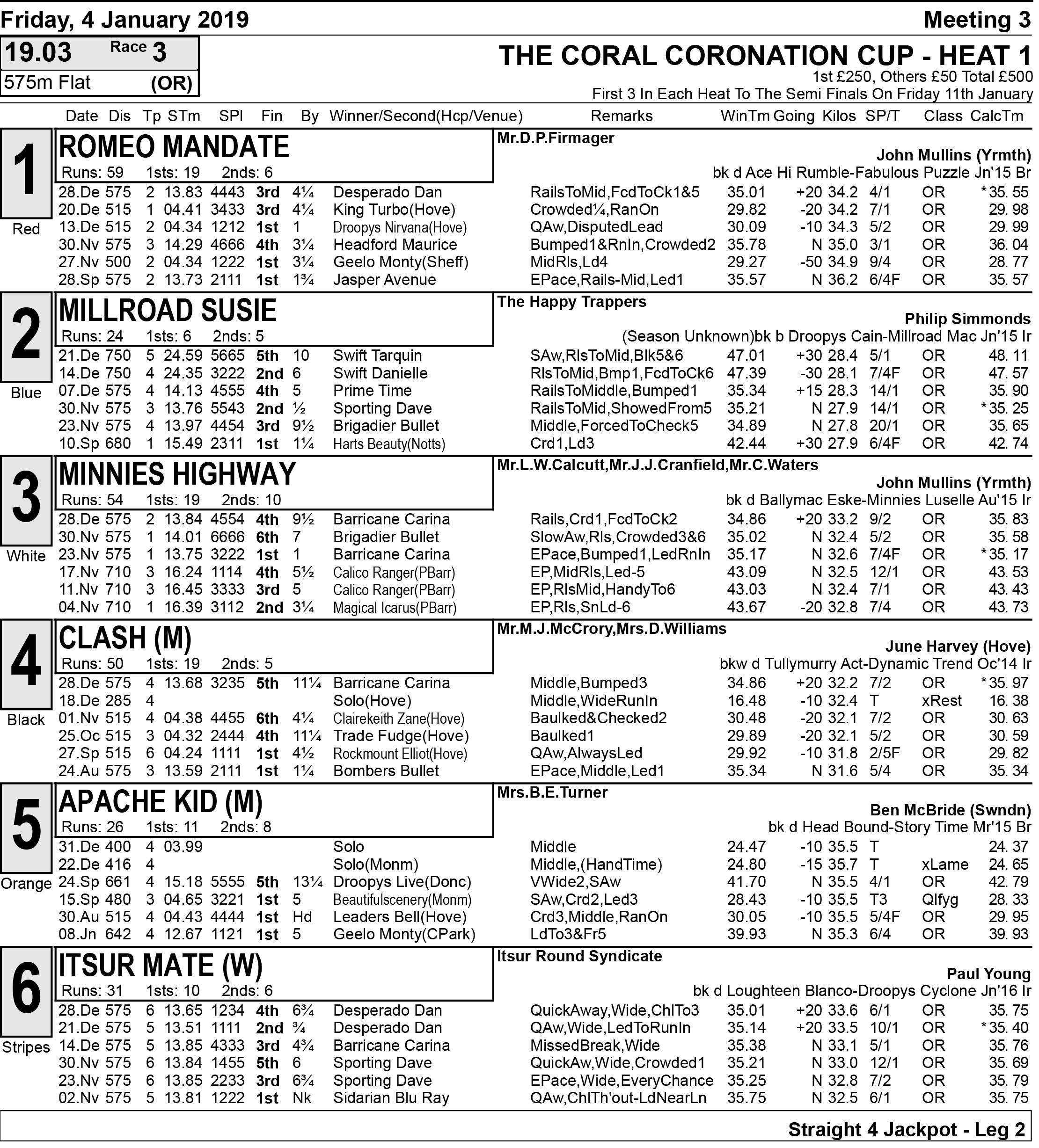 Followers of the British Bred scene will know Apache Kid. Trained by Swindon's Ben McBride, the March '15 whelp has been prominent on the British Bred scene reaching the finals the Produce Stakes at Swindon and the St Leger at Central Park. In both those finals he came second to King Elvis and Affleck Bolt which shows the class he has been running against. Tonight he runs at Romford for the first time over 575 metre and will be looking to emulate his litter sister Prime Time who won the Essex Vase last month.
The son of Head Bound and Story Time has won over four and six bends and also reached the semi finals of the Monmore Stayers Classic over 630 metres last year. He has had a recent trial at Romford over 400 metres clocking a decent calculated time of 24.37. Tonight he goes into heat one for connections at 7.03pm who will be looking for him to at least qualify.
Trainer Ben McBride on Apache Kid said: "There is not a lot going on at the moment so thought we would give him a go. His litter sister is Prime Time, who won the Essex Vase last month. We gave him a trial which was not startling but okay. We have generally kept him to galloping tracks and we will see how he gets on. It is a learning curve for me as well.
"He hasn't raced since September but he is an easy dog to get fit. We have kept him ticking over and he is ready to go. He is full of himself.
"He has good middle pace and if getting a pitch could go well. Stamina wise he has no problem and is a very genuine dog. Trap five is no problem for him. He has pacey sorts either side so hopefully can get himself a nice pitch in behind."
Ladbrokes are joint top price of 4/1 for Apache Kid to win on his Romford debut and 25/1 for him to win the competition outright.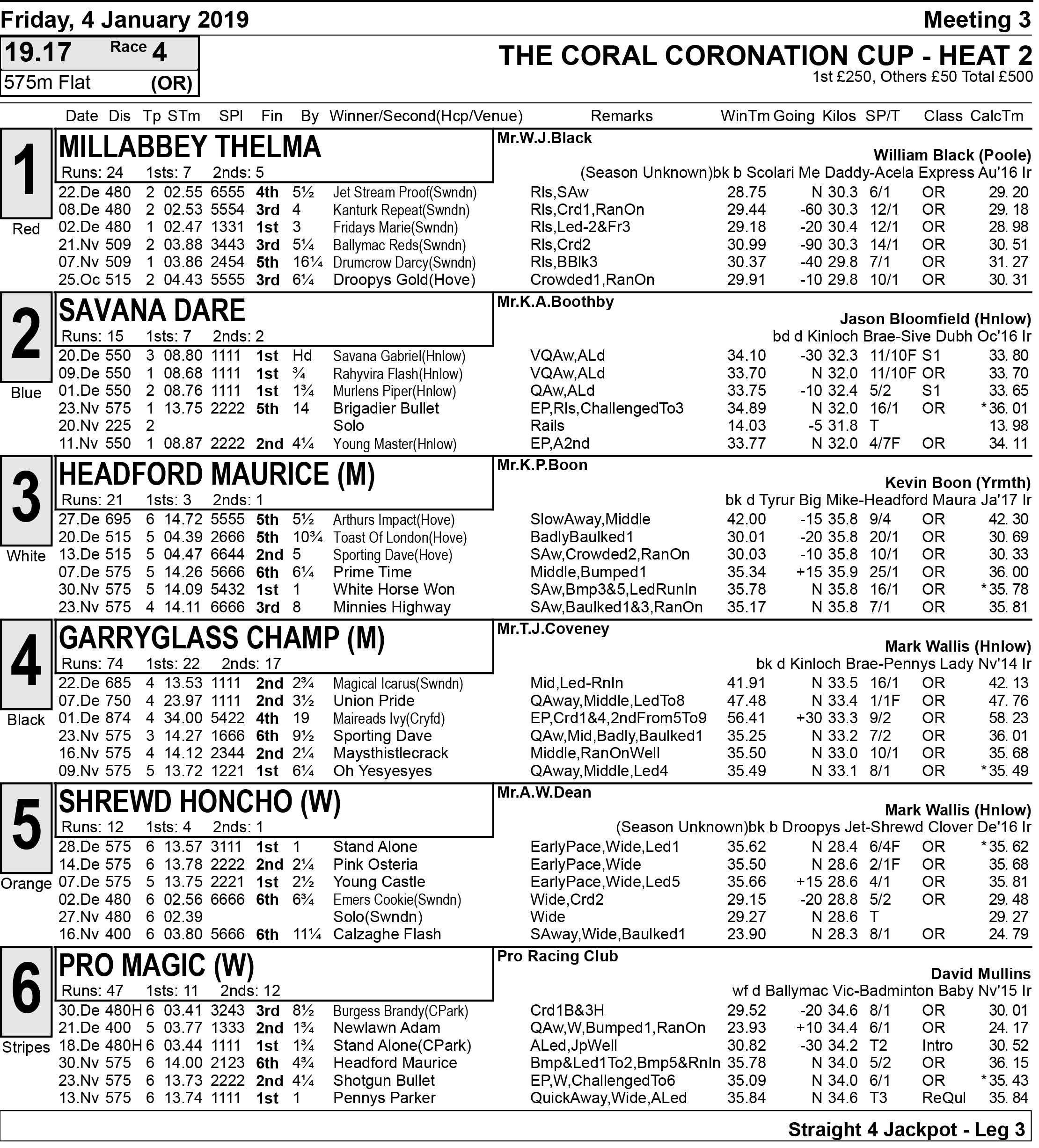 Millabbey Thelma is making her Romford and six bend debut tonight in heat two at 7.17pm for Poole trainer Bill Black. The August '16 whelp has been been holding her own over four bends winning open races at Hove over 475 metres and Swindon over 480 metres. Tonight the daughter of Scolari Me Daddy and Acela Express makes her six bend debut. Drawn in trap one and if able to show her four bend pace she could raise a few eyebrows and be a bit of value.
Trainer Black said: "She gets 515 metres at Hove. She was bought to get six bends. She is always first at the pick up. She gives the impression she stays and I think she will do. It can be misleading looking at the pick up as some dogs may be fading but she gives the right impression she can and was bought to stay six bends.
"If she were to lead I would expect her to go very well. She is not without a chance. Trap one is her box and if she breaks like she can she has a chance. She runs a track well first time up."
Black also has another greyhound stepping up in trip tonight. Vulture Vision is going over eight bends in the maiden marathon over 750 metres at 9.26pm. On the daughter of Vullturi and Precious Story' trainer Black said: "She stays the trip. She won at Poole over 640 metres recently in a graded race and won by over six lengths. She stays does that one."
Several firms make Millabbey Thelma 8/1 to win on her six bend debut and she is generally 66/1 to win the Coronation Cup.
Vulture Vision is 8/1 with Skybet to win the last race of the night.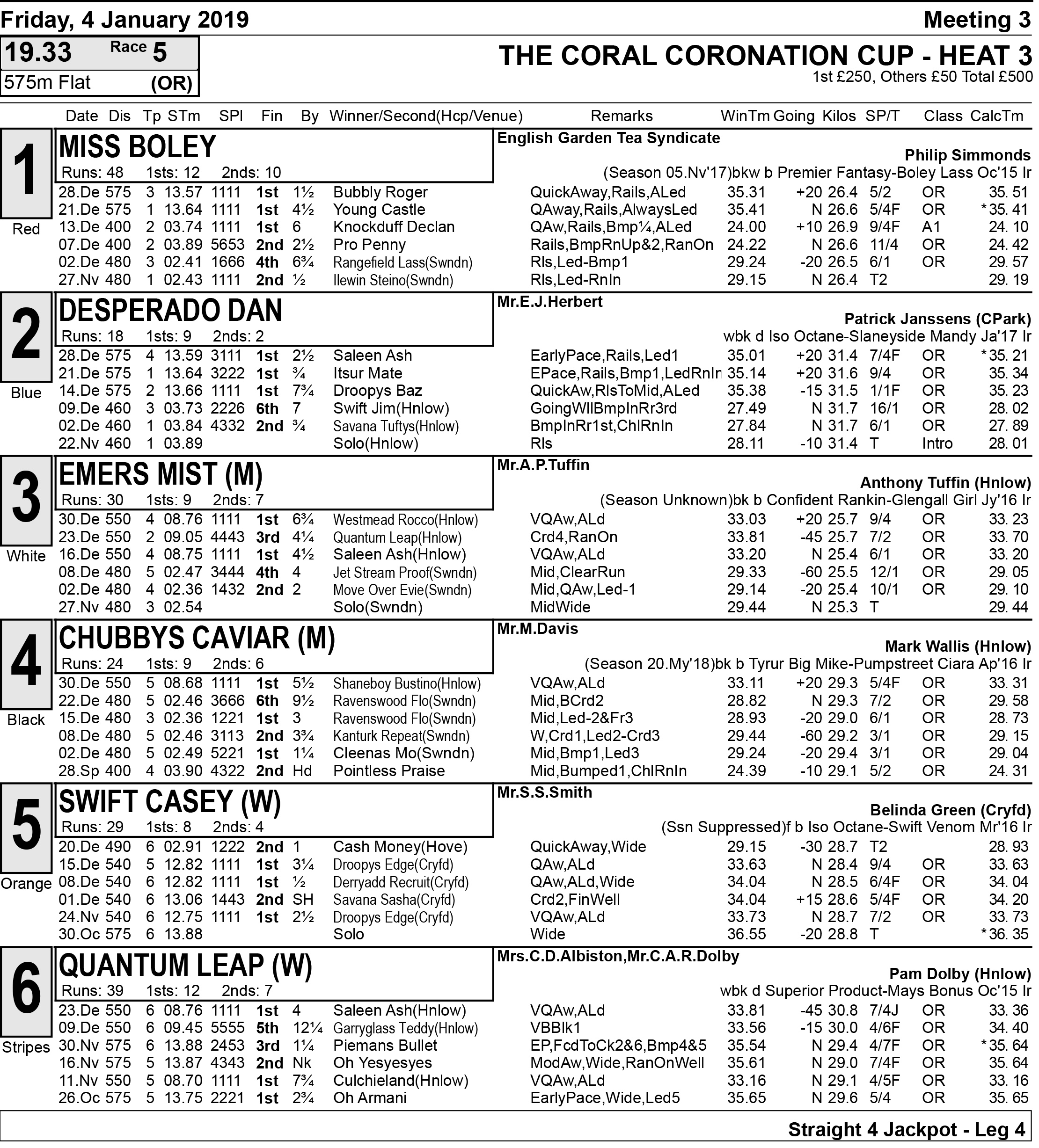 Emers Mist is another making their six bend debut tonight in the Coronation Cup. Trained by Henlow's Anthony Tuffin the July '16 whelp goes into heat three at 7.33pm in fine form. The Daughter of Confident Rankin and Glengall Girl has recently been stepped up to 550 metres at home track Henlow winning two open races from three attempts. Interestingly in those races she beat Saleen Ash and Maysthistlecrack who are also in the Coronation Cup at ante post prices of 14/1 and 16/1. She was beaten though by Quantum Leap on the 23rd December who she runs against tonight but when winning a week later she beat that time by thirteen spots which shows the direction she is heading. When clocking that calculated time of 33.23 that was eight spots faster than Chubbys Caviar who clocked 33.31 in a different race that same meeting also over 550 metres. The signs are there that she can get the 575 metres trip.
Trainer Anthony Tuffin on Emers Mist said: "She's a brilliant little bitch. She is coming into herself. It took her a long time to settle in but is there now. 575 metres is a bit harder than the 550 metres at Henlow but she could make a good six bend dog.
"Last time out at Henlow she clocked a faster time time than trap four [Chubbys Caviar] in the same meeting and done well at Swindon.
"She has been pinging the lids at Henlow but does lack a little bit of early. I do think she will take to the place and trap three is good for her. She wants to be out of three or four. She should be okay first time round Romford. She doesn't like the rain but the forecast is dry!"
Ladbrokes make Emers Mist top price 11/2 to win her heat and William Hills are offering 25/1 for her to win the cup outright.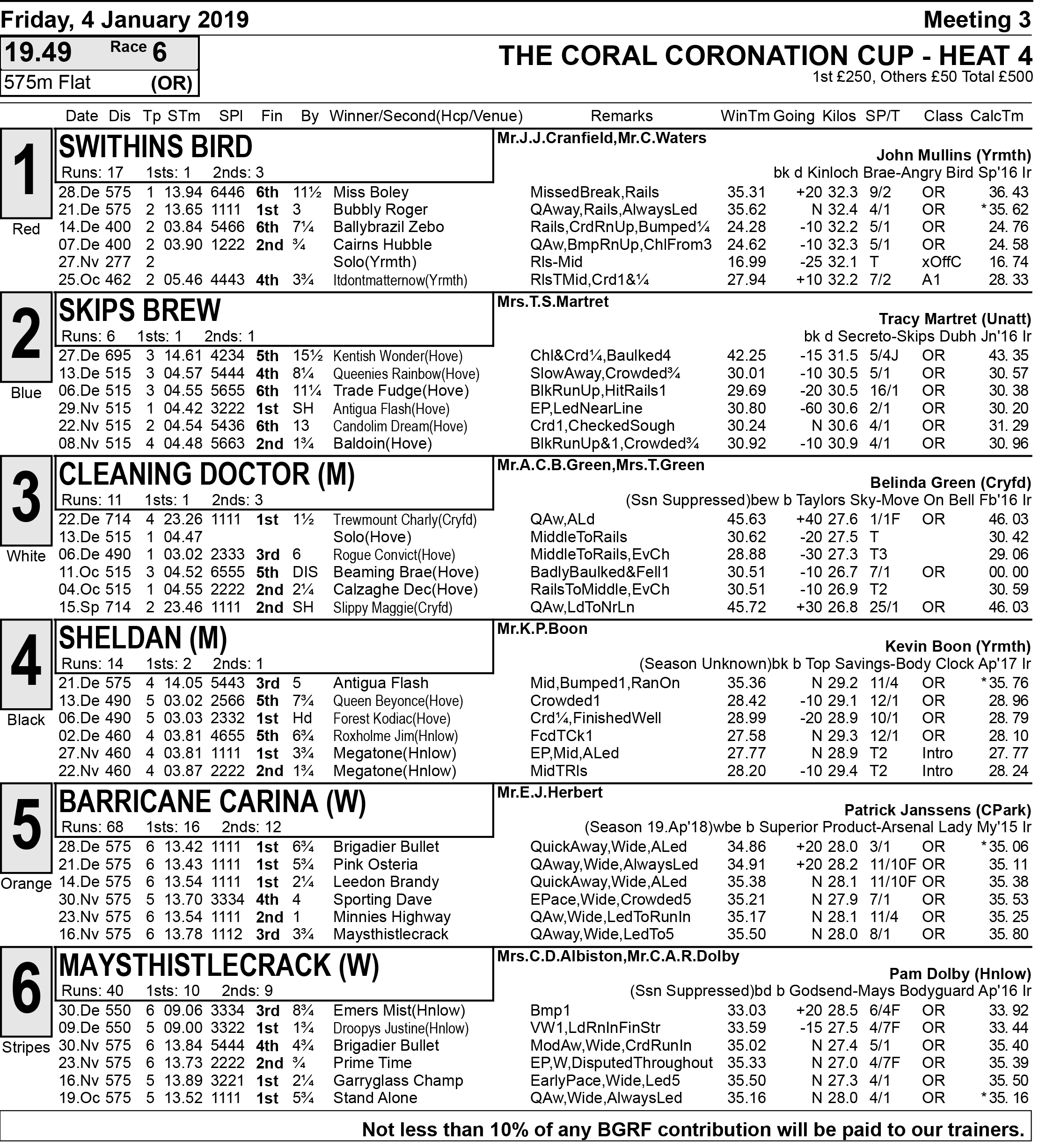 Skips Brew trained by unattached trainer Tracy Martret makes her Romford debut tonight in heat four at 7.49pm but not his six bend debut. The son of Secreto and Skips Dubh has had six races on these shores winning won. That sole win came at Hove over 515 metres. He recently attempted 695 metres at Hove but to no avail after finding trouble. Tonight's 575 metres trip looks perfect for the June '16 whelp.
Trainer Tracy Martret on Skips Brew said: "We think he can get the trip. We put him over 695 metres but he didn't get it. He gets 515 metres at Hove easy so should get 575 metres. He has won a maiden over 515 metres so thought we would give him a go in the Coronation Cup. We are happy with him and enjoying training him. It is nice to get dogs in competitions. We are happy we have a 'goodish' dog to go open racing with as he didn't cost that much at all.
"He doesn't trap that brilliantly and are hoping he qualifies. Trap two on Friday is okay for him but we would have preferred trap one. We will take one race at a time with him and take it from there."
In a heat tough William Hills are offering 14/1 for Skips Brew to take heat four and 66/1 to win outright.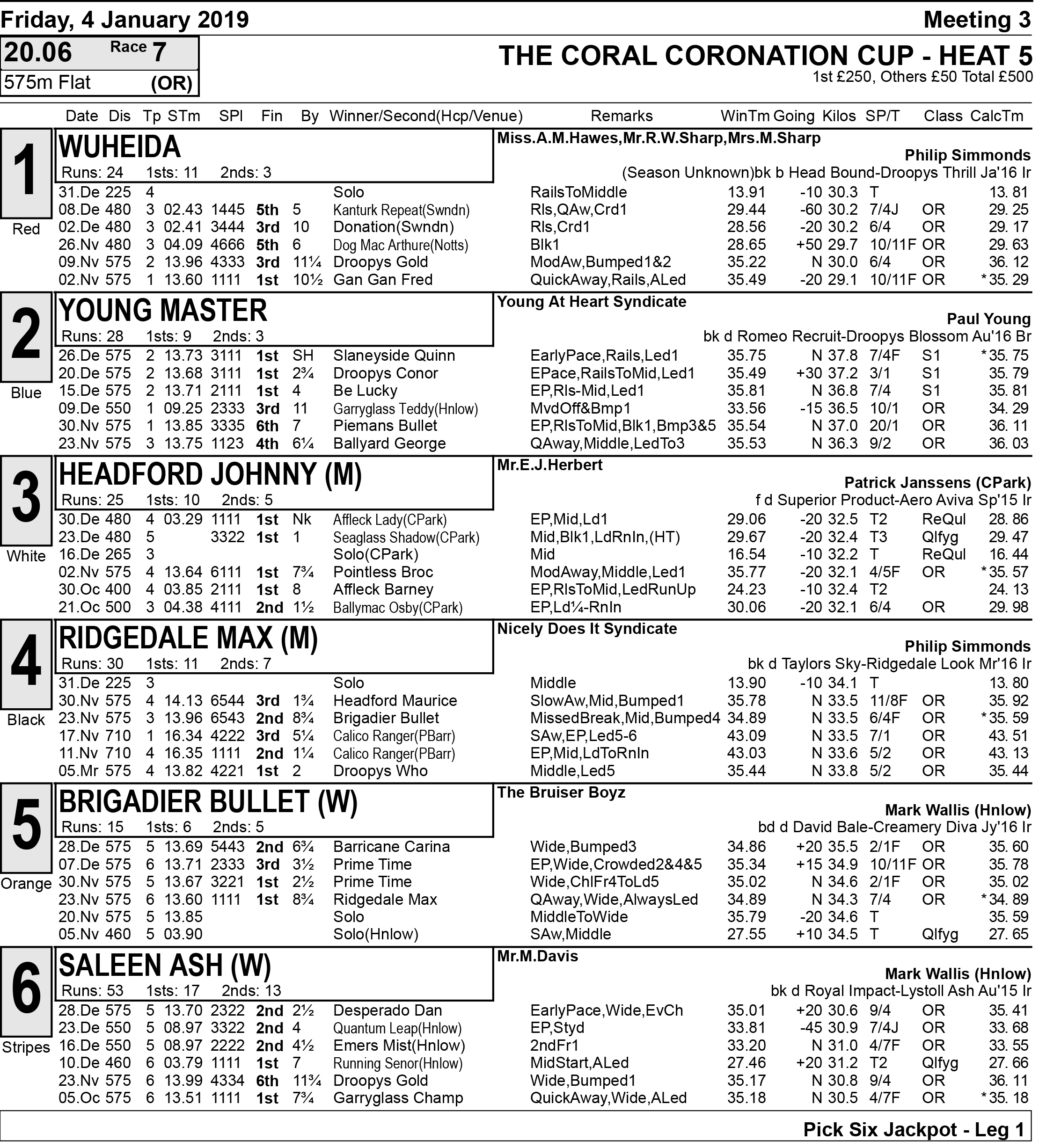 Wuheida for local handler Phil Simmonds made her six bend debut back in November last year and duly obliged by 10 ½ lengths. The following week she came third and hasn't been seen since at Romford. Tonight the January '16 whelp is back after runs at Swindon and Nottingham and showed she is in fine fettle when clocking a good calculated time of 13.81 in a 225 metres sprint trial. Ideally drawn in trap one, the daughter of Head Bound and Droopys Thrill makes her Romford comeback in heat five at 8.06pm.
Trainer Phil Simmonds on Wuheida said: "She won well on her six bend debut. The distance is not an issue with her. It is a very good heat and three dogs in it are more than capable to make the final.
"She needs trap one. That is very important for her. She has found a bit of trouble in her previous races and we hope she comes back to Romford with a flurry."
Ladbrokes make her a stand out 7/2 shot to win her heat while Paddy Power are top price 14/1 to win outright.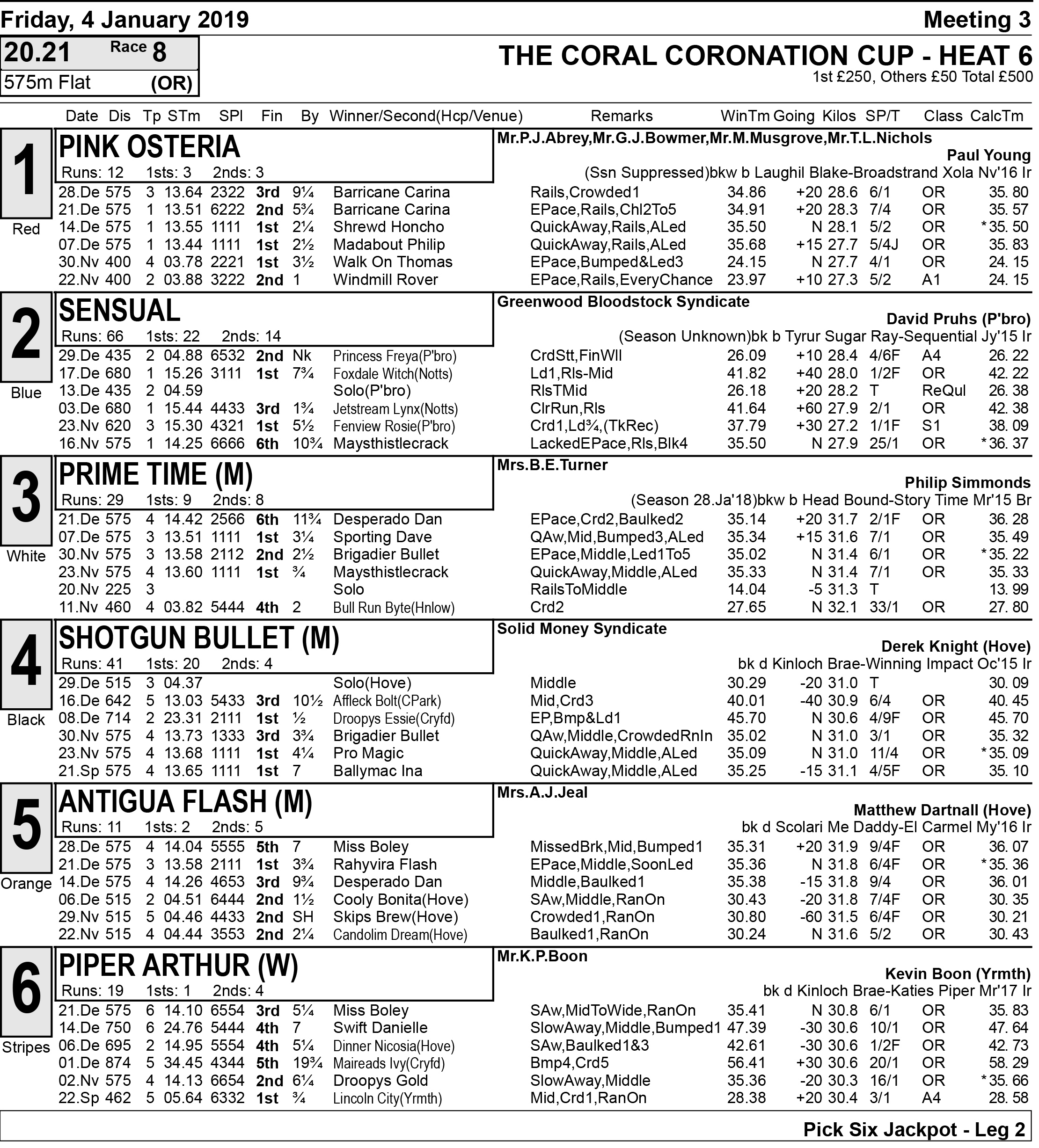 Although she has been running at Romford recently it felt rude not to cover Prime Time. The winner of the Essex Vase last month and not unexpected to regular readers of this column, will not be 100/1 to win outright this time. Trained by Phil Simmonds the March '15 whelp will be looking to make it two outright wins from two at Romford. Since that category one victory last month the daughter of Head Bound and Story Time has had only one race over C&D finishing last after finding trouble at the second bend. She goes into heat six tonight at 8.21pm.
Trainer Phil Simmonds on Prime Time said: "She had one race at Romford since the final but got into a tangle at the second bend. She is completely well in herself and is ready to rumble.
"She is drawn inside Shotgun Bullet which is important. I have told Brian [Turner – owner] she is in good form and could win at best or qualify.
"I prefer her nearer the rails so trap three is good for me. She is fit and well and running dandy."
Most firms are 7/4 for her to get off on a winning start and Skybet are 14/1 for her claim back to back competition wins.
On all his runners tonight and asked who he thinks could go best Simmonds said: "Newlawn Adam in the standard final. He is up against Bubbly Joe who is irresistible at the moment but he has a chance. That would be my choice."
Newlawn Adam runs at 8.53pm over 400 metres and is best priced 5/2 with Bet365 to win the final.
| | |
| --- | --- |
| Best prices | |
| Barricane Carina | 7 |
| Brigadier Bullet | 7 |
| Desperado Dan | 12 |
| Shotgun Bullet | 12 |
| Prime Time | 14 |
| Saleen Ash | 14 |
| Wuheida | 14 |
| Clash | 16 |
| Maysthistlecrack | 16 |
| Ridgedale Max | 16 |
| Quantum Leap | 20 |
| Headford Johnny | 22 |
| Apache Kid | 25 |
| Chubbys Caviar | 25 |
| Emers Mist | 25 |
| Romeo Mandate | 25 |
| Miss Boley | 28 |
| Garryglass Champ | 33 |
| Pro Magic | 33 |
| Minnies Highway | 40 |
| Shrewd Honcho | 40 |
| Swift Casey | 40 |
| Antigua Flash | 50 |
| Itsur Mate | 50 |
| Pink Osteria | 50 |
| Cleaning Doctor | 66 |
| Millabbey Thelma | 66 |
| Millroad Susie | 66 |
| Skips Brew | 66 |
| Swithins Bird | 66 |
| Headford Maurice | 80 |
| Sheldan | 80 |
| Piper Arthur | 100 |
| Savana Dare | 100 |
| Sensual | 100 |
| Young Master | 125 |