There may be some shenanigans going on in some jungle somewhere but it's the action at Romford greyhound stadium that I'm interested in. Watching hungry celebrities moan or first round heats of the Essex Vase and the final of the Romford Puppy Cup?
It's the latter two for me all day long. The last category one competition of the year at the Essex venue starts at 6.44pm and being worth £10,000 to the eventual winner has attracted a strong field. Over 575 metres there are some expected entries and some that are making their six bend debuts and race debuts. As ever in your favourite read I have endeavoured to find out more about five from six of the heats.
Nottingham trainer Laurence Tuffin is braving the Friday night traffic from his Nottinghamshire base to run two of his charges in the Essex Vase. Both have proven six bend form but are making their Romford race debuts tonight.
Heroic Miss is first up in heat one at 6.44pm. The September '14 whelp is no youngster and is well adversed to the open scene with wins at Nottingham, Monmore, Newcastle and Towcester. Those wins have come over four and six bend races so show she has versatility.
Back in April she won the Scarborough memorial unbeaten at Nottingham over 680 metres, picking up a £2,000 winners check for connections. Tonight is her first race at Romford and getting the trip will not be a problem.
Trainer Laurence Tuffin on Heroic Miss said: "She picked up an injury back in May at Towcester and since returning hasn't quite been running to the standard she was before it. We thought we would try her at Romford and she how she goes with a view to retire her after the competition.
"She is very capable in this sort of trip. This time last year she contested in the Eclipse at Nottingham over 500 metres and was clocking low 30's times. She was up against really good dogs such as Bubbly Bluebird and Bombers Bullet and held her own.
"We are hoping she can perform to the level we know she can. We are more hopeful than optimistic though.
"She is a dead railer so her draw in one is good. The two on her outside have pace so hopefully pitches in behind them and runs on to qualify."
Heroic Miss is best price 50/1 with William Hills to win outright and 10/1 to claim the race.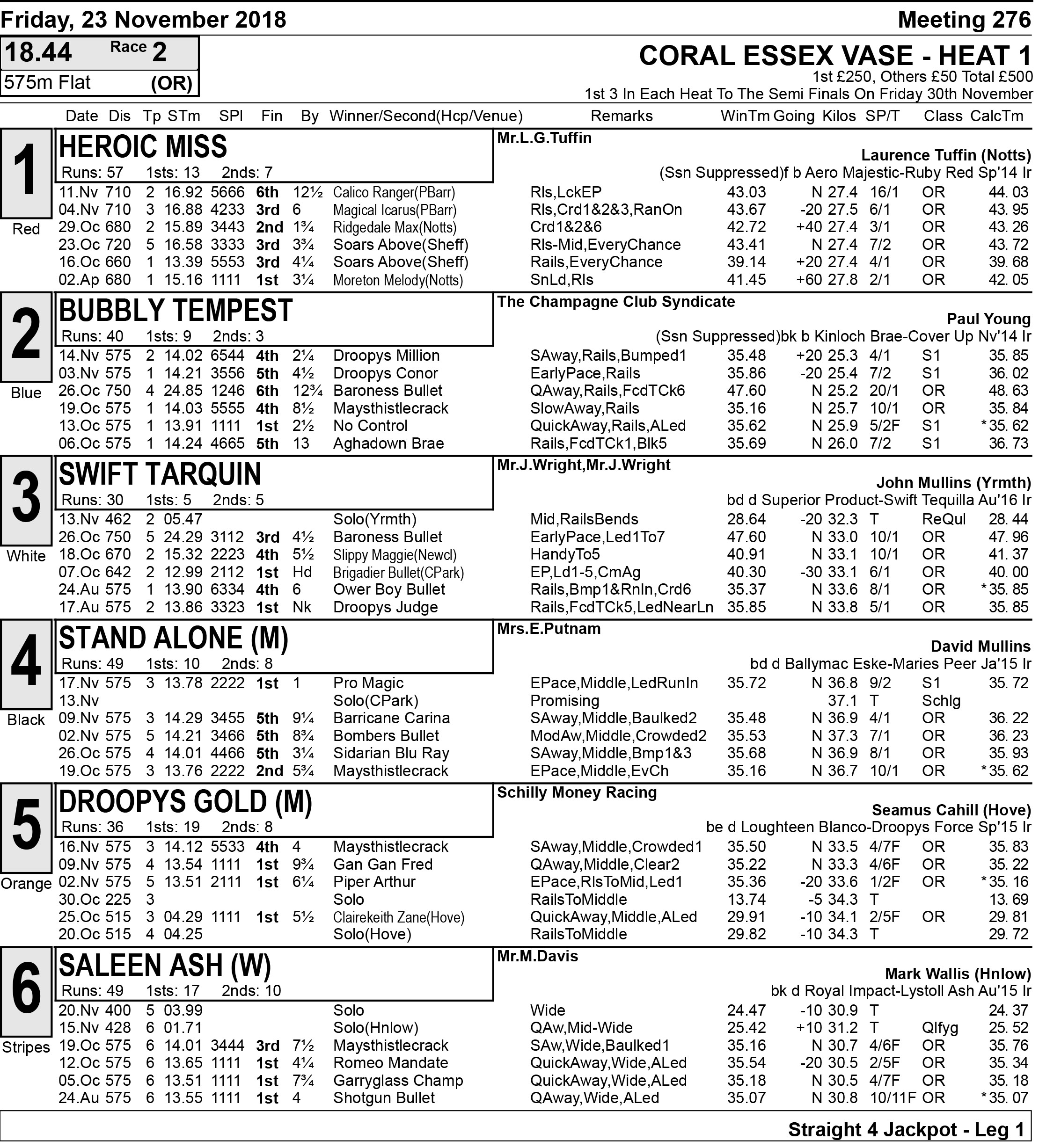 Local handler Phil Simmonds has three entries in the Essex Vase but it is his new addition to his kennels, Prime Time that gains the attention of this column.
The daughter of Head Bound and Story Time has until recently been with Henlow trainer Brian Turner. The March '15 whelp has now been placed with Simmonds and has been entered straight into the Essex Vase.
She is making her Romford race debut but not her six bend debut. She has had two races at Monmore over 630 metres where she came sixth and second. She has had a recent look at around Romford with a 225 metres trial on Tuesday clocking a decent time of 13.99. Getting the trip should not be a problem as she has won an open at Henlow over 550 metres. She has also shown she can do it against four bend sorts with an open win at Doncaster over 483 metres.
Phil said: "She came from Brian Turner. He is in his eighties and didn't want to do all the driving anymore and wanted her in the Essex Vase so came to me. She has already settled in well.
"She has won a couple of opens and looks quite a nice bitch and is big at 32 kilos. She has won at Henlow over 550 metres and 575 metres is not too much more. She has just recently run in a sprint trial at Romford so she gets used to the traps and track. I think she will get the trip.
"Trap four is good for her as she is seeded middle. We will wait and see."
Prime Time is top price 100/1 with Corals and Betfred to lift the Essex Vase and 10/1 top price for her heat with Corals. For Grays Cup Winner to claim the puppy cup several firms are offering 7/4.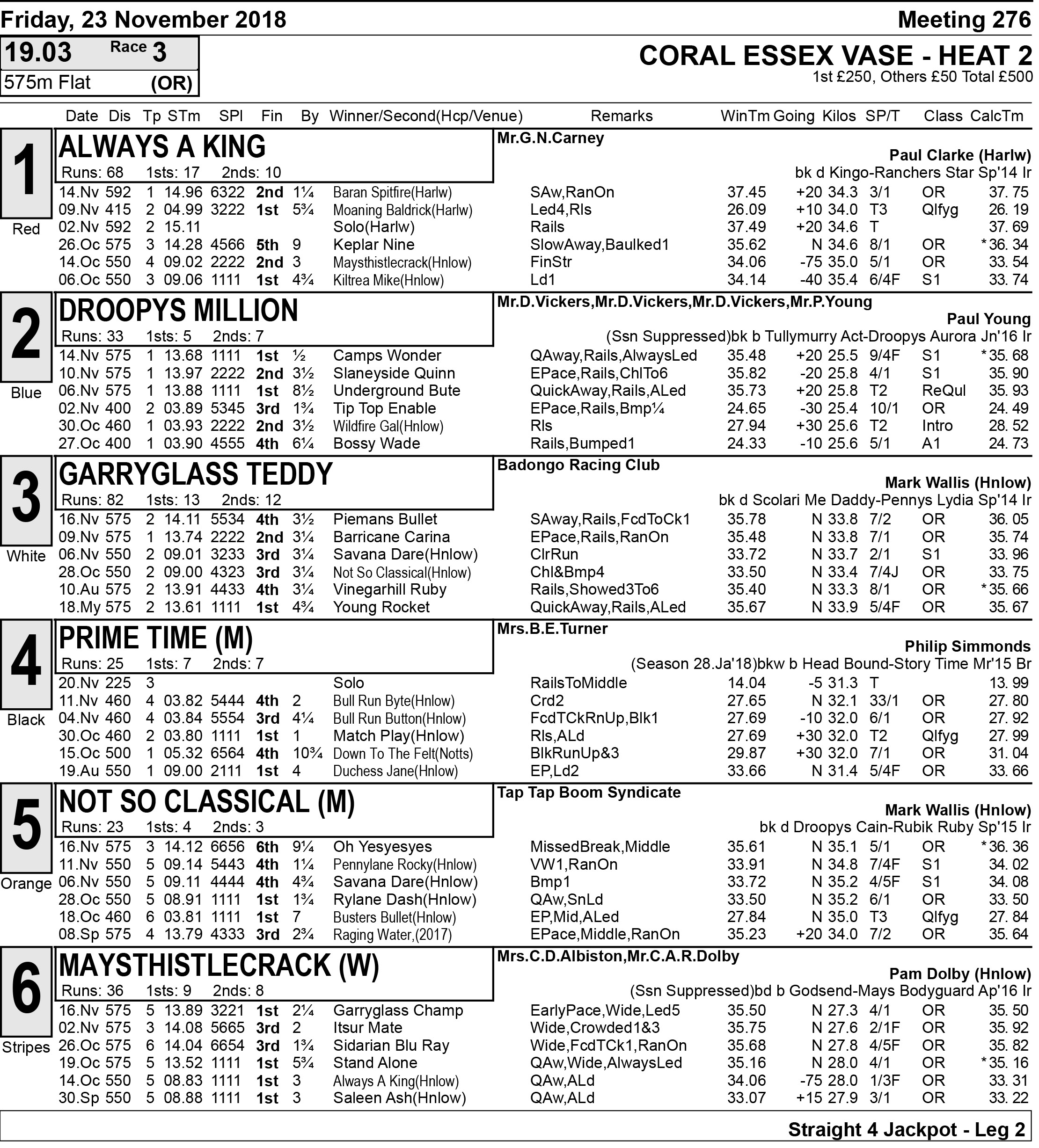 Tuffin's second runner in the competition is Pointless Pearl in heat three at 7.19pm and like kennel mate Heroic Miss is making her Romford debut. Like Heroic Miss she has winning form over six bends and has won the Queen Mother memorial at Sheffield over 660 metres picking up £3,000 for connections.
The May '14 whelp is touching four and a half years old but is still in good form and showed that when winning a open race at Nottingham recently over 500 metres. The daughter of Razldazl George and Swift Blitz is well travelled and has run at tight tracks such as Crayford reaching the semi finals of the Golden a Jacket earlier in the year so should take to Romford.
Trainer Tuffin on Pointless Perla said: "She likes a battle does Pearl. She is the sort you would like to own but not be up against. She is a bit quirky.
"She was unfortunate in the Eclipse recently at Nottingham and should take to Romford. She has reached the Golden Jacket semi finals at Crayford and ran the track well. She is not fussed where she goes and runs different tracks well. The draw is two is good. Trap one (Minnies Highway) should pace up and hopefully Pearl will tuck in behind him."
On both his Essex Vase entries Tuffin said: "I would choose Pearl over Miss. She is getting on a bit but would be my pick of the two. She runs race out."
William Hill like with Heroic Miss are a stand out top price 50/1 to take the outright spoils and top price of 7/1 to claim the third heat.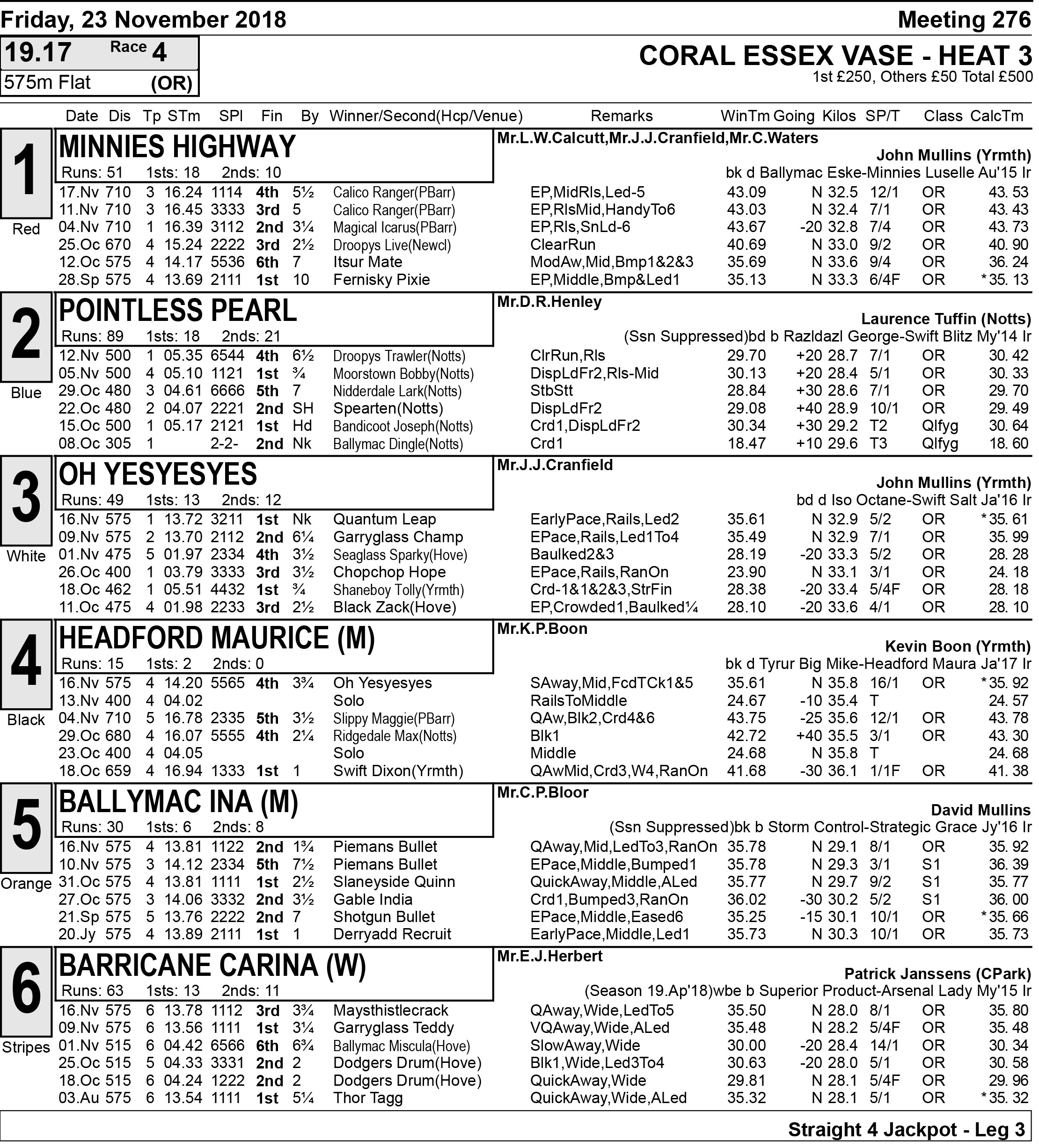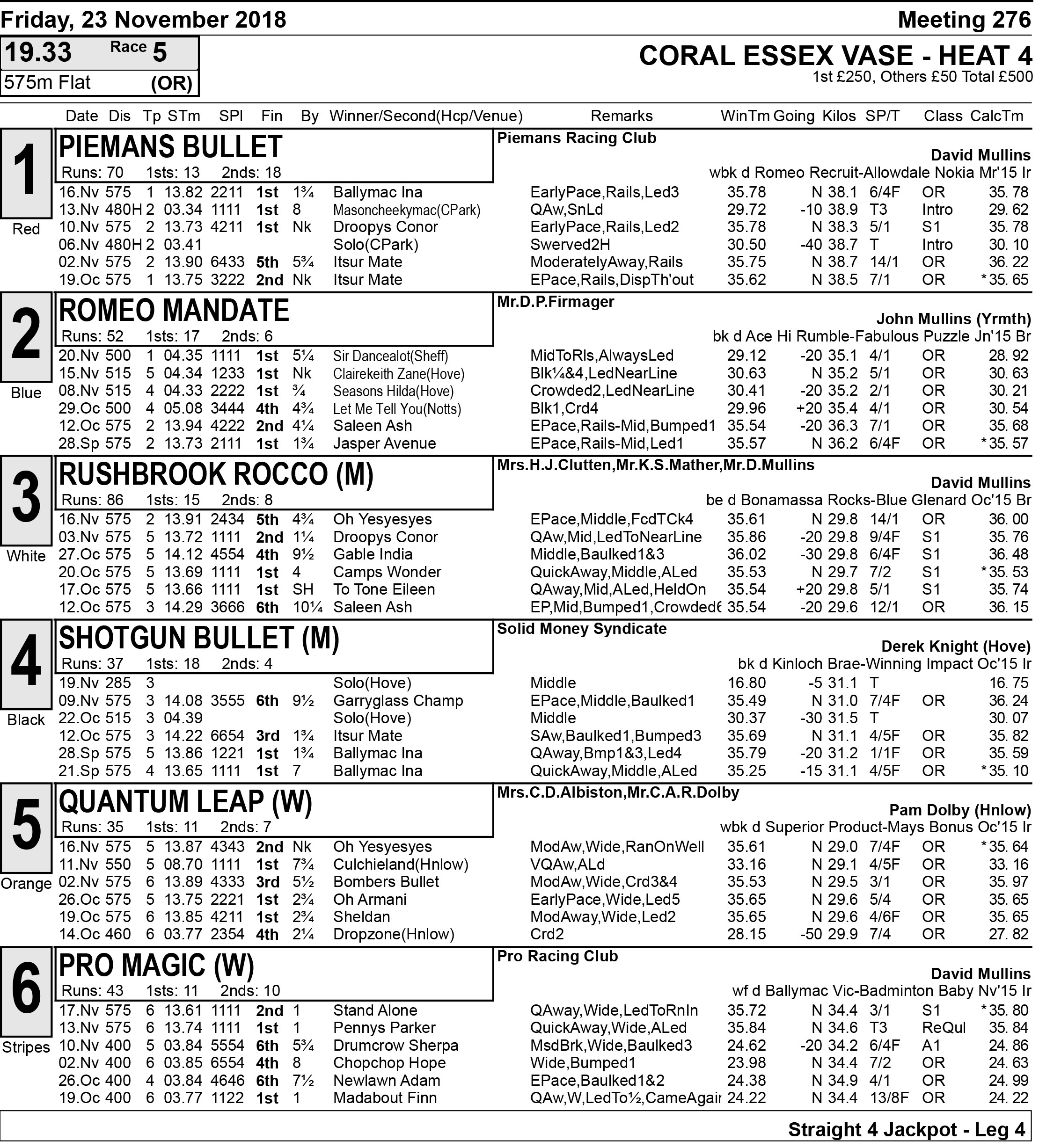 Henlow trainer Jason Bloomfield travels to Romford tonight with three charges, two of which are in the Essex Vase. Drawn in separate heats both greyhounds are attempting their Romford race and six bend debuts.
First up is Savana Dare in heat five at 7.49pm. The October '16 whelp is attempting his first six bend race tonight but has winning form at Henlow over 550 metres in S1 graded company. The son of Kinloch Brae and Sive Dubh has won open races over 460 metres at home track Henlow. If able to stay he could cause a surprise as his four bend pace may get him the lead. He has had a look around Romford with a trial over 225 metres on Tuesday clocking a decent time of 13.98.
Assistant trainer Kelli Windebank on Savana Dare said: "He is making his six bend debut but has been over 550 metres at Henlow and gets that so should be okay at Romford over 575 metres. He is a real tight railer. Trap one for him is a very good draw for him as he won't come off the rails.
"We were pleased with his trial and hope he improves for it and are hoping a tight track suits his style of running.
"He has some early pace and some of his sectionals are impressive at Henlow when he gets it right from the traps. Sometimes though he will do a great time and sometimes he appears to coast round."
William Hills are top price 80/1 for Dare to lift the Vase and 16/1 top price with Skybet to win the fifth heat.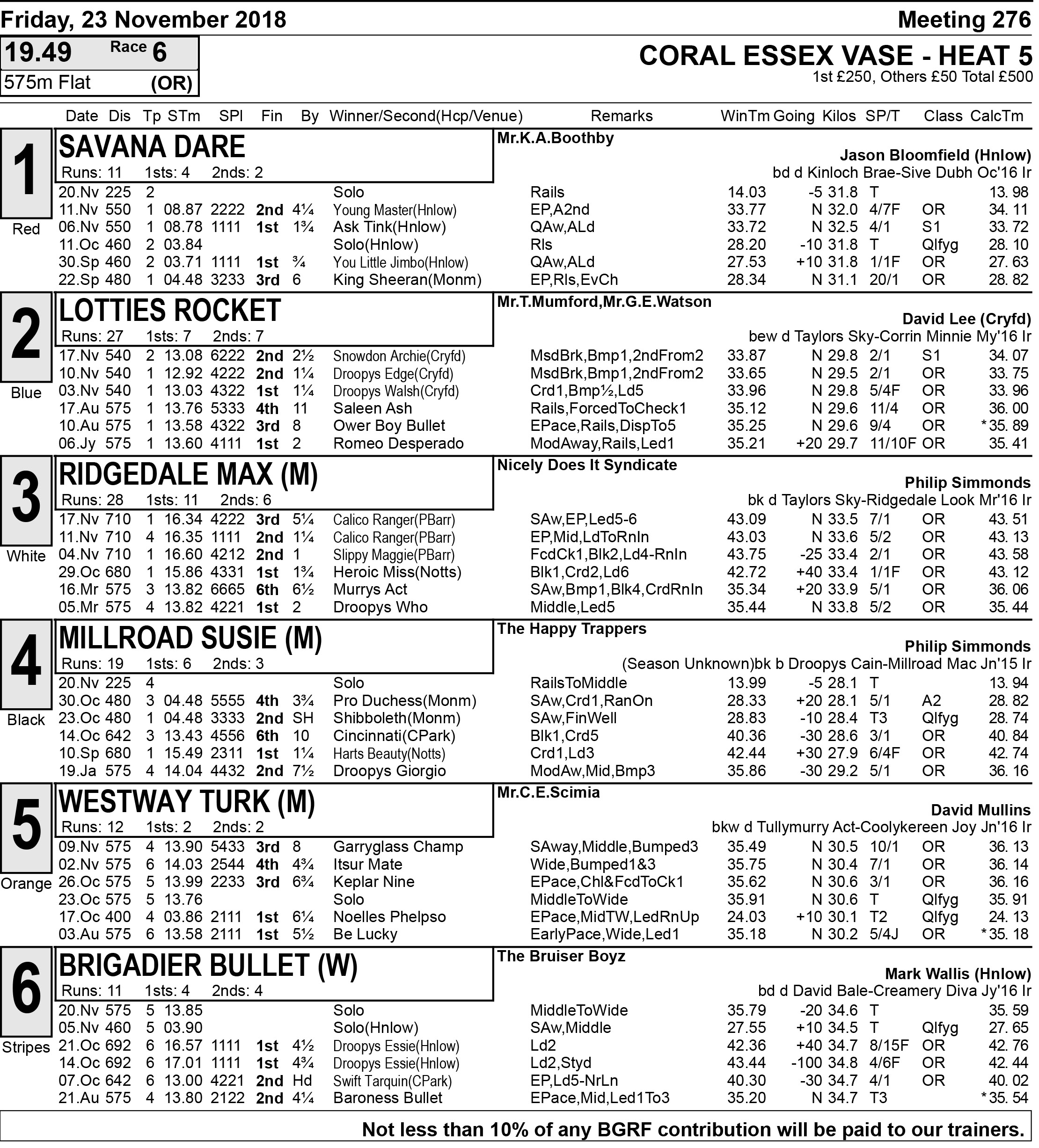 White Horse Won in heat six for Jason Bloomfield is certainly being asked a lot for his six bend debut. Drawn in a tough heat including the Sussex cup winner Sporting Dave on his inside, the March '16 whelp has it all to do. The son of Taylors Sky and Silverhill Tina is certainly the unknown quantity in the competition as he has raced over no further than 480 metres in Ireland or on these shores. He has winning open race form at Henlow over 460 metres and his sprint trial time at Romford on Tuesday of 13.80 is impressive. If able to stay he could prove to be an inspired entry.
Kelli Windebank on White Horse Won said: "It's a test and thought we would give it a go. We have never tried him over further. We think he will stay judging his runs at Henlow. He hasn't quite got four bend pace and hope he stays over six bends.
"We were impressed with his trial at Romford and was the second fastest sprint trial by only one spot.
"Trap two is fine for him and he took to the track well, better than Dare. We just want him to qualify. We have chucked him in and see how he does."
White Horse Won is 100/1 with several firms to win outright and is top price of 16/1 with Skybet to take his heat.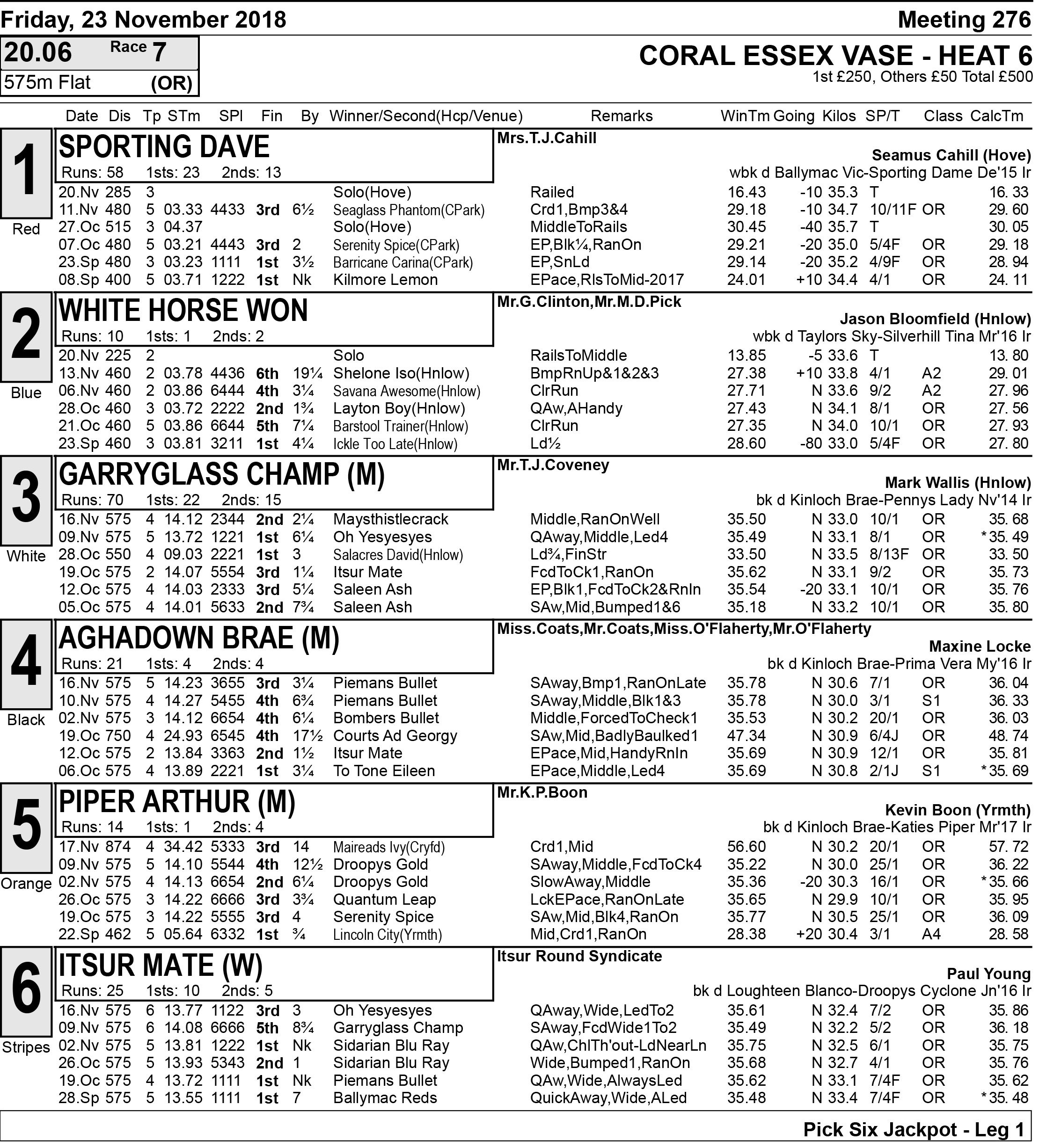 | | |
| --- | --- |
| Droopys Gold | 11/2 |
| Ridgedale Max | 6 |
| Saleen Ash | 6 |
| Sporting Dave | 8 |
| Minnies Highway | 10 |
| Shotgun Bullet | 10 |
| Maysthistlecrack | 12 |
| Brigadier Bullet | 14 |
| Romeo Mandate | 28 |
| Quantum Leap | 25 |
| Itsur Mate | 33 |
| Lotties Rocket | 33 |
| Barricane Carina | 40 |
| Garryglass Champ | 40 |
| Oh Yesyesyes | 40 |
| Piemans Bullet | 40 |
| Always A King | 50 |
| Garryglass Teddy | 50 |
| Heroic Miss | 50 |
| Pointless Pearl | 50 |
| Swift Tarquin | 50 |
| Droopys Million | 66 |
| Stand Alone | 66 |
| Westway Turk | 66 |
| Ballymac Ina | 80 |
| Millroad Susie | 80 |
| Not So Classical | 80 |
| Pro Magic | 80 |
| Savana Dare | 80 |
| Aghadown Brae | 100 |
| Headford Maurice | 100 |
| Piper Arthur | 100 |
| Prime Time | 100 |
| White Horse Won | 100 |
| Bubbly Tempest | 125 |
| Rushbrook Rocco | 125 |
Trainer Simmonds has eight runners in total tonight including a finalist in the Romford puppy cup and was the asked the cheeky question who he thinks of his runners could go best.
To that he replied: "Grays Cup Winner in the puppy final. He has done everything right so far. If he does what he did last week he could get it. Puppies can be unpredictable though and whatever happens in the final we should have plenty of fun with him further down the road."
Regular readers of this column may have had a nice little 5/1 winner last week curtesy of Glencroft Tiger. Trained by David Pruhs said he had bundles of early and would be slightly surprised if he led and got beat. He certainly led and held on by one length in a calculated time of 24.29. Regular readers may also have a finalist in the Puppy Cup with Bubbly Bonanza, trained by Paul Young.