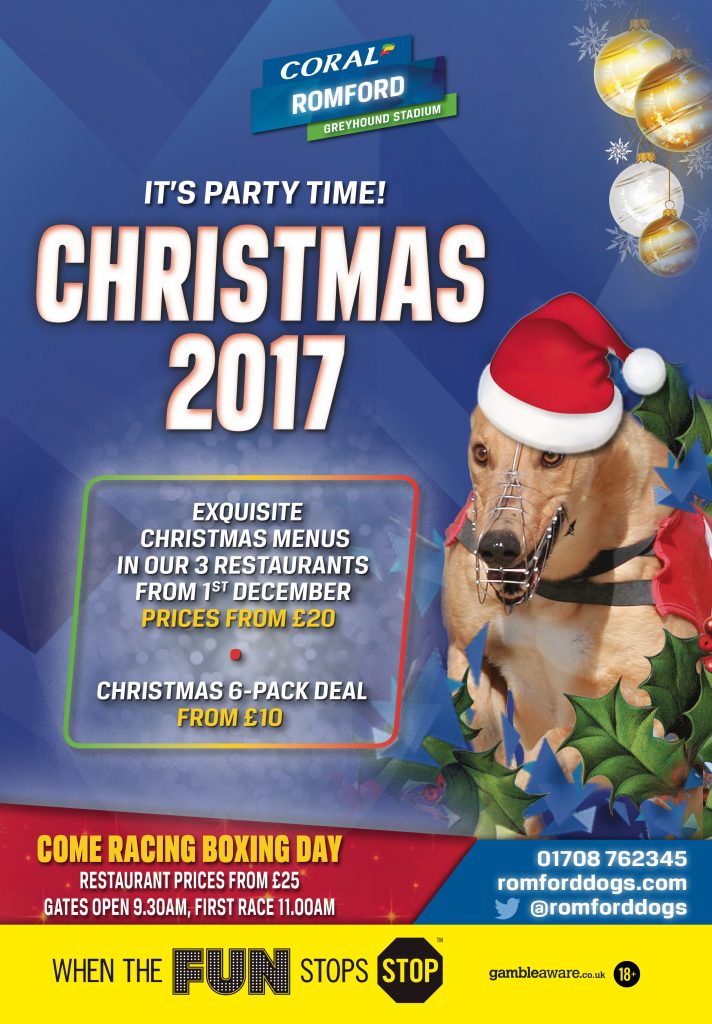 By Rob Abrey
It's Friday and that can mean only one thing; open racing at Romford. With twelve open races live on Racing Post from 7.12pm there are several greyhounds running at Romford for the first time. As ever yours truly as endeavoured to find out more about some of them.
Young Alondra for local Handler Paul Young makes her race debut tonight. The novice January '16 whelp runs in a race for the first time tonight and Essex is her starting point. In a maiden race over 400 metres at 7.29pm the daughter of Scolari Me Daddy and Droopys Alondra will be looking to win first time up. She has had six trials all around Romford and appears to be progressing nicely.
Trainer Paul Young on Young Alondra said: "She is a nice bitch going the right way. She is only young and looks a dog for next year. She could become a Friday night regular.
"We are having a go at open races as she will only be in A1 graded races anyway and you never know."
The sixties had the Beatles as their 'fab four' and now Poole trainer Alma Keppie has her very own 'fab four'. The Southampton based trainer is tackling Romford tonight with four from her Fletchwood kennels.
First up in the opening race on Racing Post TV at 7.12pm over the 225 metres sprint trip is Coolykereen Bird. The April '15 whelp will be looking to set the kennels off to a flyer in his first race around Essex. The son of Ballymac Eske and Goosabyrnes has had a dabble on the sprint scene and won an open race at Hove back in May over 285 metres. He is in fine fettle at the moment winning his last three races at Poole in top graded company over the standard trip of 450 metres. He has been given an all important sprint trial at Romford recently and would be expected to improve from his 14.06 time.
Nathan Baker, kennel hand for Alma Keppie on Coolykereen Bird said: "We have entered him for a sprint race. He's a nice little dog and has been winning top grade races at Poole. He is very quick.
"He has won a sprint race at Hove and is currently running out of his skin so thought we would take him away.
"In his trial he appeared to slip out the boxes and from his trial he should improve. He has to do everything right from the start but if he comes away he has a chance."
Coral make Coolykereen Bird a 9/2 shot and that should be considered. He has early and is in fine form and should dramatically improve from his trial.
Next up from the 'fab four' is Tolpuddle Dawn. The June '15 whelp is not only making her Romford debut but her six bend debut as well. The son of Tullymurry Act and Broadcares Mist is tackling six bends for the first time tonight and could be ideal for the 575 metres trip. She has won around Hove over 515 metres in an open and the extra metres may not be too much of a problem for her. In a recent sprint trial at Romford she clocked a decent calculated time of 13.81.
Nathan Baker on Tolpuddle Dawn said: "She is a quick little dog. We are pretty confident she stays. She has won over 515 metres in an open race so should get 575 metres at Romford.
"She seems to have taken off and did a good trial time at Romford recently. We are quietly confident about her tonight."
Bet365 make Tolpuddle Dawn 8/1 and that should be considered. She appears to stay, has early and has had an all important trial. If there is any inside crowding she could take advantage.
Alien Jet is third up to make an impression at Romford for trainer Alma Keppie in a maiden race at 8.03pm over 400 metres. The June '14 whelp is lightly raced with only seven races on these shores behind him. Of those seven the son of Droopys Scolari and Sobbine Granny has won two, both at home track Poole in A2 and A1 graded races. He has however had exposure in Ireland and has won open races at Shelbourne Park and Waterford over their 480 metre trips.
Kennel hand Nathan Baker on Alien Jet said: "We seeded him middle for tonight but he has been drawn in trap six. Some of the others in the race look like they run middle to rails so it could be okay. He stays straight from the traps but does cut in at the bends.
"If he comes away tonight it could be game over. He along with Dawn [Tolpuddle Dawn] are our best chances for tonight. He is our more fancied chance. He has come to the boil at the right time."
Alien Jet is 4/1 with Paddy Power and that feels a bit big. He has proven Irish form and clocked a cracking trial time recently. If overcoming being in trap six he could be a player.
Our Duchess in heat three of the Romford Friday night standard over 400 metres at 10.01pm makes her Romford debut. Like the others she is fine form winning two from her last three including an open win at Crayford over 380 metres. In a recent trial over C&D she clocked a promising calculated time of 24.50 and with an open win at Crayford behind her be expected to improve from her first outing.
Nathan Baker on Our Duchess said: "She is a very quick little bitch. She ran well on Sky night at Crayford.
"She missed her kick in her trial and if she comes away we could see her class. It is a very hard race but she is not without a chance."