By Rob Abrey
There is open racing at Romford tonight and that can only mean one thing; it's Friday. Amongst the fourteen races are the semi finals of the Champion stakes starting from 8.37pm over 575 metres. Regular readers of this column will be up to date with several of the semi finalists who have been covered in recent weeks. Tonight's main focus is not on the semi finals but on the undercard. As ever there are interesting entries and yours truly has found out about some of them.
Ballydoyle Henry for trainer Monmore trainer Kim Billingham is not only making his Romford debut but is also making his six bend debut at the same time. Running over six bends for first time at 6.55pm in a maiden stayers race before the Racing Post TV starts rolling the March '15 whelp will be looking to shed his maiden stayers tag at the first time of asking. The son of Brett Lee and Fear Emoski is running well in defeat in graded races at home track Monmore and the step up in trip is maybe just what he needs.
Trainer Kim Billingham on Ballydoyle Henry said: "He tends to find trouble at the first bend at Monmore. We were waiting for him to win after a minor injury before stepping him up but couldn't wait any longer.
"He is a nice dog and the trip won't be a problem for him. If he breaks well he does have a chance to stay in front. He has not had a trial at Romford but he has plenty of experience so should be okay. His draw in trap one is perfect as he does ideally need the red jacket. Friday is a stepping stone for him and hope it gives him confidence."
Fairly Sweet in the first heat of the Champions night bitches over 400 metres at 7.12pm will be looking to make it a quick fire double for Monmore trainer Kim Billingham. In front of the Racing Post TV cameras the daughter of Lenson Bolt and Fairly Cloudy is making her Romford debut and will be looking to win at the first time of asking. The July '14 whelp has won an open race at Monmore over 480 metres as well as an open win at Belle Vue over 470 metres so the trip should not cause any problems for her. She has come second in her last two A1 graded races at Monmore after being beaten in the final strides. The drop to 400 metres could be perfect for her.
Trainer Kim Billingham on Fairly Sweet said: "She has been running extremely well at Monmore and Romford will suit her. If she does it right at the start it will take a good dog to lead her. Like Ballydoyle Henry she is a nice dog and feel both can run the track well.
"I've been keen to take her to Romford as she looks a Romford dog and should handle the track well. I love Romford and would like to go more often but it is such a long way to travel."
Paddy Power make fairly sweet a 14/1 shot and that is way too big. She hasn't been to Romford before but is ideally drawn clearly has early pace and has been crying out for a shorter trip. An upset would not be totally unexpected.
Hove trainer Jason Heath is tackling the Friday traffic to give his puppy Droopys Kitkat his first race at Romford. In the first heat of the 500 maidens over 400 metres at 7.46pm the novice December '15 whelp will be looking to win at Romford at the first time of asking. The son of Laughill Blake and Droopys Safina has only had three races so far in his short career. All three races were at Hove over the sprint trip where he won one in a D2 graded race. He has had two trials at Romford over 400 metres clocking calculated times of 24.46 and 24.12 with split times of 3.91 and 3.85. The second trial was a notable improvement on both split and overall times. This puppy clearly is improving and if continues to do so could become a Friday night regular at Romford and a tilt at the puppy cup would not be out of the question.
Trainer Jason Heath on Droopys Kitkat said: "He's a decent dog. He was bought with the Romford puppy cup in mind. We think a lot of him. When we bought him we were told he looks an ideal Romford dog and he does looks that way.
"We will give him a few runs at Romford before the puppy cup starts to give him experience at Romford.
"We thought we would start him off in a nice little maiden and avoid the puppy competition supporting the Champions stakes so he might be able to nick a win.
"In his last trial at Romford at he did a 23.92 on the clock [+20] which was very pleasing. We gave him a solo sprint trial at Hove recently and fingers crossed he runs well on Friday."
Paddy Power make Droopys Kitkat 6/4 and that should be snapped up. He is an improving puppy that is being aimed for the puppy cup. He has a perfect draw tonight and should make all.
Since it is the Champion stakes semi-finals tonight, here are a few observations concerning the three qualifiers
The first semi-final of the Champions stakes over 575 metres starts at 8.37pm tonight and could see Murrys Act take the spoils. The Greyhound Derby finalist took off last week when according to Kevin Boon needed a run. If more 'match fit' tonight he will be a handful for the others to contain. He is drawn in trap six and another flyer from the boxes should see him triumph. He is best price 11/8 with Bet365 and Betfred and that should be taken. He is up against Roswell Romanov but he is badly drawn in trap three and Murrys Act is perfectly drawn in trap six so should steal the all important lead that should decide the winner.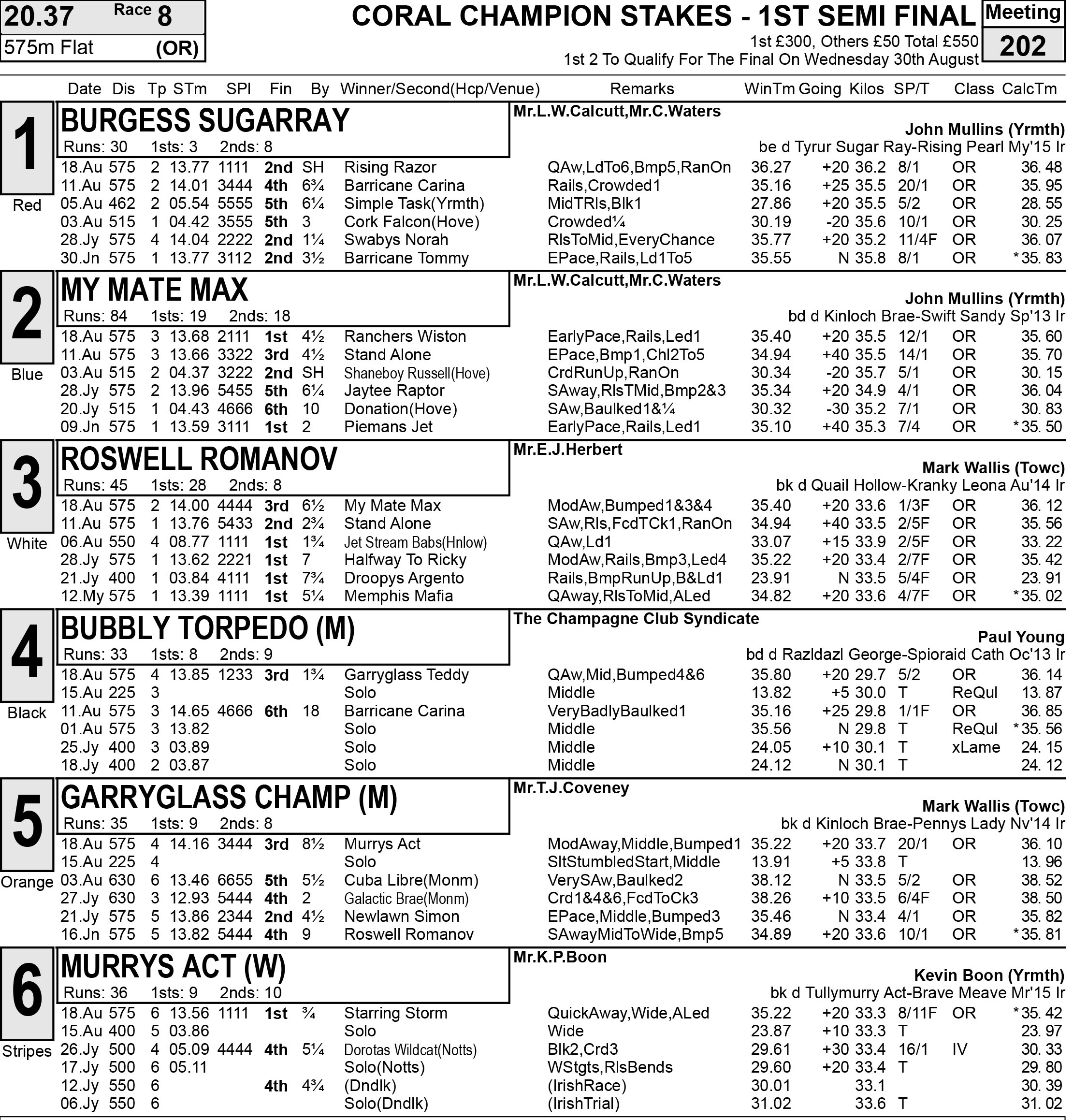 Heat two at 8.53pm is a really interesting race. On paper Stand Alone, Castell Henry and Rising Razor all have blistering early pace and there is where the problem lies. They are drawn in traps four, five and six and could really hamper each other. Ballinakill Biddy ran a blinder in her first Romford race over six bends but swung out at the bends. This for me as a value bet leaves Rubys Razzle. She has enough early pace and is perfectly drawn in trap one. If keeping to the rails she could go round the first bend unscathed and take the spoils. She is best priced 10/1 to take the heat and that should be considered in what appears to be a potentially scrappy race.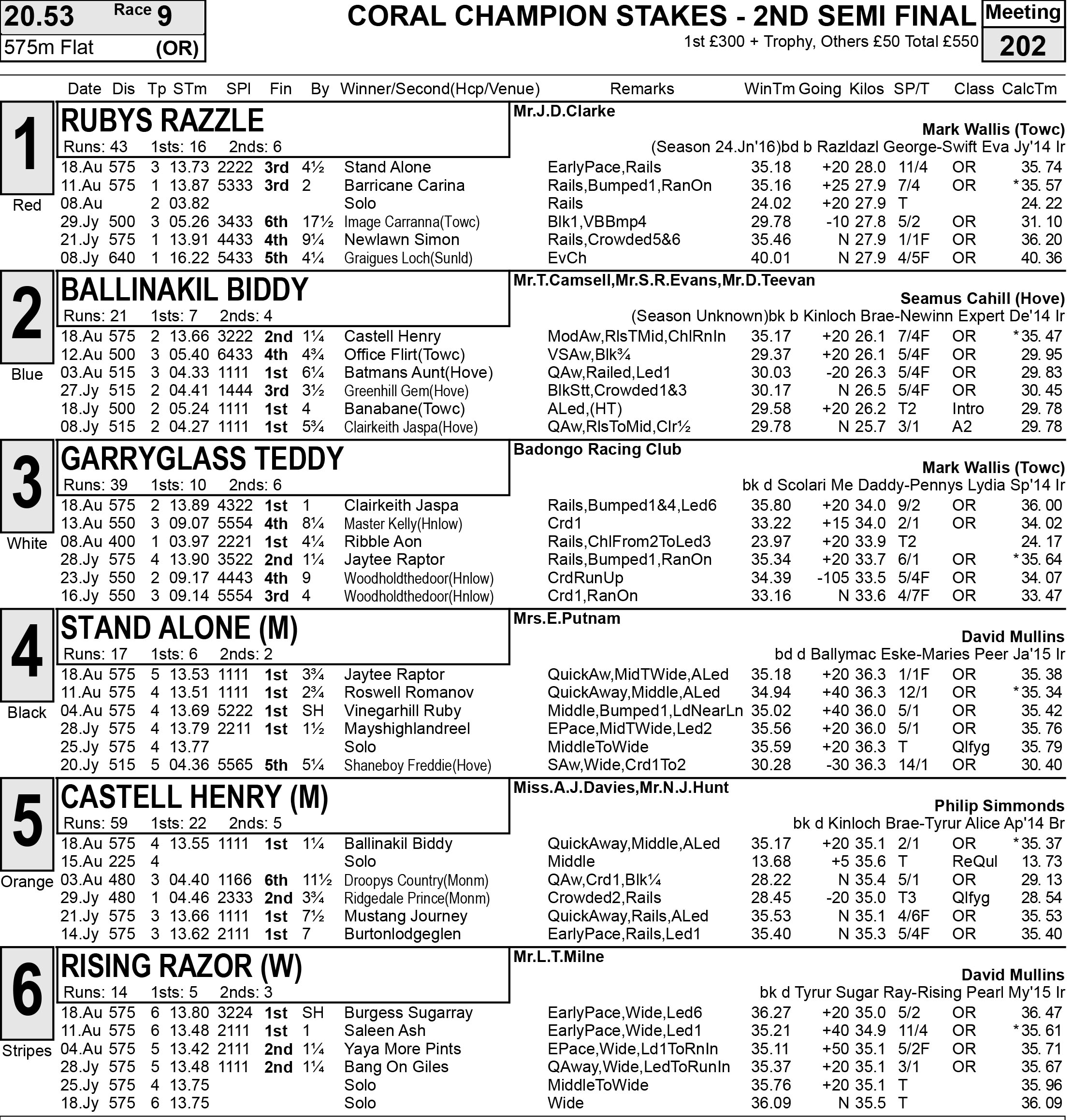 Starring Storm is the obvious choice in heat three at 9.06pm but for value Ranchers Wiston could be the call. The sole wide seed ran at Romford for the first time last week and impressed considering it was his first race around the venue. He should improve for his look and at a best priced 9/2 with Coral should be considered. He should have a solo out wide and could take advantage of any inside scrimmaging. He can clearly stay the 575 metres so if lying handy or in front will be a massive player.